'Elvis UNLEASHED'
Cinema Special Event October 2019
Review by Arjan Deelen
The publicity stated... Experience the King Like Never Before With 'Elvis Unleashed'.

Elvis Presley returns to big screens across the globe this fall with the new music special, "Elvis Unleashed," featuring previously unseen footage on movie theater screens of Elvis as he filmed the iconic "68 Comeback Special." The two-day cinema event, which includes outtakes and performances that reveal a new side of the King.

"Elvis Unleashed" captures the spontaneous moments and stories behind the legendary special, and sheds new light on Elvis as a cultural icon. Each screening will include a new 30-minute segment with Los Angeles Times lead music writer Randy Lewis in conversation with actor Dennis Quaid, rising pop/country artist Jade Jackson and the esteemed director and producer of the "68 Elvis Comeback Special," Steve Binder, to discuss Elvis's life and legacy. Quaid and Jackson are set to perform some Elvis classics, while Randy Lewis discusses the behind-the-scenes interactions that Binder had with Elvis and his manager Colonel Parker, as well as celebrating the King.


While the US and Australia screenings were cancelled EIN contributor ARJAN DEELEN saw this movie-event in Copenhagen last night - and kindly sent us his on-the-spot review... he notes, "All fans deserve to see this footage"..
---
Arjan Deelen reviews the new cinema event 'ELVIS UNLEASHED' which screened in Europe October 7, 2019.
'ELVIS UNLEASHED' REVIEWED

Having just seen 'Elvis Unleashed', I am trying to collect my first thoughts. As I entered the cinema earlier this evening, I didn't really know what to expect. Fathom Events has not been good at communicating what this film really is, and why people should go and see it. Moreover, the promotion of the film has been lacking, to say the least. From my perspective, they had not done their home work properly, and it seems to have cost them dearly.
Cancellations in over 800 cinemas in countries like the USA and Australia shows that something clearly went very wrong. Everybody is guessing what the reasons for these cancellations are, but to me the most plausible one appears to be their inability to communicate to their audience why they should go and see this film, and what it really delivers. And thus, there is little support for it. With so many cancellations, and poor attendances at those screenings that did take place, I hope that Fathom Events will reflect on this promotional disaster and learns a few important lessons. Elvis deserves better than this -- and we deserve better than this. To me it seems that they were pleasantly surprised by the relative success of their '68 Comeback cinema event last year, and quickly produced this title thinking that lightning would strike twice. Clearly, this backfired on them. One wonders what could have been done with a little more planning, better marketing, and most importantly, genuine love for the subject at hand. Various recent Beatles projects have shown us what is possible in that respect. But, let's focus on what is actually delivered here, rather than what could have been.

THREE PARTS

The film can be divided into three parts. The first part is newly filmed and features producer Steve Binder, actor Dennis Quaid, critic Randy Lewis and singer Jade Jackson. Truthfully speaking, it's hard to make sense of this part.
It's always good to see Steve Binder again, even though he has nothing new to say. But his stories about his challenges with the Colonel especially are always an entertaining listen. He comes across as a warm and insightful guy, and he is clearly proud of the work that he's done with Elvis – as indeed he should be.
The others say various nice things about EP, but nothing that really provides new insights into Elvis or the NBC show. In fact, it's hard to figure out why they are there.
I mean, I have nothing against Dennis Quaid… I quite like him as an actor, but why is he in this documentary? It's never properly explained. And yet we have to listen to him perform 'That's All Right Mama' and 'Love Me Tender'… I for one certainly could have done without that. Much the same can be said about Jade Jackson. Nice lady, decent singer… But the big question is: why was she invited for this? It's unclear to me. Her version of 'Love Me' did nothing for me. As we were watching this part, you could sense that people were starting to lose interest. Except for a few bits and pieces here and there, there was not enough Elvis in this section. Predictable talking heads and dubious guest singers were not what we had come to see.

But then, finally, 'Elvis Unleashed' really began. Phew!

GOOD VIBES

It begins with a composite of the sitdown, in general with a focus on the versions that weren't used much before now, with all the flaws, the false starts etc, still there. Over the years we've had so much new material from this special, that it's hard to tell what's really new, but I was surprised by various camera angles that seemed fresh to me. This part was edited well and enabled us to pick up on details that were not as obvious earlier. It gave a fresh feel to the material. Overall the quality of the footage and audio is very good, taking into consideration the age and source of the material (NBC tv videotape). Fans have to remember that the show was never filmed with the idea it would ever be shown on a big cinema screen. It is amazing that it works as well as it does.
In a few instances, it seemed that there was a bit more footage than we've before, like for instance after 'Memories'…. A minor details perhaps, but still neat. This section gives you a strong sense of his talent and his kindness. It's interesting to observe how he reacts to sudden situations: mistakes, technical problems, etc. He always responds in an upbeat way, with kindness and laughter. Whenever a song falls apart, he's quick to take the blame. You can tell that it was easy for him to create good vibes around him, because it was such a big part of who he was. And his passion and his enthusiasm are absolutely contagious.
He is on fire especially on 'Trying To Get To You', 'One Night' and 'Lawdy Miss Clawdy', and his guitar playing really shines on 'Baby What You Want Me To Do'. But really, it's all brilliant stuff, and he makes it seem so effortless. What a guy. Once again I'm absolutely blown away by his raw talent and his pure charisma. 'Never ceases to amaze me!'.
IN FULL CONTROL

The third and final part is a composite of the stand-up shows, once again with a focus on the performances that weren't used much before now. Elvis opens (or tries to…) with 'Heartbreak Hotel', but this part is hampered by technical problems. At one point the sound disappears entirely, and I could see that some people in the audience were wondering what was going on. But then it came back as EP was belting out 'One Night'.

The stand-up shows is where Elvis was really 'let loose', or Unleashed, if you will. He just oozes raw sexuality, and he is all over that stage. He moves like a panther. You can tell that he is in his element, even with that cloying orchestra behind him. I'm guessing that it's the musical equivalent to having shackles around your ankles, but despite that Elvis seems confident and powerful, and makes it clear at least twice that the orchestra has to follow him -- and not the other way around. You can tell that he works really hard, and he manages to dance around the technical and musical problems that pop up, and even makes them work to his advantage. He is in full control.
Having said that, in general I think that the standup shows are not as musically satisfying as the sitdown shows, but one might argue that the visual element more than makes up for that. Speaking of which, it has to be said though that the camera work here is decidedly poorer than during the sitdown shows, and in parts downright shoddy. This may have been due to the use of several handheld camera's during the standup shows, which back in '68 were quite bulky and heavy.
Some of the camera angles seem new to me, but the downside is that some of this footage is shaken or blurry. This did spoil some of the enjoyment of watching this segment of the film. Nevertheless, this stuff is bloody amazing and essential viewing: as you watch this footage, you can tell that Elvis knew that a lot was at stake – he simply works his hiney off.

And once again… His charisma is simply off the radar. He was one of the few people that had that rare quality that makes it hard to take your eyes off of him. This segment showcases him as a live performer, and boy, he really knew how to rock the house. Near the end, this part loses some of its momentum with various false starts of 'Trouble', but then he brings the proceedings to a grand ending with 'If I Can Dream', which incidentally is the only playback performance here.

IS THERE A NEXT TIME?

Let's hope that Fathom Events get their act together and learn from the mistakes made. All fans deserve to see this footage, and not just a few lucky ones. It's infuriating that they've turned this event into a shambles, but they can only blame themselves. It seems to me that they went for a quick buck, and this totally backfired on them. The planning that went into this project and the promotion done are both lacking. It's frustrating, because with a bit more vision so much more could have been achieved.
Overall, I enjoyed 'Elvis Unleashed', even though the movie is flawed in some respects. And I do hope that it will be shown in those countries where it has now been cancelled. As far as I'm concerned, they can easily ditch the first part, which serves little purpose, while the second and third part may need some minor tweaking. But of course the big question right now is, will there be a next time, or does this failure mean the death knell for similar future Elvis projects? Time will tell.
(Original photos taken at CinemaxX Copenhagen, October 7, by Arjan Deelen)

Review by Arjan Deelen.
-Copyright EIN Ocober 2019 - DO NOT COPY -
EIN Website content © Copyright the Elvis Information Network.

Click to comment on this review -

EIN THANKS Arjan Deelen for this fantastic and timely review
It is truly upsetting that the Australian screenings were cancelled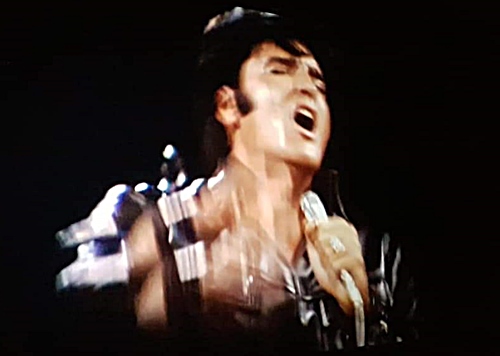 ---
---
Elvis / Orchestra Copenhagen 2018 Concert Review: The first 'Elvis & the Royal Philharmonic Orchestra' concert tour initially kicked off in England back in 2016. It was amazing that almost 40 years after his death, Elvis Presley was still getting fully-deserved standing ovations at packed arenas.
Now in 2018 the 'Wonder Of You' Video-Screen returns to Europe for another tour.
In this EIN exclusive Arjan Deelen describes "Moments Of Promise, Moments Of Frustration" as the EPE tour keeps trying to make an impact but without any genuine Elvis musician connection.
The 2016 reviews suggested that it was "So realistic fans felt Elvis really was in the building!" yet recently some Elvis fans came away disappointed especially when compared to previous "TCB Band" events.
Go here as EIN contributor

Arjan Deelen

checks out the 2018 Copenhagen presentation...
(Spotlight, Source;AD,ElvisInfoNet)

---
'ELVIS: That's The Way It Was & This Is How It Is Today':

Elvis is no longer with us but his spirit lives forever. Elvis fans always discover something quite magical when they get the chance to "Walk-a-mile-in-his-shoes". Graceland, when not overrun by crowds, feels very special indeed. Standing in the quiet you can almost feel the spirit of Elvis still inhabiting his home. The feeling in Memphis' Sun Studios can bring fans to tears.

One of the places that Elvis spent a large part of his life is the Las Vegas Hilton Hotel – now the Westgate.

Elvis performed a stunning 636 concerts in the Hilton showroom and the impact of his incredible legacy can still be felt. Watching the classic movie

'Elvis: That's The Way It Is'

you can feel the power of his spirit.

Arjan Deelen

recently returned to the classic hotel to investigate "Elvis Hotspots" and discoved that behind the showroom stage is relatively unchanged.

(Spotlight, Source;ArjanDeelen/ElvisInfoNetwork)
---
---
'The Wonder Of You' Elvis with the RPO - In-depth CD Review: It is forty years since Elvis Presley entered a recording studio and he seems very reluctant to record anything new. So in terms of releasing a "new" album of Elvis material the topic has always been a tricky one. After the massive 2015 success of "Elvis with The Royal Philharmonic Orchestra" and 'If I Can Dream' the follow-up was inevitable and 'The Wonder Of You' recently achieved Number One in the UK album charts.
But can a follow-up really be as impressive - and do the true Elvis fans have to approve of these on-going fake "Revisions"?

Click here as EIN's Piers Beagley and Bryan Gruszka are back again to cause "Double-trouble" and supply a very detailed review, discovering what's good and bad...
And HAVE YOUR SAY - what do you think of the new album? Are we wrong in our opinions?
(CD Reviews, Source;ElvisInfoNet)
---
---
'Elvis In Concert ROCKS Copenhagen in 2012: An insider's review of the new 'Elvis Presley In Concert' tour. Tour producer Arjan Deelen was at the Copenhagen March 24 performance. This year bassist Norbert Putnam has also joined the TCB Band regulars, bringing some new energy to the shows. However there are rumours that EPE will soon replace the original band with younger performers! James Burton stated that "This is such a wonderful show. Elvis would have loved it. And now with Norbert in the band, the show is better than ever. It's a wonderful tribute to Elvis. We all want to continue doing this show for the fans for as long as we possibly can".
In this informative review Arjan Deelen talks with the TCB Band and explains just how well the 'Elvis In Concert' tour still ROCKS - as well as wondering how long EPE will keep the TCB Band as part of the tour.

NOW UPDATED

with

NEW Concert Videos

PLUS

YOUR FEEDBACK.


Click here to read the stories the TCB Band have to tell - and also your comments on the future of 'Elvis In Concert'.
(Spotlights, Source;ElvisInfoNetwork)
---
---
See EIN review of 'Aloha From Hawaii' 40th Anniversary' release
See EIN review of 'Prince From Another Planet'
See EIN review of 'A Boy From Tupelo'
See EIN review of 'Young Man With The Big Beat'.
See EIN review of 'Elvis Is Back!' Legacy Edition review:

See EIN review of 'The Complete Elvis Presley Masters' in-depth Review
See EIN review of 'On Stage' 40th Anniversary LEGACY in-depth review:
See EIN review of From Elvis In Memphis (40th Anniversary Legacy Edition)
See EIN review of 'I Believe' BMG Gospel set.
See EIN review of 'The Complete '68 Comeback Special' CD Review:
---