ELVIS: The New York 1972 Press-Conference - The Way It Was and How It Is Today.

By Arjan Deelen
"First of all, I plead innocent of all charges!".

Revisiting Elvis' New York press-conference together with Phil Gelormine


"The image is one thing, and the human being is another"… a well-known Elvis quote from his press-conference at the Mercury Ballroom in the New York Hilton, on June 9th, 1972. He gave us a brief glimpse of the pressures that he was living under being Elvis, even adding, "It's very hard to live up to an image, I'll tell you".


READY FOR NEW YORK

I was reflecting on this as I visited the Mercury Ballroom a few weeks ago, together with my friend Phil Gelormine (who was actually there at the press-conference, now some 47 years ago), his buddy Jeff and my son Alexander. We all stood in the room, looking around, as Phil told us about that day. He snuck his way in, pretending to be a member of the press, put his recorder on the table, and got his camera ready. Phil remembers the Colonel acting like a bully, barking at the press, pushing them physically even, telling them where to stand or sit. The room was filled with people, and the press eagerly awaited Elvis' arrival.
Another view of the stage, then and now.
Most of his television performances had been filmed here, but he'd never actually done a live concert in the Big Apple. But, by '72, the time was right. Since '69, he'd performed almost 250 shows in Las Vegas and on the road, and by now his skills as a live-performer and entertainer had improved considerably in those 4 years. Elvis was ready for New York. And New York was ready for him. Admittedly, it had not been love at first sight, and no doubt Elvis still remembered the sneering NY press at the time of those early television appearances. But times had changed. Presley was now 37, and he had reinvented himself completely since his comeback, charting with great pop songs like "Suspicious Minds", "In The Ghetto", and now, with "Burning Love". He had proven his endurance as an artist, and he was now an immensely successful & popular live-performer. So the press took the Colonel's antics in stride, waiting for Elvis to appear. The how's and why's behind this press-conference are not completely clear, but generally it was seen as a sign of goodwill towards the press, as well as obviously some last-minute publicity for the four sold-out Madison Square Garden concerts on June 9 – 11, 1972.


SHARP, WITTY AND CHARMING

Phil clearly remembers the moment Presley stepped in the room. Presley looked absolutely dashing, suntanned, fit and dressed in a gorgeous blue outfit. His charisma lit up the room. "First of all, I plead innocent of all charges!", he said, breaking the ice right from the get-go. The whole séance took only about 20 minutes or so, but by then everybody had gotten what they wanted: plenty of good photo ops, as well as a couple of nice quotes. Elvis didn't say anything revealing, but nor was this the platform to do so. The press-conference did show how skilled he had become in handling the press.
Just compare this press-conference with, say, Houston '70…. It's like night and day. In Houston he seemed tired, somewhat disinterested and at times a tad edgy, while in New York he was sharp, witty and charming. But, in all fairness it must be pointed out that the NY press did give him an easy ride: a few pointed questions were asked, but for the most part it was a love fest. Elvis carefully sidestepped any questions that might have caused controversity, such as the one about entertainers expressing their personal viewpoints. He knew that some journalists were always looking for an angle to get a headline, but he was not going to hand it to them on a silver plate.
This is the view that Elvis had from the stage.
At times Elvis did look a little ill at ease, but for the most part he did a splendid job of charming the seasoned New York press. They lapped it all up: his gorgeous smile, his humility, his extravagance ("… You know, this gold belt…"), his self-deprecating sense of humor, and most of all, his realness. Despite his fame, he seemed like a guy that you could connect to, and someone who was dealing with the same daily life struggles that we all do. Case in point being his subtle reference to his separation from Priscilla. At the end of the session, everybody present seemed pleased. "I'd like to live up to my reputation of being a nice guy, but this is it folks!", said the old carny, and Presley looked bemused at his manager's antics as he got up to leave the room. It was an impressive showing, and great publicity for the MSG concerts. Mission accomplished.
The American flags are still there, on each side of the stage.
A TIME-WARP

As we stood in the same room just a few weeks ago, it was immediately recognizable from the '72 photos. Some of the wall paneling had changed, but other than that, everything else looked pretty much the same. The stage, the curtains… even the two American flags on each side of the stage. There were some chairs stashed on each side of the room. Phil pointed out small, interesting details. He pointed at the elaborate lightning, and said that these lamps were also there back in '72. We got up on the stage, enabling us to see Elvis' perspective during the conference. Overall, the room looked as if the press-conference had taken place just a few days ago, and not 47 odd years.
Phil points out that the lightning is still the same.
- Photo (c) Phil Gelormine
PAINFUL DESCENT

Reflecting on his life at that point, Presley was on top of the world. Sure, there were some chinks in his armor, including his looming
divorce and his increasing dependency on prescribed medication. But he was dating again, and he would meet Linda Thompson in July, who by all accounts was a great match for him. She was caring, funny, intelligent, perceptive and understanding… All good qualities that would help her cope with Elvis' complexities and insecurities. His career had been in an upswing since '69, and indeed '72 may well have been his best concert year overall, with strong performances throughout the year. According to many, he was never better than at the Madison Square Garden shows. In hindsight, this may well have been our final glimpse of the truly sensational, bigger-than-life Elvis concert spectacles.
Looking at the footage released on the 'Prince from another Planet' CD/DVD (go here for Arjan's insightful review) set really drives that point home. The electricity and energy-levels are off-scale, and it's almost as if you're watching an otherworldly event. As fellow rock musician Lenny Kaye observed, at Madison Square Garden, Elvis "functioned as a God… It's very seldom that you get a chance to see a show at Mt. Olympus". Which makes Elvis' painful descent in the years that followed even harder to accept.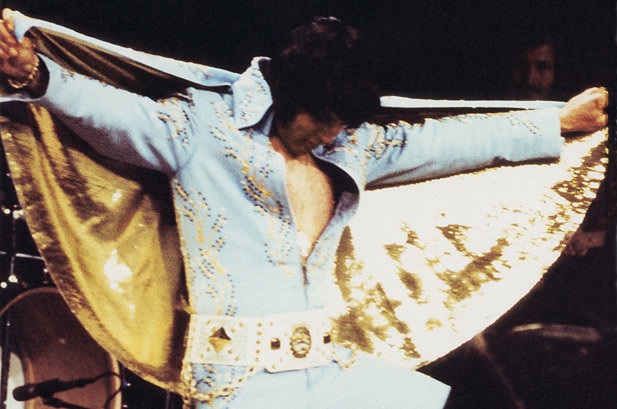 Aloha From Hawaii the following year was already a step down, but even that did not prepare us for the horror of those final years, which are still hard to make sense of for all of us who loved the man. That he would die just five years after MSG, and in such a horrible shape, is still shocking and hard to fully understand. But it's all part of the story. Phil got to experience some of those final painful nights, like Philadelphia '77, first-hand… Bruce Springsteen tactfully observed, "it was not a good night".

But that afternoon in the Mercury Ballroom, he had the world at his feet, and there was no reason to believe that it would ever stop. Not for a while at least.


TAPE RECORDER

Right before the press-conference, Phil had placed his simple tape-recorder on the table. He couldn't help but notice that it looked a tad amateurish compared to the top-quality mikes that the television stations had placed there, and for a moment he worried that Presley might look at it and say, 'What is that thing?' and toss it aside. But of course, that didn't happen. He retrieved it right after the conference. And listening to it at home, he noticed that because it was placed so close to Elvis, that it had even picked up his breathing.
Can you spot the tape recorder?
Unbeknownst to Phil at the time, there was a little presentation right after the press-conference where Elvis received a gold award. This was in a hallway area right behind the ballroom. Elvis also posed for some photographs there, including with a few with a Hilton executive and a couple of shots of him together with some fans from Norway. Phil took us there, and once again it was fascinating to see that things hadn't changed much. It looked pretty much the way it did back then, and it was fairly easy to locate the spot where Presley stood. Again, it was almost as if he'd just left a few moments ago. This was really, really cool.
Backstage things haven't changed much in decades.


SUCH A BLAST

While in town, I had hoped that we could see a performance by NY rockabilly icon Robert Gordon, but he'd just done a show there on the day we arrived. But I reached out to him, and he kindly invited us to an unplugged session at his West Side apartment. Let me tell you, this was a lot of fun. He sang everything we wanted to hear, his classic songs, and even a couple of Elvis covers, including this one -- a personal favorite:

New York was such a blast, and I would like to thank especially Phil Gelormine, his buddy Jeff as well as Robert Gordon and his wife Mary Lee for making us feel so welcome. It was very memorable.

New York '72 was a special moment in time for Elvis. Fortunately, we can relive it every time we put the CD in the player, and marvel at the spectacle that was Elvis Presley in concert.


For those of you who are interested in my writings, I have a book coming out this month titled "Inside Elvis", a 300-page book & CD. Tons of photos, including a bunch from both the press conference and the actual MSG shows. For more info, contact me at: deelen@elvis.dk - EIN will be adding news about this book very soon.
Well, I had to do it, didn't I.... 'First of all, I plead innocent of all charges!'

Spotlight by EIN Contributor Arjan Deelen.
-Copyright EIN November 2019.
EIN Website content © Copyright the Elvis Information Network.