---
PRINCE FROM ANOTHER PLANET takes its title from a New York Times headline that accompanied its rave review of the King of Rock 'n' Roll's four sold-out shows at Madison Square Garden the weekend of Friday through Sunday, June 9-11, 1972.

Of all the live concert recordings released by RCA during Elvis Presley's lifetime, none carried the historic significance of his long-awaited New York City shows at Madison Square Garden and now the two RCA recorded concerts and newly found fan-filmed video footage been released in one deluxe package for the 40th Anniversary Edition.

It's been a while since a new Elvis release generated as much publicity as 'Prince From Another Planet'.

EIN contributor Arjan Deelen checks out this fabulous production - plus added input from EIN's Piers Beagley.
---
PRINCE? MAKE THAT KING! - Arjan Deelen reviews the new Sony 'Prince From Another Planet' package

It's been a while since a new Elvis release generated as much publicity as 'Prince From Another Planet'. Especially in the US, the set received a great deal of attention, with even 'Rolling Stone' posting footage from the June 10th, 1972 afternoon show on its website. But also here in Denmark, it got a rave review in the leading daily newspaper 'Ekstra Bladet' by music journalist Thomas Treo, who is best-known for his often rather vitriolic reviews. With this being a release focusing on 70s Elvis, you'd think that 'Prince' was in for a brutal mauling, but instead Treo wrote the kind of review that you'd expect from an Elvis fan magazine. Very nice to see this kind of exposure for Elvis in 2012.
And indeed there is much to like about 'Prince From Another Planet' - the title being a reference to a New York Times review of Elvis' first show at Madison Square Garden on June 9th, 1972.
The Packaging.
Housed in 8" x 8" packaging, this set looks very eye-catching, with an iconic shot of Elvis at the Garden as taken by MSG staff photographer George Kalinski shot on the cover. You can tell that the Jørgensen / Semon team really 'went to town' on this release.
There are some beautiful and appropriately dynamic photos from each concert and the collection comes from far and wide. Among the photographers featured are Ed Bonja, George Kalinsky, and Dagmar. (EIN Note – See our interview with Dagmar here).
Fans may be surprised to get such a substantially packaged set for the retail price of under $30. It really is much larger than a normal CD set, heading towards the concept of 'Young Man With The Big Beat'! (see the new booklet below shown next to the original Elvis M.S.G. CD)
Inside the 50-page booklet showing the quality and page size.
The 50-page booklet is lavish and contains photos of the four MSG concerts, memorabilia, the original tape boxes as well as an interesting essay by Patti Smith-guitarist Lenny Kaye, who attended both the press conference as well as the first show as a journalist for Cavalier magazine. It was a smart move by Sony to involve people like Kaye and renowned New York audio wizard Michael Bauer (Coldplay, Bob Dylan, The Rolling Stones, etc) for this project. This has given this release extra credibility and thus more exposure in the music press.

Lenny Kaye's insightful essay helps explain the power of Elvis and his music and the importance of New York. …
... This 1972 spate of touring will be held aloft as the high-point of Elvis' later career. The band is fresh and energized, and Elvis holds the crowd close to his bosom, as if in feeling their real-life allegiance he has sustenance to sing their lives back at them, and they to he, the interrelationship that is audience and performer, the giving and the taking.
We are rising to climax. When he will spread his cape like wings and give rise to the Archangel; the ninth, though apocryphal.

..... Forty years have slipped by. A long setting on the echoplex. That Elvis' artistry seems to still repeat and repeat and repeat is a testament to how unusual a human he was, how unique his voice and way with a song and an image is, and continues to be. Where other iconic singers of their era seem trapped by their moment in time, Elvis' constellation only grows brighter. He doesn't even need to be there. Each year in Memphis, on the anniversary of his death the expanding faithful gather, dressed in the uniform of the Elvis that still resounds within them. ..
| | |
| --- | --- |
| | |

My only criticism of the packaging itself involves the way the discs are housed: it's very hard to get them out and can easily result in damaging both the discs and the packaging. This should have been done differently.

The Music
When I first heard of this release, one of the things that I was particularly curious about was the June 10th, 1972 evening show. After all, there had been some rumours in recent years about the master tape being lost, but also earlier about the recording being speeded up and/or edited heavily. I think that we can now safely put all those ghosts to rest.
There is no indication whatsoever that this recording was being speeded up at any point, though I can understand the confusion. After all, at least one of the musicians involved, drummer Ronnie Tutt, has stated on a number of occasions that it was. The only explanation is that with Elvis driving them like never before and everybody being keyed up about this high profile gig, they performed a high-octane show that in parts perhaps was a notch or two too fast. I remember listening to the evening show with Jerome 'Stump' Monroe, who commented: "Damn! That's way too fast. That shit ain't got any groove to it", which reminded me of my interview with Chips Moman, where he said about the live versions of 'Suspicious Minds': "It was all about the flash. And the flash don't come out on the record". I don't necessarily agree, but I understand his point.

As for the editing, other than a cough after 'Impossible Dream' and Al Dvorin's closing announcement, it appears that the original album released in '72 really is the complete show. Another myth laid to rest.
(EIN NOTE - If you want to know more about the difference between each song at both performances, please go here to EIN's 2011 examination of ''ELVIS: An Afternoon In The Garden' VS 'ELVIS: As Recorded At Madison Square Garden')

There have already been some very passionate debates on the various message-boards with regards to the Bauer mixes of these two shows. Some hate it, while others love is, which was to be expected I suppose. Both sides 'prove' their viewpoints with graphs and samples, which is amusing in a way. But it's good to see that this release is generating such a strong reaction. I know that some of the audiophile fans are somewhat disappointed and were clearly expecting a different approach, but I think they are missing the point about this release. Right from the get-go it was said that the aim of this release was to get the mixes to sound as close as possible to the actual live concerts, to give the listener the idea that they were seated on Row 5 at the Garden. In my view, that aim has been achieved.

We have all known the original MSG mix of the evening show for many years now and it's a bit odd at first to hear that same recording in a new light, which probably explains some of the reactions. I don't think we would get the same kind of reaction with Aloha, because that one has already been remixed a couple of times. When I first heard of the involvement of Michael Bauer, I wasn't quite sure what to expect but I was curious at the same time. I don't mind new mixes of Elvis' music, as long as they are true to the original intent and vision. That's why I loathed Cirque du Soleil's 'Viva Elvis', which I felt was disrespectful towards Elvis and his music. My main concern with Michael was that he would do something similar to 'The Alternate Aloha' from 1988, which many fans hated with a passion.
The sky is the limit when you have access to the original tapes, and I would imagine that it's hard to resist the temptation to put your own mark on a landmark performance by a legendary artist like Elvis. But Michael has shown remarkable restraint and has resisted that temptation; he did pretty much what he set out to do – i.e. give the listener that 5th row experience. Since both shows have a similar-sounding mix, I will refer to both shows here as one and the same mix. I think Bauer essentially stayed fairly close to what was originally there. I have read a few comments from fans saying that they cannot hear any difference with the original mix. I don't necessarily agree, but it underlines the fact that this is not a radical remix. I have played both shows at loud levels, both at home and in the car, and I loved what I heard. No, this is not an audiophile disc – those who expect that are probably better off with the Legacy edition – but to me these mixes sound pretty damn exciting.
| | |
| --- | --- |
| | Elvis teases his front row in his own inimitable way during the evening performance on June 10 |
Elvis' voice dominates the audio picture, sounding strong, rich and in full command, with a busy wall of sound right behind him, especially Ronnie Tutt on drums and James Burton on lead guitar. Elvis and the TCB guys were ready for New York, and phew, they really kicked major butt that weekend! The shows have such an amazing drive to them, and listening to these recordings again has me a new appreciation for Ronnie Tutt. What an amazing drummer! He was really the glue that kept the whole show together. These two shows may well be the best example we have of Elvis and the TCB guys on top of their game. They were one mean shit-kickin' rock & roll band in their prime.
I have listened to a few audience recordings from this tour in preparation for this review, most notably the first New York show on June 9th, 1972 (which is about to be released on the Straight Arrow label), and in my view the Bauer mixes are a good representation of what the audiences heard at the Garden. You can hear every nuance in Elvis' voice and it's cool to pick up on things that I never really noticed before, like Elvis' grunts and sighs in 'Never Been To Spain'. What a great song this is for Elvis, and surely one of the MSG highlights. I also got to see a few performances in a different light, most notably 'The Impossible Dream'. This song will never be a big favorite, but I'm beginning to warm to it.

One of the things that I got out of listening to these new mixes is that the original '72 mix of the evening show was not bad at all as has often been said. In the past, it has often been described as a 'rush job', but actually the new mix highlights the fact that the original engineers knew what they were doing and did a skilful job, especially when you consider the time constraints that they had to work under.
EIN Note: It is worth mentioning that there is a notable difference between the original Album Master (which sounded rather muffled and a little thin) and the Vic Anesini Re-Master of the same tape for the 'Complete Elvis Masters'. This new version brought real sparkle and depth into the sound of the original release and was one of the highlights of the expensive box-set.
Michael Bauer has changed little of the original mix placements here expect for moving Glen D Hardin's piano from the correct left-side placement to now being on the right, the backing-vocals are also now centred behind Elvis' main vocal which unfortunately diminishes their power at times. Bauer's main audio work is in "compression" and changing the dynamics of the soundscape and how each instrument and vocal reacts with each other.
At the same time, I think this new mix clearly wins – it's more exciting, more driving, the audience is more upfront, there's more detail, and most importantly, Elvis' voice really gets to shine. Sure, there's always downsides, one being that the piano is more upfront here and for some reason it's a bit hollow-sounding in parts… Not a big deal but it's a bit distracting on some songs. The difference with the afternoon show is less obvious, which is not surprising, considering the fact that the original mix of that show dates from 1997. Personally I find this new mix slightly more natural-sounding and more 'ear friendly', but I know that some prefer the '97 mix.
Great full page photo of Elvis June 10 Evening Show
EIN Note: On the original release at times Elvis' vocal would fade and sometimes gets lost in the mix, such as in 'Love Me Tender' or the beginning of 'I Can't Stop Loving You'. Even in key vocal songs such as 'Suspicious Minds' or 'American Trilogy' Elvis' vocal would dip down into the mix. All of these are corrected here with Elvis' vocal presence powerful throughout every moment.
The crowd dynamic has really been raised into the overall soundscape with this new mix. When Elvis says, "What?" to the crowd at the start of 'American Trilogy' you can now really feel the sense of the excited audience reaction, similarly there is a lovely audience ambience during the 'All My Trials' section.
The powerful rocking-out tracks such as 'Polk Salad Annie' also benefit from the increased audience interaction which increases the overall feel and excitement of being there in the 5th row.
The DVD
The DVD was probably the component that I looked forward to the most. There are three chapters on it: a documentary on the MSG shows, footage of the press conference and newly obtained 8mm footage from the June 10, 1972 afternoon show as filmed by Don Lance, who also recorded various rehearsals in '72 and '73, some of which have already been released by FTD, with more being in the pipeline for 2013.
The Documentary runs 25-minutes and contains interviews with Jerry Schilling, Glen D. Hardin, James Burton, Joe Guercio, Lenny Kaye and George Kalinski. I wasn't exactly expecting anything groundbreaking, but I felt that this documentary was a bit bland and definitely 'filler'. Mostly comments that we've all heard before, though I did enjoy the input from Kaye and Kalinski whom I have not seen before in documentaries and thus added some freshness to an otherwise somewhat predictable documentary. Kalinski calls the MSG Elvis show that he photographed "the # 1 concert that I have photographed in terms of passion, excitement and charisma", while Kaye notes that Elvis "functioned as a God… It's very seldom that you get a chance to see a show at Mt. Olympus".
There's also a few 'blink-and-you'll-miss-it' clips from the June 9th, 1972 show courtesy of WNBC, in better quality than what we've seen previously.
Perhaps it is a shame that Don Lance who filmed the concert wasn't used for a few insights into what it was like for him.
The Press Conference is the second chapter but unfortunately the footage is incomplete and a bit choppy, and not as enjoyable as I hoped it would be. There's some interesting answers and a couple of nice moments (most notably the fragment with Vernon being asked a few questions), but all in all it's not something that you'll want to see more than once or twice.
Of course some Elvis fans (or others who have wondered what this release is all about) may never have seen so much of this footage before, in which case Elvis' charm and easy approach to some possibly tricky media questions could win them over. He may have been the Ultimate Superstar about to conquer New York but the real human side of Elvis, as well as his self-mockery certainly makes this an entertaining Press Conference. And there is no sign at all of the tabloid loved "fat/strung-out" Elvis here in 1972.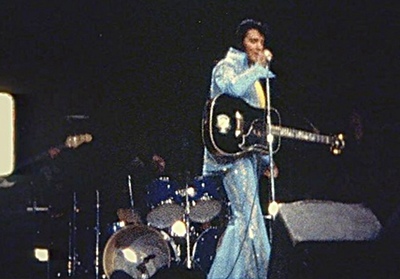 The DVD Concert
The big surprise of this DVD and indeed the whole set is the rough 8mm footage shot by Don Lance at the afternoon show on June 10th, 1972. Considering the conditions that he had to film under, this footage is very good indeed. Though the footage in total is probably less than 20 minutes, he captured some great moments: Elvis looking iconic and almost otherworldly as he enters the stage, 'That's All Right' is complete, 'Proud Mary' and 'Never Been To Spain' nearly complete, 'Polk Salad Annie' almost complete (GREAT finale!), 'Hound Dog' complete, parts of 'Suspicious Minds' and 'American Trilogy' and the final moments of 'Can't Help Falling In Love'.

Elvis looks great and very tanned in his blue 'wheat' suit with a yellow scarf around his neck, and right from the get-go he's in total command of the stage and the audience. He is not as dynamic as he was in November '71, and you can see the first signs here of the more static 'Aloha' performer. He came to New York to sing – and that's precisely what he did.
Though the rawness and the wild energy of the '69 – '71 shows was now largely gone, he was now a more consummate & all-round entertainer, a real pro who had honed his performing skills in the past three years, and the timing for his MSG debut was perfect. This footage captures Elvis at a moment in time where he still had that focus & sense of purpose, and you can see his commitment even on the early hits like 'Heartbreak Hotel' (some lovely close-ups, by the way). (see below)

It's important to point out that this film is far from perfect: it's grainy, in parts it's blurred, and most songs are incomplete. 'Reconsider Baby' is only a few seconds. But it's such a thrill to see this footage after all these years. We all know the photos from the afternoon show of Elvis bending over, ready to do 'Hound Dog', and now you can finally SEE it.
Ever wonder what he meant when he said, "it just died, didn't it", following 'That's All Right'? Well, now you can see that he was referring to his microphone.
There's a lot of cool things to observe in those 20 minutes. Personally I particularly enjoyed seeing him perform 'Never Been To Spain' – he was really into that one, just digging the feel of the song – and the finale of 'Polk Salad Annie', which really captures the excitement of the Madison Square Garden shows.
Elvis feeling the vibe with 'Never Been To Spain'
EIN Note: In the same way that you can't listen to the 'Aloha' concert without combining it with the memorable images from the video (memorised in your head), this DVD also adds a brand new dimension to listening to both of these MSG concerts as now we know what Elvis was doing, where he was standing, and how he was performing to his adoring crowd.
The karate kicks at the end of 'Suspicious Minds', the arm pumps during 'Polk Salad Annie', teasing the audience while bent over for 'Hound Dog' or standing right next to James Burton during the chickin-pickin' guitar solo, all add to a new appreciation of these shows.
Elvis works out to 'Suspicious Minds'

I've read some criticism here and there about the sprocket holes being there, but I don't agree. They give you the sense that you are watching something rare and historical, and besides, that way you also get the information (footage) captured between the holes. Moreover, you can change the settings of your television so that you don't see them if you don't want to, so I don't see this as a problem.

There's also been some criticism aimed at the fact that Sony chose to do nothing with those parts of the concert where there is no footage. All you get is a black screen and audio of the concert. That criticism is more understandable. Some have suggested that they could have added photos in those parts, but I think the footage is best left 'as is' out of respect for the historical nature of this film. Personally I prefer getting the raw, undoctored footage here. No doubt in the coming months we'll see lots of people getting creative with this footage on YouTube and elsewhere.
Watch three great example clips on YouTube
- Go here for 'That's All Right' plus the concert intro and build up
- Go here for 'Hound Dog'
- Go here for 'Suspicious Minds'
EIN Note: Personally I would have liked to see an image (a freeze frame from the actual film would have been fine) to indicate when a particular song has no footage attached. Sitting through 'You Don't Have To Say You Love Me', 'Until It's Time For You To Go' and 'You've Lost That Lovin' Feelin'' with no indication of when the next footage will suddenly appear is a little annoying. And I am sure it would be incomprehensible for a non-Elvis fan.
It would have been easy to have an Elvis on-stage image with the note "No footage was filmed for this song". The book indicates that 'For full chapter information please refer to the DVD menu' and while I hoped there would be some indication as to which song featured the newly discovered footage there is only a song list. I had also hoped for a hidden 5.1 audio-mix (it wouldn't have been that hard to do) but sadly the DVD audio is only Stereo.
For useful list of which DVD songs contain how much footage, see below.
Overall Verdict: I can only say that I am very happy with my copy of 'Prince' and I feel that we are getting real value for money too; the pricing I've seen ranges from 17 to 20 Euros, which is a real steal for what you get. I think we should be counting our blessings that we are still getting deluxe packages like this in 2012. The recent string of amazing releases, both on the main label ('Young Man With The Big Beat') and on FTD ('The Boy From Tupelo') makes me hopeful for the future. For now, this one will be hard to beat.
Review by Arjan Deelen.
-Copyright EIN November 2012 - DO NOT COPY.
EIN Website content © Copyright the Elvis Information Network.
Click here to comment on this review
Check HERE for AMAZON great prices

< < Europe < < < or > > > USA > >

for UNDER £14 or US $26

and with free delivery depending where you live
(Right:Great shot from the back page of the CD/DVD package)

DVD Tracklist & Filmed Footage (Approx time)
1. Introduction: Also Sprach Zarathustra - 1 minute Good preshow build up footage
2. That's All Right - Complete, 2 1/2 mins
3. Proud Mary - Beginning & End, 1 1/2 mins
4. Never Been To Spain - Beginning & End, 3 mins
5. You Don't Have To Say You Love Me - None
6. Until It's Time For You To Go - None
7. You've Lost That Lovin' Feelin' - None
8. Polk Salad Annie - Beginning & End, 2 mins
9. Love Me - None
10. All Shook Up - None
11. Heartbreak Hotel - Majority, 1 1/2 mins
12. Teddy Bear/ Don't Be Cruel - None
13. Love Me Tender - None
14. Blue Suede Shoes - None
15. Reconsider Baby - Start only 10 seconds
16. Hound Dog - Start, 2 mins
17. I'll Remember You - Middle, 1 min
18. Suspicious Minds - Majority, mainly last half with karate ending, 3 mins
19. Introductions by Elvis - 30 secs & Kathy Westmoreland
20. For The Good Times - None
21. American Trilogy - Most of last half from "Hush little baby", 2 1/2 mins
22. Funny How Time Slips Away - None
23. I Can't Stop Loving You - None
24. Can't Help Falling In Love & Outro - Elvis' final goodbye 1 min
---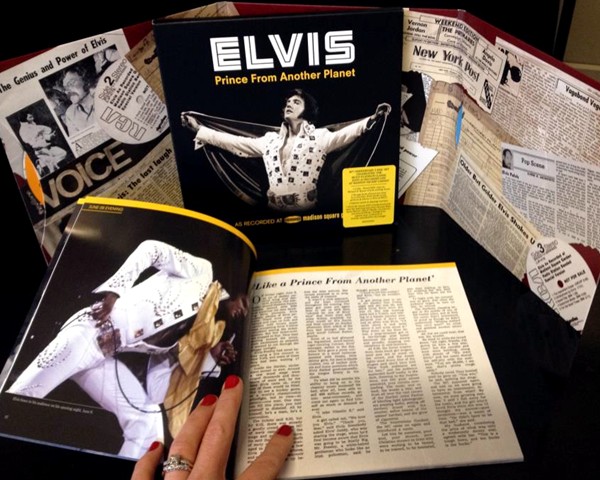 ---
EIN Contributor David Tinson has also sent us these thoughts about the Don Lance footage.
For years I've wondered how Elvis performed at the garden with only insignificant footage available on youtube. But the Don Lance footage is fantastic –– a revelation!! Elvis looks fabulous in his powder blue jumpsuit - arguably the best outfit of the engagement. The Elvis touring juggernaut was at full-steam - and here we see him hitting his stride with physically commanding performances - 'Prince From Another Planet' - yeah baby!!

I think it captures Elvis at his mid-seventies zenith - and stage honed after an extensive touring schedule it shows the King on his throne displaying the dynamic showmanship that made his legend...

Watch him stand back so nonchalant cool at 'That's All Right's' conclusion before the final guitar thrust...the playful guitar turn - Elvis' guitar throw to Charlie - and glimpses of his gold bling cape.

It seems Don Lance aimed his camera just at the righ moments: "Polk Salad Annie's" wonderful dynamic ending... 'Hound Dog's' drama and spectacle...Elvis carved from stone, a god poised, and the songs finale, an affectionate nod to his army years.

However, whirling dervish style it's 'Suspicious Minds' where he winds up the tension, finally unleashed in a stunning karate showcase finish that's jaw-droppingly sen-sa-tional.

Ernst was open mouthed when he watched it for the first time and I'm not surprised - the ephinous revelations of the king on his throne playing to the adoring masses at MSG -- brilliant!!
From: Allen Harbinson
Arjan Deelen nails it on the head. This is a gorgeous package. The afternoon show is fantastic, with fabulous sound that brings out not only the full range of Elvis' voice, but the stupendous drumming of Ronnie Tutt and the remarkable guitar-picking of James Burton, all of which was obscured in my old vinyl version. The evening show was almost as close, though saddening in that Elvis dropped Blue Suede Shoes, Reconsider Baby, Until it's Time for You to Go and I'll Remember You for the Broadway Musical dreck of It's Impossible (which of course he sings beautifully). The booklet is lavish with some superb photos. The DVD is more CD than DVD and the blank screens, when they go on too long, are truly annoying. Nevertheless, it has historical importance and at least offers some tantalizing glimpses of Elvis' high-octane performances and soon-to-disappear enthusiasm. Indeed, I was so thrilled with this package that I had one sent from Amazon as a surprise Christmas present to my niece, who's an avid Elvis collector but has never received a Christmas present from me. She'll be over the moon. I'm pretty damned sure I've won a heart. So thank you, Elvis. And thank you, Arjan, for a great review.
W.A. Harbinson - Author of Iconic Voices (see EIN's interview with best-selling author W.A. Harbinson here)
PRINCE FROM ANOTHER PLANET: 40th ANNIVERSARY EDITION.
When asked at the press conference why it took so long, Elvis answers with a straight face: "I think it was a matter of not getting the building, the proper building. We had to wait our turn in order to get the building. Couldn't get a good building in fifteen years. No, all kidding aside, we had to wait our turn to get in... into the Garden, you know. I just hope we put on a good show for everybody. Oh, I like it. I enjoy it."
PRINCE FROM ANOTHER PLANET by ELVIS PRESLEY
ELVIS AS RECORDED LIVE AT MADISON SQUARE GARDEN /40th ANNIVERSARY EDITION
Disc 1: The afternoon show recorded June 10, 1972 (originally issued April 1997, as An Afternoon In the Garden, RCA 67457-2):
Tracklist: 1. Introduction: Also Sprach Zarathustra (Theme from 2001: A Space Odyssey) • 2. That's All Right • 3. Proud Mary • 4. Never Been To Spain • 5. You Don't Have To Say You Love Me • 6. Until It's Time For You To Go • 7. You've Lost That Lovin' Feelin' • 8. Polk Salad Annie • 9. Love Me • 10. All Shook Up • 11. Heartbreak Hotel • 12. Medley: (Let Me Be Your) Teddy Bear/ Don't Be Cruel • 13. Love Me Tender • 14. Blue Suede Shoes • 15. Reconsider Baby • 16. Hound Dog • 17. I'll Remember You • 18. Suspicious Minds • 19. Introductions by Elvis • 20. For The Good Times • 21. American Trilogy • 22. Funny How Time Slips Away • 23. I Can't Stop Loving You • 24. Can't Help Falling In Love • 25. End Theme (Orchestra).
Disc 2: The evening show recorded June 10, 1972 (originally issued June 18, 1972, as Elvis As Recorded At Madison Square Garden, RCA LSP 4776):
Tracklist: 1. Introduction: Also Sprach Zarathustra (Theme from 2001: A Space Odyssey) • 2. That's All Right • 3. Proud Mary • 4. Never Been To Spain • 5. You Don't Have To Say You Love Me • 6. You've Lost That Lovin' Feelin' • 7. Polk Salad Annie • 8. Love Me • 9. All Shook Up • 10. Heartbreak Hotel • 11. Medley: (Let Me Be Your) Teddy Bear/ Don't Be Cruel • 12. Love Me Tender • 13. The Impossible Dream (The Quest) • 14. Introductions by Elvis • 15. Hound Dog • 16. Suspicious Minds • 17. For The Good Times • 18. American Trilogy • 19. Funny How Time Slips Away • 20. I Can't Stop Loving You • 21. Can't Help Falling In Love • 22. End Theme (Orchestra).
Disc 3 (DVD): 1.Making of Documentary • 2. Afternoon press conference held June 9, 1972 (approx. 20 minutes). 3. Afternoon show filmed June 10, 1972 (approx. 1 hour)
TCB Band:Guitar: James Burton
Guitar: John Wilkinson
Guitar & Vocals: Charlie Hodge
Bass: Jerry Scheff
Drums: Ronnie Tutt
Piano: Glen D. Hardin
with: Vocals: J.D.Sumner & The Stamps
Vocals: The Sweet Inspirations
Vocals: Kathy Westmoreland
The Joe Malin Orchestra conducted by Joe Guercio
---
See EIN review of 'A Boy From Tupelo'
See EIN review of 'Young Man With The Big Beat'.
See EIN review of 'Elvis Is Back!' Legacy Edition review:

See EIN review of 'The Complete Elvis Presley Masters' in-depth Review
See EIN review of 'On Stage' 40th Anniversary LEGACY in-depth review:
See EIN review of From Elvis In Memphis (40th Anniversary Legacy Edition)
See EIN review of 'I Believe' BMG Gospel set.
See EIN review of 'The Complete '68 Comeback Special' CD Review:
---
EIN Website content © Copyright the Elvis Information Network.
Elvis Presley, Elvis and Graceland are trademarks of Elvis Presley Enterprises.
The Elvis Information Network has been running since 1986 and is an EPE officially recognised Elvis fan club.