PRINCE FROM ANOTHER PLANET:
An interview with rock photographer Dagmar - by Arjan Deelen.
When I first heard about the Madison Square Garden project, I remembered that rock photographer Dagmar had taken photos of Elvis at MSG and that many of them were still unpublished. I duly put her in touch with Ernst Jørgensen. That was back in October '11. Now that the project is nearing completion, I decided to catch up with her and have a chat with her about this project as well as her photography at other Elvis concerts.

Some of you will remember Dagmar from her excellent 'Elvis! by Dagmar', which contains many sensational shots from the September 1970 tour and which can still be ordered directly from her (see her comments below).
Arjan Deelen - You saw Elvis for the first time on the September 1970 tour. Your spectacular photos can be seen in your book 'ELVIS! by Dagmar'.
Dagmar - Yes, The first time I ever saw Elvis in person was on September 10th, 1970. I've kept the ticket stub. It says Sec L/C Row L Seat 135.
What did you think of his performance that night?
I was very surprised he was THAT GOOD!
If you like, read pages 18-20 in my book "Elvis! by Dagmar" (by the way, yes, the book is still available, just get in touch with me on FB or via email: dagmarfotos@gmail.com <Click to email)
I wrote about his entrance on stage at the Kiel Auditorium in St. Louis that night:
"End of intermission. By now I am really curious. The lights go out. Excitement can be felt like electricity in the air. The tension mounts. Drum roll. A bright spot of light on the right side of the stage. A single scream from the audience: ELVIS! With one leap he lands onstage. WOW! Even before he sings one single note, there's a standing ovation!"
And a little further on, here's another quote:
"Something unexpected and extraordinary happens: Elvis takes my breath away.... Elvis is exciting, dynamic and sexy. A great showman, whose radiance and magnetism reach from stage all the way back to the last row".
He was such a dazzling performer, a true one-of-a-kind.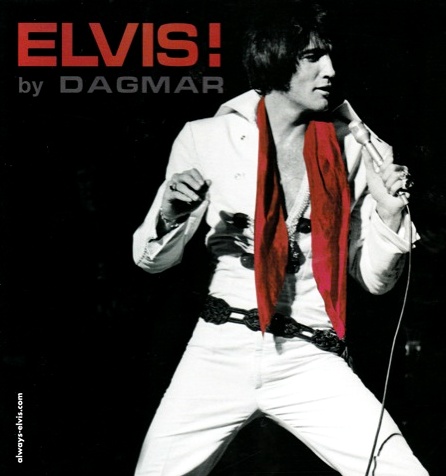 You had already seen and photographed numerous great artists at that time. What did you think of Elvis before you got the assignment to photograph him on the September 1970 tour?
I wrote stories and photographed groups and artists that were famous already, or that I thought would interest the European audiences. When I heard about the planned "Super Come-back Tour" - Elvis had not been on the road for 12 years - I suggested covering it for BRAVO Magazin in Germany. I was not a fan. I did like his songs and I was very curious. I wrote enthusiastically to the publisher. And I got the assignment.
You got to meet him briefly on that tour. What were your impressions of him as a person?

I did meet Elvis, very briefly, after the second Miami concert, the evening performance. As I wrote in my book "Elvis! by Dagmar", his dark hair was plastered to his wet forehead and a white fluffy terrycloth towel was slung loosely around his neck. He had performed his last song, a limo had brought him back to the garage of the Hotel Fontainebleau (where I had arrived earlier, not having waited for the end of the set) and he had just entered the service elevator to sneak up to his suite, accompanied by two bodyguards.

I was very skinny then, and very fast, so I managed to slip in as the doors were closing. (How did I know he was going that route? I had carefully watched the proceedings after the afternoon concert!!)
He was calm and friendly and we spoke just a few sentences before he got off on his securely guarded floor. My impressions? Elvis at that stage in his career was a really nice guy, happy with his success. A bit tired, but he could have probably gone on several more songs!
You photographed him again at Madison Square Garden in June '72. Did you notice any differences in his performing style compared to 1970?
His performance had become more routine. Of course! The band knew when a joke was coming, as he had incorporated some of the spontaneous jokes of 1970 (because they worked!). He had put on a little weight. Maybe it was not as intimate a concert, since Madison Square Garden is a much larger venue. But like back in 1970, he held the audience spellbound.
What about his vocals compared to 1970?
I cannot answer that. I thought he was terrific. Then and now.
Did you also photograph the press conference on June 9, 1972?
No.
Were you able to move freely in the room or did you have to stay in your seat? Was it easy to photograph him?
I moved around a bit. Yes, it was easy, because Elvis always looked good in any pose. But I always waited for "my" special moment - an expression, a move...
Did you get close to the stage? Do you think he noticed you?
Yes, I believe I did. And yes, I believe HE did notice me.
How many photos did you take at Madison Square Garden? Did they get published at the time?
I cannot tell you how many photos I took. Several rolls of b&w and color . They were published in BRAVO Magazin in Germany and SALUT LES COPAINS In France. And several other publications... (sorry, don't remember the names, they are in my archives at home in AZ)
Some of your photographs will be used on the Sony Legacy release 'Prince From Another Planet'. Can you tell us more about that?
Don't have the final count yet. I believe it will be a double CD with an accompanying booklet. Ask SONY!
How many photos did Sony Legacy select? Did you have any input?
My input was my selection of 42 images I sent - they pre-chose about 12, and we shall see, how many actually will be in the booklet.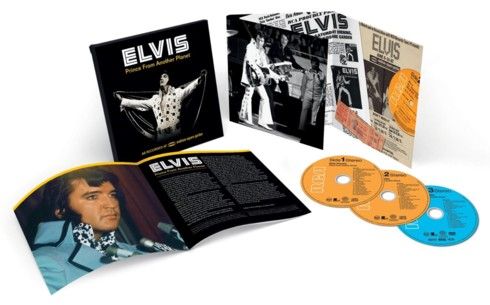 If I'm not mistaken, then you also photographed him on the April 1972 tour. Do you remember the date / location?
Wasn't that at Nassau Coliseum?? I'll have to check that!
No, that's where you photographed him in '73.
Yes. Right. I must have photographed him in Jacksonville on that April '72 tour. That's right it was at the Veterans Memorial Coliseum and would have been the April 16, 1972, evening show.
I understand that the last time that you photographed Elvis was in 1977. You told me earlier that you were so shocked by his performance that you destroyed the negatives.
Yes, that is true, Elvis looked terrible, he was fat and seemed at times incoherent. I felt SO sorry for him, I did not want any of my photographs to be published showing him in this stage. I burned them all and was going to wait until he got better and then photograph him again. Alas... it was not to be.
Did you ever regret destroying those negatives?
I have never regretted destroying those photos. Yes, I am actually happy I did, because I would not just have wanted to make money off these pictures, I wanted to contribute to a positive memory of Elvis. And, truly, I believed he would recover and be back to dazzle his audiences again. And I would be there to document that!
It seems that your Elvis photos are turning up everywhere. Does that bother you?

YES, it does bother me a lot. It is so unfair. Why not pay me for using my work? THEY make money with their product showing my images! Through the years I have often received messages from friends and Elvis Fans showing me a photograph and saying: "Isn't that YOUR picture?" It seems they know it better than I do!! I've been on bootleg CDs, Calendars, even a Russian Postage stamp. And on ebay, of course...

Does this also happen with photos of other rock artists that you photographed, or is this especially the case with your Elvis photographs?

It has happened several times with David Bowie... and once I had to hunt down a publisher of an Eric Clapton book.. and I never got paid for the cover of a Dr. John The Night Tripper LP... HAIR images were used on TV and I am still trying to get to Katie Couric for payment. I am persistent!!
As you mentioned earlier, your Elvis photographs have turned up everywhere, and you also mentioned some of the downsides… But what for you is the absolute highlight – the # 1 one moment where you were most proud of your Elvis photography being used, whether it be in a magazine or a CD or a Russian Stamp….?
I loved the poster a company made of one of my full figure Elvis b/w photos in the 70s ... But I am still really thrilled like a kid, it is a highlight every time somebody uses MY Elvis pics legally! I have not yet seen the new PRINCE FROM ANOTHER PLANET, due out soon. I cannot wait to hold it in my hands!!
Do you still photograph live shows?
No, I am not doing live shows any more. The last one was several years ago: Donna Summer onstage for a private company in Manhattan. But I always carry a camera, as if it were an extension of myself. I photograph my husbands art (Anton Krajnc) and his projects, both two and three-dimensional, for an upcoming book. You can see some of it - Go Here: www.dagmarfoto.com/about.anton-krajnc.html - and I find things to photograph everywhere, be it wild life in Arizona (portraits of javelinas and bobcats, rattlesnakes and other unusual critters that cross my paths) or "wild" life somewhere else I happen to be. I have promised for years to do a book about "My Seventies" and I seriously must get to it now, very soon! Before, as a Canadian friend suggested, the title would have to be "Dagmar's Book of the Dead"! Yikes!
Strangely enough, I never think of Elvis in those terms. For me Elvis, his voice, his music, is and has always remained, very much alive!
Dagmar, thank you for the interview!
You are welcome, Arjan! It was a pleasure.
Interview by Arjan Deelen.
© 2012 Arjan Deelen / EIN. All rights reserved - DO NOT COPY.
EIN Website content © Copyright the Elvis Information Network.
Click here to comment on this Interview
---
'Elvis At Madison Square Garden' The RCA concerts - An In-Depth Report:

Elvis' June 1972 concerts in Madison Square Garden were a key part of his stunning career. Only days after the first concert RCA rush-released the album

'Elvis: 'At Madison Square Garden'.

Most serious Elvis fans will own both the original release as well as the 1997 release

'An Afternoon In the Garden'.

While both shows are impressive, fans and reviewers often describe Elvis' evening show performance to be as if he was running to catch a bus and suggest that the earlier Afternoon show may have been a better concert.

We all know that Elvis always preferred performing at his evening shows, so has this classic concert been misrepresented or was it just a badly mixed rush-release?.

With

'An Afternoon In the Garden' making the billboard charts

once again in 2011 EIN contributor

Daniel Massey

has examined each show very closely to truly discover which is the best show.

Go here to read this fascinating EIN spotlight.

(Spotlight/CD Review, Source;ElvisInformationNetwork)
---