'Autopsy: The Last Hours Of Elvis'
- The 2014 ITV UK Documentary -
Review - By Arjan Deelen
The promo publicity for the 2014 ITV UK documentary ''Autopsy: The Last Hours Of Elvis'' included rubbish such as "Elvis drank a litre of spirits a day" and that "The singer was so overweight .. that his death was inevitable."

As fans know, Elvis seriously disliked alcohol and although a little overweight at the time of his death a large proportion of the general public are similarly overweight.

The programme also promised shocking facts such as "Elvis was not in good shape" and "His hair would have been "snow white" had he not dyed it".

So was the programme really as unnecessary and sensationalistic as we all feared ?

EIN contributor Arjan Deelen - who was asked to participate in the show but declined - reviews the final broadcast and tells it how it is.....
---
Now UPDATED
with Reader Feedback - See Below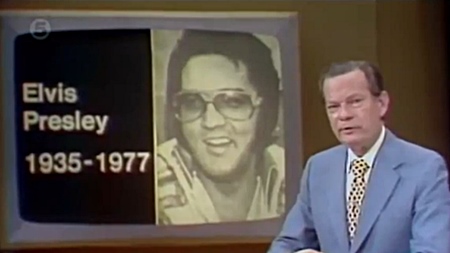 Elvis' death has always generated a lot of interest. Many have wondered over the years how this charismatic entertainer could die at the age of only 42 years.
There have been numerous documentaries about this subject in the past 37 years, the latest one being 'Autopsy: The Last Hours of Elvis Presley' on Channel 5 / ITV. The one that set the standard is 20/20 in '79: it was based on excellent journalism and confronting interviews, and it triggered a court trial against Dr. Nichopoulos.
This new ITV programme is nothing like that, as for the most part it just heats up old information, often with a sensationalistic slant. It doesn't really bring anything new to the table.
The programme suggests that they had access to Elvis' original autopsy, and nowhere do they mention that this document is sealed until 2027.

They show the two pages that we all have access to, which essentially say nothing. It seems likely that they used 'The Death of Elvis' by Thompson and Cole extensively, which makes sense because it's the best book on the subject.

A prescription from August 15, 1977 is shown repeatedly, and various deductions are made based on that. The only problem is that it's a fake!

It was first included with the bootleg album 'Elvis' Greatest Shit' as a (tasteless) joke, and now it's showing up in a medical documentary... Unbelievable! It does show that the research done for this programme is flawed to say the least.
This is also further underlined by the fact that footage from the movie 'That's The Way It is' is shown in extremely poor quality black & white... WTF?! Not only that, but they also use this 1970 footage when detailing Elvis' rise to fame in '56!
There are dramatic 're-enactments' in the broadcast and as can be expected, we see the actor playing Elvis taking pills time and again. Not only that, but we also get to see him on the toilet "straining to defecate". These re-enactments were done by UK Elvis impersonator Ben Portsmouth. I don't know how much they paid him, but it can't have been nearly enough! Ben also has to suffer the indignity of recreating Elvis' final moments, with Elvis falling from the toilet with his pyjama pants down, crashing on the floor, with some vomit coming out of his mouth. This particular clip is shown no less than SIX times in the programme!
The photo of Elvis lying in state in his coffin is also shown six times. Unnecessary, and a bit sensationalistic, in my view.

Overall I'd say that the broadcast is sympathetic in its approach of the subject, but the exaggerations and the flawed research seriously undermine its credibility. They state that Elvis had to go to the dentist that final night due to a painful tooth ache, but in reality he was there simply to have a crown replaced.
They also state that 50% of Elvis' earnings went to Colonel Parker, but neglect to mention that this recent agreement hadn't been effectuated yet. Upon discovering Elvis' body, 'Ginger' is seen using the intercom in the bathroom, but in reality that one wasn't working.
At one point, Dr. Shepherd claims that "most of Elvis' organs were about twice the size they should have been". While this is true of the heart, liver and colon, it seems a rather odd exaggeration to make, especially for a doctor. MOST of Elvis' organs?!

There's also a re-enactment from that final evening on August 15th, which shows three Memphis Mafia members arriving simultaneously at 8pm. You see them all at a dining table, drinking whiskey and cheering, in the presence of Elvis, Ginger, Lisa and Vernon. Needless to say that this didn't happen. Elvis is also seen eating copious amounts of food, which is at odds with statements from those around him that he was fasting the last two days of his life.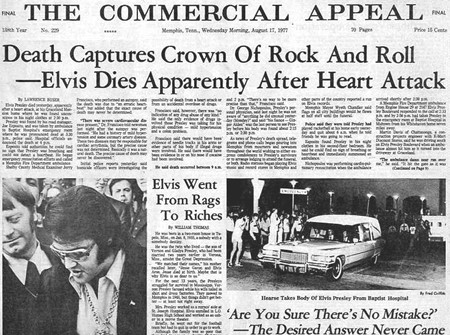 At one point I got fed up with the constant repeats of the same re-enactments, the same (unflattering) photos and the numerous dramatically worded claims: "Bizarrely, he has decided to play a game of racquetball..", and off they go with various explanations of how dangerous and irresponsible this was for a man in Elvis' condition.
"Elvis was a ticking time bomb", Dr. Shepherd says, as he contemplates the effects that this round of racquetball had on Elvis' body. Too bad that they didn't bother to check this with Billy Smith or any of the other participants, who all have stated that Elvis was mostly clowning around and never really exerted himself.
And what to make of this comment: "… 9.05am: By now Elvis is likely to be experiencing extreme discomfort and no movement in his bowels….". Fact is, NOBODY knows what happened to Elvis in those final moments in the bathroom, and all that we have is guesswork. To present guesswork in such a manner is questionable to say the least.

(Right: The all-important re-enactment that all ETAs strive for - Elvis taking his final dump! Is this the artistic low for an Elvis documentary!)
They interviewed a couple of people, some of interest, and some not. Nurse Marion Cocke could have been interesting if interviewed properly, but here she just repeats the same old stuff that we have all heard before numerous times. Same with George Klein, who for the most part just waffles on in the same tone. I did see some genuine emotion in him when he discussed how he felt after he'd heard that Elvis had died.
Edie Hand does her best to play the Graceland insider, but it's painfully obvious that she hardly knew Elvis. Why didn't the producers interview the people that were there on that final day: Billy and Jo Smith, Ginger Alden, Al Strada, Dick Grob, the paramedics who tried to revive him, and especially Dr. Nick? That could have been interesting.

There's a lot more that I could say, but I think you get the picture. The death of Elvis has been the subject of numerous documentaries, and I seriously wonder why the producers felt the need to do another one. It's not like they are bringing anything new to the table, and the sensationalistic approach and flawed research seriously undermine its credibility.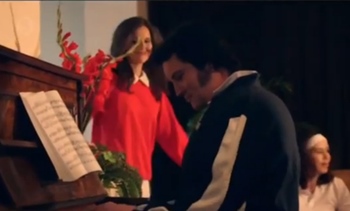 The re-enactments sometimes border on the ridiculous, especially that scene of Elvis, his family and his Memphis Mafia are having a grand ol' time on that final evening. A few are in decidedly poor taste, most notably the one of Elvis / Ben lying on the floor with vomit coming out of his mouth… A case of 'too much information'.

Overall Verdict: NOT recommended.
Review by EIN Contributor Arjan Deelen.
-Copyright EIN December 2014.
EIN Website content © Copyright the Elvis Information Network.
Click here to comment on this article
For more information on Arjan Deelen's Original Tribute Tour go here > www.elvisnews.dk

What do you think? - Did you see the show? We'd love to hear your feedback on this matter.
Click HERE and send us YOUR FEEDBACK
(Note - If you don't use outlook express simply email piers@elvisinfonet.com )
You can view the whole programme on YouTube HERE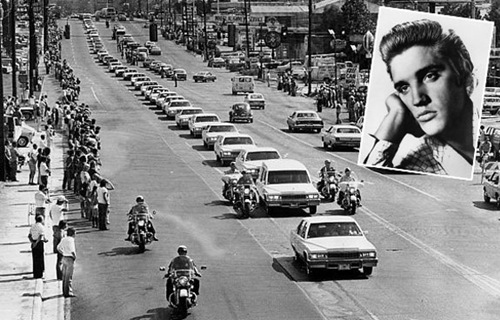 ---
Further to Arjan Deelen's insightful review EIN has several additional observations to make:
based on the Elvis episode, the Autopsy series (now in its third season) doesn't appear to know whether it is a serious medical program or tabloid expose
the use of narrative such as "Elvis has around 9 hours to live" was unnecessarily melodramatic for a program purporting to be a serious examination of its subject
the image of a naked (bare behind) Elvis (circa death) would have been acceptable once (fitting for the program's narrative) but as a repeated image it simply reinforced the sensationalist, tabloid nature of the program
the amount of extraneous personal accounts around Elvis' career detracted from the program's core objective to provide information on Elvis' autopsy and his cause of death
previews/promotion for the show misinterpreted that Elvis drank more than 1 litre of alcohol a day (it was a theory Dr. Shepherd considered, but discounted, as explaining his enlarged, fatty liver)
the conclusion that Elvis' death was not directly related to drugs but due to the Valsalva maneuver confirms Dr Nick's theory (as stated in his poignantly reflective book, The King and Dr. Nick)
Besides the Autopsy program another recently televised show worth checking out is Dead Famous DNA. A three episode series on the UK Channel 4 network, it includes analysis of purported Elvis DNA (hair samples collected by Elvis' barber, Homer Gilleland - the presenter, Mark Evans, was unsuccessful in convincing super-collector, Joni Mabe, to part with her Elvis wart!) to determine the cause of his death and if Timothy Farrell is his son. It too has proven to be controversial (particularly in relation to the purchase of body parts purportedly from the charred remains of Adolf Hitler and his wife Eva Braun).
Dead Famous DNA has a much different feel to it than the Autopsy program. It is neatly crafted as a mystery doco (some have even suggested it as spoof, ala the infamous book/TV special Alternative 3 - we will let you be the judge whether Dead Famous DNA is science or not) with dashes of danger through clandestine meetings in dark, seedy motel rooms and intriguing twists and turns at every corner, and like the Autopsy program it does include the occasional piece of melodrama. It is strangely engaging and certainly a lot more fun than the Autopsy show.
A revelation about hair samples from Mad King George III is funny stuff as is this account from a review of the show about Evans' encounter with Napoleon Bonaparte's private parts:
Last week's episode had Evans trying to buy Napoleon's willy, supposedly, after squandering £1,800 on a lock of the Little General's hair to cross-match the DNA with his, ahem, little general.

Staring at it, Evans gasped: "If that is Napoleon's penis sitting on my knees, the last place I'd have expected to find it is New Jersey.
For a very different perspective on what caused Elvis' death EIN recommends this interesting (and controversial) article by Dr. Forest Tennant: (Please note this is a very detailed 1.5Mg, 14-page pdf file.)
Elvis Presley: Head Trauma, Autoimmunity, Pain, and Early Death
---
From: Luke
First of all, let me say I am a big fan of Elvis,
He had a magic about him, that to this day, no one has come even close too...
I watched the Elvis Autopsy, & I didn't think it was that bad,
The story basically follows the known story of Elvis dying in his Bathroom, no good sugar coating what happened nearly 40 yrs ago, there was no big shock.
I thought it explained very well, the prescribed drug use, & what they were for, showing the medical conditions he was suffering,
Some drugs to counter-act with others, ended up being a bit of a list.
He needed medical treatment/surgery it seems for some time, , constipated One end & pressure in the head from glaucoma, so he would have been in alot of pain without the pain killers
but in the end everyone including Elvis thought the band-aid (pills) would keep it under control.
It showed the combination of the pills & his medical conditions contributed to his heart failing, the racket-ball that night ,in the end his body just couldn't keep up.
Sadly Elvis was caught in a tangled web of keeping the show going, worried about everyone else but himself in respect to people depending on him & their pay check.
If only he had the surgery he needed & a good rest, not just a vacation to Hawaii...
Unfortunately for the rest of the world it was Elvis's time to leave us, I don't think then,at the time Elvis or the others around him seen it coming.
It's only when you look back after this death, it is easy to see how this happened, he started with pills to control his superstar life, in the end the pills controlled it.
Pills to go to sleep & pills to wake up & pills in between for pain, who can do that forever...
I mean no disrespect to Elvis & find it still very sad what happened to him, I bet he just thought he was doing the right thing at the time.
Rest in peace Elvis - Adios

From: Brian Quinn
Arjan's review was spot on. I cannot improve on it.
The programme drew an audience of between 900,000 and 1.1. million depending on which polling company you believe. Since the showing, apart from fans, there has been very little reaction in the UK which I suspect is due to nothing really new being shown.
From some of the comments made by members of the public it appears they feel that Elvis should be allowed to rest in peace and overall they blame Dr. Nichopolous, family and bodyguards for not doing more.
Further, I don't recall any mention being made of Dr. Elias Ghanem (Elvis' West Coast Doctor) who was also in the frame for supplying Elvis drugs.
However, I personally feel that Elvis was on a downward spiral during the last couple of years due to his turning 40, older audiences, no further challenges, and many illnesses. His workload was far too much for a man of his age and in his condition.
Drugs and live appearances were his only comfort.
Tragic but inevitable.

From: Kevin C
I have been a massive fan of Elvis since I saw a film on BBC 1 in 1969 in England. I am now 53 & have had the privilege of going to Graceland in 2012 for my 50th birthday.
I watched the channel 5 documentary, which will not be shown in the UK until next week. I watched the documentary on your great web page, so a big thank you for putting it on there so I could view it.
I was very sceptical on this documentary after reading various reports about it, for example, Elvis drinking a litre of spirits a day. This was only observation regarding his death, by the British pathologist.
He was given the documents of the original pathologist report on Elvis' death in 1977, he said that it might have been this, or the prescription drugs that might have caused the damage to his liver. This was only an observation, given the facts of the Pathology report. Good old sensational journalism!
As we all know by now, it was the prescription drugs that caused the damage. I am fed up to the back teeth as all true Elvis fans are, about him dying of a drug overdose in 1977.
I thought this documentary was one of the best that I have seen. The facts concerning his death were really accurate in my opinion.
I agree with Arjan Deelen, regarding Elvis and all that the pill taking clips that are shown. Please read the book called "The King and Me" by Doctor Nick.
In my opinion, it was a really good documentary which revealed all the information regarding my idol's death.
At last a true documentation with all the facts regarding the greatest entertainer the world has ever seen.
---
'An Evening with Elvis' Friends and Original Musicians'

UK Tickets ON Sale

: Back in August Arjan Deelen was proud to announce that he had tracked down Elvis' 1970 drummer Bob Lanning. He was able make a deal with him for an exclusive tour in May 2015. This will mark the first time since 1970 that Bob will be playing Elvis' music. For the first time, you will be able to hear songs like 'Polk Salad Annie', 'The Wonder Of You', 'Walk A Mile In My Shoes' and many others as played by the drummer that you can hear on the original Elvis versions.
Enthusiasm is already running high among Elvis fans for the 2015 "An Evening with Elvis' Friends and Original Musicians" shows (featuring a.o. Duke Bardwell, Bob Lanning and Marlyn Mason). Below you can see a list of the shows booked at present. We are excited about every show obviously, but we are particularly thrilled about coming to the U.K. for the first time. We will be performing at the prestigious "100 Club" on Oxford Street in London, and also at the impressive "Sage Gateshead" in Newcastle, one of the leading U.K. concert venues. The London gig is in collaboration with Todd Slaughter and the Official Elvis Presley Fanclub of Great Britain, while Trevor Cajiao at "Elvis – The Man And His Music" has been instrumental in getting us the Newcastle show. There's talk now about doing a special interview session with the musicians at The Sage.
Dates booked so far...
Saturday, May 2, 2015 Vara Konserthus, Vara, Sweden
Wednesday, May 6, 2015 100 Club, Oxford Street,

London,

U.K. - Get Tickets HERE
Thursday, May 7, 2015 The Sage Gateshead,

Newcastle,

U.K. - Get Tickets HERE
Wednesday, May 13, 2015 Sellosali, Espoo, Finland
Thursday, May 14, 2015 Chapito @ Casino 2000 Mondorf, Luxembourg
Friday, May 15, 2015 Metropool, Hengelo, Holland
Saturday, May 16, 2015 Melkweg, Amsterdam, Holland
Sunday May 17, 2015 Effenaar, Eindhoven, Holland
More info soon.
(News, Source;ArjanDeelen/ElvisInfoNet)
---
EIN Website content © Copyright the Elvis Information Network.
Elvis Presley, Elvis and Graceland are trademarks of Elvis Presley Enterprises.
The Elvis Information Network has been running since 1986 and is an EPE officially recognised Elvis fan club.