R.P.O. TOURS WITHOUT THE R.P.O.: Have E.P.E. lost the plot completely?

As Elvis Presley Enterprises (EPE) is about to embark on its latest venture, the 'Royal Philharmonic Orchestra' (RPO) tours, I think there's some questions that need to be asked, and some points that deserve to be raised. The first shows will take place in the UK shortly, and after that there'll be concerts in Australia and in Europe.
However, before we get to that, let's have a brief look at the history of EPE's Elvis shows on tour.

Their first venture into the concert business was the screen shows featuring his original singers and musicians, usually titled 'Elvis Presley in Concert'. This show, produced by Stig Endgren, originated in 1997, and started touring around the globe about a year later. Sure, the show did have its flaws. Sometimes technology failed. Sometimes the musicians had an off-night. But it didn't really matter. There was a beauty about the whole thing, an authenticity, that created true magic at times. On those nights where it all came together, the audiences experienced one of the most electrifying rock & roll shows this side of the great helter skelter.
I saw two of the early shows, and then one of the final shows, in Copenhagen on March 24th, 2012. I wrote an article about it at the time for EIN (see below). There were already some rumblings back then about this being the end for this show, and that EPE was going to do a much cheaper version with anonymous musicians. I talked about it with some of the original musicians, including Ronnie Tutt, and they were very disappointed with EPE's decision. They really wanted to continue.
Ronnie Tutt and Arjan Deelen backstage at the 2012 Copenhagen show
POOR DECISION-MAKING
But EPE stuck to their decision, and 2014 brought us 'Elvis Presley On Stage'. This show played in smaller venues, but played far more tour-dates than its predecessor. With musicians fees cut down drastically, there was money to be made. Due to the vague publicity, many fans were confused about this show and what it really represented. Some thought that this was still the show featuring the original musicians, and they were naturally disappointed. The try-out show in Memphis did show some promise, with a tight band giving some of the material new energy, and a particularly good guitarist playing in Brian Setzer mode. 'Hmmm, could be interesting...', I thought. But, as a tour of Europe was planned, EPE contracted local musicians in Europe to cut costs. A decision that quite frankly boggles the mind, and one that clearly shows that it's all about money for them and very little else.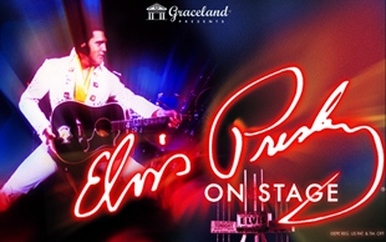 The Euro musicians probably did the best they could under the circumstances, but due to EPE's poor decision-making, the show never really had a chance right from the outset. Consequently, the whole venture collapsed almost before it began. Despite decent attendances in most cities, many fans were disappointed with the show. The music backing sounded rather bland and in parts even under-rehearsed, and as a result the show never really connected with the audiences. When the end of this venture was reported, virtually nobody expressed regret at its demise.

There's no doubt that EPE made plenty of dough with this show, but it couldn't be denied that they were digging their own grave. This short-term policy, or some might say no policy at all, endangered the future of their concert business. They quickly realized that their new show was a real dog, and therefore they shut it down unceremoniously.

So, what next?


LACK OF UNDERSTANDING
The answer came with the 'Royal Philharmonic Album' and its success on the UK charts last winter. Now, I'll say right from the start that I am not a fan of the album. There's something about the mix that makes the music sound like a cheap karaoke track, and I think these arrangements do Elvis no justice at all. The music is so syrupy that it's nauseating. (See below for on-going debate about the album). What is just as troubling is that the album displays a fundamental lack of understanding of who Elvis really was as an artist. In my view, he did his best work with small combos, live on stage or in the studio. And contrary to what Priscilla indicated in the publicity surrounding the album, Elvis did work with orchestras. As a matter of fact, he had one on stage with him for eight years (!), a fact that she appears to have forgotten.
The results were just never really memorable, and with the sole exception of 'American Trilogy', orchestras never contributed to Elvis' music in any significant way. But despite Priscilla's misleading hype, there is no getting away from the fact that the first RPO album is a real doozy. Elvis and a lifeless, sterile orchestra track doing bland karaoke versions of a rather predictable selection of evergreens. I don't think so.


MISLEADING PUBLICITY
But enough of the album. Volume 2 of this monstrosity is about to be unleashed upon us, as you no doubt already know. The success of the first album made a concert tour with the Royal Philharmonic Orchestra a viable option. Initially there was some talk about Ronnie Tutt and maybe James Burton getting involved, which could have been interesting, but apparently that idea was abandoned at some point. As is usually the case, probably a matter of $$$. The first tour is about to take place in the UK – with the Royal Philharmonic Orchestra, obviously. EPE has now also announced shows in Australia and Europe, but... wait for it... despite vague publicity with various mentions of the RPO, it seems that they are doing these Royal Philharmonic Orchestra tours without the RPO… WTF???
The whole freakin' concept is built around the 'marriage' between Elvis and the Royal Philharmonic Orchestra, and yet EPE is quietly using local orchestras instead?
Now that's a real snowjob if ever there was one!
But perhaps it's not surprising, as the whole marketing of this concept has been characterized by misleading and disingenuous statements from Priscilla and EPE, e.g. 'Elvis always dreamed of working with an orchestra, but the record company wouldn't let him....' Oh really, what did he have on stage with him at the 'Aloha' concert then, the local Honolulu Boy Scouts Club??
Elvis with the Bobby Morris Orchestra in Las Vegas, 1969.

FLAWED PROJECTS
At this stage one gets the impression that they will say and do anything to 'sell' their product. Listen, I am no fan of the RPO project by any means, but I would have at least respected them if they had followed it through all the way, meaning doing all the shows with the RPO. That's the concept, for chrissakes! It would have shown that this was a idea that really mattered to them, an artistic statement of sorts. But no, as with 'Elvis Presley On Stage' and so many other flawed business projects, they are going for the easy money.
And, as they've shown before, deceiving the fans is just another day at the job for them it seems… No biggie. I find it saddening, shocking even, that a company that represents Elvis Presley is doing its business in such a questionable fashion. It's once again short-term policy, and one wonders whether the fans will keep coming back to see these amputated non-events.


The really sad part is that the market is there for a truly definitive multimedia Elvis show, that could be touring the globe for years to come. All it takes is heart, vision and a willingness to dig deep and invest into the future.
Sadly, it seems that EPE has the will nor the intent to give us a genuinely worthy Elvis production.
Click HERE and send us YOUR FEEDBACK which we will add to this article.
Spotlight by EIN Contributor Arjan Deelen.
-Copyright EIN OCTOBER 2016.
EIN Website content © Copyright the Elvis Information Network.

READER'S FEEDBACK -
From Tony S
I've not always agreed with Arjan on many subjects in the past, but here, regarding the RPO tour project, I think he's spot on !
The years 2015/2016 have shown more clearly than ever that EPE are just out for the $.
There's always going to be the type of 'fan' who does it for Elvis, but that demographic are on their way out.
The new generation/demographic are not going to return again and again to these type of events, the loyalty of the long term fan is coming to an end and EPE have a rocky future ahead in my opinion, especially when it's so openly apparent what they're up to.


From Gerard McC
I disagree with some comments made in the article,
Misleading Publicity? No where on the poster for next years date dose it state RPO would be performing. And yes Elvis used an Orchestra while touring in the 70s, but I feel this is taking Elvis music into a different direction, yes some can dislike it, but many, many do like it, I remember hearing about The Man and his music slaughtering it, which in turn, there entitled to there opinion even if it make them look incredibly silly.

Flawed Projects? I and many others thought that Elvis Presley On Stage was a very good show indeed, TCB band are not as good as they once where.
Lastly, lack of understanding?
Firstly you have stated "Im not a fan of the album" and then you dissect the full concept behind the album through to the live production which hasn't even played a single date yet. Give it a chance. It actually embarrassing how fans shoot and slaughter stuff down before it appears. In the end, people who will attend this show will see Elvis on the big screen signing his hits back by a live orchestra. The closest we for now will get, what's not to like about that?
Of around the 30 or so songs on the 2 albums , there is many I will be replaying over and over again. Burning Love, There's Always me, In the ghetto, Steamroller Blues, An American Trilogy, Big hunk o Love, Got a thing about you baby, Kentucky rain, Let it be me, Wonder Of you, Let it be me…

There are many tracks worked on this album, some will like and some wont, but I do think your going a bit over the top and sounding a bit angry to be honest. Try and relax and enjoy his music, after all, in the end you can stay home and listen to the origanals and the rest of us will go to the shows
Take care. Gerard

From Shane
Arjan is correct, and I say that disliking the album as much as he does.
The idea wouldn't be quite so bad if they were swapping the RPO for another symphony orchestra: The Berlin Phil in Germany, for example, or the Royal Concertgebouw orchestra in The Netherlands.
But a 40 piece pick-up orchestra is a very different affair to the 82 piece RPO - or similar sized orchestras that I have mentioned.
My guess is that the RPO have better things to do. Their concert schedule is intense - performing two or three nights a week, and their current announced bookings go on like that through next year's Proms season. But that doesn't excuse EPE giving the impression that audiences will get the same sound from a pick up 40 piece as an 80 piece symphony orchestra.
One thing to raise though The UK dates are with the Royal Philharmonic Concert Orchestra, not the RPO itself. The concert orchestra is used for, shall we say, lighter fare than the kind of material the RPO normally performs - often working with pop singers (they accompanied Neil Sedaka when I saw him in 2012) or providing live accompaniment to silent films, for example. While they are closely affiliated with the RPO, they are not one and the same.
And so, even in the UK, you're not getting the same orchestra as is on the album!


From MaryAnn
An evening with friends enjoying Elvis accompanied by local musicians is not a bad thing as long as that's understood,
BUT... the RPO and EPE have made a LOT of money off this, and I expect the full, honest-to-God, RPO to appear in Memphis at Elvis Week 2017
From Eivind G
I think we should wait and see! Go to the concert and judge later!
If I was old enough and had the opportunity to go to an real Elvis concert, I wouldn't care a dam thing about if it was the Bobby Morris orchestra, Joe Guercio orchestra or
whoever, Its all about seeing and hearing Elvis isnt it?
I think its too much complaining and negativity going around!
I am really looking forward to this!
My advise: go to this concert with open eyes and try to be positive, then I think this experience will be just great!

From Mike
Sometimes even more important than the orchestra: who will be the conductor? And will it be the same one during the whole tour? How much rehearsal time does he get with each orchestra? How are the orchestra's prepared? The conductor can make sure that a concert in Melbourne will sound quite the same as in Rotterdam.
It's a bigger concern to me than the size of the orchestra. Or the individual musicians in it.
I collect the concerts conducted by Valery Gergiev. Every year we have the Gergiev Festival in Rotterdam He's one of the conductors in this world who really makes a difference. I hope they can find someone of that caliber for the Elvis concerts.

From Bodie
What EPE are doing today is what Parker did with most of Elvis' career.
Making cut-backs for the sake of making more profit and by doing that they are taking way the quality of Elvis' work nearly 40 years since he died.
It's actually an insult to Elvis.
I am surprised that not more fans can't relate to this and be more angered cause i am.

From Sanja M
Anything for a buck. They will probably get some musicians from the local RSL (Oldies Local club) to play!
First it was Elvis on the screen with the TCB Band. Then it was Elvis on the screen with the orchestra. Now they are taking them away too.
We might as well just go and watch an Elvis movie screening - same thing!

From Liz C
I agree....as usual nobody, including Priscilla cares about the fans, it's all $$$$$.
From Neil C
At face value, I have no problem with the RPO not participating in 'The Wonder of You Tour'. The RPO is an established, UK-based orchestra, who regularly play concerts at a number of venues in London, and further afield in the UK. To have them head out to embark on a worldwide tour would greatly impact their ability to fulfil their normal obligations. As there are many ably-qualified classical musicians across the world, it makes sense (logistically and financially) to use locally assembled orchestras, especially as it's Elvis' voice and original music supplemented by the new arrangements that creates the overall sound, not the RPO musicians specifically.

Having said that, as a concept, I think it has a limited lifespan.
The original 'Elvis – The Concert' used many of Elvis' original musicians and backing vocalists, with matching footage, which at least had a direct connection to Elvis, and attracted the fans. These elements, which made 'Elvis – The Concert' a success, are sadly missing from 'The Wonder of You Tour' (with a number of the songs not even having original footage of Elvis to support them.)
As such, I fear that this concept will go the way of Viva Elvis (the short-lived 2010 Cirque du Soleil Elvis production), and Elvis: The Exhibition – The Show – The Experience (2015 at the Westgate Hotel, Las Vegas). However, I hope that I am wrong, and that it will give Elvis some positive exposure, and attract new fans.


From Tony
The RPO version of the wonder of you Elvis vocal sounds like it was taken from Elvis 30No1 album not the version live on stage 1970 for the 45 single what I thought was more powerful vocal from the king may be they used RPO version because of dvd footage from TTWII Special edition for they RPO impersonation on the cheap tour by EPE.
I think Del Boy trotter and Arthur Daley could do a better running the show, anyway it will keep Priscilla's plastic surgeon happy.
Thank you and the team for keeping Elvis in front best site on the net NO1.

From Tony C
Personally I have no problem that the Australian concerts are going to be without the RPO Orchestra.
I am grateful that's its touring Australia at all. I assumed that its going to be with the Melbourne Symphony Orchestra or something similar.
The only criticism that I have is that the tickets are little over priced.
EPE have around 8 months to prepare for the Concerts in Australia.
I'm hoping that it will be a great success and that it will be a wonderful night full of great songs and great memories
I'm hoping that we continue to get more interactive Elvis concerts here in Australia for generations to enjoy.

From Lisa S
This has not been about Elvis for years....it is all money and IMO keeping PRISCILLA relevant. Because lets face it without Elvis who would she be?
They have proven over and over how stupid they are business wise. Just look at the whole Las Vegas exhibit fiascos.

From Helen K
Just to make more money from ELVIS makes me so angry
From Sandra B
A well written article.
It is a pity EPE are taking this approach; Elvis left a great legacy;
it should be respected and the fans would pay extra for the real orchestra and TCB band !
Click HERE and send us YOUR FEEDBACK which we will add to this article.