'ELVIS: '72 Summer Festival'
By Kieran Davis
Book Review by Piers Beagley - November 2021
From Kieran Davis - author of the excellent 'Elvis On Tour- November 1971' - now comes "ELVIS '72 Summer Festival" which covers Elvis' engagement at the Las Vegas Hilton during the months of August / September of 1972.

It includes stories from fans that attended the concerts including a chapter by Peggy Elzea that she wrote for her diary in 1972, photographs, memorabilia and reviews.

Hardback, Full Colour.

This book contains 160 pages describing in meticulous detail exactly what it was like to see Elvis at the Hilton at his 1972 summer season.

First published in 2019 it is being re-printed for 2021.

EIN's Piers Beagley spent some quality time by-the-pool discovering some amazingly detailed stories about our hero that are featured in this delightful book....
---
With so many books and releases surrounding Elvis' live seasons in Las Vegas fans must wonder whether they can be anything new to discover or say.

Kieran Davis' 160 page hard-back book 'Elvis '72 Summer Festival' was first published back in 2019. It nicely followed on from his earlier books 'Elvis: Live At The International' and Elvis November Tour 1971 book.
I was lucky enough to spend some time reading this fascinating book during a Mediterranean pool-side holiday and while I made multiple notes at the time I never got round to finishing my review.
With the book now being reprinted, it seems the right time to have a look at this delightful publication.
Once again author Kieran Davis has chosen a specific Las Vegas season and examined it in all its minutiae including lots of detailed text, concert reviews and even personal diaries from the time.
Davis' introduction helps set the scene and adds some fascinating details that usually get missed from other previous publications. Things such as the promotional aspect that helped build up the Las Vegas Season excitement beforehand lead nicely into the rest of the book.
Even with Elvis' weekly pay increase Davis calculates that the Hilton Hotel "with no difficulty at all was grossing in excess of $5 million every season Elvis appeared".
Elvis' temporary transition from jumpsuits to the more sophisticated two-piece suits is discussed. The author explains…
Rex Martin's Elvis News Service noted...
"The quality of Elvis' two-piece suits in general seemed not as good as you 'd expect. The inside leg seam of two trousers split and when he had changed behind the curtain he threw the split pair to the audience. I later came across the girl who caught them, holding them rolled up under her arm, and she let me look at them. The seams were sewn very fragilely and the jewellery down the leg was of course costume jewellery, and rattling. The trousers had no lining, hence his shirt always showing through at the back, and a nylon zip."
Despite the suits being made for someone of Elvis' star status it appears the quality had suffered somewhere down the line. Over the course of the engagement almost half a dozen pairs of trousers split before Elvis got completely fed up with them and reverted back to the jumpsuits that he knew could survive his show.
As usual the book features an incredible amount of memorabilia including magazines, newspaper articles, newspaper reviews, Hilton Room Service menus, even maps and architectural drawings of the Hilton. It seems like nothing is left out.
The book of course features a stunning array of photographs of Elvis in action although, as Davis explains, due to the stricter security and 'No Camera' policy there are less candid fan photos to be found than from any other Elvis Las Vegas season.
One contemporary review helps set the scene…
- Opening Night — August 4, 1972
Seeing Elvis Presley again is like seeing a favourite rerun on TV in primetime. Seeing him opening night here in the Las Vegas Hilton brought it all up close like seeing him on a personal closed circuit.
Man, but was Elvis ever wild!
From the moment the tall, jet-black haired, blue-eyed singer walked out on to the Hilton stage, shrieks and screams cut through the air and waved like stalks of wheat before the wind.
Wearing an all-white suit sprinkled with a variety of flamboyant adornments and a short white cape covering the back of his jacket and sleeves, Elvis moved through his performance as if he was trying to scratch out of the 7-year itch in just one evening.
He kept his right leg rigid and vibrated his left leg as if it were motor driven. On one number only, he slung a black guitar over his head, set his feet wide apart and shook one leg madly to the violent rhythm….

For most Elvis collectors the core of the book is once again the diaries by Elvis super-fan Peggy Elzea. (see Davis' previous book). Her enthusiasm for Elvis meant that she recorded meticulous notes from every concert that she had attended and it is these diaries that give the greatest insights into what Elvis' Summer Festival 72 was really like. They are a truly engrossing read....
... During 'Love Me Tender' Elvis was walking stage left. We were now sitting close to the middle and he was walking right past us.
I got up the nerve to yelp, "Hey, Elvis!" He turned around.
Tina was standing up on the other side of the table and he came over and talked to her. We cannot remember quite what he said, but he was singing 'Love Me Tender' and said, "Love ain't the word."
Then he made one of his crack lines, "I know what you've got on your mind. Same thing I've got on mine." Then he kissed Tina.
Then he came over to me
I was holding out my hand. He recognised me! I was three chairs out from the stage, and they were all jammed up in front. I leaned over and he leaned down, but we were still about a yard apart.
So, I took a good grip on his hand so he would not get away and I scrambled up on the chair and standing on one leg stretched over and got a kiss.
Not the most dignified of poses, but it was worth it.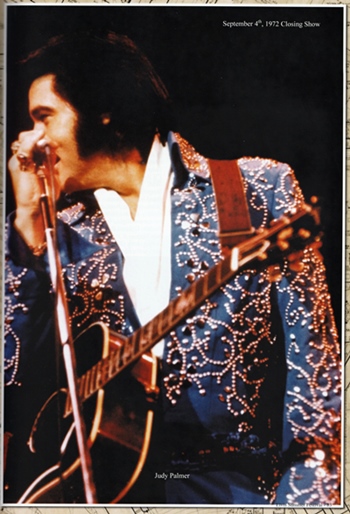 Elzea attended every Elvis concert from August 27 Dinner Show through to August 30 Midnight Show and every performance is written about in painstaking detail. Even between the concerts she describes the Hotel set-up in terrific detail and also how she tried to get to see Elvis and others in his organisation, including Col Parker.
There's an interesting comment that Parker actually promised to help get her upstairs to meet Elvis - but of course never kept his promise.
Peggy's stories also feature lovely tales about sneaking backstage, hiding in dealer's rooms, as well as giving Elvis a Halloween mask to wear on stage.
She, of course, got both scarves and kisses from her hero!
Sadly, 1972 would be the last time that Peggy got to see Elvis in concert.
The book also features letters from her friend Tina who actually did get up to Elvis' suite, including a great personal story from 1973. The letter includes…
January 28, 1973. The last show was real good.
That first night Red took me up to the suite.
When he started to introduce me to Elvis, Elvis put his hand up and said, "I know her... I know here. "
That really thrilled me!
Linda introduced herself to me, and she was a very nice and kind person.
Before Elvis went to bed, I got to give him the ring I'd bought.
I put it on him, and he said he really liked it, and he kept saying, "Thank you very much". Then he hugged me and gave me a kiss.
The hug meant more to me than any kiss.
He said "Thank you" again, so I said, "Well, you make us so happy."

The second half of the book features multiple stories about the 1972 season including Todd Slaughter's recollections of organising the 'Destination USA' tour for the Elvis Presley fan club of Great Britain.
Further stories come from Rex Martin's Elvis Newsletters, Anne E Nixon reviews, Elvis Monthly articles and more, including various tales of managing to meet Elvis in person ...

Meeting Elvis..
About a minute later Elvis walked in with a lovely smile (I just couldn't believe it), so we all quickly put our drinks down somewhere and Elvis shook hands with the two guys and the girls got a kiss.
Wow!
He was dressed in black and wasn't that medallion something!
Elvis talked to all of us. He talks very softly and all I can remember was him asking our names so he could sign autographs for us. I was in a dream, I never thought I'd meet him.
Luckily, we had menus with us and Maureen had a photo from Jackie magazine. We also got Colonel Tom's autograph when we were in his office. The guys shook Elvis' hand again and the girls got another kiss, and Elvis went into a room with a large mirror on the wall. This looked like his dressing room.
Before he went someone said he was the King in England, and Elvis replied by saying that he would come to England one day. After Elvis left the Colonel said, "Well, I have to go back now as I've got to sell some hound dogs out front."
.
| | |
| --- | --- |
| | |
Two example pages of memorabilia taken from the book
At the end of the book there are sections dedicated to 'Tape Recordings' and set-lists plus a look at Elvis' 1972 stage attire.
The book of course features plenty of photographs of Elvis at the Las Vegas season and with lots of on-stage action. There must be well over 100 photos of various sizes, both full-page and smaller.
Some are of variable quality (as explained earlier there wasn't the usual number of fan candids taken at this season) but it was great to see plenty of photos new to my eyes - and a surprisingly large number that weren't included in Erik Lorentzen's 'Elvis Files 1971-1973' deluxe photo-book.
Overall Verdict: Once again author Kieran Davis has published a totally absorbing book and one that you can spend plenty of time reading through. His use of Peggy Elzea's diaries are a treasure-trove of great stories that capture something unique in the understanding of what Elvis' Las Vegas seasons were really like for a keen fan. As with all of Davis' books this look at Elvis' 1972 Summer Festival is packed with fascinating text, memorabilia and photos all of which take plenty of time to read through and fully appreciate. This book deservedly Sold-Out on its first print run, so interested collectors need to grab a copy of this 2021 reprint while they still can. Essential reading.
Please contact Kieran Davis via his temporary website to get your name on his waiting list.
Go here to Kieran Davis' website.
Review by Piers Beagley.
-Copyright EIN November 2021 - (taken from original June 2019 notes)
EIN Website content © Copyright the Elvis Information Network.
Click here to comment on this Review
---
'Elvis: Live at the International' Book Review: From author Kieran Davis the full story of Elvis' time at the International Hotel from August 1969 to September 1971. The book contains 170 pages describing in meticulous detail exactly what it was like to see Elvis at the International. Taken from the diaries of super fan Peggy Elzea, the chapters describe meeting Elvis backstage, the shows, the hotel, the staff, the food, even the call-girls.

There are sections of tape transcripts, jumpsuit descriptions, photographs of memorabilia, the hotel's advertising campaign, the list goes on. If you ever wanted to know how Elvis chipped his tooth on stage in 1971 even that is in here. With approximately 100,000 words, there will never be a better chance to read about Elvis' first engagements in Vegas as seen through the eyes of a fan who was there.

Click here as EIN's Piers Beagley checks out whether the book lives up to the description and with plenty of book extracts to read.

(Book Reviews, Source;ElvisInformationNetwork)
---
---
---
EIN Website content © Copyright the Elvis Information Network.
Elvis Presley, Elvis and Graceland are trademarks of Elvis Presley Enterprises.
The Elvis Information Network has been running since 1986 and is an EPE officially recognised Elvis fan club.