Erik Lorentzen's superb Elvis books have by now earned the high reputation they deserve from dedicated Elvis collectors. His key publications being the extremely detailed and well-researched 'Elvis Files' series of books. (look here for EIN's previous 'The Elvis Files' in-depth book reviews)
Lorentzen has also published some additional books that expand on specific areas of interest within Elvis' life.
These include 'Elvis in Hawaii', 'Jailhouse Rock: Frame by Frame' and 'King Creole: Frame by Frame'.
Whether you want to know even more about these particular topics of Elvis' career is obviously up to the individual. While I cannot afford to buy every single Elvis book, I do have a fascination with 'King Creole' and so purchased Lorentzen's excellent volume on the subject although, to be honest, I decided not to buy the 'Jailhouse Rock' volume.
Which leads me to his new book 'The King of the Jungle' focusing on Elvis and the Comeback Special.
If there is any period of Elvis' career that all fans seem to agree on, it is Elvis' 1968 TV special. Who can disagree on how magnificent Elvis looked and how extraordinarily he performed in this all-important moment of his career. The NBC special was the true key to Elvis' renaissance and his triumphant return from the mid-sixties gloom. After this nothing would be the same.
In his Bill Belew designed all-leather jumpsuit Elvis looked like a Greek Adonis – did he ever look better?
Elvis fans have, of course, all seen the TV Comeback Special, possibly the subsequent expanded DVDs and perhaps bought some previous books all about it. Even Lorentzen's 'Elvis Files Vol.4' featured 100 pages on the topic, although he is careful not to repeat all the same articles and photos here.
But how can any fan not gaze in wonder and excitement while looking through a 546-page extravaganza printed on high-quality glossy paper and packed with nothing else but glorious images of Elvis from this amazing, life-changing event.
Perhaps all you need to know about this book is that close to 300 pages are magnificent FULL-SIZE images, most of them in tremendous quality and plenty of them that you will have not seen before. And these books are huge coffee-table size books. Weighing 3 kilos this is a massive book, below you can see the size in comparison to a regular CD.
Of course, to feature so many new photos from the one topic several of them have to have been taken only a few seconds apart, so only differ in the angle of Elvis' face or the position of the shot. However all the segments have been nicely positioned throughout the book so as not to become repetitive. Similarly Lorentzen has steered clear of the all-too-familiar photographs that most fans will already have, instead focussing on his newly discovered photographs or alternate images.
The quality of some of the images is outstanding and you can see the drips of sweat and every pore on Elvis' face. The passion and the soul of the man shine from the very page. As John Landau noted, "If ever there was music that bleeds, this was it."
Check out the two images below and remember these are my low-res scans off the book.
While I often find Elvis photo books can be a little insubstantial, lacking text and factual information, here Eric Lorentzen and his team have found some appealing documentation and articles to go with the plethora of gorgeous images of Elvis.
As always Designer Neil Chris Middleton (Nightrider Designs) deserves a huge amount of credit for his fabulous work.
Here is a brief explanation of how the book is laid out.
- The Introductions - the book starts with an introduction by Erik Lorentzen noting that the book contains almost 250 previously un-published photographs - it also includes a signed photo to Erik from Priscilla, "Thanks for the books." indeed!
.... "When I was shown some photographs of Elvis in his black leather suit for the very first time, I really could not believe what I was looking at.
Having been an Elvis fan since the fifties, and then having followed him through the sixties, I had witnessed how his career had lately unravelled with the successive appearance of one dreadful movie and soundtrack album after the other. And then, in June 1968, The King was suddenly back in control and just as he had been in his prime. Man, seeing Elvis stop the rot in such a dynamic way gave me moments in my life will never be forgotten." - Erik Lorentzen
- Singer Presents Elvis – Over 30 pages Mike Eder leads us through the basic run-down of the TV Special with photographs introducing every segment.
- News Stories from the time and Elvis 'Day by Day' follow, looking at the production and time-line of the comeback special.
- The Musicians: Charlie Hodge, D.J. Fontana, Lance Legault as well as Scotty Moore are featured..
Scotty Moore provides this interesting quote…
… "If you watch it again, there's a bass player also on stage. He is back behind Elvis and behind three or four people at least. The same guy that played on all the pre-records, but is playing bass along with us on all that carrying on the we did on stage. He's hidden, because he wasn't supposed to be on camera, and if you listen real hard, you can hear him faintly. But we could hear him up there.." – Scotty Moore.
- The June 25 Press Conference, includes 14 pages with photos (one example, below left)
- The Recording Sessions.
55 pages dedicated to information about the recording sessions both in the Studio as well as at NBC.
This is Keith Flynn's (Elvis sessions expert) first major contribution to an Erik Lorentzen publication and for session fanatics (such as myself) this is outstanding information. Where and when everything was recorded and released, the musicians and all alternate take numbers are listed.
Who knew that Comeback Special recordings have been released on over twenty-five official RCA albums over the years?
Non-session fanatics need not worry as this part also features full-size Elvis images of beautiful quality, (one example, above right - and below). (Too see even more of how these Sessions Pages are laid out please see our Preview examples HERE)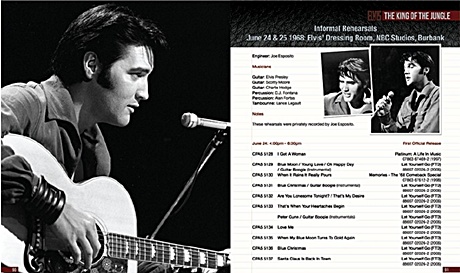 The 68 Files & The Script
- The next 230 pages are dedicated to some official memos as well as the 111-page official script for the production.
As a bonus, the pre-production memos also feature a selection of striking full-page studio shots from Elvis' 1968 publicity photo sessions. Did I mention that Elvis looked fantastic in 1968!
The lengthy script is again matched with GLOROIUS full-page pictures on each page opposite the script, taken from the relevant part of the show.
Surprisingly the script actually contained the lyrics to Elvis' songs, as well as suggested 'add-libbing' suggestions for him. Although of course Elvis never kept to the exact script and these were purely a production guide.
It is also interesting to note that the script includes 'A Little Less Conversation' as well as the potentially dreadful section featuring 'Cotton Candy Land', 'Wooden Heart' and 'How Would You Like To Be'! How lucky we all are that these were cut from the final production.
As promised there are plenty of new photographs here that I haven't seen before and looking through the collection is a delight. Of course in a book this size you have to expect a lot "familiar" pictures however I certainly don't have any of them printed in a book of this size before nor in such quality.
- The Scenes.
Following the script section the following 110-pages focus on various scenes from the TV Special, as well as including the actual stories that Elvis told at the two sit-down shows.
And, hey, leather fans the sections on the Sit-Down and Stand-Up performances in this part alone contain over 50 pages of glorious photos of Elvis in his leather jumpsuit! Yummy!
The 20 pages about the 'Gospel Medley' show Elvis truly looking like a "Greek God" and includes multiple photographs that I have not previously had in my collection.
- Articles and Features.
The final section on the TV Special includes 40 pages of articles and features about the production and Elvis in 1968.
I particularly enjoyed the 'TV Guide' story on Colonel Parker and Elvis from November 1968.
It includes…
Elvis is refreshingly candid. Why is he doing TV? "We figured it was about time - before I grow too old." Has his audience changed since the first big pre-Beatle impact in 1956 when he and he alone brought on the big swing to rock 'n' roll? "It doesn't move as fast as it used to. I think a lot of them are young mothers." Has he changed? "No, but I pick my material more carefully. The sound has improved, which means I have to improve." Has marriage sobered his outlook? "Well, everything has to be considered when you're married and have a baby." How about the bedroom scene in his latest picture? "I think young people are a lot smarter today. People are more open-minded..." Is there a chance that the current special will show in other countries? That question the Colonel can't resist. "If they make another deal," he snaps. "Are small towns the backbone of your audience?" a lady wants to know. "Yes, ma'am. I've never done well in big cities...". Elvis is smiling but under his breath he is muttering, "Oh, wow! ... Not that one again" He has heard it all before, and he can't wait to get free.
The Colonel springs him in the pitchman's manner. "Right over here, folks," he says jovially. "Get your picture taken with Elvis," then stands aside to avoid the crush!
Four dedicated Elvis fans, Joan Gansky, Ann Moses, Elaine Christan and Maria Columbus then supply their personal stories of actually being in the audience on those special days of filming.
These nicely help explain more about the historical relevance of Elvis' performance in June 1968 and place the show in its time frame. Quotes include....
"I could hardly believe I was there watching Elvis re-create the magic - somehow even enhance on his original version – with more fervor and power. He did squirm little, somewhat "confined" by sitting down… but good heartedly continued to give it his all!"- Joan Gansky.

"It was like having the power to turn the time clock back 10 years. As I sat five feet away from The King as he gyrated, twisted, and glided through his early hits, it was as though I was watching that first appearance on the Ed Sullivan TV show." - Ann Moses.

"Elvis completely lost himself in a new song, 'If I Can Dream'. He gave this to us straight from the heart and soul. Most of us felt like crying and some people were unashamedly weeping. When it was over, there was no applause - for a moment. You could have heard a pin drop. I guess Elvis was wondering what happened to us! But it was just that we were so deeply moved that nobody wanted to break the spell. When the applause did come, it was deafening - roaring up to the 80 foot soundstage ceiling and bouncing along the rafters."- Elaine Christan.
After all, in May 1968 Elvis fans had to endure his new single being 'Your Time Hasn't Come Yet Baby' (it didn't even make into the top 70!) and his most recent film in the cinemas was 'Stay Away Joe'.
Looking back from 2014 it is so easy to forget the historical and life-changing significance of this NBC production.
Two short stories by George Klein and Jerry Schilling follow that have been taken from their respective books, and writer Alan Hanson provides an in-depth look at what the TV Special meant to him.
Several reviews from the time are also featured. The New York Daily News review is surprisingly negative - "No matter what the gyrating, foot tapping singer does, to this non-Presley fan it all comes out the same" - The book however rightly points out that their critic was known for her enthusiasm for the old Golden Age of Hollywood and her criticism of the declining morals of the time.
In contrast Robert Shelton's review from the following day does get what it was all about! - "This was the real Elvis Presley, who affected the Beatles, the Rolling Stones, Bob Dylan and countless others. …. Mr Presley could make himself an artist again, bringing it all back home, in the white and black south. Where it all began."
 
This section nicely finishes with a fan club letter from Colin Parker's office and for once he got it right.
"Dear Friend:
The closing months of 1968 will always be remembered by Elvis fans as one of the most unforgettable periods in Elvis' career......
The final 35 pages of the book then feature a bonus of previously unpublished photos discovered by Erik Lorentzen from the NBC Universal film 'Change of Habit' which was part of the overall NBC contract.
Again these photographs are interesting in capturing the period between Elvis' TV Comeback and his Live Comeback in Las Vegas. I found it them a nice bonus although not essential to the main subject of the book.
It's worth noting that fans who previously bought the excellent '68 at 40' JAT book written by Steve Binder need not worry that they are buying the same product all over again as the two books are completely different. Steve Binder's book is fascinating for its text and his personal look at the TV Special and the Tunzi book only featured around 55 pages of full frame photos. (see EIN review here)
It also steered clear of the extraordinary black and white photographs of Elvis, thus missing out on the hundreds presented in this new book.
The one oddity I noted lacking from Eric Lorentzen's 'King Of The Jungle' is that is that although the sit-down warm-up rehearsal is mentioned there are no colour photographs of Elvis at his "blue shirt" rehearsal.
But as they are featured in the 'Elvis Files Vol 4' perhaps Lorentzen didn't want to repeat them. The Steve Binder interview from 'Elvis Files Vol 4' is also not repeated, which is a bonus for fans such as I who have bought both books. And I also spotted one reverse image photo (page 219), but for a book of this size that is of little concern.
FOR LOTS MORE example pages from the book GO HERE to EIN's 'King OF The Jungle Preview'
Overall Verdict: My expectations were high for this wonderful new production - but I am still absolutely stunned by its massive size and the impact. Yes, there are other candids and photos of Elvis in 1968 within the book but it is basically about ONE WEEK in Elvis' life presented over 500 pages - What a week! If you love Elvis in the 'Singer Presents Elvis' TV special then you will spend hours luxuriating in these glorious photos. Did I mention Elvis looked gorgeous in 1968!
I have already spent two days this week playing the 'Complete Comeback' CD set while enjoying this beautiful book. With more feature articles than I expected there is also plenty to read. Plus it has a great design, quality photos and Elvis at his best - what more could you ask for?
While FTD include CDs we already own with their new book releases I know you have the music and DVD to go with this beauty!
As I noted at the start of this review I decided not to buy Erik Lorentzen's 'Jailhouse Rock: Frame by Frame' initially, but now I want them all! This is NOT a book that I will be filing away on the shelf never to look at again! 

Review by Piers Beagley.
-Copyright EIN March 2014
EIN Website content © Copyright the Elvis Information Network.
DO NOT COPY THIS ARTICLE OR THESE IMAGES TO OTHER SITES or Fan Club Newsletters © Copyright Lorentzen / Elvis Information Network.
Click here to comment on this Review
---
PURCHASE DETAILS: The book is priced at around 65Euro = US$90 = AU$100 = £69 Plus postage.
But weighing 3 kilos the cost of the postage can be very high depending on where you live.
Better to pick it up from the shop yourself!

In Europe please check out your LOCAL Elvis dealer to find the best price.

For Australia/ New Zealand and outside Europe buying it direct from Erik Lorentzen might work out cheaper than through your local dealer due to high postage rates. -
To check International prices and to buy DIRECT from Elvis Files Click here to order now.

---
---
Please note - These are low-res scans from my own book and do not show the sharpness of the book's high-quality printing.
Click here for more information about ALL the Elvis Files books
- Erik Lorentzen