'ELVIS - LAS VEGAS '74'
FTD CD release
- In-depth review by Geoffrey McDonnell / Piers Beagley -
A double-CD focusing on Elvis' Las Vegas 1974 Summer Season. Both concerts from the second night of August 20, 1974.

One of the fascinations of this new double-pack is that it presents Elvis' second and third concerts from this 1974 Summer Season by which time Elvis was back once again to the old regular routine of the 'See See Rider', 'I Got A Woman', 'Love Me' formula having changed things up for the previous Opening Show. While still being one of Elvis' most interesting later casino seasons the future boredom was beginning to show..

Elvis soundboard super-collector Geoffrey McDonnell & EIN's Piers Beagley check out this new FTD Las Vegas double-pack .....
---
Elvis' 1974 summer Las Vegas season was a roller-coaster of emotional performances. This was his sixth season singing to the Las Vegas casino audiences, still doing 2 shows a night, and he was really feeling the loss of Priscilla. The dinner shows were beginning to bore him - and with people rattling cutlery who could blame him?

Yet Elvis' inner turmoil helped produce the most fascinating and turbulent season of his career. Elvis gave some of his longest performances and started to include some lengthy and personal rambles. However with an incredibly varied set-list, the season actually started with some exceptionally good shows.

FTD has already released several concerts from this fascinating Las Vegas season. First official release was in 2002 with 'It's Midnight' August 24 1974 Midnight Show, 2009's 'Nevada Nights' August 19th Opening Show and August 21 1974, Midnight Show, with Elvis 1974 rehearsals plus a selection of "best" live tracks on 'From Sunset To Vegas' in 2010.

Plenty of other 1974 concerts have also been released - See EIN's 'FTD Live Concert Releases' details - and now fifteen years after the first official release we get another double-pack featuring both Las Vegas concerts from

On Opening Night (August 19) Elvis introduced some contemporary songs such as 'It's Midnight' and 'If You Talk In Your Sleep' and used 'Proud Mary' as the key second song has also dropped audience favourites like 'Teddy Bear', 'All Shook Up', 'I Got A Woman' and even the regular start of 'See See Rider' off his set list. This was a fascinating new set list that sadly the audience didn't enthusiastically respond too. Perhaps Elvis would have had more success had he tried the set to a stronger fan-based crowd rather than the more media invited Opening Night audience.

One of the fascinations of this new double-pack is that it presents Elvis' second and third concerts from the following night by which time Elvis was back once again to the old regular routine of the 'See See Rider', 'I Got A Woman', 'Love Me' formula.
Whatever the reason for Elvis' backwards step this would basically fix his concert routine through to the very end of his life - and one can consider whether these concerts capture Elvis' happiness at being back pleasing his audience with the regular set-list.
---
'ELVIS LAS VEGAS '74' FTD review by Geoffrey McDonnell & Piers Beagley
FTD May 2017 release as a standard size 5" three-sided double digi-pack.
The Design
This is a double FTD digi-pack release with no booklet but featuring some fine photos (all dated) that help represent the two shows Elvis gave on 20th August 1974 in Las Vegas.
The Blue Swirl suit that Elvis wore at the 20/8/74 Dinner Show is not shown and nearly all the photos here are of the Turquoise Phoenix suit with Sandy Pichon's photo from 27/8/74 representing the 20th m/s with others from 20/6 and 13 May 1974.

The digi-pack has the tracklisting and times on inside cover however the Bonus Songs on Disc 2 are incorrectly noted as being from Sept 2nd - the back cover is correct however stating that they are from the August 28 Dinner Show.

The inside sleeve features some fine photos, one photo of Elvis in his Beige Leather jumpsuit from the 28 August Dinner Show (Bonus songs) plus the two celebrities Elvis introduces at the August 20th Midnight Show, Jeanette and Freddie Cannon plus Elvis with Lynn Crochet and the great Jackie Wilson.

Once again the 2 CDs have NO DATE LABELLING, simply 'Disc 1 + 2' stating 'see inlay card for details'. While this indicates another rushed production from FTD (presumably Ernst and Roger are working hard on the SONY 2017 40th Anniversary releases) it is also interesting as FTD have got the dates wrong in any case! The two shows are reversed from what the FTD cover indicates.
Disc 1 is in fact the Midnight Show, while Disc 2 is the Dinner Show - and it is interesting to compare the set-lists from the same evening.
At the Dinner Show, the first concert where Elvis moved back to his usual set-list, Elvis still sang 'Proud Mary' and 'Promised Land' but sadly both would then be dropped from the season's set-list after this. At the Midnight Show Elvis would throw in a spontaneous 'Heartbreak Hotel' a rarity in this summer season.
The karate-funk of 'If You Talk In Your Sleep' would still be sung at every concert but would never re-appear in his set-list after this season.
'Trying to Get To You' would be surprisingly performed at both shows this night but then not at any other time in this summer season and only returning as a regular number in the December 1975 Vegas season.
'Hawaiian Wedding Song' was also be added as a new set-list regular at this season and the versions are some of the best being not so O-T-T as later ones.
'Big Boss Man' which kicked off the opening show would stay as regular number though to mid-1975 while the charming 'I'm Leavin'' would basically be dropped after the end of this season.

Note that while 'Bridge Over Troubled Water' was sung at the Dinner Show it was not recorded on soundboard. Both songs either side, Teddy Bear / Don't Be Cruel and Hawaiian Wedding Song are similarly incomplete.
| | |
| --- | --- |
| | |

Audio-quality
Two of the best tracks from the M/S show 'Trying to Get To You' and 'Heartbreak Hotel' have been previously released on FTD's 'From Sunset To Vegas' and the good news is that they sound so much better here. They have much more top-end presence – albeit now having more cassette tape hiss – and much richer bass.
The audio has been remastered by Jan Eliasson and he has obviously done good work considering the cassette source.
The mix of orchestra, backing vocals and band is very fine for a soundboard.

Ernst obviously chose the August 24 concert as one of FTD's earliest releases 'It's Midnight' in 2001 due to the audio quality as well as the performance and the audio quality here is as good - perhaps better due to being mastered over 15 years later. (Would be great to have Jan Eliasson re-work that first FTD release)

Comparing the two shows, the audio quality of the Dinner Show (Disc 2) it is somewhat muffled / muted at times, whereas the Midnight Show although starting a little muffled really improves at 'It's Midnight' to a much better 'depth' and brighter / fuller sound.
This makes the Midnight Show my favourite for re-playing.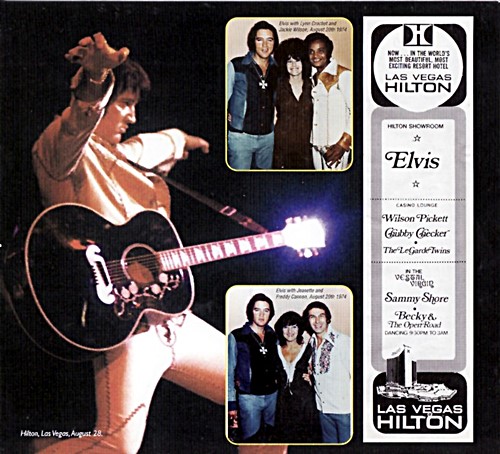 DISC 2 – The Dinner Show
The Dinner Show starts with the Opening Riff going into 'See See Rider' which is 'ok' but definitely not as power-packed as sometimes. A rather low-energy 'I Got a Woman/Amen' follows but with only one Amen ending (not a bad thing) where JD's voice sounds like a growling dog!

Elvis introduced himself as Wayne Newton and says "Good Evening" to his loving audience. 'Love Me' is back again in the set-list tonight but, along with 'If You Love Me' - with a little too much JD vocal, both are fairly routine and low-energy. In hindsight Elvis really doesn't sound enthused being back to the old set-list.
'It's Midnight' was one of Elvis' up-coming single releases "My next record is coming out, uh, I don't know when it will be" (it would be released in October 1974) and as always is a fine version, check Elvis' added "Lord, God and I miss you".
'Proud Mary' was a nice addition (again with a little too much 'JD') but honestly compared to power-house 1972 versions is rubbish. It was also, having rehearsed it for Opening Night, the last time Elvis would ever sing the song onstage!

Before 'Trying to Get To You' Elvis jokes with the crowd, tries a hat on, and notes "I have ears like a deer." This is the first time in the show that Elvis sounds happy and has some genuine laughter in his voice. In fact 'Trying to Get To You' is the first real excitement of the evening.

There is a tape cut into 'Big Boss Man' where once again Elvis seems to have woken-up to the enthusiasm of the show.
'Fever' is again ok - "Cut the while-lights a shade and give us some mood up here", and then Charlie Hodge calls out 'Promised Land' which is actually THE first highlight tonight.
The arrangement highlights Glen Hardin's driving piano intro over Burton's guitar and it's another fine performance.
Charlie Hodge is clearly heard in the mix but what a shame that Elvis would then drop this classic which still hadn't come out as a single. The crowd would never have heard Elvis do this great Chuck Berry song before, except perhaps at Opening Night, did they realise what a treat they were getting!

'Love Me Tender' is decent while the crowd-pleasing 'All Shook Up' gets the usual throw-away rushed treatment.

'I'm Leaving' is another real highlight – what a shame this was never captured live on multi-track – and is delicately performed with a real longing in Elvis' voice. The mix of orchestra is very well placed.

'Softly As I Leave You', featured throughout this season is sincere. This is only Elvis' second attempt (not including the 1973 Closing Night oddity).

Afterwards 'Hound Dog' is inevitably a throwaway while 'You Gave me a Mountain' is a good-sincere version after which Elvis notes, "I like that song"

'Polk Salad Annie' is a regular 1974 version, I am sure great to see live but nothing particularly memorable.

The 'Introductions' are nice and quick with Elvis mentioning in fun that "On the piano is Glen Campbell, Glen Hardin" and that John Wilkinson "You can trust me". In the middle Elvis isn't happy with the jazzed-up backing noting, "Hey, cool it on then jazz, just play it straight, Remember rock'n'roll fellas!"

'If You Talk in Your Sleep' – only Elvis' second live version - is very fine and nicely led by a soulful funky organ and brass section. Later versions would get even funkier.

'Why Me Lord' has Elvis as usual crack up J.D which unfortunately takes away any of the sincerity of the song.
'Teddy Bear/Don't Be Cruel' is incomplete - but that doesn't matter on this routine version. The start of a delightfully gentle 'Hawaiian Wedding Song' is also incomplete ('Bridge' also missed here).
The show's penultimate song 'Let Me Be There' is sung very enthusiastically – but no reprise - and then the performance ends with messy kiss-the girls 'Can't Help Falling in Love'.

All in all it is a passable 1974 Summer Season show but after the Opening Night it really was a fairly routine performance with Elvis showing little excitement in going back to the older set-list. It is not a show that I will play again in a rush.

However after this 66 minute show does come with three great Bonus Tracks all from the 28 August Dinner Show and all in fine sound. All three are a very welcome addition to this 75 minute cd.

'Help Me' is touching and features a clean piano / violins mix. It was only performed a few times in this season.
'My Boy' was the only time Elvis sang it 1974 at all. For being a little unrehearsed it is a very strong performance with Elvis delightfully holding back on the verses. The ending is cute for the band not knowing when Elvis was going to stop!
How Great Thou Art' – Elvis for some reason had not sung this at all this season until this performance but then would include it for the next three nights. Another very fine performance.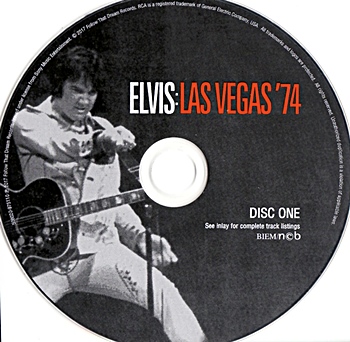 DISC 1 – The Midnight Show
As noted CD1 is the real Midnight Show and about 69 minutes long, unsurprisingly it is also a far better performance, Elvis doesn't have to worry about cutlery rattling and is ready to rock. Of course the set-list is pretty similar, but this time Elvis performs with notable more enthusiasm and energy.

Kicking off with 'See See Rider' the song gets an extended intro before Elvis starts and then he's already laughing and having fun. Immediately you can tell this is going to be the better show. (The audio has some slight background distortion but it soon improves).
Then Elvis jokingly introduces himself as "Jackie Wilson" with the crowd clapping as Jackie Wilson is actually in the audience!

Elvis' good humour shows as he plays to the crowd more than normal with the "Well, Well" with some fun added echo.

'I Got a Woman / Amen' is again full of energy and this time Elvis gets JD to repeat the dive-bomber ending with Elvis adding "J.D is the lowest guy I know".
Elvis jokes about mispronouncing "chance" in exactly same way as he did at the Memphis 20th March show.

'Love Me' and 'If You Love Me' both sound more enthusiastic than at the Dinner Show – and so do the girls that are kissing him!

'It's Midnight' is a delightful version again and even better as the sound quality brightens up.

'Big Boss Man' rocks with some clean maracas and brass in the mix as well as some deep JD.
A cool 'Fever' with Elvis throwing in some fine growls also includes a shout-out to someone screaming - "Is that you Jackie?" with the audience sounding really 'wild' in the background.

'Trying To Get To You' added to Elvis set-list in January 1974 "One of my first songs" is a very fine version but it is the familiar "streakin' all the way" version from previous compilations including the 'general public' "Live In Las Vegas' box-set.

Both 'Love Me Tender' and 'All Shook Up' get the crowd-pleaser throwaway treatment.

'I'm Leaving' however is another winner and very beautifully sung, as well as having a great audio mix. Here it receives appreciative audience applause at the start which was notably absent from the earlier Dinner crowd.

'Softly As I Leave You' has the usual introduction and is performed better than at the Dinner show. It gets a great crowd reception afterwards.

'Hound Dog' gets the crowd rocking before a decent 'You Gave Me a Mountain'.

'Polk Salad Annie' however is fairly routine – again on the night it would have been fabulous to see but this isn't 1970 – even if Elvis throws in some karate work-outs at the end for the crowd.

The group 'Introductions' are however Elvis introducing "somebody in the audience that I'd like you to meet" of both Freddy Cannon as well as Jackie Wilson "He's a great entertainer" with Elvis singing one line of 'Higher and Higher'! Obviously Elvis had met them before the show.

'If You Talk in Your Sleep' that follows is for some reason not quite as good as the D/S with Elvis sounding a little hesitant, although The Sweets do provide some great call and responses.

The gospel feeling of 'Why Me Lord' is, as always, ruined by Elvis breaking J.D. Sumner up laughing.

'Teddy Bear / Don't Be Cruel' is routine before the audience 'Heartbreak Hotel' request which is interesting for being such a rarity this season – was he showcasing his classic Number One for Jackie perhaps?

'Bridge Over Troubled Water' is an excellent version (for 1974) and a very good highlight with Elvis performing it with sensitivity.

The 'Hawaiian Wedding Song' which had only just been added to the set-list for the earlier Dinner Show is a real highlight as it is very tenderly performed and without the OTT Kathy Westmoreland backing that would later be used. A delight.

'Let Me Be There' is again enthusiastically performed and demonstrating Elvis' fondness and energy for Midnight Shows – it does get a reprise!

The closing 'Can't Help Falling in Love' is also better performed than in the low-key Dinner Show.

Bonus Song
At Elvis' "Desert Storm" Closing Show from 2nd September Elvis was in a crazy mood and decided to do 'It's Now Or Never' twice. This was because performer Vikki Carr - who Elvis notes "knows how to sing from the gut out – both of us" – who was in the audience tells Elvis that she did not hear it earlier in the set-list. Elvis, sounding annoyed, says, "Oh, God. I've got to do it again"!

This intro is not included here, but it helps explain why Elvis is trying to impress everyone with this second very strange version with Elvis notably playing around with his vocal and varying the usual delivery. With a powerful "Ole" ending it is a true oddity.


Overall Verdict: Presuming that these will be the last 2 shows that FTD will release from this Summer Season they do capture an interesting moment as Elvis moves back from his off-beat Opening Show set-list to business-as-usual.
In hindsight you can feel Elvis' mood changing from the low-key at the Dinner Show back to a happier higher energy Midnight Show. (Just a shame that they are labelled incorrectly)
Summer Season 1974 was a great time to see Elvis in concert, so I have quite enjoyed these 2 CDs despite the (at times) not-outstanding sound, listing errors and some tracks released before. The Bonus Songs are a great edition to this set.
There isn't too much to criticize in Elvis' performances - except to say that the Dinner Show is a little dull. The Midnight Show is better in sound and performance and is very enjoyable, worthy of several spins.
So thanks FTD for adding a couple more decent summer 1974 Vegas shows to our collection. A newly mastered official release of the Closing Night show would surely wrap this season up.

Review by Geoffrey McDonnell / Piers Beagley.
-Copyright EIN June 2017
EIN Website content © Copyright the Elvis Information Network.
Click here to comment on this article
---
DISC 1 is in fact the Midnight Show


It runs about 69 minutes and unsurprisingly it is also a far better performance. Definitely worth repeat playing.
---
---
---
EIN Website content © Copyright the Elvis Information Network.
Elvis Presley, Elvis and Graceland are trademarks of Elvis Presley Enterprises.
The Elvis Information Network has been running since 1986 and is an EPE officially recognised Elvis fan club.