ELVIS PRESLEY'S CENTER COURTS TENNIS CLUB BANNERS FOR AUCTION
In 1976 Elvis Presley entered in to his sole business venture and investment – The Presley Center Courts Racquet Ball Club in Memphis Tennessee. Land was purchased in Memphis with plans to open also in Nashville and across the USA, a very important 'out of music' investment.

The Bank of Commerce in Memphis appears to have placed a first charge on Graceland to secure construction financing. As Elvis's close friends, known as the 'Memphis Mafia', arranged for their contractor, designers and experts in the field of tennis and racquet ball courts, construction bit into some one million dollars plus – before even braking ground! Both Elvis and Col. Parker became alarmed, far away in Bel Aire, California.

Business cards were printed for all executive officers of the newly formed Presley Center Courts. Memberships were offered to Memphis VIP residents. Bank accounts were opened and charge accounts billed to Elvis Presley Enterprises Inc. without permission. With Elvis away in California, his new project was clocking up massive amounts of money.
The grand opening was April 1976 to be attended by Elvis and his Beauty Queen girlfriend Linda Thomason.
Upon arrival Elvis was presented with a special gift of a custom made wall banner bearing the famous 'Taking Care of Business' lightning bolt together with the 'Tree of Life' with 14KT gold bullion names of each member of Presley's inner circle in the 'Memphis Mafia', another larger work which hung across the gable end of the Center Courts Club House and a smaller banner for the Karate Club that was to developed later.

Elvis accepted the gift not knowing at the time that it had been charged to the costume and stage-ware account of his Hollywood tailor and costume maker. Some months passed until Elvis was fully aware of what was happening with his line of credit.

Upon Elvis giving his blessing to this project private investors started buying in. Some of Elvis's cousins and close friends mortgaged their homes to become involved.
As time went by costs are believed to have passed four million dollars and Elvis was in fear of losing his beloved Graceland until he paid back the bank in full.

Richard Calhoun, a well-known oil promoter and friend of Col. Tom Parker (Elvis's manager) met with Elvis and Parker in 1976 and agreed to buy out 70% of the company, not knowing at the time the trouble that it was in.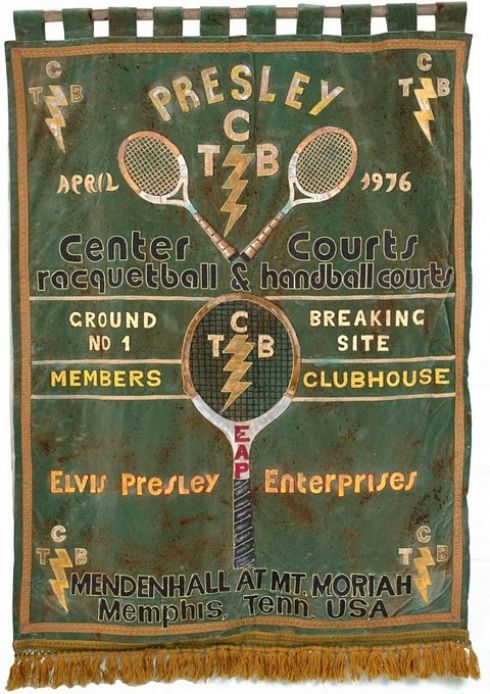 Elvis was so happy that he presented Calhoun with his 14KT bullion banner and the two others, stating "Mr Calhoun, you can still use my family name but not Elvis and I will always be available to promote this franchise".

Within just seven days the truth was out. Calhoun and Parker pulled out their investment, while Elvis was obligated to repay the Bank of Commerce over one and a half million dollars.
Bad feeling were escalated and Elvis would close ranks to just the chosen few in his "Memphis Mafia" circle.

The Presley Center Courts briefly opened but poor membership and bad management resulted in closure during the summer of 1976. It is now a gun club and shooting range.

The 14KT bullion banner has been incased with a unique Andy Warhol Factory silkscreen frame, which was constructed at New Hope Penna by Rupert Jasen Smith. The banners have remained together since being sold by Richard Calhoun, who died in Hollywood shortly after Elvis.

The three banners formed a display for a time at the Elvis Presley Collection in Las Vegas, they were later displayed at both the Hilton and Mirage Hotels on the Las Vegas Strip.

The 1996 Olympics in Atlanta featured an Elvis Memories Exhibition "Welcome To My World" with twenty-two Presley's Center Courts mementos.

Only a few business cards and the banners are now left to tell the tale of Presley Center Courts. They are unique pieces of Elvis Presley memorabilia.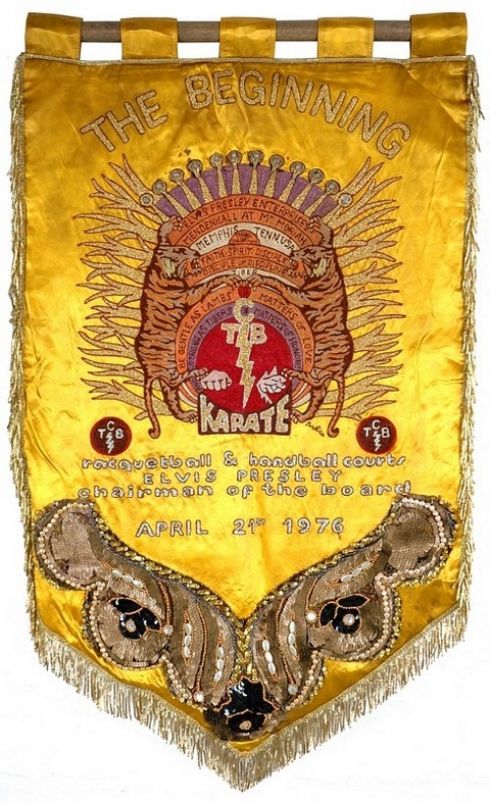 (News, Source: www.johnnicholsons.com /EP Gold, 13 Dec 2006)