"Me and a Guy Named Elvis"
My Lifelong Friendship with Elvis Presley
by Jerry Schilling with Chuck Crisafulli; Foreword by Peter Guralnick
Gotham Books, 2006, USA, Hardcover (with dust jacket), 352 pages, Illustrated, Index, Acknowledgments, Photo credits, ISBN: 1592402313
Reviewed by Nigel Patterson
We've been waiting a long time for this book! Written by one of the most erudite of Elvis' famed Memphis Mafia, Jerry Schilling's memoir criss-crosses familar and not so familar ground, and when it is the latter it is well worth knowing about.

Those expecting a series of eye opening, jaw dropping revelations at the turn of every page will be disappointed (although there a few). However, those looking to read a multi-layered memoir of life, friendship and all the up's and down's in-between, will find they are richly rewarded. There are indeed some very powerful moments in "Me and a Guy Named Elvis".

One mark of a good memoir is its ability to take you inside the private (sometimes not so private) world of its primary protagonists, and to bring to life the challenges and the triumphs, the laughter and the sadness, which each life experiences. Schilling and Chrisafulli do this wonderfully!

The authors' have an easy-going writing style which allows the reader to effortlessly move through the narrative. There is substantive merit in Schilling's book as it traverses the fun of being around Elvis and how the King related in his personal, one-on-one relationships. In the process there appear to be only one or two minor factual errors.
As a personal account the book possesses two excellent traits, depth and honesty. While some readers have already been critical of Schilling's approach to certain parts of the the Elvis story, particularly his decline, it has to be remembered that this is a memoir and not a tell-all, tabloid tale. In this context his memoir is reverential without being cloying.
Schilling is frank in his views on how Elvis' career was hindered over the years, a view reinforced through the author's exposure to, and observance of, the careers of several other notable celebrities. In "Me and a Guy Named Elvis" there is no doubt that the reason Elvis did not tour overseas was Colonel Tom Parker.
As it flows along, "Me and a Guy Named Elvis" is laced with generous doses of humor. Schilling's introduction to the Colonel on the set of a movie makes wonderful reading. It is an exquisitively framed account of how Schilling became aware of a strange thumping, getting louder, and an orange glow, and how these two elements assumed rising resonance until suddenly the Colonel thundered by.
Another very funny story is the night Schilling and Myrna Smith's brother, John T., went into the White Castle, a burger joint in an obviously not very celubrious neighborhood. I'll leave it to readers to discover the delights of the author's reminiscing about this potentially unpleasant adventure.
Elsewhere, Schilling tells us about Linda Thompson:
Linda was in some ways a conservative Southern girl, but she wasn't afraid to wear the sexiest outfits imaginable (I can still hear Lamar Fike saying, "Oh Lord - where's the rest of that dress?")
And on Scatter, Elvis' pet chimpanzee:
...what I remember best about Scatter is his forward manner with women. When there were mixed parties at Graceland now, most of us guys were on our best behavior. But Scatter thought nothing of darting around the room and looking up girls' skirts.
Elvis' decaying relationship with the Colonel is nicely covered and we learn that Elvis had wanted Tom Hulet to book concert dates without the Colonel knowing. Unfortunately, Hulat remained loyal to Parker and wouldn't go behind his back.
And there is one amazing insight to the Colonel's psyche, as we discover the night his good friend George Fairchild crumpled beside him at the roulette table after suffering a stroke. The Colonel didn't budge or blink, he just went on gambling as the paramedics carried Fairhill away for treatment.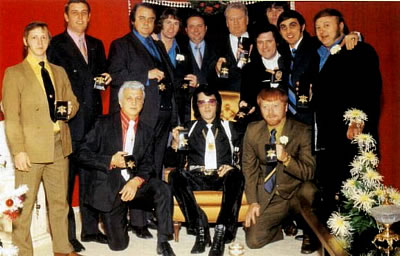 Perhaps Schilling could have been more candid in his reflections on various members of the Memphis Mafia (seen above). Instead he chooses his words carefully, one sensing he wishes to keep important friendships intact. And again, context, we must remember the thrust of his book is as an account of his friendship with Elvis not necessarily the underlying politics imbuing the workings of the Memphis Mafia.
On the issue of the infamous "Bodyguard book", we learn Schilling was present when private investigator, John O'Grady, reported back to Elvis that Red, Sonny and Dave had rejected his offer of substantial sums of money not to go ahead with the book. We can only wonder just how significant a contributor this rejection was to the fateful event which followed the publication of the "Bodyguard book" in August 1977.
Schilling's memoir is full of stories you know by heart and a generous number which are fresh and new. Throughout the book's 352 pages we learn numerous little known facts:
why Elvis kept Elton John waiting
the time Jerry appeared opposite Elvis' then girlfriend, Linda Thompson, in the television program, The Rookies, and there was 'that KISS'
troubles when Elvis was to appear at a karate tournament hosted by Ed Parker
how the Lisa Marie plane was outfitted by the team responsible for Air Force One
a great story about Elvis and basketball superstar, Wilt Chamberlain, including the rubber band!
In each chapter there is something new to engage our attention. A revelation comes in learning that the end sequence to the Golden Globe winning documentary, Elvis On Tour, is the work of one Jerry Schilling!

Yet another sensational account is the meeting of two of rock music's biggest superstars, Elvis and the Beach Boys troubled genius, Brian Wilson. This story has to be read to be fully appreciated.

The author offers a keen appreciation of Elvis, the spiritual seeker, an issue often derided by other members of the Memphis Mafia. There are also colorful accounts of life at and away from Graceland.

Jerry Schilling in 2006
Schilling is a most perceptive commentator on events in Elvis' life. On the need for Elvis to reinvent his music career in the late 1960's, and its tension with the Colonel's archaic song writing publishing arrangement, Schilling instinctively observes:
[Jerry] Reed's songwriting had guts and smarts, and his guitar sound was gritty and dirty, and Elvis had responded well to that shot of musical adrenaline in the studio. He knocked out a killer version of "Guitar Man", but then the whiole deal was almost squelched when Hill and Range came down hard on Reed, pressuring him to give up a huge chunk of his publishing rights.
A strength of the author's narrative is his ability to present the real Elvis. There are emotionally satisfying accounts of Elvis' generosity to others and his extravagant lifestyle and spending habits:
After the death threat in Las Vegas he became very concerned with personal protection and had spent thousands on new guns. At the beginning of December he had completely bankrolled George Klein's wedding, flying all of us to Las Vegas for a weekend. At the end of that weekend, he decided to put a down payment on a house for Joe and Joannie Esposito, and he bought several Mercedes as gifts, one of which went to Sandy and me..
On Elvis the person, the author offers a wonderfully personal and incisive reflection:
Elvis was always a little embarassed about his lack of formal education, and he was well aware that he was seen by many as a poor, dumb, Southern country boy who had gotten lucky. But I have to say that I learned more from him in our late-night conversations than I ever learned from anybody else...
Similarly, at another point there is an exposure which resonates great insight and apparent emotional intensity through the visual imagery it evokes:

A few miles down the road we pulled off into the Forest Hill Cemetery, and Elvis expertly navigated the twists in the road to get to the spot he was familiar with - his mother's grave site. He didn't say anything, and I stayed in the car for a moment while he got out and walked up the grassy, sloping hill to the massive monument marking the grave...Seeing him before that monument, it came to me that, perhaps for the very first time, I could see my friend as a small, fragile human - just like any other.
And in reflecting on Elvis after the Army:
Surrounded by old and new friends, Elvis could still be the same exciting, michievous, unpredictable, and fun-loving (though moody) guy to hang around with. But there was something different about Elvis, too. He wasn't so much a young rebel anymore, but very much a man.
While this reviewer has so far focused primarily on the book's Elvis content, "Me and a Guy Named Elvis" does not shy away from the author's own personal dilemmas. The failure of Schilling's personal relationships is addressed with an endearing honesty. Then, in discussing the need for Jerry Schilling to find himself and his place in life by breaking free from Elvis, the narrative wonderfully evokes the countervailing pressure of his desire to stay around Elvis.
Schilling is also frank in discussing the strains on personal relationships including the time Elvis had a brief relationship with the girl Schilling was cheating on his wife with.
At times in "Me and a Guy Named Elvis" the narrative imparts an emotional honesty, one imbued with both urgency and sincerity. Schilling's account of the call he received on that fateful day, August 16, 1977, is one such instance. It struck me that examples of this honesty are the obvious counter-answer to those who hold views very much at odds with the commonly accepted fact of Elvis' death:
It wasn't the time for me to become sentimental. But alone in that bedroom, looking at my friend's empty pyjamas, I found myself wanting to touch something of his. I sat on his bed and grabbed the pyjama top, holding it close.

The loss became even more real for me when I saw the pain in Priscilla's eyes after she stepped on the plane. We embraced for a moment, but could hardly put into words what we were feeling.
On reading "Me and a Guy Named Elvis" does the reader achieve a greater knowledge and understanding of the primary protagonists in its title? I suspect the answer will depend very much on the individual reader and his or her motivations for reading Schilling's most welcome story.
Many readers, myself included, will be surprised to read of Schilling's impressive, albeit largely in bit roles, acting resume. Few can claim appearances on television hits such as Star Trek, The Man From U.N.C.L.E., Get Smart, and Rat Patrol, not to mention a speaking part in the major motion picture hit, Ice Station Zebra, starring screen legend, Rock Hudson, Ernest Borgnine (McHale's Navy) and small screen legend, Patrick McGoohan (Danger Man & The Prisoner).
Also little known is the author's impressive career managing superstar acts such as The Beach Boys, Jerry Lee Lewis and Billy Joel. Behind the scenes on television his credits include Disney's Elvis: The Great Performances, Time Warner's series The History of Rock and A&E biographies of Brian Wilson and Sam Phillips.
The two pictorial sections in the book feature a mix of standard and several rare black and white photos.
Verdict: "Me and a Guy Named Elvis" is an absorbing, well written memoir which doesn't offend and doesn't chastise. It vividly brings to life what it was like being around the King of Rock 'n' Roll...it is a celebration of life and one special friendship. The author does that friendship proud!
Click to comment on this review
Read Pep's review of "Me and a Guy Named Elvis"