Reviewed by Rocky Barra

(Reader feedback follows review)
In his first review for more than 30 years, "Strictly Elvis'" Rocky Barra explores the latest Sony BMG Elvis release, the Christmas Duets album.

What Rocky finds may surprise many fans. Read Rocky's detailed review as he puts on the headphones, cranks up the volume, and loses himself in the album, track by track. Santa Claus is truly coming to town.....:

OK……….so it's been a little more than three decades since my last "review" of an Elvis release --- but "Christmas Duets" from its inception, to its packaging, to the wonderful revitalization of Elvis' classic Christmas music has both inspired and intrigued me. So to me it really does, for all practical purposes, qualify as a "new" release. For this reason I'm coming out of "Record Review Retirement."

When I first heard of the plans for this release some months back, my initial thoughts were "Milk the cow, milk the cow…" In other words, I wasn't that excited about it.
I mean, after all, each one of these songs has been released, re-released, and re-re-released on budget holiday releases, multi-CD sets…….even in combinations with cards, books, and Christmas tins, all for the purpose of extracting holiday dollars.
But "Duets" strikes me differently, At least art, creativity, intentionality and focused effort are walking hand-in-hand with merchandising and, as Elvis fans, that's more than we have been able to look forward to in a long, long time.
To truly understand this recording, there needs to be an understanding of three different recording environments:
September 5-7, 1957 Radio Recorders, Hollywood , California
In 1957, recording techniques hadn't really progressed very much beyond Elvis' Sun days with Sam Phillips when, if you wanted a little more bass in the mix, you just asked Bill Black to pick up his instrument and move a little closer to the microphone. This was prior to 8-track recording, stereo, and light years away from the techniques that would be regularly used just two and a half years later when Elvis returned from the service and did his first marathon session in Nashville . No binaural safety copies are known to exist. While a mixing console was utilized, it was just to focus on getting a strong mono mix.
All of this was more than offset, however, by the fact that Elvis was at the peak of his creativity,
at his best stylistically, in unbelievable voice, and his band was working as a smokin' single unit, while putting out as tight a sound as has ever been experienced – at least on this planet.
Elvis was totally in command as "producer" of his sessions by this time, but it didn't hurt to have Leiber & Stoller in the studio to add their valuable two cents to the sonic sauce.
In addition to the eight Christmas songs, three other classics were also recorded: "Treat Me Nice" (the third pass on one of my personal favorites) and the version that would be released as the single, "Don't" (a beautiful ballad that has grown in stature over the years) and "My Wish Came True," the "b" side of "A Big Hunk O' Love," the final Elvis single release of the 1950s and, in many ways, the conclusion of Phase One of Elvis' incredible career.
This was also the first time that Elvis used a high female voice on his recordings, but certainly not the last. Millie Kirkham was brought in to augment The Jordanaires, as Elvis was somewhat enamored with "Gone," by Ferlin Husky, and wanted to try the first "Little girl with the high voice" to see how it would blend with his unique and patented sound. It was a bold move, but so was everything about this session.
It's a legitimate tragedy that the outtakes, aborted or alternate songs, false starts, studio chatter…….. EVERYTHING other than the masters were destroyed or erased by the brilliant corporate minds of RCA. In my opinion, Elvis was absolutely at the top of his game at this point, and I would have loved to listen to any tidbits or crumbs from this fantastic session in any way, shape or form!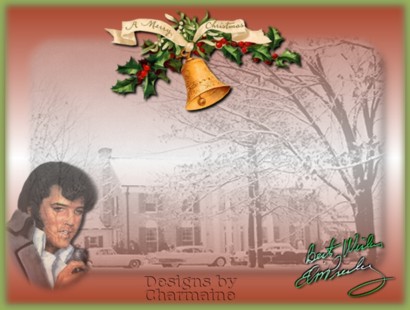 Charmaine's Christmas at Graceland Design
May 15-21, 1971 RCA Studios – Nashville , Tennessee
Roll the time machine up 14 years and we find ourselves in an entirely different world. Elvis, amazingly, has "Re-created" himself for the third time and is, once again, riding a crest on top of the entertainment world, if not near the top of the charts. Any semblance between this session and Elvis' first Christmas session is purely coincidence. In fact, only two individuals were even present at both ---- Elvis and Millie Kirkham.
Elvis once again has a world class band that is accompanying him in Las Vegas and in sold out concert venues all over the United States, but only lead guitarist par excellence James Burton is an essential part of this session. The Imperials have effortlessly replaced The Jordanaires, and their place is soon to be take by The Stamps --- but only musicians, musicologists, and trained ears can really tell the difference. It's still that close voice quartet sound that Elvis both loved and played off of his entire career. The instrumentalists are the top session guys that most major artists in Nashville are using. The result both instrumentally and vocally, however, is that Elvis' recordings don't sound quite as distinct from other artists as they once did.
The recording process itself has become both an art and a science, as 16 and 24-track recording has become the "norm" for top recording acts like Elvis. What this means is that each instrument is recorded on a separate track. As many as 6-7 tracks can be used for the drum kits alone, and it takes a couple of hours to initially set up a quality session. The results, however, can be spectacular. Stereo is the norm of the day and even Quadraphonic sound is experimented with, but never catches on with the public. Elvis and many other great artists from the 1950s prefer the "tightness" of a well-stacked, power-packed mono mix --- but no one in the recording industry is allowing for it. Phil Spector, Brian Wilson, and Elvis have all been noted for their "preference" for mono --- but it no longer is the industry standard. In fact, it is being phased out all together.
As far as the recording process itself, the mantra of the day is "We'll fix it in the mix." What this means is if there is a clunker (mistake) or someone is singing off key….HEY, with 24 tracks you can go back and re-do that particular part or lick. No problem, man! Keep the tape rolling! However, it's possible that artists, musicians, and engineers relied a little too much on the "fixing" aspect of recording in the 1970s. The engineers became as important or in some cases more important that the artists, themselves.
Elvis, himself, has also changed. By the sheer number of songs attempted at this session (30 that survive) it's pretty evident that Elvis was beginning to tire of the process that he helped forge ---- the "magic" of hearing things come together in the studio. With the goal of three albums from one session, the days of "Hound Dog" and "Don't Be Cruel," when Elvis begged his musicians and engineers for "Just one more take" because he thought he could do better were long gone! Although he was still in excellent voice, things were slowly changing to a mindset of "That's good enough…………….NEXT SONG!" In fairness to Elvis, his talent and natural ability were so strong that he still outstripped anything else being done at the time!
The Recording of Duets -- Multiple locations, multiple engineers, multiple dates
The recording environment of today is nothing at all like the Nashville session of 1971.
Recording is now done on a computer. Digital "transfers" of the classic analog tracks are dumped to a computer with programs that allow an endless amount of tracks. Recording is as much accomplished with the eye as the ear, as everything is shown on a computer screen. Things can be broken down in such minute increments that virtually anything can be accomplished! If a drum beat is slightly off, it can be quantized. If a vocal part is out of tune, you can use "Auto Tune" and bring it right to where you want it. Anything that can thought of is well within the realm of aural possibility.
The recording studio of today can be a very small room where there is basically a computer and sound software. Parts can be "done" anywhere in the world and emailed to the one who will be mixing down the tracks. Even that can be accomplished in tandem. Parts of "Duets" were recorded in Toronto , Ontario , New York , NY , Nashville , TN , Portland , ME , and parts unknown. The process is clean, clinical, and calculated. It is totally unlike anything Elvis experienced in his lifetime.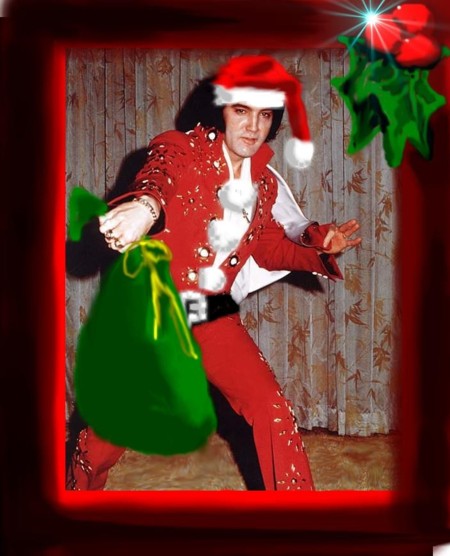 Saying all that, let's get to the music!
1. Blue Christmas with Martina McBride
Martina McBride is truly an amazing artist – perhaps the finest pure female country voice since Patsy Cline. That's the highest compliment I could give anyone. I loved what she said about "Blue Christmas" being "sacred ground" because she's absolutely correct! If there is one Christmas song that is associated with Elvis, this is it! It's been released as a single, on an EP, on countless albums, and repetitive CDs………….but it still sounds great!
It's virtually impossible to totally isolate a voice from the original mono classic, so the term "duet" is somewhat dubious for this project. However, it doesn't taint the excellence of this song. Vocal augmentation by the "new" Jordanaires is added throughout the entire song so that when Martina sings, it is less noticeable and the "change" is subtle. Computerized recording techniques allow A-B sonic comparisons that make this as "flawless" as is humanly and digitally possible. When Martina sings her verse, it's the "new" instrumentation and vocal backing, but it sounds incredibly "close" to what was captured in 1957. Gordon Stoker is the only "original" Jordanaire from the 57 session, yet there is very little difference in the resulting background vocals. The 57 session was in the "Pre-Ray Walker " days. The instrumentation is slightly more brilliant, as would be expected, but painstakingly replicates the original sound and feel.
Martina, as already mentioned, is simply incredible. Her natural vocal style closely replicates Elvis. There is just one small spot where the "mix" gets away from the "pocket" – but it's an observation, certainly not a complaint. I don't like to use these terms – but this is the king and queen of this project!
2. I'll Be Home For Christmas with Carrie Underwood
One of the neat things about this project is the obvious respect for and homage to Elvis from each one of the artists. Carrie Underwood is probably the best thing to come from American Idol….and now she's singing with him.
This was always one of my favorites by Elvis because of his sensitive phrasing of the song.
Carrie is an outstanding musical interpreter of lyrics, and does an excellent job on this song.
The "added" instrumentation is very evident from the first note, as a glock is added to the piano octaves. Nice brush work and keyboard, but it puts Elvis slightly too far back in the mix. When Carrie comes in, it's close to perfection – almost as if they recorded it in the same room, at the same time. The instrumental verse was unexpected, but as on the entire project, blends incredibly well and reflects the original sensitivity. The trading off of leads on the last verse leads into a true duet on the closing --- and it's good…….very, very good.
3. Here Comes Santa Claus with LeAnn Rimes
This is a song that nobody would have expected Elvis to record in 1957. It's kind of a "dorky" Gene Autry tune --- but his styling and phrasing is so fantastic that he made it a very listenable version, one that I've played hundreds of times over the years. Nice "trade-off" on this one, and kudos to the Jordanaires for coming so doggone "close" to the original, even though 3/4s of them weren't on the project. The harmony on the last verse is probably the best that could be accomplished --- but nobody can totally mimic Elvis' phrasing.
Previously released Elvis Christmas Albums
4. Santa Claus Is Back In Town with Wynonna Judd
Wynonna is as much of an Elvis fan herself as anyone reading this review – and more than most! When Elvis' Christmas Album was released in 1957, it was with a great deal of controversy. The very fact that "he" could sing "White Christmas," "Silent Night," and "O Little Town of Bethlehem " was a tremendous affront to a whole lot of people. That Elvis chose to make this particular choice song one on side one showed how much he was influenced by those "Frustrated types." With the gentle vocal bell tones of the Jordanaires singing as sweetly as they ever did, Elvis literally rips into the raunchiest blues song he ever recorded. Nothing like this had ever been done before and, to be real truthful, has never been accomplished since.
Legend says that they needed one more song to complete the album, so Jerry Leiber and Mike Stoller wrote this on the spot in the studio. If so, then it's an "Instant classic." If Elvis ever recorded a song where you could "hear" his famous lip curl……this is it! Sneering and slurring through the lyrics, this and "Reconsider Baby" are the two greatest blues renderings Elvis has left us. "Merry Christmas Baby," later in this album, comes in at number three in my book.
To me, if "Blue Christmas" is "sacred ground," to attempt to stay with Elvis on this track is musical suicide. Give Lady Wynonna her due. She coos and snarls her own swath through this rockin' classic. The Hammond B-3 organ melds the two interpretations. I think it's best with "only" Elvis but, having that version multiple times, Wynonna holds her own and doesn't diminish the contrast, soul, power or guts of this precious gem.
5. Silent Night with Sara Evans
Sara Evans is, once again, a top female country artist who has many admirers in mainline pop.
I doubt very much if Franz Gruber ever envisioned his song being a duet, but it works. This is probably the straightest Christmas song that Elvis recorded, as his version sounds like it is directly from a Christmas Eve church service or perhaps standing around the family piano. Maybe this is the way he, Vernon and Gladys used to do it.
Sara's involvement is noteworthy on this cut. Not only is her harmony picture pure and perfect, but there is one part where she does a contrary motion section that is very effective. The way the finished product turned out, this is more her cut than Elvis' --- but it works well. As with all of the tracks, the "additional" instrumentation is sensitive to the original, and doesn't get in the way.
6. White Christmas with Amy Grant
Elvis took a lot of "heat" for this cut in 1957, as mainstream pop music people compared this with the traditional but limp by comparison version by Bing Crosby. Elvis takes his inspiration not from Bing, but from the Drifter's thing. Of the two versions they made of this song, his is an interpretation of the version with Clyde McPhatter. Elvis also covered his versions of "Come What May, "Such A Night" and "Without Love," although the latter bears little comparison to Clyde 's high tenor voice.
This is a really great song, and the instrumentation gives it a little different feel than it had in 1957. Elvis' "gap" styling is amazing, even after I've heard it thousands of times. This sounds like a true duet, as Amy sings a 3 rd under Elvis' lead. Then she skips a third "up" on him. Very well done and effective. When Amy coos, "Come on now big boy," it's totally unexpected.
7. Merry Christmas Baby with Gretchen Wilson
Pull down the shades, lock the door, and don't let this guy anywhere near your daughter!
An "extended" version ( 8:04 ) of pure, unadulterated joy. It's blues, it's rock, and it's downright dirty, funky, and gritty all at the same time! Gretchen Wilson is a "Redneck Woman" who is "Here For the Party" but is wise enough to stay out of Big El's way! He's still T-R-O-U-B-L-E!
The subtle Hammond B-3 gives this even more of a bluesy feel than the original. It's the same, but different if that makes any sense. Drums in 2008 aren't recorded at all like drums were in 1971. This version "pops" a bit more --- and I like it, I really like it! The different mix with the harp up front almost makes it like a brand new song. More presence on the guitar, too.
I had a weird idea listening to this ---- I wonder who would win in a fight between Wynonna and Gretchen. Two nasty chicks, indeed! Of course I mean that in the finest way possible.
8. O Little town of Bethlehem with Karen Fairchild & Kimberly Schlapman
The other "filler" on the original album. There was more "added" to this than most of the tracks, but it's still not incredibly noticeable. Very well done – but Elvis is a bit "muted" by the "new" voices. Karen and Kimberly's harmony on the second verse is pure and very wholesome sounding. Very pretty --- perhaps more so that it was originally. For only the second time on "Duets," Elvis is somewhat secondary….but that's OK --- We've still got the original. It's obvious that the "Ladies from Little Big Town " either knew, or studied Elvis' phrasing because they nailed it.
9. Silver Bells with Anne Murray
This is the oddest track of the bunch. The Canadian songbird actually had a hit version of this song, but this seems to be pitched a bit low for her voice. When she sings harmony above Elvis it works, but when she takes the lead it's well………..low. Anne has a beautiful warm voice, so this isn't meant to be a comment on her voice – just the key she had to sing in.
This song starts without the usual intro, and probably is a better total product than Elvis' version by itself.
10. O Come, All Ye Faithful with Olivia Newton-John
I have found memories of this song. When my wife Nancy and I were engaged, "Elvis Sings Christmas Songs" had just been released – so this became "our song." This version lacks the power intro of Elvis' version. It seems more "traditional," but Elvis' version was really ground-breaking when it came out. In fact, a lot of people believe this song and the LP "He Touched Me" paved the way for the unprecedented rise in popularity of contemporary Christian music, which continues to this day.
I really like Olivia Newton-John, but this "duet" doesn't work as well as others on the project.
It seems like she flits in and out of Elvis' track, which doesn't have the presence of his other vocals on this project. In other words, they've EQ'd the punch out of his voice. The final result is that this sounds a bit too homogenized, particularly when compared with the original.
11. The First Noel (bonus track)
Nice piano counter melody by John Jarvis. Not a strong track, even when it was released in 1971. Elvis' voice wavers on this. It's not that he sings any wrong notes, but his vibrato doesn't seem to be in sync with the song. Nice string synth work. Personally, I wouldn't have included this one. I would have opted for "Santa Bring My Baby Back To Me," even if they just "added" some finger pops.
12. If I Get Home On Christmas Day (bonus track)
Well, here I counter my own review. Elvis' vibrato "roams" a bit on this one too, but this is one of my favorite Christmas songs of all time. The arrangement is very warm, and Elvis' treatment of the lyrics is both sensitive and beautifully done. His phrasing is perfect for the song. I don't think the "new" arrangement really adds anything --- it was already a classic. In fact, I miss the presence of the "old" drums, harmonica and bass riffs.
13. Winter Wonderland (bonus track)
I've always really liked Elvis' version of this – and it's one of the happiest sounding songs he's ever done. While the last two "bonus tracks" didn't move me, I think this one is an improvement on the original. Nice drum lead in, and the guitar is processed so that it's more "up front" than the original from 71. The Jordanaires backing really adds to this track, and is tastefully done. It sounds very "fresh." Remember, it was the Imps on the 71 version.
Nice harmony on the bridge. I believe that's Gordon Stoker and if it is, what a treat to hear him singing with Elvis again after all this time. The organ accents are very effective. It's held out a bit longer than the original at the end. Good stuff.
The Verdict:
What a treat! I really like everything about this project. The snow scenes, the photo chosen for the cover, the quotes by the artists, and I believe the project stands for itself. I know Elvis' Christmas Album was #1 for four weeks in 1957, but I think this will do well in its own right. The Country Ladies involved are pretty much all at the top of their game and should serve to introduce Elvis to a whole new populace.
There is so much involved in a project like this – picking songs in the appropriate key and in a style that is natural for the singers involved, the hours of work to make it sound like a singular project, and all the licensing and agreements that have to be taken care of in today's recording industry with everyone under contract to different companies.
I haven't said this in a long time, but "Well done, RCA." This is one Christmas release that won't have to be "repackaged" every Christmas, but will stand for years on its own merit.
I just read an article this week that reported Elvis as not only the highest grossing deceased entertainer, making over 52 million dollars last year (What else is new?) – but he had a much better year that many current big names who are both recording and touring like Madonna, Justin Timberlake, etc. "Christmas Duets" will help assure that his legacy is established for many decades to come! At least for this Christmas season, "Elvis is back in the building!"
Jerry M: Thanks Rocky for a good review. I too bought the album and find it playing in my car each day as I go to work.
Sue Staughton: I'm not a big fan of these sorts of compilations but I have to say after reading your review I'm going to buy it fopr myself as a christmas present.