Elvis owned dining suite for sale on ebay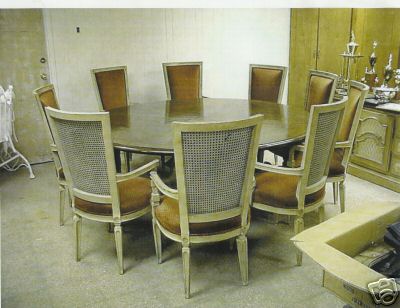 For Sale - Elvis Presley's "Round Table" Dining Room Set w/COA:
Now on ebay and described as:
Owned & used by Elvis & Priscilla Presley at their Beverly Hills home with documentation.
DESCRIPTION: Complete dining room set consisting of a large round wooden table with carved wood base and 9 matching chairs, accompanied by a matching credenza & rug, all owned and used by Elvis & Priscilla Presley at their 1174 Hillcrest Drive, Beverly Hills, California home. (1) Dining table: Round top wood table with 3 tier carved wooden base (two call buttons attached under table) (9) Dining chairs: suede, cane back with arms(1) Credenza: 9 drawer buffet, 94"(1) Rug: creme colored rugHISTORY: Elvis & Priscilla moved into their Beverly Hills home at 1174 Hillcrest Drive shortly after their wedding in May 1967. Elvis wanted this house to be perfect so he hired famed builder/interior decorator, Tom Lane of Newport Beach, California.
In contrast to his Memphis home "Graceland", this home was furnished with only the finest of the day. The extent of his deep appreciation for the only home he and Priscilla ever owned jointly, and where his daughter Lisa spent her first six years, can best be summed up by the statement he (Elvis) made when leaving. He said, "This home is so perfect that not even an ashtray should be moved." He sold this house fully furnaced. Don B. Smith Auction Company held an auction for the new owners at the Hollywood Palladium in 1980 selling the personal property of Elvis & Priscilla from this home. MEASUREMENTS: Table top 84 inches. Cradenza 94 inches long.
DOCUMENTATION: Originally obtained by the Elvis Presley Museum at the Don B. Smith, September 14, 1980 "Personal Property Formerly Owned BY ELVIS & PRISCILLA PRESLEY" auction held at the Hollywood Palladium. Was then displayed for many years at the Elvis Presley Museum. Accompanied by a certificate of authenticity from the Elvis Presley Museum and a color copy of the 1980 Hillcrest Estate Auction catalog.Estimated value: $25,000.00-$35,000.00 (Source: ebay, 3 Jan 2007)