'I Found My Thrill'
FTD CD Review
'I Found My Thrill' features Elvis' Jan 27th Dinner Show from his first 1974 Las Vegas season.

Starting from Elvis' theme through to the final showroom announcements this CD features the complete concert, along with four very exciting bonus tracks. Elvis is in a really happy mood, performs some fabulously rare songs and sounds refreshed & re-energised.

With the best versions of 'My Baby Left Me' and 'Trying To Get To You' ever released, along with the fantastic 'I Found My Thrill' medley, this is a sensational release.
---
'I Found My Thrill' presents Elvis fans with their first ever look at his January 1974 Las Vegas season.
Elvis' final 1973 season ended with the emotional roller-coaster released by FTD on 'Closing Night' where he dared say on stage "To hell with the Hilton Hotel, and screw the showroom too." His previous contract with The Hilton had ended and Elvis had fired The Colonel as his manager. This could have been a new start but instead Elvis & the Colonel patched things up and a new Hilton contract was signed. With Parker playing them off against rumoured offers from the MGM Grand, Elvis' new contract was for shorter 2 weeks seasons, twice a year and Elvis would receive $300,000 for each season plus perks.
After the hard work of 1973 Elvis had spent a deserved break of 5 months from performances relaxing, playing music & working hard at his Karate skills, as well as spending time with the ever-reliable Linda Thompson. However it was on this tour that Elvis met his new major love-interest Sheila Ryan.
So here Elvis was, in January 1974, back on the Hilton stage and at the start of what we all know would be an extraordinary year. There would be no studio recordings at all but an incredible 156 concerts instead. There would be Elvis' attempted reinvention of the Opening Show August 19, 1974, the roller-coaster of the 'Desert Storm' Closing show along with the desperation of the September College Park concerts. There would also be the excellent RCA recorded Memphis Live concert.
The only real glimpse hard-core fans have had into this Elvis January season has been the sub-standard audience-recordings, fascinating if only for historical purposes. This season was well received (see review below) and it was here that Elvis added the new songs 'Help Me', 'Spanish Eyes' and 'Let Me Be There' to his set-list. Not only that but 'You've Lost That Loving Feeling' was back after a 2 year hiatus, and Elvis even started working on that old 'Polk Salad' again, having left it off the set-list for the whole of 1973! This January season was also the first time that Duke Bardwell was playing for the band.
For Elvis aficionados this new FTD is an important release since it features an Elvis Las Vegas Season that has never been properly explored before.
Starting from Elvis' theme through to the final showroom announcements 'I Found My Thrill' presents us with the complete concert, along with four very exciting bonus tracks. Elvis is in a really happy mood, performs some fabulously rare songs and sounds refreshed & re-energised. With the best versions of 'My Baby Left Me' and 'Trying To Get To You' ever released, along with the fantastic 'I Found My Thrill' medley, this is a first-rate release.
Only a couple of soundboard recordings exist at all from this season and we know that a lot of work had to be done to upgrade the audio quality of the original cassette. Bearing this in mind I was pretty impressed with the audio quality. Comparing it to other releases, it is a much warmer/richer mix than FTD's 'It's Midnight' which does sound far more 'cassette like' and there is a much better balance between the orchestra & band here which really benefits songs like 'Spanish Eyes'. It isn't a reel-to-reel tape however so doesn't have that full-bass feel of 'Closing Night'. Compared to the much-praised Madison release 'One Night Only!' again the orchestra & band mix is better here, (i.e. on 'Loving Feeling', 'Trilogy' etc) although the peak-distortion (& particularly with J.D Sumner's mic) is much more of a problem.
So far it has been a great year for FTD releases and 'I Found My Thrill' sits very nicely next to the excellent FTD 'Southern Nights' which had a great track selection and also some spots of poor audio. Not only that but the 'I Found My Thrill' medley shows for the first time how FTD can cleverly present us with those spread out one-liners that Elvis used to throw into his shows at random.
The cover with Art Direction credited to Ernst & Roger is a stylish design with photos including as nice one of Elvis with Sheila Ryan, help set the mood of the season.

(Right: 'I Found My Thrill' sleeve inlay)

As Elvis fans we know all these songs but it is fascinating to note how much Elvis did alter his set-lists. There were some dramatic changes between the end of 1973 ('Closing Night'), the start of 1974 and again in August 1974 (It's Midnight').
The Concert:
After the compulsory build-up of 'Also Sprach Zarathustra' the band kicks in with 'See See Rider' with Elvis sounding energetic & happy to be back on stage. This was only his second concert of this hard, full-on touring year. He punches out, "Oh see, See See Rider" and you know he's full of energy and hasn't just got out of bed!
Elvis sounds a little hyped up when he says, "This suit's driving me crazy, man. Mirrors everywhere!" and you can tell that this is not going to be a lazy laid-back show. Even though Elvis is buzzing he says, "It's hard to get started folks" but disproves this by immediately slamming into 'I Got A Woman /Amen'. Here you can begin to notice the peak distortion on the original cassette at the end of 'Amen' when the loudness overloads the tape but it isn't over-annoying. (I found 'Summer Festival' far worse)
Elvis says, "Welcome to the show, we hope you enjoy it. Hope the mirrors don't drive you crazy! So, ahh, anyway.." and energetically he's singing a good 'Love Me' including the nice touch of "Don't get jealous" to a girl in the crowd!
With no introduction (funny as this was a brand new song) Elvis launches into 'Let Me Be There'. This is the first officially released version of 'Let Me Be There' and only the second time Elvis sang it in concert. Obviously enjoying it, Elvis takes it at a slower tempo than later versions & it has some excellent guitar work from James Burton. In these very early versions Elvis does a cute growl before going into the chorus (instead of singing "'I said a....' let me be there") - listen out @ 0:34 and 01:40. From now on 'Let Me Be There' would become a staple of Elvis' concerts.
'You've Lost That Lovin' Feeling' is back and it's an excellent version with Elvis singing from his soul. Elvis hadn't performed this since 1972 and would only sing it a couple more times in his career. For a soundboard recording the mix is extremely good with the orchestra & band, the Sweets & Elvis all just perfectly placed. You can play this loud - and you can see why Ernst chose this concert for release. Very nice & a surprise that it still has such a great feel in 1974.
Next is the total rarity of Elvis performing 'Sweet Caroline' in 1974 and again Elvis approaches this with renewed interest. It's a great version with Ronnie Tutt banging the hell out of the drums, & Elvis taking it at a fast tempo. There's a funny moment @2.05 when Elvis heads to the verse while the band continues to play the chorus Elvis knows he's messed it up and acknowledges it laughing as he sings, "Oh God!, I said warm, touching warm." At the end he throws in some karate moves and gives a lovely, "WHOO" saying, "I forgot completely what I was doing with that song!" This is only the third time Elvis has sung this since 1971 - and he would only perform it 4 more times after 1974.
The 'Long Tall Sally Medley' that Elvis started singing in 1973 is also done with more enthusiasm than he showed at the end of 1973. Comedian Marty Allen is in the audience so Elvis includes, "I saw Marty Allen with bald- headed Sally".
A fine 'Fever' follows & Elvis enjoys the groove singing, "She said, Daddy oh don't you dare. He gives me blemishes..".
It is great to have 'Polk Salad' back and Elvis feels the same saying, "Oh Lord" during the bass intro! Enthusiastic you can feel Elvis throwing some Karate moves & working up a sweat. It's a good mix with a good prominence from Glen Hardin's piano.
At this point in the show Elvis introduces his new vocal band and has them sing 'Killing Me Softly' while he recovers from his karate work-out. Elvis says, "They've been with me about 5 months and they are really fantastic singers, and I found them in Nashville working in an upholstery shop. I call them Voice". FTD has cleverly edited out their solo song 'Killing Me Softly' at this point for which I have no complaints at all.
Having announced Sherrill Neilson, Elvis says, "Sherill, you want to do a song with me?" to introduce their duet of 'Spanish Eyes'. This is a beautiful version, a lovely balanced mix, a great improvement on the 'It's Midnight' version & another great addition.

A fast tempo 'Suspicious Minds' is a great version with Elvis sounding enthusiastic for 1974 and obviously enjoying it. The soliloquy is excellent with Elvis singing, "Oh, let our love survive, oh no, no, no, no, no, no, no. Oh, dry the tears from your eyes". A great mix, nice piano work & some obvious Karate action make this a surprising highlight.
The 'Introductions' is straight forward, however there is a real treat here when Elvis announces comedian 'Marty Allen' and for him sings, "Hey, did you happen to see the most beautiful girl in the world". In just one line Elvis' voice & soul makes it sound very sincere & you know that the song would have made a great addition to his legacy. Elvis tells the audience, "I tell you what, I'm gonna' learn the song & do it all for you sometime. 'Cos Charlie Rich needs the money!!"- What a real shame that he never did.
A powerful 'I Can't Stop Loving You' follows before another highlight, Elvis singing 'Help Me' live for only the second time.
'Help Me' is introduced with Elvis saying, "This is a song we're going to put out real soon as a single". The song is taken at a slightly faster tempo than usual and you can hear the arrangement for the string-section here that was almost absent from the 'Live In Memphis' release. This early version is interesting for having a much lighter feel than when Elvis performed it later on when more & more it began to sound like a genuine plea for help.
'American Trilogy' – This is a song that always benefited from the hugeness & magnificence of performing it in a large arena, i.e. Hampton, Memphis, Hawaii. But here Elvis is also truly impassioned and puts his souls into the song, perhaps because it was only his second concert of the year. At the finale the Vegas audience explodes with appreciation which Elvis humbly acknowledges.
Elvis spontaneously decides to do his new song 'Let Me Be There' for a second time that night saying, "I'd like to do a song we did earlier in the show right here. Because we all like to sing it, and we hope you like it to". Unfortunately there is more J.D Sumner microphone overload on the tape here, but that's more than made up for by hearing Elvis' genuine happiness at this point in 1974.
With an extremely quick "Thank you. You're a good audience" Elvis heads on home with 'Can't Help Falling In Love'.
This time we also get the outro & the final announcement of "Buy your Elvis Presley souvenirs in the Hotel Lobby Booth, this benefits the Home of the Good Shepherd in Las Vegas." It is a nice final touch and it would have been a great night to be at the Hilton because Wilson Pickett & Chubby Checker were also performing in the Casino lounge!
But perhaps the best is left for last with the 4 fabulous 'Bonus Tracks'
'My Baby Left Me' from Jan 28th Midnight Show is great! Elvis is having fun and in, "The voice I did it in 15 years ago" he starts trying a high imitation of himself. This has a very cool, funky-blues swagger to it, with some excellent chickin'-pickin' guitar work and isn't rushed like the 'Memphis Live' version. Although well-known because it was featured on his 'Live In Memphis 74' LP, Elvis would in fact perform this song less than ten times in his whole seventies career. Play Loud & play it again.

'Trying To Get To You' from the same Midnight show is another real treat. Elvis agrees noting, "This is one of my favourite songs I recorded 2,500 years ago" Done in a very slow sensual groove with boogie-piano, you haven't heard it like this before. Very, very Fats Domino. While this would become a staple of his concerts this is a very early (second?) attempt. Almost a rehearsal Elvis spontaneously hands out instructions to the band, "go to the bridge again!". Listen out @ 1:15 to The Sweets cheering Elvis on. Maybe the best, or certainly the most interesting, live version ever! Sensational.

'The First Time Ever I Saw Your Face' - Elvis who had just started dating Sheila Ryan says "This is for Sheila". While this is not in as good quality as the others (cassette hiss) it is a great inclusion as it is a very sincere & lovely version. It also includes the extra "The first time ever I lay with you" verse. Taken at a gentler tempo than the single, Elvis always put more soul into this song when performed live & this is no exception. A song that Elvis rarely performed in 1974, this is only the second live version ever released officially.
'I Found My Thrill' Medley - Blueberry Hill/I Can't Stop Loving You. The cover notes that this audience-recorded medley has been "assembled to show the good humoured nature of Elvis' concerts" and it is fantastic. Starting with Elvis teasing the crowd with "Well, well well," he sings 30 seconds of, "When my blue moon turns to gold again" (Feb 9th) before he goes into some great one-liners. These include "Does your chewing Gum loose its flavour on the bed-post overnight" and "Blue Monday and my head is bad" is in there too! Ernst Jorgensen & audio restorer Jean-Marc Juilland have done a brilliant job compiling this clever medley, throwing in an amazing mix of Elvis fun. Including a few Blueberry Hills - "My Scarf Turns Blue" and "My Nose Turned Blue" lines, combining it with the "On Mockingbird Hill" version and "On Gooney-Bird Hill" too. Yes, of course it isn't real, but it combines all those crazy lines that have been spread over several different audience-recordings and in fine quality too. Best of all, it does show how FTD can present all these hidden rarities to collectors in the future. It's 5 1/2 minutes of sheer Elvis fun. More Please!
Verdict: Did Elvis really sing "Does your chewing Gum loose its flavour on the bed-post overnight?" Yes he did, and this concert which explores this unknown early 1974 Vegas season is a superb find & a great release from FTD. The set-list is a fascinating selection for 1974 and Elvis is inspired & energetic, especially for a Vegas Dinner Show. Best of all the bonus tracks are truly sensational! FTD is spoiling us this year. Don't miss out on this one.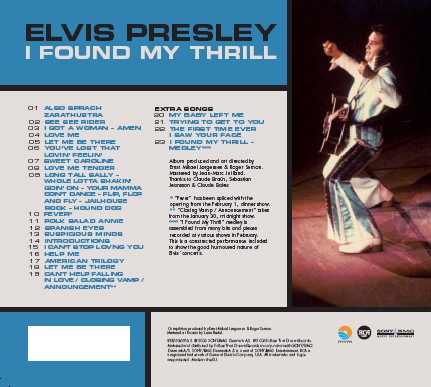 More about January 1974. A review from The People Magazine.

"Elvis Makes comeback after combating mystery illness."

Elvis is back in town, and the event has caused almost as much interest as the return of Ol' Blue Eyes - Frank Sinatra. For the past four months Presley, the recognized king of the rock 'n' roll era, has been mysteriously idle. From the stage of the Las Vegas Hilton, he acknowledges now that he had been hospitalized for part of the time.
One would hardly suspect that he's been ill recently. He has not slowed down at all, although there are a few more ballads in his act now. He's as physical as ever on stage, not just the hip-swivelling, but highly energetic also with his constantly flashing hands, leaps, and high kicks.
He is perpetual motion during the entire hour on stage. And he surely had no contagious disease, or he might not have spent as much time kissing hysterical women at ringside. When he first appeared on stage opening night to a tumultuous welcome from 2,300 packed into the room (with thousands more in a swirling line in the Hilton Vegas casino and lobby), Presley proclaimed, "Me and 0l' Blue Eyes are back".
In the course of the show, a man yelled out, "Presley for President." The thought shocked even Elvis. "Don't put that on me, man", Elvis yelled back.

He sang, of course, a goodly number of the songs that helped make him famous. "Hound Dog" and "Love Me Tender" getting the biggest audience reaction. He also sang hits of others: Neil Diamond's "Sweet Caroline," Peggy Lee's "Fever" (especially well done) and wound up with a rousing blend of "Dixie" and "Battle Hymn of the Republic" in a bit of patriotic spirit which seems to be a prevailing mood in nightclub acts these days.
And in the lobby, upon leaving the hotel (in fact, blocking the automatic exit doors) is one of several booths set up to sell Presley souvenirs, programs, records, tee shirts, et al. The proceeds go, according to a sign, to the 'House of Good Shepherd'.
He's still watching over Elvis
---
Review by Piers Beagley for EIN, July 2006.
Click here for a revealing interview with 'I Found My Thrill' audio restorer Jean-Marc Juilland.
Click here for FTD 'Live In Memphis 1974'
Click to comment on this review
---
Tracklist:

1: Also Sprach Zarathustra
2: See See Rider
3: I Got A Woman /Amen
4: Love Me
5: Let Me Be There
6: You've Lost That Loving Feeling
7: Sweet Caroline
8: Love Me Tender
9: Long Tall Sally etc Rock Medley
10: Fever
11: Polk Salad Annie
12: Spanish Eyes
13: Suspicious Minds
14: Introductions
15: I Can't Stop Loving You
16: Help Me
17: American Trilogy
18: Let Me Be There (reprise)
19: Can't Help Falling In Love
20: My Baby Left Me (Jan 28 MS)
21: Trying To Get To You (Jan 28 MS)
22: The First Time Ever I Saw You Face (Feb 1 MS)
23: 'I Found My Thrill' Medley - Blueberry Hill/I Can't Stop Loving You (splice, various shows)

(Photo: Elvis on stage 1974, not taken from this FTD)
---