---
"The Complete Elvis Presley Masters" 30 CD box-set contains all of Elvis Presley's 711 complete Master Recordings - as released during Elvis' lifetime.

The collection also contains 103 additional rare recordings and a 240-page hardbound book featuring an annotated discography, original album artwork, rare and classic photos, a complete song index and an essay by Peter Guralnick.

Recently radio personality Mike Ragogna from KRUU-FM got a chance to interview Ernst Jorgensen in length about the new 'Elvis Presley Complete Studio Masters' box-set and other points about Elvis' musical legacy.

---
SEE BELOW FOR A LIST OF OTHER EIN INTERVIEWS WITH ERNST & ROGER SEMON
---

Mike Ragogna: How long have you been working on assembling Elvis Presley collections and with his masters?
Ernst Jorgensen: I started with Elvis' record company back in '88 as the managing director for the Danish Company--I'm Danish, and I live in Denmark. From that day on, almost, I've been doing Elvis packages, and I've been doing them full time since '92.
MR: With somebody who's been compiled as often as Elvis, it's always surprising that there continue to be new themes to explore. For instance, earlier this year, there were a couple of releases including Elvis 75 in January, right?
EJ: It would have been his seventy-fifth birthday, and we took the opportunity to go in, look at his catalog, and see what could be relevant for people to listen to. We did a four CD box set back in January which was like an introduction to people who may not know Elvis that well, may only know him from his hits. Then, we have a consistent program where we take some of his classic albums--classic by the artistic merit of these albums--and launch them in deluxe packages. So, there's always something to do, but obviously, this box set that you mentioned is on a different level.
MR: Let's talk about it now. No wait, this year, you also worked on the Elvis Presley On Stage Legacy Edition, right?
EJ: Yes, and last year we did From Elvis In Memphis, and we are working on getting another bunch of Elvis' artistically best albums available in deluxe versions for the future. It's like everything you hope would one day happen when you do what I do-- when you compile records and you write books -- to be able to put all your favorite artist's master recordings in one box set, and be given the privilege to do a two-hundred forty page book with text and illustrations describing the entire career. It doesn't get better than that.
MR: Can fans find details about the box online?
EJ: That's what the website completeelvis.com is all about.
(EIN note - Also see our detailed Complete Masters page here)
MR: How is the project organized?
EJ: The idea was, in one package, collect all the recordings recorded during Elvis' lifetime that were meant for release, and then spice it up with about one-hundred rarities--not so much because they were rare, but because they gave an insight into how Elvis made his records, what he sounded like on the radio, and what he sounded like when he was just singing at his home. Basically, we had an idea to give whoever wanted to know all about Elvis' career a box set that contains it all. I've written all the text with an Elvis Biographer, Peter Guralnick, and we had a blast doing it. For me to be able to have everything in one package is everything I've ever dreamed of. I've actually proposed this box set for about twelve years now, and it wasn't until Elvis Presley landed at Sony's Legacy label that there were actually people who had enough vision and courage to put the thing together, and give me the okay to start doing the whole thing. To me, this is the most wonderful thing that has ever happened in my professional life.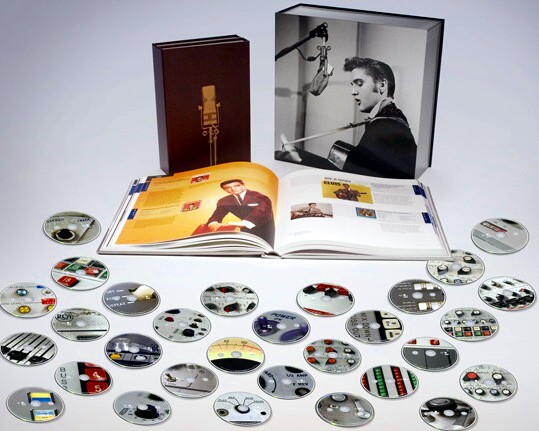 MR: Beautiful, congratulations, Ernst. So, this is thirty discs, this is a real investment.
EJ: It's a real investment in that it's a limited edition, and it's a first run of only one-thousand box sets. It is everything that Elvis officially released during his lifetime, and then whatever else made sense has been added to it. The book is two-hundred forty pages and it's full of pictures, but not pictures intended to make Elvis look pretty. The pictures connect exactly to what we were writing about, and the writing that Peter and I did was without any restrictions from the label. It's definitely a critical review of Elvis' career--the highs and the lows. It's not like it glosses over things, like sometimes we as record companies do when we want to brag about things. Peter and I felt that the true story was the only story worth telling, and that Elvis' achievements were on such a level that we could certainly afford to talk about when things weren't as good as they could have been.
MR: In this box set, you said there are about one-hundred tracks that are rarities, right?
EJ: That's right.
MR:Is the discovery process an ongoing thing, or has pretty much everything been discovered by this point?
EJ: That's a very good question because it's on the level of "how can you ever prove that something doesn't exist?" We are always on the lookout for new recordings. To find a song that Elvis sang, that nobody ever heard is going to be difficult, but if we can find session takes with outtakes of songs and early radio performances--we certainly are looking for that all the time. The one thing I want to say about the rarities is that these are rarities to what I think is the main audience to this box set--people who have Elvis, but nothing like the complete Elvis, and to them, these are rarities and extraordinary recordings. We decided not to include anything previously unreleased on the box set, basically, because it's expensive, and it would be very unfair to have a handful of unreleased material and ask people to spend all that money just to get the one disk if they didn't want the rest of it.
MR: What's beautiful about this box set is that you can listen to it from the perspective of listening to an artist that is growing.

EJ: And you can listen to it in a true historical context. All of the recordings on the first twenty-seven discs are in chronological order. So, you can actually follow his progress, or, for that matter, a bit of his decline in the mid-'60s probably happening shortly after "Viva Las Vegas." So, you can follow the career step by step, and it's almost like you are on the same journey that Elvis was.

MR: That was my point exactly. It's not unusual for artists with as much material as Elvis to have recorded songs that weren't released until later albums, so the chronology gets kind of dicey just tracking it from album to album.

(Right; CD 23 from the set showing the stylish "RCA equipment" design
EJ: That's true. Basically, Elvis was an artist who made his commercial breakthrough in America, and definitely later in Europe by ways of singles, and singles in those days were not on albums. "Heartbreak Hotel" was not on Elvis' first album, where you could argue today it would have belonged, and "It's Now Or Never" was not on Elvis Is Back!, the album he cut just after he got out of the army. The thing with Elvis that is truly interesting is that in the mid-'60s, where Elvis basically only recorded soundtrack albums, RCA kept releasing singles that weren't from soundtrack recordings. That was what got me interested in Elvis--suddenly there would be this recording and you'd say, "Wow, that's very different."
A good example of that would be "Ain't That Loving You" or "Tell Me Why" from the mid-'60s, and it turned out that these were just recordings that were never released in the '50s, taken out of the vault in the mid-'60s and launched on records almost ten years after they were recorded. Same story on "Crying In The Chapel," which was recorded for Elvis' '60 gospel album His Hand In Mine, but because of a copyright issue, it was left off the album. Five years later, when RCA didn't know what to release, they thought, "Well, we can release this leftover we have 'Crying In The Chapel' for Easter, and we should get some radio attention because it's Easter." They didn't know that they had a number three U.S. hit and a number one U.K. hit just sitting there in the vault for five years.
MR: Those are great stories, and when you come across these tracks, are you always shocked that, well, "interesting" tracks like "Crying In The Chapel," became big hits?
EJ: I don't know. That's a very good question. It had been kind of a pop hit back in '53, but that Elvis in the midst of The Beatles, The Stones, Dylan, and The Beach Boys, could have a world wide top hit with a religious song was surprising, and I don't think anybody anticipated that. I don't think RCA or Elvis anticipated that--it was just a miracle that happened. It could be that the record is actually very good.
MR: Okay, it's just not one of my personal favourites I guess. Speaking of personal favourites, what is one of your favourite Elvis recordings?
EJ: One of my favourites would be Elvis' first commercial record, "That's All Right, Mama."
MR: Now, I hear that of the thousand box sets that were manufactured, they have now all been sold.
EJ: You know, I think that is interesting in a time when people tell me that the CD is dead. So, whatever predictions may have been for an item like that, obviously because I'm a producer and a writer for it, I'm relieved to see that there are people out there who really want this. I'm sure they won't be disappointed.
MR: Let's talk about "Suspicious Minds" and those Memphis sessions. This batch of recordings are some of the most beloved Elvis tracks of all time. What is the historical importance of these recordings?
EJ: Well, there were changes at that time--Elvis had just come off a very successful television special. Remember, in '67, his commercial career was going down the drain, and to some extent, his artistic career was doing the same. He does the comeback special that is aired in the U.S. on December 3rd, '68, and shortly after that, he seems totally committed to try and make new records that are different and more meaningful than what he had been doing for all those movies. He goes to American studio in Memphis--Chips Moman ran that studio, and had a house band that was fabulous. Elvis went down there to start recording in new surroundings, something that always fired Elvis up because he was very competitive in his own mind, and he wanted to impress all these new musicians. So, the dedication from Elvis is far above the level of some other sessions that he did, and on top of that, there were some magical songs going into it.
You can argue that the true achievement of the sessions is not found in those massive hits like "In The Ghetto," "Kentucky Rain," "Suspicious Minds," and "Don't Cry Daddy," but in the recordings he did of old country songs and old R&B songs that are just as magical. It was just a matter of all the right people at the right time and a dedication on Elvis' side that is not without comparison in his career. I think the success of that television special was, in principle, Elvis doing what he once did.
It's a very retro kind of television special, singing old rock 'n' roll songs, and now it was time to take that into a modern world. Even if somebody had written "Suspicious Minds" today, people would think it was a contemporary song. It's one of these songs that has a feel to it and a lyric that makes it timeless, and, in many ways, so does "In The Ghetto."
MR: Right. That's another song that, although it's not the most covered song by Elvis, it's one of the most revered, isn't it?
EJ: Yeah, there are certain songs that people, I think out of respect or maybe they think they can't do it better, don't cover because it's so much Elvis' song. You don't get too many cover versions of "Are You Lonesome Tonight?" either because that's a difficult place to go, and I think that's what separates "In The Ghetto" from "Suspicious Minds." "Suspicious Minds" is also a tune that you can maybe put into a rock band and it would fit--a modern rock band could get away with playing it and still make it contemporary by '10 standards, I think.
MR: I've heard covers of that. It's funny that we're talking about this because I never really considered the fact that Elvis is uncoverable.
EJ: In some ways, yes, but there is a little irony in this little story in that Elvis wasn't the first to record "Always On My Mind," but he did and it's become an Elvis classic--it was actually the b-side of "Separate Ways," so it wasn't a hit, and it was covered by Willie Nelson, whose version became a monstrous hit. So, you can cover him, but early Elvis is hard to cover and get away with. When he started playing live in '69 and '70, he did, sometimes, wonderful versions of his own songs that didn't sound anything like when he recorded them back when he was young. Nobody managed to get that airy, breezy magic of "That's All Right" or "All Shook Up."
MR: Right. I know we mentioned this earlier, but I think it's amazing that only one-thousand of these were made and eight-hundred already have been sold. Elvis lives, it's true.
EJ: Well, he lives in our minds for everything he did for music. He lives in the minds of those musicians who took over from him. You get people like The Beatles, Bob Dylan, Bruce Springsteen, and U2--everybody somehow relates to those early Elvis recordings, and they meant something in their personal lives, and subsequently, he became an inspiration for their professional lives.
MR: Exactly, and don't forget David Cassidy. That's kind of a joke but not really.
EJ: Well, I could talk about so many artists. It's true of what we would call "credible artists" by journalist terms, but it's on every level. You can go all over the world and find weddings where they're playing Elvis' "Can't Help Falling In Love."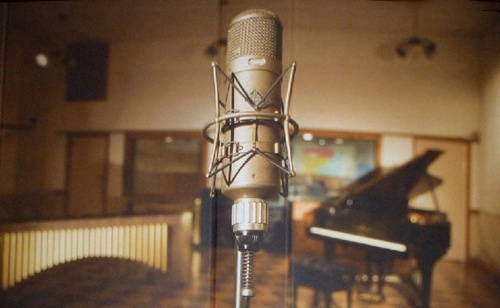 Above: Stylish inside photo from "The Complete Masters' package.
MR: Ernst, during the army years how did they handle the recording process? Was he just on hold?
EJ: He was totally on hold, but they had saved enough to keep releasing singles while he was away. There were several mega-hits that came out while Elvis was in the army. The first thing was "Wear My Ring Around Your Neck," but "Hard Headed Woman," "One Night," "I Need Your Love Tonight," and "A Big Hunk O' Love" were in the can, so they could be released while he was away. They didn't have enough to release anything other than the King Creole album as a new album, but remember that we were in the singles market in the '50s--the album market was just starting to develop. While he was away, he gave RCA the opportunity to collect all the material that wasn't available on albums before and put them into albums. So, there were the Elvis Golden Records One and Elvis Golden Records Two, A Date With Elvis, and For Elvis Fans Only, where people who had now started buying LPs could get all these tracks that were previously only available as singles.
MR: Was the Moody Blue album a compilation of leftover tracks or was he working on an album before he passed away?
EJ: That was the album that Elvis' producer, Felton Jarvis, put together before Elvis died, and it was meant to be a regular album. There was a problem, though, that Elvis had, to some extent, lost his appetite for recording, so they didn't have a full album's worth of material. So Felton, in the spring of '77--literally just a few months before Elvis died--would bring a tape recorder out on tour and convince Elvis to sing a few songs live on stage that he hadn't recorded so he would get enough material to fill out the album. The most famous of those songs is Elvis' version of "Unchained Melody," which was captured during a show on tour in April. You're almost right in that there is a compilation element to it because Elvis hadn't recorded enough for a full studio album.
MR: I have one last question for you that I ask everyone. What is your advice for new artists?
EJ: Try to find something in yourself that expresses who you are instead of just being a copycat. All these talent shows on T.V. produce many a fine singer, but what we're looking for is not necessarily the best singer, but somebody who has something original to offer us, and I don't think talent contests encourage that kind of musicality.
MR: I agree with you totally. Thank you so much for the interview, Ernst.
EJ: Well, I've enjoyed this, so anytime you want to go back, we'll get on the phone again.
Interview by Mike Ragogna - Radio Personality on Solar-Powered KRUU-FM.
- Transcribed by Ryan Gaffney-
Go here to Huffington Post for the original article.

This page Copyright EIN, October 2010
Click to comment on this interview
---
For more EIN interviews with Ernst Jorgensen & Roger Semon about Elvis releases check out EIN's informative articles:
---
SONY/RCA 2011 Future CD Release Details: During Elvis Week this year SONY/RCA/FTD producers Ernst Jørgensen and Roger Semon were both present to discuss and launch the new five-disc 1956 "Young Man With the Big Beat" set - as well as talk about other upcoming releases at 'Conversations on Elvis' - as well as their own presentation. They were willing to answer questions from those present, as well as talk about future plans to individuals who were interested.
Committed Elvis music collector & EIN contributor ElvisSessions was there to take notes.

Go here to this fascinating article where he reveals more of the story about the new "Young Man With the Big Beat", FTD '48 Hours To Memphis', questions Ernst over 'Stage Rehearsal' as well as finding out details of other future releases.

---
'1956, Elvis Presley's Pivotal Year': TIME magazine featured this recent article by SONY/FTD's music producer and consultant Roger Semon. The article helps explain to readers what the new deluxe box-set 'Young Man With The Big Beat' is all about.
... "In the mid-1950s, the post-war Eisenhower era of social conformity in America was at its peak, and musically, the most threatening image appeared to be Bill Haley's kiss-curl as he sang "Rock Around The Clock." That all changed on Jan. 28, 1956, when a raw and electric Elvis Presley made his breakthrough on the CBS program Stage Show. Presley's good looks, sensuous moves and mesmerizing voice made him a sensation overnight. But it wasn't until a third appearance on the show that Presley truly challenged the status quo. On Feb. 11, the singer performed "Heartbreak Hotel" and by April, the single would be #1 on the Billboard chart. At last, teenagers had music of their own to swoon over while their parents continued listening to Frank Sinatra and Mario Lanza....

Click HERE for the full article and fabulous Elvis Photos.
(News, Source;N.Verghese/Time/ElvisInfoNet)

---
SONY/RCA 2010 CD Release Details: During Elvis Week 2010 SONY/RCA/FTD producers Ernst Jørgensen and Roger Semon were both present to discuss and launch the major release 'The Complete Elvis Masters Box-Set' - as well as talk about other upcoming releases at the special Graceland Plaza presentation. They were willing to answer questions from those present, as well as talk about future plans to individuals who were interested.
Committed Elvis music collector & EIN contributor ElvisSessions was there to take notes. Go here to this fascinating article where he reveals the finer details behind the new "Complete Masters" box-set as well as more details about other future releases.

(Spotlight, Source;ElvisSessions/ElvisInfoNet)
'Ernst Jorgensen talks about Elvis Presley': Two very interesting interviews with Ernst Jorgensen from the TCM movie channel feature on YouTube.
In Part 1 Ernst talks about his early discovery of Elvis as well as missing tapes & discovering Elvis' private gospel recordings.
"To really appreciate music today, you need to know where it came from. That's a fascinating road."
Click here for Part 1 - 10 minutes

In Part 2 Ernst talks about rare discoveries from Elvis movies, Priscilla playing Ernst 'My Happiness' for the very first time and why Elvis is the most important of them all.
"I don't think we ever got to see Elvis as an actor in a proper setting."
Click here for Part 2 - 10 minutes.
Ernst Jorgensen interview about 'On Stage' and Elvis' Legacy in 2010:
Ernst Jørgensen talks exclusively with EIN about 'From Elvis In Memphis'
Ernst Jorgensen in 2007 talks about the future SUN project
Roger Semon 2007 Exclusive interview with EIN about FTD & future projects
Ken Sharp's 2006 in-depth interview with Ernst Jorgensen
Ernst's 2006 interview about the 'Easter Special' FTD
Ernst's interview about the 'Southern Nights' FTD
Ernst's interview about the 'Summer Festival' FTD
Ernst Jorgensen & Roger Semon's 2002 discussion about the FTD label and their future releases. An EIN exclusive.
Go here for the Ernst Jorgensen in-depth 2002 interview by Arjan Deelen EIN exclusive.
---
---
EIN Website content © Copyright the Elvis Information Network.
Elvis Presley, Elvis and Graceland are trademarks of Elvis Presley Enterprises.
The Elvis Information Network has been running since 1986 and is an EPE officially recognised Elvis fan club.