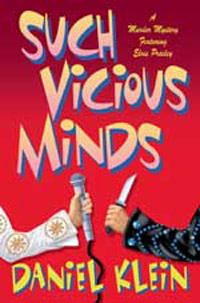 Publication of the fourth instalment in Daniel Klein's great Elvis Presley super-sleuth series, Such Vicious Minds, has been delayed until August 7.

About the book:

"The King of Rock'n'Roll is back in the building for his fourth turn as sleuth in this highly acclaimed mystery series

It's Memphis, 1965. An increasingly withdrawn Elvis passes his evenings at the Memphian movie house, endlessly watching Stanley Kubrick's "Dr. Stranglelove."

His friends and hangers-on are starting to worry, and so is his famously hucksterish manager, Colonel Tom Parker.