Elvis Presley In Concert "downunder" 2006
Welcome to EIN's "Reviews and Photos" page for the 2006 tour "downunder" of Elvis Presley In Concert.
Click here for EIN's Elvis Presley In Concert "Downunder" Tour page for comprehensive information, interviews and photos including...
- Special Elvis Exhibition downunder: Photos & details of the exhibition of rare jumpsuits & memorabilia.
- 'Elvis Presley In Concert' - English review. An appealing independent review where, after 29 years, the importance of Elvis was finally revealed!
- EIN interviews DCE the Australian promoter. We asked, why did the tickets cost so much?
- James Burton Interview
Many thanks to Sanja Meegin, Maria Simone, Monika Leone, Shannon Patterson, Alexander Attard, Tony Cannata, Mark Birch, Carolyn Mitchell, Barry Stewart, Barbara Wright, Elizabeth Barton, Chris Bamford, Wendy Wharnsby, Susan & Roy, and Liz Cron for their contributions to this section.
EIN has been inundated with your photos from the shows - we now have nearly 100 images, unfortunately too many to add all of them to this page. However we do appreciate the time many of you have taken to share your memories and photos with us.
Bangkok, Thailand, 21 October 2006 (Impact Arena)
'Elvis Presley in Concert' brought together big names and die-hard fans of the King of Rock 'n' Roll

It was much more than an unforgettable night. It was a miracle for Thai and international fans of Elvis Presley - the King of Rock 'n' Roll. Even the younger generations, who were just toddlers or not even born yet when Elvis left this world at the premature age of 42 in 1977, came under the spell of the rocker's performing talents, albeit resurrected virtually on-screen and from past vocal tracks, throughout the "Elvis Presley in Concert" show last Saturday.
Loyal devotees and new fans of all ages, ranging from 10 to 70, flocked to Impact Arena, Muang Thong Thani, to see if their beloved singer could really make a return. Among them were celebs, including MR Malinee Chakrabhandhu, famous singer Heart Suthipong Thadpitakkul and Elvis admirers like veteran actor Jirasak Pinsuwan and singer-turned-diplomat Vasu Saengsingkaew.
The pre-show atmosphere was akin to that of a get-together party for old friends who share something in common - love for Elvis Friendship and warm feelings were all around even among total strangers. Elvis look-alikes smilingly posed for pictures with vintage US cars as a backdrop.
The fun started when the King, in his familiar white jumpsuit and haircut, "took to the stage" on three giant TV screens, subsequently landing audience members into his classic back catalogue, switching between pulse-quickening tunes like C. C. Rider, the up-tempo Johnny B. Goode and slow, emotional tunes like You Gave Me a Mountain or the award-winning That's All Right, Mama with a pictorial presentation of Elvis' parents and childhood.
The most rocking moments were Elvis' crooning his hits Don't Be Cruel, Mystery Train, Tiger Man, Long Tall Sally and Whole Lotta Shakin' Goin' On, which brought loud applauses and whistles while keeping many others on their feet. All-time hits like Can't Help Falling In Love and Love Me Tender evoked warmth and love.
In all, it would not be an overstatement to say that these songs reflected his own life and that Elvis was truly a great, sweet spirit, a man, who, for his countless fans, will never die. (Source: Bangkok Post)
Christchurch, NZ, Wednesday 18 October 2006 (Westpac Centre)
Margaret Scoullar: If a person was not moved by the sight and sound of Elvis in Concert in Christchurch they were born without a heart, without passion.
But first my one and only complaint: I did not like the intricate framework around the large screen. Elvis needed nothing more than simple black edging to make him appear as if he was performing live. Instead he looked as if he was in a large picture frame, very distracting.
As for the rest of the show: Extraordinary!! The three standing ovations were well earned and a sign of the love his fans of all ages have for him. The audience were even dancing in the aisles. I loved the fact that in a few performances we got to see our man on the three screens from two or three different camera angles. Just goes to show there can never be too much Elvis. The musical arrangements for several songs were different from the versions we know, and the footage of hysterical fans in the '50's and Presley family photos on the screens helped complete this spectacular show.
A phenomenal show for a phenomenal man. Thank you Elvis; we will always love you.
---
Wendy Wharnsby: As fans we have seen the videos many times, but who else can still manage to evoke that heart stopping excitement, animal magnetism and tear jerking emotion each and every time he appears before us again - only Elvis. Add to that the ever enthusiastic live band, singers and Christchurch Symphony Orchestra and you have an experience that cannot be matched in your living room.

For those who have seen previous concerts, it was refreshing to have a revised content. The only disappointment I had is that the screen seemed considerably smaller than I remember in Sydney in 1999 (and we were in the front rows this time) and that the border detracted from the illusion of a
"live" camera shot, rather more like putting Elvis in a picture frame. The lighting however was fantastic.

The Ch Ch crowd known for it's reserve and lack of interaction, showed their appreciation however, by generous applause and cheering after every song - we even had some up dancing in front of the stage, and many gave a standing ovation at the end, as in a very emotional moment, the entire troup on stage turned round to look at Elvis on screen, and show their appreciation as he "left the stage". It was also a nice touch to have the band and singers shaking hands with the fans and signing programmes from the stage at the end of the show. "Thank you very much".

I was also amazed and delighted to see so many people queuing before, during and after the concert, to view the display of clothing - well worth it.

Comments heard:
Such an emotional show, what a waste of a man and his talents.

Amazing, no one like him, he can sing anything.

Who could see that and not be moved by the man's singing,
coming from the depths of his soul.

Wonderful, I will never forget it (from my 86 yr old
mother).

Indeed it was wonderful and we can only hope it will not be the last time that we will have the opportunity to see this truly great entertainer as large as he was in life.
---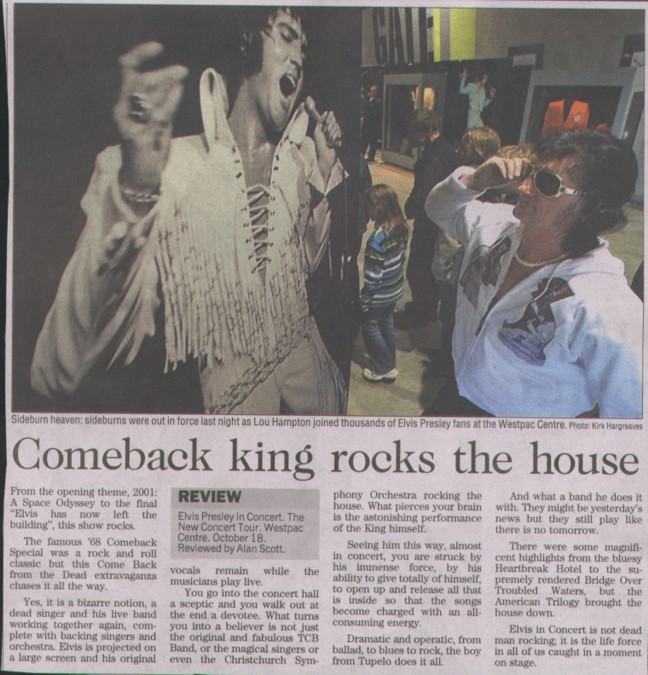 Courtesy of Liz Cron
Sydney, Saturday 14 October 2006 (ACER Arena)
EIN reviews Elvis Presley In Concert in Sydney, Australia
---
Barry Stewart: Most of the footage was the 1972 Hawaii concert, footage from That's the Way It Is and the 1968 TV comeback special.

The large screen seemed to be smaller than the one I saw in 2000, and it had a big metal frame around it, which seemed to remove the impact. Also, our seating was at about 45° to the screen, which meant that we actually got quite a bit of light pollution making the screen a little washed out on occasions.
The two side screens also seemed to be a bit smaller than I recall from the first concert. Overall it was still incredibly wonderful, I think they managed to get Elvis's voice even better, and his singing was as clear as day as if he was there. Acer Stadium was almost completely sold out, with probably a few rows at the very very back. There were probably less Elvis impersonators around, and there was also a small Elvis memorabilia exhibition, with suits and various costumes that he wore at particular concerts. That was quite enjoyable, although packed out and brief. I kind of miss the energy of the
1967 concert, shown at the first concert I saw, which was when Elvis was a bit younger and it felt a bit rawer than the more polished 1972 concert. Overall, it was still a wonderful night with lots of people clapping screaming, and a few standing ovations.
---
Elvis Presley In Concert - Could the King's old bandmates take a leaf out of INXS's book?
by Dylan Welch
Genre: Pop

Location: Acer Arena

Address: Sydney Olympic Pk, Homebush Bay

Date: 14 October 2006

Tickets: $75-$149

Phone Bookings: 02 8765 4321
Elvis never did a world tour, so several members of his backing band are taking the dead Elvis on the road with them.
Playing along to footage of the King performing his greatest hits live on giant video screens will be TCB (Taking Care of Business) band members including Joe Guercio, Elvis's band leader and musical director for the final decade of his life, and lead guitarist James Burton, as well as some original backing singers and members of his orchestra.
Guinness World Records listed it as the first live show headlined by a dead performer, but did the TCB band ever think of replacing their dead frontman through a reality TV talent quest? Rock Star: Elvis, perhaps?
"Well," Burton says in a Louisiana drawl, "I know most of the Elvis impersonators and so far I haven't seen anything come close. I think it would probably be impossible to find another Elvis. Not in my lifetime, I don't see it happening any time soon."
But hasn't 67-year-old Burton got word of perhaps the most famous Elvis impersonator, new INXS frontman J. D. Fortune?
"Haven't heard of him," says Burton, who seems to have recorded with everyone but INXS, including Roy Orbison, John Denver, Johnny Cash, George Harrison, Frank Sinatra, Henry Mancini, the Byrds, the Everly Brothers, Tina Turner, Dolly Parton, Linda Rondstat, Willie Nelson and the Mamas & the Papas.
What is it like performing with a dead frontman, then? "It's amazing," Burton says. "You can see what it would have been really like when he sang Love Me Tender. You see, when I'm onstage, I can just close my eyes and I feel him, I close my eyes and play and I can feel him there, you know; he's singing and I'm playing, and it's like he's there."
Brisbane, Thursday 12 October 2006 (Brisbane Entertainment Centre)
Christine Bamford (President, TCB Elvis Fan Club of Queensland): Loved last night's concert. It was great and I am so glad I went. The seats were good and the performance of Elvis was out of this world.
It was a good night out. I spoke to one of my members who went to Melbourne Concert also and she said it was different there as the audience clapped and gave Elvis and the band standing ovations. They also had the crowd on the big screen more in Melbourne. We weren't allowed to use "flash" cameras to take photos of the costumes on display. In Melbourne the fans weren't told that. I believe it is EPE's practice as they don't like you use a flash at Graceland either as it discolours the items.
Any first-time Concert goers will never see anything like this ever again. It is something to treasure, the memories and the songs and Elvis. It was money well spent in any language. Elvis rocks the town tonight again as he does best.
---
Carolyn Mitchell: I have never been to one of these concerts before, so I really had no idea what to expect...but I went with an open mind.
I was not disappointed with the concert at all.....the sound was great, the band was great, Myrna Smith looks as though she has just stepped off the set of That's The Way It Is.......Ronnie Tutt, I am sure needed to be carried from the stage...he worked as hard as I have ever seen him work on any of the Elvis concert releases.....James, Jerry and Glenn are still able to keep up with a '35 year old Elvis'...You can see in Ed Enoch's face, that he is still one of Elvis' number one fans......
I'm not sure how many people attended this concert....the parking attendant told me they were expecting 4500....I am no judge of crowds, so I can't say how many were there...there were not a lot of empty seats that I could see...having said that....I felt that most of the crowd were sitting on their hands for most of the concert. Are the Queensland crowds hard to please?...I don't know...I have only been to one other concert at the Entertainment Centre. The second half was appreciated better....and the crowd seemed to get into things during Suspicious Minds.......the guy sitting next to me actually uncrossed his arms during Suspicious Minds. One thing I did notice, was there seemed to be quite a few youngsters, which was a good thing....a few of them were wearing some kind of Elvis T-Shirt, so they were there for themselves, not having been dragged by their parents.....
I had a great time, and the friend I took with me also enjoyed it. She is a casual Elvis fan, not an FTD, card carrying fan......
I am still very happy I attended, and I am surely looking forward to the Memphis 2007 concert......where I imagine everyone will be standing by the end of the Opening Theme and won't be sitting after that.
---
Barbara Wright: Attended the concert in Brisbane on Thursday and it was just awesome. It certainly was
definitely improved and different than 7 years ago. The timing was sharper and more definite, and the gospel segment was just "amazing and emotional". So glad we saw it once again, as it may well not come back, well not with the original band members. Yes we are all certainly getting older now. The numbers were down in Brisbane since 1999, but the audience there was with "him" all the way. Just a wonderful experience the closest we will ever get to having "been there".

Melbourne, Tuesday 10 October 2006 (Rod Laver Arena)
Review #1 - Sanja Meegin: Went to the concert last night - have to say, I was expecting a bit of the same old same old - which the footage was - but it was awesome - the sound was BRILLIANT. There were at LEAST 10,000 people there - which was surprising as Mick Gerace told me there were only 3,000 people at the Adelaide one.
The display of costumes was so-so - only 8 and a line a mile long to see them. We crept out a couple of songs before intermission and nobody was there. There was the purple owl suit, a coloured shirt, the checkerboard suit from the cover of live at madison square garden and a couple of casual things. And a very nice guitar of his (photo to follow asap).
---
Review #2 - Shannon Patterson: I have to say as not a big Elvis fan I wasn't sure what to expect. But it was great. It must have been almost a full house and the fans were clapping and cheering and yelling out "We love you, Elvis!". The sound was awesome and while we weren't right at the front we had really good seats. The Elvis clothing exhibit had a mixture of jumpsuits and other items from Elvis' wardrobe. I particularly liked the purple jumpsuit. All in all I'm really glad I went. I might even yet become a big Elvis fan.
---
Review #3 - Tony Cannata: I went to the Melbourne Concert last night and it was just fantastic. I had tears in my eyes just loved every muitue of it. He sang from his heart and soul and in return it touched our hearts and souls too. Cant wait for the 30th annivaesary concert for next year. "Thank you Elvis for the memories and pleasures that you have given me your one of a kind"
Melbourne's Rod Laver Arena - photos courtesy of Alexander Attard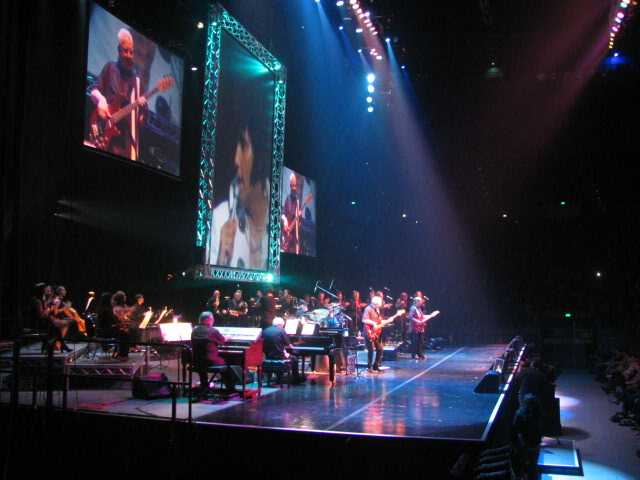 Adelaide, Sunday 8 October 2006 (Adelaide Entertainment Centre)
Review #1: Maria Simone (see Maria's great photos from the night below)
Soundwise the band and the Sweet Inspirations were great. The Adelaide public's response was amazing (usually we are a bit placid so the amount of people that rocked up was surprising).

Tickets were on special, not sure for how long, but on Sunday the Ticketek website had them available at a 2 for 1 price, (only for the SA concert)! So it was well worth the money to say the least.

Fantastic set up at the venue, some of Elvis's clothes were exhibited behind glass displays. Fans were capturing the experience with cameras, many of them posing near the costumes. I think everyone was awed by the opportunity to see Elvis' personal items up close. Big posters of Elvis were situated in the foyer, depicting the 70s concert years; this added to the atmosphere.

The commotion at merchandise stalls was extra-ordinary. When you walked in the foyer you got the feeling the King was giving a live performance and that he was still here with us. It was very moving.

Once the band started to play, emotions went crazy. A kind of nervousness as if expecting E himself to make an entrance. There were 3 screens, 1 bigger screen in the centre and 2 smaller ones (1 on either side of the main monitor).

I can't describe the feeling when the show started. I was reduced to tears because every time I looked down on the stage the King's spot was empty. It was a very different experience than any other one I've ever had.

I am now proud to say that I've heard Elvis's band and back up singers in real life during my time. However, throughout the show I couldn't help but feel a mixed emotion of pride, in the fact that E still performs, accompanied by sadness because his place on stage needed feeling.

At the end of the show the guys from the band came up to the people who were reaching out to them and shook as many hands as possible which I thought was a nice touch.

The footage used in Elvis the Concert, some of course we've seen in That's The Way It Was, `68 Comeback Special and Aloha From Hawaii. There was also material not included in the released version of That's The Way. Parts from other concerts featured on the big screen which was fantastic . wish EPE
would compile a collection for DVD release, even if it was composed from only small segments of the various 70s Elvis concerts. On Sunday we got to see Elvis with his blue suit and also the King in his white and red trimmed collar and sleeve suit.

A night to remember without dispute, it undoubtedly felt as if E was interacting with the band. The crowd's response proves the world isn't ready to accept EP's death. Fans were indeed applauding Elvis' musicians
but they were also clapping in celebration of their idol, regardless of him not being there in body to receive the appreciation. The audience's response was heart warming and moving. Entertainment Centre echoed with whistling, yelling out, you name it, after every single song.

The event strengthened my admiration for Elvis and worked up my enthusiasm as a concert goer further. I guess we all felt some hysteria in our heart on the night of October 10th, as if the 70s were happening all over again.

The best way to sum it up: The King is still alive.

Elvis the concert ended with: "Ladies and gentlemen, Elvis has left the building!" I say he never has and never will.'


The following images from the Adelaide show are courtesy of Maria Simone: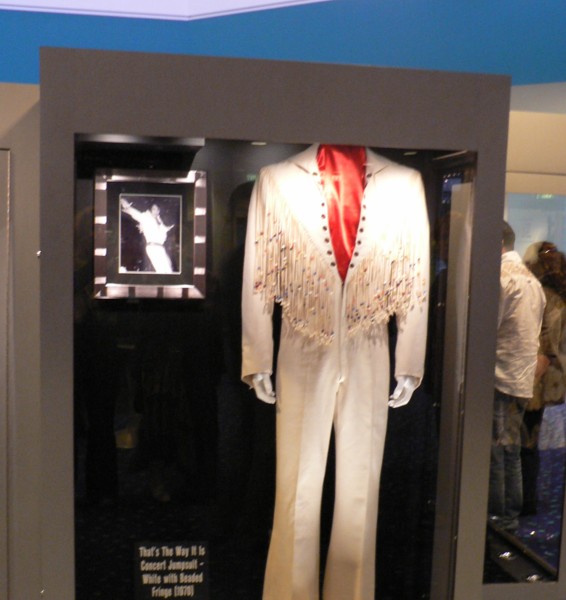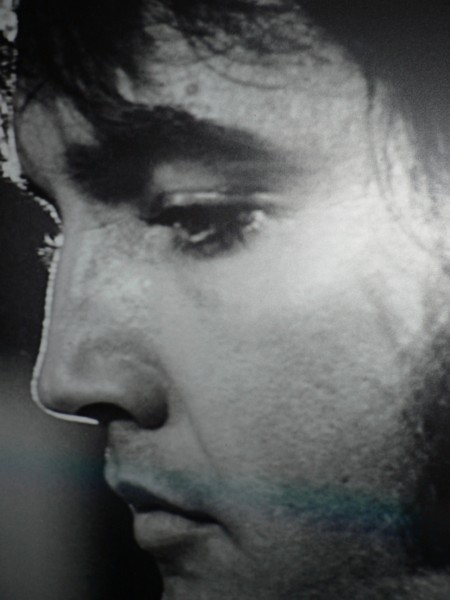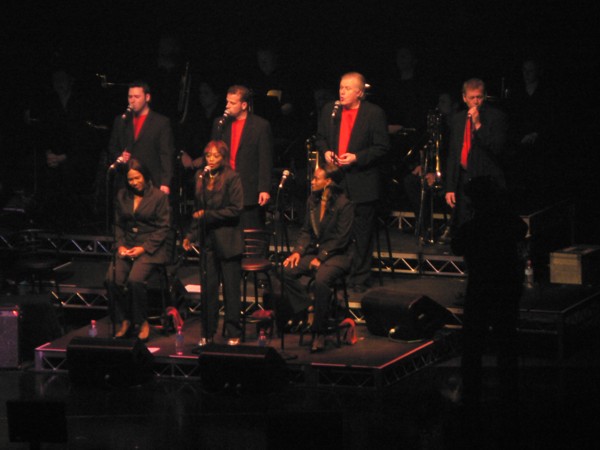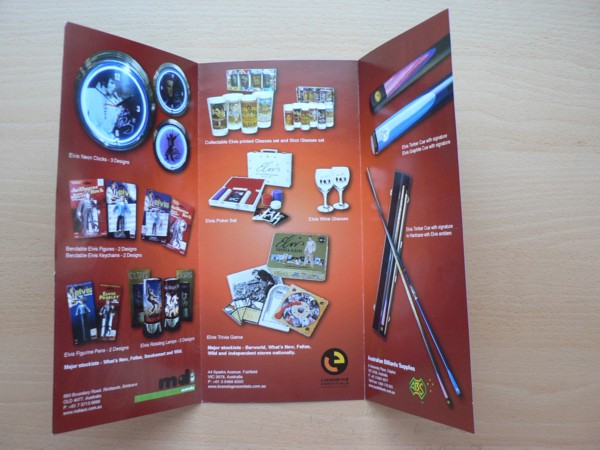 ---
Review #2: Monika Leone (President, Sound of Elvis Fan Club, Adelaide)
Well what can I say, what a concert, it was just fantastic, the footage was far superior from the 1999 one, they now use a large metal screen which they light up in various different colours to match the back ground of what he is singing, we had sore hands from all the clapping. The songs that got the loudest reponse were the upbeat ones, e.g. Polk Salad Annie, Burning Love, I just wish I had brought my camera along. While it said on the tickets they were not allowed lots of people took photos with their mobiles and cameras and some even took video, no-one stopped them I was amazed.
The costumes they had in the foyer were gorgeous, especially the purple suit, and the memorabilia was great, lots to choose from.
T-shirts go for $35 and programs are $20 but well worth it. You will be in for a treat, we are glad we went.
---
The following images from the Adelaide show are courtesy of Mark Birch:
Perth, Australia...Friday 6 October 2006 (Burswood Dome)
No King but the next best thing
Elvis Presley in Concert
Burswood Dome, Perth, October 6. Rod Laver Arena, Melbourne, tomorrow; Brisbane Entertainment Centre, Thursday; Acer Arena, Sydney, Saturday. Bookings: 132 849. Tickets: $75-$149.
YOU may walk in a cynic, albeit one who is excited to see and hear the TCB Band featuring James Burton, Glen D.Hardin, Jerry Scheff and Ronnie Tutt. Your instincts may warn that this is crass commercialism but, from his play on theme Also Sprach Zarathustra through to the not unexpected announcement that Elvis has left the building, Elvis Presley in Concert works.
This two-hour presentation features footage of Presley singing more than 30 songs, projected on to three giant screens. His vocals have been removed from the original mix and the music is performed live. Most Presley performances are taken from his 1973 Aloha from Hawaii concert and 1970 film That's the Way It Is, with a few from his famed '68 Comeback Special. Ultimately, it did feel like a concert and not a new soundtrack to an old film.
The Perth crowd was typically subdued. This mix of nostalgia and technology was clearly no easy sell, yet the natural arc of the show built to a thundering climax with American Trilogy. This classic brought many to their feet for the first time in a spontaneous show of enthusiasm.
The band, augmented by vocal groups the Stamps and the Sweet Inspirations, both with original members, as well as brass and string sections under the direction of Elvis conductor of choice Joe Guercio, played with passion.
Any complaints regarding their performance were with tempo and this goes back to how Elvis was playing the songs at the time of filming. Almost all of his early rock hits were played too fast. Back then he was much more interested in schmaltzy covers such as My Way, You've Lost That Loving Feelin' and You Gave Me a Mountain. Such songs need to be in the show because it was those he sang with most conviction and which show off the large band to best effect.
A balancing act that does not diminish the legend, while allowing you to enjoy one of the greatest live bands, Elvis Presley in Concert succeeds. You won't leave thinking you've just seen Elvis, but you'll know you've seen the next best thing.
(Source: Sanja Meegin)
---
Elizabeth Barton (President, If I Can Dream Elvis Fan Club, WA): The show in Perth was Awesome. Everyone went away from it wanting more and from the comments I got from so many people as we were waiting to leave they hope it comes back to W.A. I am sure that will be highly unlikely as there were only around 4,000 people.
I think the lack of promotion, the venue as well as the prices were all reasons why the numbers were low. I know of several people that wouldn't go because of the seating (which is terrible I must admit). I also think a lot of people didn't get the idea of the concert. As I have said before there was only advertising in the metropolitan area so unless you purchased the West Australian there was no way of knowing the concert was on.
I hope the enthusiasm of the crowd made up for the size.
It would have been nice to catch up with everyone after but I just couldn't afford it.
---
Article: The King Is Back!