Controversial surrealistic Elvis artwork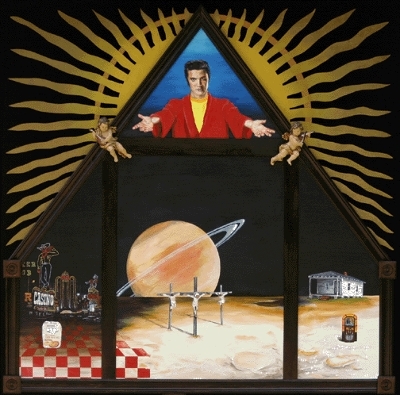 The King still reigns on high - Elvis, that is. Rome Street Gallery and Art Supply, an area business centrally located in the Carrollton town square, hosted the "Italian Elvis Series and Other Works" exhibit. The show displayed the unique artwork of Frank "Chip" D. Mayes III. The collection was a delightful combination of Elvis-inspired works, Italian vistas, seascapes, still life paintings, and self-portraits. Mayes, undoubtedly a talented artist, used a multitude of mediums ranging from oil paint to paper mache to acrylics. He also included electronics in a few of the pieces.

Mayes' "Birth, Life, and Crucifixion" (see photo) is reminiscent of a traditional triptych alter piece - with some essential differences. At 7 feet by 7 feet, this massive wood panel celebrates the birth, life, and crucifixion of Elvis Presley, King of the Rock Stars. In a posture echoing that of Jesus Christ, Elvis extends his arms in loving gesture (at the top of the triptych). With subtle foreshortening, Elvis' fingers appear to reach out in welcome from the panel. Below the Elvis figure, three individuals in spaceman costumes are being crucified. Because of an amber, ringed planet within sight, it is my guess that the location is one of Saturn's moons. In the left panel there is a view of Las Vegas on a red and white checkered tablecloth. This represents the "life" of Elvis Presley, who still lives vicariously through Las Vegas impersonators. In the right panel, Mayes depicts the two-room house in Tupelo, Mississippi, where Elvis Presley was born and spent his early childhood.

This surrealist portrayal of Elvis' significance and contribution to rock and roll may be taken by some to be sacrilegious. This piece and a few notable others are blatantly reminiscent of Baroque interpretations of religious representation. However, Mayes illuminates the prototypal, archaic, and antediluvian ways in which religious figures have been portrayed. He has taken the mold traditionally used for Christian worship and instilled new themes. His artwork is both thought-provoking and unique, exposing the narrow-mindedness of society throughout history and celebrating a period of then-controversial music - that of rock and roll. So cheers to you, Mr. Frank D. Mayes III, your work is extraordinary.

The Rome Street Gallery and Art Supply will be displaying Chinese brush art beginning Monday, February 5, 2007. The exhibit should be up for about three weeks. Starting the first week of March, the Rome Street Gallery and Art Supply will be showing the senior art exhibits of UWG students. Pam Reynolds, the owner, explained that the gallery also supports studio space (available for UWG students) and as well as sells praiseworthy pieces for local artists. So make note of the upcoming events at the Rome Street Gallery and Art Supply. If they are anything like the "Italian Elvis Series", you won't want to miss them.
(News, Source: Sanja Meegin, 9 Feb 2007)