Tribute artist web sites
Click to visit tribute site for......Jimmy "Orion" Ellis
************************************************************************
NEW YEARS EVE
THIS ONE WILL TAKE PLACE IN NEW YORK
Kathy will be performing a preview of a play she wrote in 1983,
where she shares with the audience in words and song, her first
meeting of Elvis... a moment that altered her life forever.Her daughter Lindsey will be joining her at some point in the evening.
Kathy will also be meeting with the fans after the show.
140 SAW MILL RIVER RD. (route 9A)
HASTINGS ON THE HUDSON, NEW YORK
(Source: Charmaine Voisine)
---
(Australia) "Elvis Leaves His Mark" NYE Show
Elvis show New Years Eve at Bankstown Sports Club.
The show will be a 5 part show, featuring Mark as Elvis in the 50's, Movies, '68 Come Back and Elvis in Concert.
Accompanied by a 9 piece band and show girls. Thanks regards Mark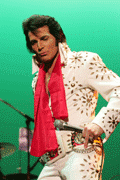 ELVIS LEAVES HIS MARK
Starring Mark Andrew
In the Club Showroom from 8.00pm
MEMBERS $25 VISITORS $30
(Reserved Seating)
---
New Years Eve!
Mason VFW Mason, Michigan
$25 per person
(Includes Buffet Dinner & limited beverages)
Matt will be performing 2 Elvis Sets and spinning oldies & country music
For More Info or Tickets call (517) 676-3181
Booking: (517)676-9302 / (517)862-6268
Join Matts FanClub:(517)676-1721
---
Celebrate Christmas with Elvis!
---
Tony Grova's 8th Annual Elvis Christmas Song Special is now available on DVD!

Cost is $25.00 plus $3.00 shipping and handling. Make check payable to Tony Grova and mail to Tony Grova Show, P.O. Box 134, Ringwood, NJ 07456.

To be sure you receive it in time for Christmas, send us an email and let us know that your check or money order is on the way so you package is ready to go when your payment is received.

Merry Christmas!
Tony Grova
The Elvis star does not call himself an impersonator, however, he said he is a tribute artist only bringing back memories. Chris MacDonald may sound like Elvis and may even look like the king of Rock 'N Roll.

MacDonald said he is only doing the tribute for fun. "An impersonator a lot of times go so over on the Characterture. They try to emphasize over the top. What I do is a tribute to the music where you walk away from the show, not like an Elvis, but hopefully like me as an entertainer," said MacDonald.
MacDonald was only a little boy when the king died, but he said his mother gave him the inspiration to keep the King's memory alive. "My mom use to sit me in front of the tv set when I was a little kid Saturday and Sunday afternoons. He was cool, real simple, he beat up the bad guy. He was a hero in the movies. He would get a girl or two or three or; that's how I got into the music," said MacDonald.

The Florida born entertainer traveled from New York to Las Vegas and performed in Memphis, Tennessee several times. "The fact that they hired me seven consecutive years, I was on his estate to play right there at Graceland where all the fans come from all over the world, and it's an honor," said MacDonald.

Although he said Hagerstown is a small city, he said small locales only make the performance more real. "These are the kind of theaters Elvis did play in the 50's. A lot of the times it was the small venue theaters," said MacDonald.
The star may continue to make an annual visit to Hagerstown. MacDonald said he has been paying tribute to Elvis for more than 10 years.
(Source: Charmaine Voisine)
---
USA - Upcoming Events (Source: Charmaine Voisine)
Nov. 18 – Legends Tribute Concert – Blue Brothers (Mike & Steve), Billy Wayde, Vince King, Wayne King – United Methodist Church, Pearland, 7 PM. $10 advance/$12 at door. www.fumcpearland.org
Dec. 2 - American Rock Legends – Christmas in Rosenberg/Holiday on the Brazos, Downtown Rosenberg. 3:30 PM, followed by Ezra Charles @ 7 PM. Santa, Kidz Carnival & more. Dec. 8 - Northside Legends - Wayne King, Harvey McFadden, Greg Winston – Friendship Center, New Caney, (at Bull Sallas Park), 21675 McCleskey Rd., 7:30 PM. (281) 354-1223
Dec. 30 – Elvis Meets The Beatles – Vince King, Greg Winston, The Fab 5 – Old Town Theater, Huntsville, 7 – 10 PM. For tickets and more info., please see: www.texaselvistribute.com/ElvisMeetsBeatles.html Dec. 31 – Vince King – Las Vegas New Year's Bash @ The Hot Dog Shop, 6405 Brittmoore, Houston, (713) 937-8039. 9 PM – 1 AM. $10 and free buffet.
Dec. 31 – American Rock Legends – New Year's Eve Party, Moravian Hall, 5601 Kostoryz Rd., Corpus Christi, TX. For info. Erica Duff @ (361) 852-5747. www.moravianhallcor_puschristi.com
Jan. 12, 13 – Dee Carter & Vince King – Ector Theater, Odessa, TX. (432) 358-9031 Feb. 10 - Vince King & Harvey McFadden - ActionS Benefit KC Hall, 3213 E. Hwy 35, Angleton. Elvis and Hank Williams. 6:30 PM dinner & auction. 9 PM show. (979) 848-7765 Mar. 17 Images of the King Contest – West Monroe High School, West Monroe, LA. 7 PM. Harvey McFadden, other members TBA
Apr. 29 – May 5 – Cruisin' 2007 Elvis Cruise – Vince King, Billy Wayde, Jeff Rainey, (with the Hello Texas Band), Carnival Conquest. * All deposits must be received before Nov. 25th. (979) 480-0300 or http://www.laketheater.com/news&events.htm
---
UK - Steve Preston Live! - TOP Elvis impersonator Steve Preston pays tribute to the king of rock 'n' roll in a show coming to Winsford Civic Hall next month. His performance was recently screened on Sky TV and includes al the hits from Blue Suede Shoes to Suspicious Minds. Steve played Elvis in the successful UK version of the USA show Legends and also appeared in the 1995 Royal Variety Performance.
In 2000 he left Legends and signed up to star in The Best Elvis Show in the World ... Ever since when he has performed all over Europe, including sell-out shows, and last weekend he performed at the rugby league final at Old Trafford in front of 78,000 fans.
* His show comes to Winsford on Saturday, November 11, at 8pm. The box office is on 01606 867539.
Steve Preston Website:- http://www.stevepreston.com
---
---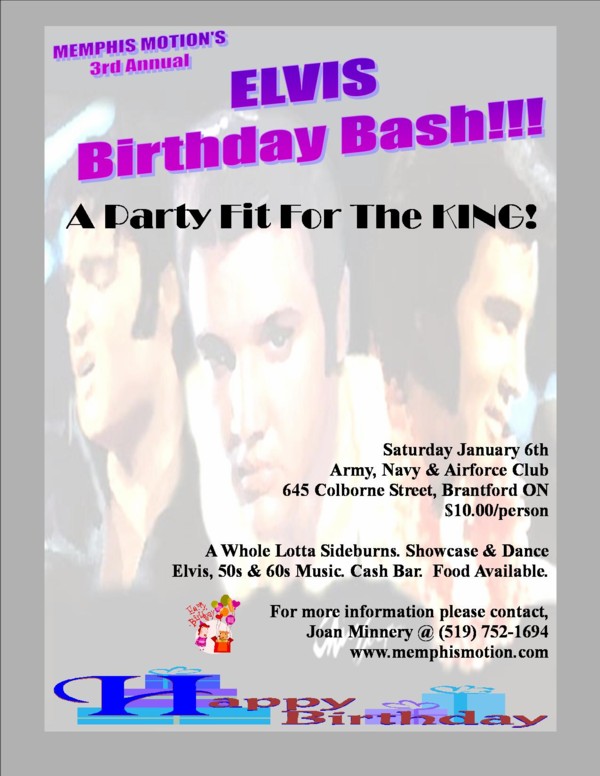 ---
USA - David Lee's Elvis Christmas - Greetings David Lee Fans..........It's coming that time of year again that we trim the tree, hang the stockings and wait for good ole St. Nick.

As tradition has it, the DL Fans will once again gather together to "have a party" and exchange gifts.

FAN CLUB CHRISTMAS PARTY: You are cordially invited to O' Charley's Fultondale (I-65 exit 267) on December 10, 2006 at 6 pm for your choice of a 7oz steak or chicken breast, Soup or Salad, 1 Side, Rolls/tea/coffee for $11.00. Ladies bring a ladies gift and men will bring a mens gift ($5.00 limit). Please call 205-531-9957 or 205-901-1174 to make reservations.

The Fan club will be giving David Lee an American Flag Guitar and case this
year. If you would like to participate in the gift you can send your contribution to:
David Lee Fan Club, 1540 Moncrief Rd, Gardendale, AL 35071

We hope this year has been a blessing to you as you all have been such a
blessing to the David Lee Show.

Thank you for your support and thank you for helping David Lee keep Elvis'
memory alive!

Sincere-Lee, The David Lee Fan Club
---
www.TheDavidLeeShow.com - David Lee's Official Website (Source: Charmaine Voisine)
---
USA - Three Christmas Shows!
Christmas with the King Saturday, November 25, 2006 - The Sabre Room 8900 - 95th Street Hickory Hills, IL starring: Dwight Icenhower Matt King Johnny Loos Jerome Marion Todd Martin with: Ronny Craig - MC & The Change of Habit Showband Tickets / Info 888-748-9989 2
Isle of Capri's CHRISTMAS WITH THE KING Friday, December 1 & Saturday, December 2 Pink Elephant ShowroomIsle of CapriMarquette, Iowa starring: Irv Cass Justin Edwards Todd Martin with: Ronny Craig - MC& Anthony & the Guitar Street Orchestra 6 shows - all different! Tickets / Info888-748-9989 3 Toys for Tots
Christmas with the King Sunday, December 10 Holiday Inn convention center Omaha, Nebraska starring: Irv Cass Paul Halverstadt Dwight Icenhower matt king info / tickets Barb Graalfs 402-813-6417 (News, Source: Charmaine Voisine)
---
USA - World Champion ETA to perform in Aberdeen, Ohio - Elvis may have left the building, but a world champion Elvis impersonator is returning on Saturday (November 4) evening to give a live performance in Aberdeen's municipal building gymnasium.
David Lee, 2004 World Champion of "International Images of the King" competition and Canada's World's Largest Elvis Festival Grand Champion competition, will entertain guests with Elvis's greatest hits beginning at 7 p.m. Tara Kay will open for Lee, singing the "Stylings of Reba," as a tribute to Reba McEntire.

Lee, from Alabama, has been performing as Elvis since 1995 in the United States and Canada. Lee was noted on Elvis.com and Elvisthemagazine.com as one "of the finest Elvis tribute artists in the world."

The concert will act as a fund-raiser for Making A Difference Teen Center in Aberdeen. The concert is free, but donations will be accepted.

The Making A Difference Teen Center is a nonprofit organization which aims to help teens "make better choices and decisions," said founder and director Garland Renchen.

The program was founded in 2000 and accepts teens, ages 12-17. The group meets on Tuesdays and Thursdays between 5-8 p.m. in the gymnasium.


Renchen explained that teens participate in fun activities, but are also subjected to positive local role models and are provided with materials to help them stay out of trouble and away from drugs and alcohol.

The organization also helps less fortunate children purchase school supplies and sponsors after-school tutoring programs,

"We've seen a lot of kids come a long way," said Renchen of the program's achievements.

"Kids need people who care," he said.

Renchen said a lot of people in the community and surrounding communities contribute their time, finances and talents to the organization, which helps children throughout the district.

The concert is a way to "give back to the community," said Renchen.

Renchen is excited about Lee, a "world class performer," and said he received calls from all over, even as far away as Alabama, requesting tickets for the show.
For more information about the Make A Difference Teen Center or the concert, contact Renchen at 606-584-6999.
For more information about Lee, visit his Web site at
www.davidleeshow.com
and for more information about Kay, visit her Web site at
www.tarakay.com
.
Contact Carrie Carlson at 606-564-9091, ext. 271.
---
UK - How to impersonate an Elvis impersonator: When Tony Nam first read for the role of Chinese Elvis, he was worried. "I was concerned it would be this very stereotypical, not socially acclimated character who was awkward and spoke in broken pidgin English," the Silver Spring-born actor admits. The last thing he wanted was to end up playing broad and loose with Asian stereotypes. Frankly, he had no desire to wind up a poor man's William Hung, the awkward third-season "American Idol" loser who became a household name with his improbably bad rendition of Ricky Martin's "She Bangs" and the equally improbable release of three CDs.
But Nam got the part of Timothy Wong, an Elvis Presley impersonator in working-class England, and currently headlines at Woolly Mammoth Theatre Company in "Martha, Josie and the Chinese Elvis." Odd as it might sound, it's a surprisingly compassionate comedy about an eccentric collection of misfits -- a dominatrix, an obsessive-compulsive and, of course, a slightly bad Chinese Elvis impersonator. (Source: Lisa Traiger, Washington Post, 5 Nov 2006)
---
Ireland - World's best Elvis: IT is believed that there are in excess of 85,000 Elvis Impersonators in the world today! Top Elvis wannabes from all over travel to America to compete in the "Elvis Idol" competition, for the title "The World's Finest Elvis Impersonator". In June of this year an Irishman named Liam Murphy won the competition, beating off competitors from around the globe. Now Liam and his band of top Irish musicians and singers are bringing an all-new Elvis show around Ireland. Not only is Liam's voice identical to Elvis, his show is just as exhilarating and action packed. The two-hour spectacle features most of Elvis' big hits and also Elvis songs that most impersonators would not dare attempt, like 'Bridge Over Troubled Water', 'Proud Mary' and 'You've Lost that Lovin' Feeling'. At 36 Liam is one of the few Elvis performers that captures 'The King' in his prime. Every shake, rattle, and roll has the audience screaming for more, particularly when he arrives out after the interval wearing the black leather '68 Comback Special' suit, and mingles with the screaming crowd. All Liam's costumes are hand made by the same company that made Elvis Presley's threads, and are exact replica, as is the pink paisley Fender guitar. Liam Murphy plays Elvis at the TF Royal Theatre, Castlebar, this Friday, 25 August. (News, Source: Western People, 17 Sep 2006)
---
Netherlands - FRANK ANTHONY IN CONCERT: A TRIBUTE TO ELVIS
NOVEMBER 4th 2006....PERFORMED BY …FRANK ANTHONY & THE LAS VEGAS TRAIN BIG BAND
ROADA HAL – KERKRADE, THE NETHERLANDS - 16,50 EURO / 20,= EURO.........Doors@20.00 hrs / Show@21.00 hrs..............................INFO: http://www.tributeband.nl/index2.htm...........www.frankanthony.nl
This will be the first concert by Frank Anthony with his Las Vegas Train Orchestra after his stroke in December 2005. Frank Anthony has already performed in a showcase with his band The Groovers, unplugged, on a festival last April in Schijndel, The Netherlands.
(Source: Frank Anthony, 16 Sep 2006)
---
USA - Elvis is coming to Watsontown?: All ladies of the Red Hat Society are invited to a Hawaiian luau Saturday at the Watson Theatre in Watsontown.

The group plans to screen 'Blue Hawaii' starring Elvis Presley. In addition, Elvis will appear on stage prior to the movie to entertain with his best Hawaiian songs. The doors will open at 12:15 p.m. The movie will start at 1 p.m.
Tickets are $6.50 and include Elvis live, the movie, popcorn, giveaways and door prizes. Dress up Red Hat Hawaiian style or just as a Red Hatter.

For more information, contact the Watson Theatre or call Athena Berkheiser at 966-2995. (Source: Charmaine Voisine, 15 Sep 2006)
---
UK - Portcrawl Elvis Festival (28 Sep-1 Oct): The following ETAs have confirmed that they will be appearing at this year's Porthcawl Elvis Festival. The bad news is that every participating local hotel is already full, although there is still some accomodation available via the website at www.elvies.co.uk

Mario Kombou, Malta's own Martin Elvis, Gordon Hendricks, Colbert Hamilton, Marc George, Jelvis, Richard Atkins, Ray Siberini, Ben Portsmouth, Kurt Tallon, PJ Edwards, John King, Dave Wickenden, Paul Richie, Dave Smith, Gareth Jones & Jules, Mark Adey, Mills & Boon, MT Knight, Andy Morgan, Ricky Rivers and house band Red Alert.

The weekend opens on Thursday night 28th September, when the absolutely awesome 15 piece Paul Black Graceland Band, fronted by the legendary Juan Lozano appear in the Grand Pavilion. Tickets available on 01656 786996. London's own, winner in 2004, the brilliant Colbert Hamilton will also be performing at The Heartbreak Hotel later that same night.

Friday marks the Official Festival Launch Champagne Reception at the Grand Pavilion at 2PM, when you can meet our celebs and stars and thank those who made it all possible. Tickets £7.50 - 01656 786996. In the night, we welcome back many of the winners of previous Elvies Awards at the Elvies Hall of Fame Show, backed by Red Alert, followed by the Elvis DiscoParty at the Grand Pavilion.

Saturday will be very busy, with a Harley Davidson Cruise, classic car cruise, Elvis Wedding and live music on all over town. Then there's the Best Festival Elvis competition Saturday 30th September, with a special section for the Best Newcomer award at the Grand Pavilion. Nominations by 11AM Saturday - some places left...

On Saturday night there is the famous Elvies Award Show. This year all the Pavilion shows will be followed by the Elvis DiscoParty with Robbie Owen at the Grand Pavilion, giving you the chance to wind down, meet the stars and boogie til late.

On Sunday morning we have the Chat Show with Charles Stone and Larry Martin coming over from the States to tell us about their times with Elvis, followed by the Gospel Show, hosted by Martin Elvis, accompanied by the Kenfig Hill Male Voice Choir, Porthcawl Youth Choir backing singers and harpists.

On Sunday night, the highlight of the weekend will be Mario Kombou and full supporting cast, appearing in 'The Elvis Presley Story', adapted from the West End hit musical 'Jailhouse Rock', directed by Dave McKay.

There are many other free events going on all over town and as soon as these are finalised, we'll let you know. The Hi Tide Inn has 'wall to wall' Elvis all weekend. Tickets selling fast on 01656 782432. (Source: Steve Maitland Thomas, 14 Sep 2006)
---
6th Annual Cruising with Elvis® FANtasy Fest
January 20-25, 2007
Carnival Cruise Ship - "Imagination"

Miami - Grand Caymen - Ocho Rios
starring:

Patti Parry
Irv Cass
Ronny Craig
Quentin Flagg
Dwight Icenhower
Robert Washington
Info:
The Travel Authority
Barbara Muldoon
812- 206-5415
(Source: Charmaine Voisine)
---
Christmas with the King
(benefits the Marine Toys for Tots)
Sunday, December 10, 2006
Holiday Inn Convention Center
3321 S. 72nd Street
Omaha, NE 68124
(402) 393-3950
starring:

Paul Halverstadt
Dwight Icenhower
Matt King
Tickets: Barb Graalfs - (402) 813-6417
www.kingcharitygroup.com
---
USA - Night of 100 ELVISes, Fri & Sat 1 & 2 December 2006. Time 7pm to 2am at Lithuanian Hall, 851-3 Hollins Street, Baltimore, Maryland, 21201 (Source: Charmaine Voisine)
---
USA - ETA rocks crowd: Just before showtime Monday afternoon, Elvis impersonator Mike Albert was selecting his "bling" from a jewelry case filled with rings and necklaces — gold, bejeweled and gaudy.

"I always go with the TCB," draping Presley's familiar lightning-bolt-logo pendant around his neck. "One woman swore she saw me in Vegas because I had this same necklace," he noted with amusement. "But everybody has this one."

Laid out across a table in his makeshift dressing room under the Stark County Fair grandstand was Albert's gabardine jumpsuit, elaborately embroidered with orange and black tigers. Made from Presley's original pattern by a tailor in Hollywood, it cost a cool $4,500. "I always wear it in Massillon and Cincinnati," Albert noted. Tiger towns.
With jet black wig on and sideburns carefully glued in place, it was time for Albert to don the suit and aviator sunglasses. Flanked by a pair of sheriff's deputies, Elvis left the building, stepped into the sunlight and headed down the midway toward his show. More than a few fair-goers stopped dead in their tracks at this unexpected sight. Fortunately for an entertainer about to perform 90 minutes nonstop in hairpieces and a heavy suit, Monday was a cool afternoon. "We've been playing 'em this year in the upper 90s. This is going to be a breeze," he said confidently.
Albert, a Canton native who went to high school in Carrollton and has a full-time auction business in Columbus, has become a fixture at the Stark fair the last few years. He packs the pavilion with fans while others cluster outside. Clearly, a move to the grandstand seems in order.
"There'll never be another Elvis," Albert told the crowd after his opening volley of "C.C. Rider" and "Burnin' Love." "But we'll have fun with his music today."
While he does a fine job of re-creating Presley's singing style and dance moves, Albert thankfully does not try to be Elvis. He is fully himself onstage, an easygoing and funny guy who is devoted to informality and crowd interaction. He invited a gray-haired woman onstage for "Love Me," crooned to her, danced with her, kissed her on the cheek and gifted her with a scarf.
During "Are You Lonesome Tonight?" he delivered the song's dramatic spoken-word section, entirely tongue-in-cheek, to a woman in the audience and even involved her amused husband in the fun. Albert's grandson Ethan, just shy of 2, danced and swayed shyly onstage with his costumed grandfather during "Teddy Bear" and "Stuck On You." Another little boy, dressed in an elaborate Elvis jumpsuit of his own, was brought onstage for "Hound Dog." And an adult Presley look-alike, seated down front, helped Albert sing "Jailhouse Rock."
Ably backed by his Big E Band — four musicians and two female vocalists — Albert moved with ease and versatility through the Presley-hit catalog, from uptempo tunes ("All Shook Up," "Blue Suede Shoes," "A Little Less Conversation") to big ballads ("My Way," "Bridge Over Troubled Water") to gospel ("How Great Thou Art"). He threw in an unexpected bit of "Folsom Prison Blues," sung like Johnny Cash, and ended the climactic "Suspicious Minds" with a high karate kick.
The concert wound up with a medley of "Dixieland" and "Battle Hymn of the Republic" that inspired a standing ovation. Were Presley still alive today, Albert said, he'd be singing these songs to the troops. Mike Albert will appear in concert Nov. 17 at the Palace Theatre. (Source: Repository Entertainment/ Charmaine Voisine, 7 Sep 2006)
---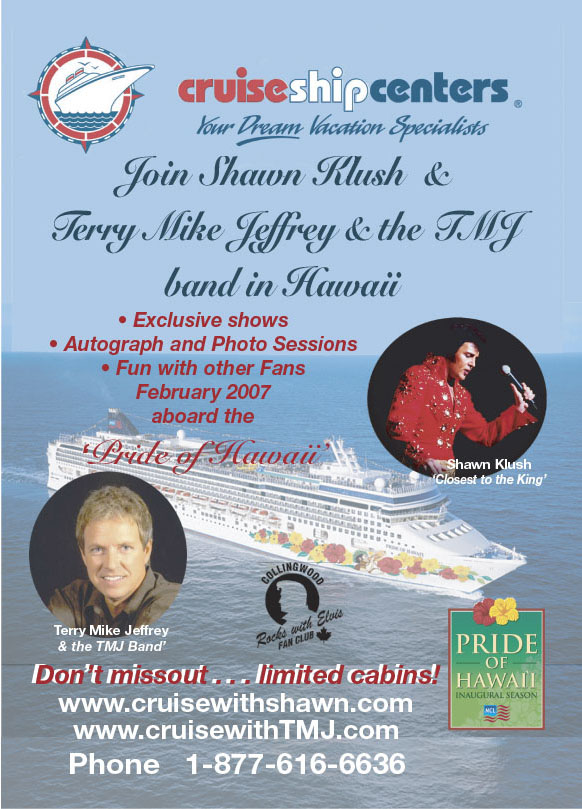 ---
Netherlands - Frank Anthony in Concert
---
USA - Doug ("The Voice of the King") Church will be performing at Mancino's Restaraunt on Sept 9th. Showtime is 8:00, $15 admission at the door. Mancino's has excellent food so come early for dinner before the show! Mancino's is located at 4304 Lincolnway East, Mishawaka, In....ph: 574-255-3300
---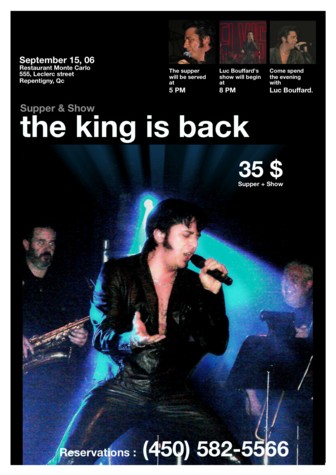 Canada
---
USA - King of Kitchener: JEFF MARSH, SHON CARROLL AND DAVID LEE HEADLINING ALONG WITH OPENERS TARA KAY AS REBA AND DOUG McKENZIE AS ROY ORBISON
51 COMPETITORS ...4 CATEGORIES
PRO's AND NON-PRO's
SENIOR AND JUNIOR YOUTHS
2 FULL DAYS OF ELVIS
ALSO.....Welcome to Kitchener, Ontario, Canada - The First Annual Elvis Festival Competition
"Until we meet again....May God Bless you...Adios" (Source: Charmaine Voisine)
---
Australia - Elvis to the Max live in Canberra:

Elvis to the Max returns in 2006! The Harbour Agency by popular demand presents Max Pellicano as: ELVIS TO THE MAX in a special 'That's The Way It Was' evening. Live on stage, this show takes you from Elvis 1969 to 1977. Starting with the 1969 Las Vegas Hilton International show where Elvis wore the 'Fringe' outfit, onto the 1973 'Aloha From Hawaii 'evening featuring the legendary 'American Eagle' jumpsuit. Lastly, Max recreates the 1977 'CBS Special - Elvis in Concert' final show where the King wore his famous 'Sundial' suit. With new songs and arrangements along with all the favourites, don't miss ELVIS TO THE MAX - 'That's The Way It Was!'

(Source: The Canberra Theatre)
---
USA - Eddy Prince Shows announced: SEPTEMBER 17, 2006 - Arpad Park, Niagara Falls, Ontario Knights of Columbus Fundraiser gates open at 5 p.m. Show at 6 p.m $10.00 at the gateinfo call Frank Sawada at 905-353-0147or email at lostnfound@primus.ca ......SEPTEMBER 22, 23, 2006 - The Spirit Lives On, Club Paradise, Blasdale, NYinfo click here ......SEPTEMBER 28, 2006 - Rock N' Country ExplosionQuality Inn327 Ontario St. St. Catharines, Ontario$25.00 per personcall 905-688-2324 or toll-free 1-877-688-2324 Legends from yesterday and today! Be sure to check out these great events! (Source: Charmaine Voisine)
---
USA - Matt Lewis live in Medford, New England on 23 September 2006
---
Brantford Elvis Fest 2006 - Calvacade Of Champions

(Source: Charmaine Voisine)
Spirit of Elvis Award Winner - Wayne Curtis
People's Choice Winner - Bruce Herron
Professional Grand Champion
1. Tim E. Hendry
2. Jay Zanier
3. Marcus Wells
Non - Professional Vegas
1. Geph Mitchell
2. Jon Cigan
3. Jeff Marsh
Non - Professional Early
1. Paul Fracassi
2. Bruce Herron
3. Dan Granger
Youth
1. Brycen Katolinsky
2. Spencer Bristow
3. Anthony Carbone
Junior
1. Brenen Katolinsky
2. Zachary Peddie
3. Christopher Valiquette
---
Australia - "Elvis to the Max" touring Australia in late 2006: Max Pellicano returns to Australia next month for a series of concerts. More details shortly (News, 18 Aug 2006)
---
Australia - New tribute CD "Echoes Of The King": Released in Australia this week is what is possibly the best Elvis tribute artist release of 2006. Australia's award winning El Gamble, on the eve of his return to live performing, has recorded a stunning 20 track compilation of adrenalin fuelled Elvis ballads and rockers. Click to view album artwork EIN's review of "Echoes Of The King" will be published in the next 48 hours (Source: Events of Events Pty Ltd, 9 Aug 2006)
---
USA - Elvis Presley Festivities August 11, 12, 16 and 17th - Annual 'Elvis Spectacular' Set to Rock Chicago's Park West!: This year marks the 29th anniversary of the day Elvis Presley left the building for the last time. The memory of "The King" stays alive through annual events at Graceland, in Chicago, and throughout the world. The 3rd week of every August, since 1977, has come to be known around the world as Elvis Week.
Since 1977, Chicagoland has been celebrating Elvis Presley Week with a wide variety of events. This year's schedule is bigger and better than ever! Elvis Week includes:
-- "White Sox Elvis Night" on Friday, August 11th, Southsiders celebrate Elvis!
-- Fleet Feet Sport's "Elvis Is Alive" 5K and Concert Saturday, August 12th, the Elvis concert at 6:30pm features "Chicago's favorite Elvis," Mark Hussman, with Alice Peacock and other celebrity guests. To
register for the 5k visit
http://www.fleetfeetchicago.com
-- 29th Anniversary Date - Wednesday, August 16th, 2006: The Annual "Elvis Spectacular" ROCKS Chicago at the Park West! 322 W. Armitage. Mark Husssman's wildly popular, critically acclaimed,
Elvis Tribute Concert begins at 8 p.m., Tickets Only $15.00! More at
http://www.markelvis.com
-- Hussman's weekly Thursday night "Elvisland" show at the Canoe Club in Orland Park goes into high gear with its special Elvis Week addition. Thursday, August 17, at 8pm visit:
http://www.canoeclubrestaurant.com
Chicago's Annual Elvis Spectacular Concert is better than ever! Sensational musical acts have been added to the Elvis Spectacular, which moved to the Park West this year. The Elvis Spectacular features Mark Hussman with the acclaimed Anthony Smith's Guitar Street Orchestra! Ann-Margrock Dancers return with Buzz Kilman, Patty Elvis, and The Barefoot Hawiians!
This year's Elvis Spectacular Concert is family friendly! "E" fans under 18 are welcome with a parent or guardian. Tickets are available at Ticketmaster or the Park West box office! This popular show has been knownto sell out -- purchase your tickets today!

Mark Hussman was selected as "#1 Elvis" by America Online. He has performed onstage with U2, Olivia Newton-John, Shania Twain and Wynonna and Naomi Judd. He has been featured on CNN, and in Rolling Stone Magazine.Mark Elvis is endorsed by Elvis fans across the globe, including music legends like U2 and Cher! Hussman has produced and headlined the Elvis Spectacular since 1997. SOURCE Christine Lock Garcia Inc.
---
Canada - Collingwood Elvis Festival 2006 Competition Results (Source: Charmaine Voisine)
---
USA - 3rd Annual Elvis Tribute: Sunday, August 13th 2006, 5pm - 7pm, Keyport, N.J. For futher information email Sonny at Sonny@espresso-joes.com (News, Source: Charmaine Voisine, 2 Aug 2006)
---
USA - Elvis Tribute Concert & Classic Car Showcase:

Sunday August 13thArmy, Navy & Airforce Club 645 Colborne St, Brantford1pm - 6pm A Whole Lotta Elvii Classic Hot Rods Memphis MotionStarr SensationsRocking MotorcyclesBBQ, Draws & Prizes Two Stages ~ Inside & OutsideBring A Lawn Chair FREE Admission for Everyone!!! (Source: Charmaine Voisine)
---
USA - Promotional event for the Brantford KING Fling, August 24th - 27th
---
Canada - Come see Elvis!: Sunday, August 6th 2006, Scarborough Ribfest 2006, Thomson Memorial Park, Scarborough, Ontario CANADA. Appearing SELVIS, Shon Carroll and Elvis Little - 11am - 1pm (Source: Charmaine Voisine)
---
USA-Mexico - "Follow That Dream" cruise: Several cabins are still available for this cruise. Prices start at the low price of $670.
"Follow That Dream" Elvis Cruise
October 1-8, 2006
Leaving from Los Angeles, CA on Sunday
Ports at: Cabo San Lucas, Mexico
Mazatlan, Mexico and
Puerto Vallarta, Mexico
Cruising with World-Renowned
ETA'S John Loos, Dave Hoover and James King
Three nights of Elvis shows
and
Special Games and Prizes
Prices start at $670.05 per person/double occupancy
These prices are guaranteed until February 16, 2006
and are subject to increase after this date
Call Mickey Sabin for more information at:
call at (408) 464-5934 or (408) 263-7622 after 3 p.m.
(Source: Mickey Sabin/Charmaine Voisine, 1 Aug 2006)
---
USA - Tony Grova's Memories of Elvis: Tony will be appearing Collucci's Haledon, NJ on Wednesday July 19, 2006. Call 973-959-9030 for information and reservations.

(Source: Charmaine Voisine, 14 July 2006)
---
USA - Eddy Prince returns to the stage THIS Saturday.: Join the Hillbilly Cat and Memphis Motion in a party of celebration honouring the life and music of Elvis Presley, the fabulous fifties and Eddy Prince's recovery in his first showcase, since his shocking heart attack earlier this year. Eddy is pulling out all the stops for this showcase which will feature a state of the art light show, professional sound crew and a few special guests who will be on hand to bring Eddy back in superstar style. Come out and party with us....kids are welcome!!! (Source: Charmaine Voisine)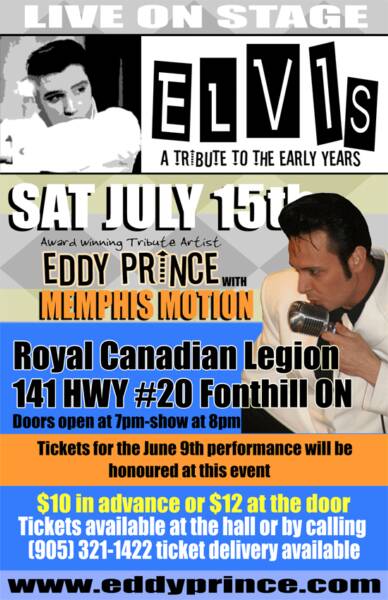 ---
USA - 1st Annual "Shadows of the King" Contest winners: Top three for the money, cd's from Golden Voice & scarf's from Silk To Memories. 1st Place Pete Paquette - 2nd Place Rick Wade - 3rd Gino Monopoli. (11 July 2006; Source: Charmaine Voisine)
---
---
USA - 2-day event expected to draw large crowds: The king is dead, but hundreds, if not thousands of Elvises are coming to Ypsilanti this weekend.
Local organizers are preparing for the seventh annual Michigan Elvisfest on Friday and Saturday at Riverside Park in Depot Town. It's among the largest Elvis Presley festivals in North America, with about 10,000 participants expected this year. The expected attendance is a considerable increase over the 2005 event, which drew about 7,000, in part because Graceland has been helping to promote the event this year, local organizers said.
Michigan Elvisfest has always been sanctioned by Elvis' Graceland estate, but the promotional effort upped the ante this year, said festival director Mary Decker. "Graceland put us on their Web site and their fan club lists,'' Decker said. "A lot of (festival-goers) are coming from the Graceland site.''
Decker said people are traveling from as far away as Georgia, Nebraska, Missouri, Florida, New York and Canada. "I found out there's a lot of people out there that may not tell you they're Elvis fans, but they definitely are,'' Decker said. There are a handful of bigger Elvis festivals in the country, but most of them are contests pitting Elvises against each other. Decker said the Michigan Elvisfest is the largest noncompetitive Elvis gathering.
The festival has a long list of activities for kids and adults, but this year will center around concert performances by at least 13 Elvis tribute artists. Other tribute artists will perform as Ray Charles, Tom Jones, Cher, Jerry Lee Lewis, Roy Orbison and the Blues Brothers. The ExSpence Account Showband, a Chicago-based, 11-piece Elvis tribute band, will back up the performers.
While the artists mostly hail from Michigan and surrounding states, this year's festival will see a performance from Duke Mason, a little person Elvis tribute artist from Joplin, Mo. At 46 inches tall, Mason will be the shortest Elvis, but Decker said there's nothing small about his voice.
"I've heard (Mason's) CD and it's very impressive,'' Decker said. "He has a booming, powerful voice. People are going to be blown away.''
The guest Elvises will all sing and be accompanied with live music. Some performers will focus on music and looks from different periods in Elvis' career, while other artists will span the gamut. Elvis aficionados or families just looking for fun can choose from a wide range of offerings. The festival will include a beer tent, a raffle, door prizes, a "Pig Out in the Park'' barbecue; children's play areas, a "Viva Las Vegas'' tent with card games; a climbing wall, sales of Elvis memorabilia and festival merchandise and an Elvis Autorama car show.
"You don't have to be a hard-core Elvis fan, because there are so many other things to do and see,'' said Casey Wooster, director of sales for the Ypsilanti Area Convention and Visitor's Bureau.
From noon to 6 p.m. Saturday, all kids will get complimentary construction kits from Lowe's, Decker said. Clowns, stilt walkers, face painting and inflatable play areas will be available for children. On Saturday there will be separate Elvis look-alike contests for adults and kids. Look-alike participants must register for the contest by 3 p.m. Festival-goers will vote for their favorites and winners will get trophies as well as gift certificates to Depot Town and Wal-Mart.
Greyhound Expressions of Monroe, a nonprofit rescue organization, will exhibit former racing dogs - and attendees can adopt the animals if so moved.
The first prize for the raffle is a 52-inch high-definition television. The second-place prize covers a hotel stay at Elvis Presley's Heartbreak Hotel and tour tickets to Elvis Presley's Graceland, both in Memphis, Tenn. Raffle tickets cost $5.
The Ann Arbor Marriott Ypsilanti at Eagle Crest, 1275 S. Huron St., will host an "Arrival of the King'' ceremony from 3-4 p.m. Friday at the hotel. Elvis performers will arrive in a vintage Cadillac, said Jim Bitzinger, sales manager for the hotel. Because a large number of festival-goers will stay at the hotel, Bitzinger said he's talking with the hotel's chef about serving some of Elvis' favorite foods to guests. Possibilities are Pepsi, Orange Crush, Doublemint gum, fudge cookies, shredded coconut and fresh-squeezed orange juice. Other Elvis food could include chicken tenders, spaghetti with meat sauce and meat loaf.
More adventurous spirits might be able to try fried peanut butter and banana sandwiches and "fool's gold loaf'' sandwiches, Bitzinger said. The "fool's gold loaf'' sandwiches are made of Italian white bread, peanut butter, grape jelly, bacon and butter. Bitzinger said the hotel will have Elvis karaoke nights, where guests, and possibly some festival artists, can perform.
More information about Michigan Elvisfest is available online at www.mielvisfest.com. (7 July 2006, Source: Charmaine Voisine)
---
USA - Matt Cordell ro rock the Tivoli: Southland Entertainment is presenting in concert the Stamps Quartet, the Matt Cordell America's Best Elvis Tribute Artist and the Memphis Review Show Band on Wednesday, Aug. 16, at 8 p.m. at the Tivoli Theater.

The concert is a tribute to Elvis Presley and some of the best music ever recorded, officials said.


The Stamps Quartet were the backup vocalists for the "World's Greatest Entertainer, Elvis Presley."

The Stamps Quartet opened Elvis' concerts at the Las Vegas Hilton from 1970 to 1977 and around the country with 30 minutes of gospel music performing in such venues as Madison Square Garden, the Silverdome in Pontiac, Mich., and the Astrodome in Houston, Tex.


The Stamps were the first gospel quartet to sing live by satellite, around the world from Honolulu, Hawaii.

The concert will pay tribute to Elvis Presley, who died Aug.t 16, 1977 in Memphis at his home "Graceland." It is now the second most visited home in America - second only to the White House in Washington D.C.
Elvis performed his last concert along with the Stamps Quartet on June 26, 1977 in Indianapolis, Ind.
Matt Cordell is a native of Chattanooga and a graduate of Soddy-Daisy High School. Officials said, "Matt has become a favorite to the entertainers that performed with Elvis because of his stage presence and a respect that he has for his profession in presenting the music the way it was originally presented."
Matt has weekly Shows in Pigeon Forge at the Smith Family Music Theater. His Show in Pigeon Forge and around the country has been proclaimed by other Elvis Tribute artist from around the world as one of the best ever, it was stated.
Matt Cordell was the first place winner of the National Tribute to the King Competition in Kansas City, Mo., in 2004. He has one of the largest repertoires of Elvis Songs anywhere.
The Memphis Review Show Band originated in Muscle Shoals, Ala., and is described as one of the best tribute bands anywhere. The band leader is Cliff Wright and the group includes Marty Morrison, Tim Collins and Keith Oldham. Jim Reeves and Butch Reeves of the "Just Reeves Band" will accompany the Memphis Review Show Band.
Concertgoers are welcome to bring their cameras. However, no videos will be allowed. All seats are reserved. Tickets are $24.50, $20.50 and $16.50 + tax. For Tickets call 423-642-8497 or online at
www.etixs.com
(Source: Charmaine Voisine)
---
USA - ETA Performance Schedule (July-Aug 2006):
July - Donny Edwards – Until Oct. 1st – Elvis Arama, Las Vegas. (Note: Always check Donny's site to confirm dates and locations.)

June 30 – July 1- David Allen – Legends Motion Dinner Theater, Riverside, AL. www.tcbconcertproductions.com

July 1 - Gregg Moon – NW YMCA, Ft. Worth.

July 4 - Steve Boado – Sienna Plantation. 9 – 11 AM.

July 4 - Vince King & Lisa Whitlock – July 4th Parade "The Villages". (Andrew Sisters with G.I. Elvis.) Performing at the festival right after the parade.

July 8 - Walter Hale – Post Time Saloon, Carlsbad, NM, 8 PM.

July 13 – Dee Carter – Spotlight Restaurant & Dinner Theater, Monahans, TX. 8 PM.

July 14 - Greg Winston, Wayne King, Harvey McFadden – New Caney American Legion, 7:30 PM.

July 15 - American Rock Legends – Balinese Show Room, Galveston, 6:30 – 9 PM.

July 15 - J.R. Ernest – (as Waylon Jennings), Lake Theater Country Music Extravaganza, Lake Jackson, TX. 7:30 PM.

July 15 - Gregg Moon – Shaker's Bar & Grill, N. Richland Hills, TX. (also Aug. 4th)

July 15 - Jeff Rainey – Montgomery, AL. (Headlining for Bibby Simmons) More details TBA.

July 22 - Vince King, Lisa Matlock, Harvey McFadden – Studio 9301, 9301 Bissonnet. Vince King & The Las Vegas Review. Tickets: $20. (713) 270-0053.

July 22 - American Rock Legends with Greg Winston – Brenham Summer Concert Series. Brenham, TX, 7 – 10 PM.

July 29 - Harvey McFadden – KSTAR 97.1 Colgate Country Showdown, Creighton Theater, Conroe, TX. 7 PM.

Aug. 5 - Harvey McFadden – Grapeland Opry, 7 PM.

Aug. 11 Greg Winston, Wayne King, Harvey McFadden – New Caney American Legion, 7:30 PM.

Aug. 11 - Anthony Hopkins – Memphis, Graceland Crossing, 7:30 – 8 PM.

Aug. 13 - Anthony Hopkins – Memphis, Graceland Crossing, 7 – 7:30 PM

Aug. 14 - Anthony Hopkins – Memphis, Graceland Crossing, 1:30 – 2 PM.

(Source: Charmaine Voisine, 2 July 2006)
---
More ETA websites:
David Allen: www.yourelvis.com (Dallas)
Dee Carter: www.westtexaselvis.com (Midland)
Ray Covey: www.elvisbyray.com (Houston)
Donny Edwards: www.donnyedwards.net (Las Vegas)
Walter Hale: www.reflectionsoftheking.net (Carlsbad, NM)
Vince King: www.visionsoftheking.com (Houston)
Isaac Laughhunn: http://www.myspace.com/isaacaselvis (Yoakum)
Harvey McFadden: www.elvisisintexas.com (Houston)
Gregg Moon: www.midcitieselvis.com (Dallas)
Doug Olvey: www.figmentelvis.com (Dallas)
Terry Price: www.theklone.com
Jeff Rainey: www.jeffrainey.net (Beaumont)
Bud Sanders: www.elvismemories.net (El Paso)
Ana Sexton: http://wwwgigmasters.com/country/AnnaSaxton
Lisa Whitlock: www.amarilynforyou.com (Houston)
Billy Wayde: www.billywayde.com (Houston)
Bennie Wheels: www.dfwelvis.com (Dallas)
Greg Winston: www.texaselvisimpersonator.com (Houston)
---
Australia - ELLE-VIS WORLD TOUR: As lead vocalist and, "ELLE-VIS", MARGARIDA has returned to do what she loves most – ELVIS, the man and his music! When MARGARIDA sings her Energy, Dynamism and Commitment, leave you no option but to listen!

Immediately you become aware that this has taken the ELVIS Tribute Show yet again to another level! Bestowed with her Sulty and Sensual looks and her Dark Hair, MARGARIDA radiates Charm and Charisma.
Her delivery has Passion and Integrity. Her voice is Powerful, Emotional and Captivating, a Contradiction to her tiny frame! Her glittering and stunning stage costumes and her gift of taking an ELVIS Classic and making it throb with her own personality, is truly Inspirational! She has defied all odds, broken all boundaries, amazed all critics, and skeptics, by enthralling all audiences with her New and Exciting High-Energy, Power-Packed ELLE-VIS Show!!!
The ELLE-VIS music has been tastefully re-vamped into the New Millenium whilst still retaining the Magic of the ELVIS era. ELLE-VIS will be appearing at the Enmore Theatre in Sydney on 7 October. (Source: Enmore Theatre, Sydney, Australia)
---
Philippines - Elvii live in Manila: How would you like to watch and listen to Elvis Presley live? Go to the Front Page piano bar on T.M. Kalaw Street, Ermita, Manila this Friday and Saturday, June 30 and July 1. Starting at 8 p.m., you can watch and listen to not just one but several Elvis Presleys. Not the real Elvis come-back-to-life, but look-alikes who sing, strum the guitar and gyrate like him. I won't give you their names just yet, but I assure you that they are the best Elvis Presley impersonators in the country today, having won Elvis titles in various contests. A bonus will be the youngest Elvis Presley impersonator (only 9 years old) ever. This Elvis Presley madness will be followed a few weeks later by a Frank Sinatra fiesta with Sinatra wannabes trying to sound like Old Blue Eyes himself. Wait for further announcements. ( Source: Amber Smith, 27 June 2006)
---
Wales - There's a whole lotta Elvis going on in Portcrawl, Wales: Forget the World Cup, there was only one contest to watch at the weekend - the heats of the Best Welsh Elvis competition.
There was a Whole Lotta Shakin' Going On at the Hi Tide Inn, Porthcawl, as eight Elvis impersonators curled their lips and swung their hips in front of a crowd of hundreds. Last year's winner Dave Smith, from Aberdare, won the heat, hosted by Owen Money. But organisers said the standard was so good that all eight would go through to the grand final. Peter Phillips, who runs the contest, said: 'The standard was fantastic, so it would have been unfair to choose only one for the final.'
Mr Smith, 19, a full-time Elvis tribute act whose winning songs were Hurt and Suspicious Minds, said: 'I was pleased to win the heat. I like taking part to keep Elvis' memory alive, and for the fans to enjoy it.'
The final takes place at the Hi Tide Inn tonight at 7.30pm. The winner will be invited to perform at the Porthcawl Elvis Festival which runs from September 29 to October 1. ( Source: South Wales Echo/Sanja Meegin, 14 June 2006)
---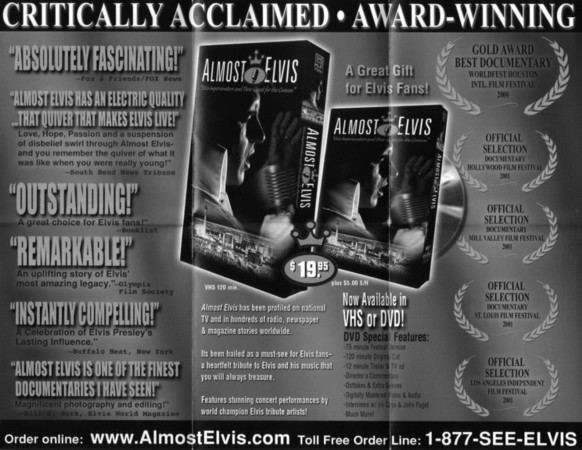 ---
Elvii Radio update: Elvii Radio On June 10 we'll visit Bearcreek Farms in Bryant, IN for the 3rd year in a row. The Elvis Impersonator Contest will take place at 2pm on Saturday June 10 at the Goodtimes Theater. You can get more information and sign up at www.elviscontest.com. Bearcreek farms is a rustic country resort with swimming, fishing, shopping -THE BEST FRIED CHICKEN IN THE WORLD! - and more. The contest will feature the Extravaganza Show Band. Many ETAs are already signed up - a few slots remain. On June 17 we'll visit Calgary Alberta Canada and celebrate the Anniversary at Elbow River Casino. Contest starts at 7pm. Sign up today to enter! For a limited time - the entry fee will be reduced to just $25! So sign up fast and take advantage of this offer! (Source: Elvii Radio)
---
UK - Plan to launch Elvis qualification for artistes: If you passed an ology you could become a scientist, according to the classic TV advert. But a new qualification, the Elvisology, is more likely to lead to a career in a white jump suit than a white coat.
The course is the brainchild of author and music fan Peter Phillips, who announced his plan at the press launch of this year's Porthcawl Elvis Festival, which he began in 2004. Having been successful in discovering and helping to launch new tribute artists through the autumn event and the spin-off Welsh Elvis Idol competition, Mr Phillips thought the time was right to formalise the process. He said: 'I'm in touch with the South East Wales Open College Network and I'm also talking it through with Bridgend College.
Story continues
'The course will probably consist of existing learning modules in performing arts, business management and marketing and new specialist modules for business planning in the Elvis market, and performance in the Elvis market.' I anticipate the Elvisology will be gained over a two-week residential course, although this could change, and would rank alongside a BTec.' It will be for people who want to actually position themselves professionally in the Elvis market, which is enormous and highly lucrative.'
Nineteen-year-old Dave Smith, of Cwmaman, Aberdare, who ditched his job in Tesco to become a full-time tribute artist after being crowned Welsh Elvis Idol 2005, said the course may be a good option for those who also want to reach for the stars.' I think it could help people get to grips with the business side of things,' he said. This year's Porthcawl Elvis Festival, the largest event of its kind in Europe, takes place between September 29 and October 1. Highlights include the world premiere of the Elvis Story musical at the Grand Pavilion. The heats of this year's Welsh Elvis Idol take place at Bridgend's McArthurGlen Designer Outlet on Saturday, June 10. For more information go to www.elvies.co.uk ( Source: South Wales Echo, 28 May 2006)
---
USA - EPE softens stance on ETA's: Elvis impersonators can relax: No one's coming after their bespangled jumpsuits.At least not anytime soon." It's not even on the radar screen right now," said Robert F.X. Sillerman, the head of the entertainment company that owns the legal rights to Elvis Presley's name. CKX Inc. took control of Elvis Presley Enterprises last year, and Sillerman wondered aloud in a recent interview with The New York Times if the company should do something about "unauthorized Elvis impersonators."
That shook up the pompadoured crowd of impersonators in Memphis, Las Vegas, London and elsewhere around the world, and since then Sillerman has backed off a bit." The only comment I have made about the future of Elvis impersonators was simply an answer to a reporter's hypothetical question," Sillerman said in a statement from his New York headquarters." In truth, the issue is not something we at CKX are actively looking into." Impersonators still worry about an uncertain future.
"Nobody seems to have any answers," said Ed "Doc" Franklin, founder of "Images of the King," one of the oldest and best-known Elvis impersonator contests. Held in Memphis for five straight days on the anniversary of Presley's death at Graceland on Aug. 16, 1977, it attracts contestants of all ages, races, nationalities, even sex." It's such a worldwide thing, you can't just jump out there and say, `Hey, wait a minute. You can't do this anymore, boys.' It would be like a big revolt," said Franklin, a retired veterinarian who took care of Presley's horses and other pets.
Elvis Presley Enterprises, the former business arm of Presley's estate, has a long and successful history of shutting down interlopers trying to horn in on its business. But most of those battles focused on trinket or souvenir hawkers, and the impersonators, who like to call themselves "tribute artists," were largely left alone. The impersonators could be embarrassing at times, but Presley fans enjoyed having them around, and shutting them down for violating the estate's publicity rights would be tricky. It's one thing to tell a souvenir maker to quit putting Elvis' face on coffee mugs, but it's something quite different to shut down a singer because he favors white jumpsuits, rhinestones and sideburns." It's entertainment, which has traditionally been accorded a wide scope of protection," said Roberta Kwall, a DePaul University law professor and specialist on publicity rights.
If an impersonator includes a bit of his own style in his act, it becomes an interpretation - or even a parody - rather than a mere copy of Presley's work." It's a bit of a moving target," Kwall said. Matt Lewis, an impersonator who has toured the world and now performs 12 times a week at the Imperial Palace casino in Las Vegas, says CKX would be hurting itself if it went after Elvis acts." Elvis impersonators drive the popularity of Elvis," Lewis said." We get new fans all the time, which sells merchandise, sells CDs, which promotes Elvis' name. People don't go out and buy my T-shirt after the show - they get an Elvis T-shirt somewhere." Lewis works for one of the few licensed Elvis acts around, the "Legends in Concert" show owned by Las Vegas-based Onstage Entertainment Inc.
Onstage CEO Tim Parrott said his company signed an agreement with the Elvis estate in 1995 authorizing the use of an impersonator. A crackdown on unlicensed Elvises could help the company, he said." If they start closing other people down, we'll be the survivor," he said.Presley's daughter, Lisa Marie, and her Elvis Presley Enterprise sold the rights to her father's name to CKX last year along with Graceland's souvenir shops and museums for about $100 million in cash and stock. She retained title to the house itself, but CKX controls it, too, through a 90-year lease. Elvis Presley Enterprises became a subsidiary of CKX, which also owns the "American Idol" TV show, a Hollywood talent-management company and most of the marketing rights to boxer Muhammad Ali's name and likeness. Michael Hoover, a professional Elvis impersonator who took over the "Images of the King" contest two years ago, said he is a little concerned but expects the show to continue.
"If it comes down to somebody saying you can't wear that wig or you can't wear that shirt or you can't sing that song, that will upset a lot of people," he said. "You would see some really serious reaction from the impersonators." (Source: http://tinyurl.com/o7vv9/ Charmaine Voisine, 20 May 2006)
---
USA - Elvis Tribute Show featuring the Jordanaires: On September 16th, the Association brings back The Jordanaires, Elvis' original back up group, and Las Vegas Legend, Matt Lewis, in a full tribute to Elvis. This show is back by popular demand and promises to be one of the most popular of the season!

Doors will open at 6:30 p.m. at Allegany High School. Tickets may still be purchased by calling the Tri-State Concert Association at (301) 759-0580, by visiting TWR Communications at 549 N. Centre Street, or by visiting http://www.tri-stateconcerts.com. (Source: The Cumberland News, 15 May 2006)
---
USA - Sillerman has no control over ETAs outside the US: According to a report on MSNBC, 'Robert Sillerman has no control over Elvis impersonators in foreign countries. His new rule only applies to the US ones'. (Source: Amber Smith, 27 April 2006)
---
Australia - ETA crackdown sparks newspaper editorials: The potential move by Robert Sillerman to regulate or licence ETAs continues to occupy hard copy and online media news space. A number of newspaper editorials also have been devoted to the subject. The 'Daily News' in Australia included these clever words in its editorial on 20 April 2006:
"...They probably have been holed up in heartbreak hotels, staring up at a blue moon and thinking why won't people "treat me nice"...No doubt they would definitely prefer a little less conversation on this matter. They are being told to back off by the big boss man or they might end up doing a little bit of jailhouse rock. But rather than get too stressed about this US billionaire, the Daily News reckons all Elvises should simply wait for a warning letter and then mark it "return to sender". Than you, thank you very much." (Source: Daily News, 20 April 2006)
---
New Zealand - Kiwi Elvis impersonators "all shook up": Kiwi Elvis impersonators could be in for more of a lawsuit than a jumpsuit if the gyrating one's impersonators are outlawed by an American businessmen. News that a media entrepreneur, Robert Sillerman, has bought the rights to Elvis's name and likeness has impersonators across America all shook up. Last year, Sillerman took an 85 per cent stake in Elvis Presley Enterprises, and has since claimed that some clones have made the burning hunk o' love more of a laughing stock than the king of rock.
The news has rippled through New Zealand's tiny Elvis impersonator community, leaving some with suspicious minds. Brian Childs, a full-time Elvis impersonator and former policeman, is glad he has decided to move into real estate sales next month. When The Press spoke to Childs yesterday, the Wellington-based Elvis impersonator was performing at a fundraiser for Golden Bay High School. On hearing an American billionaire could be giving all Elvises the boot, Childs said he was extremely disappointed.
"Lisa-Marie and Priscilla could've done this years ago but they chose not to. They were keeping the name and the music alive. This is just a big commercial arrangement and I don't have the money to fight a billionaire. "In America, people can make a huge living out of impersonating Elvis. In New Zealand, it's more of a passion and a hobby."
Childs' act focuses on the 1968 to 1973 Elvis era, from the sleek black suits to the jewelled jumpsuit phase. Christchurch impersonators come in the form of odd-job Elvises and singing telegrams. Occasional Elvis impersonator and Christchurch entertainer Pat Kearns said he was not too worried about the possible ban. He felt he was getting a bit long in the tooth for the likeness to be similar. "But from a distance the illusion is quite good," he said.
Kearns said the real King, with trademark accessories of dark glasses and rhinestone jumpsuits, made it easier to be impersonated because no matter how dissimilar their facial features, they could always be disguised. Court Jesters, a Christchurch theatre group who occasionally provide Elvis-shaped singing telegrams, were shocked by the notion of an Elvis ban. Manager Kirsty Gillespie said the idea was a nonsense. See related EIN stories below (Source: stuff.co.nz, 21 April 2006)
---
Australia - Law professor comments on possible move to register ETAs in Australia: Associate Professor of Law at Melbourne University, Andrew Kenyon, who specialises in copyright law, said it was unlikely unauthorised Elvis impersonators could be stopped in Australia. "The law's approach to protecting an image varies quite a lot between the UK, US and Australia,'' he said. "There is not a specific area of law that applies to it (in Australia). There might be certain registered intellectual property rights that could apply. There might be things like defamation. There might also be commercial actions related to passing off or deceptive conduct. "If you could have a mix of those then that might apply." (Source: Amber Smith, 19 April 2006)
---
Australia - Festival organisers "all shook up" by ETA registration talk: The organisers of the Parkes Elvis Festival in the central west of NSW are seeking legal advice about changes to the rules surrounding Elvis Presley impersonators. An American billionaire who owns the rights to the Elvis name and likeness is working to stop "unauthorised" impersonators as part of a plan to open a show and exhibit in Las Vegas dedicated to 'the king'.
More than 5,000 people travel to Parkes each year to see hundreds of Elvis look-a-likes and celebrate his music. The festival's Monique Kronk says very few details about the shake-up are known but organisers want to ensure it will not threaten the event
."We've got to discuss not just how it affects the festival itself but ... who are coming in and we don't know quite yet enough about what they are planning to change," she said. "But obviously we'll have to speak to Elvis Presley Enterprises and maybe we can negotiate some sort of licence that will cover for the whole festival - festival goers coming - we don't know enough yet about the situation." (Source: Amber Smith)
---
Worldwide - ETA's ready to revolt against Sillerman (EIN Comment): Recent reports that Robert Sillerman may 'register' Elvis tribute artists (ETAs), has ETA's around the world ready to mobilise. In Australia, TV news reports today indicate ETAs are preparing a series of concerts in opposition to the perceived Sillerman move and annual Elvis festivals are seeking clarification on what is planned.
The offending statement was made in reference to his planned Las Vegas cabaret show based around Elvis. Sillerman said:
"If we were going to do a show that was based on Elvis impersonators, then obviously it wouldn't make sense to have unauthorised Elvis impersonators."
On the surface Sillerman's statement refers only to an EPE sponsored show, but the use of the word "unauthorised" raises the spectre of ETA's having to be approved by EPE if they want to go on performing. The $64,000 question (with a really easy answer) is whether any move to register ETAs is about ensuring quality performances or simply revenue raising? Obviously, Sillerman is looking for quick ways to recoup his substantial investment in the Elvis brand.
To ensure a better overall ETA performance will never work. The reality is the majority of ETAs work either on an irregular, casual basis or even an itinerant basis, and many come and go regularly from the marketplace. Only a small percentage manage to make a full-time living as an ETA.
The financial cost of administering a scheme to improve the ETA product simply won't work, even just in the US, and as many will be quick to state, this is not what the possible Sillerman move is arguably about. Not to mention, how do you decide what is in good taste, or professional, and what isn't?
With an estimated 30,000 ETAs worldwide, Sillerman will face a logistical and legal nightmare should registration be a real issue on his mind. The Elvis trademark is yet to be fully tested outside US borders (the EPE vs Elvisly Yours/Sid Shaw case in England was a mixed result). Perhaps, after nearly 30 years of unrestrained and variable performances by ETAs, they will be the focus for testing if the Elvis trademark is recognised globally as a legal right. (Sale of EPE, Source: EIN/ABC News/Various Others, 18 April 2006)
---
Rare "Orion" album now on CD: This is the original LP "Orion Reborn" now on CD for the first time from Sun Records. It has the beautiful yellow Sun label and artwork. This one is a real collector's item!!

All 10 tracks from the original LP are included: Honey, Lover Please, Got You On My Mind, Mona Lisa, Before The Next Teardrop Falls, Ebony Eyes, Washing Machine, Baby I Still Love You, You Can Have Her, and Lonesome Angel

For More Information go to : http://orionjimmyellis.com/pages/6/index.htm (News, Source: EP Gold, April 2006)


---
Australia - "Elvis" part of Twins Plus Festival: Australian Elvis tribute artist, Garry Buckley, and his twin brother, Rick, were part of the recent Twins Plus Festival in Canberra. Around 3,000 twins, triplets, quads, quins and families were at the festival where Garry Buckley also performed as The King.

(News, Source: The Chronicle)
---
USA - Are Elvis tribute artists an endangered species?: The new owner of the Graceland Chapel in Las Vegas is concerned about a possible ban on Elvis impersonators. Brendan Paul not only owns the Chapel, but he is a veteran Elvis impersonator. It seems that Robert F.X. Sillerman owns the rights to control Elvis' name and likeness. He is planning a major Elvis presence in Las Vegas and told the New York Times he has not decided the fate of the Elvis Impersonators.
The founder and creator of "Legends in Concert" believes it would be impossible to put a stop to the impersonators. John Stuart said, "You've got 20,000 Elvis impersonators out there. He could never stop all of them. Besides there is First Amendment protection." Years ago, Stuart paid Elvis Presley Enterprises $100,000 for the right to use "Elvis" in his lineup.
Another local impersonator, Steve Connolly, stated that he did 700 shows his first year in Las Vegas. Top impersonators are said to make over $300,000 a year. No way are they going away without a fight.
So if your dream wedding is to be married by "Elvis," then you might want to book your flights and exchange your vows before Sillerman takes the dream away.
See also Sale of EPE
( Source: Amber Smith, 8 March 2006)
---
USA - "Elvis" dreams of walking Oscars 'red carpet': Impersonating a fat Elvis from the 1970s, Michael Romeo stood on Hollywood Boulevard Thursday in a white jumpsuit and cape and dreamed of walking the red carpet as an Oscar nominee. With preparations for the Oscars in full flight -- the red carpet is laid, the bleachers are up and a block of the famed street is closed off -- Romeo lamented his business of posing as Elvis was suffering.
"This is costing me $100 a day in lost money," said Romeo, who for three years has posed for snapshots with tourists on the heart of Hollywood Boulevard in return for tips. But like many in Hollywood, he is an actor hoping for his big break.
"I am going to make it. I just need some new head shots, and an agent. Elvis needs an agent," he said, standing yards from where workers laid plastic sheeting to protect the red carpet, where Hollywood's biggest stars will walk after arriving for Sunday's 78th Academy Awards ceremony. "I just need two good movies to take me from here to that red carpet," said Romeo, who has appeared as an extra in some films. (Source: Amber Smith, 4 March 2006)
---
The Netherlands - Leading Elvis tribute artist back after suffering a stroke: On 16 April Frank Anthony will make his Comeback during the EASTERPOP festival 2006 in The Netherlands. On December 22, 2005 , Frank Anthony had a stroke at his home. After he awoke, Frank noticed his motor dysfunction of his rightside of his body. He and his family instantly knew there was something wrong with his health. Shortly after calling an ambulance the paramedics arrived and brought Frank to the hospital. In the hospital Frank had another stroke in the emergency room! Within 72 hours Frank's condition improved. (Source: Frank Anthony, 4 March 2006)
Click to read EIN's review of Dennis Uithol's impressive visual tribute to Frank Anthony
---
Australia - New CD releases by El Gamble, Australia's closest sounding "Elvis": When we published a review last year of El Gamble's CD, In The King's Shadow, we were inundated with messages from long time Aussie rock and roll fans who fondly recalled attending El Gamble's shows. Well the good news is El Gamble has recorded three great new albums and they are now available:
El Gamble has the distinction of being one of those rare singers whose singing voice sounds remarkably like The King's! To order any or all of the albums, Aussie fans can contact Event of Events on 1-300-732-863 (local call cost) and overseas fans can call +613-9763-6600. The albums will also be available at El Gamble's upcoming gigs. El Gamble will also be featured soon on the Newmarket music site. EIN will have full reviews of the new El Gamble albums shortly. (News/Almost Elvis, Source: Event of Events Pty Ltd.)
Click to read EIN's review of "In The King's Shadow Vol. 1" .
---
Australia - El Gamble #1 on Elvii Tribute Radio: In other El Gamble news, his music has been featured on the popular Elvii Tribute Internet Radio network. El Gamble was voted as the #1 Elvis tribute artist featured on the online radio network last week. Considering the competition, names like Doug Church, Tom Green and Jamie Coyne...that's a real testament to El Gamble's singing ability! If you like ETA's check out Elvii Radio...it's FREE and there are some great artists to listen to! (17 Feb 2006, Source: Event of Events Pty Ltd)
---
USA - Rick Saucedo live in Chicago: Noted Elvis tribute artist, Rick Saucedo, is appearing with his Change of Habit band in a Valentine's Day Special at Nikos (Bridgeview) in Chicago on 10 February. For details of Elvis tribute shows in the Chicago area click here. (Almost Elvis, Source: Elvis In Chicago, 5 Feb 2006)
---
USA - Elvis tribute artist to release instant DVDs: He looks like Elvis. He moves like Elvis. And he sings like Elvis. And DiscLive, Immediatek's live recording unit will capture Elvis tribute artist Kraig Parker's performances on its new instant DVD product.
This new technology will deliver the keepsake of a lifetime to the fans who watch Parker perform with the legendary Stamps Quartet at the State Fair of Texas on Oct. 16, 2005, and then for over 80 November and December performances in Branson, Mo. DiscLive has partnered with Michael Jenkins, executive producer of Parker's major shows, and NextShow Entertainment of Fort Worth, Texas to produce the DVDs. Jenkins' website, nextshowentertainment.com, features streaming video of many of Parker's performances.
Parker has truly mastered the mannerisms and sounds of the King. He is the only tribute artist Loanne Parker, widow of Elvis' manager, Colonel Tom Parker, has ever seen perform. He is so good that he is managed by Charles Stone, Elvis Presley's tour producer from 1970 - 1977.
"Kraig is absolutely amazing," said Zach Bair, CEO of DiscLive and Immediatek. "Seeing him perform, I was taken aback by his talent. He is so much like the real thing that it's spooky. Fans were screaming and coming up to the stage as if he were really the King."
Bair added that the instant DVD product will be in high demand and is perfect for such a visual performance. The limited edition DVDs will be available to purchase online prior to the performances at www.disclive.com, and on Parker's website at www.thekinglives.com. Fans can purchase the DVDs onsite after each performance.
The special concert appearance at the State Fair of Texas takes place on the Chevrolet Main Stage at 8:30 p.m. on Sunday, Oct. 16, 2005. The concert is free with State Fair admission. For more information on the Branson, Mo. performances, visit www.nextshowentertainment.com. (Almost Elvis, Source:Immediatek, Inc.)
---
---
Australia - Calling all Aussie Elvis Tribute Artists: One of Australia's leading Elvis Tribute Artists, Paul Fenech, is helping organise a Elvis Competition in New Zealand on 31st March 2006. Paul will be guest judge as well as performing that evening. Paul is interested in expanding on this idea with an Australian Elvis Tribute Artist Show in Sydney, later this year. Paul says "It would be great if we can start getting Elvis Tribute Artists together more frequently in Australia for shows and/or competitions.
Check out Paul's websites:
Interested tribute artists can contact Paul by clicking here
---
USA - 2006 Elvis Internationals at EMP's Liquid Lounge: Because I believe in conceptual appropriateness whenever possible, I began my foray to the 2006 Elvis Invitationals on Sat., Jan. 7, across the street from EMP's Liquid Lounge, where the event was being held. At McDonald's, I downed one and a half bacon cheeseburgers and a milk shake just for the occasion. Sadly, they only make the latter in chocolate, vanilla, and strawberry, not peanut butter, honey, or banana.
Arriving a few minutes after the festivities began, I caught the second of the semipro Elvis impersonators that opened the evening, Dino Macris, performing "Viva Las Vegas" with a four-piece house band. The trim Macris sported the same white jumpsuit with red rhinestone combo favored by most of the room's other Elvii, and he overdid the vibrato on "Can't Help Falling in Love" so much that my friend Kate was moved to note, "He sounds like Mr. Ed." Next up was Art Kleiner, a Bellinghamite who later handed me a business card advertising, among other things, an Elvis limo service. (Maybe next prom.) Resembling a young Jonathan Richman more than the young Elvis, with a perpetual, unforced smile, Kleiner did an easy run-through of "Heartbreak Hotel," "Little Sister," "Blue Hawaii," "Teddy Bear," and "Devil in Disguise."
Danny Putnam had the most inventive staging: He emerged in black, singing "Crying in the Chapel" followed by a pair of brides; then all of them took off their outfits to reveal red sequined hot-cha wear and launched into "Rubberneckin'." Finally, Pete Christie came out. A 50-ish man in a black suit and cape, he slurred "Burning Love" so incomprehensibly I wondered if his goal was to replicate the very late, out-of-it Elvis; he certainly got a good start by singing the first line into a dead mike. But as Kate noted, he also had the best moves of anyone, and he was compelling even as he turned "Love Me" into "Uuuuhhhh-um-be." What clinched it was his finale, "Suspicious Minds." I'm a sucker for this song anyway—it's long been my favorite Elvis hit—but Christie lunged for it, full stop. During the second verse—"If an old friend I know/Stops by to say hello/Will I still see suspicion in your eyes?"—he put his foot on a monitor and sold each line like his next five minutes depended on it. It wasn't the real thing, but it was still pretty thrilling.
The amateur contest afterward was good fun—the long-ponytailed, black-leather-clad Ken King, doing "Heartbreak Hotel," was appealingly sleazy, and a shaven-headed fellow named Blue Calcutta (after a line from the movie Honeymoon in Vegas, when Nicolas Cage spies some Indian Elvis imitators) did a terrific "It's Now or Never" that nodded to its source, "O Sole Mio." But after a while I got tired, so I went back to my apartment across the street from EMP, took 950 milligrams of Quaalude, and passed out on the toilet. (Almost Elvis, Source: Michaelangelo Matos, Seattle Weekly, 12 Jan 2006)
---
England - Elvis impersonator spared jailhouse rock:

An Elvis impersonator has been spared his own jailhouse rock after magistrates handed down a community punishment. Fenland magistrates heard Elvis impersonator Gary Jordan and his friend Mark Davies set up an account in the name of Davies' landlord, and ordered £2,615.33 of equipment to be delivered to Davies' home.

It was only when a vigilant neighbour noticed their parcel was addressed to the landlord, and enquiries revealed a bogus account had been set up, that they were caught. Magistrates ordered Jordan carry out 140 hours of community work and pay costs and compensation totalling £91. Davies, of Williams Way, Manea, has to work 150 hours and pay £136 in costs and compensation. Both Davies, 40, and 42-year-old Jordan, of The Green, March, had admitted obtaining £1,919.61 worth of music equipment by deception from Images Entertainments on September 13.
Only part of the order was delivered but both men admitted attempting to obtain a total of £2,615.23 worth of goods. Davies further admitted obtaining two pairs of curtains and two mobile phones worth £239.95 from LX Direct by claiming to be Ross Chapman. John Nooijen, prosecuting, said a neighbour signed for a parcel that was destined for Davies' home address, but had Mr Chapman's name on it. She contacted Mr Chapman and the parcel contained mobile phones he had not ordered.
Anita Waterman, mitigating, said Jordan had wanted to upgrade his musical equipment but his credit rating was not good. Davies said he would obtain the equipment and Jordan listed what he needed and planned to pay the instalments. On behalf of Davies, Martin Newton said the men were planning a joint musical venture and Davies was confident the instalment payments could have been met.
Jordan hit the headlines in February last year when he reclaimed the Guinness world record for singing Elvis songs non-stop. He managed a staggering 51 hours, five minutes and 51 seconds of back-to-back hits all in aid of the C2 children's ward at Cambridge's Addenbrooke's Hospital. (News/Almost Elvis, Source: CEN News, 11 Jan 2006)
---
USA - Palm Springs sees New Year in "Elvis" style: Parties at private homes, country clubs and nightclubs counted down to the new year, but probably none with more drama than Paul Casey's "Elvis Musical," which began with the "2001: A Space Odyssey" theme that Elvis Presley used to open his concerts. Casey's show featured the Sweet Inspirations, Elvis' own backup singers, which added to the authenticity of Casey's dead-on salute to the King. (News. Source: The Desert Sun, 1 Jan 2006)
---
Australia - "Elvis to the Max" continues to "rock" audiences: After 30 years impersonating Elvis, Max Pellicano has been "The King" longer than The King himself.

Genre

Pop

Location

Canterbury Hurlstone Park RSL Club

Address

20-26 Canterbury Rd, Canterbury

Date

6 January 2006

Tickets

$45 plus booking fees.

Phone Bookings

(02) 9559 0000

Online Bookings
From an estimated 85,000 Elvis Presley impersonators all over the world, only about 6000 are considered professionals at their game. Long at the top of the heap and showing no signs of flagging is the outrageously, impossibly youthful actor and singer Max Pellicano. In an enduring occupation that has spanned more than three decades, Pellicano has bizarrely exceeded being "The King" far longer than The King himself reigned in his own lifetime.
Uncannily spooky in his rendering of Elvis - Pellicano eschews the deep-fried, peanut butter porker phase of the musical giant's career but still manages to celebrate the excesses of that era by donning multiple rhinestone capes and jumpsuits throughout the show. With an official 10,000-plus strong fan club in Australia, Pellicano is celebrating his 10th anniversary of touring here. (News/Almost Elvis, Source: The Age, 30 Dec 2005)
---
| | |
| --- | --- |
| Another Australian Elvis impersonator wins a job in Las Vegas: One of Canberra's most popular working musicians has made the big time in Las Vegas. After a recent promotional tour to Las Vegas and Memphis in the US, Vince Gelonese, now known as 'Vinn Jorden', has been offered a contract to star as Elvis Presley in the 3000-seat Monte Carlo Hotel showroom in Las Vegas from early in the new year. (Vince Gelonese, pictured right) | |
Known for his versatility, Gelonese has performed for 25 years at venues around Canberra, notably the Canberra Labor Club, as the lead singer with the Vince Gelonese Band, playing everything from the Beachboys to Elton John and Ricky Martin. He also took the lead role of Danny Zuko in a production of "Grease". He moved to Sydney three years ago from Canberra to concentrate on themed shows for the corporate sector.
"I was just very lucky to be at the right place at the right time", Gelonese said yesterday. Describing himself as "very ambitious", he said he would be playing two shows a day five days a week in Las Vegas. He said the promoters in Las Vegas were so "thirsty for Aussie talent" that they had requested a further three Australian dancers. (Almost Elvis, Source: EIN/Canberra Times)
---
| | |
| --- | --- |
| "Things From the King" Elvis Exhibition in Australia: There is a real treat in store for all fans who visit Elvis' 2006 Birthday celebration in Parkes. Our good friend Greg Page (better known to every family as the Yellow Wiggle) has assembled a fabulous collection of Elvis memorabilia. | |
'Things From the King' is an exhibition, assembled from his private collection, and features over 60 items, either owned, or connected with Elvis Presley and it will be touring Australia throughout January and February 2006.

The collection includes the last Cadillac owned by Elvis, his personal and movie clothing, original TCB necklaces, Police and Law enforcement items and much more.

The exhibition features an audio guided tour by Elvis' long time friend, Joe Esposito, who worked with Elvis for nearly twenty years and was the joint 'Best Man' at his marriage to Priscilla.

'Things from the King' was begun by Greg Page in 2005 as a way to bring the story of the world's greatest entertainer, Elvis Presley, to Australians in a manner which will help to tell the story of Elvis' incredible career and to also show people more about the private man behind the legend.

The exhibition is the result of a year of investigation & acquisition from various Elvis collectors all over the world. It will be on display for the first time at the Parkes Annual Elvis Festival from January 6th through to January 8th.

Of particular fascination is the Cadillac Seville Elvis bought in December 1976. It is two-tone in colour, Burgundy on the bottom and silver on the top. Elvis was photographed in this car the day prior to his death. Fans were standing at the gates of Graceland when Elvis was coming home, and snapped pictures of him at the wheel.

When Elvis passed away, Vernon gifted it to Ginger Alden who Greg believes then sold it at the Butterfield's auction, where it was bought by The Elvis Presley Museum. It then changed hands to a car collector in North America, and now it is in the possession of Things From the King.

Best of all, in the spirit typical of Elvis' own generosity, profits from exhibitions of 'Things From the King' will be donated to various Australian charities.

EIN truly appreciates Greg Page's big-hearted spirit in wanting to share these wonderful possessions which all help to expand people's understanding of the private side of Elvis.

Click here for EIN's preview of some of the collection,
and click here to visit the 'Things Of The King' website for all tour details & a complete description of this fabulous collection.

You can also pre-purchase tickets online and save 20%.

Read our interview with Greg Page here.

(Almost Elvis, Source: EIN/ Greg Page, 25 Dec 2005)
---
USA - Largo, Florida plans Elvis birthday tribute bash: Attention all Elvis Presley fans. Celebrate the "King's" birthday with a number of top talented Elvis tribute artists as they "Shake, Rattle and Roll" and provide a nostalgic evening of entertainment and fun on Sunday, Jan. 8, 2 p.m., at the Largo Cultural Center.
Tickets are $12 advance, $14 day of show. Call the box office at 587-6793 or visit www.largoarts.com.
The Largo Cultural Center is at 105 Central Park Drive. (News/Almost Elvis, Source: Tampa Bay Newspapers, 17 Dec 2005)
---
USA - The Jordanaires in Elvis concert tribute: On September 16th (we asume this should read December16), the Association brings back The Jordanaires, Elvis' original back up group, and Las Vegas Legend, Matt Lewis, in a full tribute to Elvis. This show is back by popular demand and promises to be one of the most popular of the season! Doors will open at 6:30 p.m. at Allegany High School, West Virginia/Western Maryland area. Tickets may still be purchased by calling the Tri-State Concert Association at (301) 759-0580, by visiting TWR Communications at 549 N. Centre Street, or by visiting http://www.tri-stateconcerts.com. (News, Source: Cumberland Times-News, 5 Dec 2005)
---
USA - Las Vegas Marathon for Elvis impersonators: Running shoes that offer cushion and arch support but can withstand 26.2 miles of pounding the pavement under the desert sun? Check, check, check.
This weekend, David Ross of Olympia will join dozens of other people in donning those types of items as they attempt to set a record for "The World's Largest Collection of Elvis Marathon Runners."

"It's probably the only world record I'll ever be involved in," said Ross, 35, a personal trainer at The Valley Athletic Club in Tumwater. "I just can't seem to find whose record we'll be breaking."

According to the latest count, about 40 people from across the country plan to take part in the effort during the New Las Vegas Marathon on Sunday, which begins and ends at the Mandalay Bay Resort and Casino, and includes 5 miles on Sin City's famous Strip. Of course, that number could be much higher if more of the estimated 10,000 to 15,000 runners break out the hair gel and extra-furry fake sideburns for the event.

This is the first year the marathon's course will run through The Strip. With a $302,000 purse, it also is the most lucrative one. Along the course, runners will be treated to more than a dozen entertainment centers, featuring live music performances.

"There's all kinds of hokey stuff," Ross said. "I mean, it's Vegas, obviously."

Ross is scheduled to leave for Vegas today. Among his itinerary:

• Get running shoes blessed during a special ceremony for marathon participants Saturday at a historic church on The Strip.

"It's really hard to run in the leather, mid-calf zip boots that Elvis wore," Ross said. "So I found a pair of the ugliest Nike running shoes ever made. But they match the jumpsuit beautifully."

• Attend a pep rally and "Honeymoon in Vegas" reception Saturday.Ross said he was asked to wear his "full Elvis regalia" for the events. His jumpsuit is a knockoff, but he's not ashamed of that.

"The real ones weigh, like, 75 pounds because they're covered with so much jewels and ornate metal and stuff," Ross said. He bought his jumpsuit at a Halloween costume shop and hired someone to decorate it with rhinestones and plastic jewels. "It's extremely light," Ross said. "Extremely runnable." To make the outfit complete, he plans to accessorize with a pair of large sunglasses and some extra-chunky gold jewelry.

• Run the marathon Sunday. At mile 5, he'll be among a few dozen Elvises witnessing ceremonies at the "World's First Run-Thru Wedding Chapel" that's being set up on the course. The Rev. William Petersen, who has performed more than 25,000 Las Vegas weddings, will run with couples "at a leisurely pace" until the 5-mile mark, according to the marathon's Web site. About 20 couples have signed up for the nuptials, Ross said.

This is Ross's first marathon since he ran the Capital City marathon about a decade ago. He's trained with cardiovascular workouts, and moderate and long runs three times a week for the past few months.

He thinks he's ready. Ross said he's not sure, though, how he'll do in the jumpsuit. The most he's run in it was a few hundred yards "just to see if it stayed on or rubbed anywhere wrong," Ross said.
He and several friends decided to run the marathon as "Elvi" last spring after working on a documentary about the beloved singer.

"We sort of vowed, 'If you do it, I'll do it,' " Ross said. But then as the deadline approached, his pals bagged out on the plan. Through some Internet sites, Ross learned several other people were planning to dress like Elvis for the marathon. They began coordinating their ideas. Some are Elvis fans, like Ross. Some are Elvis freaks. Perhaps they won't break any speed records, but they hope to make history. (News, Source: Sanja Meegin, 3 Dec 2005)
---
| | |
| --- | --- |
| 'Elvis To The Max' - is Back! Max Pellicano is back in Australia. Sydney fans will get a chance to see something special this week with Max's 1950's Elvis Tribute at the intimate The Basement nightclub this Tuesday 22nd and Wednesday 23rd November. Don't miss out - EIN will be there too! Max has also announced some extra concert dates with 'Elvis to the Max' at Melbourne's excellent venue 'The Palms', Crown Casino on Friday 30 December - & stay tuned for a special New Year's Eve concert announcement. Check out his concert review & photos, plus full concerts dates. (Almost Elvis, Source: EIN, 20 November 2005) | |
USA - Retired Elvis catches Elvis thief!: A retired Elvis Presley impersonator helped police nab a man suspected of stealing more than $300,000 worth of memorabilia from the Elvis-A-Rama museum, authorities said Wednesday.
Duke Adams, a 62-year-old "older-era Elvis," said he was approached while in line at a pharmacy by a man offering to sell him items once owned by Presley, including jewelry, clothing and the king's revolver. Remembering the March 2004 burglary, Adams said he asked the man to stop by his business the next day. Adams went home and called police.
Authorities arrested Eliab Aguilar last week after the Las Vegas man brought all but one of the stolen items to Adams' employment agency, police said.
"He'd laid it all out on the table. It couldn't have been handed to me more clearly," said Detective Kelli Hickle, who's been on the case since thieves backed a stolen tow truck into the museum, used the vehicle's hook to lift an overhead door and heisted the loot in a matter of minutes.
Aguilar was charged with burglary, grand larceny auto, possession of stolen property and possession of a stolen firearm, Hickle said. She did not release information on any other suspects. Among the items recovered were a 41-carat ruby and diamond ring worth $77,000, a $65,000 gold and black onyx medallion that spells "Elvis" in diamonds, and a gold-plated Smith & Wesson .38 special. (Source: AP, Oct 2005)
---
USA - Elvis to perform again in Memphis: Elvis is returning to Memphis Thursday, November 10th. Fans at the Memphis Theatre will be treated to an intimate evening with Elvis Wade, as the famous impersonator will be returning to northeast Missouri for the third consecutive year to take the stage for what is expected to be yet another sold-out performance.

Wade performs around the world with his 15-piece orchestra accompanied by seven back-up singers with tickets easily ranging from $50 to $100 per performance. He was initially drawn to Memphis, MO for deer season when he traveled to the area to pursue his favorite pastime. He has returned every season since, noting that he loves the slower pace of Memphis, performing on a more personal level with the fans while also getting a chance to relax for a few days of hunting.

"I really enjoy the intimate setting on stage here in Memphis where I get to do a wider variety of music than at my normal shows," Wade said. "The people here love to hear the gospel segment, and I love gospel music."

The Jordanaires, who were Elvis Presley's back-up singers, performed with Elvis Wade for more than 12 years after Presley's death. Together they have a gospel CD entitled "God Lives, How Great Thou Art."

Wade has performed all around the globe with some of the top symphonies in the business like the The Lake Charles Symphony and the Phoenix Symphony.

"Don't miss your chance to see this international star," said theatre booster Dr. Harlo Donelson. "Get your tickets early. There will only be one performance. See you there." (Source: Sanja Meegin, 4 Nov 2005)
---
USA - It's curtains for 'Legends': Elvis was sick, for only the second time in five years. Luckily, Tina Turner could get time off from her day job in the lingerie department at Boscov's. Yes, these are the waning days for the longest-running musical revue in Atlantic City - the always-legendary Legends in Concert show, featuring not-famous singers impersonating famous singers, a rotating cast of faux legends with a huge, somewhat-obsessed following and a run that rivals Cats on Broadway (6,600 shows to Cats' 7,485). First Miss America, now Legends is getting the hook. It will be replaced by The Price Is Right Live Stage Show ("Come on down!") at the Palace Theater in the Claridge, which is part of Bally's, which is now owned by Harrah's Entertainment, which made the decision.
The show - one of the only steady gigs for musicians, singers and dancers in a town that used to employ hundreds - will impersonate its last legend, fittingly, on Halloween night. It has been at Bally's for 11 years, with runs at other casinos for several years before that." Crowd numbers are still strong and they still get standing ovations.
Fans are distraught, like Rich Brelicki, who last week arrived direct from Vegas with a message for James Lowrey, the Elvis with the sore throat. ("We regret to inform you that Elvis will not be performing," deadpanned the only-in-Atlantic-City sign outside the Palace. "Instead, we are pleased to offer you the musical stylings of Tina Turner.")
Brelicki has seen 66 Legends in Concert shows and never tires of telling the story of how he once shouted up to James Lowrey/Elvis Presley, "Give my wife some sweat!" Like many, he has waited in line for hours so he could get a seat up front. He's on a first-name basis with the four maitre d's, who also are getting canned.
But wait, there was Gloria Estefan sticking her head out of her dressing room. Behind her, Ritchie Valens was blowing out his pompadour. Walking backstage at a Legends show is like going into a casino-act wax museum (a phrase that, before this town got its headlining-musical act together not too long ago, might have been considered redundant) come to life. And then Tina Turner arrived. Lori Mitchell-Gay, the most legendary of all the Legends, has played every black diva around: Whitney, Tina, Aretha, Janet, Donna, Natalie and Diana.
The appeal of the Legends show is part novelty (Wow, that singer looks and sounds like the real thing!), part fantasy (Wow, it's Madonna looking down at me!), and part pure entertainment (the dancers make about 16 costume changes during the 75-minute show). There's no lip-synching. The cast members see their role as more tribute than parody; blues guitarist Billy Cade agreed to do his impeccable B.B. King act only after personally asking the singer for permission. In Vegas once, the real Kenny Rogers performed in a Legends show and nobody caught on.
For Mitchell-Gay, originally from Philadelphia, Legends was the gig that kept on giving, enough so that she settled near Atlantic City and raised a family. She described Atlantic City as "fickle" in the way it relates to its live performers. On the one hand, casinos such as the Borgata have had great success bringing in a better caliber of musical entertainment (a House of Blues opened this year at Showboat). On the other hand, casinos seem less inclined to support long-running shows such as Legends or to use musicians in lounges and restaurants.
Bill Borenstein, Harrah's director of entertainment, said the decision to close Legends came after Bally's customers said in surveys they wanted a chance to see The Price Is Right show, which had been farther up the Boardwalk at Showboat. Borenstein said he was a Legends fan, but wanted to bring in something new. (News, Source: The Inquirer, 27 Oct 2005/Sanja Meegin)
---
USA - Tribute artist to be captured on new instant DVD product: He looks like Elvis. He moves like Elvis. And he sings like Elvis. And DiscLive, Immediatek's (OTCBB: ITEK) live recording unit, will capture Elvis tribute artist Kraig Parker's performances on its new instant DVD product. This new technology will deliver the keepsake of a lifetime to the fans who watch Parker perform with the legendary Stamps Quartet at the State Fair of Texas on Oct. 16, 2005, and then for over 80 November and December performances in Branson, Mo.

DiscLive has partnered with Michael Jenkins, executive producer of Parker's major shows, and NextShow Entertainment of Fort Worth, Texas to produce the DVDs. Jenkins'website, nextshowentertainment.com, features streaming video of many of Parker's performances. Parker has truly mastered the mannerisms and sounds of the King. He is the only tribute artist Loanne Parker, widow of Elvis' manager, Colonel Tom Parker, has ever seen perform. He is so good that he is managed by Charles Stone, Elvis Presley's tour producer from 1970 - 1977.

"Kraig is absolutely amazing," said Zach Bair, CEO of DiscLive and Immediatek. "Seeing him perform, I was taken aback by his talent. He is so much like the real thing that it's spooky. Fans were screaming and coming up to the stage as if he were really the King." Bair added that the instant DVD product will be in high demand and is perfect for such a visual performance.

The limited edition DVDs will be available to purchase online prior to the performances at www.disclive.com, and on Parker's website at www.thekinglives.com. Fans can purchase the DVDs onsite after each performance. The special concert appearance at the State Fair of Texas takes place on the Chevrolet Main Stage at 8:30 p.m. on Sunday, Oct. 16, 2005. The concert is free with State Fair admission. For more information on the Branson, Mo.performances, visit www.nextshowentertainment.com. (News/Almost Elvis, Source: Amber Smith, 15 Oct 2005)
---
USA - Elvis tribute show to benefit troops: The Leeds Center for the Arts will feature an Elvis tribute show Saturday to benefit the troops serving overseas. Bill Kelly's "Dedication To A King!" show will take place 7:30 p.m. Saturday as a benefit for The Blue Star Mothers. There is no charge for the event, but those attending the show have been asked to bring a new or used CD, DVD, video, book, book on tape, magazine, video game or non-perishable snacks. Participants are asked not to donate items that may be offensive. The donations will be prepared and shipped off to Kentucky troops in time for the upcoming holiday season. There is no reserved seating for the show. Doors open at 7 p.m.

(News, Source The Sun, Kentucky/Sanja Meegin)
---
Cyprus- World's best Elvis impersonator to perform on his native island: His hip-swaying moves and throaty renditions of Elvis hits have earned Cypriot Mario Kombou the title of "World's Best Elvis Impersonator," and next week he is to grace the stage before adoring fans on his native island.
| | |
| --- | --- |
| The Elvis tribute singer has been in big demand since he was crowned "The King" in Memphis, Tennessee in the "Images of the King Contest" on August 16, when he was catapulted to international fame. People come from all corners of the globe to compete in what is regarded as the world's biggest and most prestigious competition, taking place on the anniversary of Elvis' death and held annually in Elvis' hometown. | |
"I've achieved a life-long ambition to be up there among the best Elvis tribute singers. Its a great honour," Kombou told AFP Thursday.
In a Cyprus magazine poll, Kombou was rated among the worlds best-known Cypriots in a list that also included pop star George Michael. The British-born Cypriot from Londons Muswell Hill has come a long way from being a one-time hairdresser and practicing his Elvis moves in front of a mirror.
Kombou won the judges' hearts when he appeared in a final round of the contest, perfectly coiffed and decked out in replica jewel-studded Elvis costume, wooing the crowd with his performances of "Burning Love" and "Just Pretend."
"I was quietly confident as I had come second before. Winners cant re-compete but they do enter the Winners' Hall of Fame, which is an honour for me."
Kombou, a trained actor, recently finished a stint in the West End playing the lead role in the hit musical "Jailhouse Rock," which played to packed audiences at London's Piccadilly Theatre and received rave reviews. He won critical acclaim for his role as Vince Everett, the character played by Elvis Presley in the original 1957 screen version, during a 14-month run that brought Kombou overnight fame and a promising career ahead of him.
He said he has auditioned for a role as archetypal crooner Dean Martin in another West End hit musical, "The Rat Pack" and is waiting for a response. The veteran of the Elvis tribute circuit has released his own CDs of Elvis favourites and has the backing of Elviss cousin Donna Presley who is a keen fan. Due to popular demand, Kombou will touch down in Cyprus next week for a series of one-off concerts. (News, Source: AFP, 7 Oct 2005)
---
Hawaii - "Aloha From Hawaii" at luau: A Hawaiian luau is set for Oct. 15 at the Lamar Community Building, and nationally-recognized Elvis Presley impersonator Endre "Elvis" Samu will perform a rendition of Presley's famous "Aloha from Hawaii" concert that evening. Myrna DuVall, owner of Chez W. DuVall's Restaurant in Granada, said she first brought Samu to Granada for a performance about a decade ago.
"Some of the people who heard him thought he was lip-synching to actual Elvis songs, he was that good," DuVall said. "He has been on the Today Show.
DuVall said cheerleaders from Lamar, Wiley, Granada and Holly will serve the luau guests, and the proceeds will go to a good cause. DuVall and other members of the Prowers Pride Projects Committee will deposit the proceeds in a special fund that will be used for beautification projects in Lamar, Wiley, Granada and Holly.
"I'm hoping to have an actual Hawaiian at the luau greeting people as they come in," Duvall said. The "All The Right Moves" dancers will perform a hula dance, and students from Duvall Academy of Sports will perform a gymnastics routine."
Dinner will begin at 6 p.m. Oct. 15, and tickets can be purchased at Chez W. DuVall's, the Lamar Chamber of Commerce, PCDI, Bettiann's Gift and Travel, The Berry Patch, Heart of Country in Holly and the State Bank of Wiley. Tickets are $25 for the dinner and concert or $10 for the concert only. (News, Source: Lamar Daily News, 7 Oct 2005)
---
"Sing Like The King" DVD: Blue Suede Films, the team behind the superb documentary, Almost Elvis (click to read EIN's review), have released a new DVD/video, Sing Like The King: The Professional's Guide to Impersonating Elvis. The DVD is the definitive training tool for Elvis Tribute Artists. Sing Like the King is jam-packed with proven vocal training techniques and methods that are guaranteed to bring your Elvis act to a whole new level. The DVD costs US$24.95 and the video US$29.95 plus $5.00 p&p. Click on the image opposite to order your copy today.

Also in the production stages is another DVD, Doug Church "The Voice of Elvis" Live In Concert. Doug is known worldwide for his uncanny vocal resemblance to Elvis. Doug Church In Concert will be released on 1 November. (News, Source: John Paget, Blue Suede Films)
---
USA - 13th Annual Elvis Fest: You don't have to be a fan of Elvis Presley to attend this weekend's 13th annual Elvis Fantasy Fest at Woodland Park, Portage. Sure, there will be a contingency of impersonators vying Saturday and Sunday to determine who's the best Elvis look/sing alike and there will be a group of tribute artists sure to make some in the audience swoon just like the King of rock 'n' roll did in his heyday.
And there will be plenty of Elvis portraits on black velvet and blue suede shoes to peruse at the dealers' and fan club tables. But, say organizers, even if you don't consider yourself an Elvis devotee, come on out anyway. This year will be the first year for the Roustabout Tent, which will house free events throughout this Friday, Saturday and Sunday.

And, who knows, you might not come in an Elvis fan, but you could leave as one, said Gloria Nystrom, director of special events for the Portage Parks Department. Even if the hip swaying, Elvis bingo, karaoke, and E.P.'s Diner don't change your mind, you'll be contributing to a good cause.

For the 13th year all proceeds from the Elvis Fantasy Fest will be donated to Porter County Special Olympics. Over the last 12 years more than $100,000 has been raised to help support Special Olympians. Last year some $10,000 was raised, which helped send the local Special Olympians to national competition. The Olympians themselves have become an important part of the event, hosting and guiding guests through the three days of activities and participating in the grand finale concert Sunday afternoon.

E.P.'s Diner will be operated by Special Olympians and their supporters to help raise additional funds. The diner will feature food such as hot dogs, hamburgers, sloppy joes, taco salad and root beer floats.

Problem is, said Nystrom, more than 75 percent of those who attend the activities come from outside Indiana. They'll come from as far as Maine and California, but very few from Northwest Indiana attend the event. That's why they've added the free activities tent this year.

"We are looking to help it grow. We want to bring in more local people," she said.

There will also be a beer garden under the 40-foot by 80-foot tent and an area set up for outdoor roller skating, Nystrom said.

Not everything has changed, however. Tribute artists Irv Cass, Quentin Flagg, Johnny Loos, Dwight Icenhower and Robert Washington will perform during Saturday night's big concert along with original members of The Sweet Inspirations, Presley's only female backup band. Patty Parry, an original member of the "Memphis Mafia," will be the special guest.

Two dozen Elvis impersonators will also compete over two days. (Source: Sanja Meegin, 3 Oct 2005)


SCHEDULE OF EVENTS

The Roustabout Tent (free events)
Friday

5:30 to 7 p.m. -- Elvis Bingo

6 p.m. -- E.P.'s Diner opens

7 p.m. -- Neon car cruise-in

9 p.m. -- Sock hop

Saturday

8 to 10 a.m. -- Car show registration

10 a.m. to 3 p.m. -- Car show

10 a.m. to 6 p.m. -- Kids carnival games

11 a.m. -- E.P.'s Diner opens

1 to 3 p.m. -- Pony rides

7 p.m. -- Midnight music

8 to 10 p.m. -- Karaoke

10 p.m. -- Open mike



Friday

5:30 p.m. -- Dealers'/fan club tables

7:30 p.m. -- "I'm Just a Roustabout" concert; cost $10

Saturday

10 a.m. -- Doors open

1 p.m. -- Impersonator contest preliminaries; cost $15

8 p.m. -- "Elvis on Tour" concert featuring the Sweet Inspirations; cost $15

Sunday

10 a.m. -- Doors open

1 p.m. -- Impersonator contest finale with Special Olympians; cost $10

Sunday

10 a.m. to 2 p.m. -- Kids carnival games

1 to 3 p.m. -- Pony rides

Oakwood Grand Hall (paid events)
---
UK - Elvis's cousin and The Jordanaires ready to rock "Heartbreak Hotel": His name is Presley, he has a distinctive American accent - and he's performing in Wales. But before you start thinking Elvis is still alive after all, it's not The King taking to the stage. It's the next best thing - his cousin Jerry Presley. And one of the venues he will be appearing at is the Heartbreak Hotel.
Jerry is the first male member of the Presley family to visit the UK. He flew into London last night ahead of the second Porthcawl Elvis Festival, which opens tomorrow. Jerry will be performing five tribute concerts to his iconic cousin during the festival weekend. He decided to travel to Wales from his home in Kansas City for the three-day event after learning about it from the owners of London's Elvisly Yours, which sells Elvis memorabilia.
'The festival's a great idea - it's a good opportunity for fans to hear more about Elvis and his music,' said Jerry, who possesses the unmistakable Presley voice.
The festival will feature Elvis tribute artists from all over the world, including Mario Kombou, recently crowned in Memphis World Champion Elvis tribute.
'There are a lot of good tribute artists out there,' said Jerry, whose great-grandfather was the brother of Elvis's great-grandfather. 'It's amazing that 27 years after his death his popularity continues to grow - you can't say that about any other person. He was The King - there will never be another Elvis Presley.'
Jerry believes Elvis, who died on August 16, 1977, would be a little bemused with his iconic status if he were still alive.
'He never liked being called The King, but as far as the phenomenon of his popularity is concerned, he would give credit to all his fans.'
While millions of people loved Elvis's public persona as the music and film legend, Jerry knew the 'real' Elvis.
'He was a typical, everyday, normal human being,' said Jerry. 'He loved to have fun - he was a big joker.'
Jerry does not see much of Elvis's family. 'I don't see Priscilla or Lisa-Marie too often as they are in another part of the country.'
Jerry has a busy work schedule and stages scores of shows throughout America every year.
'I get a very positive reaction from Elvis's fans,' he said. 'I try to pay tribute to him in a first-class way. I try to keep the shows classy - nothing cheesy.'
Jerry travels with a 16-piece band, The Jordanaires, who were Elvis's original backing singers. He will make his Welsh debut tonight with a performance at The Litten Tree in Bridgend. His other gigs as part of the Porthcawl Elvis Festival will be at Trecco Bay Holiday Park (tomorrow, 9pm); The Grand Pavilion, Porthcawl (Saturday, 8pm); Hi-Tide Inn, Porthcawl (Sunday, 1pm) and Heartbreak Hotel, Porthcawl (Sunday, 9pm). The festival, which begins tomorrow and ends on Sunday, was launched last year by organiser Peter Phillips and was a huge success.
'I wanted to do something for Porthcawl and had an idea to put on an award show for Elvis tribute artists to give them the recognition they deserve. I had no idea it would be as big as it was. It was the biggest Elvis festival in Europe and the second biggest in the world. When I went to America people had heard of Porthcawl because of the festival.' (Source: icWales, 30 Sep 2005)
---
| | |
| --- | --- |
| 'Elvis To The Max' is back! One of the world's very best Elvis impersonators Max Pellicano is back in Australia for a 10 week tour. His first concert in Melbourne was described by fans as awesome. His voice was tremendous and the packed crowd of 700 truly felt the power of Elvis, as Max's performance blew the roof off the house! Max's tour also includes 3 performances next weekend at Sydney's Star Casino. Check out Sanja Meegin's concert review & photos, plus full concerts dates. Don't miss out. (Almost Elvis, Source: EIN, 24 September 2005) | |
---
Former Elvis impersonator is new front man for INXS: AUSTRALIAN rock band INXS claim their new singer has been approved by Michael Hutchence.

Canadian JD Fortune -- a former Elvis impersonator who was so broke he slept in his car -- was chosen to replace the late Hutchence on yesterday's finale of reality TV show Rock Star.

INXS guitarist Tim Farriss said a surprise thunderstorm in LA yesterday -- the day they had to choose their new singer -- was a sign from Hutchence; it had not rained the entire time they had been in Hollywood to film Rock Star. (News, Source: Herald Sun/Sanja Meegin, 22 Sep 2005)

Welcome: New lead singer of INXS J.D. Fortune (third left) with band members Jon Farriss, Tim Farriss, Kirk Pengilly, Andrew Farriss and Garry Beers.
Picture: Reuters

---
EC - Biggest Elvis festival in Europe: Porthcawl Elvis Festival this year takes in 26 venues and more than 80 different events and is the biggest Elvis Festival in Europe.

It starts officially on Friday 30th September with a champagne reception at the Grand Pavilion on the town's Esplanade. As it gets dark, the Elvis themed fairground at Coney Beach will come to life at 50p per ride and the 'Heartbreak Hotel' hosts an Elvis Speed dating evening before the opening heats of the Best Festival Elvis Karaoke Competition.

The following artistes will also be performing at various locations around Porthcawl throughout the weekend:

Martin Elvis from Malta, Colbert Hamilton from London, Jelvis from Swansea, MT Knight from Pontypridd, Mark Leen from Ireland, Leigh 'GI' Casling from St Albans, Welsh Elvis Dave Smith from Aberdare, Mario Kombou from London's West End, The Paul Black Tribute Band from Merthyr, Andrew Morgan from Llanharry, Dale Corcoran from Canada, Mark Adey from Llantwit Fardre, Marc George from Penydarren, Gareth Elvis from Bridgend, Southern Storm from Porthcawl and 'Stars in Their Eyes' winner Gordon Hendricks. ( Source: News Wales/Sanja Meegin, 21 Sep 2005)
---
Australia - Floriade opens with an "Elvis" theme: Australia's capital city, Canberra, comes alive this weekend with the opening of its annual Floriade. The Elvis program however starts at the Village Stage at 1000 am and this is the last plan I saw for the day:
10.00-1030 Elvis Garry
1035-1120 Young Elvis
1125-1205 Moya and Adam,
1210-1.00 Lemvis
1.05-1.25 Diana Mason,
1.30-2.15 Elvis leaves his Mark,
2.20-3.05 68 Comeback Special, and
3.10-4.00 singalong with Elvis
(program subject to change without notice)

(Source: Russ Morison, ElvisCanberra Inc, 16 Sep 2005)
---
USA - Images of The King 2005 winner: Mario Kombou has been hailed the "King" after being named as the top Elvis impersonator - on the planet. An amazing year for the Muswell Hill musician was topped off in Memphis this month when he clinched first prize in the contest which attracted hundreds competitors from across the globe. Mario, of Avenue Road, Muswell Hill, said: "It has been a great year for me, it really stands alone by itself, and winning this contest has just capped it really.

"I have entered it five times before. Last year I came second, and now I have been indicted into the King's Hall of Fame. It was a fantastic atmosphere in Memphis. You have to be there to believe it."

He charmed the judges with his versions on Burning Love, Can't Stop Loving You and Just Pretend - and got so enthusiastic he even split one of his jewel-encrusted figure hugging costumes on stage. Mario has just finished his lead role in the West End musical Jailhouse Rock, an experience he found both stimulating and exhausting. He added: "It was such an honour to be involved in the show.

"We were doing eight shows a week and it was physically and mentally exhausting but so, so rewarding."
A trained actor, Mario is looking to get other stage and film roles in the near future. But he said the King would never die.

"It speaks volume that 28 years after he died, there is still massive interest in this man," he said. "Elvis was the full package and was the first to offer the real rock'n'roll deal. I will still always love to perform Elvis - there will always be life in Elvis and I will always want to share that." (Source: nlnews/Sanja Meegin)
---
| | |
| --- | --- |
| Australia, New Zealand, USA - "Elvis to the Max" returns to Australia for 2005!: The Star City Casino is proud to present Max Pellicano in his new show: "ELVIS TO THE MAX - A Night in Las Vegas". For the very first time Max will be supported by a String Orchestra. The show will take you from the early year's of the King's career wearing the Gold Lame suit then on to the famous Black Leather outfit worn for his 1968 CBS Comeback TV Special. The journey continues into the Concert years with the White Eagle costume, which became part of Rock & Roll history. Complete on stage with Max's Las Vegas Dancers and Comedian. Click to see Max's full tour schedule including shows in the USA and New Zealand (News, Source: Amber Smith/Russ Morison) | |
---
USA - Elvis Tribute Artist Contest $5000 1st place & New ETA rating system. For contest and rating details visit www.alwayselvis.info (News, Source: ETA Best in World, 31 Aug 2005)
---
USA - Sammy Formica live in Philadelphia: Leading Elvis tribute artist, Sammy Formica, will be appearing live at the Gold Star Park in Philadelphia on 10 September. All the information can be found at http://www.isitelvis.com. (Source: Andrew J. Howard, 31 Aug 2005)
---
UK - World's best "young" Elvis heading to UK: Travis LeDoyt, hailed as the world's best young Elvis, is coming to the UK with his band from Nashville in Feb-Mar 2006 for a three week tour. Watch his website at www.travisledoyt.com for more details. (News, Source: Dick McVey, 30 Aug 2005)
---
| | |
| --- | --- |
| UK - Tribute show coming to Herts in the UK: The Elvis Collection is coming to the Gordon Craig on Saturday, September 3. This time Elvis takes to the stage courtesy of Billy J McGregor and his 12-piece band. (Source: Stevenage Herald, 25 Aug 2005) | |
---
USA - Impersonators of all ages wow 1,000 fans at Gimli's Elvis Fest: It wasn't the biggest Elvis festival ever held, but you could still get poked in the eye with a sideburn if you weren't careful. Close to 1,000 fans packed the Gimli Recreational Complex on Saturday night to see 20 Elvis Presley impersonators show off their sequined jumpsuits and gyrate their hips in the town's fourth annual Elvis Fest. The youngest impersonator was just four years old. Named Presley, the boy is the son of the festival's co-organizer, Marsha Tarnowski. His name is fitting, considering she met her Elvis-impersonating husband at a similar festival in Ontario. The oldest impersonator at the weekend event was 60. The Gimli festival was timed to be close to Aug. 16, the day in 1977 when Elvis Presley died.

''We drove eight hours from Thompson so my mom could come and see this,'' said Adele Sweeny, a 32-year-old nurse who had her seven-year-old daughter in tow. ''We picked a campground off the Internet and came down here. We love the big hoopla that surrounds Elvis.'' Dave Greene, a 47-year-old Elvis impersonator who was at the festival, said his day job is driving a truck at a Moosehorn rock quarry. But he said his passion is squeezing into a rhinestoned outfit and belting out hits like Are You Lonesome Tonight? ''The best part of this is the ability to make people laugh and make them bawl,'' Greene said. ''I was singing at a Wal-Mart, which I know is a strange venue, but this 60-year-old woman started crying when I was singing.'' ''I just held her through the whole song.'' (News/Almost Elvis, Source: The Brandon Sun, 22 Aug 2005)
---
Australia - Melbourne's 'Elvis Rock'n'Roll Dance' a sell-out success: Saturday's 'Elvis Rock'n'Roll Dance', at Kingston Town Hall in Moorabbin, was a sell-out success! The scene was wonderfully set with plenty of Cadillacs, chevies & various classic cars parked out front, while inside the Town Hall was packed with around 700 Elvis fans celebrating his life. The night featured three fine Australian Elvis tribute artists. The amazing Sean Spiteri (only 16 years old) was dressed in the Gold Lame suit and was sensational in his performance as the 50's Elvis. The sixties Elvis was represented by leather-clad Derek Lewis who's excellent voice was perfect for the demanding numbers such as 'It's Now Or Never' and a perfect 'If I can Dream'.
Mark Andrew (see below) was dynamic as the 70's Elvis. While he selected typical Elvis 70's concert songs he also added a delightful 'For the Good Times', which was a very nice touch. Mark Andrew was the most well-known of all the performers that night and was very popular with the enthusiastic crowd. The backing band 'The All Stars', who have been a regular feature of these dances for years, also deserve credit for their performance.
With thanks to Robyn Goss of the Elvis Presley Fan Club of Australia there were also lots of Elvis give-aways on the night. It was an Australian Elvis celebration not to have been missed - even if you only just flew back from Elvis Week in Memphis the same morning! (Source: EIN Sanja Meegin)
---
| | | | |
| --- | --- | --- | --- |
| Australia - Mark Andrew, Friday 26th in Melbourne performs an Elvis spectacular: There is another chance to see Mark Andrew in Melbourne when he will be performing this Friday 26th at The Grand Star, Altona North, with his full band and show girls. (Photos, right, are from his recent show) | | | |
---
Australia - Tuesday 16th August: The Sacred Songs of Elvis will be held at Wesley Church rear of Rydges Capital Hill, National Circuit. This event starts at 7.30pm sharp, gold coin donation to church to defray costs. Our Las Vegas in concert entertainers will present a range of Elvis's sacred songs throughout the evening and everyone is welcome to come and join in the singing. Coffee and chat afterwards. No booking required, but enquiries to 0408 947 935.

Friday 19: August Mark Andrew entertaining us with Elvis Leaves His Mark show, at the Hellenic Club. Book direct with the Hellenic Club 6281 0899, and doors open 7.30pm, Show starts at 8pm.

Sat 20 August: ACT Rock and Roll, supported by ElvisCanberra Inc and Deakin Soccer and Social will host National Elvis Tribute Artist Vince Gelonese. An old boy Canberran, come and see why he has his own unique following here in Canberra. Show starts at 8pm and costs $15 for current Rock and Roll club members, and $20 for non members. Book direct with Deakin Soccer and Social Club on 6281 6982.
Why not get a group together = call 0408 947 935
---
USA - ELVIS THEN, NOW & FOREVER" Auditions for New Reality Television Show Complete: Auditions for a new reality show, "ELVIS THEN, NOW & FOREVER," are completed and the show is ready for production. Some 450 Elvis impersonators came to the audition call. From the mind that originally created the American Idol concept, Mr. Harry T. Keane, Jr. has now fully developed the next reality competition. Based on the original concept by Mr. Keane in 1994 as revised in 1998 and 2003, Elvis impersonators from around the world now have a chance to demonstrate to the world their talent as the King of Rock & Roll.

For the past 5 months the producers of "ELVIS, THEN, NOW & FOREVER" have been auditioning Elvis impersonators from around the world, each hoping to become one of the first 20 contestants on the new reality television show, "ELVIS, THEN, NOW & FOREVER." The show is scheduled to be released on national television in November 2005.

Around 450 entrants were vying to become one of the first 20 contestants to perform on national television. Some 1,500 individuals scored and ranked the entries. They had a difficult time selecting the final 20 contestants. Contestants were evaluated on stage presence, overall appearance, movements and of course voice. Many of the best known Elvis tribute artists entered the competition, including James Wages, Kraig Parker, Matt Spalding, Chris Solano, Rick Dunham, Robin Kelly, David Lee, Rick Alviti, Steve Murphy and Matt King, just to name a few. Mr. Keane has produced several dozen Elvis tribute shows over the past twenty years, including James Wages and the legendary Johnny Harra.

"I admire each of these talented artists for their tribute to the late King of Rock & Roll," Keane said. "They each give their audience a taste of the King's legacy, each in their own unique way. As great as these performers are, we all realize that there was only one King of Rock & Roll. It is amazing that more than 20 years after his death, people who not yet born love Elvis' music."

The winner of "ELVIS, THEN, NOW & FOREVER" will receive a prize package including a near mint-condition 1968 Cadillac, a $25,000 recording contract, a $100,000 performance contract for one year and $25,000 cash. The first runner up will receive a $10,000 performance contract and $2,500 cash, while the next 3 runners-up will each get $2,500 cash. Members of the public will evaluate weekly who is their favorite Elvis tribute artist. Eventually they will determine who the next King of Rock & Roll is. (Source: eMediaWire, 12 Aug 2005)
---
Britain - 86 year-old Elvis tribute artist has them "all shook up": In his blue suede shoes and shaking his pelvis, Stan Baines is the oldest swinger in town. He has become one of Norfolk's most famous Elvis impersonators - and at 86 he is one of the oldest. Now, the grandfather of three is set to don his quiff and gold sunglasses in a bid to be crowned King in a competition at the Brickmakers pub at Sprowston, near Norwich. Mr Baines, a retired chef, impersonates Norman Wisdom, George Formby and Andy Williams at lunch clubs and residential homes, and said he was urged to enter the contest after singing a few bars of an Elvis track.

The second world war veteran has been entertaining audiences for 21 years, and is also a volunteer for the charity Mencap. He said: "On one occasion I was singing at a contest and I heard my granddaughter whisper to someone in the audience that I was her granddad.

"It made me so proud because it's nice when someone wants everyone to know that you are a member of their family."

In recent years Mr Baines, of Thorpe St Andrew, was offered a regular slot at Caister Holiday Camp near Yarmouth, until the owners realised his age.

"There's no chance of my getting on Top of the Pops now but if I did I would wear my cream-coloured trousers, red shirt and white tie and a dark blazer. Only when the audience starts throwing things will I ever think about stopping."

The finals of the Brickmakers' Elvis contest, In Search of the King, are on Tuesday night. (Source: Norfolk Eastern Daily Press, 12 Aug 2005)
---
USA - Crazy Days takes city back to the 50s: Cannon Falls will step back into the 1950s on Saturday, August 6, Crazy Days 2005. This year's activities will include a hunt for the "blue suede shoes" along with Elvis sightings. Elvis (or someone who looks a lot like him) will be showing up around town between 8:30 and 10:30 a.m. on Aug. 6. He will be engaging shoppers in a series of little contests and games; prizes will be $5 chamber merchandise certificates. Watch for the rock 'n roll legend - he may ask you to sing a couple of words from one of his songs, quote a line from one of his movies, or strike an Elvis pose.

Five clues to the location of the hidden blue suede shoes are being posted in participating businesses beginning on Monday, Aug. 1. The clues are filled with song titles from the 50s, and will lead to a location that was a popular hotspot in the 1950s, but now is used for another purpose.

#1 It's All in The Game so let's beat The Summertime Blues and do The Stroll to a spot where there was plenty of Yakkety Yak.

#2 Don't get All Shook Up about not finding this spot right away. Good Golly, Miss Molly you maybe couldn't find The Book of Love here, but you could buy the latest records so you and your friends could Rock Around the Clock.

#3 Ah, Memories Are Made of This. Back in the 50s, you might have been A Teenager in Love with the likes of Donna, DeDeDinah, Diana, Peggy Sue, or some other Earth Angel, while you enjoyed eating a Hot Diggity dog. Chances Are you would have seen A Whole Lot of Shakin'Going On as they prepared floats, malts, sodas, and more.

Check for the latest clue at Country Side Implement, Dudley's Pizza, Scofield Drug & Gifts, Frog Creek Pottery, Heaven's Touch, Country Kitchen, Althoff Hardware, Write-On, Hjermstad Hardware, 4th Street Antiques, CF Stamps, 1st Farmers & Merchants Bank, Picket Fence, Hi-Quality Bakery, 1st National Bank, and Pine 'n Prints.

Crazy Days will also include activities for kids, coordinated by volunteers from the Shepherd's Center. Games for children 10 or younger will include a coin dig (dimes and nickels), hula hoop contest, and a bubble gum blowing contest. The event will be held at the Cannon Mall from 9-10:30 a.m. Local merchants have planned a variety of sales and special offers. Store employees are being encouraged to wear 50s outfits. (News, Source: The Cannon Falls Beacon, 5 Aug 2005)
---
USA - Elvis fans will celebrate 'The King' at 6th Annual Big E Festival, Aug. 6 in North Georgia: Thousands of Elvis Presley fans will gather Aug. 6 in Cornelia, Ga., to celebrate the life, times and music of the King of Rock 'n Roll during the 6th Annual Big E Festival. The Loudermilk Boarding House Museum, at 271 Foreacre Street, downtown, will serve as the backdrop to the daylong festival. Singing classic Elvis tunes, more than 15 Elvis tribute artists will take the stage on the Loudermilk Boarding House porch to compete for cash and prizes and the chance to win the coveted honor of 2005 Champion or the People's Choice Winner. The festival starts at 10 a.m., with performances beginning at 11 a.m., and runs until the Elvi leave the building.

Elvis-inspired paintings and drawings by Norcross, Ga.-based artist Trevor Hawkins will hang in the Main Gallery of the boarding house. Hawkins' compilation of original work includes images of Elvis at Graceland, individual portraits of the King of Rock 'n' Roll onstage and favorite scenes from his many movie roles. Festival attendees can also tour Joni Mabe's Panoramic Collection of Everything Elvis, which is housed upstairs at the Loudermilk Boarding House Museum. Mabe, the collection's director, artist and curator from Athens, Ga., has amassed more than 30,000 pieces of Elvis memorabilia, ranging from albums, photos and her personal artwork, to museum treasures such as the Elvis Wart, the actual wart removed from Elvis' hand, and the "maybe Elvis toenail," which Mabe found at Graceland in the Jungle Room.

"When I was 19, I heard Elvis' voice on the radio and that was just the beginning," says Joni Mabe, whose eclectic collection of "Everything Elvis" has been visited by people from all over the world. Known as "The Queen of the King," Mabe toured Europe and North America for 14 years with her memorabilia collection and has been listed in the Guinness Book of World Records. Defending 2004 Festival Champ Damon Hendrix; Youth Division Winner Sean Sharp; and People's Choice Award Winner Arik Christopher will perform at the 2005 Big E Festival. Other Elvis tribute artists set to appear include Alex Swindle, Johnny Elvis, Matthew Spaulding, Rick Wade, Nigel Sherrod, Robby Dean Scott, Ron Lawson, Ronnie Norton, Ted McMullin, Walter Busby, Garyelvis Britt, Tevin Loggins, Demi Downing, Charlie Cole and Charlie Cole Jr.

Tours of the museum are free with admission to the Big E Festival, and visitors are encouraged to bring lawn chairs for the daylong music festival. Vendors selling peanut butter and banana sandwiches, barbecue and boiled peanuts will offer Elvis-friendly food, and Elvis merchandise and artwork will be available for purchase. Classic cars from the Peachtree City Cruize-In Cadillac Club will be on display throughout the day as well. For more information on the 6th Annual Big E Festival and upcoming show by artist Trevor Hawkins, contact the Loudermilk Boarding House Museum at (706) 778-2001, visit: www.jonimabe.com/festival.html. Information on Hawkins can be found on his Web site at www.popimages4u.com. (News, Source: NAMC Newswire, 1 Aug 2005)
---
Australia - Elvis Tribute: To mark the 28th anniversary of Elvis' passing, "Memories of Elvis" A Tribute to Elvis Presley, is being held on Saturday 13 August at the Canberra Irish Club. Entry by gold coin donation.

(News, Source: Garry Buckley)
---
Canada - Elvis still packs 'em in: The Town of Collingwood hosted record numbers of people for this years' Collingwood Elvis Festival. "It was very successful and really well attended," said Karen Cubitt, event co-ordinator. "The average sales for our arena shows were up to 72 per cent capacity, compared to 54 per cent for last year. Even though it's a non-gated event, and we don't have an active number of participants, the arena sales alone were a good indication our sales were up." Organizers are crediting the strong media campaign for the high number of visitors. "All our sponsors this year went above and beyond what they could have been doing," she said. "The weather was nice, which also helped. We saw a lot of the tribute artists bring their own fan base with them."
The Grand Champion this year is Roy Evans, who is from the United Kingdom, with Irv Cass taking second place and Paul Ross coming in third in the professional division. In the early years, Ben Klein took first place, Pete Paquette in second with Mike Bravener following in third place. In the inaugural inspirational Elvis competition, Ray Guillemette Jr. won first place. "The festival attendance figures were the highest numbers ever recorded in the 11 previous festival years in Collingwood," stated a press release. "There were four full days and nights of events attracting large and happy crowds enjoying tributes to Elvis in locations from Cranberry Resort, to the Blue Mountain Village, Collingwood Curling Club, the Pine Street venue and the Eddie Bush Memorial Arena."
The effort, dedication and time of hundreds of people in the months leading up to and including the weekend contributed to the success. "A huge thank you goes out to our volunteers," said Cubitt. "We had fewer volunteers this year than last, and yet everyone over compensated. They are incredible and a great bunch." The volunteer appreciation luncheon is being held at The Station on Sun., Sept. 18, beginning at 1 p.m. Although this years' festival is barely over, organizers are already fielding calls for next year, taking place from July 26-30, 2006. (Source: The Connection, 29 July 2005)
---
Australia - "Elvis Week 2005" celebrations in Canberra: ElvisCanberra will be having its own Elvis Week in Canberra, the national capital of Australia. Events include: Tuesday 16th August - "Sacred songs of the King" at Wesley Church; Fri 19 Aug - Hellenic Club will have Mark Andrew entertaining; Sat 20 Aug - ACT Rock and Roll, supported by ElvisCanberra Inc and Deakin Soccer and Social will host Vince Gelonese. To find out more: email elviscanberra@tpg.com.au or ring 0408 947 935 (News, Source: Russ Morison)
---
Australia - Floriade "rock & roll" theme: On Saturday 17 September, ElvisCanberra Inc at the request of the Floriade Committee, will commence Floriade's theme of Rock and Roll with an Elvis Day of songs and tributes to the King. The clubs encourage Canberrans and any EIN subscriber that wishes to join us to email elviscanberra@tpg.com.au or ring 0408 947 935. (News, Source: Russ Morison)
---
USA - Elvis tribute artist "star" attraction at Music Festival: Elvis Presley imitator Mike Albert of Westerville, Ohio, was the star attraction on the performance bill of the Hickory Smoked Music Festival in the Hickories Park at Owego Saturday. Albert, who presented an "ultimate tribute" show Saturday night, was backed by the Big E Band, which he said was formed 12 years ago.

(News, Source: Amber Smith)
---
Russia - Elvis goes to Russia: Singer/songwriter Igor Yuzov and bassist/balalaika player Oleg Bernov met in Los Angeles in 1995 and immediately knew it was time to form a Russian party band that would draw crowds of beer-swilling, fun-loving fans. That band was The Red Elvises. Yuzov supposedly got the name from a dream, in which Elvis came to him wearing a red dress, but we'll take that with a grain of salt. One thing is for sure: Throughout their various incarnations, the Red Elvises have become a bar staple featuring pompadours, glitzy costumes and, um, oversized instruments. Shows start August 6-7 at Pennsylvania's Bethlehem Musikfest, then they visit the state's Johnstown FolkFest September 3-4 before moving back to their adopted West Coast. In October they visit San Francisco, Petaluma, Portland, Vancouver, Tacoma and Seattle, among other cities, before calling it quits at Yakima, Wash.'s Grant's Brew Pub November 6. The Red Elvises have released several albums including "Grooving to the Moscow Beat" and "Surfing In Siberia". (News, Source: Sanja Meegin, 24 July 2005)
---
Australia - Canberra Casino, Fri 22 July - Las Vegas in Concert - Grand Finale: A Musical and spoken Tribute to the Life of Elvis Aaron Presley. This will be a very special event where Elvis will be joined on stage by Frank Sinatra and Dean Martin. Show starts at revised time of 8.30pm. (Source: Russ Morison)
---
USA - "Best Elvis tribute artist" taping on 8 August : David Warner's voice will be tested at a Las Vegas casting call to find the world's best Elvis Tribute Artist. The search is part of a TV pilot for an elimination-style reality show.

To secure his audition for the biggest Elvis search in history, Warner played a sample recording to contest sponsors over the phone.

They responded with a contract and told him to arrive in Vegas for the Aug. 8 taping.

(News, Source: Cadillac News, 16 July 2005)
---
Australia - Elvis and Rat Pack rock the Canberra Casino: "You know, Vegas used to be a pretty dead place on a Saturday night until the Mafia moved in, hired some brilliant artists to draw the crowds, and folks started to flock to the Shows. Sands Casino comes to mind and it was there that our three performers drew the crowds - Elvis - Dean Martin and Frank Sinatra to name a few. Well - what we have done is endeavoured to replicate those wonderful voices of those Vegas concerts with all the atmosphere and excitement and fun of those times. You can join us and participate in our Shows - why not get a group of friends together.- for a group of 5 we will reduce the ticket price to $5 - it's normally $10 - that''s about the best giveaway value ticket I know of. And of course net proceeds go to a very worthwhile cause - Eden Monaro Cancer Support Group: Please let all of your friends know by whatever means you have available. We have only three Shows left: Fri15 Elvis and the Rat Pack; Sat 16 July - a Musical Journey of the life of Elvis told in story and song. This will be brilliant, and our Grand Finale Concert 22 July with Elvis and the Rat Pack. Sorry Peter Lawford and Sammy Davis Jr aren't on the billing this year. To enable us to plan the seating arrangements for you - please reply to this email at your earliest - 6265 1483 or 0408 947 935. Let us know when you wish to come and we'll take it from there". (Source: Russ Morison, 13 July 2005)
---
Australia - Flying Elvis' Brisbane breakfast: Nine Flying Elvis impersonators from the US, called the E Team, will travel straight from the Brisbane International Airport to have breakfast at the Brekky Creek Hotel (2 Kingsford Smith Drive - Breakfast Creek, Telephone 07-32625988) on Tuesday morning (12 July from 7.30am), along with Prentice Chaffin, America's leading Elvis impersonator. Prentice will dine in full costume and will perform.
The E-team and Prentice are in Queensland for the International Airshow. (News, Source: Christine Bamford, July 2005)
---
USA - Riverside Park ready for a hunka-hunka Elvis fun: Solano prepared the jacket as part of the costume for his fifth consecutive performance at the Michigan Elvisfest, this weekend at Riverside Park. The festival, sponsored by the Depot Town Association, is in its sixth year and Solano is one of 10 Elvis impersonators who will be performing. Greg Jacque will make his first appearance, landing himself a place at Elvisfest after winning first place in the Star Search in Belleville. "That was the first impersonator contest I've ever won,'' he said. "I'm performing with the big boys now.'' (News, Source: The Ann Arbor News/Sanja Meegin, 4 July 2005)
---
USA - Cheyenne Jackson's poster stolen: A New York City theater has changed its poster policy following the theft of a life-size likeness of "All Shook Up" leading man Cheyenne Jackson.
"The ripped-off poster was glued onto the outside of the window," says a spokesman for the theater. "Now the pictures are getting glued onto the inside of the window." Jackson, signed to the Elvis Presley musical through December, has been meeting with agents, as well as television network and movie executives, the New York Daily News reported Friday. "I'd like to make the transition to movies," says Jackson, who recently finished work on his first movie "Curiosity," the paper reported. (News/Almost Elvis, Source: UPI, 1 July 2005)
---
Australia - "Dream King' tour of Australia falls through: Negotiations to bring one of America's top tribute artists, Trent "The Dream King" Carlini, to Australia for a four state tour in late 2005 have fallen through. (News, Source: Monika Leone, June 2005)
---
Philippines - "Dr. Elvis" Concert: If you are a music lover - and particularly an Elvis Presley fan - here's a concert you should not miss. No, you don't have to travel to Las Vegas just to watch the rock 'n roll king - or any of his thousands of impersonators - do his thing onstage. A Tribute to Elvis Presley Part II is a presentation that doesn't require you to travel elsewhere. Why? Because it will be staged right here in Cebu, Philippines - at the Budyong Hall of Casino Filipino Mactan, to be specific. The show is on Saturday, July 2, starting at exactly 8 p.m.

OPONGANON. Then you'll ask, who's going to perform? Okay, let me tell you that a true-blue Oponganon (Opong is actually the original name of Barangay Opon, Mactan island) in the person of Bernard Pino is going to do the two-hour show on Saturday evening. This retired physician was born and raised in Opon. After finishing his medical studies here, he flew to Michigan, USA where he practiced his profession for close to 33 years.

ENCOURAGEMENT. Dr. Elvis, as I fondly call him, was encouraged to develop his Elvis sing-alike ability after one of his American patients told him that he sounded just like the original rock 'n roll king. This Cebuano doctor would admit that he had never been a Presley fan but because of his patient's encouraging words, he decided to try singing Presley songs and eventually impersonating his stage actions, including the trademark gyrations. Little did Bernard know that he would soon order his tailor to make Presley concert costumes. Remember those sequined overalls and bellbottom pants? Yes, he even produced the exact replica of Presley's shades. Of course, even the hairstyle and the trademark sideburns are being copied by this Cebuano Presley impersonator.

TALENTS. For his concert on Saturday evening, Dr. Elvis will be doing 24 Presley songs and he will be having four costume changes. The incomparable Doy Montaña and his band shall provide the live accompaniment all throughout the show. BENEFICIARY. Watching this Saturday's concert is actually your way of helping local musicians who are in need of free hospitalization due to financial problems they are facing. It's heartening to know that Dr. Elvis has already waived his talent fee as his way of helping this noble cause. Isn't that highly commendable? The show is for the benefit of the needy members of the Cebu Association of Legitimate Musical Artists (Calma) which Dr. Elvis and Montaña themselves organized. In this respect, they want to sincerely thank all the corporate and individual sponsors for supporting this Saturday's concert. Don't you miss it, folks. (Source: Sun Star Cebu, 29 June 2005)
---
USA - Impersonator to bring Elvis show to RV Park: Elvis will be in the county this weekend when Kenn Blankenship performing as "The King" in Kenn's Elvis Show at 9 p.m. Saturday at Scenic Mountain RV Park, four miles south of downtown Milledgeville off Ga. 441.
Tickets are $5 per person and free for children under 12. After the show, there will be a $100 prize to the best 50's outfit. People do not have to be camping to attend the show. Park owner Don Mathis and his wife Charlene, who opened Scenic Mountain RV Park two years ago, said the show will be like going back in time to a see Elvis in concert. Mathis said the show will last about two hours. "It'll be like a show Elvis used to do in Las Vegas," Mathis said. "(Blankenship) will be in town Thursday to set up and get ready. I wanted to do this to see how people feel about Elvis in this area. Personally, I don't remember (an Elvis impersonator) coming here. My wife and I decided to do some different things so we put this together and we think it's going to be a real good show. We've gotten a lot of good feedback from it. I just wanted to bring something different to the area."
Blankenship and his wife, Barbara, who are from Colquitt in Southwest Georgia, recently returned from doing a show in Cincinnati. Blankenship said he's been doing an Elvis show since 1978, a year after Presley died at the age of 42 and was buried at Graceland in Memphis, Tenn. "I have been doing music all my life," Blankenship said. "The opportunity became available more at that particular time in my life. I had a day job and was doing (the show) on the weekends. In 1978, I decided to do the show full-time. ... I've been doing his music for a long time. My voice and his is sort of the same. It just comes easy for me, plus I like his music. If I didn't like the music I wouldn't do it."
Blankenship said he will impersonate songs such as "Don't Be Cruel" and "Hound Dog." "Elvis did a wide variety of music so I do the other stuff in Elvis style," he said. "We haven't had anybody who is disappointed yet." Mathis said those attending should bring their own lawn chairs. No drugs, alcohol, pets or bicycles are allowed in the concert area. For more information about Kenn's Elvis Show, call Mathis at 1-800-716-3015 or visit the Web site at www.scenicmountainrv.com. (Source: The Union Recorder, 29 June 2005)
---
Malaysia - Remembering Elvis: Fans of the late king of Rock and Roll, Elvis Presley, in Malaysia will be gathering for a tribute in conjunction with the passing of the legendary performer on Saturday, Aug 20, 2005 at the Dragon Head, Kelana Square, Kelana Jaya, at 9 pm. A musical tribute of Elvis songs will be performed by Malaysian Elvis impersonators, including Aziz Presley Daud. Guests will be treated to one complimentary drink and dinner for a nominal fee of RM36 per person. Rare footages of Elvis's video clips and movies will be screened, while guests may sing along till 9 pm before the main show starts. Dancing is allowed. Elvis Presley is a household name for the millions of fans throughout the world till today and will be best remembered for the evolution of Rock and Roll music. Although the King has 'has left the building' since Aug 16, 1977, his music and impact remains unforgotten. Elvis's fans can expect to listen to songs such as Just Pretend, Words, CC Rider, How The Web Was Woven and at least 20 other hits at the tribute. Of course, trademark songs like Teddy Bear, Don't Be Cruel, Heartbreak Hotel and more will not be left out. Those who are interested may call 019-2668446 or 016-3591971 for details or write to Aziz Presley Daud. (Source: Sanja Meegin)
---
Australia - "Elvis to the Max" in Sydney: The legendary Max Pellicano will be performing in the showroom at Star City Casino on 30 September. This show will take you from the early year's of the King's career wearing the Gold Lame suit to the famous Black Leather outfit worn for his 1968 CBS Comeback TV Special. Complete on stage with Max's Las Vegas Dancers and comedian. (Source: NRMA Boxoffice, 24 June 2005)
---
Australia - The Elvis Story: David Cazalet will be appearing at the Rooty Hill RSL Club on Saturday 30 July at 8pm. Tickets: A$20.00. (Source: Email, 26 June 2005)
---
Wales - The Porthcawl Elvis Festival 2: The festival will officially kick off today in Bridgend. The famous McArthur Glen Shopping Outlet Mall is hosting the first ever national Welsh Elvis Contest to find the rock 'n' roll "King of Wales". Sorry, entry for the contest has now closed with 22 entrants. Fans from all over Britain are very welcome to go along to Bridgend to cheer on the Welsh Elvises. The festival proper will be staged between 30 September and 2 October. The highlights include a tented festival Elvis village with all-day Elvis entertainment; an Elvis cruise;Elvii Rugby XV vs Portcrawl RFC; Elvis films; Elvis rides at the Funfair; meet Dick Grob, Sam Thompson, Patsy Andersen, The Sweet Inspirations and Jerry Presley; and an Elvis Gospel Service. (Source: Sid Shaw, Elvisly Yours, 24 June 2005)
---
| | |
| --- | --- |
| USA - "Live At The Park" begins Monday with Elvis impersonator: Holy Cross native Eddie Miles, who travels the nation performing tributes to Elvis Presley, will entertain crowds in Bardstown, Kentucky next Monday. Impersonating the King of Rock 'n Roll, Miles will kick of this summer's Live At The Park Concert Series at 8 p.m. The concert will happen against the backdrop of My Old Kentucky Home at J. Dan Talbott Amphitheatre, where many other artists will perform this summer. Miles will perform "A Salute to Country Legends" and end with "A Salute to Elvis." Miles was born and raised in Holy Cross as one of eight children. Along with his brothers and sisters, Miles attended talent shows and displayed his vocals at a young age. His mother was the catalyst for their love for music, Miles says on his Web site biography, www.eddiemiles.com. Growing up, his musical influences besides Elvis Presley were Hank Williams, Johnny Cash, Conway Twitty, Merle Haggard, Marty Robbins, George Jones, The Beatles, Creedence Clearwater, the Rolling Stones and Motown. | |
Although Miles is now an experienced musician, he admits to still having stage fright from time to time. He prides himself in having traveled all the way to Memphis and seen Elvis in person, through a pair of binoculars, in front of his home. On his Web site Miles wrote to his fans, "When I think about Elvis standing perfectly still in those beams of sunlight, which were majestically shining through those huge trees, with his arms stretched out, in that purple and gold robe, head back, looking up into the heavens, looking God-like himself, I believe he was communicating with God, his maker, in prayer and meditation. It is a picture I will never forget." Miles also opened a theater bearing his name in Myrtle Beach, N.C., where he still performs from time to time, in between concerts throughout the country.

Tickets to see Eddie Miles perform locally are $21. The cost for a season ticket is $100 and includes all Live At The Park Concerts as well as a ticket to "Stephen Foster-The Musical," excluding July 4th, and a ticket to "GREASE!". Other artists to perform in the series this season are The Louisville Orchestra and The Monarchs, July 11; The 5th Dimension, July 25; Gary Puckett and The Union Gap and Gary Lewis and The Playboys, Aug. 8; and Aaron Tippin, Aug. 27. All shows start at 8 p.m. Tickets for shows vary in price, from $13-$25. To order, call 348-5971 or (800) 626-1563, or online, www.liveattheparkconcerts.com. (News/Almost Elvis, Source: The Kentucky Standard, 21 June 2005)
---
USA - "The Voice of Elvis" concert: Doug Church will be appearing next Friday, 17 June at Sheraton Bucks County Langhorne, PA. Special guest Tony Sands as "Frank Sinatra". Call today: (856) 627-0984

or visit

www.dougchurchusa.com (News/Almost Elvis, Source: Andrew J. Howard, 12 June 2005)
---
USA - Bring it on, Elvis: Millville plans to be awash in rhinestoned polyester and pompadour haircuts June 17 as the Arts District looks for the best Elvis impersonator on the planet. Well, at least the best one who turns up for Third Friday. "If Vegas can do it, why can't we?" said Millville Development Corporation Director Marianne Lods. The show will run from 7 to 8 p.m. at Glasstown Plaza, but everyone on High Street will be able to listen to the music (for better or worse) thanks to the district's new speaker system. "Everybody loves it for the fun," said Lods. Trophies will be awarded. For Philadelphia artist Sam "Sammy J." Formica, paying tribute to the King is about much more than fun. "I take this very seriously," said Formica, who was a finalist in the 2003 World Tribute Artist Competition. "I try to get better and better each time." For Formica, 41, the secret to success is remaining as authentic as possible. This includes ordering clothing from the same company that outfitted the King himself. Also, he said, it is important to be able to leave the Elvis persona behind.
"Good impersonators don't impersonate except for when doing a show," Formica said. "If you saw me on the street, you wouldn't know what I do." Still, Formica's a huge Presley fan whose Elvis collection includes more than 500 albums and locks of the King's hair. "On stage, I'm trying to channel Elvis. I'm an actor, more than anything else," he said. "I'm paying tribute to him. I try to bring the passion Elvis had onstage." Like many Elvis impersonators, Formica prefers covering the "jumpsuit" Elvis of the 1970s. He said he hasn't decided on a song list for the Millville competition, but when the chips are on the line, Formica goes to his standby: "I'm hurt" leading into "Suspicious Minds." John "Johnny P." Purshock, 45, has been impersonating Elvis for more than 20 years, starting soon after a brief encounter with the singer in 1977. Purshock, a commercial contractor, performs about two shows per week. Putting on a quality show, according to Purshock, is all about nailing the look. He has spent nearly $2,500 for a single jumpsuit. "The dime-a-dozen guys don't have that authentic look," he said. "There are just too many of them. Even at shows, some guys are really bad." (News/Almost Elvis, Source: The Daily Journal, 11 June 2005)
---
| | |
| --- | --- |
| Australia - "Elvis" helps raise money for charity: Garry "Elvis" Buckley helped the "Convoy for Cancer Families" drive as it raised more than A$30,000.00 to assist those affected by cancer. (News, Source: Canberra Advocate) | |
---
USA -
How I turned green...and into Elvis:
He looks and sounds a lot like the real deal, but why is this Elvis singing about his "Green Suede Shoes" and "Earth Day Rock"? Because this is Kansas City's own Green Elvis, who — when he's out of his sparkly green jumpsuit — is also known as Matt Riggs, whose job is to educate the public about recycling. He works for the Mid-America Regional Council. But how did Riggs, 33, become an environmentalist? And how did he become Green Elvis? Well, as a kid growing up in south Kansas City, he spent a lot of time exploring nature. In 1996, a year after graduating from the University of Missouri-Columbia, he landed a job managing KC's Chouteau recycling center. Soon after, his gig was starting recycling programs in large office buildings. One day he was handing out office paper bins when in walked Elvis. Or, to be accurate, an Elvis look-alike. It was the day of the annual Elvis Parade. Riggs, who'd been brainstorming ways to do outreach, told a co-worker, "We need a green Elvis to get the excitement going." A friend made him a jumpsuit, and in the fall of 1997 Green Elvis made his debut. An early hit was "I Reduce, I Reuse, I Recycle" — to the tune of "I Want You, I Need You, I Love You." These days Green Elvis makes appearances at schools, conferences and the like. His current jumpsuit is a hunka-hunka recycled materials including pop-can tabs, bottle caps and lids from frozen OJ cans. Riggs, as Green E, is also planning to record a CD, which he hopes will come out this summer. It should include faves like "Viva Las Vegans," "Burning Globe" and "Eco Man" (a knockoff of "Guitar Man"). Got a question about what's recyclable? Riggs mans MARC's recycling hotline: (816) 474-8326. If you're lucky, maybe he'll answer as Elvis.
(News, Source: Sanja Meegin, 6 June 2005)
---
USA - Elvis anyone? From Jackson to Tupelo, the king lives on: Can't help falling in love with this weekend - it's heartthrob central. First, the classic: Elvis Presley. Catch the resurrection of his spirit in Idols of the King at New Stage Theatre, where Lance Zitron makes the black leather dance and Jo Ann Robinson and Chris Roebuck double-handedly portray his fan base. It's a scream, and feel free to join in. For more kingly rock 'n' roll, go to Tupelo for the Elvis Festival, where the lineup offers Chuck Berry, Paul Thorn, Steve Azar and more. (News, Source: The Clarion-Ledger, 3 June 2005)
---
USA - Search is on for Elvis look-a-like: The search is on for Elvis look-a-likes for a contest to see who looks most like the King. The winner will enjoy a VIP dinner at A Little Sweat Dream Diner, while the others will be left "All Shook Up." Organizers of the contest are arranging the competition, which will be held on the square to celebrate Sweet-water's 50th anniversary of Elvis Presley's concert at the Municipal Auditorium. The Trail of Lights committee will host a day-long event to commemorate the anniversary on Saturday, June 11. All activities will be held in downtown Sweetwater, around the square and at the Muni-cipal Auditorium. An arts and crafts show will be held from 9 a.m. to 4 p.m. Booths are still available and are $25 each for a 10 foot by 10 foot spot. A '50s fashion show and a classic car show and cruise is also scheduled. There is also something for the kids to do during the day as a "Hound Dog" coloring contest and teddy bear costume contest will be held. The highlight of the festivities will be at 8 p.m. at the Sweetwater Municipal Auditorium. Elvis impersonator Donnie Roberts will perform a concert of some of Presley's greatest hits. Potential look-a-likes can leave their contact information with the Chamber by email at lynn@sweetwatertexas.org. (News, Source: Sanja Meegin/Sweetwater Reporter, 3 June 2005)
---
Canada - "The Jordanaires" in Collingwood, Canada: The Jordanaires will be appearing with Tim E & the Yes Men and Australia's Dean Vegas on June 10 at the Gayety Theatre in Collingwood, Canada. For details contact K. DeNike. (News, Source: K. DeNike, 2 June 2005)
---
USA - Don't be afraid to scream!: At Carlisle and Whitworth streets, Elvis has not left the building. And thankfully won't, for weeks yet. (Source: Clarion-Ledger)
---
Australia: Able Productions invites you to rock with us at... ELVIS PRESLEY MOVIE DOUBLE - a double feature of the classic films Jailhouse Rock and Viva Las Vegas. The night will also include Elvis music and dancing before and between the two films. METRO ARTS, 109 EDWARD ST BRISBANE. Doors and cinema bar open from 6.30pm / Films commence 7.00pm. Tickets $15.00 per person Bookings (07) 3388 0051. For a program of upcoming film nights, visit www.ableproductions.com (News, Source: Christine Bamford)
---
Britain - Shakin' Stevens wins TV battle of former stars: England's most successful Elvis tribute artist of the 1980's, Shakin' Stevens, won the final of Vernon Kay's impressive "Hit Me Baby One More Time" television show. The show, featuring once successful entertainment acts, screened opposite the Eurovision Song Contest. (News, Source: AP)
---
Canada - ''E King Fest' (E King Festival to the Max): The E King Festival in Canada has been cancelled due to low ticket sales. (News, Source: K. DeNike, 25 May 2005)
---
Australia: David Cazalet is Elvis at the CASINO CANBERRA, Saturday 28 May 8pm. Tickets $30.00 includes supper. Subscribers $20.00. (News, Source: Elvis Canberra)
---
Jerry Presley now managed by Patsy Andersen: Speaking of Patsy, she is now managing Elvis second cousin Jerry Presley and you can book Jerry through Patsy for your events. Apparently, not only does Jerry look like Elvis but has many of his mannerisms. He is soft spoken, humble and very shy but I am sure now that Patsy is in charge his career will take off. We have heard Jerry does a great tribute show and its is nice to know a real Presley is carrying on Elvis' music legacy. Jerry is related to Elvis in several ways but the first is Elvis' great grandfather and Jerry's are brothers, then Rosella married by into the Presley Family which was Jerry's family line. If you would like more information on Jerry Presley and/or would like to book him for a show, wedding, christening, barmitzvah, corporate function or any Elvis Event simply email Patsy: patsy_andersen@yahoo.com. (News, Source: Sid Shaw, May 2005)
---
USA - Paul Casey & The Stamps & The Sweet Inspirations in concert:"Official ELVIS of Las Vegas" will be appearing with Elvis Presley's famous backup singers, Gospel Hall of Fame Group- The STAMPS QUARTET, and multi platinum recording artist the SWEET INSPIRATIONS for a special command performance December 31, 2005, at SPOTLIGHT 29 CASINO, Palm Springs, California. 760-775-5566. Paul will be performing with a full orchestra recreating "ELVIS IN CONCERT." (News/Almost Elvis, Source: Paul Casey, May 2005)
---
Australia - "Elvis" wins Starstruck: Anthony Petrucci won the grand final of Australia's Starstruck entertainment show. Anthony performed as Elvis and received enough viewer votes to beat "Roy Orbison" who finished second. Petrucci's success mirrored the result in the UK version of the show, Stars In Their Eyes, also won by an Elvis tribute artist. Petrucci has won a trip to Las Vegas where he will appear in the famous Legends revue. (News, Source: EIN, 16 April 2005)
---
USA - Shake, Rattle and Roll Tour Tivoli Theatre in Chatanooga, Tennessee: Saturday, May 14 at 7:30 p.m. Scot Bruce stars in this tribute to Elvis: The Early Years. As the young Elvis, Scot has appeared in music videos with Sheryl Crow, Faith Hill and Tasmin Archer, as well as on the Fox-TV sitcom "Partners," and "The Amanda Show" on the Disney Channel. Most recently, Scot has appeared in a recurring role on the hit soap opera Days of Our Lives, and as the lead in three productions of Idols of the King—at the prestigious Barter Theatre in Virginia, the Tennessee Repertory Theatre in Nashville, and ArtPark in upstate New York. This unbelievable tribute to "The King" has played throughout the United States, as well as Europe, Asia, Australia, and South America. Tommy Jett of GT-108 will host a "Shake Rattle and Roll" Dance Contest on the Tivoli stage at 7 p.m. Win a prize package worth over $1,000. All seats are reserved at $26.50. Tickets are on sale now online at www.ChattanoogaOnStage.com, and at Memorial Auditorium box office. Charge by phone (423) 642-TIXS. (News, Source: The Chatanoogan, 14 April 2005)
---
India - Elvis clones revive singer's popularity in Goa: The Elvis Presley craze is making a comeback in Goa, a popular tourist destination in western India. The American singer may have died in 1977 but his popularity lives on as a barrage of Elvis clones try to out-perform each other. He is possibly the most impersonated rock 'n roll celebrity. Although it's nearly three decades since he passed on, the spirit of Elvis Presley lives on in the many performers who make great efforts to dress and sing like him. In India's popular tourist resort of Goa, that seems to be the newest attraction for holidaymakers. At restaurants and nightclubs, a motley mix of chubby and middle-aged Elvis Presley look-alikes belt out hits from the 1950s and 60s. There is 'Surrender', 'One Night', 'All Shook Up' and more. And the tourists love it. Elaine, Tourist from England, said: "The guy who is first can really sing like Elvis so well. It was so sexy when he sang and he can swivel his hips and all so authentically when he sang. It's wonderful to see." While some performances can only be described as sloppy, many are simply humorous. Either way, this magic has spelt a new boom for the tourism industry in Goa and new profits for the Elvis-clone employers. Rakesh Mathur, Nightclub Owner, Goa, said: "The response is very good. There is no place to sit. People are shouting at me. I don't know how to cope with it now." The thrill of vintage Presley with a strong Indianised flavour is a recipe that is certainly making a splash with tourists there, adding a new twist to the traditional Indian attractions of cultural diversity and ancient civilisations. (Source: Asia Pacific News, 8 April 2005)
---
England - Elvis clones attempt record: It will be hard not to step on some Blue Suede Shoes later this month when Selfridges attempts to set the world record for Elvis impersonators performing at one venue. The Oxford Street department store hopes to attract more than 100 Elvises to perform Love Me Tender in full costume, in tune and in harmony, on Sunday 17 April. There is currently no record for a mass Elvis show but the Guinness Book of Records has agreed to reognise it as a new category. The record attempt will also take the form of a talent contest, with the best Presley in line for prizes including the chance to perform at a major Las Vegas casino. Other would-be Hound Dogs should call Gerry Cottle Jr on 020 7404 3000, or turn up at Selfridges at 9.30am on 17 April, in their own costumes and with the words to Love Me Tender memorised. (News, Source: Sanja Meegin/Evening Standard, London, 7 April 2005)
---
It's good to be impersonating The King: Sixty Elvis impersonators from around the globe will descend on the Queen of American Lakes this summer for the 2005 Lake George Elvis Festival. They'll celebrate The King of Rock 'n' Roll during a three-day event scheduled for June 17-19 at multiple village locations. For more information, a breakdown of ticket prices or a list of scheduled events, call 668-3773 or visit www.lakegeorgeelvis-fest.com. (News/Almost Elvis, Source: The Saratogian, 6 April 2005)
---
Flashback - The 50th Anniversary of Rock 'n' Roll: Davies Park (home of the GreazeFest) Jane Street, West End, Queensland, Australia, Sunday April 24, 2005 12noon to 10pm Dean Vegas 'Tribute to Elvis' The Big O Experience 'That'll Be The Day? A Tribute to Buddy Holly West Texas Crude Miss Teresa & Her Western Rhythmaires Hot Rod Show - Vintage Markets - Family Picnic - Dancing Licensed, food and drink available. Tickets $15 adults, $10 teenagers, $40 family foursome Website: www.flashbackfest.com (News, Source: Chris Bamford, 1 April 2005)
---
Don't be cruel? Elvis is slighted: After initially positive reviews, the new Elvis musical on Broadway, All Shook Up, is coming in for a reviewer battering! (Review, Source: Philadelphia Inquirer)
---
Presley may be rock 'n' rolling over in his grave: Unlike the review we published yesterday, USA Today wasn't very impressed with All Shook Up, the new Elvis musical on Broadway. (Show Review, Source: Sanja Meegin/USA Today, 26 March 2005)
---
All Shook Up hits Broadway: The latest Elvis musical, All Shook Up, has opened in Broadway to positive reviews. (News, Source: AP, 25 March 2005)
---
Named and shamed: The Elvis For Everyone site has started a section naming Elvis tribute artists with questionnable ethics and/or who deliver "poor" performances. (News, Source: Elvis For Everyone, 25 March 2005)
---
Elvis convention back in Toms River: Andrew Howard and Zanzibarmusic of Old Bridge will present the fourth annual Friends of Elvis convention as it returns to the Toms River Ramada Inn, 2373 Route 9, Toms River, on April 17 from 10 a.m. to 6 p.m. A number of Elvis impersonators will pay tribute to the king of rock and roll during the year of his 70th birthday celebration. A portion of the proceeds will be donated to Vetshouse, an organization that helps homeless veterans get back on track from problems with alcohol and drugs. Friends of Elvis donated $815 for cancer patients at its 2004 convention and $1,500 for Ocean County Arc Jan. 5. The event will include live, re-created concerts by professional impersonators from across the country, plus vendors of vintage Elvis collectibles, memorabilia, Elvis related toys, and more. Special guest author Sandi Pichon, author of Raised on Elvis! Elvis! Elvis!, will be on hand to discuss her story about how Elvis affected her life. Also appearing will be guitarist Bill Turner of Bill Haley and the Comets, plus Chris Presley, Ray Kaminski, Paul Aaron, Mike Marchitto, Paul Daniels, Mike Ratcliffe, Jim Smith, Joe Searles, Ray Hoffman, Gene Dinapoli, Roy Propes, Ron Parker, Ruben Castillo and Wayne Rippy. The finale will be performed by special guest Jerry El of New Jersey. This event is sponsored by Howard Enterprises, B&K Enterprises, and King Tracks. Tickets are $15 per adult and $12 for seniors and will be sold at the door. Vendors will be present for the duration of the show. For more information call (732) 901-5413. (News, Source: Andrew J. Howard, 22 March 2005)
---
| | |
| --- | --- |
| Visiting Hawaii?, then why not see Elvis: World famous Elvis impressionist, Jonathon Von Brana, presents his Blue Hawaii, the Show, nightly (except Wednesdays, at the Waikiki Beachcomber Hotel. Reviewers have commented positively on the show saying it is full of romantic ballads and high energy rock 'n' roll. Make no mistake...Elvis is alive! (News, Source: Memories of Elvis fan club, New Zealand, March 2005) | |
---
Elvis ready to rock: Elvis is returning to the building. World champion Elvis tribute artist Roy LeBlanc is to entertain on Sunday, April 3, at the 2005 St. Thomas Home, Garden and Outdoor Living Show. LeBlanc, a St. Thomas resident who won his title in 2003 in Las Vegas, is a home show favourite. And though his popular act last year took him as far away as Europe, LeBlanc says hometown audiences are a favourite of his, as well. That's why he continues to return each year to the Iron Horse Festival stage, for example. "I enjoy it. These are people who came to see me when I didn't have a band and I was just singing in a Legion." He's on stage at 1 p.m. LeBlanc hopes to make a return visit this year to Europe. And he's in talks to take his act on the road to China, where Elvis acts can command ticket prices which equal as much as two weeks' pay. LeBlanc also is setting up a Tour of Champions to showcase Elvis artists who have won titles at the annual Elvis festival in Collingwood, Ont. LeBlanc was named best professional Elvis in 2001 at the festival, which attracts an international roster of competitors. (News/Almost Elvis, Source: St. Thomas Times Journal, 11 March 2005)
---
Look-alike treat for Elvis fans: British Club members and guests have something to look forward to next week. An evening featuring comedy and Elvis is being held at the club's Windsor Room. Elvis fans are in for a treat as a look-alike, Elvis Brettini, aka Damian Brett, will be performing at the event. Damian was enticed from a career as a successful tri-lingual sales professional to become a tribute to the King of Rock and Roll. His professionally trained vocal skills developed during his early years singing in his school choir and have allowed him to sing just like Elvis. "People know what they want from an act like mine," said Damian. "They know the difference between a good Elvis and a bad Elvis. Damian has performed all over Europe and the US, including appearances at the Stardust in Las Vegas, as well as the International Elvis Convention in Nashville, Tennessee. (News/Almost Elvis, Source: Gulf Daily News, 9 March 2005)
---
Wisner searches for a few good Elvises: All eyes — smiling, Irish or otherwise — may take a second glance when Wisner city stages its St. Patrick's Day celebration March 19. That's when the first — and perhaps last — Elvis Lookalike Contest gets under way. In a salute to this year's festival theme, "Sham Rock and Roll," the Cuming County town far better known for Hibernian heritage than Graceland genealogy has invited Presley wannabes to strut their stuff during the 3 p.m. parade. Cindy Goeller, president of Wisner's Chamber of Commerce, said the contest is an attempt to duplicate the fun of the 2004 parade when participants dressed as political candidates under the election-year theme, "Blarney for President." Wisner citizens appear to be taking the 2005 challenge seriously, Goeller said. "Reports have been coming in of area sightings of Elvis," she said earlier this week. Although impersonators of "The King" will not be required to belt out "Viva Las Vegas," "Devil in Disguise" or any other Presley hit, Goeller said an impromptu performance during the parade couldn't hurt. The winner will be revealed at a 5 p.m. community dinner at Wisner City Auditorium. Goeller said cash awards of $200 for first place and $100 for runner-up should incite some contestants to grow — or glue on — sideburns and find a guitar. No pre-registration is necessary, which might keep some suspicious minds all shook up. (News, Source: Fremont Tribune, 4 Mar 2005)
---
Evil Elvis: An Elvis impersonator faces arrest for an internet harassment campaign on a rival. It began when a website claimed Steve Preston, 50, was No1 in the country's top 10 Elvis acts. Professional performer Louis Rockafella, 43, found bookings dried up after the site listed him under "amateur acts" and carried links to attacks on his singing and outfits. He and wife Janet, 32 - his manager - discovered the "independent" site was Preston's work. Louis, of Ormskirk, Lancs, said: "The work has just disappeared. Our livelihood is at stake." Preston was sent solicitor's letters threatening to sue for defamation and malicious falsehood. He told Louis' lawyers he would remove the slurs and not repeat them. But messages on a fans' site hinted Louis' web address was for sale and might be used for porn. Preston sent Janet emails including a picture of her with a lizard's head. Preston, of Haslingden, Lancs, refused to comment. Police said: "If undertakings are not given or the behaviour recurs, he will be placed under arrest." (News/Almost Elvis, Source: mirror.co.uk, 14 Feb 2005)
---
Harrodsburg resident idolizes, impersonates Elvis: Jason Paul Sester was only about a year old when The King himself, Elvis Presley, died in 1977. But that hasn't kept the Harrodsburg resident from idolizing this legend from a previous era. (Almost Elvis, Source: The Advocate-Messenger, 10 Feb 2005)
---
Greg Page & members of TCB Band touring "downunder" in March 2005
---
Elvis all shook up over C-charge dodger: A crafty congestion charge dodger has left a Bar Hill couple all shook up - by impersonating an Elvis impersonator. (News/Almost Elvis, Source: Cambridge Evening News, 3 Feb 2005)
---
| | |
| --- | --- |
| Billy Rebel "Tribute to the King" CD/tape now available: Billy Rebel's "I Remember His First Love Song" (Socan & Ascap) 25th Anniversary Tribute To The King-Special Edition Single. (Professionally packaged and sealed in jewel case and tape cover.) CD & Tape: $29.95 CD only: $19.95 Tape only: $14.95 (In Canadian Funds). (Prices include Shipping & Handling.). US orders add $3.00 on top of above prices. Overseas add $5.00 on top of above prices. Make cheques or money orders ONLY to: NTS Global (Please do not send cash.) Forward order to: NTS Global 7975 Rue, Malouin Montreal, Quebec Canada H1P 3C3 Pls. allow 3-4 wks for delivery. (News, Source: Billy Rebel, 28 Jan 2005) | |
---
Japanese Elvii square off: Tokyo celebrated Elvis' 70th birthday by holding an impersonation contest. The official Elvis Presley Fan Club of Tokyo organized the event. Both men and women took to the stage, singing their favorite Elvis tunes. Office worker Tatsuro Nagatas won the competition. (News/Almost Elvis, Source: Google News, Jan 2005)
---
9th Annual Elvis Invitationals: The Experience Music Project will host the ninth annual Elvis Invitationals on Friday in Seattle. Amateur impersonators in full costume will get the chance to swivel their hips and perform one song backed by the Memphis Mafia band. Performers are competing for more than one-thousand dollars worth of prizes. Winners will be determined by a combination of an audience clap-o-meter and panel of judges. (News/AlmostElvis, Source: Fox 12, 27 Dec 2004)
---
---
| | |
| --- | --- |
| Almost the real thing: You'd think it was almost Elvis, as Jason Netherton takes to the stage with his impersonation of Elvis Presley during his young and lean years. There's no mistaking those side burns. Or the long strands of black hair that continue to fall forward onto Kelowna actor Jason Netherton's face. (Almost Elvis, Source: Yahoo News, 1 Dec 2004) | |
---
---
Tragedy at Elvis Convention: Elvis tribute artist Larry Hass, age 54, collapsed on stage during a performance at the Elvis Explosion competition and convention in La Crosse. He was rushed to hospital where he later died. (News/Almost Elvis, Source: La Crosse Tribune, Sep 2004)
---
2004 Images of The King winner already on the road: David Lee, fresh from taking this year's crowns as winner of the Images of the King contest in the US and the Collingwood, Ontario contest in Canada, is headlining a charity event. (Almost Elvis, Source: Daily Home Online)
---
2005 Elvis Convention: Registration is now open for next year's Elvis Convention in the USA. Fifteen Elvis tribute artists will be chosen by the organisers to perform and there will be plenty for fans, including the entertainment, a continental breakfast and raffles. The theme for the event is The Las Vegas Years and it will benefit Cancer Patients and Vets House. The convention will take place on 17 April 2005. For further details contact Andrew J. Howard (Elvis News, Source: Andrew J. Howard, 28 July 2004)
---
The TCB Band Back in Australia in 2004: Following a series of highly successful concerts in Australia in late 2003, the legendary TCB Band will be appearing with Australia's premier Elvis tribute artist for "one night only" in August 2004. (Source: Mick Gerace, 18 June 2004)
---
New Tribute CD released by Jim Vanhollebeke: many thanks to Pete Smith for this information. (Source: Pete Smith, 24 June 2004)
---
King of Elvis impersonators crowned: the Elvis Academy in Britain crowns a new King. (Source: Google, June 2004)
---
The TCB Band & Mick Gerace rock Sydney (December 10, 2003)
---
| | |
| --- | --- |
| The TCB Band will be appearing in Sweden in April, 2004, together with The Sweet Inspirations: | |