---
RCA have given us 'On Stage' in various forms and FTD also released the December 15th Midnight Show on 'Polk Salad Annie' - while the opening & closing soundboards have been out on the bootleg Madison label. However no one has given us the complete package plus 13 unreleased RCA tracks, along with a very stylish 100-page book to go with it.
This truly is a sumptuous release and it's only a shame that FTD didn't come up with the idea first, as every fan should have the opportunity to purchase this gem.
Book Design - "The New Decade Would Have Belonged To Him" –
This long-box 4cd presentation (like 'Close Up', 'Today, Tomorrow & Forever') is the perfect size for 100 pages of beautiful Elvis photos. With only one season to show over 100 pages, the overall effect is far more satisfying that the recent mammoth 'Fashion For A king'.

Elvis was truly at his jumpsuited peak in 1970 and the Jan/February season saw him wearing the very first of the sleek Bill Belew jumpsuit designs. Elvis looked slim, sexy and gorgeous – and happy to be back on stage performing to his fans. The photos are in fabulous sharp quality and there are plenty I have never seen before.

The book is divided into several sections. The first section features the main course of 78 pages showing Elvis on stage, along with an interesting essay by Miles Pergallon.

The layout is very appealing and stylishly laid-out. Personally I would have loved to see some of the smaller photos in a bigger size but that would have meant an even larger book!

There are also several pages of fine memorabilia, including International Hotel give-aways and interesting newspaper clippings of the time.

"Like a Hissing Wild Cat he jumped about on stage"

Section 2 discusses The Album 'On Stage'. This is a look at the production, with lists of all the personnel involved, along with an explanation of how the Felton Jarvis' 1970 overdubs unfortunately removed some of the real on-stage excitement that had been recorded.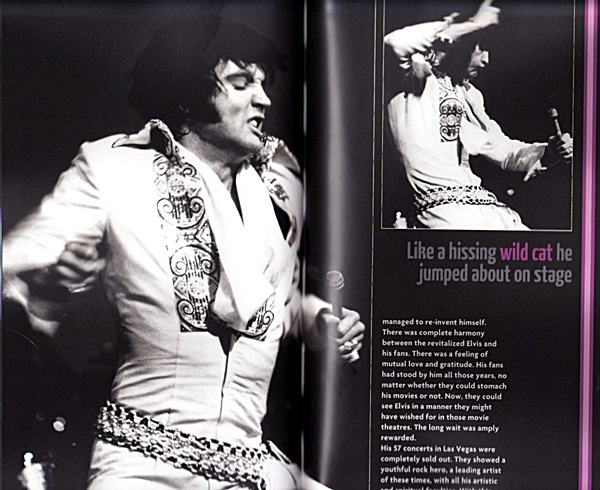 A scanned double-page - the poor highlighting is due to me not wanting to break my valuable book!
Finally there is a 9-page segment about the jumpsuits Elvis used. While containing some interesting photos, the descriptions have surely been taken from the Flaming Star fan club magazine since they start to read all too similarly to the rather annoying 'Fashion For A King' text.
Overall though the book is a fabulously stylish design, 100 pages packed full of Elvis looking at his Adonis-best and a top-notch presentation.
The Music.
Worth noting about this season are the multiple musical highlights that are all captured within this tremendous box-set.
'That's All Right' – A one off performance, Elvis had not performed this song "on stage" since 1961.
'Proud Mary' – The first time on Elvis' set-list, only returning as a regular song in 1971.
'Don't Cry Daddy' – Another first and Elvis would drop it after the March 1970 Astrodome concerts, except for the famous one-off August 13th 1970 TTWII version.
'Long Tall Sally' – New to Elvis' set-list this season, and on the Closing Show he would accompany the band on the piano!
'Let It Be Me ' – Only sung at this Vegas season, includes the very first and last versions.
'Walk A Mile In My Shoes' – Another new song, and again Elvis' final version would be the August 13th 1970 TTWII show.
'True Love Travels On A Gravel Road' - Elvis' only live version.
'Sweet Caroline' – A concert favourite and brand new to Elvis' set-list this season.
'Polk Salad Annie' – An almighty new addition to Elvis' set-list.
'The Wonder Of You' – A brand new song and the very first attempt became the single master! Elvis would for some reason only perform the song twice this season.
'Release Me' - Again Elvis only tried three attempts on this new song this season, bringing it occasionally back through the years and then in his very final 1977 concert.
'C.C Rider' – Another brand new song that would become so famous two years later as Elvis' intro song.
'Kentucky Rain' – Elvis' very first live version of his single, performed for the last time at the Astrodome the following month.
'It's Now Or Never' – Amazingly the Closing Night show was the first live version since 1961.
CD.1 – Opening Show - January 26th 1970.
After a quick warm-up by comedian Sammy Shore, Elvis bursts on stage pumped full of raw energy tearing into 'All Shook Up'. In this season Elvis' growl and excitement and song selection places the feel of this Las Vegas season truly between the punk-power of his 1969 "return of the prodigy" and the TTWII season filmed by MGM the following season.
Elvis announces 'That's All Right' "my first record, Ladies and Gentlemen" and a dynamite full-on rocking version follows. This is extraordinary for the fact that Elvis never sang this classic song again until the TTWII August season for the MGM cameras, nor did he sing live at all in 1969! As such an important song it is strange that this appears to be a "one off" for this season and it's a blistering performance.

Elvis notes afterwards "If I appear a little shaky that's because I'm a little shaky!"

Fans who previously own this concert via various bootlegs will know that Elvis' microphone is pretty overdriven on the original recording. This is noted in Rebooked showing the tape box with a note from Joan Deary herself stating "mic overload severe". A previous release on the Madison label applied various audio filters to get rid of some of the annoying peaks – but then left the sound a little muffled. Here the sound is far clearer from the original tape, albeit not hiding the mic overload so much on the hard rockers.

CD 1 OPENING SHOW - January 26,


Sammy Shore (Comedy Act)* Unreleased


Opening Vamp
All Shook Up
That´s All Right
Elvis talks
Proud Mary
Don´t Cry Daddy
Teddy Bear/Don´t Be Cruel
Long Tall Sally
Let It Be Me
I Can´t Stop Loving You
Walk A Mile In My Shoes/In The Ghetto
True Love Travels On A Gravel Road
Sweet Caroline
Polk Salad Annie
Introductions
Kentucky Rain
Suspicious Minds
Can´t Help Falling In Love
When Elvis welcomes his fans he says, "I'd like to do some songs for you that were recorded by other people, and different things," before teasing the audience with one line of "Everybody Loves Somebody" in his Dean Martin voice!
Indeed tonight Elvis introduced ten " brand new" songs to his Vegas setlist (including 'That's All Right') and what a treat it is to hear these for the first time live.

- 'Proud Mary' taken at a slower tempo than later versions and with a simple drum-roll ending. Sadly this does suffer peak audio distortion.

- 'Don't Cry Daddy' a beautiful, delicate version with excellent orchestral arrangement placed well in the mix,

'Long Tall Sally' "my message song for the night" he jokes, hammering into the song with absolutely fury, rocking out like it was still 1956!

Changing the incredible pace Elvis then announces "One of my favourite songs that has been recorded in the last 4 or 5 years"

'Let It Be Me ' is such a treat. It suites Elvis' voice so well and the arrangement, with some delicate James Burton guitar, is just gorgeous. Sadly Elvis would only sing this number during this Vegas season, never coming back to it.

'Walk A Mile In My Shoes' is also new and tellingly linked to 'In The Ghetto' stating the clear message "people on reservations and out in the ghetto"
'True Love Travels On A Gravel Road' luckily the absolute gem of this concert, Elvis' only live performance of this song, hardly suffers from the mic overload and is the best version yet released. Elvis puts his soul into the lyrics "love is a stranger and hearts are in danger" getting into the emotion of the song. The orchestration is excellent and Elvis' performance quite delicious. While we now know Elvis rehearsed it for later concerts (see FTD 'Stage Rehearsal'), he never did perform it again which is a real shame.
'Sweet Caroline' – "A record that came out this year by a good friend of mine, recorded in my home-town Memphis" really demonstrates the difficulty of performing so many new songs in one concert with Elvis sounding a little unsure of the pacing. Elvis jumps the gun on the song's final reprise stopping the band "Hold It Man, we blew that wide open!" While they do go on and finish the reprise this night, the idea is dropped for further performances. Elvis jokes afterwards "well, that's four mistakes for the night!"
'Polk Salad Annie' - "Let's go down to Louisiana, baby" Elvis tells the fans as he introduces a new song that would become a classic in his repertoire. It's a little slower than future versions and has a James Brown horn arrangement with some cool James Burton guitar licks. Elvis tells us of this "Wretched spiteful straight-razor toting woman" for the very first time! A full on power ending with drummer Bob Lanning going crazy on the drums. It's a wild "rehearsal" for the Feb 18th Midnight Show recording that would become the classic Album Master.
'Kentucky Rain' - "I got a new record that just came out, I hope you like it" is a beautiful first version, even if everyone sounds slightly unsure of the tricky stop-start pacing. On this initial attempt Elvis fluffs the lyric at the start of the second verse.
In this second Vegas season 'Suspicious Minds' was still the key song of the setlist and Elvis produces a show-stopping performance pushing it to a full 6 minutes. Afterwards you can hear the standing ovation as Elvis gasps for breath, laughing with the joy of it all.
Elvis was back (again), his second season would be another smash success.
'Can't Help Falling In Love' concludes the amazing hour.
With so much energy, intensity and new-songs packed into one-hour this was one of Elvis' standout Opening Shows.
I suspect the only reason FTD have not released this essential concert soundboard is due to the trouble with the peak audio distortion on Elvis' vocal. However I still suspect any FTD upgrade of 'On Stage' would include several of these "first time" numbers.
CD.2 - "On Stage" The Felton Jarvis rough mix.

This 'On Stage' album is interesting for being the original rough tape with no overdubs.
The two fill-in 1969 songs 'Yesterday' and 'Runaway' don't feature but we do get the 1970 'I Can't Stop Loving You' version as a bonus. While this track was used on the 1999 'On Stage' re-release it was never used on the original album, presumably because it had already featured as a live track on the previous year's 'In Person'.

The mixes here are without overdubs and so present the show as genuinely recorded 'On Stage.' Elvis' vocal is more upfront and the overdubbed orchestral sweetenings absent.

The overdubbed fake audience is missing BUT the real audience screams of the front row girls are much more present, adding more of the "genuine" live feel.

CD 2

(Unreleased in its original form)


ON STAGE - Felton Jarvis Rough Mix
See See Rider (Feb. 18; DS)
Elvis talks (Feb. 18; MS)
Release Me (Feb. 18; MS)
Sweet Caroline (Feb. 16; DS)
Elvis talks (Feb. 18; DS)
The Wonder Of You (Feb. 18; DS)
Polk Salad Annie (Feb. 18; MS)
Elvis talks (Feb. 16; DS)
Proud Mary (Feb. 16; DS)
Walk A Mile In My Shoes (Feb. 19; MS)
Let It Be Me (Feb. 17; MS)
I Can´t Stop Loving You (Feb. 19; MS)
On all the tracks the orchestra is more in the background giving a real punch to the rockers like 'C. C. Rider' and the audience screaming 'Polk Salad Annie.'
Of course we also get the full on stage banter with the crowd, plus the "Forgive us if we goof it up" that Elvis notes before astonishing 'The Wonder Of You'
It's fascinating to listen to these so well-known songs as they were originally recorded, like the classic "The Wonder Of You' without the sweetenings or 'Release Me' with the band and Elvis genuinely "Playing it hard"!
'Let It Be Me' a song that I adore from 'On Stage' sounds very different here without the overdubbed strings and background fills and it leaves Elvis sounding much more intimate with his pleading vocal.
This version sounds raw and personal, whereas the Master version instead surrounds you with lush orchestration still pulling at your emotional heart. Both move me a lot
Without the recent Vic Anesini remaster of 'On Stage' it would have been an easy choice which is my favourite sounding 'On Stage' CD - but now I have two great versions to enjoy!
Note that a previous version of this rough mix was released a while ago on a bootleg called 'Good Times Never Seemed So Good' taken from an acetate but this sounds very different and has a different tracklist.
The overall sound quality is excellent and this rough-mix would work very well on an FTD 'On Stage' Classic Album as they did with the 'Today' FTD album release.


Disc 3 - Feb 18/19 Dinner Shows + Bonus tracks – 78 minutes

For most fans this CD featuring 13 unreleased RCA recorded tracks from this stunning season will be the real reason for buying this box-set. RCA recorded parts from 9 performances and here we have the tapes from the Feb 18th Dinner Show and Feb 19th Dinner show - plus 10 Bonus tracks. The sound quality is excellent being ex a multitrack professional recording.
Note that the Feb 15th Midnight Show was previously released on the FTD 'Polk Salad Annie'.
FEB 18 Dinner Show
The Dinner Show from February 18 is fascinating since it was only that afternoon that Elvis and the band rehearsed the three new songs they needed to complete the new LIVE album. It is somewhat unbelievable that this was a last minute decision for new content added three absolute classics to Elvis' concert repertoire and here you have them as first performed live on stage.

The CD starts out with a hilarious false start to a rocking 'Long Tall Sally' "Wait a minute man, I ain't ready to tell Aunt Mary nothing yet" Elvis laughs as he halts the band. In fact Elvis seems in a very humourous mood this night giggling with the audience and telling Charlie to a suggestion for "Are You Lonesome Tonight" that "I forgot that song man!".

'Don't Cry Daddy' is excellent and one wonders why Felton Jarvis didn't choose to include this song in his selection for 'On Stage' or even 'Kentucky Rain' making it a great 12 track album.

The single version of 'The Wonder Of You' came from this concert, Elvis' very first live performance of the song. Interestingly I have always thought the tempo changes mid-song as drummer Bob Lanning slows it down slightly before the second verse!

Strangely after only two attempts Elvis would not bother performing 'The Wonder Of You' again until the famous TTWII 'Red Ladder' jumpsuit August 13th 1970 version and the song being a smash hit.
'Release Me' Is a fabulous first version "play it Jerry Lee" says Elvis and then he fluffs the lyrics to the first chorus! This was never going to be the Master! The following Midnight show would produce the "play it hard now" classic album version.
'Polk Salad Annie' – Elvis' flu gets to him and he coughs a few times mid song but it is a very tight version with some excellent Glen D Hardin piano in the mix and tight rhythm section. A sort of fine "dress rehearsal" as the following Midnight Show would also produce the Album's classic version. Everything was in place as long as Elvis didn't cough or laugh! Felton Jarvis must have been on tenterhooks!
FEB 19 Dinner Show

None of the RCA recordings from this performance made the 'On Stage' release and right at the start Elvis points out that there is electric background buzzing coming from his microphone "A bunch of bees man! That is probably going to drive me totally insane". In 'Don't Cry Daddy' the buzz returns and Elvis even suggests "We'll let the bees do a chorus!"

It certainly is an issue that would stop these tracks from being chosen but does not distract from one's enjoyment of the recording.

'Proud Mary' A cracker version – one of the very best - which has a false start due to technical problems, "We just lost all the electricity!" but doesn't stop Elvis enthusiasm for the song singing his soul out.

While this song was also released on FTD's fine 'Polk Salad Annie' compilation here the sound is much brighter (lots of cracking percussion making it sound better) and the false start was also edited out of the FTD version.

'C. C. Rider' also gets a full-on funky work-out, another one of the most intense versions. These mid-concert rocking versions are intriguing to compare with Elvis' later intro versions.

Of course being early 1970 all the songs are performed with the intensity of Elvis on full-power, despite his struggle with his cold and cough. Great versions of 'Kentucky Rain', 'Walk A Mile In My Shoes', 'Release Me', a rocking 'I Can't Stop Loving You'.

CD 3

*Denotes as unreleased


February 18, 1970 - DINNER SHOW
Long Tall Sally* (incl. false start)
Elvis talks*
Don´t Cry Daddy
The Wonder Of You
Walk A Mile In My Shoes*
Release Me*
Polk Salad Annie*
February 19, 1970 - DINNER SHOW
Elvis talks
Proud Mary

(incl. false start)


Elvis talks
Don´t Cry Daddy*
Elvis talks*
Kentucky Rain*
Let It Be Me*
I Can´t Stop Loving You*
Walk A Mile In My Shoes*
Elvis talks (0:43)
Release Me
See See Rider
BONUS TRACKS
Hound Dog (Feb. 15, MS)
Love Me Tender (Feb. 15, MS)
Walk A Mile In My Shoes/In The Ghetto (Feb. 15, MS)
Kentucky Rain (Feb. 16, DS)
The Wonder Of You (Feb. 18, REHEARSAL, Vs 1)
The Wonder Of You (Feb. 18, REHEARSAL, Vs 2)
The Wonder Of You (Feb. 18, REHEARSAL, Vs 3)
Release Me (Feb. 18, REHEARSAL)
See See Rider (Feb. 18, REHEARSAL)


Walk A Mile In My Shoes (Acetate - Feb.18, )
Another beautiful 'Let It Be Me' has Elvis commenting mid-song "Don't hold back Charlie, play!" as well as demanding a "Spotlight!" on James Burton for his solo!
One of the strangest comments is Elvis telling the audience he had only recently woken up "I get up at six o'clock in the evening" and after a fast number his mouth tastes of bacon! I'm not sure I want to know that.
During his onstage chats Elvis is in fine form joking "Anyone know what we're doing? Cos I don't, I lost control hours ago?" and explaining that its ridiculous to say "Hang Loose" to a woman!
Elvis also throws in two lines of 'Funny How Times Slips Away' saying "That's all I know". Elvis wouldn't record the song until June 1970, finally adding it to his concert setlist in September 1970.
Bonus Tracks
Ten tracks covering other important songs from the RCA recordings, including the all-important Feb 18th rehearsals of the news songs but most previously released officially.
We have the 'Kentucky Rain' Master version from Feb 16th Dinner Show, as well as the 'Walk A Mile In My Shoes/In The Ghetto' complete medley.
The final track 'Walk A Mile In My Shoes' is listed as being a Feb 18th rehearsal but is obviously an on-stage version with audience applause. Further investigation shows that it is actually the Feb 18th Midnight Show performance.
(Thanks to Keith Flynn – check out his great Elvis Sessions website here).
CD - Closing Show Feb 23rd 1970. – 58 minutes

What could be better rounding off this package than a great sounding Closing Night performance. The season is over, Elvis has a holiday in his sights and he's up for some fun.

While this has been previously released on bootleg, this version has a fabulous full sound with more treble and funkin' bass, no microphone overload distortion and a little bit of reverb added giving it a fine live concert feel.
With the bass not filtered there is however some low-frequency tape flutter noticeable during the quiet sections and when Elvis talks. But overall the audio quality beats any previous version hands-down.

The setlist is similar to the Opening Show but with a few nice differences. Again Elvis sounds committed but without that "opening night" extra energy.

It was only on 'Opening Night' that Elvis sang 'That's All Right' as his second song and for the rest of the season the regular 'I Got Woman' was used, which tonight was a rockin' serious version with no messing around mid-song.
Of course Elvis is playful throughout the show since it is the Closing Night, mucking about with a pet turtle and teasing the audience with the Ed Sullivan tiny guitar patter that would become famous in his TTWII shows. Similarly in an otherwise committed 'Sweet Caroline' Elvis sings "and then the spring became the mattress" line.
Elvis also jokes about 'Hound Dog', "I really don't feel like doing this song, you know that? A lot of the times I wish I was the type of performer like those guys that sing 'Everybody loves somebody, sometimes' - but I can't do that, see? You know I have to get the body movin' whether I like it or not!"
In fact 'Hound Dog' was not a regular in his setlist this season and you can tell Elvis enjoys it more than usual.

'Love Me Tender' is cute since one of the fans who come up to get a kiss is Priscilla with the crowd well-aware of whom she is. Elvis jokes "I recognise that girl!" as well as truthfully telling all his lovingly kissed-fans, "Oh, I forgot to tell you I've got the 'flu!"

The new songs 'Don't Cry Daddy' etc are all performed well, with 'Kentucky Rain' – his last Vegas performance - extremely well done.

'C C Rider' rocks out with Elvis really enjoying the call & response from the Sweets. Oddly this would be his last version, until coming back as his introduction song two years later.

The fabulous 'Let It Be Me' also gets a committed performance, the very final live version.

CD4 - CLOSING SHOW - February 23
Opening Vamp
All Shook Up
I Got A Woman
Long Tall Sally
Elvis talks
Don´t Cry Daddy
Elvis talks
Hound Dog
Love Me Tender
Kentucky Rain
Let It Be Me
I Can´t Stop Loving You
See See Rider
Sweet Caroline
Polk Salad Annie
Elvis taking a break
Introductions
Blueberry Hill (Elvis at the piano)
Lawdy Miss Clawdy
Heartbreak Hotel
Elvis talks
One Night
It´s Now Or Never
Suspicious Minds
Elvis talks
Can´t Help Falling In Love
Announcement
'Polk Salad Annie' rocks with Elvis adding some karate action and some fine "chick-a-boom" interaction with the Sweets slowing building up to a totally explosive ending. It's no wonder that tonight Elvis takes some time out to recover. This features a fabulous extended "hey, hey I feel alright" funky Polk continuation by The Sweets, as Elvis relaxes. This is a great and unique addition to this Closing Night.
At one point Elvis oddly jokes with a fan, "That's the blackmail picture isn't it!"

Another unique moment was when Elvis decides to play the piano, "this is something I very seldom do. Hang Loose." We get an impromptu 'Blueberry Hill' instrumental before Elvis sings a very fine 'Lawdy Miss Clawdy' including the mid-song piano break. Elvis jokes, "I used to be known as Fats Domino, but I lost weight!"

More 'Closing Night' treats follow when Elvis agrees to an audience request for 'Heartbreak Hotel.' Another fine version, this would be the only time Elvis sang this classic in the whole season.

Elvis then straps on his electric guitar noting, "I can't do 'em all folks, but I'll do some of them! I've recorded 480, I'll do 462 of then."
This leads into a fabulous and passionate take of 'One Night'. This would only be his third live version on stage, before adding it as a regular for his TTWII MGM filmed season.

Amazingly Elvis then asks the band, "Do you guys remember It's Now Or Never?". It seems that it may never have been rehearsed, as this is the earliest full live version. It's a fabulous, passionate first version with Elvis guiding the band noting "Too soft" and other instructions. What a Closing Night treat!
Elvis would rehearse it for the TTWII season but would still not sing it on stage until January 1971!
After a committed 'Suspicious Minds' Elvis thanks various staff who have helped with the season including Lamar Fike his lighting man and Bill Porter on sound.
Then there's the sad embarrassment when Elvis tries to thank Colonel Parker honestly telling the audience "He's not only my manager, but I really love him. Where are you Colonel?" only to find out that Parker was in the casino and not even watching this great show. Elvis has to add an uncomfortable "Sorry about that!" No wonder Elvis started to have more issues with his manager.
Elvis then thanks the audience and plugs his first US 1970 tour at the Texas Astrodome before 'Can't Help Falling In Love' wraps up this great show.
This is another stunning performance that should definitely get official release.

Overall Verdict: Out of the blue, and released so fast it may well have already sold out, this is a true Elvis collector's dream box-set. The packaging is superb, any previously released bootleg material sounds much improved, the RCA unreleased material is sensational, and it is a stunning debut for the Backdraft label. As I commented at the start, this truly is a sumptuous release and it's only a shame that FTD didn't come up with the idea first, as every fan should have the opportunity to purchase this gem. I have heard not one bad report from anyone who has been able to obtain this box-set - and that's a real rarity in this pernickety Elvis collectors world!
Review by Piers Beagley.
-Copyright EIN September 2011
EIN Website content © Copyright the Elvis Information Network.
Note - EIN does not support bootleggers since they do deprive songwriters & musicians of their well-deserved earnings. Nor does EIN ever sell bootleg material. There is however no doubt that FTD/BMG need to check on these superior upgrades for possible future collector's releases.