---
A 5-CD SUPER-DELUXE BOX SET FEATURES STUDIO & LIVE RECORDINGS, AN UNRELEASED LIVE CONCERT, INTERVIEWS, AND A LAVISHLY-ILLUSTRATED, DAY-BY-DAY TIMELINE OF ELVIS IN 1956
All presented in a large deluxe box that is in a retro 12" x 12" Vinyl LP size box.
All the tracks have been remastered by Vic Anesini who did such great audio work with The Complete Elvis Presley Masters box-set (look here).
Back in March 1956 an RCA promotional poster billed Elvis Presley as a "Young Man with the Big Beat". There is no doubt that the billboard's designers would have had no idea what an impact that BIG BEAT would have on future generations, shaking the very ground of the until now easy-listening entertainment world.

Freshly poached from Sam Phillip's SUN Records and entering RCA studios for the first time in January 1956, Elvis was about to embark on a career with RCA Victor that would change the face of popular culture forever.

The explosion of Elvis Presley's career on RCA Records during the 12 months of 1956 was an unbelievable evolution. By the end of that fateful year the rockabilly singer from Memphis, whose audience was rooted in the deep Southern states, would be the most famous person in the world. How did it happen? In one word: music.

YOUNG MAN WITH THE BIG BEAT features one of the most extraordinary books every created at Legacy. The focal point of the book, spread across its 84 pages is a unique, day-by-day chronology of Elvis' iconic year, including every concert, every recording date, every television appearance, personal events in Elvis' life, and much more. A dazzling photo array of memorabilia will illustrate each day and entry. Concert ticket stubs, RCA memoranda, letters from fans, postcards from Elvis to his family, tour itineraries, magazine covers and articles, trade charts, fan club relics, RCA publicity photos, concert photos, candid photos, and more will be a feast for the eyes and the imagination as 1956 unfolds. The book was assembled by Elvis expert Roger Semon.
The Package.
The design is stunning; there is no doubt that this is the most stylish official Elvis product ever released! Celebrating Elvis' classic year of 1956 the design is perfectly "retro" with the box the same size as one of those old LP vinyl box-sets. Inside is the 84-page book, a fold out cardboard "double album" that contains the five CDs and an envelope with a delicious selection of 1956 'memorabilia'.
Being 12 x 12 in size means that the photos of Elvis are not only beautiful but also large size.
The front shot of the book is a stunning Wertheimer image of Elvis in the studio at the all-important Hound Dog session. He is looking serious and with his guitar reversed - possibly tapping the back for another take of 'Don't Be Cruel'.
The quality and size of the photos is very impressive and while the book also features plenty of unreleased new photos (a rarity in a SONY "general public" release) the familiar images also look sensational with every hair and mark on Elvis' skin in sharp focus! Plenty of these you will have never previously seen in such great quality.
A double-page spread from the book, demonstrating its coffee-table size format against a regular CD
The book starts with a 3-page introduction by Ernst Jørgensen and Roger Semon nicely setting the scene for the amazing 12 months that followed....
On January 27, RCA issued its first official new recording by Elvis Presley under the optimistic headline, "the most talked-about new personality in the last 10 years of recorded music." Initially, it had little impact, until Parker's dream was fulfilled with Elvis appearing on CBS-TV's Stage Show hosted by Jimmy and Tommy Dorsey on January 28. On February 11, Elvis appeared again, this time singing "Heartbreak Hotel."
With impeccable timing on March 2, Parker announced to his attorney that he had severed his working relationship with Hank Snow and that Bob Neal no longer had any business association with Elvis – the stage was well and truly set. On March 3, after more TV shows, "Heartbreak Hotel" debuted on Billboard's singles chart at #68, and the magazine stated: "A WINNAH! Presley Hot as a $1 Pistol."
In Billboard's publication of April 28, it reached #1 on the chart and by May the same publication referred to him as "a Phenomenon." By the end of 1956, Elvis had racked up sales in excess of 10 million singles, 3 million EP's and 800,000 albums in the U.S. alone.

This set celebrates this unparalleled musical achievement; it documents the extraordinary cultural impact his musicality had on post-war America and the rest of the world in 1956. It is also a testament to Bill Black, D.J. Fontana, Scotty Moore, The Jordanaires and all the talented musicians who complemented Elvis on these historic recordings.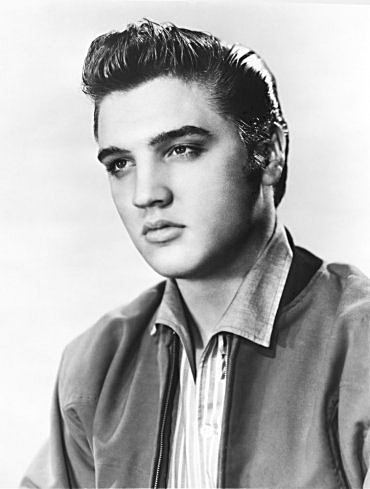 There is a great shot of a young Elvis receiving the "Most Promising C & W artist Award" in November 1955. (right) Interestingly it was this that caused Steve Sholes to up RCA's offer to Sam Phillips by an incredible $10,000 on top of the $25,000 already offered. A very large amount for the time for a relatively "unknown" singer.

There is also plenty of fascinating memorabilia like press-cuttings, personal letters, telegrams and RCA bulletins to explore. There is a rough, unfinished copy of Elvis' November 1955 RCA contract ("A minimum of 8 record sides a year shall be recorded each year"), as well as a telegram from Colonel Parker to RCA about the $35,000 contract that interestingly states, "Personally I believe the price is too high but the talent is there"!
The book then continues with an almost day-by-day diary of this fantastic year. While similar in concept to Peter Guralnick's and Ernst Jorgensen's 1999 book "Day By Day" the details are not identical, and the design with plenty of photos and memorabilia make this a first class presentation of this exhausting year.
It IS still astounding what Elvis achieved in this pivotal 12-month period and one tends to forget just how much he managed to pack in. Not only his famous TV shows and recording some of the most life-changing music of all-time but also screen tests, completing his first film, his on-going Hayride commitments plus over 230 concert performances, even a relationship or two – and Elvis seems to be getting a speeding ticket every week! No wonder he collapsed from exhaustion!
While we are all familiar with the Wertheimer photos, it is the other assembled images from other collections that really impress. I have never seen the David Hecht February publicity shot (shown above) in such amazing quality before, similarly the outstanding alternate Tampa Armory shot. Even better for collectors are the brand new photos – like the stunning front cover - recently discovered by Michael Rose. Over 200 of these new photos will be in the forthcoming FTD book "Four Days in 1956".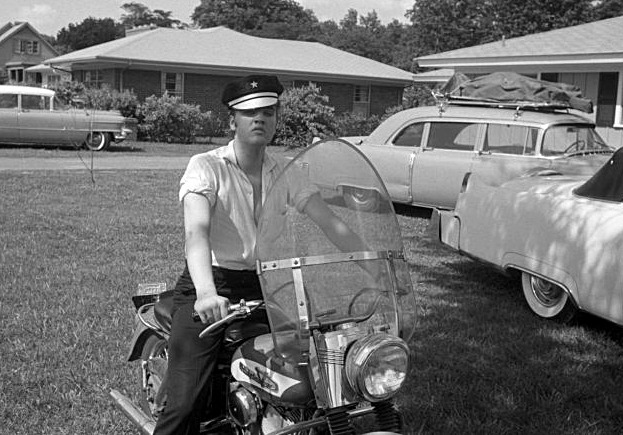 The pictures are a nice mix of Elvis being dynamic on-stage, serious in the studio, on the stage-set, plus some lovely candid moments with family & friends and looking contemplative on his own. The fury and power of his On-Stage antics – which Elvis talks about in the interviews – are balanced with some lovely shots of Elvis relaxing, in particular a wonderful shot of him playing pool with his father and relaxing at his Audubon Drive home.
There is also an envelope of artefacts; several of these would look very nice if properly framed. There are five extra '8x10' photos not featured in the book including a lovely one of Elvis looking a million bucks just relaxing and playing pin-ball (see below), a Vegas Venus Room flyer, the famous "YMWTBB" poster for the first LP (above), and my favourite, the Feb 5th Mosque poster for Elvis' two performances where the show is mistakenly publicised as "Elvis Presley and the "Blue Mooners"!

The Music.
All five CDs have been mastered by audio engineer Vic Anesini and the sound is stunning. For 55-year-old recordings the audio quality on the Studio Masters is quite astounding. Another real delight for me was seeing the wonderful RCA Victor logo, with Nipper the dog, back on Elvis' CDs - perfect retro style!
Disc 1.
The first CD presents Elvis' first album and the five extra Bonus Tracks. What more do we need to know, the first million-selling Popular Music LP, the world's first Number One Rock'n'Roll album, the in-your-face front-cover photo showing rebellious youth breaking free. The album that changed music history forever. So good that the 12 songs could be split into 6 separate 45rpms. So good that it was also worthy of 3 separate 4 track EPs. And using the new Vic Anesini masters sounding better than ever.
If you are one of the lucky 2,000 collectors who purchased the deluxe 'The Complete Masters' these are in the same gorgeous quality.

"Well it's a one for the money.." and 'Blue Suede Shoes' blasts out as fresh sounding today as when laid down 55 years ago. In the interviews Elvis mentions 'One-Sided Love affair' as his favourite and along with the classic singles as the glorious 'My Baby Left Me' this is 40 minutes of pure rock'n'roll beauty.
Worth remembering is that this CLASSIC rock'n'roll album was compiled by Steve Sholes using five left-over Sun Session tracks, mostly from 1954, and in this respect it would actually be Elvis' second album that Presley would enter the studio to truly record as "an album".
Steve Sholes also left off 'Lawdy, Miss Clawdy' & 'Shake Rattle and Roll' thinking he would use them for Elvis' second LP, but ended up releasing them on Elvis' June 1956 EP.

The inclusion of the two 1954 SUN ballads 'I Love You Because' and 'Blue Moon' however adds a youthful aching emotion to the album that would never be touched upon in the later RCA years. These demonstrate an emptiness and quite exceptional fragile quality to this new, young "rock'n'roller". Elvis in fact talks about ballads as being his favourite over fast-type-tunes later in the interviews.

I do find it odd that that neither the sleeve notes nor the book indicates that Disc1 is compiled as "Elvis Presley – The first LP plus Bonus tracks". Nor does it explain why 'I Want You, I Need You, I Love You' is on Disc 2. Released in May and recorded in April, it surely belongs on the first CD if this one represents the first 6 months of 1956 in the studio.

The obvious explanation is that the first Disc represents everything recorded before the all-important 1956 TV shows. The raw Elvis. While 'Heartbreak Hotel' was of course a smash hit, all these recordings took place before the nationwide phenomenon of "ELVIS" truly exploded. Once Elvis had been on TV there is no doubt that RCA / Parker /Elvis /Steve Sholes knew they had a real long-term star on their hands. So there is no doubt that when Elvis went back into the RCA studio in April for "I Want You, I Need You, I Love You" the feeling and confidence level - and pressure on Elvis - would have completely changed.
Disc 2.
Elvis' second album plus the other 1956 Studio Masters.
When Elvis entered Radio Recorders in September 1956 he really was there to record "an album", his first genuine album of RCA material. After the all-time record-breaking smash of 'Hound Dog/Don't Be Cruel' things could never be the same.
Twelve tracks of extraordinary variety it is one of my favourite Elvis albums. From his childhood reminiscent 'Old Shep' (good enough on the very first take!) through to the Sun Studio's recall of 'How Do You Think I Feel', great blues of 'So Glad You're Mine', the pure delight of 'Any Place Is Paradise', the all-time classic Leiber/Stoller 'Love Me' all topped off with plenty of Rock'n'Roll courtesy of Little Richard.
Again sounding better than ever thanks to the new Vic Anesini masters.
I can never get enough of the singles 'Too Much' (listen for the laugh in Elvis' voice straight after Scotty's out-there guitar solo!) and 'Anyway You Want Me' and the CD ends with the 'Love Me Tender' session.
In all Thirty-Nine studio Masters in one year! And remember that Elvis' contract only asked for "A minimum of 8 record sides a year"! - WOW!
Also interesting to remember that outside the movies and Elvis' 1957 Christmas album, the next time Elvis would come back to the studio to record "An Album" would be in 1960 for 'Elvis Is Back'! Who knew back in the heady days of 1956 and in the fast-changing world of Pop, that Elvis would still be a chart-topping artist 4 years later?
Disc 3 – 65 minutes. The Live Performances.
Three concerts from 1956. Elvis' restrictive Las Vegas engagement (Parker's first mistake, Elvis was way too raw for the staid fifties Vegas crowd), his sensational Little Rock May 16th concert plus the previously unreleased final Hayride concert from December 15th 1956. This would be Elvis final concert of the year, so a perfect way to see end this Live CD.

Vic Anesini has remastered the live concerts and improved the audio quality over previous releases. The annoying background hum & rumble on the Little Rock May 16th concert has now been fixed, while the bass has been opened up on the Las Vegas show.

Elvis' Las Vegas May 6th performance never suited its inclusion on the Live In Las Vegas' box-set but here it is truly in context. Elvis struggles against an unappreciative crowd and this is Elvis' final performance of the 2-week season which Elvis always considered a fiasco. The audio quality is excellent, although the Freddy Martin orchestra is totally superfluous.

The strange bonus here is the oddity of having no screaming audience and thus being able to clearly hear Elvis and the Blue Moon Boys at work. D.J Fontana truly thrashes his drums, Bill Black's double-bass is nicely audible while Scotty plays a cutting lead guitar. The simplicity of the ground-breaking 'Heartbreak Hotel' without any spooky reverb plus the highlight of the extended intro 'Money Honey' - Elvis giving all he had for the final time. Note that at this point the Jordanaires had not begun touring with Elvis.
Little Rock May 16th
Ten days later this concert captures Elvis in full flight to his screaming fans. This would be the very first tour that The Jordanaires would play with Elvis. This is possibly only their third concert with Elvis! Before the performance Elvis stated in an interview that 'I Was The One' was his favourite record, and in all its hiccupping glory it is a true highlight - along with the blistering 'Money Honey' sounding very different with Elvis bumping'n'grinding to his adoring fans!
'I Got A Woman'… "all over town. What's her telephone number?!" jokes Elvis. As we all know Elvis teased his audience with his "Well, Well, Well" intro until his very last concerts in 1977, well here he is doing the same routine back in 1956 along with Bill Black adding his humour. What an outstanding blast of rock'n'roll freedom with his fans screaming back – "Loud and incendiary, it was different, very different from anything ever heard before".
Elvis ends with the glory of 'Hound Dog' but remember that this was May 1956, two months before he would record the single. Elvis would have been inspired hearing the song two weeks before by Freddie Bell & the Bellboys when in Vegas and here Elvis adds the show-stopping bump'n'grind ending that would not only cause him so much trouble when performed on the Milton Berle TV show three weeks later - but would also guarantee a million seller with his adoring teenage fans.
Louisiana Fairgrounds, Shreveport - December 15th.
A lot had passed since the Little Rock concert seven months before. Elvis' TV performances rocketed him to the being world's most famous entertainer and his record sales were already over 10 million singles in the one year.

This previously unreleased concert, Elvis' final show of the year, recorded for the Louisiana Hayride is an incredible, totally assured performance, to more than 9,000 screaming fans.

The highlight for collectors has to be the previously unreleased live version of 'Paralyzed' – the only one we have - and it's a cracker.

'Don't Be Cruel' is also a perfect un-rushed version, the tempo slowed down and imitating the Billy Ward and the Dominoes version that Elvis would have heard in Vegas. Such a brilliant version and so different from the throwaway seventies attempts. Similarly 'Love Me' is beautifully performed and now with the Jordanaires as his permanent backing group.

'I Was The One' is also a very assured crowd pleaser getting the topical line for December "I'll never know, I wish it would snow".

"The song from the movie, in which I got blasted!" 'Love Me Tender' is a lovely early version and 'When My Blue Moon are more treats for this classic concert.

Elvis of course ends the year with an all-mighty 'Hound Dog' as his faithful fans scream their lungs out in love and appreciation. It wouldn't be until years later and The Beatles in 1963 that such mayhem would match this adoration for a recording artist.

Incredibly Elvis' next concert wouldn't be until three months later on March 28th 1957.
| | |
| --- | --- |
| | |
DISC 4 The Outtakes – 77 minutes.
A selection of outtakes from Elvis' first session, again Remastered by Vic Anesini and sounding perfect.
These are fascinating for not only showing the development of these classic songs as they were being recorded but also how one slight mistake by the band or Elvis makes such a difference. There were no overdubs in those days to fix recording faults, although interestingly a couple of songs on Elvis' second album were spliced to get to a satisfactory master.
The alternate 'Heartbreak Hotel' and 'I Was the One' are a collector's dream, how lucky Elvis fans are that these didn't get pushed into a rubbish tip in an RCA clean-up!
The complete 'Lawdy, Miss Clawdy' 'Shake rattle & Roll' session follows and while fascinating for Elvis fans to hear this insight into this important session, one wonders what the 'general public' will think of so many alternate versions in a row.
Hopefully everyone makes it through to 'Shake, Rattle & Roll' since this song is much more interesting as Elvis follows the suggestive lyrics of Big Joe Turner's original over the more famous Bill Haley & The Comet's version, and the arrangement also changes as they progress. As Elvis states at the start of a rockin' Take 7, "Hang up that tambourine and Go"!
Unfortunately the rather managerial Steve Sholes decided that Elvis should cut out the suggestive lyric, "You wear those dresses, the sun comes shining through" after they recorded Take 8.

For some reason 'I Want You, I Need You, I Love You' is not featured on this disc, which is odd as we all know what a struggle it was for Elvis to complete the master. If CD time was a limitation perhaps a couple of the incomplete takes of 'Lawdy, Miss Clawdy' could have been dropped to make room.
For fans that have already bought these outtakes on previous releases the highlight following this is the fascinating 30-minute interview by Robert Brown at the New York Warwick Hotel on March 24th 1956. This was the day after Elvis' first album was released and the night of his final Dorsey Stage Show.

Elvis talks about the new album saying "there are three or four pretty good numbers on it". Elvis names 'One Sided Love Affair' as his favourite track, even mentions the fact that he had already considered a religious album, "I might get a completely different following if I did."

Robert Brown is a warm interviewer (unlike the incredibly droll Paul Wilder who follows!) who elicits some excellent responses from Elvis. Elvis reveals an amazing amount of small biographical details of his life and talks about recording the acetate for his Mother at Sun.

Even though Elvis has by now been on television, Brown still asks Elvis if he is still doing any work for the Crown Electric Company! Elvis nicely comments, "No I don't. I gave it up completely. In fact during the time I was working for the electric company I was in doubts as to whether I would ever make it or not, because you have to keep your mind right on what you're doing. You can't be in the least bit absent-minded or you'll all blow somebody's house up. I didn't think I was the type for it really but I was going to give it a try, ya' know. I was going to devote all the time I could to learning it. I was delivering material to different locations where they were wiring houses or building something. And sometimes they would let me help wire something. I earnt about $40 a week. I was there about six months'"
It is truly fascinating to hear this young Elvis open up to so many questions. He talks about his fans, wanting to be able to thank every single one of them and disappointed that he has to stop signing autographs for his fans so that theatres can be closed, "It makes me feel real bad because I can't get to all of them."
Elvis comes across as such a sincere and interesting artist with a genuine appreciation for what has happened to him.
About his childhood, "All my life I've always had a pretty nice time. We never had any money or nothing, never had any luxuries but we never went hungry. Of course that's something to be thankful for, 'cos there are so many people that don't."
Elvis talks about everything. His close friends, girlfriends, his family - "My Mother is not in real good health anyway" - and hobbies, watching movies (noting recent films 'The Man With The Golden Arm,' 'Helen of Troy' and Picnic'), naming some of his favourite artists Sonny James, Frank Sinatra and "from Roy Acuff up to Mario Lanza."
Elvis also reveals (apart from the money) the happiest thing about being so successful, "Meeting so many new friends. The close friends that I've made since being in the business."
It's a fascinating 30 minutes and well worth repeat listenings.
Disc 5- The Interviews – 64 minutes
Four more interviews along with two Victrola radio adverts.
The Complete TV Guide Interview. August 6th 1956
In marked contrast to the first Robert Brown interview, Paul Wilder is incredibly dry and droll towards Elvis, reading him vicious reviews and asking provocative questions. It runs for 27 minutes and it is exceptional to hear a young Elvis honestly answering his critics.
Again Elvis answers politely but now you can hear the anger in his voice against the columnist who refers to his fans as "idiots" and describes Elvis as "The biggest freak in modern show business history.. A no talent performer riding the crest of the wave of mass hysteria".

Elvis is surprisingly sarcastic, "No, I can't play the guitar. I can't sing either. But somebody likes it!"

Wilder quotes, "What remains, unfortunately, are his pelvic gyrations. And that's the core of the whole appeal, sex stimulation."

Elvis replies, "Well I don't roll my, what'd he call it, pelvic gyrations..... my pelvis had nothing to do with what I do. I just get kinda in rhythm with the music, I jump around to it because I enjoy what I'm doing. I not tryin' to be vulgar, I'm not trying to sell any sex. I'm not trying to look vulgar and nasty. I just enjoy what I'm doin' and trying to make best of it".
Wilder continues, "Where did you get the name 'Elvis the Pelvis'"?
Elvis - "From somebody just like the character that's writing this article here. Of course I don't like to be called Elvis the Pelvis, it's one of the most childish expressions I've ever heard, coming from an adult. Elvis the Pelvis!! But if they wanna' call me that there's nothing I can about it, so I just have to accept it. Just like you gotta accept the good with the bad... the bad with the good".

A real rarity is the Paul Wilder interview with Colonel Parker (22 minutes) that follows. Only a few minutes of this has ever been released before. Colonel Parker talks about the danger of Elvis' media overexposure - "If it doesn't work this way, then we'll try something new", Elvis' girlfriends and how he discovered him in the first place.
Colonel Parker sounds as dry and droll as the interviewer Paul Wilder and there is some interesting debating between the two of them.
Parker dodges questions about the exact amount of their earnings denying Elvis is worth a million dollars a year. "I'd like to meet them and for them to show me where the money is. We've never received that kind of money" he adds. Always the carny!
Colonel also talks about Elvis' appeal to women versus Marilyn Monroe's to men, the new Paramount movie contract - "His acting ability is the greatest. Elvis Presley could play any role he made his mind up to play."
They even get heated about a simple discussion about Elvis' eating habits! "I have never seen Elvis eat more than two eggs" - it's a very amusing discussion. In the background you can hear Elvis' performance that night.
The 'Truth About Me' interview with Elvis from August 22nd on the set of 'Love Me Tender' that follows runs 10 minutes and again captures a relaxed and honest Elvis. Elvis answer questions of facts about himself, his eyes, his height, his cars. He is very honest about his new movie, "I don't know whether I can act or not, I'm just going to give it a try" and laughs about his hobbies.
Once again the interview manages to capture even more of Elvis in a simpler, uncomplicated, role before the success of 'Love Me Tender' and the fame & fortune truly overtook his life.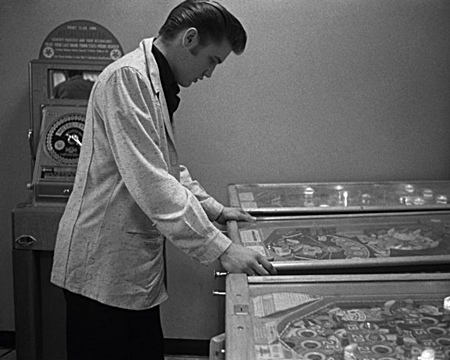 The only thing that I feel is missing here in this box-set is any recordings from the all-important TV shows. After all the two "RCA Masters" CDs appear to have been compiled with the TV Shows as the dividing time-line. While I can see that every repetitive TV performance would not be appropriate for this box-set, surely a few KEY songs would have fitted perfectly onto the LIVE performances CD.
Obvious inclusions could have been. . .
'Shake, Rattle and Roll / Flip, Flop and Fly' January 28th - Elvis' first national television appearance.
'Baby, Let's Play House' February 4th – An incredible performance of this important SUN single.
'Heartbreak Hotel' February 11th - The first key TV performance of Elvis' future #1 single, as noted in the book.
'Hound Dog' July 1st – The essential and controversial "Bump'n'Grind" that rocked mainstream America.
'Ready Teddy' Sept 9th - Rare version of Little Richard's classic, live on the first Ed Sullivan Show.
'Too Much' January 6th 1957 – While not truly 1956 it's the only live performance we have of this great 1956 Number 1 from the last Ed Sullivan Show.
'Peace In the Valley' January 6th 1957 - Again not truly 1956, but Elvis talks about recording a religious album as far back as 1956 and it helps show the amazing breadth of Elvis as a performer and how he related to his audience.
(Sadly I doubt we are getting a 1957 box-set of this quality).
These seven classic TV performances all help explain the TV phenomenon of Elvis in 1956 and would have fitted nicely on the third CD, it is very strange that they are missing from the story. However this is only a minor complaint, albeit a strange omittance.


Overall Verdict: The most stylish Elvis product ever released by RCA! With its large format and stunning selection of photos it is obvious that a great deal of thought went the very cool "retro" design and delightful presentation. The photos are stunning and with some familiar shots in a quality you will have never seen before. While the music is well-known to all Elvis fans the remasters sound brilliant and the LIVE CD with its unreleased concert is a wonderful compilation capturing the excitement of 1956 Elvis playing to his adoring fans. The twelve months captured within these five CDs and this marvellous book would not only change the entertainment world forever - but would also shake middle-America on its old-fashioned foundations. In 1956 Elvis spent 28 weeks at the top of the America charts – nothing would ever be the same. Check out the small snap-shot of the fabulous photos included in this review scanned from the book - and imagine them full-size!! An ESSENTIAL purchase for all true Elvis fans.
In the shops for around US$140 - however great deals can be found via Amazon for around US$95 in the US which is sensational value-for-money. See below for other Europe/ Australian deals -
Review by Piers Beagley.
-Copyright EIN October 2011 - DO NOT COPY.
EIN Website content © Copyright the Elvis Information Network.
Click here to comment on this review
---
---
The five CDs comprise the following, all material originating in 1956:
CD One, Studio Recordings: 17 tracks recorded in New York, Nashville, and Hollywood, starting with the 12 songs on the debut LP, Elvis Presley ('1254'), followed by non-LP single A-sides and B-sides, and EP tracks;
CD Two, Studio Recordings: 22 tracks recorded in New York, Nashville, and Memphis, starting with the 12 songs on the second LP, Elvis ('1382'), followed by non-LP single A-sides and B-sides, and EP tracks;
CD Three, Live Recordings: Rare remasters of shows at the Frontier Hotel in Las Vegas (four songs); Little Rock, Arkansas (seven songs); and a recently discovered, previously unreleased concert in Shreveport, Louisiana, in December (ten songs);
CD Four, The Outtakes: Four outtakes from the first historic RCA session in January ("I Got A Woman," "Heartbreak Hotel," "I'm Counting On You," "I Was The One"), segueing into the complete session of February 3rd (11 takes of "Lawdy, Miss Clawdy" and 12 takes of "Shake, Rattle And Roll"); plus the first of the interviews – the complete Warwick Hotel (NYC) interview by Robert Brown in March;
CD Five, the Interviews:
The Complete TV Guide Presents Elvis interview (Elvis interviewed by Paul Wilder backstage at the Polk Theater, Lakeland, Florida, on August 10th);

Colonel Parker and Oscar Davis

(interviewed by Paul Wilder backstage at the Polk Theater, Lakeland, Florida, on August 10th);

The Truth About Me

(Original spoken word 45 rpm disc included in Teen Parade magazine. Recorded on the set of Love Me Tender, August 22nd);

The Truth About Me Interview

(Recorded on the set of Love Me Tender, August 22nd);
RCA Victrola radio ad 1;
RCA Victrola radio ad 2 (both ads never before released commercially).
YOUNG MAN WITH THE BIG BEAT was produced for reissue by Ernst Mikael Jørgensen, the respected director of RCA's Elvis catalog for over two decades.
---
Full TRACKLIST - CD One (1956 Studio Recordings, Part 1) – Selections:
1. Blue Suede Shoes
2. I'm Counting On You
3. I Got A Woman
4. One-Sided Love Affair
5. I Love You Because
6. Just Because
7. Tutti Frutti
8. Trying To Get To You
9. I'm Gonna Sit Right Down And Cry (Over You)
10. I'll Never Let You Go (Little Darlin')
11. Blue Moon
12. Money Honey
13. Heartbreak Hotel
14. I Was The One
15. My Baby Left Me
16. Lawdy, Miss Clawdy
17. Shake, Rattle And Roll

CD Two (1956 Studio Recordings, Part 2) – Selections:
1. Rip It Up
2. Love Me
3. When My Blue Moon Turns To Gold Again
4. Long Tall Sally
5. First In Line
6. Paralyzed
7. So Glad You're Mine
8. Old Shep
9. Ready Teddy
10. Anyplace Is Paradise
11. How's The World Treating You
12. How Do You Think I Feel
13. I Want You, I Need You, I Love You
14. Hound Dog
15. Don't Be Cruel
16. Any Way You Want Me (That's How I Will Be)
17. Too Much
18. Playing For Keeps
19. Love Me Tender
20. Let Me
21. Poor Boy
22. We're Gonna Move

CD Three (Live, 1956) – Selections:
1. Heartbreak Hotel (A)
2. Long Tall Sally (A)
3. Blue Suede Shoes (A)
4. Money Honey (A)
5. Heartbreak Hotel (B)
6. Long Tall Sally (B)
7. I Was The One (B)
8. Money Honey (B)
9. I Got A Woman (B)
10. Blue Suede Shoes (B)
11. Hound Dog (B)
12. Heartbreak Hotel (C)
13. Long Tall Sally (C)
14. I Was The One (C)
15. Love Me Tender (C)
16. Don't Be Cruel (C)
17. Love Me (C)
18. I Got A Woman (C)
19. When My Blue Moon Turns To Gold Again (C)
20. Paralyzed (C)
21. Hound Dog (C)

Key:
A – Tracks 1-4 live at the Venus Room, Frontier Hotel, Las Vegas, May 6, 1956.
B – Tracks 5-11 live at the Robinson Memorial Auditorium, Little Rock, Arkansas, May 16, 1956.
C – Tracks 12-21 live at the Hirsch Youth Center, Louisiana Fairgrounds, Shreveport, Louisiana, December 15, 1956, previously unreleased.





CD Four (The Outtakes) – Selections:
1. I Got A Woman - take unknown
2. Heartbreak Hotel - take 6
3. I'm Counting On You - take 13
4. I Was The One - take 2
5. Lawdy, Miss Clawdy - take 1
6. Lawdy, Miss Clawdy - take 3
7. Lawdy, Miss Clawdy - take 4
8. Lawdy, Miss Clawdy - take 5
9. Lawdy, Miss Clawdy - take 6
10. Lawdy, Miss Clawdy - takes 7, 8, 9
11. Lawdy, Miss Clawdy - takes 10 (Master)
12. Lawdy, Miss Clawdy - takes 11, 12
13. Shake, Rattle And Roll - takes 1, 2
14. Shake, Rattle And Roll - takes 3, 4, 5, 6
15. Shake, Rattle And Roll - take 8
16. Shake, Rattle And Roll - takes 9, 10, 11, 12, 12 (Undubbed Master)
17. The Complete Warwick Hotel Interview by Robert Brown, New York, N.Y., March 24th.
Tracks 1-4: First RCA Session Outtakes, January 10-11, 1956.
Tracks 5-16: The Complete February 3, 1956 Sessions.
Track 17: Extended and rare interview previously unreleased by RCA Records.



CD Five (The Interviews) – Selections:
1. The Complete TV Guide Presents Elvis interview (Elvis interviewed by Paul Wilder backstage at the Polk Theater, Lakeland, Florida, on August 10th)

2. Colonel Parker and Oscar Davis (interviewed by Paul Wilder backstage at the Polk Theater, Lakeland, Florida, on August 10th

3. The Truth About Me (Original spoken word 45 rpm disc included in Teen Parade magazine. Recorded on the set of Love Me Tender, August 22nd)

4. The Truth About Me Interview (Recorded on the set of Love Me Tender, August 22nd)

5. Victrola Radio ad 1
6. Victrola Radio ad 2.
Tracks 1-4: Extended and rare interviews previously unreleased by RCA Records.
Tracks 5-6: Victrola Radio ads never before released commercially.
---
'1956, Elvis Presley's Pivotal Year': TIME magazine featured this recent article by SONY/FTD's music producer and consultant Roger Semon. The article helps explain to readers what the new deluxe box-set 'Young Man With The Big Beat' is all about.
... "In the mid-1950s, the post-war Eisenhower era of social conformity in America was at its peak, and musically, the most threatening image appeared to be Bill Haley's kiss-curl as he sang "Rock Around The Clock." That all changed on Jan. 28, 1956, when a raw and electric Elvis Presley made his breakthrough on the CBS program Stage Show. Presley's good looks, sensuous moves and mesmerizing voice made him a sensation overnight. But it wasn't until a third appearance on the show that Presley truly challenged the status quo. On Feb. 11, the singer performed "Heartbreak Hotel" and by April, the single would be #1 on the Billboard chart. At last, teenagers had music of their own to swoon over while their parents continued listening to Frank Sinatra and Mario Lanza....
---
---
Special Purchase Deals
---
YOUNG MAN WITH THE BIG BEAT puts the focus on Elvis in 1956. The package includes his RCA studio master recordings and outtakes in New York, Nashville and Memphis; live perform¬ances; interviews; and much more. Taking its name from an RCA poster campaign for his debut album, the super deluxe 5-CD, 12-inch square box set (with an amazing 80-page book with timeline) is available now at www.elvis1956.com.

Pre-order customers will also receive an exclusive replica vinyl 7" of Elvis' first 45rpm EP for RCA Records. Sharing the same striking cover art as Elvis' debut album, the EP ("extended play") features "Blue Suede Shoes," "Tutti Frutti," "I Got A Woman" and "Just Because." This vinyl single is only available through this special website offer, and it will ship upon payment for the box set.

Priced at US$110 - Click here to MYPLAY to pre-order and for details.
---
Special AUSTRALIAN NZ and European Purchase Deal for this great new release -
'Young Man With The Big Beat'- Massive Price Drop: EIN says don't fall for other "Special Offers" from other Elvis websites that DO NOT include Postage and Packaging for this huge box-set - Check out this GREAT Amazon UK deal with FREE postage.
- While the order says £73. GBPounds & this can drop lower when you head to Checkout.

For AUSTRALIANS and New Zealanders this is an AMAZING Price! (INCLUDING Postage and Packing to your door!)

(News, Source;Amazon/ElvisInfoNet)

---
See EIN review of 'Elvis Is Back!' Legacy Edition review:

See EIN review of 'The Complete Elvis Presley Masters' in-depth Review
See EIN Spotlight on Alfred Wertheimer:
See EIN review of 'On Stage' 40th Anniversary LEGACY in-depth review:
See EIN review of From Elvis In Memphis (40th Anniversary Legacy Edition)
See EIN review of 'I Believe' BMG Gospel set.
See EIN review of 'The Complete '68 Comeback Special' CD Review:
---
Article by Piers Beagley
-Copyright EIN, 2011
---
EIN Website content © Copyright the Elvis Information Network.
Elvis Presley, Elvis and Graceland are trademarks of Elvis Presley Enterprises.
The Elvis Information Network has been running since 1986 and is an EPE officially recognised Elvis fan club.