'Elvis By The Presleys'
- CD review -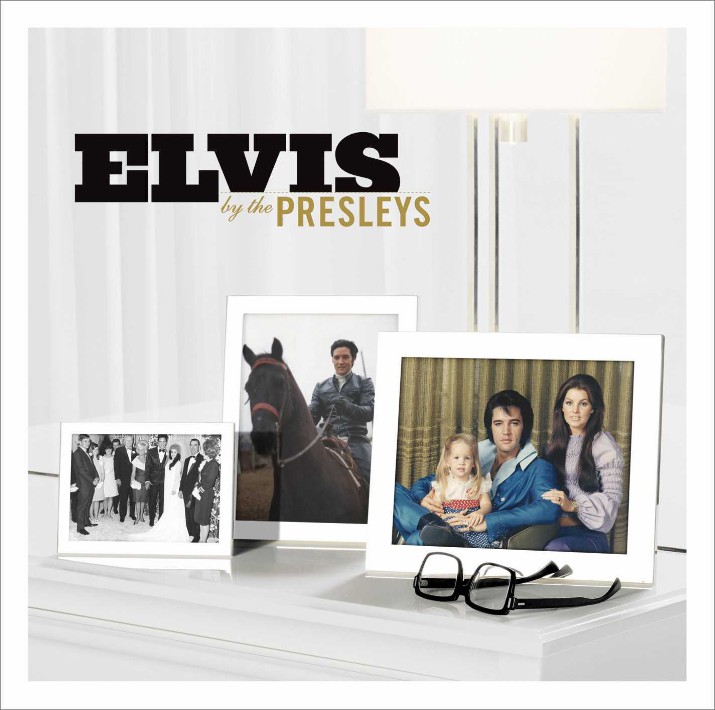 "I suppose the most important thing in a person's life is happiness. Not worldly things.. You can have cars, you can have money, you can have a fabulous home, you can have everything... if you're not happy, what have you got? So I suppose if I can continue to make other people's lives enjoyable and my own life happy, well, that's all I can expect out of life." - Elvis (from By The Presley sleeve notes).
The final & possibly least tantalising part of the 'Elvis By The Presleys' marketing blitz is the 'audio companion' to the TV special. A double CD, with the first featuring 24 Elvis classics each representing stages of Elvis & the family's story. The second 'bonus' CD features eight rarities to tempt collectors while at the same time giving the general public a glimpse into the more personal side of Elvis' recordings.
Although this release has received disappointing reviews in some media it is obviously aimed at the general public and there are good points worth investigating.
The first CD runs a lengthy 76 minutes and any Elvis disc that kicks off with 'Trying To Get To You' can't be all that bad! The high quality audio version from 'Elvis At Sun' is used here too.
However the second track being 'Heartbreak Hotel' immediately begs the question, 'Why?' Every Elvis fan buying this CD must own this track and this is the big mistake of this compilation with far too many tracks from the mega-selling 'Elvis 30#1s' being repeated here. While we all know the importance of 'In The Ghetto' & 'Suspicious Minds' it is ridiculous to repeat them in the same sequence, and using the 'standard versions' yet again on this CD.
If they had to be included it would have far more interesting to give the general public a chance to hear other versions, for instance the exquisitely minimal & moving Take 11 of 'In the Ghetto'. Other tracks that were also on 'Elvis' 30 #1s' are 'Burning Love' and 'A Little Less Conversation.' Although 'ALLC' is important in demonstrating the durability of Elvis it does stick out like a sore thumb after the obvious 'finale' track of 'If I Can Dream.'
However there are plenty of selections here that are rarely included on mainstream compilations which help make up for these repeats.
It is good to see the raw excitement of 'I Got A Woman' on this CD as well as tracks like 'Got A Lot Of Livin' To Do', 'Trouble', 'Indescribably Blue', 'I'll Hold You In My Heart', 'Separate Ways' and 'I Got A Feelin' In My Body'.
Interestingly 'My Way' is the 1971 studio Master which has never been on a mainstream compile before, and it is remarkable that nearly half the CD features Elvis songs from the seventies.
Overall the selection does play very nicely, although the jump from 1958's 'Trouble' to 1961's 'Hawaiian Wedding Song' seems a little abrupt. Why not tempt the public with a rare track from the great FTD 'Elvis Is Back', for instance the beauty of 'Thrill Of Your Love' Take 1?
| | |
| --- | --- |
| | The CD includes a 24-page booklet that is one of BMG's best. Packed with information, as well as articles by Michael Hill & Ernst Jorgensen and it also includes photographs not featured in the book. While the package and track selection is obviously slanted towards describing Elvis' relationship, one of the most revealing points is made in the notes about CD2. |
About the Elvis co-written song 'You'll Be Gone' it says… "When Priscilla came to visit Elvis in the U.S. in the spring of 1962, Elvis proudly played her the new recordings he had just made in Nashville. One of these was 'You'll Be Gone', a song that he had written himself with his good friends Red West and Charlie Hodge. To his deep frustration, Priscilla remarked that she liked his rock 'n' roll recordings better. Elvis had a fit, Priscilla was devastated, and Elvis never tried to write a song again."
When people ask why Elvis never composed any of his own material this moment (the importance of which Priscilla seems to have missed) seems devastating & historically disappointing. If true, then the blame for Elvis no longer trying to explore this creative side of his talent must be taken by Priscilla!
Disc 1 - For hardcore enthusiasts there are several points worth noting.
The tracks that are repeated from the 'Elvis 30#1s' CD are not the David Bendeth remasters but the 2002 DSD transfers which were worked on at the same time to be featured on 'Heart & Soul' etc (including 'Bridge Over Troubled Water').
I am happy to report that while 'Burning Love' doesn't have the funk of the Bendeth remaster, it is a great improvement on earlier compiles. It is obvious that the engineer for this CD, Vic Anesini, has done more fine work.
'Indescribably Blue' is an improved audio mix without the overall echo of the original release.
'It's Over' is not the Feb 1972 version as noted on the sleeve notes. On that recording you can hear some dopey waiter serving drinks at the Vegas Dinner Show! In fact this is the 1973 'Aloha' version using the same Dennis Ferrante mix as on the 1998 CD release.
'Welcome To My World' & 'Steamroller Blues' are also both from 'Aloha' but slightly disappoint as for some reason they are not the same 1998 audio mix, but the earlier mix with far less stereo separation, higher brass section, as well as that odd added echo.
'I've Got A Feelin In My Body' is also the regular mix and not the 'Promised Land' 2000 CD remix.
'Disc 2' is the bonus CD of only 23 minutes and 8 tracks but with the obvious added enticement of none of the tracks likely to be owned by the general public.
'It Wouldn't Be The same Without You' is the same January 1954 demo version as on 'Sunrise' and another fascinating insight into the fragile voice of Elvis' youth.'
'Jailhouse Rock' Tk3,4,5 – The first 2 takes have never been released before. All in "binaural stereo", Take 3 falls apart immediately with Elvis saying, "A little bit too slow". Take 4 is sensational for the raw rasp in his voice & of course Scotty's different guitar solo. The band stops too early with Elvis commenting in the background, "Oh bullshit man.." and then explains "just keep it up, he's gonna' fade out in there!" An essential new addition to the collection. Take 5, another dynamite version, was previously on 'Silver Screen Stereo.'
'Anything That's Part Of You' Tk9 – Never before released. Being the penultimate take before the Master this is similar in arrangement to the final single but with less echo across the mix, and with a lovely stereo separation. The earlier Take 2 on the Long Lonely Highway FTD is always worth revisiting.
'You'll Be Gone' Tk2 – It is always a treat to hear a new take of this Elvis written song, although being another penultimate take it is similar to the Master version. With the fabulous Spanish atmousphere & excellent guitar picking from Harold Bradley, how could Priscilla not appreciate this track? There is a nice snort from Elvis at the end, as he knows it wasn't quite right. The most interesting version is actually one post the Master, Take 4 the 'Latino version'! This can be found on the FTDs 'Long Lonely Highway' and 'Girl Happy'.
'Too Much Monkey Business' Tk4 &10 – If you don't own the FTD 'So High' then this is a real treat, and great chance for everybody to eavesdrop on Elvis having genuine fun while recording this Chuck Berry number. His escape from his movie contracts wasn't that far away and he was enjoying making music again. Elvis is in a sensational mood, poking fun at himself laughing, "Help him somebody. The boy's squirrely!" - and with Jerry Reed's acoustic guitar and Bob Moore's double-bass up front this has a fabulous vibe.
'Baby What You Want Me To Do/I'm So Lonesome I Could Cry'. Two tracks recorded in November 1973 at Linda Thompson's parent's house. Elvis had just spent 2 weeks at Baptist Hospital recovering from breathing difficulties & Demerol side-effects. It is fascinating to hear home-recordings from as late as 1973, with Elvis obviously joyful in just sitting around & singing for friends. This tape has been released semi-officially in Europe before (by LaserLight) but the quality is different here. While this copy has come from the original cassette and so must be in better quality than the 'bootleg' version, unfortunately tape-age has also introduced some tape squeal at points that previously wasn't there.
'Blue Christmas' Live March 1977 – Previously released on the FTD 'Spring Tours' and a rare treat for all the fans that night at Norman, Oklahoma. Elvis strums his guitar and at points the recording captures Elvis sounding almost as lonely & unsure as he does on track 1 of the CD, way back 23 years earlier.
As the final track however it seems a sad way to end this mainstream glimpse into the alternate side of Elvis' legacy. I wish that 'Lawdy, Miss Clawdy' or 'MysteryTrain/TigerMan' from 'Spring Tours' had also been included, just to show that even in 1977 Elvis could still have fun & rock out on stage. Surely this could have also been a great opportunity to include an unreleased track from the August 16th 1974 rehearsal tape, for instance the delightful 'First Time I Ever Saw Your Face', which we know is already digitally transferred.
It also is a shame that the chance to publicise the fabulous FTD Elvis series to the general public was missed here. All the Bonus tracks could have said "If you would like to further explore of the more personal & intimate side of Elvis' recordings please check our website or associated fan club sites" - What a missed opportunity.
Verdict – While this is 'just another compilation' with a few too many all-too-familiar tracks on it, the packaging & some nice additions like 'I'll Hold You In My Heart' make it more than just another 'greatest hits' selection. The 'Bonus Disc' also holds some nice treats for the general public and a couple of delights for hard-core collectors too. Maybe I just like it because this audio version of "Elvis By The Presleys" features more Elvis than Priscilla! The real benefit to Elvis fans is that because this is a 'Mainstream release' we get the chance to search local superstores where it can be found at an attractive discounted price.