'weird, wacky and unusual stories from the Elvis world'
"Jimmy 'Orion' Ellis" Movie - and Survey!: In another odd-spot Elvis connection, British filmmaker Jeanie Finlay is working on an upcoming documentary feature film which will explore the life of Jimmy 'Orion' Ellis. Orion was based on a fictional character in a book by Gail Brewer-Georgio and launched to the music-loving public by Shelby Singleton of Sun Records in the late 1970s. Orion's vocal similarity to Elvis' brought him many fans, a career in the music industry and the fame he'd been aspiring to, but at a cost – there was much speculation on who was the man behind the mask. The scheme exploded into cult success – and the "Elvis is alive" myth was born. By mixing archive footage of Jimmy throughout his career (including interviews and performances), and talking to surviving family members, friends and loyal fans, it is our hope to unveil the true identity of 'the masked man' as well as explore his legacy and why he is still loved by so many.
Jimmy Ellis' life came to a tragic end during an armed robbery at a pawn shop he was running after finally leaving the music industry.
Go here to the OrionTheMovie website where you can find out more on the film.
They also have a quick online questionnaire to gather stories and thoughts

from Elvis fans

across the world about Orion. Did you ever see him in concert, what do you think of the Orion-Elvis myth?
CLICK HERE to the survey - The films' producers say any input will be greatly appreciated.
(News, Source;pipocapictures/ElvisInfoNet)

---
Saturday 18th January 2014
Animated Elvis in Iced Tea Commercial: Recently seen on US TV, a cleverly produced animated advert for Brisk Iced tea featuring not only Elvis but also James Brown, Willie Nelson and Coolio.

Features a parody of Jailhouse Rock.
Runs only 30 seconds, worth seeing for a laugh.
Click here to YouTube

(News, Source;BrianQuinn/ElvisInfoNet)

---
Elvis Impersonator Not Guilty: In the unbelievable on-going saga of Elvis Impersonator Paul Kevin Curtis (right) being framed for sending poison letters to President Obama, now James Everett Dutschke the man who tried to frame Paul Curtis has pleaded guilty to sending threatening letters laced with the toxin ricin to President Obama and other officials, the Justice Department said Friday.
James Everett Dutschke, 42, entered the plea during a hearing in U.S. District Court in Oxford, Miss. He will receive a sentence of 25 years in prison, authorities said.
According to court documents, Dutschke developed a scheme to frame Paul Kevin Curtis by mailing the poisoned, threatening letters, the Justice Department said. Curtis, a Mississippi-based Elvis impersonator, was originally charged with sending the letters.
Curtis has said that he and Dutschke, a martial arts expert, have feuded for years. All charges were eventually dropped against Curtis and the investigation then shifted to Dutschke.
According to the documents, Dutschke purchased castor beans or seeds, a key
ingredient for the manufacture of ricin, using eBay and PayPal.
Dutschke originally entered a plea of not guilty and denied sending the letters. He also denied a later charge that, while incarcerated, he tried to recruit someone else to send a ricin-tainted letter.
(Odd Spot, Source;LATimes/ElvisInfoNet)
---
---
Tempest Storm writing Autobiography: Tempest Storm the Queen of burlesque, who once dated Elvis and whose breasts are insured for $1million still loves performing at 85 and is writing her autobiography.
The pensioner, who claims to have had flings with Elvis Presley and President JFK during more than 60 years as a performer, still pulls in a huge crowd every time she performs.
Tempest, born Annie Blanche Banks, shot to fame thanks to her sizeable 44DD assets which helped her forge a successful career as a strip-tease dancer and saw her labelled the 'girl with the great front'.
Tempest said: 'I never went to Hollywood with dreams of taking my clothes off, but burlesque is something that just came naturally to me. You have got to have the right personality, and create a good rapport with your audience. You just can't teach someone that - and I just had it.
'You need to be sexy and tease the audience, make them believe that they are a part of your life at that time. And they are, I absolutely adore them, they're wonderful. 'I've been around more than 60 years and had the longest career of anyone in the business, it has been amazing. There's nothing I haven't done, I've been through it all.
I was mixing in high circles and a lot of big names would come and watch my

shows. That is how I met Elvis. I was performing at The Dunes - now the Bellagio - and Elvis came back stage to have photos taken with the performer, but I was in a hurry as I had friends coming to visit from Texas.
I was stood there with Elvis Presley and I just said "will this take long?" I was standing next to the King and complaining about being in a hurry.
Elvis looked at me with those beautiful eyes and said "may I join you?" He was a real Southern gentleman - it was absolutely fantastic.
And JFK, he was a very charming man. He was a great man in everything he did.
'I feel very honoured to have known so many amazing people and to have had those relationships. I have beautiful memories of my time with them.'
Tempest shot to fame in the 1950's after escaping from her home in small town Eastman, Georgia, and heading to Los Angeles to pursue her dream of becoming a star.
But the Las Vegas legend is still a slave to her trade and hosts her Las Vegas Revue show, as well as writing an autobiography, filming a documentary and a recorded interview on vinyl with The White Stripes' Jack White.
"I tell these new young dancers they have to be sexy, but to be classy. Everything I have ever done, I have done with class. Nothing vulgar" she said.
Go here for if you want the full story
(News, Source;DM/ElvisInfoNet)
---
---
Owner of Elvis' Palm Springs home faces Court: The home that at one time was a getaway for Elvis Presley is back on the market, and back in court.
Rade Raicevic, who was handed the keys after a lengthy court battle following the eviction of Reno Fontana, is facing eviction charges himself by US Bank National Association. US Bank bought the foreclosed property at a public auction on Sept. 17, 2012, for $1,7mil according to court documents.
Raicevic, who is disputing the legitimacy of the eviction, maintains he intends to sell the property, and is asking $4 million for the 1946 5,000-square-foot home with four bedrooms and five baths, and sits on 1.75 acres.
"We start the new year with a big bang," he remarked Tuesday, saying a few potential buyers have shown interest.
Raicevic said he is confident the court will rule in his favor. After a hearing in California Superior Court in Palm Springs on Tuesday, the cased has been continued to Feb. 25.

The home at 845 W. Chino Canyon Road is a popular attraction for admirers of the King. And indeed, Fontana, the home's last occupant, was a fan who had hoped to develop the home into a tourist attraction. A July 2012 ruling in Superior Court placed the home back in the hands of Raicevic and Financial Bonanza, Fontana's lender.
For his part, Raicevic says he plans to meet with Graceland officials to discuss a possible sale or other arrangements.
(News, Source;MyDesert/ElvisInfoNet)
---
---
Elvis Fans evacuated from Heartbreak Hotel: Last Wednesday there was a major bomb scare that evacuated plenty of worried fans from the Graceland run 'Heartbreak Hotel'.
During a busy time for tourism in Memphis, guests at the Heartbreak hotel were literally moved out while a bomb sniffing police dog searched every room. Memphis police and fire surrounded the Heartbreak Hotel after a bomb threat was called in around 9:30 New Year's Day morning and everyone had to evacuate.
Graceland provided warm shuttle buses while the building was searched from top to bottom and for a time guests' imaginations ran wild. Hotel guest Ean Haggerty said, "Whoever tried to bomb the hotel, probably didn't like Elvis." In the end, it was all a hoax.
Police found no indication of a device and after two hours, everyone was allowed back into their rooms.

Go here to the WMCTV website if you want the full story.

(News, Source;MSquair/ElvisInfoNet)
---
Snoop Dogg channels Elvis in 'Blue Xmas' Video!: File under "This can't be true"! Purely for fun and only going to show how far Elvis' influence continues 36 years after his own last Christmas - but now the mega-selling hip-hop artist Snoop Dogg is also channeling Elvis with his cover of 'Blue Christmas.'
Filmed like a home movie (VHS-style), the rapper, strums a guitar.
"Spending Christmas alone," he says in a whisper, "Sad. Sad. Sad."
He continues a monologue during the bridge, "Silent Night. Lonely night. I wish you were here to hold me tight. I'm feeling blue on this Christmas, this Christmas night."
Produced Fred Wreck and baked by Dah Dah, Snoop sings along to a live version of Elvis Presley's 'Blue Christmas.'
Compared to the usual ETA's this is certainly not sanctioned by EPE! - Click here to YouTube for the clip.
(Odd Spot, Source;ElvisInfoNet)
---
---
Elvis To Be Cloned by 2040!: Something crazy to think about this Monday - A Canadian dentist Dr Michael Zuk has recently announced that DNA extracted from teeth could be used to make a clone
He owns a tooth that belonged to Elvis Presley - as well as John Lennon - and hopes to clone him. He believes that cloned versions of Lennon and Presley will be born by 2040.
EIN notes that perhaps the 2055 Christmas single can be a genuine Elvis / John Lennon duet instead of this year's UK fake one!!
Ever since his death in 1977, the idea that Elvis Presley might still be with us has become a favourite with conspiracy theorists.
But it seems that the Elvis superfans might get the last laugh as the Canadian dentist believes he can clone the King using DNA sequenced from a tooth.
Speaking on-line Dr Zuk revealed the same process used to clone Dolly the Sheep in 1996 could also be used to bring Lennon and Presley back to life.
'Legally, it is not a problem,' he added. 'If something is illegal in one country its a matter of crossing a border.
'There are people in history that everyone is fixated over…Elvis, JFK, Martin Luther King, Marilyn…it will be possible…and because of this, like the nuclear bomb, it will be happen.'
"What goes on in his brain would be largely be down to Elvis' environment. His personality and cultural tastes were formed from his upbringing and even during his lifetime his musical style changed.'
However the musical ability in his DNA is undoubted so we would aim to create an environment for the child where this ability would be nurtured and allowed to develop.'
Despite being sanguine about the ethical minefield that would need to be navigated before bringing the pair of singing superstars back to life, Dr Zuk does admit to qualms about how the cloned Presley and Lennon would cope with the media attention that would inevitably ensue.
(OddSpot, Source;Tabloids/ElvisInfoNet)
---
Elvis Impersonator framed!!: Authorities have released Elvis impersonator Paul Kevin Curtis after questioning him in relation to ricin-poisoned letters mailed last week to President Obama and Mississippi Senator Roger Wicker, after clearing him of any suspicion. Curtis had been perhaps too obvious of a suspect, with evidence falling into place against him suspiciously easily and now it's emerged why: he was allegedly framed by local republican politician J. Everett Dutschke, who had previously sought office in a failed election bid, as part of some kind of political grudge against a local judge.
Curtis initially appeared to have given his identity and guilt away, signing the ricin letters with his own "KC" initials. But questions emerged as to why Curtis, an Obama supporter, would turn around and try to poison the man he'd just gotten done voting for. Searches of his home and property revealed no trace of ricin and nothing to connect him to the letters. He was ultimately cleared and released. But if a story about an Elvis impersonator and poisoned letters can get stranger, this one does.
The FBI is reportedly now investigating Dutschke for allegedly framing the Elvis

impersonator.
If the frame-up allegations prove true, it would explain several of the inconsistencies in the case: why the Elvis impersonator would send poison letters that had no chance of reaching their intended recipients, why he would attempt to harm a president he had just voted for six months earlier, and why he would give away his identity by signing his own name to it. While the investigation is far from over, this story is probably only going to get even stranger before it's all said and done.
EIN notes that maybe this is the start of a plot to have all crazy Elvis Impersonators arrested! That could be a good thing!
(News, Source;ElvisInfoNet)
---
Another Impersonator Arrested After 30-hour Standoff: Two IMP crazies in a week, file under 'You've GOT to be Kidding!' Micky King, who is a longtime Elvis Presley impersonator in the Des Moines area, allegedly called authorities on Saturday evening asking for assistance with a dispute. But when they showed up and began talking to him, he appeared to become more upset.
This Elvis allegedly didn't want to leave the building -- so he got into a standoff with police in Des Moines, Iowa, that lasted more than 30 hours.
Officials on the scene noticed King had a weapon, however King allegedly yelled at the six officers on the scene and fired at least one shot at police.
The officers shot back, but told the station they didn't think King was injured. He allegedly shut the doors and locked out the officers and started the standoff, which ended just after midnight Monday, according to the Des Moines Register.
Police coaxed the pretend Presley onto his porch and subdued him with a stun gun.
He was taken to hospital for minor injuries before being booked on weapons charges.
"Poor Elvis!"
EIN notes that maybe this is the start of a plot to have all crazy Elvis Impersonators arrested! That could be a good thing!
(News, Source;ElvisInfoNet)
---
Ricin Suspect Paul Kevin Curtis, Conspiracy Theorist & Impersonator: US prosecutors have filed criminal charges against a Mississippi man, who worked as an Elvis impersonator, for threatening to harm President Barack Obama by sending him a letter that initially tested positive for the deadly poison ricin.
The letters were mailed on April 8 from Memphis, TN, and they were signed, "I am KC and I approve this message."
While the investigation is still ongoing, new clues are emerging about the 45-year-old Elvis impersonator who was arrested by federal agents at his home in Corinth, MS. A cousin, Ricky Curtis, in an interview claimed that the accused ricin poisoner had experienced problems with his cleaning business. He also claimed that Kevin Curtis is a conspiracy theorist who wrote a collection of articles called Missing Pieces about a conspiracy to trade in body parts that he thought he uncovered while working for a hospital from 1998 to about 2000.
Apparently, Paul Kevin Curtis has a long-time local reputation for being a little whackadoo. One rumour is that Kevin Curtis had talked about going undercover to blow the lid off the corrupt world of…wait for it… Elvis impersonator contests!

Laugh if you like, but performing as an Elvis impersonator in the Mississippi delta region near the Tunica area casinos, Tupelo and top Memphis tourist attraction, Graceland, can be a lucrative business for some area men. Kevin Curtis also billed himself as a master impressionist who could "do" other stars like Buddy Holly.
Corinth is a small town of about 14,000, the police had blocked off part of his neighborhood. However, there didn't seem to be any hazardous materials crews, and residents weren't evacuated.
-- POOR ELVIS.
(News, Source;AP/ElvisInfoNet)
Marty Lacker Comments...
As noted above it has been reported that the idiot that sent the poison letters to President Obama, Mississippi Senator Roger Wicker and another Mississippi Justice was sent by a guy named Kevin Curtis from Tupelo who is an Elvis Impersonator.
In other words this effin' assclown is further besmirching Elvis' memory not only with his nitwit impersonation but by being a criminal intent on doing harm to others, in this case American elected officials including our President.
So now the media has started using the "An Elvis Impersonator " description in their stories about the nitwit who sent poison letters. NBC Nightly news did it tonight as well as the NY Post newspaper and the NY Daily News. I'm sure there were many others.
These impersonator/assclowns should be banned from existing.
- Marty Lacker
---
New Secret Love Child of Elvis Found! (No, really!!): Scottsdale's John Smith says he is the secret love child of Elvis Presley. And he has, he swears, the DNA evidence to prove it.
No, really. Smith, a sometime country singer and songwriter who lives in Scottsdale, says he's coming clean this month in a new book detailing his hush-hush life as the unheralded Prince of Rock 'n' Roll. 'Let the Boy Sing: Elvis Is My Daddy', from a tiny, pay-to-print publisher in Oklahoma, reveals everything the world wants to know about the perks of being Elvis' tug-of-love: The trust fund, set up by Elvis for Smith when he was born. The music gigs, playing with John Denver and Lawrence Welk, and the recording contract with Elvis' label, RCA Records. The chance to write songs for country superstars like Kenny Rogers and to record an album with music legends who also recorded with Elvis. All these cushy thrills, according to Smith's new book, were arranged by Elvis himself, who kept tabs on his boy via a network of people who did the King's bidding.
And that's because John Smith is, he says, the son of the King. "I've known that Elvis is my daddy since I was 27 years old," says Smith, 51. "And there's no one word that describes how it feels to finally tell the world the truth about me."
"The correct word is scary," according to Presley historian Cory Cooper, who's known in pop culture circles as "The Elvis Expert" and who recently served as technical adviser on director John Scheinfeld's Fame and Fortune, an adaptation of Elvis: Still Taking Care of Business, a 2008 bestseller by Presley's former bodyguard. "These people show up every few years claiming to be Elvis'
son or daughter. The sad thing is that some of them actually believe it. Maybe they've been fed a story all their lives about a one-night stand their mom had with Elvis, and they think it's true. Whatever the story, they always have two things in common: They all swear they have birth certificates or DNA evidence to prove their claim, and they all have a story about why they can't show you those things. And, of course, the real reason they can't is because they don't have them. Their story isn't true."
"Elvis was the most famous entertainer in the world, he loved women, and he wasn't faithful in his marriage or to his girlfriends," says Cooper, who points out that people have been claiming to be Elvis' kid since before the King died. "But I don't think Elvis has three dozen offspring scattered around the world."
Yet the parade of would-be Presley bastards just keeps on coming. There's 53

year-old Desirée Presley, a former Los Angeles model whose mom wrote the infamous Elvis tome 'Are You Lonesome Tonight'? about her supposed 24-year-long secret romance with Presley. And Lisa Johansen, the 43-year-old Swedish woman who filed a $130 million lawsuit against the Presley estate for defamation and emotional distress, claiming she is "the real Lisa Marie Presley" who was forcibly exiled to Sweden after her father's death and replaced by an imposter — a fake Lisa Marie who went on to marry Michael Jackson, among other things. Johansen's own memoir, I, Lisa Marie, was scrapped after her publisher sued her for refusing to take an agreed-upon DNA test.
But Scottsdale's John Smith swears he has conclusive DNA evidence that his dad is the man who sang 'Blue Suede Shoes'. "One last thing that you cannot explain away," he writes in his memoir, "is that Elvis and I, we share the same DNA." But asked to share that DNA documentation with New Times, Smith hems and haws and passes the buck. "We're still talking with my family about whether we can put the DNA stuff in the book," he says. "When we said we wanted to put it in the book, they said, 'We didn't mean for you to do that. We got that for you, for your own knowledge, and not for publication.'"
And so Smith continues to point instead to other things that, he says, prove conclusively that Elvis is his dad. There's an old black-and-white photograph of Elvis holding a little boy (photo above) who could, frankly, be any towheaded kid. There's a snapshot of a woman Smith says is his mother, standing with Elvis and Priscilla and Glen Campbell at somebody's wedding in the '60s. There's a handwritten note from Tyner, postmarked 1991 and refusing to confirm Smith's paternity because "it is not the time to expose your father."
Smith insists he has no need to prove his lineage to anyone. "I have known in my heart that Elvis is my daddy for years," he writes. "It has been a part of my life for years. I know it. I feel it."
One wonders what Elvis himself might say. Cooper finds the whole cult-of-Elvis thing kind of sad. "These people want to be part of something. So it's, 'I saw Elvis at Burger King in Kalamazoo! He's alive!' or 'My mom slept with Elvis, and he's my dad!' Some of them get a little media attention, or they self-publish a book that sells 800 copies, and they get to feel special for a little while."
In a twisted way, Cooper says, this sort of attention keeps Elvis' name in the spotlight. "But if you were really Elvis' son, is this the kind of attention you'd want to bring to him?" he asks. "Because if my dad were an internationally loved icon, the last thing I'd want to do is join a chorus of people who are saying he screwed around a lot, knocked up a bunch of teenagers, and then took off."
Please Go HERE to the fascinating full article.
Go HERE to EIN's Elvis Conspiracy pages and questions about- "The DNA evidence has to be flawed"
(News, Source;CoryCooper/ElvisInfoNet)
---
Elvis Left The Building And So Did the Artwork!: The iconic silhouette of Elvis Presley bolted to the chimney soon became a symbol that this was the home of Elvis, or at least that it had been. The signature artwork was taken down when the person that lived there removed it when he was evicted. Now the tenant and the art are gone. The artist that made it for the home says he wants it back. The absence of that sculpture represents the diminuendo of Reno Fontana (right, with the Elvis artwork) and his long-winded chorus.
Like the famous Elvis Presley song about a man and the love for his girl, artist Jeffery Howe is all shook up. The artist said he never got paid for his artwork by Reno Fontana, the former tenant of the former Elvis Presley home in Palm Springs. Fontana removed Howe's iron artwork and now has it hidden. Not only is the artist frustrated that Fontana is not returning his artwork but Howe is also frustrated being stuck on the coast where he lives and works while struggling to keep up with a growing legal dispute.
Howe's art perfectly defined the Elvis Presley home, and the property defined the sculpture. That the artwork was attached to the house for three years established provenance; yet, detached
from the building that value becomes arguable value. That it was not paid for is a matter for the courts, that it is gone and hidden becomes more a matter for the police to determine if a crime has been committed.
Jeffery Howe tried to talk with Reno Fontana but Fontana is not talking to Howe. So Howe is talking with the Palm Springs Police Department. So too are the Elvis home's legal property owners of record who are now claiming Howe's sculpture actually belongs to them since it was part of the property.
Judge Judy would surely be thinking this be too much monkey business!
(News, Source;ElvisExpertCoryCooper/ElvisInfoNet)
---
Arizona Paranormal Investigations looking for Elvis' Ghost!: Did Elvis Presley sleep at Mesa's Buckhorn Mineral Baths? And does his ghost haunt the premises of the 15-acre roadside landmark at the northeast corner of East Main Street and Recker Road?
History buffs from the Mesa Historical Museum are all shook up about the possibility the King of Rock 'n' Roll stayed there during the filming of a scene of his 1960 movie Flaming Star – and that maybe, his ghost is now frequenting the premises.
In addition to possibly staying at the Buckhorn, perhaps Elvis came there to see Tom Diskin, an old friend, who was the right-hand man of Elvis' manager, Col. Tom Parker, and used to book Elvis' appearances and photograph him for many years throughout the 1950s and into the early '70s.
Rumblings of an Elvis connection were recently uncovered at the Buckhorn, a property on the National Register of Historic Landmarks once owned by Ted and Alice Sliger from 1939 to 1999, the year it closed.
The possibility of Elvis haunting the building, perhaps seeking a guitar he left there or a jacket he performed in, has lifted the spirits of at least one history buff.
"Elvis has left the building, or is maybe haunting the building?" mused Ron Peters, a member of the Mesa Preservation Foundation who knew Alice Sliger for 16 years. "I had never heard of anything like Elvis staying there, but that doesn't mean it didn't happen. But Alice never mentioned it if he did."

In order to see if any apparitions of Elvis or other spirit crooners are hanging out at the Buckhorn, for the first time, Arizona Paranormal Investigations will conduct a search of the Buckhorn buildings Oct. 20. The public is invited to attend the event which is a fundraiser for the Mesa Historical Museum benefiting the Buckhorn's restoration efforts.Buckhorn owner Alice Sliger died at age 103 in November 2010, and her son Ted Sliger Jr. now owns the property. The Mesa Historical Museum and the Mesa Preservation Foundation are feverishly pursuing avenues to receive grants and financial support to restore the place that appears frozen in time. Ted Sliger Jr. has loaned many of the items of historical significance to the Mesa Historical Museum and to the Arizona Museum of Natural History for safekeeping.
The inside of the main Buckhorn office building still looks as if the Sligers could appear behind the check-in counter at any time, and many species of mounted animals from throughout Arizona that were hunted by Ted Sliger Jr. also remain on the walls. The business also was known for attracting baseball teams such as the New York Giants (now San Francisco Giants) in 1947 and later the Chicago Cubs and was where baseball's best such as Ty Cobb, Willie Mays, Ernie Banks and Gaylord Perry received massages.
While sifting through some of the boxes of items stored inside the lodging cabins at the Buckhorn, historical preservationists recently discovered items left behind from a man named Tom Diskin, who co-owned Jamboree Productions, a Memphis, Tenn.-based publishing company with Parker, who was Elvis' manager for many years. Among the items: boxes of photographs of college sporting events Diskin took during the 1950s and '60s and negatives, a pair of binoculars, a bowling ball and a typewriter that Diskin borrowed from the Mesa Tribune. Diskin, who died in 1998, is seen in many vintage photos with Presley on various Elvis websites, according to published accounts, and that may be why Diskin left some of his belongings behind at the Buckhorn the year before it closed.
But when was Elvis there exactly?
"We don't know exactly when he stayed there, but we're trying to find out," said Lisa Anderson, executive director of the Mesa Historical Museum. "But there's evidence that Elvis likely stayed here at some point; we're just trying to find out exactly when. We're going through ledgers to see when he would've checked in, but there's also the possibility that he could've checked in under an assumed name."
According to Anderson, Ted Sliger Jr. said he had heard the story from his parents about Elvis filming a scene for Flaming Star somewhere around Mesa, and that he had stayed for a very brief time at the Buckhorn, but he never saw The King himself. Sliger Jr. also had told Anderson he knew Diskin often stayed at the Buckhorn when he was in Arizona and was friends with his parents, giving the Buckhorn an Elvis connection.
Ted Sliger Jr. could not be reached for comment, as other haunting questions remain: Did Elvis receive a massage at the Buckhorn? Who gave it to him? Does anyone living in Mesa remember seeing Elvis at the Buckhorn and were they lucky enough to get a snapshot of him?
And, what is Elvis' ghost looking for on the grounds of the Buckhorn?
Jack Burns, a family friend of the Sligers, laughed at the possibility of Elvis staying at the Buckhorn.


"Anything is possible," Burns said.
And that itself supports the fact that Elvis may have really slept at the Buckhorn – and that he may have never left the building.
---
Artist genetically engineers mice with the DNA of Elvis Presley:

The King is dead -- long live the genetically-engineered mouse version of the King.

As a pop comeback, it's certainly among the more unusual. Royal College

of Art graduate student Koby Barhad's project All That I Am features genetically-engineered mice with DNA taken from the hair of Elvis Presley.

The aim is to explore a range of philosophical and ethical issues.

While it may sound far-fetched, it really only required taking advantage of three online services which anyone can use.

.

First, eBay, where a sample of Elvis' hair was bought for the the princely sum of $22 (£14.21). Then, Barhad contacted two companies offering genetic services online -- Genetrack Biolabs, who sequenced the DNA from the hair sample, and inGenious Targeting Laboratory, who produce transgenic cloned mice with specifically tailored genetics to order. The result is what Barhad calls an "Elvis mouse model" -- a mouse with the genetic makeup of the King of Rock 'n' Roll.
The experiment doesn't end there, though. Barhad studied numerous experiments conducted on mice over the past hundred years, and devised a series of cages for them to live in that would hopefully simulate key parts of Elvis Presley's life. By subjecting the mice to similar experiences, they might become closer to Elvis through not just nature but also nurture.

To model the close relationship Elvis had with his mother, the mouse is given a companion in one cage; he's subjected to darkness and cold in another to simulate a childhood of poverty in Tupelo. In another, there's a distorted mirror to give a false sense of self-importance -- representing the effects of fame. Then there's the cage where every curious action is rewarded with extra food and toys to the extent that the home itself generates unease, like Graceland. And, finally, the last few years of his life take the form of a treadmill on a slope -- the Elvis mouse works itself to the point it falls off, symbolising death.

Barhad told Wired.co.uk why he went to all this effort to create such a weird concept:

Why Elvis? Why mice?: I started the project with procuring hairs of Elvis, Princes Diana and JFK -- all are cultural heroes that died before their time. That way they were made a myth, glorified to the point where they became a utopian model. From these three, Elvis is the ultimate symbol of the amount of (sometime ridiculous) effort we put, as a society, in keeping those models alive.

As for the mouse -- in the last two centuries the mouse has been used as a human model in science. As a scientific symbol for man. Apparently we have an extraordinary number of identical genes that make it perfect for testing ourselves. From psychology to physiology it was always tested on mice first.

What was the inspiration for combining the elements of this experiment -- the mouse testing equipment, the Elvis hair and online genetic services?: I've always been fascinated with humanity's eternal need to quantify and define life. Be it biology or physics, philosophy or biography, psychology or fiction -- from Frankenstein to the "god particle". In my research I came across a private lab service that offers "mice" that are "genetically modified for your needs". From that point I was just wondering whose behavioural mice model I would like to design. That, of course, led me to eBay, the DNA sequencing labs and to historical and contemporary behaviouristic science.

Would you argue that you have the right to use an individual's DNA for cloning (of a sort) just because you've got one of his hairs?: I won't argue that, as I'm not an expert in law and ethics. Instead, I'm raising those questions so that we, as the general public, would get a better understanding of the issues that we'll soon have to deal with.

In Australia, for example, they're starting an experimental programme that chooses athletes by their DNA. At Oxford Nanopore they are working on a USB stick that can sequence your DNA. There's a whole industry of private labs that no one monitors and you can basically use anyone's DNA to know more about their potential. Just the other week I came across an amazing article on Madonna's new "DNA team" that "sterilises her dressing room".

Was it difficult getting the genetic company to agree to create Elvis mice models/clones?: There is a difference between a research lab that has to follow strict ethical codes and good reasoning, and a private lab that offers its technical services and expertise to anyone that can pay.

As the project has just started we did a sample test with one of the scientist's hairs to show that it was possible, and -- more important and surprising to me -- easy as any children's DIY science kit.

How did you quantify Elvis' life? Is there not a danger that you are choosing the moments which are defined as important to him as a celebrity, but not as a person?: For me that is where some of the most interesting philosophical questions come from. A model is something that should reflect a certain reality. Our whole existence and perception is based on models. A biography is never the "true story" of someone, and so is an autobiography. Together they provide us a bigger perspective from which we could build our own models of this certain reality. So no matter what or how we will create this "living model" it will never be accurate -- and that is the paradox. Do we build those models to develop ourselves, or do we build them to become the reality we model?

Is this unethical?: As soon as purebred cats are outlawed I will stop working on this project. But seriously -- I think that the distance between producing purebred animals like dogs and cats and an "Elvis mouse" is unfortunately not too far. Across approximately 70 years of experiments Dmitry K. Belyaev showed how we, by selection, made a domestic dog out of an aggressive wild fox. I think that the only difference with making genetically modified pets to fill some human need -- be it loneliness, compassion, social class or pure entertainment -- is the time it takes.
(Source: Ian Steadman, wired.co.uk, July 2012)
---
Elvis Presley beheaded in 'distressing' incident at village scarecrow festival

:

AN Elvis Presley scarecrow was left all shook up when vandals ripped his head off and stole it. The life-size model was among three that were attacked late on Saturday night in West Hallam. They formed part of the village's fourth annual Scarecrow Trail.

The papier-mâché Elvis was on a wall outside the High Lane West home of mum-of-two Lou Noble, who made the figure with partner Simon Melbourne.

The 34-year-old, who has sons Joseph, 13, and Finlay, six months, said: "A lot of friends have been taking the Mickey, asking if his head will 'return to sender' or if he was left 'all shook up', but it is a bit disappointing."

The people in the village work hard to put on the Scarecrow Trail for visitors, so for someone to come along and rip off the head of the one we made is a bit annoying.

Photo: Illustrative only
"Miss Noble thinks people walking home from the pub might be responsible.She said: "Joseph and his friend Josh heard noises at about 11pm on Saturday and just thought it was lads walking back from the pub.
"
But we noticed the head had been stolen and then the following day found the wig in a field in Kirk Hallam.
"There was no sign of Elvis's head and we've put a new one on him now."
The festival sees an Olympic-themed scarecrow with a Usain Bolt lookalike in one garden. Others include Miss Piggy and Kermit the Frog from The Muppet Show. Organiser Pete Lilley, of The Village, confirmed the Elvis scarecrow was one of three to be vandalised on Saturday night.
He said: "A Nanny McPhee scarecrow had her head nicked and a third one was dismantled and scattered all over the garden where it was standing. It has caused quite a bit of distress for people, some of whom have been left quite angry about what has happened." (Source: Derby Telegraph, 17 July 2012)
---
Heartbreak Hotel.......Elvis impersonator leaves 50 brides "all shook up" after walking out on his hotel and cancelling their ceremonies: Elvis impersonator and hotel manager Dave Elliott has left dozens of brides all shook up after abandoning his struggling venue.
Mr Elliott, 46, said he and his wife Dyan were forced to leave the Sandygate Hotel at Wath-upon-Dearne near Rotherham - due to play host to a string of upcoming weddings - when bailiffs arrived with a possession order.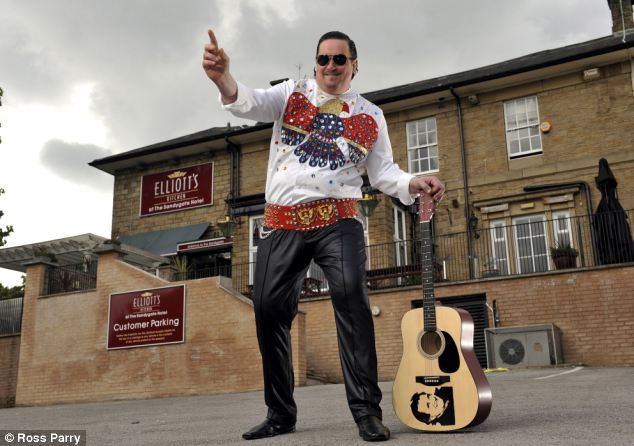 Now new manager Glynn Atmore is struggling to get to grips with the chaos created when Elvis left the building - as Elliott took the bookings diary with him when he went.
Elvis impersonator Dave Elliott, pictured (above) outside the Rotherham hotel he was running with his wife, has abandoned the venue, leaving couples scrambling to make alternative arrangements for their wedding receptions
Mr Atmore has been inundated with calls from anxious brides who booked the Sandygate for their wedding receptions.
The 55-year-old said around 50 brides had already been in touch since the departure of the Mr and Mrs Elliott, whose efforts to revamp the 11-room hotel were featured on Channel Five's 'Hotel Inspector' series two years ago.
Rebecca Dobson, 31, from Swinton, near Rotherham, who is renewing her vows with husband Andre, said she was 'gutted' when she realised their planned reception at the Sandygate on Saturday would not go ahead.
'We got married in 2005 but couldn't afford a big reception so we wanted this to be our proper reception and make up for it,' she said.
'We loved the Sandygate; the location and the layout was ideal. It all seemed perfect but we were gutted when a member of staff phoned us and told us what had happened.'
The couple have hastily reorganised and are now holding their party at Doncaster Racecourse on Sunday.
Elliott, who was also the chef at the Sandygate in Rotherham, said bailiffs arrived at the door of the venue with a possession order.
It was on the advice of the 'Hotel Inspector' expert Alex Polizzi that Mr Elliott, a chef, agreed to introduce an Elvis theme in the hotel restaurant - inspired by his habit of treating guests to his impersonations of the King.
He spent £15,000 on improvements and a redesign at the hotel, including updating bedrooms and cutting down the super-sized portions being served up in the restaurant.
Polizzi told the chef that his starter of 1lb of ribs was overwhelming diners and hurting profits.
But evidently the Elliotts' efforts to turn the hotel's fortunes around were in vain.
'We were served with a possession order by bailiffs, the business is going into bankruptcy,' Mr Elliott said.
The Sandygate's new manager Mr Atmore has pledged to honour as many bookings as he can at the hotel.
The new manager at the Sandygate has taken calls from more than 50 brides who have booked to hold wedding receptions at the venue at Wath-upon-Dearne in coming months
'I couldn't find the diary for the bookings so the only way we know if people have booked is if they ring us,' he said.
'I've had about 50 brides contact us in the last few days and we will try to honour as many bookings as we can.'
Police are investigating on behalf of customers who have paid deposits to hold functions at the venue under the old management.
A spokeswoman for South Yorkshire Police said: 'Officers are in the early stages of an investigation to determine whether this is a criminal or a civil matter.'
Janet Eubank, a spokeswoman for Trust Inns, which owns the Sandygate, said: 'We are trying to honour all functions but unfortunately we do not have the diary to know what has been booked as the previous tenant took it with him when he left.
'Unfortunately any monies paid to the previous tenant can only be claimed back from him as the agreement or contract was made directly with him,' she added. (Source: Kerry McDermott, Daily Mail UK, 22 July 2012)
---
Elvis phone home - "Holo-gram": This week's news that Elvis will be given the (so called) hologram treatment saw this unusual "Open letter from Elvis to the people of the Earth" published by the National Post:

Friends, I'll admit that I had to look it up. Turns out that old Elvis might have come across one of these at Disneyland in between waffle sandwiches and root beer cones, but, heck, I'm not sure. Holo-gram. Now that I know what it is, I just have to say: Jesus, man. Sure, you might wanna use it to show kids how rockets fly or simulate the effects of sugar substitutes on the inner workings of the nervous system, but bringing back the dead? I tell you, friends, it's what a Frenchman might call "uncouth," although, you're right: I had to look that word up, too.

OK. I know I've been away for awhile and you're probably thinking: of all the crazy things that have gone on in this world, it's a hologram that brought the old boy back? I know I have some explaining to do, and I'll tell ya: You can hold Elvis to it. Don't worry. None of ya's are gonna leave here not knowing the very circumstances of the last — what is it?— 35 years? Jesus and Mary in heaven.

Thirty-five years. Can you imagine slipping away for so long? Can you imagine being at the very pinnacle of the entertainment universe and then, all of a sudden, surrounded by nothing more than a grove of coconuts, a wild pig here and there, two channels of television — repeats, all of 'em — and an overgrown volleyball court?
Heaven: whatta scam. It's always 74 degrees and they turn off the lights at 8:30. It's a no-fun town, friends, and believe me, I've done my best trying to get the heck out. But every door leads to another door, which leads to another, and after awhile you just sit down and give up. A nurse brings you an ice cream and a pill and you dream of your highschool sweetie in bikini bottoms eating cotton candy. But that's as far as it goes.
Anyone who ever thinks they've run into me renting bowling shoes in some podunk pinjoint or cleaning johns in the Peoria airport or, worse, appearing in the fold of a hickory tortilla in some slop shop down Key West Way, well, listen friends, I don't like Mexican food that much. True, the Colonel and I, we figured a good way to treat a burger was to slather the mother in jalapenos and cheese but, really, that was the extent of it. Elvis knows when someone's been stepping over the line, and you folks: you done did it. You went kinda crazy after I died. Believe me, I would have loved to have bowled the odd frame, laid down some nice common work. Heck, I woulda given my left chestnut to have come to within 16 miles of a halfway decent taco joint. But no. Who am I to rewrite that which has been stitched into the very fabric of human tapestry?
Before leaving, I mostly had a good life: happy, sad, zany, complicated, and all of those things that anyone with a pulse ever experienced. Growing up was simple, and, truth be told, it was probably the best part of it all. Elvis wun't nothing but a good, old country boy who liked his blues and his hog jowls. I was affected just like every other Southern kid by those things I'd seen at the minstrel shows: Jumping Jimmy Jenkins and the Hotfoot Brothers and the stone cold stare of Howling Harold. Man, the way that cat would look at you; he coulda pulled Jesus off the nails. He was stricken, man, double bent over that guitar singing those songs about fast Lucy and the devil in a grey suit. Weird thing is, while nine out of 10 young'uns run away from that type of music, me, I felt something boil along my spine, like hot chitlins poured down my back. I remember Harold's rheumy blue eyes, his crookedy hands and fingers, how he bit down on every word harder than a mongoose on a rattlesnake chaw. I swear he had fangs, but that's probably just the age in me showing. I mean, he couldn't have had 'em, could he?
First time I saw Harold, I was 12. Went with my daddy. He bought me a candied apple dusted with cinnamon and brown sugar. Daddy bid on a bull for the farm, but got shut out. Didn't matter, though. I saw Harold, and then, years later, I was bringing home more bacon than any bull woulda provided, although I know that bacon comes from a pig; Elvis ain't that out of it, friends. Anyhow, after Daddy saw his bull go the other way, he lost his liquor quicker and worse than Freddy Pompeii and so we had to sleep in the truck, where I laid on the flatbed, stared at the stars, and dreamed I wanted to be like Harold. Wanted people to remember me for my fangs. As opposed to dying on the toilet. Which, yup, I did. I'm not here to sugar-coat things, folks, for this is the truth and nothing but.
True, the Colonel got me young. I was 16 when I first recorded at Sun studios. Man, that was some day. I was decked out in the fanciest silver suit — swoosh! I was dressed to kill, if only for Tom, the studio engineer, Sam Phillips, the producer, and his secretary, a gal by the name of Cherry Margolis, who was grateful enough to take Elvis out back for a bit of whatfor after 17 hours of straight singing. Seventeen hours. I don't want Elvis to come across like some geezer standing up here judging every little two-bit nosebleed who ever hummed a tune in public since, but 17 hours! The last time I was around, there was this fellow named Billy Jo-el. He was all the everything just before I left, and not to speak out of turn here, but I doubt that he ever sang that much.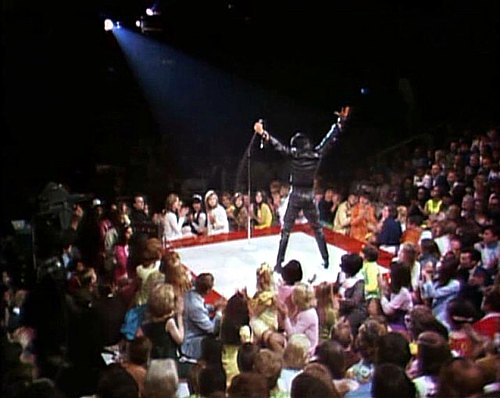 Tom pressed the record, and the next thing you know — bam! — I was backstage at the Sullivan show. It was a hot night and, I believe, one of those nights where even the most misinformed brother on the planet — the pencil pusher with his button done up tight to his neck — well, even he was aware that something was circling in the air, like some sort of invisible bird that you couldn't see, but could feel weighing above you. Mr. Sullivan was very courteous, but he told me, "Son, if you plan on shaking those hips of yours, we might be forced to pull away. We have a nice proper situation here in this country, and we don't need you riling up the kids for no reason at all. The bosses upstairs have it directly from the White House."
Of course, I didn't want to disobey the president, let alone Mr. Sullivan, let alone the beautiful backstage scene with the Champagne on ice and the flowers and all the attendants a man shy of royalty would ever need to call on. No, I was filled to the brim with the pleasure of getting even a sniff of such high living, especially after coming up through the grit and dirt of Southern life, where most folks didn't own a television, let alone appear on one of its programs. Still, once that swirly red cherrytop lit up on that big old camera, it was all Elvis could do to not push my way through the lens into the lap of the nation's living room. Folks, I set off like a lit firecracker. Not that I have to sell it to you — I know you've all seen it; you study it in history class today, am I right? — but I was a shiver of electric shock on that cold, flat stage.
Not only that, but I hadn't sung as good in my entire life. I took America by the throat and I done shook it. All of the rocks in its pockets came flying out and, after that, everybody loosened up. 'Course, a lot of other people got a whole lot uptighter, but you know what I mean. Rock 'n' roll, as we know it, had arrived. And they'd only shown half of me. People talk about some of the things I done did later on in life, but how would you feel, friends, knowing that you'd done what you'd done with half your body showing? It would be like Picasso showing half a painting, Mozart composing half his symphony. But in the end, it's what they didn't show that got people juiced. The joke was on Mr. Sullivan and the potentates at the major networks, I suppose. After awhile, they were clamouring for more, but, of course, I fed them nothing. Elvis never answered to no man and don't you forget it.
Now there's this hologram business. They want to put me in a concert again and hologram me up the way they hologrammed that bare-chested fella who kind of looked like Howling Harold, only in blue jeans, undershirt and a pirate's cap. What I want to say, folks, is this: I want to say no. The way I see it, what's dead is dead. What's gone is gone. And those of you who are gonna be selling tickets to watch some video ghost who looks likes me — who was me — dance around: well, shame on you. You can't do that without asking a dead man, and I'm here to tell you that dead men don't talk, no matter how grave the matter or hilarious the comedy or serious the predicament. Believe me, I've done my share of shouting and causing a ruckus from above. But all you people get is cold, hard rain at the wrong times and for that, friends, I apologize.
If you people of Earth wanna see me moving around again and doing the thing that set the country's pants on fire, well, that's why God invented the DVD (which he did; he told me when we were playing volleyball last month). Better yet, go find some tape from that appearance on the Sullivan show. I was crazy the way Harold was, only maybe a little better looking, which is not my way of seeming boastful, it's just the facts. No hologram will ever capture that, and besides, the whole thing seems creepy to me and looks bad on you. If you wanna spend your money and your days watching Hologram Elvis instead of looking for the New Elvis or the Next Elvis — and believe me, folks, he is out there; he might even be a she; who knows? — then let me tell you: you're doing no better than me playing volleyball against God, and really, folks, you can't win for losing; that's just the way it is. Instead, why not take the wife bowling; why not go outside and, heck, fetch some fine red hot tortillas? Next to building a hologram to raise the dead, it might not seem like much. But that's what they call living, really living. Trust Elvis. It's some good stuff, friends. It is. All of it. (Odd Spot, Source: David Bidini, National Post, 10 June 2012)
---
Vicar quits church to become Elvis impersonator: There will be a little less congregation and a little more action for this former vicar from now on following his decision to quit the church to become an Elvis impersonator.

Reverend Andy Kelso made the shock decision after he received a message from God to spread the word of the King while he was out walking his dogs, reported Metro.

The 64-year-old has now swapped the Church of England for that of Elvis after setting up the Elvis Gospel Tribute Act. "One day I was out walking the dogs in between church services and I felt God say to me very strongly "take Elvis to the church", revealed Elvis Prayersley.

'It was a shock but after one concert there was a lot of interest from churches who wanted to connect with their communities and my tribute act seems to connect. When I play, the venues are packed out and I've not looked back since." There was no crying in the chapel following his shock decision to ditch his white collar in favour of a white jumpsuit among his parishioners in Redditch, Worcestershire, as a few of them are now fans of his Elvis tribute. He added, "Let's just say God has a sense of humour. I spent 25 years doing the one thing I vowed I never would - being a vicar. Now people who wouldn't normally come to church are coming to a great evening out with some food for thought." (Odd Spot, Source: Daily Times Monitor, Pakistan, 26 May 2012)
---
Elvis robber set for some Jailhouse Rock: An armed robber used a variety of bizarre fancy dress disguises - including a fisherman, Elvis and a hockey player - during raids at bookmakers across the country, a court has heard.

Martin Reilly, 53, of no fixed address, admitted a series of gunpoint robberies where he used various costumes to escape with thousands of pounds of cash.

CCTV images show Reilly inside and outside different Ladbrokes and Coral stores disguising himself with a series of fancy dress outfits using masks, fake beards, sunglasses, sideburns and wigs.

The hockey mask was used on a raid on a Ladbrokes in Bedford on September 28, in which GBP640 was stolen.

The Elvis disguise was used at a Brighton on July 11, where he escaped with GBP2780. (Odd Spot, Source: John Hutchinson, Daily Mail, 2 Feb 2012)
---
What would Elvis the Angry Christmas Angel do?: When I get too caught up in the running, buying, doing and utter delight we all seem to take in exclaiming the "stress" of the holiday season ("So much to do! So much to do!" Like the White Rabbit in Alice in Wonderland forever late for a very important date) I take a deep breath and ask "what would Elvis do?"

Elvis. Elvis is the angel our son made in first grade. Matt tells us the angels, construction paper fashioned around a toilet paper tube, were supposed to represent the students themselves.

Our son had thick brown curls and poor fine motor skills so the combo met in a curious sort of pompadour. The angel's "smile" is more a sneer (perhaps a true-to-life representation of how our son felt about the project?) The entire thing was doused in a liberal coating of glue and glitter.

Having gotten over the shock of an angel-face-only-a-mother-could-love, we came to call it "Elvis the Angry Christmas Angel."
To answer the question of what would Elvis do? Judging from the look on his face, what Elvis would do is punch someone.
For the first year of course I made quite a fuss about Elvis because that is what mommies do. Then I tucked him away on the side of our Christmas tree because, oh my gosh he looked homicidal.
Hidden:
He hung out around the lower branches for the next few years, sneering his way through the holiday seasons. I appreciated the sentiment but Elvis knew his room for advancement was limited. The point of pride at the top of our tree was reserved for a very special — and somewhat valuable — ornament. For years our tree topper was a beautiful vintage piece that Mr. Wonderful had received from an elderly friend of the family when he was just a boy himself. The box said 1949.
It was a tall spire of blown glass, beautifully shaded in the Technicolor hues of that era. I say "was" because, of course, we can't have anything nice. It finally broke even after years of kid-glove care and use. I tried gamely to stab it atop the tree top for a few more years but each year it listed further to one side as the crack lengthened. Finally, this year, it was less "beautiful" and more "potentially deadly" if it toppled off point down. With what would we replace it?
Perfection:
Like most women I can be so particular about my home, my decor, and "my" holidays. I have certain visions of how things should be. WILL be darnit! Do not mess with my pursuit of perfection. The tree, the wrap, the ribbons, the bows and the "look" of the holiday shall all be picture perfect. If Martha Stewart should pop in I'm not taking any demerits thankyouverymuch. Perusing the Internet for the perfect tree topper I saw stars and light and even some feathers? Was my tree more "rustic woodland" or "spun sugar delight?" I could have spun glass or woven fibers. So many choices (and expenses) to choose what in a family of pack rat traditionalists will be our tree topper for years to come.
Meaning:
Frankly, it's a lot of pressure. I was looking for that tree topper that had not only style but sentiment. Meaning. A history. One that would shine a message of love and acceptance down upon us for years to come. That's hard to find in a catalog. Fortunately, I already had that all along. Elvis the Angry Christmas Angel finally received his promotion. I moved him all the way up the ladder to the very top of our tree. There he resides in all his pompadoured glittery grimacing glory. A reminder of when one small boy brought home what just might be the angriest art project ever — to have it received with love and good humor because it was his and he was and is very much loved.
It's true what they say that with most things you can usually look back and laugh. In the case of Elvis the Angry Christmas Angel, we simply look up. (Dec 2011, Source: Kymberly Foster Seabolt, Farm and Dairy)
---
Elvis named in dispute disability claim:

The state's highest court denied a disability claim resulting from a beer-fueled fight over Elvis Presley's birthday that ended with one New York City fire fighter breaking a chair over the back of another, who then filed for disability retirement. The New York Court of Appeals, in a 7-0 decision Tuesday, said that Robert Walsh wasn't eligible for an "accident disability retirement" because of the fight, but instead must settle for a lower-paying ordinary disability retirement.

In doing so, the court upheld two lower court rulings. Walsh cannot receive accident disability retirement payments "unless it can be determined as a matter of law on the record that the disability was the natural and proximate result of service-related accident," the court said.
"That is plainly not the case here, where [Walsh's] injuries resulted solely from an altercation with a fellow fire fighter rather than his performance of any job duties."
The fight occurred in December 2003 when, according to court documents, fire fighters at Ladder Company 76 on Staten Island were sitting around the firehouse kitchen, drinking beer out of plastic cups and arguing about the date of Presley's birthday.
The dispute escalated and, eventually, Walsh accused a colleague of taking overtime from other fire fighters. Another fire fighter, Michael Silvestri, threatened to hit Walsh with a chair. Walsh remained seated with his back to Silvestri, who picked up the chair and hit Walsh, knocking him to the floor. Silvestri punched Walsh in the face until others stopped it, according to court documents. Walsh said he suffered neurological damage that prevented him from returning to duty and filed for "accident disability retirement." The Fire Department Pension Fund board of trustees denied his claim and instead awarded him the ordinary disability retirement.
Walsh challenged the determination, saying his injuries weren't the result of a "normal foreseeable risk of the work he performed," according to court documents.Two lower courts denied his claim. Information wasn't immediately available about the monetary difference in the two types of disability payments.

(
Dec 2011,
Source: Yancey Roy, newsday.com)
---
Elvis the wild sea otter to be honoured: A Scots fishing village made famous by the children's TV programme Balamory is to honour Elvis - a wild sea otter.

The friendly mammal with the famous name was found dead under an upturned boat in Tobermory, on the Isle of Mull.

During his lifetime, Elvis had become a local celebrity and was a favourite attraction with tourists.

Mull's Sea Life Surveys has set up a memorial fund for Elvis and a local councillor has called for a statue to be erected in his honour.
Slicked hair - Helen Chalmers, who runs a bed and breakfast in Tobermory, told BBC Radio Scotland that Elvis became famous for "his ease" around people.
"Elvis seemed to be particularly comfortable with people watching him and was quite happy pottering about the main street of Tobermory with the tourists and the locals," she said.
Mrs Chalmers said the otter was given his name as his hair was always "slicked back" and "he was a bit of a performer". She added: "I've spoken to some wildlife experts and they say that when one (otter) passes away then the territory is open for another to come along and take their place. "Maybe he's left some baby otter that might come along and fill his shoes." (Odd Spot, Source: BBC News, March 2010)
---
Elvis butters up, but Michael Jackson vote sour: Jesus Christ and his apostles made the cut. So did John Wayne, Elvis and Tiger. But Michael Jackson will not have his buttery likeness displayed at the Iowa State Fair in Des Moines this summer, after support for a creamy statue of the King of Pop melted in an online vote. Kent Lehs, a manager with the Midwest Dairy Association, which sponsors the display, said Friday it wasn't a question of Jackson's achievements that drew complaints.
"They were more pointed toward what they felt they understand Michael Jackson's reputation was and not as a singer and dancer, but more some of the things he was implicated on in his personal life," said Lehs.
Jackson was accused of molesting a child in 1993 and settled the case without a trial, and he was acquitted of child molestation charges in a separate case in 2003. Butter sculptures have been popular part of the fair since 1911, and fairgoers jostle for position in front of the glass-enclosed displays to watch the artists at work. Besides a life-size Butter Cow, which always makes an appearance, sculptors usually whip up another display.
Past works have included statues of Elvis Presley and Tiger Woods, Harry Potter, a Harley Davidson motorcycle and even a slippery rendition of Leonardo da Vinci's "The Last Supper." And this year's display will celebrate the 40th anniversary of the moon landing.
Fair staff first announced plans for a Jackson sculpture days after his June 25 death. After being deluged with complaints, the staff clarified that the Jackson statue would be of him moonwalking, in keeping with the theme. But the complaints kept coming, so organizers decided to put the issue to an online vote.
"They were not going to go to the fair or they were considering not going to the fair or to the (agriculture) building," Lehs said.
Fair spokeswoman Lori Chappell said more than 100,000 votes were cast and by a 65 percent to 35 percent margin, people rejected the Jackson sculpture. Voters were asked to include a ZIP code, and 97 percent of those submitted were from Iowa, she said.
"They've certainly shown a lot of passion for the fair over the past few weeks," Chappell said.
Sarah Pratt, the 155-year-old fair's fourth butter sculptor, is expected to begin her work later this month to be ready by the fair's Aug. 13 opening. (
Odd Spot, Source: Melanie S. Welte, AP, 18 July 2009)
---
Police officers harassed 'Elvis' over Good Friday Agreement: A Derry man claims he was "harassed" by police who detained him at an English airport while he was dressed as Elvis. The Gobnascale man, who was en route to his stag weekend, claims he was repeatedly asked his opinion on the Good Friday Agreement during a two-hour interrogation at Newcastle Airport. He claims that the officers also "confiscated" his mobile phone for forensic analysis.

The 40 year-old, who has never been convicted for any "political offence", was beginning his stag weekend with 16 others when he was allegedly "singled out" by officers as he stepped off a plane from Belfast.

"I was dressed as Elvis for the stag do, complete with wig, guitar - the whole nine yards. Then they called me by my nickname rather than my full name and asked me to step aside - so I knew right away that something was not right. I was taken to an interrogation room downstairs where I was held for an hour and 50 minutes without being told under which act I was being held."

The local man said his detention "could not in any way be justified".
"They repeatedly asked me my opinion on the Good Friday Agreement and I said 'I have no opinion on it, I'm not political'. I just told them that the war was over."

He added: "I was harassed and victimised for nothing by Special Branch police - I can't understand what it was all about."

The officers said the interview was "routine", however the detainee maintains that it was "anything but". "It started with a Branch man saying,' this can take anything from one hour to 24 hours it's down to you' - that's no routine check," he claimed.

The groom-to-be and his fiancee are now "fearful" for their honeymoon plans which involve a stop-over in England.
"I'm really worried that I'll be stopped again when we go on our honeymoon in July - that would be a disaster for us." (Source: Ian Cullen, Derry Journal, Northern Ireland, 23 May 2009)
---
Gall Wasp named after Elvis: Many thanks to Brian Quinn for this news item:
On reading through your current news page it made me laugh to see the small piece about 'Elvisaurus'. It may also interest you to know that the gall wasp was also named after Elvis in 2004 with the latin name of:
PRESEUCOILA IMALLSHOOKUPIS BUFFINGTON
True, you can check it out on Google. The man is everywhere!
(Source: Brian Quinn, 23 May 2009)
---
Champion boxer wants to get married in his Elvis jumpsuit: According to The Sun, Presley fanatic Ricky Hatton, 30, is aiming to wear his Elvis jumpsuit - in the sky blue colours of his beloved Manchester City - when he weds sweetheart Jennifer Dooley.

He proposed on Valentine's Day, and a date has yet to be set.

But a pal of The Hitman said: "He wants the jumpsuit and an Elvis impersonator doing the ceremony.

"He can have his stag do out there too." (Source: The Sun, 28 Feb 2009
---
Elvis the squirrel attacks author!: An injured red squirrel named Elvis the Pelvis left a pensioner who came to his rescue in need of hospital treatment. The six-month-old rodent sank his teeth into squirrel fanatic Ernie Gordon's finger and thumb - leaving the retired civil servant in need of a tetanus injection and a course of antibiotics.

Mr Gordon, who wrote children's book The Adventures Of Rusty Redcoat Volume 1, had been called out to rescue the squirrel after workmen spotted the injured animal in a timber yard in Alnwick, Northumberland. ( Source: The Press Association, 11 Nov 2008)
---
SpongeBob Squarepants to face Elvis: Oasis frontman Liam Gallagher has commissioned a painting of kids cartoon character SpongeBob Squarepants. The singer is getting an artist to recreate the cartoon sponge in the style of pop artist Andy Warhol. The finished artwork will then hang in his living room for all to see alongside pictures of Elvis Presley and Jimi Hendrix.

Gallagher said: "SpongeBob is a fucking mental, full-of-beans, enthusiastic sponge that lives at the bottom of the sea in Bikini Bottom. He's mad for it." He went on to say another character in the cartoon, called Squidward, reminds him of his brother Noel.

Liam, who went to the premiere of the cartoon character's movie back in 2004, told Q: "I'm having a painting done at the minute, a proper Andy Warhol-style portrait of SpongeBob. He'll be facing Elvis and Hendrix." ( Source: NME, 29 Aug 2008)
---
Distant cousin of Elvis' sentenced to jail: No one's throwing a party at the county jail for inmate Kristopher Presley, a distant cousin of Elvis Presley and an aspiring hip-hop artist who pleaded guilty Wednesday to involuntary manslaughter in District Court.
That doesn't mean the inmate who calls himself "Thug Presley" has regrets about leaving. District Judge David Barker sentenced Presley to 18 months to four years in prison for a fatal confrontation in 2004. Since Presley already has served more than 1,100 days in jail during the case, he is essentially a free man. He is expected to be released soon from the Clark County Detention Center. Speaking in a slow Southern drawl, Presley told the judge that he regretted killing Martin Diaz-Barboza after getting into a fight outside a mini-mart on Tropicana Avenue near Boulder Highway. A police report said the confrontation grew out of a racial slur uttered by a friend of Presley in front of a couple of Hispanic men, including Diaz-Barboza.
Presley said he wants to get the experience behind him."I regret what happened. I'm so sorry," said Presley, a native of Tennessee who lives in Las Vegas on and off to pursue his music career.Authorities said Presley struck Diaz-Barboza with his SUV and then ran over him. A Las Vegas police detective who investigated the collision said in a police report that Presley didn't brake during the incident.Presley left the scene after the crash but was taken into custody shortly after the killing. He initially denied that he was driving the SUV but then said it was self-defense. Presley's attorney, Greg Denue, said his client often cries about the killing when he talks about it.
"He's tried to get on with his life," Denue said. "With his music career, he has a very bright future."
Presley has the same piercing blue eyes as Elvis, but that's where the similarities end. At 25, he keeps his brown hair cut short and has a row of gold teeth that flash when he smiles. Presley has worked a variety of jobs but has dreams of following in the footsteps of his famous cousin and becoming a world-famous singer.He has focused on hip-hop and said he'll soon release his first major-label album, titled "White Gold."Denue, who also advises Presley on his music career, has been pushing him to sing country music too. "Your last name is Presley. I want you to think NASCAR and pit stops," Denue recalls telling Presley. But in an interview at the jail, Presley said he's going to be a hip-hop artist.
"It's like the modern-day rock 'n' roll," he said.
Presley said his great-grandfather was a first cousin of Elvis' father, but he added that he has no connection to the wealth associated with Graceland. Presley downplays his connection to Elvis, a link that was discovered through other sources.
Presley grew up in a single-parent house in a poor area of Memphis, Tenn., and said being raised there informs his music. He has moved between Memphis and Las Vegas since he was 16. His mother lives in Las Vegas and was to star in a reality television show that would have had her date Elvis impersonators, Denue said. The show wasn't picked up. Ignacio "Nachi" Jimenez, Presley's manager, said Presley, a father of three, essentially raised himself. Jimenez said he's known Presley for about five years and believes he'll go far despite his rough background. "
He grew up on the streets living a real rough life," Jimenez said. "I felt bad for the kid that he had such a rough life." But Presley said growing up poor is one of the things he has in common with Elvis."He came up from the projects too," Presley said. (Source: David Kihara, Review Journal, 29 Aug 2008)
---
First the Terminator....now the Elvinator.....the King of Death: I thought I had seen the last of the WowWee singing Elvis robot last summer when Wilson skinned the thing and gave me nightmares. I was wrong. Instructables user GW Jax has put his Elvinator on display, which combines "The King" with T101, the king of death.

The Elvinator is only part done, as GW Jax has only given the skin a burned/melted look, and outfitted the Elvinator with an LED eye. But he plans to add in a Jaw piston for custom mouth movements, give the bot custom phrases, and endow it with interactive abilities, such as voice recognition and the ability to "learn." Looks pretty damn cool. (Source: http://gizmodo.com/www.epgold.com, June 2008)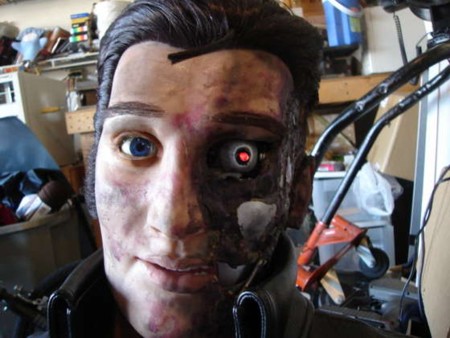 ---
Sweden couple told Elvis no name for a girl!: A Swedish couple has been told that Elvis is not an appropriate name for a girl, at least in Sweden. The couple said that they picked the name because they like the sound, The Local reports. The most important quality they wanted in a name for their daughter, now 5 months old, was that it be gender neutral.

"We talked about lots of names and then Elvis popped up," the mother told the newspaper Metro. "We thought it was a name that was both pretty and gender-neutral. We're not Elvis Presley fans at all."

The National Tax Board disagreed, telling the parents that Elvis "is a first name of a masculine type." Last year, a couple that picked the name Metallica for their daughter was allowed to keep it after a long fight with officials. (Source: UPI, June 2008)
---
Is this Elvis?: An image bearing a resemblance to Elvis Presley has mysteriously appeared on a slate in a garden in the shadow of the Preseli hills and could become a shrine to the king of rock'n'roll.

The phenomenon has rekindled interest in speculation that Elvis' ancestors came from the area, and already fans of the legend are showing a desire to visit the north Pembrokeshire site.

Elvis Aaron Presley was born in Tupelo Mississippi in January 1935 and died at his Graceland mansion in August 1977 aged 42.
A TV documentary was made and a number of newspaper articles written in connection with a belief that the singer's ancestors emigrated from the Preseli's.
The slate is a garden ornament at the remote home of Miss Morgan who specifically asked for the location not to be revealed for fear of Elvis fans converging on her home.
Taking up the story she said "My five-year-old niece came into the house and said there was a man in the garden.
"I went outside but couldn't see anyone until my niece pointed to the slate. I was totally taken aback, absolutely amazed. The image was not there when we put the slate in the garden. I just don't know what to think," she said.
Going on to say that one of her friends has already offered a four figure sum for the slate she said "I don't want to sell it. I look at it every day to see if the image is still there."
Shown a picture life-long Elvis fan Gaynor Thomas of Cardigan said: "I'm not entirely convinced it is Elvis but there is a real likeness."
Currently saving to become one of more than 600,000 people who visit Graceland annually she said: "If it becomes possible I will definitely go and see the slate, and I'm sure very many other Elvis fans would be interested." (Source: Charmaine Voisine/ John Adey, Tivy-Side Advertiser, April 2008)
---
Priest moonlights at night as Elvis!: Romanian-born Antonio Petrescu believes you can worship God and Elvis at the same time: as a Catholic priest and Elvis Presley impersonator, he finds his spiritual inspiration in the late rock legend.



"People ask me 'How can you reconcile Elvis impersonations with your choice of professional work?'" said Petrescu, who puts on his glittery suits and swivels his hips when not working as a parish priest in the Italian town of Avezzano.




Interviewed by Reuters on a church visit to the tiny town of Sorbo -- population, 52 -- in southern Italy, the priest said he believes Elvis is an appropriate inspiration for Christian worship because he sang of "love in
general".
The 34-year-old's Web site (www.antoniupetrescu.com) has two separate entries -- one for the priest, another for the artist, which talks about his "fiery voice" and discography including the singles "Lovin' Arms" and "Reach out to Jesus".
The pop doesn't stop at Elvis: Petrescu also incorporates the lyrics of singers like Celine Dion into his sermons.
Petrescu feels his responsibility as a priest is to "walk this Earth in love for Jesus Christ", a task in which he is inspired by Elvis's "search for spirituality in his own life".
( Source: Reuters, Oct 2007)
---
Elvis costume results in assault: AN Annesley barmaid who assaulted a colleague following a row over an Elvis fancy dress costume avoided the jailhouse yesterday (Monday). Kimberley Turner (23), of Mosley Road, was convicted of assaulting barman Craig Etches (19) with Hucknall man Richard Brown (19) on 22nd December last year during a previous trial at Mansfield Magistrates' Court.

And yesterday Turner was sentenced to a 12-month punishment order with 100-hours of unpaid work and ordered to pay £50 in compensation and £100 in court costs.

The court was told how Turner, who worked behind the bar at Hucknall Constitutional Club with Mr Etches, had been given the responsibility of hiring fancy dress costumes for staff for the club's Christmas celebration.

Mum-of-three Turner found an Elvis outfit for Mr Etches at a cost of £35 – but he refused to pay because of the poor condition of the costume.

She then threatened him as he left the club to walk to a nearby bus stop, before Brown punched, kicked and headbutted him after pinning him against a wall.

Brown, of Glendon Drive, was also given a 12-month community punishment order with 200-hours unpaid work and was ordered to pay £200 in compensation and £100 court costs.

Mr Etches suffered a large swelling of the cheekbone, a bloody nose and pain in his stomach and ribs following the attack. (Source: Chad.co.uk, Oct 2007)
---
Fake Elvis: Suspicious mind made him kill: A blood-soaked "house of horrors" greeted Revere police and firefighters when they answered an Elvis impersonator's 911 call and found that the homicidal King had pinned a half-naked guest to his living room floor with a 2-foot-long machete.

"It doesn't get more serious than this," grim-faced assistant Suffolk District Attorney John Powers said yesterday as the first-degree murder trial of Robert Daigle, 71, got underway - a murder, Powers said, that was "without justification and excuse."

The Sept. 19, 2003, killing of James Surette, 39, was so grisly Superior Court Judge Linda Giles cautioned jurors to steel themselves against letting pity for the dead man cloud their objectivity. His black pompadour, mutton-chop sideburns and white leisure suit replaced with shoulder-length gray hair and casual business attire, Daigle listened intently as Powers described how Surette's blood sprayed on the ceiling and walls of the Frye Street apartment he'd stopped by for drinks.
Powers told of how Daigle later shared with investigators "seeing chunks flying off the body" of Surette as he allegedly hacked him with the blade 27 times, having already plunged a kitchen knife through his heart. Daigle, looking more like Neil Diamond yesterday than Elvis, admits he did the deed, but claimed self-defense.
"There is no more powerful human emotion than the will to live," his defense attorney, J.W. Carney Jr., said in his opening statement. "Mr. Daigle felt that terror in his own home. He did what he had to do so that he would not die."
The ill-fated fast friends allegedly met at a bus stop on Sept. 18, 2003, and Surette, who also lived in Revere, accepted Daigle's invitation to come by that night and party. By the following morning, Sept. 19, 2003, Daigle contends, Surette was drunk and becoming affectionate in a "non-sexual" way. Daigle told him to leave; Surette allegedly refused and settled onto a couch to sleep clutching a kitchen knife to his bare chest after picking Daigle up and slamming him onto a glass table.
"Mr. Daigle thought the only thing he could do was to act to save himself," Carney said. Daigle snatched the knife from Surette and buried it in his chest - a wound that proved fatal, but not before Surette's skull was crushed and he was butchered with a mail-order machete during a frenzied, two-minute attack.
"Robert Daigle was so frightened that he would be killed," Carney said, "that he could not stop until he was absolutely, positively sure that he'd killed the man who was going to kill him."
Dismissing the urgency, Powers noted that Daigle took a shower and changed his clothes before summoning help. (Source: Laurel J. Sweet, Boston Herald, 18 July 2007)
---
| | |
| --- | --- |
| Elvis encourages Tour de France competitor: A spectator dressed as Elvis Presley encourages Linus Gerdemann of Germany as he pedals to the ascent of the Colombiere pass during the 7th stage of the 94th Tour de France cycling race between Bourg-en-Bresse and Le Grand Bornand, French Alps, Saturday, July 14, 2007. Gerdemann won the stage and took the overall lead on Saturday. (Source: AP PHOTO/Richard Martin, Pool, 16 July 2007) | |
---
Can you see the King of Rock in this rock?:

A river rock is causing quite a bit of talk in this mountain community. That is because on it there is a mark that has an uncanny resemblance to Elvis Presley.




"The hair, the sideburns and the collar all point to the King of Rock.

LaDell Alexander was the one to find it.

"I'm kind of a rock hound," she said.

She bought the rock, which weighs around 23 pounds, a while back in Colorado not noticing the image it carried. When I got home and was rinsing it off, I could see something in the rock," Alexander recounted, "And there's Elvis, plain as day, because when it's wet the black hair really stands out."

Alexander and her husband, Lynn, live in Texas, but vacation in Estes Park during the summer. That is where the "Elvis Rock" resides now and has started to attract attention. George Frawley owns a bed and breakfast near the Alexanders and visited their house Tuesday to have a look.

"It is the real thing!" Frawley exclaimed. "I don't want to get too excited, but this is big stuff."

The Alexanders plan to put the rock on eBay and donate 10 percent of whatever they get to a charity linked to the Elvis Presley Trust. (Source: KUSA*TV, 5 July 2007)
---
Got a dog that looks like Elvis?: The Commercial Appeal newspaper is looking worldwide for people - and nonpeople - who look like Elvis. Men, women, children, animals, inanimate objects, even food items, are eligible.
Put on your best lop-sided Elvis smile and send us a photo or a video and we'll include it on our Web site and possibly publish it during Elvis Week. Include your name, if you wish, and where you live. Here are ways to get your photo or video to:
E-mail photo: flickr@commercialappeal.com.
Join the flickr group CA Elvis Lookalikes at http://www.flickr.com/groups/elvislookalikes/
Send us your video on YouTube; e-mail a link to webmaster@commercialappeal.com. For more information, call Peggy McKenzie at (901) 529-2341 or e- mail mckenziep@commercialappeal.com. (Source: The Commercial Appeal, 28 June 2007)
---
Elvis lookalike saved by trademark quiff...but charged with selling illegal firearms: An Elvis lookalike gun dealer was saved by his trademark quiff when he was shot in the head, a jury heard. Michael Shepherd, aged 56, was hit when a gun went off by accident as he combed his hair, the Old Bailey heard yesterday. The carpenter, who has worked in Greenwich for 35 years, was leaving a Plumstead gun shop when he was hit.
He said: "The owner was showing another customer a gun as I was leaving the shop. "The gunshot went through my hand as I swept over my hair."
Shepherd, who is nicknamed Elvis because of his obsession with The King, is alleged to have sold illegal pistols to two undercover police officers in a sting operation. Prosecutors say Shepherd was caught red-handed after he started advertising on a website. They claim two undercover detectives were sent to call at his house and he agreed to sell them pistols.
Officers seized a cache of around 900 firearms from Shepherd's house in Wentworth Drive, Dartford, on September 13 last year. Of these, only two are now under scrutiny by the prosecution - an 1887 shot pistol and a Montenegran Gasser. Shepherd, a registered gun dealer with Kent police, said the shot pistol was for Tiger shooting in India and the Gasser was given to him by a Kent police sergeant, Mike Spencer, before he moved to Devon.
He blamed a stash of illegal weapons found at his mother's home on his son Clint, who is already behind bars for firearms offences. Shepherd is accused of conspiracy to possess firearms with intent to cause fear of violence, seven counts of selling or transferring a prohibited weapon and five counts of possessing a prohibited weapon. He denies the 13 charges. The trial continues. (Source:thisishertfordshire.co.uk, 24 June 2007)
---
Elvis in the building...psychics reveal: Psychics have told Daytona Beach resident Jeffery Golden he is the reincarnation of Elvis Presley's twin brother, who died at birth. Saturday, judges will tell Golden and 19 other Elvis impersonators whether they have the right stuff to win the "Ultimate Elvis Tribute Artist Contest." Read full story (Source: Daytona Beach News Online, 16 June 2007)
---
"Elvis" town councillor wants 'nude' pool: Council meetings in Reus could take a turn for the bizarre after the northern Spanish town voted in a councillor who promised to turn up dressed as Elvis Presley and wants to turn the square into a nudist pool. Ariel Santamaria, a former postman, stood for a small independent party dressed in full Elvis regalia complete with sideburns and won enough votes last weekend to take a council seat.
It remains to be seen how other parties will take his proposals for Reus, a town of 100,000 people near Barcelona. His platform included plans to paint the town hall pink, plant marijuana in the parks and give the town police global positioning systems to find people who might need a light while rolling a joint. (Source: Reuters, 1 June 2007)
---
Jumpsuit panther: Unusual picture from ElvisMatters Member Roelof Stabler: "Last March, we visited Jacksonville Florida, and noticed several panthers in all kinds of art decorations. One of the panthers was dressed in the American Eagle jumpsuit. Very tastefully done, as you can see on the attached picture." Do you have more Elvis related pictures? Feel free to send 'm to us!

(Source: Elvis Matters)
---
Will Elvis join Lady Liberty?: In New York last week, I drifted onto Pier 17. There, a silver-painted street performer portrayed a herky-jerky mechanical man, emitting machine sounds, for donations. Silver-painted machine men. The poor slobs are probably former Detroit auto workers, subprime mortgage lenders or dead-tree journalists. The way my industry is going, it's pretty clear to me that if I want a pension, I'd better learn the robot.
Anyway, it was amusing to come home and see downtown boosters recruiting such colorful characters to "create atmosphere" in the city center. Well, sure. Break dancers, drummers in dashikis, a trio of Latino guitarists strolling Dean De Carli Waterfront Square on a warm summer night. That would be good. Just please, not that guy who leaps out of bushes and scares the daylights out of you at San Francisco's Pier 39. That act is tragically wrong for Stockton.
However, the booster group, the Downtown Stockton Alliance, is charging fees and issuing performer permits "to distinguish them from panhandlers." Speaking only for myself, I require no help distinguishing a street performer from a panhandler. The poor panhandler has duct-taped shoes and enough peat dirt on him to bring Roberts Island back up to sea level. Dressed as a mime and pretending to picnic? Street performer.
"I would love to see an Elvis," said Kathy Miller, head of the Downtown Stockton Alliance, the outfit pursuing this idea.
Already the alliance has been contacted by a balloon artist, a couple of guitarists and a singer who dresses as the Statue of Liberty, Miller boasted. What does Lady Liberty sing? "I'm not sure. But I have to admit I'm very curious," Miller said. (Source: Michael Fitzgerald, Recordnet.com, 20 April 2007)
---
Altercation at UK Elvis event leads to suspended sentence and community service: An Elvis lookalike got drunk and attacked four people at a convention for Presley fans, a court has heard.
Justin Phillips, 34, attacked a doorman and three Elvis fans when he was refused entry at the event in Porthcawl, south Wales, last September. Phillips, of Nantyffyllon near Bridgend, bit a woman's arm and "gouged at" two men's eyes after drinking heavily, Cardiff Crown Court was told.
He received 150 hours community service and an eight-month suspended sentence. The court heard Phillips had been drinking at the seaside resort's Brentwood Hotel, decked out for the occasion as the Heartbreak Hotel.
He left the convention - the UK's biggest annual tribute to the King - believing the festivities were over, but heard the Presley tribute band struck up again. He tried to get back in, but was refused entry. The court was told a doorman and three Elvis fans stopped him because he was "too drunk". Prosecutor Richard Evans said: "He became abusive and aggressive towards staff and other Elvis fans.
"One woman became involved and he bit fiercely into her arm. Two men attending the convention tried to make him calm down but he gouged at their eyes with his fingertips."
Phillips admitted assault, wounding and inflicting actual bodily harm.Judge Christopher Llewellyn-Jones gave him an eight-month suspended prison sentence and 150 hours community service. Robert Hawkins, defending, said: "He is deeply remorseful and ashamed of himself." (Source: BBC News, 25 March 2007)
---
Elvis to vote in Papua New Guinea election: The late Elvis Presley plans to be a ghost voter at the 2007 national elections in the jungle-clad South Pacific nation of Papua New Guinea -- if you believe the nation's electoral rolls. In 2006 almost half of Papua New Guinea's 4.9 million registered voters were regarded by the electoral commission as ghost voters and did not exist. The commission has been trying for a year to update voter registration ahead of June 30 elections, but admits voter rolls in remote, rugged highland electorates remain vastly inaccurate. Electoral Commissioner Andrew Trawen said ghost voters remained a problem with several Elvis Presleys, the U.S. rocker who died in 1977, registering to vote, alongside a handful of Tom Jones, and a couple of kings and queens. (Source: CNN.com, 9 Mar 2007)
---
Believe it or not! -

Elvis in casket item on ebay:

Extremely unusual item is composed of a ceramic elvis bust laid in a real Poplar wood casket, reproducing the well known last photo of the King. The coffin was purchased new specifically for this display, which has been featured in a few local newspapers. This would make a great Halloween prop with or without Elvis. The lot includes the casket, the Elvis bust and torso and the visitation hours sign.

(Source: E-Cat, FECC, 31 Jan 07 )

---
Fake "Elvis Cup" sold on ebay: Wade Cummings (the "Elvis Cup" man) reports: The original Elvis Cup has never been sold...A " fake" paper cup...purportedly used by Elvis was scammed on eBay...sold ...trying to capitalize on the real Elvis Cup's fame. (Source: PR Inside, 24 Jan 2007)
see earlier stories dated 24 June 2006, 15 May 2006, 29 March 2005 and 10 March 2005
---
Elvis back on the building (see original story below): The King is back. A 6ft model of Elvis Presley is safely home again after being stolen from the roof of a pub in Hove. The Argus reported on Friday how Mike Greaves and Adrienne Lover of the Nevill Pub were left scratching their heads after the plaster model of the legendary singer disappeared overnight.

It had taken three men to lift the Elvis model into place on a 12ft high flat roof six months ago. However, Mr Greaves, Ms Lover and her daughter Kara, five, who live in a flat above the pub, did not hear a thing when it was removed.
Mr Greaves said: "I am delighted to say Elvis is back in the building. It turned out that a boy was coming home early in the morning and decided to take the model home to his mum, who is a big fan.
"She knew nothing about where he had got it from until she opened up The Argus and saw the story. She immediately made him bring the model back. He will also be helping me to scrub out the cellar for a few hours as well as a way of saying sorry."
When the model Elvis was taken, he was snapped off and his feet left behind so he needs to be repaired before he can go back on the roof again.
Mr Greaves said: "It should take about a week and then we are going to plan a special Elvis night around the end of January." (Odd Spot, Source: The Argus)
EIN Comment: This is odd. We find it hard to believe one boy could remove an item that took three men to put in place on the roof.
---
Elvis has left the building: A theft at a Hove pub has left the locals all shook up. A 6ft model of legendary singer Elvis has been stolen from the roof of The Nevill. Landlady Adrienne Lover said: "We are missing him and we want him back." The plaster model is so heavy it took three men to lift it into place six months ago. Wearing his famous spangly white jumpsuit, Elvis stood on top of the 12ft high flat roof above the saloon bar of the pub in Nevill Road.

Opposite: Michael Greaves and Adrienne Lover beneath where the King used to sit
But on Wednesday night, thieves pinched the King, leaving only his feet, which were snapped off, behind. Adrienne, 37, said neither she nor her partner Michael Greaves nor her fiveyear- old daughter Kara, who live in a flat above the pub, heard anything.
She said: "One of the regulars came into the pub the following morning and asked where Elvis had gone. At first I thought he had blown down and then I saw he was gone.
"I do feel pretty upset. It feels like nothing is sacred."
She said Elvis had become a popular attraction since he was bought from a friend and put on the roof of the pub, which is currently for sale. Regular customers grew fond of him and passers-by took photographs. Elvis fans would call in for a drink and recently 20 people who had just attended an Elvis convention turned up. (Source: The Argus, UK, late Dec 2006)
---
Wales - Bald Elvis all shook up by death threats: An Elvis impersonator has been left 'all shook up' after receiving death threats. Actor Geraint Benney, from Aberdare, claims to be the only Welsh-speaking, bald Elvis in the world. But he says his act, which is performed in pubs and clubs across South Wales, has enraged some extreme fans.
'I have had death threats,' said Geraint. 'One anonymous fan is even threatening to shoot me. Some people think my act is disrespectful because I am bald. But being bald makes me stand out.'
The 34-year-old added: 'If Elvis were alive today I am sure he would have a good old laugh. Geraint said he had informed South Wales Police and officers are investigating. (Source: ic Wales, 8 Dec 2006)
---
UK - 109 Elvises raise money for charity: Passengers at London's Gatwick airport were treated to a bit of surrealism as they waited for their flights. More than 100 Elvis Presley's were gathered at the hub waiting to board a flight to Las Vegas, reports the Sun. The congregation was preparing to complete a sponsored walk onboard the flight in a bid to raise money for charity. In total, 109 Elvises took part in the walk, which involved walking up and down the isle of a 747 in a relay format. The team, which was made up entirely of employees from an office design company, managed to raise £50,000 and even found time to entertain other passengers while still on the ground. Those waiting for their flights were greeted to renditions of Suspicious Minds and other Elvis classics.

(Source: Amber Smith, 5 Dec 2006)
---
Swedish girls in Elvis handcuff ordeal: In a weird and frightening incident three 14 year-old Swedish girls went to Brighton to learn English, but got more than they bargained for when their host family included a crazed, handcuff-wielding Elvis fan. Read full story (Source: The Local, Sweden, 24 Nov 2006)
---
USA - Man claiming to be Elvis' son deemed unfit: A man who claims he's Elvis Presley's son and is accused of making threats against Utah judges has been found mentally unfit to stand trial.

Forty-nine-year-old Ernest John Young, also known as Jason Presley, was declared incompetent last week after two medical examiners testified Young thinks he's the heir to the Presley fortune, among other views and beliefs.

One of the medical examiners said it's obvious Young suffers from a delusional disorder of a grandiose type.

Young is accused of threatening several judges on multiple occasions for refusing to file murder charges against people he believes conspired to kill Elvis Presley.

Young will now be sent to the state hospital for an attempt to restore him to competency.

(Source: Amber Smith, OOct 2006)



---
Canada - Even the hound dogs didn't vote for Elvis: His signs urged "Don't be a Hound Dog, vote for Elvis," but the voters left him lonesome tonight.Elvis Aaron Presley, the Independent candidate running in Pelly-Nisutlin, finished last in a four-person race. Although he briefly held a lead after the first poll was reported, Presley quickly fell to the bottom of the count and did not recover. When all the ballots were counted the colourful candidate managed to capture seven per cent of the popular vote - 40 votes in all - but finished far behind the winner, Marian Horne of the Yukon Party, who took 42 per cent of the vote totalling 241 ballots. Presley, whose signs were vandalized during the campaign, resorted to laying in wait at the end of the road with a video recorder, hoping to capture the crime on camera. He was unsuccessful. Presley changed his name from Gilbert Nellis more than a decade earlier. (Source: CBC Canada News, 12 Oct 2006)
---
USA - He's the mayor -- not The King: One of the hot-selling local items these days is the Jer-vis, a T-shirt that has Elvis Presley's body and Mayor Jerry Abramson's head. Why Louisville is selling the item at festivals, in its Bardstown Road store and at www.whylouisville.com for $15.99. Store owners Will Russell and Ben Peskoe were brainstorming when Peskoe came up with the idea several months ago. (Abramson's head on Yoda's body was also considered.) Russell said Abramson bought one of the shirts at the Forecastle Festival in August. He got it for half price when he could only fish $8 out of his pockets, Russell said.
Abramson said he bought the shirt for his son. However, "Sidney won't wear it," Abramson said, laughing and shaking his head. Russell understands. "When I was his age, I probably wouldn't have worn a shirt with my dad's face on Elvis's body." What's next, a Kel-vis, featuring Kelly Downard, Abramson's Republican mayoral opponent? "Probably not," said Russell, saying that Abramson was chosen because his years as mayor make him a local icon. (Source: Metro Notebook, 11 Oct 2006)
---
USA - Flying Elvis breaks his pelvis: A "Flying Elvis" suffered a broken pelvis during the grand opening of the Glacier Peaks Casino here. Paul Moran is a member of The Flying Elvi, a 10-member skydiving team made up of Elvis Presley impersonators, who were hired to parachute into the parking lot at the casino Friday. Other members of the troupe said the Las Vegas man apparently misjudged the landing and hit the ground at 50 mph. "I talked to his family (Monday) and they said he is doing well, but he did break his pelvis," said Gary Green, casino manager. Moran was taken to the Blackfeet Community Hospital and then flown to Harborview Medical Center in Seattle, where he is listed in serious condition in the intensive care unit. (Source: AP, 3 Oct 2006)
---
Strange posting on Elvis and Satanism: Amber Smith sent us this odd posting apparently from one of the messageboards: "I think there's good evidence Elvis was deeply into Satanism. For a start, he loved black clothes, capes and stuff. He even died his hair jet black, and didn't like sunlight at all. He lived at night and put silver foil on the windows to stop the sunlight. I'm amazed he didn't go the whole hog and buy a castle in Transylvania!" (Source: Amber Smith, 1 Oct 2006 )
---
The "Elvis" of terrorists: Rumors that Osama bin Laden has died have been running rampant in the news the past few days. Reportedly the evil, bearded one fell dead from typhoid, or ennui, or something like that in the latest of his caves.
Of course, who can forget the time he died in Jan. 2002? Or when he ceased living in July of 2002? Or when his 72 smoking-hot virgins welcomed him in June 2005? Or in Dec. 2005?
Osama bin Laden has basically become the Elvis of terrorists. Soon, there will be sightings of him pumping gas while dead in Des Moines. Plus, I hear bin Laden digs wearing leather and swiveling his hips. And loves peanut-butter and banana sandwiches. And popping pills like a mad man. And had a twin brother that died at birth named Jessie Garon. And can also bring tears to your eyes with a version of "Love me Tender." Seriously, the similarities are mind blowing. Anyway, the world may or may not be without its favorite demented cave dweller. (Source: WKW, Travelgolf.com, 26 Sep 2006)
---
USA - Anne Heche upstaged by Elvis: Anne Heche was being upstaged by a raccoon, and the animal wasn't even in the room. Heche was talking to a gathering of TV critics about her new series, Men in Trees, but the critics seemed more interested in gleaning information about Elvis, a raccoon regular on the ABC series airing Fridays. As Elvis's talent was discussed, Heche played along. "Best actor I ever worked with," she quipped. Yet she also revealed Elvis didn't do all his own stunts. He needed a double -- a dog called Boomer in a raccoon suit -- for a sequence when he had to run really fast. (Odd Spot, Source: The Calgary Sun, 23 Sep 2006)
---
USA - Planet Elvis?: Elvis may have left the building, but if Beale Street bar owner Silky Sullivan has his way, the King will have a new place in the solar system. Sullivan has begun a local campaign to re-name Xenu, the recently discovered pseudo-planet just beyond the orbit of Neptune. He wants to call it Planet Elvis. The official task of naming planets belongs to the International Astronomical Union (IAU), but Sullivan believes a little grassroots work can convince the agency to take his advice.
"Just imagine when a child opens his textbook and sees the planets in the solar system. He'll say, 'Look, Daddy, there's Pluto. And there's a Hunk of Burning Love," says Sullivan. (Source: Memphis Flyer Online, 23 Aug 2006)
---
Elvis featured in "Number Freaking" book: Doodling with numbers, with over 200 pages of surreal sums and absurd arithmetic. For example, Elvis Presley was eating 65,000 calories daily when he died at the age of 42. According to McDonald's, a Big Mac contains 600 calories. Elvis was eating the equivalent of 108 Big Macs a day when he died! (Source: Cafe Press, 23 aug 2006)
---
UK - Dog destroys teddy bear owned by Elvis: A guard dog has ripped apart a collection of rare teddy bears, including one once owned by Elvis Presley, during a rampage at a children's museum.

"He just went berserk," said Daniel Medley, general manager of the Wookey Hole Caves near Wells, England, where hundreds of bears were chewed up Tuesday night by the 6-year-old Doberman pinscher named Barney.

Barney ripped the head off a brown stuffed bear once owned by the young Presley during the attack, leaving fluffy stuffing and bits of bears' limbs and heads on the museum floor. The bear, named Mabel, was made in 1909 by the German manufacturer Steiff.

The collection, valued at more than $900,000, included a red bear made by Farnell in 1910 and a Bobby Bruin made by Merrythought in 1936.

The bear with Elvis connections was owned by English aristocrat Benjamin
Slade, who bought it at an Elvis memorabilia auction in Memphis, Tenn., and had loaned it to the museum.

"I've spoken to the bear's owner and he is not very pleased at all," Medley said.

A security guard at the museum, Greg West, said he spent several minutes chasing Barney before wrestling the dog to the ground. (Source:AP, 3 Aug 2006)


---
USA - The town big enough for Elvis and Bigfoot: The first thing to understand is that Elvis Presley (really, that's his name - if I'm lying, I'm dying ) is alive and well and living in Phillips, Milwaukee, so don't discount the impossible. Unfortunately, historic Bloom's Tavern, the bar Presley now owns next to a building named Heartbreak Hotel, was not open the day I stopped so I was unable to frame the question any newspaperman would trade his first born to ask.
"Elvis, have you seen Bigfoot?"
So I did the next best thing. I walked
Some restaurants in town were said to have put Bigfoot Burgers or "sasquatch soup" on their menus, Stutzman's story said, while south of town at Roscoe's Country Sausage owner Dennis "Roscoe" Skomaroske changed his outdoor sign to read "Buying Sasquatch Hides." And Solberg Park is very nice. On my way out of town I stopped to see where Bigfoot researchers had camped, hoping to pick up a vibe. The only upright creatures I found were campers, though I kept my eyes peeled as I departed, remembering what Brian Skomaroske had said could be one downside of this whole fuss.
"Some goofy son of a (gun)'ll probably put a monkey suit on and go in the woods," he said, "and somebody'll shoot him."
At least then we could say, Bigfoot has left the building. (Source: JS Online, 17 July 2006)
---
Filipino impersonator records tribute to the Elvis Cup: Last year Wade Jones achieved notoriety when he sold viewing rights to a foam cup allegedly used by Elvis. Now a Filipino Elvis Impersonator (Renelvis) has recorded a song "The Elvis Cup" ( a Tribute to the Elvis Cup). Meanwhile, Associated Press has published a weird story about the Elvis Cup: I channel Elvis' spirit through the styrofoam cup (Source: Wade Jones, 24 June 2006)
---
Scotland - You're the diver in disguise: ELVIS is alive and swimming - in Scotland. Almost 29 years after The King died, he has been spotted underwater in Scapa Flow, Orkney. But it's not the latest in the thousands of reported sightings by those who refuse to believe he is dead. The rumours of an Orkney Elvis are down to dive firm owners Ben and Sara Wade, who produce a range of novelty masks, including an Elvis one which has become a great hit with their customers. The Elvis hood, which costs £70, has an oversized wing collar, the King's distinctive hairstyle and 70s-style sunglasses. And they are now considering a full Elvis diving suit, complete with sequins. (Source: Sanja Meegin, 13 June 2006)
---
USA - Elvis in Top 10 celebrity ghost list: According to The Hollywood News Web site — which sounds very official and professional but is, in fact, just something compiled by two young writers — Elvis Presley is one of our country's top-10 "celebrity ghosts." "Not only is this legendary singer believed to haunt his beloved home in Memphis, but also stagehands working at the Las Vegas Hilton (where he often performed in the early 1970's) have reported regularly seeing him dressed in his famous white-sequined suit." He ranks above other Hollywood legends such as James Dean and John Wayne, but at #3 is beaten by Marilyn Monroe (#2) and Rudolph Valentino (#1). (Source: The Memphis Flyer, 11 June 2006)
---
Bulgaria - "Elvis Bulgaria" investigation smashes child exploitation network: Youngsters forced to work as modern 'Oliver Twists' · Police in Italy have smashed a criminal network that exploited hundreds of children from impoverished families in Bulgaria, forcing them to work as modern-day Oliver Twists.
The children, aged from nine, were sent out to beg on the streets and trained to pickpocket passengers on buses and subways.
Investigators said the youngsters were beaten or threatened if they did not fulfil their daily quota and were "relegated to the status of mere objects", after their families rented them out to the gang in exchange for a share in the profits or an immediate cash sum. In one case, officers in Venice came across a 13-year-old girl who was eight months' pregnant. "The group took advantage of the fact that a child under 14 cannot be arrested in Italy," Carabinieri official Gabriele Passarotto said.
Details of the investigation - codenamed
Elvis Bulgaria
- were revealed in Trieste in a press conference attended by Piero Grasso, Italy's chief prosecutor of organised crime.
(Source: The Guardian, 31 May 2006)
---
USA - Jimmy Hoffa in Elvis' grave!: Conspiracy theorists have floated the hypothesis that it is Jimmy Hoffa, not Elvis, in Elvis Presley's grave. (Source: ProgressiveU, 31 May 2006)
---
USA - OJ Simpson to appear as Elvis: OJ Simpson is to star in a new reality TV show, where he will appear as an Elvis impersonator amongst other roles. In Juiced, OJ will also pretend to be a street-corner fruit seller, an elderly man at a bingo game and himself trying to sell the car he used when he was arrested on charges for murdering his ex-wife. The show will air on pay-per-view in the US this month and will be followed by the release of a DVD. A spokesperson said that OJ was not paid for his role in the programme and purely thought it would be fun. ( Source: Digital Spy TV, 15 May 2006)
---
USA - 'Wade the Elvis Cup Guy' selling photo of Elvis taken months after his death: Wade the Elvis Cup Guy is selling (on ebay) a color copy of the famous "poolhouse" photo. Meanwhile, Wade continues to tour with the famous "Elvis cup". (Source: Wade the Elvis Cup Guy, 15 May 2006)
---
USA - Elvis' ghost inhabited these boots in seance: Here is another one of those truly odd moments in the Elvis world. Now on ebay:

"This is the last of my paranormal collection that I will be auctioning off. These leather boots belonged to me and were worn by me when I made contact with and channeled Elvis Presley's spirit during a seance back on August 16, 1997 (The 20th anniversary of his death). Everything seemed fine until my friend began asking Elvis's spirit about the wedding of his daughter and Michael Jackson. It was evident that Elvis didn't want to talk about it but the constant goading and joking by my friend caused Elvis to lash out and start Karate kicking him.
After two minutes the link was broken and he was gone. I was not able to get his autograph, what the seance was intended for, and until I stopped doing seances in 1998 was never able to contact him again. Please note, these boots were not Elvis Presley's when he was alive. I bought them new in 1996. They are leather, size 9.5D and made in the USA. I never wore them again after that seance so they still have the scuffs from Elvis Presley's spiritual rage. They have been stored for nearly a decade and are still in excellent condition. Imagine, the lucky winner will be the owner of something Elvis briefly wore after his death, and short presence in this world, before returning to the afterlife. If you are an Elvis collector then this would make a unique addition to your collection". (Source: ebay, 16 April 2006 )
---
North Pole - Elvis adventure to the North Pole: Three polar adventurers are preparing to walk and ski to the top of the world dressed as Elvis.Jonny Clayton, Alex Tate and Steve Goodair believe it will the first time Elvis impersonators have been spotted in the far reaches of the frozen Arctic. They are trekking 368 miles from Cornwallis Island, off Northern Canada, to the 1996 site of the Magnetic North Pole in their specially made Elvis style survival suits, complete with thermal insulation and rhinestones. The three friends are taking part in the 2006 Sony Polar Challenge race which starts at the weekend. (Source:Yahoo News, 14 April 2006)
---
USA - Believe it or not - Elvis and Barbra Streisand: Elvis4life recently posted this interesting message on the FECC messageboard:
"Christohper Andersen, who has revealed the secrets of everyone from "Jack & Jackie" & "George & Laura" to "Diana Ross" in his best-selling biographies, now turns his attention to America's reigning diva. In "Barbra: The Way She Is" [Morrow $23.95], he takes a long look at Streisand, both the artist & the woman. This exclusive excerpt is all about Barbra & some of the men who figured large in her life, if only in passing.

ELVIS PRESLEY:On her second to last night at the International [in Las Vegas], Barbra introduced Elvis from the audience. Like everyone else who had been at the disastrous opening-night performance, he was impressed with how she had managed to turn things around so dramatically.

Afterward, Presley, tanned & fit & on the verge of a major comeback, visited Barbra in her dressing room. Before she could react, he shut the door, knelt down, grabbed a bottle of nail polish from her dresser, & started painting her nails with long deliberate strokes. It was not the first time he had used this ploy to catch a woman off balance. Ann Margret, with whom he enjoyed a long & torrid affair, once told a friend Elvis enjoyed painting her toenails.

"I was...speechless," recalled Barbra, who soon added Elvis to her lengthening list of what she now referred to as her "flings". Later, when Elvis followed her at the International, Barbra "stayed over a few nights", said David Kramer, who worked for the hotel under [Kirk] Kerkorian.

Although she seemed a far cry from the big-haired, toothsome, all-American beauty queens Elvis preferred, Streisand "intrigued him", said a longtime member of Presley's entourage.

"She had 1 thing Elvis valued above all others, a God-given ability to sing. He was in awe of great talent". (Source: FECC, March 2006)
---
Australia - Elvis manages another #1, but Buddy Holly fails to finish: Elvis Rocks managed to record a number one hit at Harold Park last night (March 10), when he became the sixth winner to lead from start to finish. Prepared by Roy Roots Jnr and driven by Wayne Innes, the former New Zealander enjoyed a good run after commencing the 1760 metre event from gate two. The 5-Year-Old son of Albert Albert had enough in hand to score by a neck over Spiritual King, who made up plenty of ground in claiming second, after settling at the rear of the field. Elvis Rocks has now contested 10 of his 21 starts under the care of Roots since crossing the Tasman, with a win at Newcastle also appearing on his record. The gelding is out of Tala Queen, who was sired by Butler B G.
Tala Queen has had two foals, and, obviiously the breeder is a rock and roll fan. After Elvis Rocks was born in 2000, the second foal was named Our Buddy Holly. The gelding is a son of the great Christian Cullen. Our Buddy Holly commenced his career with a number one hit at Geelong last June. However, his next five attempts failed to make the charts, culminating in an unplaced run at Kilmore last November. (Source: HarnessLink.com, 13 March 2006)
---
UK - Shirley Bassey as actor "starstruck" over doodling Elvis: It has four costume changes, a plethora of stars, and one unmistakable voice. In Another Audience With ... Dame Shirley Bassey reveals her relationship with the stars, how she found her singing voice and why she loves Bond. She was asked...
(as) Coronation St actor Anthony Cotton was recently asked, "Have you ever been starstruck?"
"Oh God, yes - Elvis Presley. I went backstage to see him after his show in Las Vegas and I had one of those jumpsuits that were very fashionable in those days. There was a button there, (gestures to top of chest), and then it was open, and a button there, and then open, and a button there, and then open, right down to my navel. He started doodling on my skin - I can't go on, I still get goosebumps just talking about it. I went to my room and got undressed and looked in the mirror and there were all these crazy drawings on me. I never washed again!" (Source: icwales.co.uk)
---
USA - Ghost of Elvis Appears on Office Depot Receipt: Could this really be the ghost of Elvis? Jenna Cage of Northern California was looking up an Office Depot rebate receipt when she discovered the ghostly image of the King eerily manifested on the receipt itself. The detailed features of the eyes, nose, and mouth are unmistakable--could this really be proof that Elvis lives?
Jenna recounts the eerie circumstances leading to the discovery of the Elvis ghost. "Last month, shortly after Christmas, I purchased 2 laptops from Office Depot. There was a mail-in rebate offer which I immediately sent in after my purchase. I had not received the rebate check so I got out the copies of the rebate paperwork with intentions to call Office Depot so they can look up the status of my rebate.

As I opened the folder to retrieve the original receipt, I almost fell out of my chair! On the receipt (right on top) was an eerie yet unmistakable ghostly image of none other than the King himself, ELVIS PRESLEY! The "ghostly image" contains very clear outlines of ELVIS' eyes, lips, and hair."

The question is how did the ghostly image appear or where did it come from? "I am not an Elvis fan", says Jenna. "I have nothing in my house that contains anything that is or connected with Elvis Presley. I have no idea how, why, or where the image came from. All I know is that the receipt is all original, unaltered, and exactly as it was when I got it from Office Depot," she states.

The receipt, dated January 12, 2006, coincidentally marks exactly 33 years (the age of Jesus when he died) to the date of Elvis' "Alternate Aloha Concert" taped January 12, 1973 that drew in over 1.5 billion viewers and was the largest, most spectacular concert of the King of rock and roll ever. It also marks 4 days after the King's (would have been) 71st birthday.

A journalist doing an article on the Elvis receipt also pointed out a very interesting yet very eerie coincidence that makes this phenomena even more bizarre. OFFICE DEPOT'S SLOGAN: "TAKING CARE OF BUSINESS" (which you can clearly see on the receipt) was apparently ELVIS' signature slogan as well! This gave the receipt's owner Jenna the chills especially since one of the ghostly images appear right on the printed slogan itself.

According to the journalist, Elvis apparently took this quote very seriously and even had a "TCB" (TAKING CARE of BUSINESS) diamond logo designed which adorned his rings, necklaces, sunglasses, etc. that he wore to concerts and on an everday basis. Over 200 curious onlookers have viewed the auction in its first few hours. "I've already received several emails commenting on how the images could be anyone from James Dean to Abraham Lincoln", states Jenna. "But the lips---the lips are definitely Elvis", she says.

View the phenomenon on eBay by searching Item #: 5671493518 or go to:

http://cgi.ebay.com/ws/eBayISAPI.dll?ViewItem&item=5671493518 (Source:PR Newswire, 1 March 2006)
---
UK - Ain't nothing but a husky dog: A Siberian husky named Elvis dresses up like his namesake prior to this year's 23rd Aviemore Sled Dog Rally. Elvis was retrieved from a rescue home by owner Dawn Peat. The Aviemore Sled Dog Rally takes place in Glenmore Forest Park on January 21-22 with around 200 teams of dogs from all over the country taking part.

Organised by the Siberian Husky Club of Great Britain the rally is run on tracks around Loch Morlich in the shadow of the Cairngorms. The event is the biggest gathering of its kind in the UK for dogs, which were first bred to pull sleds in Arctic conditions hundreds of years ago.
The rally features teams of between two and eight dogs running at up to 20 miles an hour over a gruelling, four-mile track. Along with the Siberian huskies, rally dogs include Alaskan Malamutes, Samoyeds, Greenland Dogs and Canadian Eskimo Dogs.
Even if there's no snow at ground level for the event, the races will still go on with mushers using a three-wheeled rig that looks like a bike without a seat.
Sled dogs come from as far as the Isle of Wight and Devon for one of the most challenging and prestigious of the British Siberian Husky Club's series of rallies. (Source: Sanja Meegin, 20 Jan 2006)
---
England - Princess Diana's "Elvis dress" on display: After years of legal tug-of-war, a lavish gown worn by DIANA, PRINCESS OF WALES has gone on display at London's Victoria And Albert Museum. The high collar, pearl-encrusted gown known as the ''Elvis dress" was donated to the museum by a US memorabilia firm in 2005 and was put on show on Friday (13 Jan 06).
Franklin Mint purchased the floor-length white gown - worn by the late princess during an unofficial visit to Hong Kong in November 1989 - at a fundraising auction in 1997. The firm later fought an ongoing legal battle against the Diana, Princess of Wales Memorial Fund, who tried to prevent the firm from selling Diana dolls wearing the dress by British designer CATHERINE WALKER. Mint filed suit against the charity in 2002, claiming $25 million (GBP14 million) in damages.
Critics argued that millions of pounds of the fund's money had been wasted after a $7 million (GBP4 million) legal bill led the organisation to freeze its donations in 2003. Following an out of court settlement between the respective parties, the fund resumed awarding grants to causes supported by Diana in November 2004. (News, Source; Contact Music, 17 Jan 2006)
---
Australia - "Elvis" has left the runway: THEY'VE tried fireworks, car horns and even a stuffed crocodile named Elvis (seen opposite on patrol in 2003) but nothing will keep birds away from Queensland airports.

At least 172 birds struck aircraft at Queensland's major aerodromes between January and September last year – more than a third of the national figure.

Cairns had 79 strikes – more than any other major airport – while Brisbane (64) and the Gold Coast (29) figured prominently in the Australian Transport Safety Bureau statistics.

Authorities have tried a variety of techniques to deter birds, but few have been as creative as an experiment in Cairns where a fake 1.5m crocodile was employed to keep wildlife from the runways.
"Elvis" was introduced to a swampy part of the airport in 2003 to frighten away fruit bats, ducks and other birds.
"It worked in the short term but then some of the birds got used to him," said Kim Kelleher, environment manager for the Cairns Port Authority. "It was a bit labour-intensive – you'd have to keep moving it around." Although Elvis – so called because he was dead yet still sighted occasionally – has since disappeared, airport officials would not rule out the possibility of similar fake salties being used again in the future. "We consult the Queensland Parks and Wildlife Service and the CSIRO and we're always willing to make changes and look at new strategies," Miss Kelleher said.
Other novel methods used include distress calls, horns and pyrotechnics that frighten away birdlife with a loud bang and a puff of smoke. (News, Source: Sunday Mail, 15 Jan 2006)
---
Australia - THE MARYHILLBILLYS - GODDAM HE THINKS HE'S ELVIS: Surely this must be the best name for a Scottish country band based in Australia? With a chorus of "Amen, the king is gone" and a fiddle-powered middle eight, this could be straight out of Nashville itself. (Source: The Daily Record, 14 Jan 2006)
---
Australia - Woman loses that lovin' feeling and stabs boyfriend over Elvis: A woman stabbed her boyfriend with a pair of scissors because he repeatedly played the Elvis Presley hit Burning Love on the King's birthday, January 8, police in Australia alleged today.

The 35-year-old man was treated for six stab wounds to his head, back and legs at the hospital in the farming town of Northam in Western Australia state late last night but was allowed to go home, said state police spokeswoman Ros Weatherall.

The girlfriend was charged with unlawful wounding and was to appear in a Northam court today for a magistrate to decide whether she should be released on bail, Weatherall said. (Odd Spot, Source: Ireland On-line, 11 Jan 2006)
---
USA - Elvis for Mayor?: The City of Modesto in California is suing itself to try to stop a December 13th city council runoff election that it doesn't think is necessary. City officials believe Planning Commissioner Kristin Olsen won the seat outright in the November 8th election. But city officials say the Stanislaus County clerk's initial vote count included 243 unqualified write-in votes and left Olson just short of the majority she needed to avoid a runoff. Some of the write-in votes were for fictitious candidates, such as Elvis Presley. City officials say the only way to cancel the election is for a judge to call it off. A court hearing is set for Tuesday. (News/Odd Spot, Source: AP, 3 Dec 2005)
---
USA - Elvis is 'Guardian Angel" for Patrick Swayze: Hollywood actor PATRICK SWAYZE has been told by four different mystics that ELVIS PRESLEY watches over him. The DIRTY DANCING star, 53, insists that although he is not a huge fan of The King, many people have likened their personalities. He says, "Four different psychics have told me Elvis watches over me. They call me with reports. "I'm not really a big Elvis fan but a lot of people have compared our sensuality. "Whatever. I don't mind that." (News/Odd Spot, Source: Contact Music/Sanja Meegin, 2 Dec 2005)
---
USA - Elvis spotted as Russian Nesting Doll: Don't be embarrassed to admit you've spotted Elvis. You're not alone. Elvis sightings have been made everywhere at the State Fair of Texas this year – even in some of the most unexpected places. He's hard to miss as the fair's butter sculpture or in the Hall of State's rock 'n' roll exhibit. But the King's also been spied on the bellies of teddy bears for sale in the Embarcadero and tied up in knots at the puppet show in the Creative Arts Building. Rumors of Elvis as a Russian nesting doll have been confirmed, and he's even been reported atop a float in the nightly parade. There have been so many sightings of the King, some of his diehard fans may begin to wonder if he has returned for a second comeback tour. He hasn't – that we know of. (Source: Dallas Morning News, 16 Oct 2005)
---
USA - Man claims he taught Elvis to dance: Tom Van Bibber of south Fort Myers says he taught Elvis Presley to dance, yet he can't figure out how to silence an irritating sound in his house. What do Elvis and the mysterious noise have in common? Nothing, except I know Tom's sinister sound exists, but Elvis — except for occasional sightings — isn't around to ask if Tom straightened out his two left feet in a Memphis VFW.
"Elvis was 13, the same age as my brother, and I was 16,'' says Tom, 73. "Elvis couldn't dance much so I taught him a few steps.''

Elvis' 70th birthday is this year, so Tom is on the money as far as dancing after school in 1948, but keep in mind that Tom is quite the salesman — building materials and women's clothes with ex-wife Lynda — and the stories keep getting better as they get older. (News/Odd Spot, Source: The News-Press, 2 Oct 2005)
---
UK - Love Me Tender: Claire Rowlands and Marc Haries will tie the knot on Saturday - at the Porthcawl Elvis Festival. Claire, a freelance legal representative in criminal courts, and Marc, a local bus driver, will exchange vows in front of thousands of Elvis lookalikes and another Elvis backing group, The Sweet Inspirations. (News/Odd Spot, Source: icWales, 30 Sep 2005)
---
England - "Elvis" promotes price cut: The Archant London group circulation team took the "Roll Back" of the Gravesend Reporter cover price to 15p one step further and renamed it the "Rock and Roll back". To help the promotion go with a swing, they held an "Elvis" themed day in the town centre – and a branded Archant bus was driven round town by 'Elvis' with a megaphone promoting the price cut. (Source: HoldtheFront Page.co.uk)
---
"Corny Elvis": Elvis picture that's cut into the "corn" at Resnick in the UK.

Let's hope it's not aliens at work!

(Source: Sanja Meegin, 25 Sep 2005)
---
"Red Elvis" painting sparks court battle: Swedish heiress Kersten Lindholm of Greenwich is fighting a court ruling that declared newsprint magnate Peter Brant the rightful owner of "Red Elvis," a 6-foot-tall painting that features 36 identical images of Elvis Presley's face. Brant bought the painting five years ago from Lindholm's art dealer, who was later convicted of stealing it. Last month, after a three-year legal battle, a Stamford Superior Court judge ruled Brant the rightful owner of the painting.
Lindholm had filed a civil suit alleging that Brant and Swedish art dealer Anders Malmberg conspired to buy the painting without her permission. Lindholm's attorney, Lawrence Weinstein of Proskauer Rose in Manhattan, said she filed an appeal last week.
Brant, a longtime Warhol collector, paid $2.9 million to buy the painting from Malmberg, who had represented Lindholm in many art transactions, according to court documents. The painting is now in Brant's private collection. Court papers indicate that Malmberg lied and said he had bought the painting from Lindholm, then offered to sell it to Brant.
But Lindholm alleges in her lawsuit that Brant knew she owned the painting and conspired with Malmberg to buy it. Superior Court Judge Chase Rogers ruled last month that Brant made a reasonable effort to confirm that Malmberg was authorized to sell the painting.
"This decision basically vindicates Mr. Brant as the innocent purchaser who paid fair value for the painting," said his Stamford attorney, Jay Sandak. "Mrs. Lindholm was wronged by Malmberg."
Weinstein said Brant's due diligence should have alerted him that the painting could not be sold because of a court order barring the sale of property while Kersten Lindholm was divorcing her husband, Magnus. Kersten Lindholm's lawsuit sought the return of the painting, monetary damages of not less than $12 million, and punitive damages. Brant bought the painting while it was on exhibit in Europe as part of a Warhol tour put on by the Guggenheim Museum of New York.
In 2003, Malmberg began serving a three-year term in Sweden on criminal theft charges in connection with the sale of "Red Elvis." He has not paid Kersten Lindholm the $2.9 million sale price of the painting.
"He appears to be judgment proof," Weinstein said. "If he has any assets he has hidden them very well." (News/Odd Spot, Source: Boston News/Sanja Meegin, 22 Sep 2005)
---
Caryville psychic who talked to Elvis accused of tax evasion: A federal grand jury has indicted self-proclaimed psychic David Marius Guardino of Caryville.The indictment says Guardino failed to filed federal income tax returns for 1998 and 1999, during which he earned nearly 345-thousand dollars. Guardino filed a return in 2000, claiming he had no income. The I-R-S says he earned 68-thousand dollars that year. Guardino claims he is a seer and sorcerer, has talked to Elvis and can predict the future. He was convicted in 1988 for fraudulently using his customers' credit card numbers. Guardino went to prison for five years after he did not repay 100-thousand dollars to the customers. (Source: AP, 13 Sep 2005)
---
Man "possessed by soul of Elvis" takes his life: A 35-year-old man who believed he was possessed by the soul of Elvis Presley was found hanging from a tree in woods near his home, an inquest heard. Paul Box, of King George Road, Chatham, died on May 12, by hanging himself from a scarf in the woods off Campion Close behind the Bridgewood Manor Hotel. Mr Box, who was unemployed and single, was discovered by a woman walking her dog. Just hours before he was found he had seen his probation officer Adam Crocker following an appearance at Medway magistrates' court.

Mr Crocker told the Gillingham inquest on Wednesday that he had been seen by a psychiatrist for mental health problems but on that morning he was calm and showing no signs of stress or anxiety. Mr Crocker added: "He believed he was possessed by the soul of Elvis Presley and that his aura descended on him in the evenings and that he experienced him through singing and dancing. "He had approached the Press in the past but nobody was interested. He also spent part of his time living rough."

Coroner Roger Sykes, recording a verdict of suicide, heard that Mr Box would have needed to clamber up a tree in order to tie the scarf to hang himself. A post mortem examination revealed he had low levels of alcohol, cannabis and amphetamine but not enough to significantly affect his thoughts. Mr Sykes said: "His manner was calm and composed on the day but in the past I have been told his chosen method of dying would be hanging. He took his own life while suffering an undiagnosed form of mental illness. He was a man who had real problems in dealing with normal life." (Source: Sanja Meegin)
---
Elvis the hamster powers phone: Peter Ash of Lawford, Somerset invented a hamster-powered mobile phone charger, as part of his GCSE science project.

We must admit that sounds kind of painful for the little furry charger component, but before any of you pick up the phone to call some Animal Rights organisation, you should know the exercise is actually very healthy for the hamster.


The boy attached a generator to his pet's exercise wheel and connected it to his phone charger. While Elvis the hamster does the legwork, Peter charges his phone according to all environmental and economical laws. The boy thought of the ingenious power generating device after his sister Sarah had complained about the energetic hamster keeping her awake at night with its activity on the wheel.

"I thought the wheel could be made to do something useful so I connected a system of gears and a turbine", Peter said. "Every two minutes Elvis spends on his wheel gives me about thirty minutes talk time on my phone", he proudly explained. But seems that his science teacher wasn't proud enough to give more than a C for the teenage inventor's project.
(Source: Softpedia USA)
---
Elvis for sale...there's nothing to it, really: WE'VE said it before and we'll say it again, eBay really is a magnet for freaks. The latest offering an Eye reader from Deniliquin unearthed was from some delusional fellow who tried to sell an Elvis Presley air guitar. "Elvis was last seen using this air guitar for a private performance just days before he died," the advertisement went. "This air guitar is in mint condition . . . never again will you see an offer like this." The owner, who said he was regrettably selling because he was moving, kindly offered to ship the post pack filled with air to anywhere in the world. Not surprisingly, his treasure didn't get any bids. And the clincher. He withdrew the sale early because the item was broken or lost. Well, it would be tricky not losing nothing, wouldn't it? (Source: eBay/Sanja Meegin, 21 August 2005)
---
Elvis the robot cat: Elvis the cat was involved in a tragic accident with a truck and lost the use of it's rear legs, so Carlo Bertocchini developed a 'robot platform' to give it back mobility. The hard part was apparently teaching the cat to use the 2 button control, but the feline now has the hang of it, as can be seen evidentally from the video.

(Source: GadgetSpy, 20 August 2005)
---
Elvis spared jail: Thats bizarre: An Elvis impersonator was so chuffed at being spared jail for burglary that he offered to sing for the judge. Randy Light was so delighted after Judge David Griffiths decided to not hand him a prison sentence he offered to serenade him with one of 'The King's' hits. After being asked by Judge Griffiths: "What's your favourite number?" Light, 36, who regularly performs at hotels, said: "It's certainly not 'Jailhouse Rock'. The best was 'The Wonder of You'. You can come and see me." Instead of jail, father-of-six Light got away with 100 hours of community service. The judge said: "It's in the public interest to give you a chance. The punishment will deprive you of five performances." (Source: femalefirst.co.uk, 4 Aug 2005)
---
Elvis tour bus joke leads to string of fun ads & Elvis sightings: A California artist and self-proclaimed hoaxer says he's having fun with lost-and-found ads, and he hopes others are, too. Rory Emerald, 38, of Anaheim, who also goes by the name Julian Lee Hobbs, said he has been hitting newspapers across the country with ridiculous lost-and-found ads since June. One that ran Thursday in The Forum newspaper classified section said:
"FOUND on Fargo Ranch: Elvis Presley's Original Tour Bus w/many personal items still inside. In order to claim, must identify."
Emerald said the impetus for his ads was the Michael Jackson trial. He said he got tired of seeing bad news on TV. He called the newspaper closest to Jackson's home, the Santa Barbara News-Press, and placed and ad that read: "FOUND: Near Neverland Ranch, prosthetic nose." A dozen or more listings followed, each unique to a different newspaper, each followed by Emerald's phone number. They ranged from mentioning a baby panda found near the San Diego Zoo that "desperately needs mother" to an ad for Marilyn Monroe's personal diary. Emerald said he enjoys the responses and tells callers up front about the joke. The Elvis bus got such a wild response, he said, that he has been letting his answering machine take most of the calls.
"It's off the charts," he said of the number of calls. Emerald, who said he has a 9-year-old daughter, insisted he does it for readers. When he first thought of the Elvis bus story, he said, he wondered where such a find might hide for decades and suddenly turn up. The Michigan native told The Forum that he faintly recalled visiting North Dakota as a child. "The people there probably would like to see something funny, something interesting," he recalled thinking. "I think it was a very good choice, actually." In placing the ad, he pretended to be a relative of a North Dakota state legislator who wanted to take the calls in California. He also pretended to be a woman.
The ad person took the request and made a few checks to verify the contact information, said Sandy Olsen, the newspaper's inside sales manager. The employee called the number given for the ad, and Emerald answered. After curious readers began their calls, Emerald said, he even got reports of Elvis sightings in Fargo. "People don't want to believe in God, but they'll believe there's a bus somewhere in Fargo, North Dakota," he said. "Today I was able to do something that made a lot of people happy." One caller introduced himself as Gov. John Hoeven and asked where the bus was, Emerald said. Hoeven spokesman Don Canton laughed when asked if the governor might have made such a call. "I very much doubt it," he said. (Source: AP Wire, 29 July 2005)
---
| | |
| --- | --- |
| "Burnt" Elvis image in frypan for sale: You need to look at this one to believe it. Low starting bid for a real oddity in the vein of items listed by the Wade, the "Elvis water guy": "A cooking accident while making pancakes has revealed the image of Elvis in the burnt bottom of the pan caused by pancake mix". ebay #559695692. (News, Source: ebay.com, 14 July 2005) | |
---
Philippines - Elvis lives, on fringes of Philippine politics: Elvis apparently is alive and well on the fringes of Philippine politics! A network news anchor was left fumbling for words Tuesday following a live interview with the president's executive secretary about a Cabinet appointment that included cutaway shots showing the interview's location at a government broadcast studio _ with Elvis in the background. "Executive Secretary Eduardo Ermita there, making the announcement while, uh ... interestingly enough, talking with Elvis Presley," ANC network anchor Ricky Carandang said to laughter in his own studio. "Or at least someone who looks very much like him."
The King looked in pretty good shape, wearing a white embroidered jumpsuit. His pompadour and big sideburns were jet black, and he appeared to be in the late prime of his career, before the weight really started to pile on. It turned out the Elvis impersonator is a new addition to the sparsely watched government TV network NBN, where he is a regular on a morning talk show. "We know that the government network needs to give information and appeal to viewers," said NBN general manager Jose Isabelo, who seemed surprised that anyone would be asking about Elvis. "We feel the need to bridge the gap between the government network presentation and those of private networks." (Source: AP, 11 July 2005)
USA - Elvis poker faced: Elvis was in the building, though the King would have been horrified to have this kind of entourage in his prime. Toward the middle of the room, a guy played his cards from inside a big fuzzy orange Elmo puppet head. A portly player who looked like he was about to have a heart attack had a woman massaging his back while he fiddled with his chips. Then, from above, came the call dear to every athlete's heart. "Cocktails to table 131," the voice on the loudspeaker said. And to think, there are still people who don't consider poker a real sport. Those people are nowhere to be seen this week at the Rio hotel-casino in Las Vegas, a carnival-themed resort in the midst of hosting a real carnival called the World Series of Poker. Here, the believers are all trying to cash in on the poker craze.
That's why a chunky Elvis showed up, nearly bursting out of his jumpsuit. On his arms were three men dressed as drag queens, though for some reason they didn't bother to shave. "They said Elvis was dead, but I brought him back to life," said the tall one in a red sequined dress. "That's the sign of a real woman." OK, so the Elvis wasn't real. But there was nothing fake about the money at stake. Some lucky player will walk away next week with more than $7 million for outlasting some 6,000 others in a tournament that owes much of its popularity to online gambling sites of dubious legality and television. (News, Source: Indystar.com, 10 July 2005)
'Elvis' continues to help take drugs off streets in Tuckerman: A routine traffic stop Saturday by Tuckerman officer Layne Mathis turned into a scene that is becoming all too familiar for local enforcement agencies. Mathis, having observed a vehicle speeding through the city limits, stopped a vehicle driven by Rickey Baker of Newport on Cockrill Road on the southern end of the city. The minor traffic violation instantly became a major coup for the department as Mathis, the city's canine handler, and Elvis, their drug dog, took several pounds of marijuana off the streets of Jackson County. Elvis "hit" on the vehicle and Mathis discovered the illegal drugs under the seat taking Baker and Troy Jones, a passenger in the automobile, into custody. (Source: Newport Daily Independent, 8 July 2005)
All eligible for Elvis pet show: Kids, as well as adults, will have the chance to show off their pets and compete for prizes when the city hosts its annual pet show on Wednesday, July 27, at Corson Park. This year's competition will be themed, "You Ain't Nothin' But A Hound Dog," and will be in honor of the King of Rock 'n' Roll, Elvis. "We plan to have a lot of fun with the Elvis Pet Show," Liz Nicke, recreation supervisor, said. "Last year (for the Pet's in the City show), over 100 participated." (Source: Bridgetown News/Sanja Meegin, 4 July 2005)
| | |
| --- | --- |
| Elvis' son appears!: It's been a long time since the tabloid media had a field day (and increased sales) with stories of Elvis' "alleged" illegitimate children. Names like Lucy DeBarbin, Deborah Presley and Elvis Presley Jr. were well known in the Elvis world for a few years in the late 1980s. At one time more than a dozen people claiming to be Elvis' offspring hit the headlines. Well this week, Timothy James Farrell has come forward claiming to be the result of a liaison between Elvis and Rebecca Stewart in 1954. (Source: Scatter, FECC messageboard, July 2005) | |
Bono sees mirth in 'Elvis girth' in courtroom showdown: BONO may have had a quarter of a million people eating out of his hand in Croker over the weekend but it was his own dietary habits that engrossed a courtroom yesterday. At issue was the reason why the rock star had several pairs of the same black, high-waisted, three-quarter length trousers made up in different sizes.

"I don't want to embarrass you," began his inquisitor, barrister Hugh Hartnett, "but you put on a bit of weight." Bono wasn't about to combust in red-faced shame. He even saw a little mirth in his girth. "It happened to Elvis," he said. "So you put on weight," Mr Hartnett repeated, not about to let Bono's comedy act steal the show.

"Yessir," he replied in the best southern drawl his Elvis impersonation skills could muster. (Source: Sanja Meegin, 30 June 2005)
Elvis statement to Paul McCartney: Somewhat ambiguously, Elvis apparently said to "Beatle" Paul McCartney during a telephone conversation that he liked the cover art on the 'With The Beatles' album because it made the band look like the faces in the film 'Children of the Damned'. (News, Source: Nixon at the Movies/Amber Smith, 20 June 2005)
Elvis gets baseball team ":all shook up":

The Lifeline Pony baseball team was all shook up Monday after its 4-3 loss to Lions Club in Marion Pony Baseball action. Lifeline was 9-0 going in, and one of its coaches, Lester James (opposite), had promised the team he would coach as Elvis Presley if the team won its first nine games."We lost a bet at the beginning of the season," said James. "If they went halfway through the season undefeated, I would dress up as Elvis." Doug Dorris, one of the other coaches, and James were singing Elvis songs early in the season, so the decision to be Elvis was born. So on Monday just before the game, James went to his vehicle and came back in Elvis garb, with the famous sideburns (attached to a pair of glasses) and all. But it was Cody Richert who helped ruin Elvis' visit to Ray Fosse Park.
Richert scattered seven hits in his complete-game performance and also drove in two runs in the win, which improved Lions Club to 7-4 on the season.

(Odd Spot, Source: Marion Daily Republic, 14 June 2005)
Elvis was an alien!: A new book claims that Elvis Presley was possibly an alien from another planet. Author Michael C Luckman claims that the King believed he came from another planet and had childhood contact with extraterrestrial beings. This is all according to a tape recording alleged to be Elvis having a conversation with a female fan to be published in his book, "Alien Rock: The Rock 'n' Roll/Extraterrestrial Connection" (VH1/Pocket Books). The author also claims that UFOs visited Graceland. "Very few people know that Elvis owned 300 metaphysical books that he carried with him wherever he went," says Luckman. The book also claims that Richie Havens saw a UFO at Woodstock, and that the Beatles, Jerry Garcia, Elton John and Mick Jagger have all seen UFOs. "I know everyone is going to say this is just a case of rock stars taking drugs," Luckman said. "But on the occasions these events happened, many other people saw them at the same time." (News, Source: Elvis Express, May 2005)
Strange but true: Famed media observer, Marshall "the medium is the message" McLuhan once wrote a script for a musical in which the US was run by Elvis' Russian devotees. (Source: Marshall McLuhan Society)
First it was "Blue Suede Shoes", now it's "Green Suede Shows": Released in February 2005 was a CD by Black 47 with the intriguing title Elvis Murphy's Green Suede Shows (Gadfly label) (Source: amazon.com, April 2005)
Death from Vegas hotel: In Las Vegas, Elvis Presley defies mortality. From impersonators to wedding chapel officiators to films like "Honeymoon in Vegas," America's favorite Sin City has always kept Elvis' spirit soaring. Tragically, the same can't be said for one of Elvis' greatest admirers. Last Friday television producer Melanie Bell leaped 109 floors to her death from the top of another Vegas icon, the Stratosphere Hotel. Bell was in town to film one of the cities most revered impersonators, Jesse Garon. Last Thursday, Bell put the finishing touches on the production, then left a message with another producer saying her car was on the fourth floor parking lot of the Stratosphere and the keys were at the front desk. Bell was last seen on a surveillance tape, buying a ticket to the top of the towering hotel. Bell was once a showgirl and friends say she lamented her weight gain, but it's not clear why shy took her own life on the top of a real life Heartbreak Hotel. (News/Odd Spot, Source: Celebrity Justice, 2 April 2005)
"Brace" yourself...Elvis cup guy at it again: We received this message recently: "I'm Wade Jones..the owner of the world famous "Elvis Cup" on eBay now...I'm selling the braces that were on my teeth the night that I saw Elvis in concert,and I retrieved the famous "Elvis Cup" Here's a link to the story: http://www.elvis-express.com/braceyourself.html Here's a link to the auction: http://cgi.ebay.com/ws/eBayISAPI.dll?ViewItem&item=7503652990. I'm the one who sold 3 tablespoons of Elvis' water (from the cup) for $455.00 on eBay..then, I turned around and auctioned off an "appearance" of the cup on eBay for over $3,000.00...Now, I'm touring with the Elvis Cup, making public appearances. I've been in TIME, NEWSWEEK,USA Today,US Weekly,Rolling Stone,CNN, FOX News,MSNBC,Jay Leno..and tons of websites,newspapers,and radio/news shows around the world." (News/Odd Spot, Source: Wade Jones, 29 March 2005)
| | |
| --- | --- |
| Suspicious minds wonder if man is really son of Elvis: There was a confirmed Elvis sighting Friday in Portland - well, sort of, maybe. Elvis Presley Jr. stopped by to promote his two concerts held in St. Marys, Ohio this weekend and to once again lay claim to what he considers his rightful birthright as the illegitimate son of Elvis Sr. Wherever Junior goes he lugs along a binder full of copies of letters, notes and clippings that refer to him as the son of Elvis. He has a copy of Elvis's will with highlighted sections that could be referring to more than one child. His birth mother, he said, is Angelique Delores Pettyjohn, a walk-on in the Elvis Sr. move "Blue Hawaii" who later played in "Clambake" and had roles on several TV shows. He was born on Dec. 24, 1961, in a Gary, Ind., hospital. (News/Odd Spot, Source: TheStarPress.com, 14 March 2005) | |
---
Believe it or not!: The items listed on eBay just get more ridiculous. Wade Jones, aka "Elvis Cup guy" is now selling the braces he was wearing on his teeth, the night he obtained the famous Elvis Cup..ebay auction#3879857032. (News/Odd Spot, Source: Wade Jones, 10 March 2005)
---
Elvis comeback special: It was definitely a case of "Elvis has left the building" when a statue of the King went walkabout. The life-size model, normally seen on the balcony above the Baroque bar in Streatham High Road, rocked up with six mates in a nearby fast-food restaurant. Student Hani Yusuf, 23, who can normally see the statue from her living-room window, had gone into Dallas Chicken & Ribs at 5am on Sunday last week when she saw the familiar figure surrounded by his burger-munching abductors. She said: "I said to them, 'What are you doing with Elvis? That's our neighbour'. "They said, 'Well he's ours now', then picked him up and took him out." Baroque manager Nick Christodoulou, 27, got a call from his neighbour saying Elvis was being abducted. But he soon realised it was just a prank by a mate who had been drinking in the bar that night. The King has since been returned home. Nick said: "I might have to stick a homing device on him." (News/Odd Spot, Source: Streatham Post, 10 March 2005)
---
'Elvis" monitors Michael Jackson trial: Dressed as Elvis, part-time foothill resident Matthew Tuttle held a sign reading "Jailhouse Rock Michael" as he stood outside the courthouse in Santa Maria on the opening day of Michael Jackson's child molestation trial. And that's not all...(UnionDemocrat.com, 5 March 2005)
---
Computer ID tags mooted to "track" Elvis fans: Now that a grade school in California requires students to wear radio frequency identification badges that can track their every move, one Elvis fan has suggested all Elvis fans wear a similar device. Ella Marie Franks believes the technology could be used to (somehow) "maximise sales of Elvis product and bring the Elvis message to the masses"! Meanwhile, in the real world, some parents are outraged, fearing the school badges will take away their children's privacy. The badges introduced at Brittan Elementary School on 18 January rely on the same radio frequency and scanner technology that companies use to track livestock and product inventory. Similar devices have recently been used to monitor youngsters in some parts of Japan. (Source: email - Ella Marie Franks, 11 Feb 2005)
---
Elvisly Yours places world's largest bet: On Wednesday 12 January 2005 Elvisly Yours will place the largest bet in history with William Hill, and win or lose all proceeds will be donated to the Asian Tsunami Appeal. To commemorate the 70th birthday of Elvis Presley, Elvisly Yours and the Canadian company Zamage Digital Art Imaging Inc have published four spectacular life-size artworks of the King as limited editions of 70 of each. William Hill have agreed to accept the no.1 " Spirit of Elvis " as a stake in a bet placed by Sid Shaw of Elvisly Yours that Elvis will have the 1,000th no.1 single in UK history. A bet 6 ft high is considered the largest in history. William Hill are offering Elvisly Yours EVENS for the bet. (News/Odd Spot, Source: Sid Shaw, 12 Jan 2005)
| | |
| --- | --- |
| Graceland Too: Everyone knows that Elvis lived at Graceland. But where will you find -- as the homemade sign proclaims -- "Universes Galaxys Planets Worlds Ultimate #1 Elvis Fans"? Graceland Too, of course. Run by Paul McLeod and his 31 year-old son, Elvis, this is indeed one of the more unusual stories in the Elvis world. (Odd Spot, Source: cmt.com, 13 Jan 2005) | |
Elvis water saga, part 2: Weird just got weirder! The Belmont man who on eBay sold water from a cup that Elvis drank from in 1977 for $455 last Saturday is now auctioning a one-day appearance of the cup on what would be Elvis' 70th birthday. (Odd Spot/News, Source: The Free Press, 30 Dec 2004)
Man offers water from the cup of The King on eBay: Wade Jones likes Elvis, but he insists he's just a casual fan. That's why, after watching a grilled cheese sandwich thought to be embedded with the image of the Virgin Mary fetch $28,000 on eBay, he decided to part with three tablespoons of water from a cup Elvis Presley used during a concert. (News, Source: Charlotte.com, 25 Dec 2004)
Cougar sighting foiled by The King: Alarming that a patrolman spotted a cougar in Waukegan. Actually the cat was on a leash being held by Woody Kelly. The patrolman tried to fire a round at the cougar, but Elvis got in the way. The officer should check the ingredients in his doughnuts. (Source: SuburbanChicagoNews.com, 15 December 2004)
| | |
| --- | --- |
| Fans shook up over porky Elvis: An Elvis impersonating pig has left fans of the King all shook up and retailer Boots in the trough. The pig - which has proved to be one of Boots' biggest Christmas sellers - is dressed up as The King and gives a rendition of one of his all time classics. Some fans think the tribute is more of an insult to the musician, but Boots buoyed by bumper sales say that most people see the funny side. (Source: ITN, 14 Dec 2004) | |
Absolutely ridiculous, but it had to happen!: A piece of toast (one bite missing) that allegedly looked like the Virgin Mary recently sold at auction for a ridiculously high figure. Well it didn't take long as now someone has listed a peanut butter sandwich on e-bay claiming it looks like Elvis! The starting price, US$100.00. Whether or not we will see embroidered patches and t-shirts based around the sandwich remains to be seen. Virgin Mary toast t-shirts have become quite popular. (News/Odd Spot, Source: eBay.com, December 2004)
Will homeless Elvis sing 'Jailhouse Rock?': A homeless man dressed as Elvis is accused of robbing a convenience store in Abington on Wednesday, but was quickly arrested in Brockton along with the driver of his getaway vehicle, police said. "Elvis lives, but he's going to be singing the 'Jailhouse Rock,' " said Abington police Lt. Kevin Smith. Smith said James Russo, 34, a homeless man whose last address was 60 Pleasant View Ave., Weymouth, was wearing Elvis sunglasses and sideburns when he flashed a gun and robbed the Tedeschi's on Bedford Street. (Odd Spot, Source: Yahoo News)
Brando's son weds Elvis' "daughter": Marlon Brando's son Christian has married a woman who claims to be Elvis Presley's daughter. Christian, 46, exchanged nuptials with 48-year-old artist Deborah Presley on 16 October 2004 at Las Vegas' Little White Chapel. Deborah claims she is an illegitimate daughter of the late rocker, but in 1988 a judge ruled that her claims have no legal merit. Christian was released from jail in 1996, after serving nearly half of a 10 year sentence for the fatal shooting of his half sister's lover in 1990. Deborah tells PEOPLE magazine that she saw a picture of Christian in 1987 and "loved him from that moment". (Odd Spot, Source: Contact Music)
| | |
| --- | --- |
| There's a guy works down the chip shop swears he's Elvis: The king of rock and sole - Elvis - is alive and well, earning his living serving fish and chips. Elvis Morton, who works at The Cliffs restaurant in Cliff Street, Cheddar, says he is used to customers singing the famous lyric from Kirsty MacColl's 1980s hit. 'There's a guy works down the chip shop swears he's | |
Elvis' is regularly sung by customers. But the 30-year-old, who started work at The Cliffs three months ago, is more at home with battering fish than belting out hits. Elvis, of Chichester Way, Worle, said: "A lot of customers have been known to sing me the song and I've got used to it now. "In fact, on Elvis Presley's birthday many of the customers were thoughtful enough to bring in cards for me. "My mum is a big fan of Elvis and decided to name me after him." Thanks to Just For Fun, Meadow Street, Weston, for the props used in the picture. (News/Odd Spot, Source: Weston Mercury)

Man Held in Death of Elvis the Alligator: A fisherman was cited for killing an alligator nicknamed "Elvis" who lived in a golf course community's pond. The man said he stabbed the reptile in self-defense. Rick Allen Burns, 49, faces up to 60 days in jail and a fine if convicted on a misdemeanor charge of possession of an alligator without a permit. Five-foot-long Elvis was found dying in October with a hunting knife in its head. A $1,000 reward for information was posted and an anonymous tip led to Burns, the Florida Fish and Wildlife Conservation Commission said Friday. Residents said Elvis first showed up at their pond about 18 months ago, and had never hurt anyone — or ducks living nearby. (Source: Yahoo News)

Elvis does the Monster Mash: Bobby "Boris" Pickett's iconic tune "Monster Mash" has inspired an Elvis flavored tribute band. ( Source: Princeton Packet)

Elvis' 911 call leads to Blues Brother car chase: Police responding to a call of a convulsing Elvis Presley impersonator soon found themselves in a high-speed chase of another faux celebrity -- a man dressed as one of the Blues Brothers. Crystal Police Capt. Dave Oyaas said the bizarre string of events began when officers were called to a veterans hall Monday morning to find a man dressed as Elvis Presley apparently in convulsions. When the officers approached, Oyaas said the man suddenly jumped up and yelled, ''Viva Las Vegas!'' before singing show tunes. At about the same time, two women said another man at the veterans hall dressed as John Belushi's character in ''The Blues Brothers'' had stolen their car and driven to a nearby airport. The man led police on a high-speed chase around the airport before officers forced him to stop and arrested him. ''It's one of those things that you stop and scratch your head, and you think that 'Am I seeing what I think I'm seeing?'" Oyaas said. Oyaas said charges pending against the men could include disorderly conduct, fleeing police and drunken driving. The men had been drinking together at the VFW before police arrived. Blood tests will show how much, but Oyaas said, ''I would venture to say quite a bit.'' ( Source: Chicago Sun-Times)

DNA proves Elvis is not buried at Graceland! (20 September 2004)

Elvis leaves the seafront (8 September 2004)

Jailhouse Dog: did Elvis really record these songs? (6 September 2004)

Jerry Springer to be Elvis!

Elvis crowned at Irish Goat Festival

Elvis is alive and living in Switzerland with...

Every man and woman is an Elvis!

Elvis "babe" has his toenails, warts & all

Courtney Love to end life the "Elvis" way

Elvis fan named Tom Jones addicted to call girls and faces jail

Elvis vs. Groucho: who's the real King of Pop Culture?

Elvis Bust 'Weeps' in Dutch Town

Leave Elvis...and Lima...alone

Elvis baby name dilemma. Can you help?

Sex with Elvis or rape?: A teenager had sex on a train with a married man dressed as Elvis Presley, Birmingham Crown Court heard yesterday. But Gemma Kemp, (19), of Powys Farm, Oswestry, Shropshire, later claimed she had been raped by the man, sparking off a massive police investigation. (Source: The Birmingham News, 20 July 2002)
---
Bizzare Elvis sighting #5 - Elvis the cab driver: Dr. Gary Enders claimed Elvis was his taxi-driver on a ride from Queanbeyan, NSW to Canberra, ACT in Australia. To top it al off he was wearing his white jumpsuit!
---
Bizzare Elvis sighting #4 - Elvis the joker: Oscar Peterson claims he saw Elvis in a restaurant toilet in Miami, Florida in July 1996. Peterson said Elvis claimed to be Ted Kennedy and left the building.
---
Bizzare Elvis sighting #3 - Elvis the stripper!: Spotted by Edna Hankins, Elvis was seen "in a tight thong wearing a smile and blue suede shoes" at Le Butt strip club in Stroudsburg, Pennsylvania in early 2001.
---
Bizzare Elvis sighting #2 - Elvis the chicken thief: Jason R. claims he saw Elvis in Stanley Park., Vancouver, Canada in July 2001. Elvis sped past on roller blades and stole a bucket of KFC.
---
Bizzare Elvis sighting #1 - Elvis resurrected: The first known sighting of Elvis after his death occurred on 18 August 1977 when he was observed filling up his cadillac at Waxman's filling station in Sanderson County, Georgia.