Andy Warhol - The Elvis Works
This article explores Andy Warhol's series of screenprinted paintings of Elvis which came in "Single", Double", "Triple" and "Pairs" image formats, as well as "Elvis (Eleven Times)"!
Elvis is one of a series of screenprinted paintings which Warhol made of the popular American singer Elvis Presley (1935-77).

In August 1962 Warhol began to produce paintings using the screenprinting process. He recalled that:

the rubber-stamp method I'd been using to repeat images suddenly seemed too homemade; I wanted something stronger that gave more of an assembly-line effect. With silkscreening you pick a photograph, blow it up, transfer it in glue onto silk, and then roll ink across it so the ink goes through the silk but not through the glue. That way you get the same image, slightly different each time. It all sounds so simple — quick and chancy. I was thrilled with it. My first experiments with screens were heads of Troy Donabue and Warren Beatty and then when Marilyn Monroe happened to die that month (August 1962), I got the idea to make screens of her beautiful face.

That same year Warhol produced a number of works repeating copies of the head of Elvis Presley.

In 1963 Warhol established a studio in an abandoned fire station in East 87th Street and hired Gerald Malanga, a young poet, to assist him with his screenprinting. It was there that he began work on a head of film star Elizabeth Taylor and a full-length portrait of Elvis Presley.

The image of Elvis was taken from a publicity still for the film Flaming Star 1960 (Twentieth Century Fox).
The new studio, according to Warhol:
was pretty scary You literally had to hopscotch over holes in the floor And the roof leaked. But we didn't really notice all that much, we were busy getting the Elvises and the Liz Taylor silkscreens ready to ship out to California [for the exhibition at Ferus Gallery Los Angeles]. One night that summer there was a terrible thunderstorm and when I came in the next mowing, the Elvises were sopping wet — I had to do them all over again.
The image was screenprinted twenty-eight times in black paint onto a roll of silver-painted canvas in various combinations — singly, superimposed doubly and triply, and in pairs.
The whole roll of printed canvas was sent off to the Ferus Gallery with a set of stretchers, all of the same height, but of three different widths. In the absence of instructions from Warhol, Irving Blum of Ferus Gallery matched the stretchers to the images, producing five single images, six superimposed images and two diptychs of paired images — one panel of each diptych having additional colour to the screened images.
Warhol visited Los Angeles to attend the opening of his exhibition:
it was thrilling to see the Ferus Gallery with the Elvises in the front room and the Lizes in the back. Very few people on the (West) Coast knew or cared about contemporary art, and the press for my show wasn't too good. I always have to laugh, though, when I think of how Hollywood called Pop Art a put-on! Hollywood ?? I mean when you look at the kind of movies they were making then — those were supposed to be real???'
In 1963 the Elvis in the Australian National Gallery's collection was damaged on the left-hand side. According to Jan van der Marck, a former owner of the painting, 'it was attacked with a penknife by a maniac at the Castelli Gallery and subsequently restored'.

Opposite: Warhol's "Elvis" in the Australian National Gallery in Canberra.

For several years the image graced the sides of Canberra's local 'ACTION' buses as a promotion for the ANG.
Sixty-five Elvis artworks, including a number of Warhol works, were exhibited as Where Is Elvis? The Man and His Reflection at the Andy Warhol Museum in mid 1973. The collection of painted and photographic works also included seminal offerings from Alfred Wertheimer, Bill Avery, Bill Ray, Ernest Withers and Roger Marshutz. One of the Warhol was "Elvis (Eleven Times)", a 1962 silkscreen variation on the artist's Elvis from Flaming Star image.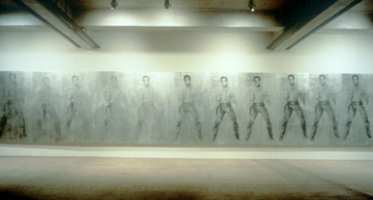 On Elvis (Eleven Times) - Many of Warhol's most famous paintings take images of celebrities from popular media as their source. Elvis is based upon a publicity still made for the 1960 film Flaming Star. Elvis in cowboy garb, pointing a gun instead of swinging a guitar, embodies two American icons: the bad-boy star and the stereotypical cowboy. The life-size image is printed numerous times on a background covered with silver paint, suggesting both the repetition of film frames and Hollywood's silver screen.
Point of View by Christiane Leach, artist and musician: "Elvis, he is the king. He is blue suede shoes and hound dog blues making those who've seen him eager to love him tender. He's rag to riches, the boy next door, a sellable synthesis of black culture in white skin (like Madonna) making millions. In some communities he is considered a thief of black music and expression, but to most, ignorant of America's musical history, he is America's dreamboat. So as he points his gun at us, looking too sexy to shoot, one's got to ask, is appropriation, if well executed, still a form of economic exploitation, or is it just a new life form created from the mutation of two cultures?"
Point of View by David McCarthy, Associate Professor of Art History, Rhodes College, Memphis: "It may be true that a mirror never lies, but does it necessarily tell the truth? Andy Warhol's art is often described as a mirror of its time, and it is undeniable that his images, particularly those from the 1960s, rank among the defining documents from that decade. However, the silk screens of Elvis Presley should prompt us to reflect on their accuracy. By eliminating all vestiges of time or place, the repetitions of Elvis take him out of the past, where the cowboy myth originated, and even out of the west, where the figure resides in popular imagination, and returns it to the privacy of one individual acting out before a mirror. In this context the mirror stands as mute witness to the human capacity to invent, to make up, and to play, that is to occupy a role, even if the performance lasts for only a moment and is staged for an audience of one. Seen in this light, Warhol's mirror may only reflect the instability of identity, and in such mutability may suggest that all the world is indeed a stage."
Point of View by Rabbi Mark N. Staitman, Rodef Shalom Congregation: "In Prayer, I speak to God. In study, God speaks to me. Judaism is a religion of text. We see Torah as a gift of God. The first century rabbi ben Bag Bag said, "Turn it and turn it, for everything of value is in it." For 2000 years we have studied Torah, looking for Gods word to us. It is not uncommon that Torah seemingly repeats itself. Often the seeming repetition has a slight variation, but always a variation in context. While some may see this as redundancy, Judaism sees each statement as having different meaning.

God would not be redundant. The task of the student of Torah is to find the distinct meaning in each variation of the text. Though each image in the painting starts with the same picture, each can be seen to have a different meaning, each meaning to contribute to a whole; meanings and meaning which, we the viewers, the generations, discover within."
....................................................................................................................................................................................
Warhol collector, Irving Blum, is quoted as saying:
"Andy sent a roll of printed Presley images, an enormous roll, and sent a box of assorted size stretched bars... I said, 'You mean, you want me to cut them? Virtually as I think they should be cut and placed around the wall?' And he said, 'Yes, cut them any way that you think should... The only thing I really want is that they should be hung edge to edge, densely - around the gallery...' And that's exactly what I did... Sometimes the images were superimposed one over the next. Sometimes they sat side-by-side. They were of varying sizes... All the same height - roughly six-and-a-half feet, as I recall. Really, life size... And I got up as many stretched up as required to fill - densely - the gallery, as per Andy's instructions. And I sent what was left on the roll back to Andy and opened the exhibit."
Many of Warhol's Elvis works were produced as synthetic polymer painted onto canvas.
Sources:
Michael Lloyd & Michael Desmond

, European and American Paintings and Sculptures 1870-1970 in the Australian National Gallery (ANG),

1992 pp.326-28

The Warhol: Diversity

Warhol Stars

EIN
Variations on Warhol's "Double Elvis":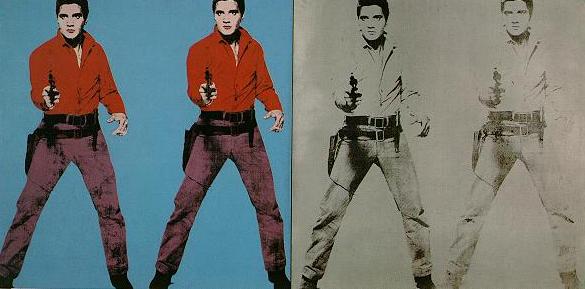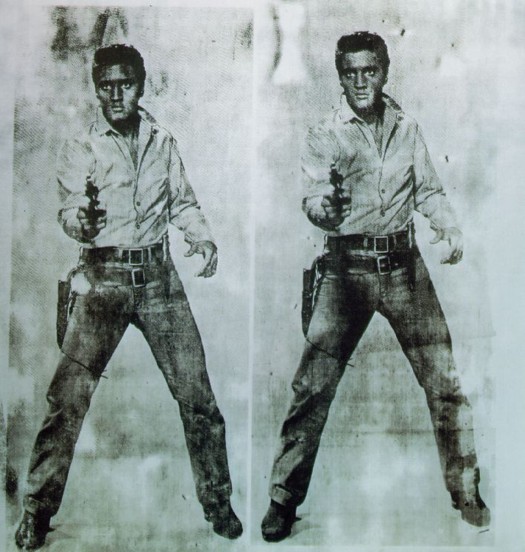 Another popular Warhol Elvis artwork is "Red Elvis":
Buy Warhol Elvis prints from: