Interview: Rex Martin (Part 4)
February 2009
Visit The Rex Martin Page on EIN! for even more REX MARTIN Articles and photos!
Your feedback appears following the interview
Read more about Rex Martin including special info on his amazing Elvis film collection and old friends he wants to re-establish contact with
......................................................................................................
Introduction: Rex Martin and his legendary publication, the Worldwide Elvis News Service Weekly, were an integral part of how fans "got their Elvis news" in the late 1960s and 1970s. The Weekly News Service represented a fundamental shift in both the frequency and currency of fan's access to Elvis news around the world.
The weekly grew from being a small concern into a mass circulation publication recognised throughout the Elvis world.
The importance of Rex's innovative publication cannot be underestimated (and a potent parallel can be drawn between the function of the Weekly then and the function of Elvis news today provided by the Internet!).
In the final part of a riveting interview, Rex talks about, among other things:
the impact of seeing Elvis live on stage
some of Elvis' "live" song highlights
Elvis in Vegas vs. Elvis on the road
how Rex looks back on publishing the Weekly and spending so much time following Elvis in Vegas and on the road
the logistics of doing a trans global interview!!!!!
Rex's vivid narrative of life and technology in the 60s and early 70s paints a wonderful panoramic of the landscape in which his weekly Elvis news publication crystallised and grew. It is a slice of what was an often frenetic, challenging and very rewarding part of the Elvis story.
.....................................................................
Part 4
EIN INTERVIEW ~ With REX MARTIN
The EXTRA FINAL QUESTIONS
Via–E-Mail. (Monday 19th January 2009)
EIN: Rex, what were your first impressions of Elvis as he came on stage for each show?
RM: I was probably more prepared for what to expect in seeing Elvis in Vegas for the first time. You have to remember I had already listened to (many times) at least 52 Live! Show audience fan recordings from Vegas (First to Sixth Season) including a few from the first Lake Tahoe season ~ Also the 6 Houston 1970 shows, and at least 6 shows from the City Concert tours in 1970 and 1971 (a total of 64 Elvis Shows minimum) (from a list of Tapes I typed up pre August 1972) ~ - I also spent many hours talking to Maria & Gladys Davies at their home and at many Film Festival Events (they had seen Elvis at many shows in 1969~'70~'71). We sat listening and discussing every detail of the shows for hours on end.
Also while putting on Film shows in Europe I got to talk in length with Jean Marc in Paris, who shot 30 minutes of the first Vegas season in '69 and met Elvis backstage, along with other French Fans, also Josie (Brus) in Belgium who also attended the first Vegas Season. Plus I had many letters with details of a lot of the shows from 1969 onwards ~ in fact CHRISTINE HAYES (USA) wrote on Colourful International Hotel Notepaper, details of the first week after opening night in super detail. Steve Toli (Boston) sent the first Fan photos '1969' of Elvis reaching out to shake his hand. And a Pen Friend 'Barbra Dobie' in Vancouver sent long letters and 3" message tapes in '69 and the early '70s about her trips to see Elvis in Vegas, Tahoe and in Concert.
Apart from the MGM 1970 and 1972 films. I had seen fan films from 1969 and February 1970 in Vegas, the Houston Astrodome and Phoenix 1970 film clips, a 30 minute close film from the Seattle 1970 Show plus some song film clips from Baltimore 1971. And several hundred concert photos.
For my first show on the 17th August 1972, I was just a couple of seats from the Stage, slightly Left of Centre. Elvis came out wearing the two-piece Shirt and Trousers outfits. Centre stage and only a few feet away from us, under Sparkling Crystallized Clear Showroom Lights you could only GASP!! Elvis was just astonishing to look at, great physical fitness – trim – suntanned – just a picture of health. The voice gave you Goosebumps and Shivers. I'd been excited about lots of Elvis songs released on record since the 50s, but nothing released ever had reproduced the Power the Depth and the Emotion of Elvis singing straight at you.
Watching his Eyes flicker around the closer audience and fans he could see, you really felt the contact with Elvis. He was singing, motioning, gesturing. Aware of everyone behind and on each side him, in total control and enjoying our reaction to him. You could never have got all this from a Recording or a Film, Elvis just dragged you into his show and you became part of that show ~ living a dream.
The closest recording to Elvis' Voice Live! Would have to be the IN THE GHETTO 'studio take' on the 5.1 stereo DVD - Audio Version of Elvis 30 #1 hits. In surround sound with only minimal backing Elvis' Voice just carries straight out at you. The closest film to seeing Elvis Live! Is the Special Edition of TTWII in Dolby Surround in a cinema or via a good home Projection System – this re-edited version of the Concert Part, is a superb rollercoaster journey ~ that really is exceptional.
My first show in February 1973 was different… I was concerned for his voice, because the doctors wanted him to cancel the season. I was relieved he could still reach the High Notes, but tremored slightly on the softer parts. The reaction to Elvis was still frenzied ~ but compared to the Summer '72 shows the audience was more general visitors and gamblers, with slightly less fanatical fans although they turned up in larger numbers at the Weekends. The overall impression was a slightly more subdued season, which gave you a slightly less reaction to Elvis. Listening back to it now, I prefer less Audience Participation and a clearer Elvis performance, without that distraction…
EIN: You mentioned How Great Thou Art earlier, but what (and why) were some other song highlights when Elvis performed Live?
RM: in August 1972 I was supposed to see 14 shows!! At the end of the week I decided not to go home. One of the reasons has to be FEVER. Elvis really worked his body at the audience during this song; he started doing some great Leg Movements to the Drum beats ~ which always brought Screams, Laughter and Applause in the middle parts of the song.
Fans answered him with Loud Yelling of his name E LV I S in one part. He could never have cancelled doing this song… Each show he worked the song with more and more exaggerated movements and swaying, so that the new version topped the previous nights!!! You really wanted to see how he was going to perform this number the next night and what was it going to be like by the end of the Season, the opening of the song really brought on a lot of anticipation. Really all the songs in 1972 he seemed to be able to perform stand-out versions – the faster rock versions had a lot of Inner and Visual energy.
The Light Strobe on Mystery Train~Tiger Man, with Elvis appearing to do Stop Motion Head and Neck movements was seat bouncing to experience. What Now My Love – was vocally very powerful, far more depth than the released Live! Recordings, the microphones just don't capture how it really was. Also Elvis' voice was superbly controlled and very moving on FIRST TIME EVER ~ HOW GREAT THOU ART and HELP ME MAKE IT THROUGH THE NIGHT. He also did very forceful versions of Steamroller Blues and I Can't Stop Loving You. The Play list for this season was really very well balanced a Triumph!!!
For February 1973 the standout was I'M LEAVING out on the Extended ramp – swaying to the different tempos – this is a song only Elvis could carry off. If they had used a Video from Feb'73 to promote this Single, it would have been a far greater hit. No Imitator should even attempt it.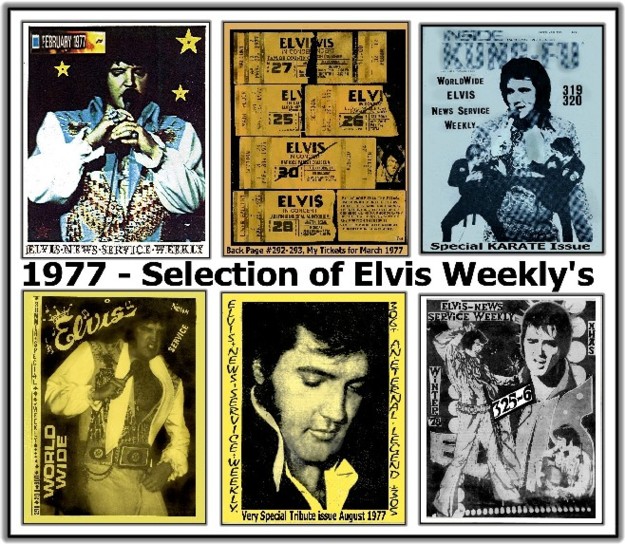 EIN: What differences did you observe in Elvis' performances in Vegas compared to when he was on the Road, In Concert?
RM: Elvis' shows in Vegas had special lighting colour sequences developed for each song; none of the Official Films captured this, because they had to have extra White spotlights to film Elvis clearly. This lighting was used to make parts of songs seem more dramatic – also extra backdrop Slides and multi colour searchlights were used behind the Orchestra ~ only for Aloha Hawaii in concert did they really do anything like in Vegas.
The concerts are very different to Vegas. For one thing you can see Elvis has to take in the Stage he's going to perform on – mostly for the first time, and then the Height of the Stage from the Floor Seating. (This could vary from 5 to 12 feet above floor level) Also the position of the Stage in the Auditorium, would he have to play to fans at the side or behind him. Sometimes he would go back behind his Group and the Orchestra, which he never had to do in Vegas. The audience reaction would then come from different sections of the Venue, really large waves of audience sound from around the Arena.
The opening with 10,000 plus flashbulbs going off at once is something to experience. For some reason Colour Film doesn't really show the full effect of this. I shot the 3rd Omaha 1974 show in Black and White, and that really duplicates the effect of how dazzling this can be. It must have hurt Elvis' Eyes Looking out at this effect (with his Glaucoma) he probably should have been wearing Shades..
Although they hung large banks of speakers above and over the stage, the sound mix was never as good as Vegas. Usually Bill Porter got Elvis' voice well to the front of the rest of the voices and backing. (His sound-mixing consoles were on the Ground Floor Level, centre aisle – built up on a scaffold ramp about 4 to 5 feet high) The venues mostly echoed the sound slightly and the audience reaction could effect your enjoyment of the songs in parts– it was OK, you could still hear the power in Elvis voice.
From my going in JUNE 1974 to MARCH 1976 to MARCH 1977 things did change, you sort of told yourself Elvis didn't have any problems. And until the West's Book Elvis fans didn't really have any Idea how Ill Elvis must have been. No one on the tours connected to Elvis hinted at anything really serious. Even when we all read the Over Sensationalised Book – Elvis fans didn't want to believe it. Watching Elvis in March '77 –I had no idea Elvis needed to go to hospital after the Alexander Concert. That show was a really good show, with sensational audience reaction to Elvis' songs. I was puzzled by the water retention puffy look that you could see one day, and then the next it was gone.
It was several years before any decently written Elvis Book detailed and explained all the interaction of prescribed medication Elvis was on for the Long List of Medical Problems Elvis had to endure. He should have taken a much more serious view of his pain, taken a lot of time off and maybe had a few operations to help him sort his illnesses out.
EIN: Do you have any misgivings about following Elvis in Vegas and on Tour?
RM: It was really exciting to go to Vegas and try to set up how to follow Elvis on Tour, travelling from such a long way meant you really had to adapt for Elvis in Concert. Just to get from one city to the next each day was a challenge. A few UK fans I saw outside US Venues didn't manage to get in to see Elvis and had to stand outside listening to the show. I was just always very lucky to find a ticket for every show. And even waiting to see Elvis at an Airport or Leaving a Hotel, or driving into the Arena Area - I still managed to get to the Arena before Elvis' Show Started. (It was a bonus to miss most of the warm up acts anyway) –
To catch Elvis arriving at the airport after his show, you would have to leave before the last song!!! And be able to get out to the car park to your car fast. Len and Rosemarie Leech did this a few times on tours – and managed to get a few nice Candid Airport Shots.
I don't regret going on five USA trips to see Elvis. I do regret not going sooner. I was sorry for upsetting Tom Disken at the end of the Feb'73 engagement, especially as he had arranged for me to meet Elvis the previous season. Thinking and looking back I would have still Filmed the Shows I did, but maybe I should have been less visible about showing USA Fans the Jan'73 Hawaii Show, and processing to view the February 1973 films in the middle of the season, and showing them also to some USA fans.
EIN: Do you have any regrets about your time publishing the 1970s ~ WORLDWIDE ELVIS NEWS SERVICE WEEKLY?
RM: I don't have any regrets about Editing, Writing and Compiling, plus Inspiring fans to join in the History of Elvis as his life and career unfolded through the 1970s ~ in my News Service~ as I tried to keep up with everything that was going on. It never ever crossed my mind to stop the ELVIS WEEKLY'S ~ Sure it took up huge chunks of my time each and every week, but my life would have been very empty without Elvis ~ his songs ~ his movies ~ my collecting which was all part of why I put out one issue after another in a never ending stream. I would have had to stop being a fan, to have stopped the publication during Elvis' Life.
After Elvis ~ for a while Elvis fans really didn't know what to do or how to go on with the Elvis Life we had all been enjoying.. It took RCA a long time to get their act together, we really only got small morsels of Elvis from them for a long time. It wasn't until Ernest got invited to sort out the recordings that Elvis Fans started to get a taste of the hidden Elvis from the Studios and Vaults. Luckily we had the Private Issue! (Bootleggers) in the late 70s through to the '80s to keep us going.
For me and the Weekly – things really changed. I was still receiving packet upon packet of news, cuttings about Elvis and the Estate, but a lot of it was about Court Cases and some of these started to really drag on against the Estate. Even the Riot Show Peruvians from Feb'73 still continued to sue Elvis' Estate. This really wasn't why I had started my publication – by September 1978 I couldn't see any reason to carry on with a WEEKLY ELVIS PUBLICATION for the type of news that was about. Also I was getting offered Flood-Gates of Elvis Films ~ from the end of 1977 ~ to ~ 1979 I added 23 of Elvis' Hollywood Feature films, and 15 hours of Concert and Interview 16mm film to my collection. I really needed to be doing film shows in the UK and Europe on multiple events each week.
EIN: Rex, is there anything else you would like to say?
RM: Nigel ~ I don't think you quite knew how an interview with me might progress – when you phoned me at 7am (Australia Time) which was a civilized 8pm in the evening for me. With almost 2 hours on your Tape and me in full rolling flow ~ you had to tell me if you didn't wrap it up then (almost 9am) you would be late for work. (I'd thought up to then you must have a day off!!??) – The above questions to me are part of the ones we didn't have time for.
Of course over 2 years before I had read a reply you gave on an Elvis Website Message Board that you would like to Interview me. So I had plenty of time to think about it and then you gave me another weeks warning to think about it in the advance set up Phone Call (it might not have been so detailed). But those six days did give me time to think about some photos and images you might want to include with the 3 part direct phone interview.
It was amusing to see the pressure of part 2 being put up on Xmas Eve by you for me to see, with the I'd like to put it out in 24 hours E-mail. I had to go to an Internet Café to check to see if you had had time to make it available, saved it on to a USB flash Memory Stick, rushed home to check it through, by which time it was gone Midnight in Australia on Xmas Day (with the time differences) and I'm phoning (waking up your wife – Sorry!) with a few minor corrections and changes!! Ha!
It's been fun. It's also slightly changed how I now view the Internet and the Elvis World. For 4 years I've surfed the Elvis Worldwide Web, without participating – not even getting myself an E-Mail until a few days after our phone interview. Before my Elvis Quest was running via POST and Phone, but now it includes the INTERNET.
Thanks Nigel for drawing me more into your world – I can see a purpose to your ELVIS INFORMATION NETWORK News Website in this modern technological world, that I can join in with sometimes, if I have something worthy of submitting. Thanks for giving me a reason to widen my Elvis World a little more.
Visit The Rex Martin Page on EIN! for even more REX MARTIN Articles and photos!
Interview conducted by Nigel Patterson in November 2008 & January 2009
Copyright EIN 2008/2009
Do not re-post this interview without permission
February 8, 2013 - Rex Martin "super-fan" Passed away: While possibly not well-known to more recent Elvis fans, Rex Martin was a key part of the Elvis World history. Rex Martin and his legendary publication, the Worldwide Elvis News Service Weekly, were an integral part of how fans "got their Elvis news" in the late 1960s and 1970s. The Weekly News Service represented a fundamental shift in both the frequency and currency of fan's access to Elvis news around the world.
The weekly grew from being a small concern into a mass circulation publication recognised throughout the Elvis world. The importance of Rex's innovative publication cannot be underestimated (and a potent parallel can be drawn between the function of the Weekly then and the function of Elvis news today provided by the Internet!).
Rex Martin saw Elvis in concert more than 60 times and as one of the most influential publishers in the Elvis world he amassed an incredible photo and audio-visual library.
He wrote some incredible and informative articles over the years. Back in the mid 2000s EIN's Nigel Patterson finally tracked down Rex Martin who had been laying-low for a while. It was great that the two of them got back together after all the years - and Nigel did a long interview with Rex which helped inspired him to get back into the excitement of sharing Elvis stories with friends worldwide. Very sadly Rex Martin was found dead at his home in Blackpool, UK, two days ago.
RIP Rex Martin - Thanks for the marvellous memories - and with EIN's sincere condolences to his family and friends.
(News, Source;ElvisInfoNet)
Feedback
Megan: I am too young to have been around when Rex published his weekly Elvis newsletter. But I have enjoyed very much reading his memories of when Elvis was alive and ruled the entertainment world. Thank you Rex and thank you EIN.
John: Elvis sang it best - Memories! And what a fantastic lot of memories your interview with Rex Martin has brought back. Thanks for the memories!
.........................................................................................
Clive (Birmingham): I was very lucky to find out about rex through my very dear friend Ann Nixon. I have some fantastic conversations with Rex over the last couple of months. Rex is so full of information and its great to hear how things happened over the years. A wonderfull man and great to talk to. Keep up the great work Rex
Vera: A wonderful interview.
Merijn van der Meer: VERY interesting read again. It also explains where a lot of the great (video)recordings came from (72 Sep footage, Omaha 1974 etc).
What I wonder is, will Rex release his video of Cleveland June 21 1974? I know Rosemary Leech and Len Leech recorded it, because they described it in every detail in Strictly Elvis. The show is indeed shorter.

Reason I ask is because it was the first time Elvis attempted to sing Good time Charlie's got the blues after Let me be there. Obviously he liked it and sing the full version at the 19th August opening show. So historically it is very interesting to hear that excerpt of Good time Charlie.

Cleveland 21 June 1974 (Peacock suit) See see rider - I got a woman / Amen - Love me - Trying to get to you - All shook up - Love me tender - Hound dog - Fever - Polk salad Annie - Why me, Lord? - You don't have to say you love me - Suspicious minds - Introductions - I can't stop loving you - Help me - Bridge over troubled water - Let me be there - Reprise - Good time Charlie's got the blues (few lines) - Funny how time slips away - Big boss man - Can't help falling in love.
Warren Trengrove: Your multi-part interview with Rex M. is great stuff!
.......................................................................................................................
Tom Jenkins: Thanks EIN. Your interview with Rex brings back many wonderful memories of life in the 1960s and 1970s. I had just left school and my girlfriend and I were big Elvis fans. We attended Rex's shows and had a ball. Those really were the days.
Cec: Fantastic interview with Rex Martin. Keep up the good work
Marie (UK): Great write up with Rex, really enjoyed reading it.
David K: What a legend Rex Martin is!!!! I thoroughly enjoyed your interview with the great man and look forward to the next instalment. Merry Christmas to all at EIN!
Brian Quinn: Great to see that Rex has surfaced once again. I knew Rex for many years, subscribed to his GROUNDBREAKING Newsletter, and attended some of his film conventions which were outstanding. It's nice to hear that he has done well for himself and he comes within my definition of a 'REAL ELVIS FAN'. I sincerely hope that he will now remain on the scene as the Elvis Legacy needs him. I look forward to reading Part 2 of the Interview. Welcome back Rex.
Christopher Brown: I was a long-time subscriber of Rex's news service, and have all but the first 25 issues, I think. It was wonderful getting weekly (and sometimes twice a week) news about Elvis, upcoming shows and recent shows with detailed reviews and newspaper articles. Many of my own show reviews were printed in his publication – a real honor, and a backbone to the two books I published, ON TOUR WITH ELVIS and ELVIS IN CONCERT.
I probably said it back then, but I'll say it again – thanks Rex for all your work in getting Elvis news out. Your publication and with Rocky's were the two essentials of Elvis information in the '70s.
Terry C: I was born after the era of Rex Martin's Elvis weekly. After reading the first part of his interview I wish I had been around. The guy was ahead of his time!! I can't wait to read more of Rex's memories. Keep it coming.
Christopher Tyler: When interviewing people who saw or met Elvis ask a lot more questions as to what their first impressions of Elvis were when he came on stage? What songs and performances from the concerts they saw stand out in the person's mind. Of the 60 shows he saw, how consistent was Elvis etc?
EIN Comment: Chris, there is plenty yet to come from Rex in his multi-part interviews with EIN, including the questions you have asked.
Jenny: Thanks EIN for another fantastic interview. I was a subscriber to Rex's wonderful newsletter for many years and I always looked forward to it arriving in my letter box each week.
Frances Smythe: Before my marriage I attended a lot of Rex's Elvis discos and they were really fabulous. I had such a good time with all my Elvis friends. Thank you Rex for what you've done over the years for Elvis fans. You probably didn't get appreciated very often but you can believe me we DID appreciate all your efforts to bring us Elvis.
Jon-Jon: What a cool dude is Mr Rex Martin. Cool interview too.
Frank (Lancs): What a blast from the past! Rex Martin published one of my all-time favourite Elvis publications. It was always full of the latest news and reviews and it made me feel as though I was part of what was going on. Without the Weekly Elvis fans lives would have been much worse off, it filled an important space in the world of Elvis.
Penny Charles: I met Rex once at one of his discos. I used to go regularly with my friends Sue and Terry. Rex was a lovely person and his discos meant the world to us as young Elvis fans. I really enjoyed his interview and will be reading the next part with a lot of interest and memories of a great time in my life.
Garry Turner: I remember the Rex Martin newsletters as if it was only yesterday. I still have a large batch as part of my Elvis collection. Rex's newsletters were current and entertaining. It's good to read he's still around. I'm looking forward to part 2 of his interview with EIN.