ELVIS
WEEK 2007
tour for fans "downunder", view:
EMAIL EIN for more info
Quote:
"Elvis Presley is the greatest cultural force in the 20th century."
(Leonard Bernstein)
---
Quote:
"If you're an Elvis fan, no explanation is necessary; If you're not an Elvis fan, no explanation is possible."
(George Klein)
---
Quote:
"For a dead man, Elvis Presley is awfully noisy."
(Professor Gilbert B. Rodman)
---
Quote:
"Absolute id crashed into absolute superego...as the uptightset man in America shook hands with just about the loosest."
(Mark Feeney on the 'Elvis meets Nixon' meeting)
---
Quote:
"Elvis is everywhere"
(Mojo Nixon & Skid Roper)
---
Quote:
"...especially in the South, they talk about Elvis and Jesus in the same breath"
(Michael Ventura, LA Weekly)
---
Quote:
"The image is one thing and the human being is another...it's very hard to live up to an image"
(Elvis Presley, Madison Square Garden press conference, 1972)
---
Quote:
"Elvis was a major hero of mine. I was actually stupid enough to believe that having the same birthday as him actually meant something"
(David Bowie)
---
Quote:
"No-one, but no-one, is his equal, or ever will be. He was, and is supreme"
(Mick Jagger)
---
Quote:
"I wasn't just a fan, I was his brother...there'll never be another like that soul brother"
(Soul legend, James Brown)
---
Quote:
"Before Elvis there was nothing!"
(John Lennon)
---
Quote:
"There were rock 'n' roll records before Heartbreak Hotel, but this was the one that didn't just open the door…it literally blasted the door off its rusted, rotten, anachronistic hinges...producing, no propelling, a fundamental, primordial and unstoppable shift in not only musical, but social, political and cultural history"
(JNP, BBC website)
---
Quote:
"Elvis, the musician, is largely a relic belonging to the baby boomer generation...Elvis, the icon, is arguably one of the most potent symbols of popular culture"
( Dr. John Walker)
---
Quote:
"It [rock & roll] was always about Elvis; not just because he was Elvis, but because he was the big star"
(Bono from U2)
---
Quote:
"If they had let me on white radio stations back then, there never would have been an Elvis"
(Little Richard)
---
Quote:
"Elvis loved opera, and he especially liked Mario Lanza. He would watch The Student Prince which was set in Heidelberg, over and over again. He loved the power of the big voices. And he loved big orchestras. He liked real dramatic things"
(Marty Lacker in 'Elvis and the Memphis Mafia')
---
Quote:
"If life was fair, Elvis would be alive and all the impersonators would be dead"
(Johnny Carson)
---
Elvis' #1 Pop Singles on Cashbox, USA:
Heartbreak Hotel (1956)
Don't Be Cruel (1956)
Hound Dog (1956)
Love Me Tender (1956)
Too Much (1957)
All Shook Up (1957)
Teddy Bear (1957)
Jailhouse Rock (1957)
Don't (1958)
Stuck On You (1960)
It's Now Or Never (1960)
Are You Lonesome Tonight? (1960)
Surrender (1961)
Good Luck Charm (1962)
Return To Sender (1962)
In The Ghetto (1969)
Suspicious Minds (1969)
Burning Love (1972)
(The Cashbox chart is now defunct)
---
Elvis Facts:
Elvis was 5' 11" tall
Elvis' natural hair color was dark blond
Elvis' blood type was O Positive
Elvis' shoe size was 11D
One of Elvis'( maternal) ancestors, Morning White Dove (born 1800, died 1835), was a full-blooded Cherokee Indian
Elvis' uncle, Noah Presley, became Mayor of East Tupelo on January 7, 1936
The Presley family moved to Memphis on November 6, 1948
Elvis was issued a Social Security card in September 1950 with the # 409-52-2002
In 1954 some of the shows played by Elvis & The Blue Moon Boys were at the Overton Park Shell; the Bel-Air Club; Sleepy-Eyed John's Eagle's Nest Club and the Louisiana Hayride
Elvis' first manager was Scotty Moore, then Bob Neal, before signing with Colonel Tom Parker
The first DJ to play an Elvis record was Fred Cook (WREC), not Dewey Phillips (WHBQ). However, Dewey had the distinction of being the first DJ to play an Elvis record in its entirety
Elvis once dated famous stripper, Tempest Storm
Elvis was filmed from the waist up only during his 3rd and final appearance on The Ed Sullivan Show
In the 50s Elvis was friendly with rising stars, Natalie Wood, Robert Wagner and Ty (Bronco Lane) Hardin
Gladys Presley was 46 years old when she died, not 42, as many books suggest
The Roustabout album sold 450,000 copies on its initial release, 150,000 copies more than any of the preceding three soundtrack LPs. It was Elvis' last "soundtrack" album to reach #1 on the major album charts in the US
Elvis received $1m for filming Harum Scarum (aka Harum Holiday). The film grossed around $2m in the US
Elvis and Priscilla married on May 1, 1967
They were officially divorced on October 9, 1973
Elvis earns nearly $3.5m in 1968 and pays just over $1.4m in income tax
Elvis' return to live performing in Las Vegas on July 31, 1969 was in front of an "by invitation only" audience. Stars in attendance included Wayne Newton, Petula Clark, Shirley Bassey, Burt Bacharach and Angie Dickinson
On January 9, 1971, the national Junior Chamber of Commerce (Jaycees) announced Elvis as one of "The Top Ten Young Men of the Year". Elvis spoke at the official awards ceremony on January 16
"Elvis: Aloha From Hawai" made entertainment history on January 14, 1973, when it was beamed around the world by satellite. In the Philippines it drew 91% of the audience, in Hong Kong 70%. The viewing audience was estimated at more than 1 billion
For his 4 week Hilton Vegas season in August 1973 Elvis received $610,000
Sales of Elvis' 1973 album, Raised On Rock, were less than 200,000 units on its initial release
Elvis paid $2,959,000 in income tax in 1973
In December 1976 Elvis was sworn in as a special deputy sheriff of Shelby County (Memphis) by Sheriff Gene Barksdale
Elvis' final live concert was in Indianapolis on June 26, 1977
When Elvis died, he and his father Vernon, were embroiled in an FBI investigation called Operation Fountain Pen
More than 1,500 books have been published about The King in more than 30 languages
At Dec 2005 Elvis' biggest selling album in the US is the budget priced, Elvis' Christmas Album, with accredited sales of 9 million units (fingers crossed it reaches 10 million to give Elvis his first "Diamond" award)
By early2006, Sony BMG's "collectors label", Follow That Dream, had released more than 50 Elvis CDs
During the 1980s, tour guides at Graceland stated that Elvis' biggest selling album (globally) was Moody Blue, with sales exceeding 14 million
While Sony BMG estimates Elvis' global sales exceed 1 billion, the company is unable to substantiate this figure. Accredited sales worldwide are estimated to be less than 400 million
I'm going to Graceland!
John Bordsen
Source: Travel.News.com.au
Travel writer John Bordsen is off to Graceland. In this somewhat cliched newspaper article he looks at what he can expect when he gets there:
LAST year about 600,000 hardcore Elvis Presley fans made the trek to Memphis to wander through what the American rock 'n' roll icon left behind.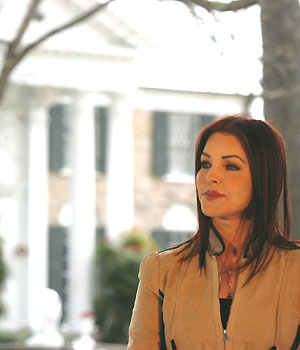 Treasure ... Priscilla Presley listens on the front lawn of Graceland in Memphis, Tennessee as it was designated a National Historic Landmark in March 2006. Picture: AFP/Getty Images
Graceland, where Elvis lived, died and is buried, is part holy grail, part cash register. When you visit, keep these things in mind:
THE HOUSE
Graceland, at 3734 Elvis Presley Boulevard, is about 14km south of central Memphis. It was built in 1939 by a doctor. The mansion is nice but not palatial.
Elvis bought it in 1957 for $A136,850 and moved his folks there from a ranch home he had bought the year before. The 22-year-old's star was clearly on the rise. The same couldn't be said for the area around Graceland.
In the 1960s, wealthy Memphis residents built mansions east of downtown. Bellevue Boulevard – the road renamed Elvis Presley Boulevard in 1971 – was and is part of an interstate highway to Mississippi, a mishmash of stores and car lots.
THE CASH
You're asked for cash before you get out of your car. The mansion is on the west side of the street. Parking, at $US5 ($A6.85), or the visitor centre and shops in Elvis Presley Plaza are on the other. Tip: Park for free in the strip centre just to the north of the plaza. Besides souvenir shops, the official plaza has restaurants, a theatre and two museums. Graceland tickets are sold in the visitor centre, as are souvenirs. Pay just to see the mansion if your interest is only slight ($A30), shell out $A11 more for the Platinum Tour that includes the Sincerely Elvis museum ($A10 for several rooms of personal items), Elvis Presley Automobile Museum ($A16.45 separately), to view cars and motorcycles and tour the King's two jets ($A11 separately). The $A75 VIP tour is for die-hards.
THE ACCESS
Graceland is not well-suited for visitors in wheelchairs or with strollers. You must board a shuttle bus for the ride across the boulevard to the gates. While the mansion's second floor is closed to the public, some key rooms are down narrow stairways. Graceland was built as a private residence, not a walk-through shrine. The standard route through the place is maze-like.
THINK SMALL
Graceland was built more than 60 years ago, when rooms tended to be smaller. Authorised photos, such as those in the Official Guidebook, make the chambers appear larger and do not show the ropes that visitors must peer over.
THE ROOMS
The dining and living room you see first are formal; much more interesting are the places where The King relaxed. The kitchen cabinets have see-through fronts; they're filled with everyday glassware and such. And they're still used every December, when ex-wife Priscilla, daughter Lisa Marie and Presley relatives in Memphis gather for an after-tour-hours holiday party. Downstairs holds the pool room and TV room – well-appointed according to the famous owner's tastes and times.
The TV room is in Prussian blue and bright yellow; built into the far wall are three TV sets – an idea Elvis adopted after he heard US President Lyndon B Johnson liked to watch all three network newscasts simultaneously. Sadly, much of his personal record collection is missing. Archivists snatched most of it.
THE TASTE
Not as tacky as they say. You hear a lot about the faux wilderness look of the Jungle Room, his den. Its look comes from his fondness for Hawaii, where decor is always laid on with a trowel. He bought the furnishings in Memphis in a 30-minute shopping spree in 1974. The room wasn't called the Jungle Room; he simply knew it as "the den". And the dining room with its high-back chairs around a 1.9m-tall mirror-top table is ersatz chic. But keep in mind that many rooms have been locked by curators into the colours and furnishings of the 1970s.
Elvis was not well-educated and, despite his wealth, not a recreational traveller. Much of what you see reflects his working class sensibilities and time spent in glitz-crazy Vegas. The meditation garden (and ultimate Presley resting place) south of the mansion, and the racquetball building out back, were built in 1965 and 1975 respectively. Both are functional.
LAST CONCERT
The tour route leaves the house to take in father Vernon Presley's garage-like office and the trophy building that holds display case exhibits of plaques, clothes, including army fatigues and stage jumpsuits, and curios. Part of the racquetball building displays costumes from his later concerts, but the mood is more serious than sequinned.
The attendant there tells you Elvis spent part of the morning of August 16, 1977 at the spinet piano in the lounge, playing for girlfriend Ginger Alden and Presley cousin Billy Smith and his wife. That concert for four, which included singing Blue Eyes, Crying in the Rain, and Unchained Melody was his last gig: Elvis went to bed and was found dead hours later.
LISA MARIE
The Lisa Marie, at the plaza, is intriguing – a Convair 880 jet that may be the only walk-through attraction that curators haven't fiddled with. He purchased it in 1975. It is a front-to-back series of narrow rooms, living/conference room to personal bedroom.

Some touches show his affection for conspicuous consumption: The guest bathroom up front has a sink basin with gold flecks and gold-plated sink. More intriguing are the personal details learned from video monitors that offer snippets about The King and his jet, like his choice of in-flight beverages – lime Gatorade and diet Dr Pepper.
Or his taste in the then-new world of home videos. His favourites? Blazing Saddles, Peter Sellers' movies and episodes of Monty Python's Flying Circus.
Who would have guessed?
Quote:
"Elvis Presley is the supreme socio-cultural icon in the history of pop culture"
(Dr. Gary Enders)
---
Quote:
"Elvis is the 'glue' which holds our society together....which subconciously gives our world meaning"
(Anonymous)
---
Quote:
"Eventually everybody has to die, except Elvis"
(humorist Dave Barry)
---
Quote:
"He is the "Big Bang", and the universe he detonated is still expanding, the pieces are still flying"
(Greil Marcus, "Dead Elvis")
---
Quote:
"I think Elvis Presley will never be solved"
(Nick Tosches)
---
Quote:
"He was the most popular man that ever walked on this planet since Christ himself was here"
(Carl Perkins)
---
Quote:
"When I first heard Elvis' voice I just knew I wasn't going to work for anybody...hearing him for the first time was like busting out of jail"
(Bob Dylan)
---
Quote:
"When we were kids growing up in Liverpool, all we ever wanted was to be Elvis Presley"
(Sir Paul McCartney)
---
Quote:
"You can't say enough good things about Elvis. He was one of a kind"
(Johnny Cash)
---
Quote:
"And don't think for one moment he's just a passing fancy....he's got enough of it to keep him on top for a long time"
(R. Fred Arnold, Fury magazine, Aug 1957)
---
Quote:
"It isn't enough to say that Elvis is kind to his parents, sends money home, and is the same unspoiled kid he was before all the commotion began. That still isn't a free ticket to behave like a sex maniac in public"
(Eddie Condon, Cosmopolitan)
---
Elvis records reaching #2 & #3 on the Cashbox Pop Singles chart:
#2: A Fool Such As I (1959)
#2: A Big Hunk Of Love (1959)
#3: Hard Headed Woman (1958)
#3: One Night (1958)
#3: (You're The Devil) In Disguise (1963)
---
Elvis Facts:
Tickets for Elvis' show on March 29, 1957 in St. Louis cost $2.00 to $2.50
While in Germany Elvis was hospitalised with tonsillitis in October 1959
Despite being an illegal immigrant, photographic evidence shows Colonel Tom Parker traveled to Canada with Elvis in 1957
Elvis strongly believed there weren't enough good songs in King Creole to justify releasing a soundtrack album. RCA initially agreed, releasing two very successful EPs from the movie. A soundtrack LP eventually followed
During the 1960s Elvis had his own football team, Elvis Presley Enterprises, which played in the Memphis touch football league. In the 1962 final, EPE narrowly lost to Delta Automatic Transmission, 6-13
In Clambake, (Elvis) Scott Hayward's driving licence shows February 23, 1940...taking 5 years off Elvis' real age
In the 1970s Elvis was offered $5m to stage a concert in front of the Pyramids in Egypt. When the Colonel declined the offer, Saudi billionaires raised the offer to $10m
---