The seven Elvis Files volumes are a very ambitious project by Erik Lorentzen that will carefully document almost every single day of Elvis' life from 1953 to 1977, covering everything from what he wore on stage, to who he met, rare interviews, candid photos and newly discovered images.
Erik Lorentzen is also the author of the critical acclaimed book 'Elvis - The King Of Las Vegas' and there is no doubt that this stunning seven-volume series is truly unlike any Elvis book series that you have seen before. The forth volume covers the two years 1969–1970, is 580 pages, hard-backed and printed on high quality paper.
A large "coffee-table" book of 30 cm x 26cm with colour photos throughout, it is almost 1½ times bigger than Ernst Jorgensen/Peter Guralnick's 'Day by Day' book yet covers only TWO years in Elvis' life!
---
Now Updated -

See end of this review for a size comparison, demonstrating the beautiful "coffee-table" size of this huge book. It weighs in at 3.7Kg!
By now most Elvis fans are aware that Erik Lorentzen 'The Elvis Files' are a stunning visual journey of Elvis' life day by day. Featuring relevant newspaper reviews and articles about Elvis from the time, the books nicely match Ernst Jorgensen and Guranick's book as an invaluable and detailed biographical insight into Elvis' life.
The previous Volume 4 1965–1968 was absolutely fascinating for charting Elvis' amazing sixties comeback, from the depressing low of his worst movies to the incredible creativity of the Comeback Special. Here we get the true Elvis glory – the fabulous return-to-splendour years of 1969 -1970.
While the 1968 TV Special was an amazing comeback, Elvis' return to the very top of his profession would never have happened without the Memphis 1969 recording sessions along with the live performances that followed.
Let's face it, Elvis' amazing legacy was only sealed in gold by these two all-important years.
So 'The Elvis Files 1969-1970' really needs no review. 580 pages and over 1,500 photos of Elvis at his most magnificent – it has to be an essential purchase for every fan.
However having already bought Ken Sharp's recent 'Vegas 1969' book as well as the marvellous 'Elvis: Live At The International' what extra can this book offer about this fabulous year?
The answer is plenty and unlike most other Elvis photo-journals The Elvis Files only get better with every volume.
Rare 1969 White GI suit candids (left) - combined with magnificent close-up 1969 classic photos (right)
The real joy here is seeing just how happy Elvis looks in almost every shot. There are so many sensational quality candids taken outside his homes it demonstrates just how much he was enjoying his return to performing and being with his fans. This is definitely NOT the era of 'Elvis the recluse'.
This list of acknowledgments for photograph contributors gives you an idea of just how good the collection is going to be. Just a few of the well-known names are Ed Bonja, Judy Palmer, Sandi Miller, Sean Shaver, Dagmar, Steve Toli, Gary Pepper, Judy Cherry, Janice O'Brien , Cricket Mendell, Patrick Janssen, Chris Giles, Pal Granlund, Paul Sweeney and Steve Barile. The list is mouth-watering before you even open the book! (See full list of acknowledgments below)
Elvis was a busy man in 1969 and 1970 and these are his five lengthy "working" periods and how they are represented in the book.
- Change Of Habit – March to April 1969 is featured over 40 pages in the book.
- Las Vegas 1969 Comeback – An astounding 115 pages, including 82 photos from the Press Conference alone, many I have never seen before.
- Las Vegas January 1970 season and Houston shows – 50 pages
- That's The Way It Is – 80 pages
- 'Elvis On Tour' September 1970 – An incredible 40 pages just about Elvis' five day September tour! Includes some sensational photos.
- 'Elvis On Tour' November 1970 – Another 50 pages of stunning photos and reviews.
The rest of the book is chock-a-block with photographs mainly candids from around Elvis' Hillcrest and Graceland homes but also featuring some great official photos as well, such as George Klein's wedding or the Nixon visit.
Just one of the gorgeous full-page shots of Elvis during 'Change Of Habit'
This is one packed book full of visual delights and interesting articles. And once again the high quality and rare photos take preference over the "standard photos" we have seen too many times before. It has to be noted that some of the never seen before images are sometimes poor-focused or from a distance but this has to be expected. This is balanced out however by the inclusion of several "Classic" iconic Elvis images included here in wonderful quality. I have never seen this stunning 1970 Astrodome photo (below) before in this full-page quality.
Other delights for instance are seeing Elvis on holiday looking so happy and enjoying surfboarding and snorkelling (just like I do!)
The book also features a wonderful selection of articles and reviews that help add to the story and give a true representation of the period.
With only two years covered over a fantastic 580 pages and less newspaper articles (apart from reviews) this time some excellent articles written by Mike Eder anchor the book's time-line.
As Mike Eder rightly notes on page 1 ..
Was 1969 Elvis' best year? If not, it was pretty darn close to being the best...
Yes, the Chips Moman sessions are that good. If I have one complaint it's that a few songs didn't benefit from the overdubbing as they were so raw. Nevertheless, the production was pretty terrific. Elvis sounded like a man who had rediscovered just who he was and what he was put here for..
The stint in Las Vegas that summer was just as successful. Elvis made the city hip in a way that it had never been before. Elvis wasn't just a rock 'n' roll artist any more, and some rock-oriented listeners couldn't accept him playing Sin City. To me, however, this first season at the International Hotel consolidated Elvis' status as the artist of his time.
In this way Mike Eder links the photo sections, explaining the impact of this "new era" for Elvis as well as providing some good insights into Elvis' recording sessions, the live seasons and with the T.T.W.I.I. rehearsals summarised day by day and with relevant photos
In fact knowing just how magnificently Elvis performed on tour during 1970 it is fascinating to read some rather negative reviews of his performances as well as the plethora of fabulously positive ones. An example is 'Presley's Show No Blockbuster' from November 1970!
And surprisingly the first newspaper review in the book of 'From Elvis In Memphis' is actually a rather negative one!
Ann Moses, of UK magazine NME, provides some lovely insights. Her February 1970 article 'New Songs And Old in his act' would have fitted perfectly in the 'On Stage' FTD release. It contains some fabulous comments on this important Vegas season …
As Elvis stands with arms up-stretched and head bowed in thanks, the curtain falls. You are swept up with the excitement of the crowd which is at its peak.
In this moment of exhilaration, there comes a feeling of pain, too, for you know it's over. And then you have to rely on your mind to recall again the thrill you have just experienced.
I think the key to Elvis' over-whelming magnetism is not so much his wiggling hips, his slender body generating so much sex appeal, or even his beautiful and powerful voice as much as his whole aura of simplicity and sincerity.
He doesn't clutter his act with useless prepared comic material, but finds humour which is captivating.
And with every song he gives the audience exactly what they have come for - the chance to see and experience a living legend. In the end, his appreciation is real and you can feel it from the last seat in the last row of the Showroom.
| | |
| --- | --- |
| | |
Left; Rare Astrodome live February 1970 images. Right: Just one of the stunning rare photos of Elvis on stage in las Vegas August 1970.
And author Albert Goldman who would later produce the much-hated vitriolic biography 'Elvis' here shows another side of his personality with his stunning review of Elvis' February 1970 performance.
Gorgeous - or same equally effusive effeminate word - is the only way to describe Elvis Presley's latest epiphany at Las Vegas.
Not since Marlene Dietrich stunned the ringside with the sight of those legs encased from hip to ankles in a transparent gown has any performer so electrified this jaded town with a personal appearance.

Without twanging a string, burbling a note or offering a hint of hip, Elvis transfixed a tough opening night audience of flacks and entertainers simply by striding on-stage in the costume of the year.

With his massive diamonds flashing pinks and purples from his fingers, and his boyish smile flashing sheepishly through his huge shag of shiny, black hormone hair, Elvis looked like a heaping portion of male cheesecake ripe for the eyeteeth of the hundreds of women ogling him through opera glasses.
So dazzling is the superstar, so compelling is his immaculate narcissism, that you hardly notice the massive forces he has mustered to support him.
There are of course plenty of reviews from Elvis' concerts (Oh my, I wish I had seen Elvis on tour in 1970) but the book also contains an interesting array of other articles including…
- Psychiatrist Elvis! (Ann Moses on film location for 'A Change Of Habit')
- A White Boy With Black Hips (Elvis live on stage in 1969)
- Elvis' 1969 Press Conference
- Elvis In Las Vegas (From The New Yorker). This features some wonderful comments about Elvis' first 1969 performance
- New Songs And Old In His Act (Ann Moses on the second Las Vegas season)
- Elvis At The Dome – by Sean Shaver.
- Elvis' Houston Press Conference
- T.T.W.I.I. "Documentary Elvis: A New Concept" – by Gerry McLafferty
- Back On The Road Again (Sept 1970) by Peter Butler
- The Leader Of The Free World And The King Of Rock'n'Roll (The LA Times about the Nixon/Elvis meeting)
- Elvis Makes "Quiet Visit" To Tupelo (Dec 29 1970)
I have to state that I also contributed one article on 'Suspicious Minds' to the book but this in no way prejudices my review since as ETM&HM Gordon Minto said, "I'm proud to be associated with this work because it is so bloody good"!
The quality and sharpness of a large number of the photographs is quite stunning.
 
For the first time in The Elvis Files we get pages and pages of Elvis ON TOUR in the seventies. The real delight here is having every concert featured and with referenced photographs from each show.
Each concert date is noted with a lead page showing place & date and set-list (if available) plus a stunning photo - and it is a very stylish design. (two examples below)
For fans like myself who haven't the spare time to file away every Elvis jumpsuit photo by concert date this is a godsend. The whole concept works so well and there seems to be very little misplacement of photos.
In fact this is what I had been hoping for with the previous FTD 'Fashion For A King' book that was as disappointing as this is impressive.
One real oddity is that the fascinating Larry Blong (Elvis Impersonator) photos with Elvis at the gates outside his house are known to be from 1972 but appear as part of 1970 in this book. Even Bud Glass who is acknowledged as a photo source has them noted as being from 1972. I wonder how they got here.
There are also plenty of fan candid shots from around Elvis recording sessions and plenty I have never seen before. The ones from the July 1970 sessions are wonderful. From July 28th RCA studios there is a marvellous page (below left) showing two fans getting so overcome, first they are laughing but eventually crying in shock!
Rare fan photos from outside the studio July 28 1970 - and rare documentary photos from TTWII filming.
A delightful bonus at the end of the book is an article on "The Mystery Of The Torn Photos" by Elaine Christian.
(daughter of Virginia Coons). While I have seen these before – but never in this quality nor all of them – I have never known the true explanation of how they were found. Three beautiful "torn photos" are shown below of the 82 images - It is a inspirational way to end the book.
While there have been plenty of books about Elvis in this period, the scope of The Elvis Files is so grand that in no way do I feel I have seen anything like this in such a detailed photo-diary presentation before.
Equally the Elvis Files photos are perfect to match the diaries and show reviews featured in text based 'Live At The International' - as well as the interviews and text in Ken Sharp's 'Elvis Vegas Live 1969'
With so many quality (& expensive) Elvis books around this year - The Graceland book, FTD ' Welcome Home Elvis' plus Ernst's SUN box set – it's a tough time for Elvis collector's bank accounts. However the Elvis Files just keep getting better and better with each issue.
This is surely an ESSENTIAL purchase for any fan who loves Elvis in his 1969-1970 period.
Make sure you order it before it sells out.
Living in Australia the postage is a killer (the book weighs over 3 Kilos!) and having also recently bought 'King Creole: Frame by Frame' I sure know that we have to pay more than you lucky Europeans! However I believe that this book is worth every cent – I have spent hours pouring over it already and it will become one of my "reference books" that will not be filed away like most photo-books
Warning - once you buy this book you sure need to get the previous volume about the 1965–1868 years which have to be one of the most fascinating slice of life from Elvis' whole career as the chubby depressed Elvis of 1965 reinvents himself as the sexually prowling tiger in the black-leather jumpsuit on the TV Special. CHECK OUR REVIEW HERE
Overall Verdict: 1969 and 1970 are of course the two key years of Elvis' life that would forever guarantee his legacy as the world's greatest superstar. While his inspiration and drive would once again begin to flag in the following year, these crucial years cannot be beaten. Sensational life-affirming music, outstanding performances and a new happiness shown by Elvis' interaction with his fans – all captured in over 1,500 stunning photos. The reviews and articles are fascinating, the design their best yet, Elvis looked SENSATIONAL - What more can an Elvis fan want?

Please note - apologies, any patterning on photos featured above is due to my low-res scans.
Review by Piers Beagley.
-Copyright EIN July 2012
EIN Website content © Copyright the Elvis Information Network.
Do NOT copy onto other Elvis websites without permission from EIN.
Click here to comment on this article
Several fans have contacted EIN regarding the price of these books.
Yes, they are more costly than the average photo book but the size and production values still make them great value-for-money, they are a reference book you will be regularly going back to.
The size and weight of them however means postage has to be high.
EIN is not selling them directly but the cost is around US$100, GB£65 or EU75 plus postage.
CLICK HERE to buy this book directly from 'The Elvis Files'
or try a local Elvis dealer to see if the total PLUS postage works out cheaper.
Below, a regular CD shown against the book to give a size comparison of the stunning presentation and the wonderful and rare candid photgraphs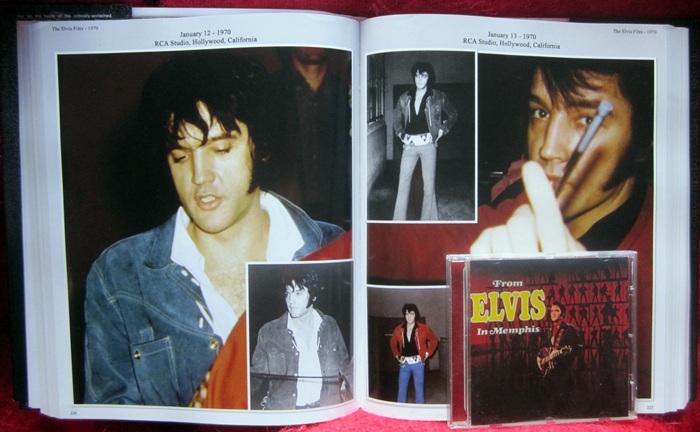 ---
Elvis Files Vol 5 Photo Acknowledgments
This volume includes photographs by:
Terry O'Neill, Tiger Beat Magazine, Ed Bonja, Judy Palmer, Sandi Miller, Virginia Coons, Elaine Christian, Yanique Diskin, Sean Shaver, Dagmar, Las Vegas News Bureau, Sjoberg Press, MGM Studios, Filmjoumalen/Norway, Steve Toli, Mathieu Minacapelli, Mary Mathes, Bob Howard, Rhonda Aikin, Donna Lewis, Gary Pepper, Rusty Overly, Judy Cherry, Janice O'Brien, Cricket Mendell, Helen Parcus, J. Dredge, B. Mattair, Cheryl Shapiro, Carol Girard, Elin Tytner, Madelyn Winston, Memphis Press-Scimitar, Peter Borsari, Fotorama/Norway, Cathy Leeham, Helen Parcus, Ollie Atkins, Little Rock Ski Club.
This volume features photographs from the collections of:
Erik Lorentzen, Bud Glass Productions (www.behind-the-image.com), Patrick Janssen, Elaine Christan, Mike Florysiak, Chris Giles, Anthony King, Louis Van Ettinger, Pal Granlund, Christi Dragomir, Kenny Kjohl, Bjorn Knudsen, Jean-Marie Pouzenc, Paul Sweeney, Steve Barile, Mike Edwards, Chris Middleton
---
The Seven-Volume series and proposed publishing dates are:
The Elvis Files Vol. 2: 1957-1959, (Nov 2010)
The Elvis Files Vol. 3: 1960-1964, (April 2010)
The Elvis Files Vol. 4: 1965-1968, (August 2011)
The Elvis Files Vol. 5: 1969-1970, (July 2012)
The Elvis Files Vol. 1: 1953-1956, December 2012
The Elvis Files Vol. 6: 1971-1973,
The Elvis Files Vol. 7: 1974-1977

The first book The Elvis Files Vol. 3 1960 to 1964 was launched in April 2010.
Size: 25 (10") x 30 (12") Glossy & Hard cover....3 kilos
The Elvis Files – a Collectors Dream
Publisher: KJ Consulting, Oslo

Click here for more information
- Erik Lorentzen
Click here to comment on this article
Go here for EIN's 'The Elvis Files Vol. 2' 1957 - 1959 review with lots of example pages
.
.
.
.
.
.
.
.
.
.
.
.
.
.