The seven Elvis Files volume 1-7 are a very ambitious project by Erik Lorentzen that will carefully document almost every single day of Elvis' life from 1954 to 1977, covering everything from what he wore on stage, to who he met, rare interviews, candid photos and newly discovered images.
Erik Lorentzen is also the author of the critical acclaimed book 'Elvis - The King Of Las Vegas' and there is no doubt that this stunning seven-volume series is truly unlike any Elvis book series that you have seen before.
---
The Elvis Files Vol. 1 1953 - 1956.

This is a labour of love for me, says Erik Lorentzen, author and long time Elvis fan, who has found images and information never revealed before.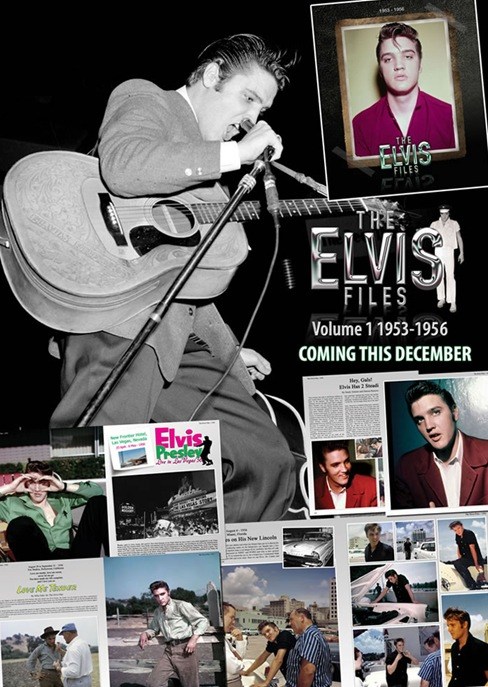 The Seven-Volume series and proposed publishing dates are:
The Elvis Files Vol. 1,1953-1956, (April 2013)
The Elvis Files Vol. 2,1957-1959, (November 2010)
The Elvis Files Vol. 3,1960-1964, (April 2010)
The Elvis Files Vol. 4,1965-1968, (December 2011)
The Elvis Files Vol. 5,1969-1970, (August 2012)
The Elvis Files Vol. 6,1971-1973, (August 16 2013)
The Elvis Files Vol. 7,1974-1977, (December 2013)

The Elvis Files – a Collectors Dream
Publisher: KJ Consulting, Oslo
'VOLUME. 1 1953 -1956' Soon To be Published...ORDER NOW!!!!!!!

Click here for more information about ALL the Elvis Files books
- Erik Lorentzen
Click here to ORDER 'Volume 1 1953-1956' at The Elvis Files website> www.elvisfiles.no
115 Euro including postage for Europe, 140 Euro for worldwide
---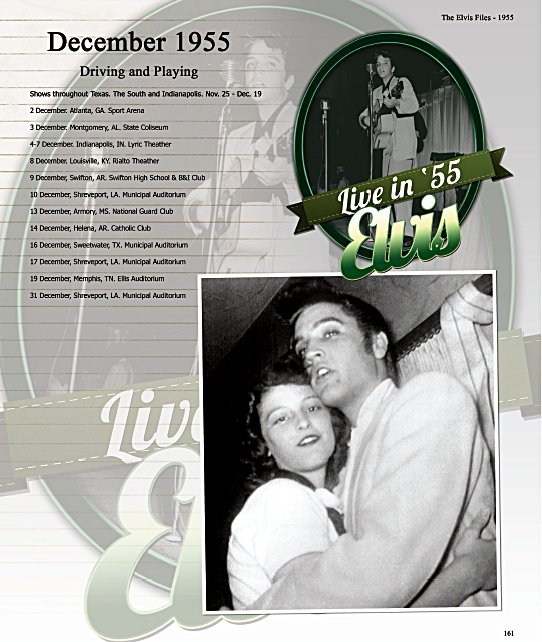 ---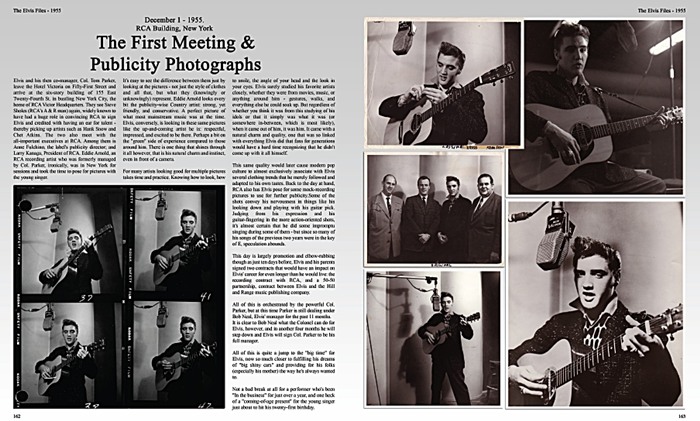 ---
December 1 - 1955. RCA Building, New York



Elvis and his then co-manager, Col. Tom Parker, leave the Hotel Victoria on Fifty-First Street and arrive at the six-story building of 155 East Twenty-Fourth St. in bustling New York City, the Ironic of RCA Victor Headquarters. They see Steve Sholes, widely known to have had a huge role in convincing RCA to sign Elvis and credited with having an ear for talent - thereby picking up artists such as Hank Snow and Chet Atkins. The two also meet with the all-important executives at RCA. Among them is Anne Fulchino, the label's publicity director: and Larry Kanaga, President of RCA. Eddie Arnold, an RCA recording artist who was formerly managed by Col. Parker, ironically, was in New York for sessions and took the time to pose for pictures with the young singer.

Perhaps a bit on the "green" side of experience compared to those around him. There is one thing that shines through it all however, that is Elvis' natural charm and instinct, even in front of a camera.



(Right:Check out the quality of these great photos, and these are low-res scans!)



For many artists looking good for multiple pictures takes time and practice. Knowing how to look, how, to smile, the angle of your head and the look in your eyes. Elvis surely studied his favorite artists closely, whether they were from movies, music, or anything around him - gestures, walks, and everything else he could soak up. But regardless of whether you think it was from this studying of his idols or that it simply was what it was (or somewhere in-between, which is most likely), when it came out of him, it was him. It came with a natural charm and quality, one that was so linked with everything Elvis did that fans for generations would have a hard time recognizing that be didn't come up with it all himself.

RCA also has Elvis pose for some mock-recording pictures to use for further publicity.Some of the shots convey his nervousness in things like his looking down and playing with his guitar pick.

All of this is orchestrated by the powerful Col. Parker, but at this time Parker is still dealing under Bob Neal, Elvis' manager for the past 11 months. It is clear to Bob Neal what the Colonel can do for Elvis, however, and in another four months he will step down and Elvis will sign Col. Parker to be his full manager.

All of this is quite a jump to the "big time" for Elvis, now so much closer to fulfilling his dreams of "big shiny cars" and providing for his folks (especially his mother) the way he's always wanted to.

Not a bad break at all for a performer who's been "In the business" for just over a year, and one heck of a "coming-of-age present" for the young singer just about to hit his twenty-first birthday.
---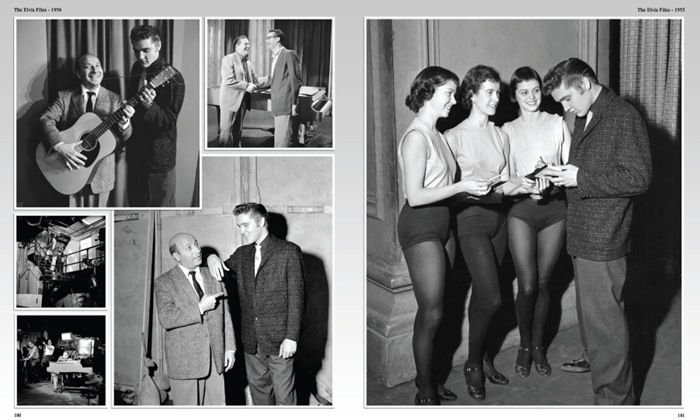 ---
---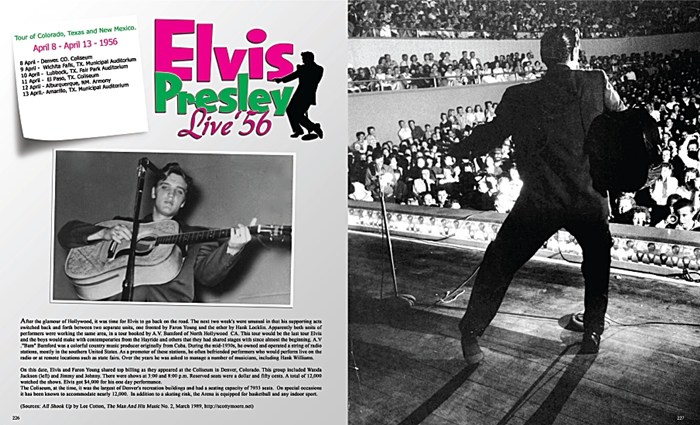 ---
---
12th August 1956, Municipal Auditorium, New Orleans, Louisiana
Elvis Presley jerked his tenuous way across the stage of the Municipal Auditorium twice Sunday, "sang" eight or ten songs, thumped on a guitar, fell to the floor, knocked over microphones and set off a din of teenage squealing unparalleled since the heyday of Sinatra.
At matinee and evening performances before nearly full houses on each occasion (the auditorium holds 10.000). Elvis the Pelvis started each show with a small tiny belch and on each occasion brought the house down. It was that kind of show.
He sang all the songs that are now a mark of jukebox America. "Blue Suede Shoes", and "When My Baby Left Me" and "Heartbreak Hotel" and "Tutti Frutti" and "I Want You, I Need You, I Love You" and a number of others equally deathless.

To say that Elvis Presley sings is, on the strength of his New Orleans performance, giving him the benefit of doubt, for more often than not what passes for his voice is drowned out as often as it was audible.

On the other hand he is not known for his voice. He is a personality, an entertainer who has made an incredible mark on a whole nation and in New Orleans he lived up to this latter role with all the vigor and aplomb of a veteran which he isn't.

At the evening performance he contorted his body in such a manner as to cause whole teenage platoons to rush to the edge of the stage. Girls of 10 and 12 lunged to touch him.

When police started to move in, Elvis jerked his way back to the center of the stage and comparative safety of the trio which backs him up. He flings his limbs about and quivers in such a way as to make one think he might have a trick knee or hip, possibly from an old war injury, but this is not the case. This is just Elvis Presley.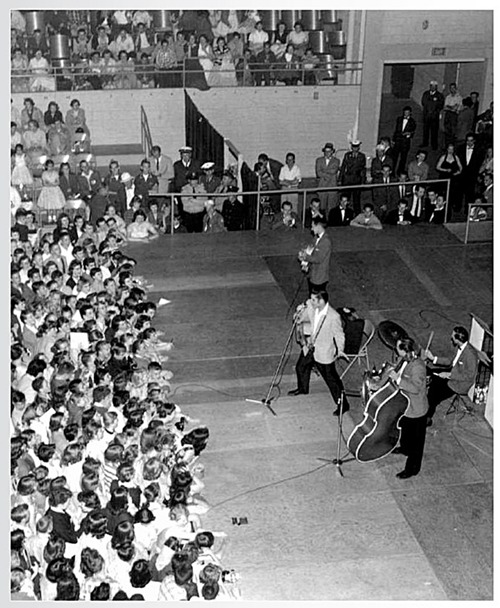 ---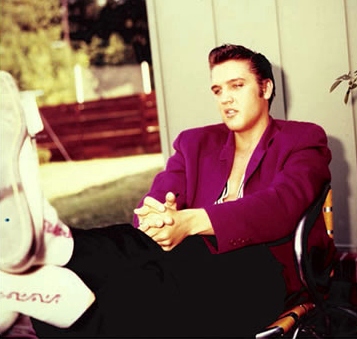 ---
It seems that one of the CHEAPEST price for most fans to buy the book is on-line direct through the author's website. The sheer weight of the book means that it is costly to post.
For more details and purchase information click here to ORDER at this website> www.elvisfiles.no
MAKE SURE YOU PRE-ORDER YOUR COPY NOW
115 Euro including postage for Europe, 140 Euro for worldwide
---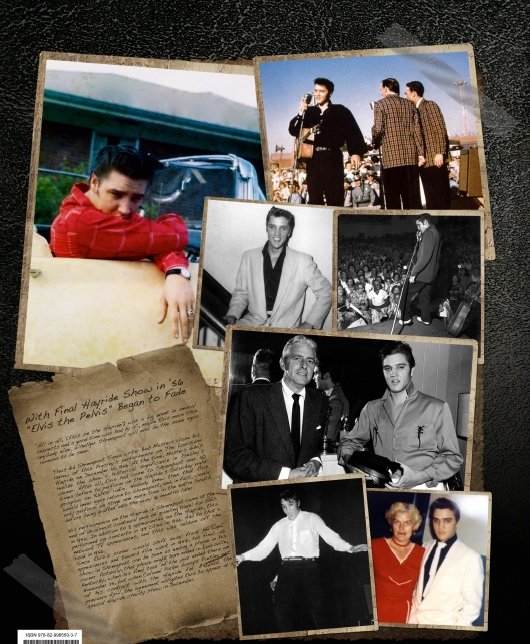 For more details and purchase information click here to this website> www.elvisfiles.no
Preview by Piers Beagley.
-Copyright EIN November 2012
EIN Website content © Copyright the Elvis Information Network.
---
And Go HERE for Elvis Files Magazine Information