'Walk A Lonely Street'
Elvis Presley, Country Music & The True Story of Heartbreak Hotel'
By Tony Plews
- Book Review by Piers Beagley -
Tony Plews' 'Walk A Lonely Street: Elvis Presley, Country Music & The True Story of Heartbreak Hotel' is a unique volume that tells the tale of Elvis Presley's rise to fame as viewed through the lens of his era-defining first hit record, "Heartbreak Hotel". Presented as a series of consecutive short stories, it offers a new perspective on Presley's musical and cultural achievements, and reveals the true and dramatic saga behind the breakthrough song that changed the world.
Heartbreak Hotel was the electrifying record that launched the career of the world's most popular entertainer, Elvis Presley, and helped establish rock 'n' roll as a genuine musical force.
Recorded and released in January 1956 as the singer turned twenty-one and was breaking out of the claustrophobic country music scene, the song quickly became a worldwide hit and awakened an entire generation, launching the modern cultural era.

For sixty years a legend flourished around Presley's hit record: the saga of how and why it was written became the most famous story-behind-the-song in music history. But the fabled scenario of an anonymous suicide victim and his enigmatic note —"I walk a lonely street"— posed more questions than it answered.

Walk A Lonely Street is the book that solves the last great mystery of rock 'n' roll, and tells the full story of the man whose death inspired Elvis Presley's first hit record.
It is a story that spans over one hundred years and involves scores of singers and their songs, uncovering the truth, placing events in context, and revealing the astonishing depth of Presley's artistic vision and achievements.
There is a tale to be told …

EIN's Piers Beagley investigates this brand new Elvis novel.
---
'Walk A Lonely Street' - Book Review by Piers Beagley

Fans have plenty of reasons to buy Elvis books including yet more biographies, gorgeous photos, film explorations, recording sessions, even examinations of why Elvis died. It seems as if a new book is published every week.
However for me the focus has always been about the music, Elvis' influences and how Elvis' Sun Studio recordings changed the very future of popular music, teen culture, even the world we live in today.
My well-worn reference books are Ernst Jorgensen's A Life In Music, Peter Guralnick's music biographies (not only about Elvis) plus others by Greil Marcus, Colin Escott, in fact any author that can help expand my knowledge of how we musically got to be where we are today.
So the idea of a 700 page book dedicated to the back story and exploration of how Elvis came to record Heartbreak Hotel truly intrigued me.
The promotional description above truly whet my appetite, and to be honest the description is perfect.
Over the 700 pages readers will be drawn into an intricate musical journey of interweaving storylines that feature so many characters, both famous and unknown, all of whom in some way help played a part in Elvis' recording of Heartbreak Hotel and the future of pop music.
It's hard to believe that the story of Heartbreak Hotel could start as far back as 1865 - and a certain Colonel Parker - but that is what makes Tony Plews' narrative so fascinating.
The first 40 pages of the book feature April 1865 through to 1930, and while Elvis' birth is mentioned on page 55 he doesn't really enter the book as the main character until one third of the way through. But that is what makes the book all that more captivating as you learn about how so many musical legends, historic recordings, and minor characters all helped influence our hero and his creation of rock 'n' roll as we know it.
The characters introduced in the first section of the book are also intriguing. From the famous including Joan Crawford (actress), Steve Sholes, Hank Williams, Bob Neal, John Steinbeck (author), the Carter family, to the unfamiliar such as Ralph Peer (RCA records), Jack Stapp (publisher), Bobby Ross (Parker's stepson), and Agnes Sampson (wife of Alvin Krolik - the man who walked that lonely street).
Each personal story is told in its own little chapter and it is the way that each chapter and storyline slowly interweaves that keeps driving the narrative along over such a lengthy span.
At the foot of most chapters Plews has noted his references so that readers can explore even more on a particular topic should they wish. The titles of each chapter are also clever, amusing and even elusive at times.
Chapter titles include...
- The Gospel Of Sam Phillips
- Agnes Sampson's Main Squeeze
- Since My Baby Left Me
- Conflict Resolution, Texas Style
- I Read The News Today
- How Much Does It Cost If It's Free
- The Revolution Will Be Televised
- Johnny Bragg: Jailhouse Rock
- The Death Of An Honest Man
- You're Getting To Be A Habit With Me
even the chapter on Elvis recording Heartbreak Hotel is intriguingly titled, "Steve Sholes Worst Day Ever".
I always thought that I was well-read on the rock'n'roll back-story but this book includes so many new characters that it was a real pleasure to learn so much more about these influences on Elvis and the rock 'n' roll legacy.
The list of characters that Tony Plews has investigated is stunning and revealing. People such as Groovey Joe Poovey (worked on the "Big D Jamboree" radio show), Tommy Sands (seriously let down by Col Parker), Buddy Killen (Grand Ole Opry player) all provide fascinating side stories while there is so much more to learn about the main protagonists such as Tommy Durden, Mae Boren Axton, Jean Aberbach (Hill & Range), Alvin Krolik and Delta Pinney.
It was also a revelation to me how the role of publishing and copyright was so important even in the very early days. If you think that Hill & Range stifled Elvis' creativity in the 60s it comes as a real shock to discover how far back their influence and power went.
The true joy of this book is Plews' delightful and engaging writing style. His mix of facts and imagination blend together to create an emotional narrative that really draws the reader in. At times he also adds a nice British, somewhat droll, sense of humour that can make you laugh out loud.
For example I particularly liked this amusing comment about Col Parker.. "It's just that everyone missed the obvious truth of the situation because it was hidden in plain sight. And that, dear reader, is the genius of the Snowman."
The second section of the book, a stunning 300 pages, takes us from the ground-breaking days of July 1954 through to Elvis' July 1956 RCA 'Hound Dog' session.
In the book each of Elvis' early recording sessions are examined in detail and I found his description of the Sun Studio "big-bang" that kick-started Elvis and rock 'n' roll to be the best that I have ever read.
Every Elvis biography has, of course, described the recording of "That's All Right" but none have really captured that special day in such a cool, inspiring, involving and natural way. It's as if Plews was there watching.
Presented over seven glorious pages it captures both the frustration of the earlier ballad failures and then the glory of the breakthrough of Elvis' "That's All Right".
If you like the feel of this short extract, you need to buy the book.
… "Sam (Phillips) knew they were almost there. "Sounds good! Now, Bill, you let Elvis have a little more space in the intro; don't jump in too fast. Scotty, I swear, if I'd wanted Chet Atkins on this session I would have flown him in from Nashville — keep it simple, son. Elvis, you're doing just fine. Maybe we can ease back a little on the tempo. Okay, let's try it again, just one more time for Sam."

After hours of tension, there was suddenly a sense of grace and freedom in the cramped sweatbox of a studio. The boys were ready; Elvis was a ball of energy; Bill was chewing gum and smiling; Scotty was attentive and serious. Elvis hit the opening riff, clear and strong, with just the slightest drop in tempo, allowing the song to breathe. Bill jumped in perfectly, a beat later than previously — Sam was right; it worked much better this way. Scotty watched Elvis as the second bar of introduction came to an end, waiting for the vocal to kick in, so he could feed off his lines. But Elvis didn't come in as scheduled and Sam's heart skipped a beat. The riff kept going for an extra half a bar before Elvis, now absolutely in command of the song and teasing the band, started in with the lyric. And Sam loved this — it was different! It would catch the listener by surprise.

The performance swung beautifully, but Sam stood quite motionless throughout the take. He didn't want anything to interrupt the moment. Scotty found the ideal balance between complexity and simplicity, and his guitar solo perfectly complemented Elvis' singing. Bill drove the song along, giving it the essential bounce and lightness of touch. But it was Elvis who was the catalyst. His acoustic guitar playing had, up until now, been a handicap. But suddenly, it was the glue that held everything together. And his vocals were a revelation. This was an adult song about a failing relationship, and Elvis sang it like a bird. He brought together the lust of Jimmie Rodgers and the piety of the Carters, all in a single performance.

Just two minutes after the song had begun, Elvis rang the final note and stood absolutely still, waiting for the all clear from Mr Phillips."
One very captivating hypothesis explored by Plews is Elvis' deep knowledge of the blues and in particular Arthur Crudup and how Elvis deliberately re-wrote Crudup's originals to become something revolutionary and new, as opposed to the general concept that he just "stumbled upon it".
Even though I am well aware of Crudup's originals and in particular 'My Baby Left Me' I was stunned to read the following…
… "Again Elvis had taken the basic structure of the 1951 song and written his own version. His four verses are undeniably similar to the original, but much of the poetry in the Presley version comes directly from the singer himself. Look through Crudup's recording for any mention of "stand at my window" or "one I love is gone" and you'll seek in vain. Elvis also sourced four lines from Crudup's 1950 B-side, "You Know That I Love You". All in all, he was doing what he'd done in the early summer of 1954 — writing his own song."
With nuggets like this on every page this is a book I'll go back to again and again in order to explore even more, not only about Elvis but also our musical heritage.
Note that these low-res scans used in this review do not show the true quality of the images
The book includes illustrations of around 30 photos, documents and newspaper clippings. While one is of Elvis and May Boren Axton holding the Heartbreak Hotel single, the others are unpublished, mainly from family archives, and quite fascinating. The El Paso Herald-Post 'Story of Person Who Walked Lonely Street' is included and also the incredible find of the police photo of Alvin Krolik (who inspired the whole story) lying dead on the floor.
It would be too frustrating for the book to end with the recording of Heartbreak Hotel and so the third and final short section of the book takes us through from 1956 - including the deaths of Gladys, Martin Luther King, Steve Sholes, Robert F Kennedy and Elvis - to the present day.
The final epilogue is an absolute delight and will bring joy to any reader as it perfectly completes the circle of Tony Plews' journey along this fascinating and infamous lonely street.
While not featuring an itemized index, the end of the book does include a detailed 'Dramatis Personae' list of all the musicians, songwriters, producers, publishers, etc who appear in the book and notes their key role in the story.

Overall Verdict: A totally enthralling musical journey, this is the best book I have read all year. Tony Plews writes with a truly engaging, colourful and passionate style. If your love of Elvis is based upon his amazing musical legacy - and you are also interested in how rock'n'roll got to where we are today - then this is the book for you. At 700 enthralling pages this is no throwaway-cheap-biography and you need to be willing to invest time into reading this meticulously researched historical journey - but there is still so much to learn and explore that you will not be disappointed. I am already looking forward to re-reading it!
Want to know more? - See EIN's fascinating interview with author Tony Plews below
Review by Piers Beagley.
-Copyright EIN January 2021
EIN Website content © Copyright the Elvis Information Network.
---
| | |
| --- | --- |
| | Go here to AMAZON to purchase >>> |

.
.
---
Tony Plews - 'Walk A Lonely Street' - INTERVIEW: Recently published author Tony Plews' 'Walk A Lonely Street: Elvis Country Music & The True Story of Heartbreak Hotel' is a unique volume that tells the tale of Elvis Presley's rise to fame as viewed through the lens of his era-defining first hit record, "Heartbreak Hotel".
The book, Walk A Lonely Street, spans over one hundred years and involves scores of singers and their songs, it uncovers the truth, placing events in context, and revealing the astonishing depth of Presley's artistic vision and achievements.
It is unlike any Elvis book that you will have read before.
EIN wanted to know some answers such as.....
- Part biography, part investigation, part reference and part thriller, how did he come up with the concept
- Why does a book about "Heartbreak Hotel" start in 1865
- How did he find connections to Mae Boren Axton, Tommy Durden and even Delta Pinney (who shot that lonely man) and what did they think when he came calling?
EIN's Piers Beagley interviewed author Tony Plews to find out how he came up with such an incredible concept for his first book - and what discoveries he made along the way...
(Interviews, Source;ElvisInformationNetwork)
---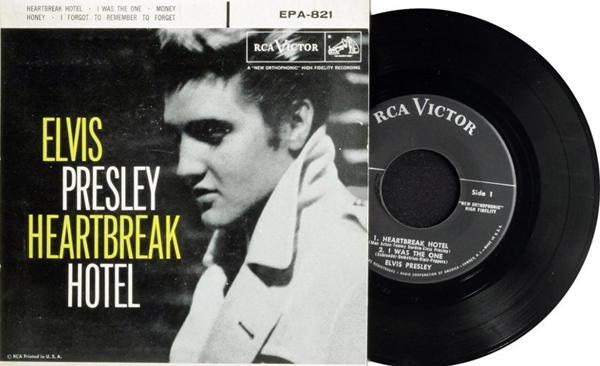 ---
---
'Bicycle Rider: Thoughts on The Searcher': One of EIN's most insightful contributors George Smith has written a stunning essay on the new HBO documentary.
In his review 'George Smith' captures the essence of the narrative, Zimny's production decisions and notes the difficulty of having to create a documentary about Elvis' music and having to keep it under 4 hours.
His review includes,
"The genius of the documentary though, is in its decision to present Elvis Presley to all viewers in a new and unexpected fashion. For the devotees this is realised through the constant use of new film (professional and amateur) and studio outtakes: it keeps the faithful on their toes and creates the impression of seeing and hearing Elvis anew. This is why Zimny insisted on using the alternative Aloha, the handheld "Trilogy" and "Never Been to Spain", the "Burning Love" rehearsal, the "If I Can Dream" outtake, the off-air segments from '68, the non-masters of "Lonely Man", "Hurt", "Suspicious Minds", "Loving You".. It is a deliberate and clever approach which was much appreciated by this writer."
Go here to "Bicycle Rider: Thoughts on The Searcher" this is essential reading.
(Spotlight; Source;GeorgeSmith/ElvisInfoNet)

---
Elvis "Non Stop Erotic Cabaret":

45 years ago today Elvis' performance from the midnight show at the Las Vegas International on August 12, 1970 has been described by his record company as "

Probably the best live concert ever recorded by Elvis Presley."

This stunning performance has been released by SONY on last year's "That's The Way It Is' Deluxe box-set as well as the June 2000 BMG 'That's The Way It Is: Special Edition' 3cd set.

When he decided to investigate in-depth author George Smith discovered however that this 1970 Midnight performance was not just "the best live concert ever recorded by Elvis Presley"; it is an almost spiritual experience. But, like most great albums and concerts of that nature, it cannot be rushed: one must sit and listen to the show in its entirety. Then, and only then, can the genius of Elvis the performer be fully appreciated.

The show takes the form of a metaphorical sexual act with Elvis wooing, loving, and then ravishing his audience before twice taking it to an exhausting musical peak.

(Spotlight; Source;GeorgeSmith/ElvisInfoNet)
---
---
---
EIN Website content © Copyright the Elvis Information Network.
Elvis Presley, Elvis and Graceland are trademarks of Elvis Presley Enterprises.
The Elvis Information Network has been running since 1986 and is an EPE officially recognised Elvis fan club.