From local fan club to online behemoth…
EIN turns 100 – a retrospective!
by Nigel Patterson
For over 25 years EIN has been sending out quarterly newsletters to its local fan club members.

These EIN newsletters feature a wrap-up of the last three months Elvis news plus articles, interviews and with a lot of extra features and rare photos that do not go onto our website.
They are also a great bonus for long-term Elvis fans who perhaps don't have easy Internet access.
The club also features the annual EIN Mega Quiz with special prizes.

This past Easter 2013, EIN posted out its 100th newsletter, a feat worthy of a celebration!
---
Sept 18/2015: Vale - Val(erie) Williams RIP: It is with great sadness and many fond memories that EIN announces the passing of Val Williams. Val's name will not be familiar to many of our readers, but if it wasn't for Val Williams, EIN would likely never have come into existence.

In early 1986 Val formed and was the driving force of what was originally known as the Elvis Presley Appreciation Society of the A.C.T. When Val left Canberra and moved to Sydney, EPAS, as it was generally referred to, remained active in the Canberra area and eventually became the Elvis Information Network (EIN) in the mid 1990s. As EIN, it moved from a being a local fan club to having an international presence as part of the Internet.

Val passed away on 18 September 2015. She was 89. Val will be missed and always remembered. Val, thank you and may you rest in peace.
---
---
From local fan club to online behemoth…….. EIN turns 100 – a retrospective!


 


I should be feeling old (but I'm not). Who would have believed it, EIN has turned 100!


 
EIN's origins twenty-seven years ago can be traced back to a meeting of a dozen Elvis fans at the Ainslie Football Club in Canberra, Australia on a hot summer day in February 1986. The outcome of that meeting was to establish the

Elvis Presley Appreciation Society of the ACT

(Australian Capital Territory). EPAS-ACT was the brainchild of EIN Life Member, Val Williams.
 
EPAS-ACT worked closely with the ACT Rock & Roll Society and within 12 months reached more than 250 paid up members (which for a small city in Australia was a more than respectable feat). The major activities in our early days were raising money for various charities through car washes, raffles and record/film nights plus putting out an information packed monthly newsletter The Man From Memphis.

A highlight of EIN's early days was when two of its committee members received their own special non-guided tour of Graceland during Elvis Week in August 1986. The looks on the faces of hundreds of fans gathered at Graceland Plaza as two lone Aussie fans in colourful Aussie t-shirts boarded the shuttle bus on Sunday morning 45 minutes before formal tours opened and were ferried across to Graceland, was priceless!

Elvis Week 1987 - Chet Atkins performs and Sun Studio's Marion Keisker signs autographs.

And while I won't go into lurid details of the incident, also during that Elvis Week the sight of one EIN committee member dressed only in red boxer shorts (after being plied full of an amber fluid by a certain Elvis world identity with the initials GK) being wildly cheered on by a packed audience at George Klein's cool "In Cahoots" nightclub in Memphis was videotaped. Thankfully, that videotape appears to have been lost over the years and legal action has not been necessary.

That trip to Elvis Week was also the start of EIN establishing contact with many Elvis world identities! (see other Elvis Week 1987 photos below)
 
When Val moved to Sydney EPAS-ACT morphed into The ACT Elvis Presley Club under the guidance of Eddie Boyd and Nigel Patterson before changing its name to the Elvis Information Network (EIN) in 1990.
 
For an 18 month period in the early 1990s operation of the club was handed over to two fans in Sydney, "Mad Matt" and "Motor Mouth" Mike. When work commitments overwhelmed the two M's, EIN returned to Canberra and in the late 1990s evolved from being just a 'local fan club' when it invaded the online world where we quickly flourished as one of the world's top 3 independent websites alongside Elvis News and FECC.

 
I am proud to say EIN has achieved much since its early days as a local fan club in Canberra. As an officially registered fan club with EPE, EIN took a leading role in Australia. We were instrumental:
in establishing, in collaboration with Sony BMG Australia, the Coalition of Australian Elvis Fan Clubs with the EIN President serving as Convenor of the Coalition for ten years until 2009, and

when Elvis The Concert toured Australia in 1999, arranging through the promoter (Jacobsen Entertainment) for members of Elvis fan clubs Australia wide access to "advance" tickets and to attend a "Meet and Greet" with the TCB Band and Sweet Inspirations after each show in each city.
Along the way we also:
(in 2002) secured a 'world first' for an Elvis fan club by obtaining a 1 hour interview with Junkie XL the man behind the multi-million selling #1 hit, Elvis vs. JXL (A Little Less Conversation),

hosted several very successful tours to Elvis Week in Memphis via Hawaii thanks to our 'travel guru', David Devine, from Tweed Valley Travel,

The EIN Elvis Week Tour Group in Hawaii, 2002.
presented a number of Elvis film nights around Canberra,

held the very popular EIN Elvis stall for many years during Canberra Week festivities,
mesmerised fans young and older through our popular Elvis Film Course at the Canberra Institute of Technology/Canberra College (both in-class and online - the EIN film course has the distinction of being the first course provided online by the Canberra College!) – fans in around six different countries have over the years enrolled in the course, and

while few knew it at the time, EIN was also responsible for the 2003-04 Online Elvis Symposium. The Symposium which was divided into six parts (Elvis's Life; Musical Legacy; Films; Iconic Elvis; The Future; Fan Perspectives) proved to be very popular and attracted scholarly and fan articles from four continents and Asia!
As an online presence in the Elvis world the EIN website distinguished itself from other sites by providing a much wider range of "information" about things Elvis and more authoritative and detailed reviews, commentary and interviews. Also, the number of news items we published (usually updated daily) was significantly more than any other Elvis web site.
To say (at times) we published controversial items is an understatement as we periodically felt the ire of many fans for publishing material that offended (at least some fans). From our articles asking if the Beatles were more popular than Elvis and addressing the Elvis and racism issue, to our interview with Joseph Pirzada, at times we were under siege and all we could do was cry "Please don't shoot the messenger"!
| | |
| --- | --- |
| | |
EIN has also been at the forefront of obtaining interviews with many Elvis world identities and writers / journalists and the list reads like a who's who of the Elvis world including Scotty Moore, Lamar Fike, Charlie Hodge, Jerry Schilling, Larry Geller, Marty Lacker, Sonny West, Billy Smith, Rex Mansfield, Dr. Nick, (Elvis' little sister) Patti Parry, Elvis' youngest step-brother David E. Stanley, Bernard Lansky, Jimmy Velvet, Ed Bonja, the legendary James Burton, the Sweet's Myrna Smith, Memphis Horns' Wayne Jackson, "Stump" Monroe, Ernst Jorgensen, Roger Semon, Jerry Leiber, sound engineer Kevan Budd, Dr. Gary Vikan, Joseph Tunzi, Paul Lichter, actress Celeste Yarnall, film producer/director Michael Hoey, singer-songwriter Tony Joe White, Alanna Nash, Rex Martin, Arjan Deelen, Ken Sharp, WA Harbinson and Bill E. Burk.
In addition, Marty Lacker, Bill E. Burk and Rex Martin have been major contributors to EIN through the years and their much valued and fascinating contributions can be found on our website.
At our peak the EIN website attracted around 200,000 unique visitors each month. Our all-time high for Hits occurred on the anniversary of Elvis' death in 2007 when we surpassed a staggering 7,000,000 Hits in 1 day!!!
In 2013 EIN continues to gain respect in the Elvis world, particularly for its in-depth reviews and thoughtful interviews.

For our local paid-up EIN fan club members, as an Elvis quarterly newsletter the quality has steadily improved from the what seemed very good at the time (but was quite rudimentary) roneoed 6-10 page issues in 1986 to today's very high quality and information packed editions. Undoubtedly what Piers produces in 2013 is the 'cream' of any non-commercially produced Elvis publication!

(Right: Some of our favourite EIN fan club newsletters from the past twenty seven years)

There are too many people to thank for EIN's ongoing local and global success but you all know who you are. A special thanks though to Val for starting it all and for Piers and Sanja who in 2013 are EIN's seasoned drivers.

And to all of our club members, readers around the world and contributors – without your loyal support and interest, EIN could never have reached the dizzy heights it has!
The past 27 years have been a wonderful experience….a rollicking, rollercoaster ride! Now for the next 27 years!! Just imagine (if you can bear it), the year is 2040 and there is 'senior citizen' Piers wearing a 1960s Hawaiian shirt in his souped up motorised scooter terrorising tomorrow's youth as he speeds around the local shopping mall sipping (watered down) medicinal cocktails through a straw with Elvis music blaring at full volume (due of course to Piers' diminished hearing) out of all ten speakers of his scooter's in-built sneaky sound system. Then again maybe it's better that we simply celebrate EIN's milestone in 2013.
Aloha and thank you all for the Memories….… Nigel.
Elvis Week 1987 - George Klein and Victoria Fontana - Jerry Schilling at Captain Bilbo's restaurant.
Here is a little part of my 1987 chat with Charlie Hodge and George Klein.
EIN: Charlie, during the Hollywood years you guys had a lot of fun, joking around and playing practical jokes on each other and the rest of the cast and crew. But there were also more serious times. Most fans are aware of the lighthearted moments but not the other times. What can you tell us about them?
Charlie Hodge: I remember when Elvis was filming Charro. He was really taken with the script. It had a hard edge and was very different to the fluffy films he had been making. There was a lot of violence in it. As shooting went on there were more and more changes to the script, the violence was taken out. Elvis finally confronted the director, Charles Marcus Warren. Mr Warren told him that the studio had changed its mind, there was a lot of concern about the level of violence in films and on TV and they wanted it toned down. I remember Elvis wasn't happy about this and he passed a comment that the studio must have wanted a 'milktoast' western. It was another time that with the right script Elvis could have achieved what he wanted, to be regarded as a serious actor.
EIN: George, for you what was the greatest thing about having Elvis as a friend?
George Klein: Elvis's generosity and kindness. When you had Elvis as a friend you had a real friend, a friend for life. There wasn't anything he wouldn't do for you. And he helped all of us out at one time or another. You could have an argument with Elvis but when the chips were down he was always your friend. Man, his loyalty to you was special.
CLICK HERE to send us your comments.
Spotlight by Nigel Patterson.
-Copyright EIN April 2013
EIN Website content © Copyright the Elvis Information Network.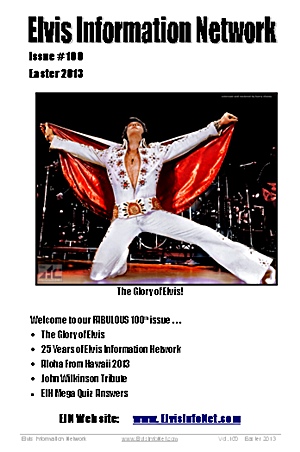 ---
Elvis Week Through The Years - Sanja Meegin looks back: EIN's Sanja Meegin has been to Memphis and attended Elvis Week 13 times in the past 15 years. During that time she has witnessed great concerts as well as met up with many of Elvis' family, friends, colleagues and acquaintances.
For the past decade Sanja has done her best to get to every concert, book signing, ceremony, convention, appearance and memorial that she could manage and report back to EIN for those who couldn't be there to experience it for themselves. Of course that hasn't been easy when combined with the excruciatingly hot Southern summer temperatures, the lure of cocktails on Beale Street and keeping the hours Elvis kept whilst there – party all night, sleep all day - but she has done her best! - Part of our EIN 100th newsletter celebration!
Go here as Sanja looks back at her fifteen years of visiting the Promised Land and Elvis Week.
(Spotlight; Source;ElvisInfoNetwork)
---
EIN Website content © Copyright the Elvis Information Network.
Elvis Presley, Elvis and Graceland are trademarks of Elvis Presley Enterprises.
The Elvis Information Network has been running since 1986 and is an EPE officially recognised Elvis fan club.