D.J. Fontana
Obituary and Interview
Spotlight by Piers Beagley / Thomas Melin
---
JUNE 13, 2018 - D.J. Fontana Has Died aged 87: EIN has terrible news as DJ Fontana, Elvis' legendary drummer, has died aged 87.

The last of the 'Blue Moon Boys' has now left to join his fellow musicians - the creators of the Rock'n'Roll big-bang.
Dominic Joseph Fontana passed away in his sleep last night.
His son David Fontana, wrote: "My dad passed away in his sleep at 9:33 tonight June 13. He was very comfortable with no pain. We ask for privacy at this time. Thank you for your love and prayers."

DJ Fontana, who was born in Shreveport Louisiana on March 15 1931, originally began backing Elvis Presley, Bill Black and Scotty Moore when he worked at the Louisiana Hayride as early as 1954.

Sun Records Sam Phillips originally assembled Elvis' Blue Moon Boys without a drummer and so it wasn't until the key RCA session of January 10 1956 that DJ Fontana joined the band on recordings.
That session produced 'Heartbreak Hotel' and the music world would never be the same.
---
Dominic Joseph Fontana, who was born in Shreveport Louisiana on March 15 1931, originally began backing Elvis Presley, Bill Black and Scotty Moore when he worked at the Louisiana Hayride as early as 1954.

He first began playing drums as a teen in his high school marching band and would jam with his cousin while listening to big-band recordings.
By his early 20s he performed at strip joints and spent enough time around the "Hayride" that he was hired full time, although at first he was asked to play behind a curtain because country audiences scorned drums.

Sun Records Sam Phillips originally assembled Elvis' Blue Moon Boys without a drummer and so it wasn't until the key RCA session of January 10 1956 that DJ Fontana joined the band on studio recordings.
That session produced 'Heartbreak Hotel' and the music world would never be the same.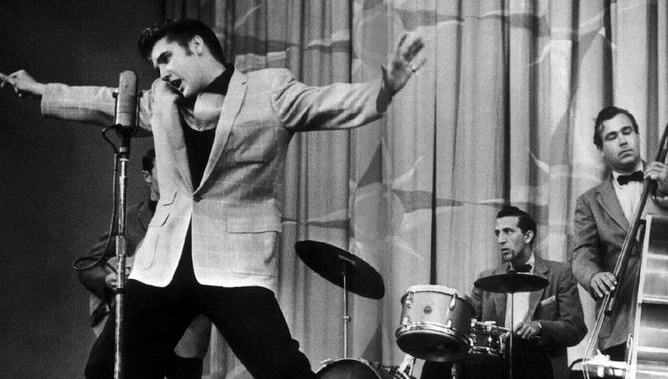 In a 1984 interview Fontana recalled hearing Elvis' early songs, saying, "They sent Elvis' records from Memphis. I thought the sound was really incredible. It was really different… When Elvis, Scotty Moore and Bill Black came down as a trio, Scotty approached me about drumming with them. We ran through about two or three songs backstage, including 'That's All Right, Mama.'"
Fontana's key input would be his solid beat that created the stunning impact on songs such as 'Hound Dog' and 'Jailhouse Rock'.

Over the next 14 years, Fontana would accompany Elvis in the studio, on the road as well as appearing in several films such as Loving You, Jailhouse Rock and G.I. Blues.
Fontana played on over 450 of Elvis' RCA recordings.
Original bassist Bill Black died back in 1965 and never played with Elvis' band again following the 1958 break-up. Lead guitarist Scotty Moore sadly passed away back in 2016.

DJ Fontana was instrumental in Elvis' career revival of the 1968 'Comeback Special' although it would be the last time he performed with Elvis.
Of the NBC TV Special Fontana said, "We didn't really rehearse. We'd just go out and wing it and do the best we could. Me and Scotty and Elvis, and that's all we really needed. We had a lot of fun doing it. Elvis looked great . . . he was real nervous, but once he started it was like he'd never been away."
After the success of the '"68 Comeback Special" Elvis invited Fontana and Scotty Moore to play with him in at his opening 1969 LIVE Las Vegas however Fontana opted to for more steady session work in Nashville instead.

It was also while working on Elvis' RCA recording sessions, during the sixties, that Fontana had relocated to Nashville to become in-demand session musician.
Fontana would play with an array of rock and country legends over the next several decades, including Ringo Starr, Paul McCartney, Charley Pride, Jerry Lee Lewis, Waylon Jennings, Dolly Parton and Roy Orbison. In 1997, Fontana reunited with Moore for an all-star record, All the King's Men, which featured guest appearances from Keith Richards, Levon Helm, Steve Earle, Cheap Trick, Ron Wood and Jeff Beck.
In an later interview with WGBH Fontana remembered the first night he, Elvis, Moore and Black played together as the quartet that would go on to launch and define rock and roll.

"Well, the first night people were polite, kinda' like at the Grand Ol' Opry. But it was a country, older crowd, and I think what they did, they went home and told their kids, 'There's a boy down at the Louisiana Hayride you got to go see.' The next couple weekends we had nothing but kids, so that was the breaking point actually. The kids would scream and holler, crying and all that stuff. And I think that's what really got it started."

In 2009 Mr. Fontana, along with Bill Black, was inducted into the Rock & Roll Hall of Fame in the sideman category. He was inducted into the Rockabilly Hall of Fame the same year.

In 1999 Fontana married Karen Arrington, with whom he lived in Antioch, Tenn. In addition to her and his son David, he is survived by another son, Jeff, and 10 grandchildren.
While DJ Fontana created some of the greatest rock'n'roll drumming ever cut on wax he always stated that he liked to "keep things simple" in a way that complemented not just Elvis, but also his other band-mates.
In a typically humble comment Fontana noted that, "I just learned how to stay out of their way and let them do what they had to. It sounded better to me that way."
"Elvis was just a nice guy, even though he was so young. He always treated people like he wanted to be treated. You know, we worked hard. We just tried to cut good records. But we knew that if it wasn't for Elvis, we wouldn't have done anything."

D.J. Fontana R.I.P.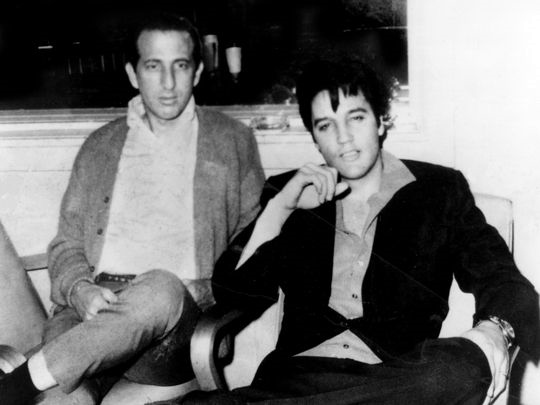 ---
EPE posted the following.
We are deeply saddened by the passing of our dear friend and legend D.J. Fontana.
"Lisa and I, and the entire Presley family, join the staff of Graceland in expressing our deepest condolences on DJ Fontana's passing. DJ was Elvis' original drummer and good friend. He was a tremendously talented musician and a wonderful man. Together with Elvis, Scotty Moore and Bill Black, DJ made history as part of the legendary "Blue Moon Boys" creating music that will live forever and influence generations to come," said Priscilla Presley.
"The staff of Elvis Presley's Graceland is deeply saddened by the passing of Elvis' friend and legendary drummer, D.J. Fontana," said EPE CEO Jack Soden. "D.J.'s groundbreaking recordings and performances with Elvis, Scotty Moore and Bill Black launched Elvis' career and forever changed music and the world. D.J. was a dear friend to all of us at Graceland. We send our heartfelt condolences to D.J.'s family, friends and his millions of fans worldwide."
Larry Geller (of the Memphis Mafia) noted..
"I'm deeply saddened to learn of the passing of my friend DJ Fontana.
With the sadness, though, comes a flood of wonderful memories from over the years, as we shared many great moments. DJ was not only a legendary drummer but a close and dear friend to Elvis."
---
EIN's Nigel Patterson writes...
I met the brilliant DJ Fontana in Memphis in the 80s and also interviewed him in Canberra in the 90s when he backed Eddie Youngblood.
EIN published the interviews in the old Fan Club printed newsletter.
DJ was a very pleasant, easy going guy.
He was very positive about Elvis.
The last of the surviving Blue Moon Boys, he will be missed.

WWE's Paul Dowling writes...

... I still can't get over DJ's death.
In 1979 I put on a weekend Elvis convention in Baltimore and spent many days with DJ and the Jordanaires.
They flew up to Baltimore that Thursday to do TV and promote it and I had the pleasure to be with them for 4 days.
At the time DJ was drinking a lot and one night we went out and had a great time.
What a great memory and a great bunch of guys.

- Paul Dowling

Please go here Paul Dowling's EIN Interview for the full story
"I Tell You What, Elvis Loved Gospel Music"

Back in 2006 Thomas Melin (of the 'Elvis Today' website) met the great D.J Fontana. Here is his story..

Eleven years ago I had the pleasure of meeting Elvis' first drummer D.J Fontana. I was working as a reporter at a radio station, when, one day in April, 2006, a press release caught my eye. It announced that Fontana was touring Sweden as part of a Swedish group called The Cadillac Band that would be playing my home town that very night. As my news editor didn't seem to understand the significance of this, I practically had to beg him to let me interview the drummer instead of doing the news piece he had in mind for me to do.
As luck would have it, I was planning a one-hour radio program titled Rock Me Lord dedicated to Elvis' religious songs to be broadcast on Easter that year. Not only could I do a short news piece about Fontana coming to town, this would also be a golden opportunity to ask him a couple of questions about Elvis' love for gospel music that I could use in the program.

So, off I went, first swinging by my apartment to pick up my Elvis Presley LP, so I had something D.J. Fontana could sign. I then met him and his wife Karen at his hotel before the show where he kindly answered all my questions. I found him very friendly, and he seemed to enjoy talking about his time with Elvis. Afterwards, he signed my record and his wife took a couple of photos of us together. It was a magic moment.

The program about Elvis' religious music was broadcast nationwide a few weeks later, as planned on Easter, 2006. For Elvis fans, here is my interview with D.J. Fontana about Elvis and gospel.

Thomas: What did gospel mean to Elvis?

D.J. Fontana: I tell you what, he loved gospel music, that was his first choice of songs. Course, he couldn't sing them all the time, you know, the RCA Victor wouldn't go for that, but he cut three gospel albums, and that's the only ones he won a Grammy on, the other stuff, not even a mention. But he loved gospel music, and if you listen to it closely, you can see the feeling he puts into his voice when he sings those songs, he almost cries, he does, he's serious about it.

Thomas: He often played a lot of gospel before the recording sessions, didn't he?

D.J. Fontana: He did, we'd sit around maybe a couple of hours, just jam, he knew every gospel song that was ever written, I think. He'd just go from one to another, maybe repeat one that he'd liked, it would maybe last a couple of hours. Now the big wheels, they didn't like it, it cost them too much money, and the movie companies. But he didn't care, he'd say, "I'll sing when I get ready, and when we get ready to perform we'll do it."

Thomas: I read somewhere that once, I think it was during the Jailhouse Rock sessions, he got angry when he couldn't play gospel.

D.J. Fontana: He did. We were sitting there, and the guys, the higher ups, the big wheels, they'd come up and say, "You know, tomorrow when Elvis comes in, guys, we're wasting a lot of time and money, don't sing with him, don't play with him, don't do anything." So we'd say, "OK." So he'd come in, sit down and start playing, and nobody moved, didn't play, the voices didn't sing. He said, "What's the matter, guys, are you mad at me or something?" And we told him, the higher ups didn't want us to play and sing. He said, "OK, so I got a sore throat, I'm going home." So he went home. Once he had a sore throat or something wrong they couldn't say anything to him, see. So they didn't say another word after that. "Do what you want to do."

Thomas: You played on many of his gospel recordings. Do you remember anything particular about it?

D.J. Fontana: No, they all run together after a while, after this many years, in fact. No, you go and you might cut five or six songs, maybe ten, and you hardly remember what you did from this minute to the last minute. It's gone away. You do another song, you have to concentrate on what you do that moment, you know.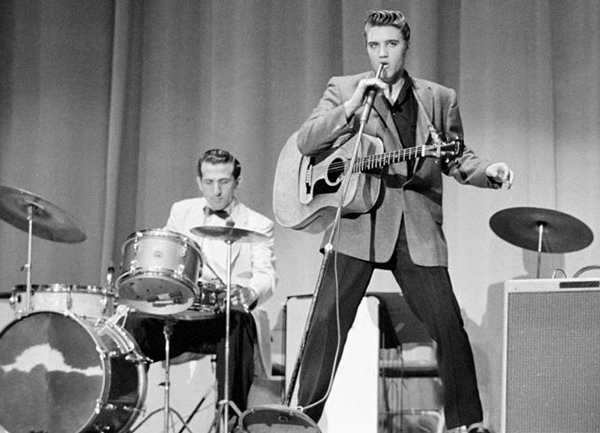 Thomas: I'm also gonna tell in the program that he sang "Peace In The Valley" on television, on the Ed Sullivan show.

D.J. Fontana: Yeah he did, yes, he told his mother he would do it. And it wasn't Ed Sullivan at all, it was the producers and directors and all that stuff, they said, "No, you can't sing it, we don't have gospel on our show. So when Ed came in, he asked, "Mr. Sullivan, I told my mother I would do this for her" and he said, "Let the boy sing what he wants to sing. That was Mr. Sullivan, he was pretty good about it, he let him sing.

Thomas: Do you like Elvis' sacred recordings?

D.J Fontana: Oh yes, absolutely, I love them all. Like I said, he had so many, really. It's hard to keep up with them all nowadays, you can't do it. But I think if people would listen to his gospel, his religious tunes, they would fall in love with his religious side.

Thomas: Do you have any particular favorites?

D.J. Fontana: I like "Peace In The Valley" … what's the other one? "How Great" [Thou Art]. Those are two of my favorites, yeah.

D.J. Fontana was voted 13th Best Drummer of all time in Rolling Stone's 2016 survey - just above Buddy Rich and Ringo Starr.
The Band's Levon Helm stated, "Fontana had incredible technique and fast hands, so he could deploy those Buddy Rich press rolls whenever he wanted to. He played like a big-band drummer — full throttle. Now Elvis had a real foundation, some architecture, and he made the most of it. D.J. set Elvis free."

Tom Petty Heartbreakers drummer Stan Lynch explained, "When you hear D.J. Fontana playing his drums you are hearing a kid from Shreveport, LA tell you what he thinks music should sound like. Rock 'n' Roll had a clean slate. There were no drum parts written for him on those Elvis records. He dictated the groove and made you feel it. There is no one on this earth that can make music move the way he did. He set the standand."
Spotlight by Piers Beagley- and with THANKS to Thomas Melin.
-Copyright EIN June 2018
EIN Website content © Copyright the Elvis Information Network.
Click here to comment on this article
---
D.J Fontana Interview:

D.J Fontana was Elvis' drummer from 1955 to 1969. Elvis first met Fontana when he appeared at the 'Louisiana Hayride' on October 16, 1954. In fact Fontana became the first person to play drums on the 'Louisiana Hayride' doing so behind a curtain since percussion accompaniment to "real" Country Music was still frowned upon.

After joining Elvis' band Fontana played drums on around fifty Elvis recording sessions between 1956 and 1968.

After 1969 Fontana became a session musician in Nashville. Fontana also appeared in several Elvis movies such as

Loving You

and

Jailhouse Rock

.

Earlier this year D.J. Fontana was still on the road performing in Crowley, Louisiana where he talked about his time with The King.

And in 1998 DJ Fontana was interviewed by EIN contributor Arjan Deelen.

(Interview, Source;EIN/ArjanDeelen)
---
| | |
| --- | --- |
| Scotty Moore interview with EIN: Scotty Moore was in the delivery room when Rock'n' Roll was born. On July 5, 1954, guitarist Scotty Moore, bass player Bill Black and a young man from Tupelo, Mississippi, by the name of Elvis Presley recorded 'That's All Right' - and the world was never to be the same again.' Winfield Scott Moore III was born on December 27, 1931. To celebrate Scotty Moore's 75th Birthday EIN presents this exclusive Arjan Deelen interview. It is an interview well worth revisiting. (Interviews, Source: Arjan Deelen, EIN) | |
---
| | |
| --- | --- |
| The Jordanaires' Ray Walker, the EIN interview: The Jordanaires formed in 1948 and are still going strong. Their style was recognised by a young Elvis who realised that they were the perfect backing group to match his own vocal style. They ended up working with Elvis until 1970 and performed on over half of his recorded material. During Christmas 2002 EIN spent a while talking with bass-singer Ray Walker. Ray told us some delightful stories about his life and time spent with Elvis. We are very happy to have the chance to republish this exclusive interview during this festive season. (Interviews, Source: EIN) | |
---
| | |
| --- | --- |
| Larry Geller new interview with EIN: From 1964 until the very final days Larry Geller was a close friend to Elvis. Perhaps Elvis might have lived longer had he paid more attention to Geller's healthy life-style and managed to shake off the excessive demands of Colonel Parker. With the 30th Anniversary fast approaching Larry was kind enough to answer a lot of questions that fans have raised with EIN and to also tell us something about his new book. Larry has multiple projects happening at this very moment, so EIN extends its sincere thanks to him for sparing us the time for this interview. (Source: EIN, June 2007) | |
---
Red West Interview:

Red West was one of Elvis' closest friends. He first met Elvis in High School and went on to work for Elvis as a bodyguard until 1976. Elvis and Red West became close friends when Red volunteered to help drive Elvis, Scotty Moore, Bill Black and DJ Fontana around the southern US states for their early tours of 1955-1956. Red West is also a talented composer and actor who still appears in award-winning movies.

In 1999 Red West was the main guest at the Elvis English Fan Club Convention where he opened up to fans like never before, revealing his true love for Elvis. It is certainly one of the longest and the best interviews with Red West - and at times devastatingly honest.

EIN now presents this fascinating interview for Elvis Week 2010.

(Interviews; Source;OEPFC)
---
For those who may not know, Nielsen was an established anchor in the gospel music world, having been a member of Jake Hess & The Imperials, Hovie Lister & The Statesmen, and The Singing Speer Family.

Sherrill Nielsen sang back-up vocals for Elvis beginning in 1973 and Elvis' record producer, Felton Jarvis, is on record as saying that Elvis considered Nielsen his favourite singer.

As a member of Voice, Nielsen remained with Elvis until the end and became a close friend. In concert Elvis would often ask Sherrill to take the spotlight and perform "Walk With Me," "Help Me," "Unchained Melody" and "Spanish Eyes."

Interview by EIN Contributor Jeremy Roberts.
---
Vernon Presley Interview: In January 1978, Elvis' father Vernon Presley agreed to an in-depth interview with Nancy Anderson for Good Housekeeping magazine.
The interview is incredible for Vernon's honesty and openness as he discusses everything from Elvis' birth, his childhood, his girlfriends, and even his drug habits. The interview begins ....
"My love for my son began even before he was born on January 8, 1935. At that time there was almost nobody poorer than my wife Gladys and me.
But we were thrilled and excited when we learned that we were going to be parents. I was only 18 years old, but throughout Gladys' pregnancy it never occurred to me that I wouldn't be able to take care of her and the baby - - - -
Go here to read this amazing interview.
(Interviews, Source;MRT/GoodHouskeeping/ElvisInfoNet)
---
John Wilkinson 1972 Interview: Interviews with Elvis' band members from the 1970's are very rare and so it is with great pleasure that EIN can feature this interview with John Wilkinson from September 1972. This nicely ties in with the recent 'August 1972 Las Vegas Season' FTD release but also as a tribute to John Wilkinson who sadly passed away last month.
John Wilkinson was an all-round nice guy who unlike some always told positive stories about his friend Elvis.
In this interview John talks about working with Elvis and the TCB Band in 1972 as well as recording 'Burning Love' that had only just been released.
Go HERE for this insight into Elvis, John Wilkinson and 1972.

(Interviews, Source;ElvisInfoNet)

---
---
EIN Website content © Copyright the Elvis Information Network.
Elvis Presley, Elvis and Graceland are trademarks of Elvis Presley Enterprises.
The Elvis Information Network has been running since 1986 and is an EPE officially recognised Elvis fan club.