Marty Lacker: A Life well-lived
& American Sound Studio interview
Spotlight by Ken Sharp / Piers Beagley
Feb 14, 2017 - Marty Lacker - RIP: It was with immense sadness that EIN had to report on the death of our great friend - and a true friend to Elvis - Marty Lacker. We will miss him dearly.
Marty is well-known as one of the key members of the Memphis Mafia and also co-Best Man at Elvis' wedding.
He was known for both his honesty and being forthright with his opinions. He was the only member of the Memphis Mafia who still watched and commented on recent Elvis News. He had no issue with holding people to account (especially ones who would inflate their importance within Elvis' legacy) and would regularly write to EIN asking us to add his comments or to correct any inaccuracy.

Elvis fans often ask about Marty Lacker's background, how he came to meet Elvis, as well as his involvement in the music industry outside of working for The King.

As a prelude to Ken Sharp's fascinating interview with Marty Lacker and a discussion about Elvis' famous American Studio' Memphis sessions EIN presents a brief overview in "Marty Lacker: a life well-lived"
---
"Marty Lacker: a life well-lived"
Marty Lacker was born in Brooklyn, New York but grew up in the South Bronx, NY until he moved to Memphis in 1952 aged 15.

In 1953 he transferred to Humes High School where he became aware of Elvis because as Marty noted, "we both dressed alike which was unlike most of the kids back then. We wore bright, loud color clothes with our collars up and had semi longer hair then the crew cuts of others."
After his last year in school Marty entered a manager's training program of a Memphis Department Store. In late 1954 they opened a new big drug store in Lamar Airways Center and they hired Elvis, Scotty and Bill to provide the entertainment on a flat bed truck in the back parking lot. On his break Marty went to see them perform and was surprised when Elvis noticed him from the stage and pointed at him as they were not good friends in school.

In December 1954 Marty enlisted in the army and served two years of service in Germany.

He was honorably discharged in December '56 at which point he enrolled in radio broadcasting school in Memphis.
Marty Lacker continues the story ...

"In early '57 I was invited to go to Graceland to see Elvis. Surprisingly he remembered me and also knew I had just got out of the army, before I left that night he told me I was welcome to come up whenever I wanted. I was there almost every night he was in town and became friends with the guys like Lamar, Gene and Billy Smith, Arthur Hooten and my old schoolmate and football teammate Red West who was just getting out of the Marines.
After a month and a half my Broadcasting teacher, a well known Memphis DJ named Don Stevens, recommended me to the owner of a small station in a small city north of Memphis and was hired where I really learned how to do everything at a station and on the air. On the weekends when Elvis was in Memphis I would hang out at Graceland and go to the Fairgrounds or Rainbow Skating Rink with Elvis and the guys. By then Alan Fortas and Sonny West joined the group.

In late '57 when I was home in Memphis I was approached by George Mooney who owned the radio station WKGN in Knoxville and he asked, to my surprise, if I would like to come there and be the Program Director for what was the #6 rated station in the local Metro market. It was a big step up for me. I went there in late '57,changed the format,hired new DJ's and in six months we were the #1 station in the market. While there I met and married my wife Patsy and our oldest daughter was born there. When I left in 1960 to move back to Memphis the station was far out front of all our competition.
When I got back Elvis had just come back from the army. I had seen him him in June of 58 before he went to Germany and he played me the dubs from the session he had just done in Nashville while he was at home on leave. Hits like 'I Got Stung' and many more. In Memphis I was the Production Director and nighttime DJ for the now defunct WHHM Radio.

One night while shooting pool at Graceland in '61, Elvis said to me,"Why don't you come with us tomorrow?"

I was stunned and said, "Elvis you're going to Hollywood to make Kid Galahad." He answered, "Hell I know where I'm going and I want you to come with us and work for me." I then said, "Elvis,I need to think about it." He got a bit angry and went into the other room and at the same time Lamar said, "ooohhhh, you said the wrong thing."

I went in the other room where Elvis was sitting and it turned a bit comical but not at first. He was sitting in a chair against the wall with a newspaper flat against his face pretending to be reading it, Elvis didn't like to be told no. He also couldn't understand why a young guy would turn down working for him and going to Hollywood to make a movie. What he also failed to realize that unlike the other guys who were single, I had a wife and a child.
Here's where the comedy comes in. While he's sitting there with the newspaper on his face I said, "Elvis you have to remember I have a wife and child and I need to talk with her about it and make her understand." He then slid the paper halfway down his face,looked up at me and said, "Well don't take too damn long to think about it, if you're going be here tomorrow by 2PM with your bags." Then he slid the paper straight back up in front of his face!
I walked back in the next room laughing. I was there the next day with my bag much to my wife's chagrin. We were living with my parents at the time so I knew she and my daughter wouldn't be alone. Elvis paid me the big sum of $45 a week and I had a wife and child. So much for the fanatics who badmouth us and say we were only there for the money. Contrary to what some fans think, we never complained because most of us were not there for the money, if we were we wouldn't have been there.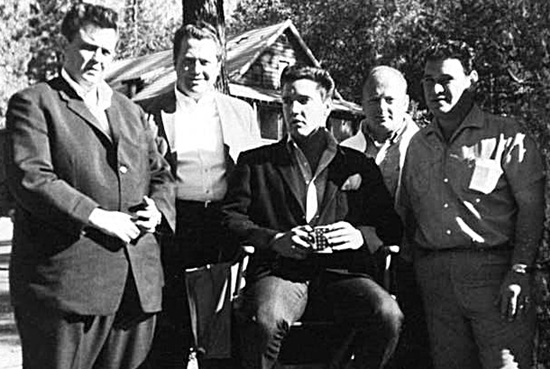 After Kid Galahad I kept my promise to my wife and quit working for Elvis and got a job as the Production Director of the #1 Memphis radio station WHBQ. I still hung around with Elvis and the guys at night when they were in town.

After a stint at WNOE in New Orleans and WIVK in Knoxville I got a phone call from Alan Fortas who said Elvis had him call me to ask if I would come back to work for him. In '64 Elvis had a falling out with Joe Esposito on the trip back to Memphis from Hollywood and Elvis told me he wanted me to be the Foreman, as we called his right hand man, in the Memphis Mafia. Joe quit because Elvis would not speak to him for a week and he went back to California where he lived with his wife and daughter. However it wasn't long before Joe was having a hard time making ends meet trying to be a bit player and extra in the movies and asked to come back. I was surprised when Elvis asked, "Do we need him?" I felt bad for Joe and I had tried months before in Hollywood to get him and Elvis back together by inviting him up to the Perugia Way house.

So it was in November of '66 that Elvis asked me to be The Best Man at his wedding and he added Joe later in April '67 after a little campaign Joe pushed with the help of Parker and Priscilla.
| | |
| --- | --- |
| | |
But less than a year later, in September of '67, I got tired of traveling and like a couple of us we didn't like the atmosphere that Priscilla and Joe had created by then. Billy quit also about a month later. It all changed in February '67 when Parker took control after Elvis had a concussion via a fall and made his boy Joe the Foreman and put in charge of "Special Projects" as he put it which was a farce. Parker and I had never had a mutual admiration society because my loyalty was 100% with Elvis not to him. I would never tell him anything Elvis was doing in his personal life because Elvis told me not to. Whereas Joe, well most people know where he stood and it wasn't always for Elvis' benefit.

So in Sept 1967 I was getting ready to quit when I was offered a an opportunity to start a record Company for a major Memphis Bartering and Radio and TV Jingle company. It was perfect timing and I started "Pepper Records". When I quit Elvis said, "What if I need you.?" I told him I would still be in Memphis and if I could do something for him to have someone call but as it ended up I was with him and the guys almost every night when they were in town and he acted like I was still working for him.

Elvis continued to ask me to do things for him which I did as a friend and gratis without being or wanting to be paid.
One of the first artists I signed was Rita Coolidge who I discovered singing in a friend's club. I produced her first small hits at American Studios who I quickly became knowledgeable of and the great talents of Chips Moman and his musicians. I had a couple of other artist including a young R&B mixed band who I co-produced with Isaac Hayes and David Porter and we cut a couple of their new songs they gave me, we became quick friends and remained so until Ike (Hayes) died in 2008 but David is still kicking and writing and producing.
(Right: Chips Moman and Marty Lacker at American Sound Studio)

In '69 I talked Elvis into cutting with Chips and the band and the rest is history on what those sessions produced. A few months after that Chips asked me to run American Sound Studio as VP and General Manager and I accepted. I was responsible for also getting other big artists to cut there and I did the contracts on Petula Clark who I flew to NY to meet and convince her to come to American, Dionne Warwick and I became good friends and still are.
I brought Bill Medley of the Righteous brothers to the studio and got to know all the artists who recorded there. Dusty Springfield, Neil Diamond and many more. Through the sixties and into the early 70's I had a very good friendship with Jackie Wilson as did Sonny West. I was with Jackie also when he came to Memphis to perform.

By 1970 my reputation in the Memphis Music Industry was very good and I soon became one of the leaders of the Memphis Industry as well as become well known nationally by the major record company and music publisher. I also became the Chairman of the first Memphis and Shelby County Music Commission formed by the City Council & County Commission. I was also Chairman of Memphis Music Incorporated which was the official Memphis Music Organization comprised of all the studios, record labels, artists, songwriters and everyone else connected to the industry. I am proud of all my accomplishments in my lifetime for Broadcasting, Elvis and for the Music Industry.
---
In November 2010 Marty Lacker received a "Beale Street Blues Note" honor, the equivalent of a Hollywood Walk Of Fame Star. The honor was not due to Marty Lacker's association with Elvis but his years after leaving Presley's payroll to become a vital part of the Memphis and National Music Industry. "In 1967 Lacker started Pepper Records at which time he discovered Rita Coolidge and produced her first couple of hits for her. While at Pepper he also produced some young R&B groups with the help and songs of his close friends Isaac Hayes and David Porter. It was shortly after Elvis' American Studio session that Chips Moman asked Lacker to run American Studios for him which he did for a couple of years before opening his own company, Mempro, Inc. serving the entire Music Industry. Lacker became one of the leaders of the Memphis Music Industry and produced, directed and wrote three highly successful Memphis Music Awards Shows attended by most of the executives of the national music industry."
The pictures of the event were taken by Sandi Pichon, longtime Elvis fan.
---
Marty Lacker on Elvis' 1969 Memphis recording sessions
By Ken Sharp.

One of Elvis' trusted friends, Marty Lacker was instrumental in arranging Elvis' seminal recording sessions at American Sound Studios with producer Chips Moman in January and February of 1969. Marty shares the genesis behind those historic sessions, which yielded the hits, "Suspicious Minds," "In The Ghetto," "Don't Cry Daddy," and "Kentucky Rain" and marked an artistic rebirth for the singer.
| | |
| --- | --- |
| | |

Marty Lacker: I quit working for Elvis because I got tired of traveling and the atmosphere changed a bit when he married Priscilla. I was the co-best man at his wedding. I slowly but surely started getting involved in the Memphis music industry. This was in its heyday when we were the third largest recording center in the world because of all the hits that had came out of here.

I saw a huge difference in the way they were cutting at American and the way that Elvis had been recording for the last 10 years prior to that. The difference was that Elvis would get in a room with all of the musicians out in the open and that's the way they'd cut. They wouldn't record his vocal as an overdub. He'd cut a live vocal with the band. Usually a singer will get behind a baffle and do a rough vocal while the rhythm section was laying down the tracks. With Elvis, he'd get out in the middle of the studio with them and lay down a live vocal.

The musicians that Elvis had on his sessions played the same old licks for years. In my opinion there was really no creativity. Chips (Moman) cut over 150 chart records in that studio with the same six musicians. He had hits with Neil Diamond on "Sweet Caroline," and "Holly Holy," Dusty Springfield, Dionne Warwick, King Curtis, Wilson Pickett. All of B.J. Thomas's hits and all of the Box Tops records were recorded at American. They cut a lot of hits by a great variety of artists.

Elvis had a habit of not going back to work until after his birthday (January 8th). In January of '69, right after Elvis' birthday, I came up to the house. Even though I wasn't working for him anymore I was with him almost every night he was in Memphis, until a year before he died. I went on some of the tours with him, Vegas, the Aloha from Hawaii show. We were all sitting in the den.
Felton Jarvis, who was Elvis' RCA producer, was sitting on an ottoman in front of Elvis and they were talking about a session he was going to do the following week. I was sitting up against the wall and I guess subconsciously I was shaking my head 'no.' I wanted him to be where he hadn't been in five years and that's in the Top 10 or number one. Elvis looked over at me and said, "What the hell's wrong with you?" I said, "I wish for once you would try working with Chips." I'd talked to him about it before, but every time he'd keep saying to me, "Well, maybe someday." So he said the same thing to me, "Well, maybe someday." Just then the maid came in and said, "Dinner is ready." Everybody got up but me. He looked at me and said, "Let's go eat." I said, "No, I'm not hungry." He knew that I was lying because I've never turned down a meal. I didn't want to go in there and listen to this crap about Nashville because those were the guys that were playing the same old stuff.
American Sound Studio was situated in a rough black area in North Memphis at the corner of Thomas and Chelsea Street. It was an area where Elvis and Red and I used to live when we were young. When Martin Luther King was killed here, Chips spent the whole night in the studio with a shot gun.

So they went into the dining room and it wasn't 30 seconds later that Felton came out and said, "Elvis wants you in the dining room." I said, "Felton, with all due respect, I don't want to hear about the Nashville bullshit," which in a way was a slap in the face to Felton. My concern was not with Chips or Felton, it was with Elvis. I just felt that he wasn't doing Elvis Presley.
Felton said, "No, he wants to cut in Memphis." I was out of that chair like a bolt of lightning. I went into the dining room and said, "Is Felton telling me the truth?" Elvis said, "Yeah. But I have to start Monday night. You try to arrange it with Chips."

Felton and I went into the hallway off the dining room and there's a phone there and I called Chips at home. Chips would ask me from time to time, "When you gonna get Elvis to cut with me?" That was one thing he wanted to do even after all the great artists he cut.

American Sound Studios, Memphis sessions 1969 - Bobby Wood, Mike Leech, Tommy Cogbill, Gene Chrisman, Elvis Presley, Bobby Emmons, Reggie Young, Ed Kollis and Dan Penn.
Chips was a great producer. He was way over Felton's head in terms of talent as a producer and in terms of creativity. Some musicians will go into the studio and just play what's on a chart. But Chips' musicians would listen to a demo and they had this number system for chords. Then individually the players would start creating licks to make the song sound much better. The musicians Chips used were great — Reggie Young on lead guitar, Johnny Christopher on rhythm guitar, Bobby Emmons on organ and sometimes piano, Bobby Wood on piano, the late Tommy Cogbill on bass, and also Mike Leech on bass. Gene Chrisman was on drums. Those same guys played on all of Chips' records.

This is the first time Elvis took direct directions from a producer. See, when Felton was there, all he did was keep Elvis happy. I'm not putting Felton down, he was a nice guy. He was assigned by RCA. For the Memphis sessions Chips was the producer, not Felton. They went through a few songs that (music publishing company) Hill & Range and the Colonel had sent down. That's basically how Elvis got all of his demos.

The problem was that after 1963 a disservice was done to Elvis. The only demos Elvis heard were songs that the Colonel and Hill & Range could get a piece of the copyright. That hurt Elvis because that limited the songs that he was getting. In the early years that was a good business deal on their part. In the late 50s and early 60s Elvis was the surest thing to sell a million records out of the box. So a lot of songwriters and publishing companies didn't mind giving up a piece to get Elvis to record their songs.

Elvis worked for about three or four days at American and then he got laryngitis and had to stay home for two or three days. The night before we went back to American, we were up in Elvis' office, Red West, Lamar, Charlie Hodge, Elvis and I. We're sitting there and Elvis was behind his desk. We were listening to some of the demos from the Colonel's office and they were all crap.
Elvis said, "Man, what am I gonna do? I don't have any good songs to cut. I don't know why I don't get any good songs." At that moment I said to myself, "Hell, you've gone this far, you might as well go for broke." See, with Elvis you never knew how he was gonna react. I said, "Elvis, I know why you don't get good songs." He looked at me and said, "Why not?" I said, "Let me preface what I'm about to say. There isn't a songwriter that I know of that wouldn't want you to cut one of their songs. But the problem is that every time we're approached to get good songs to you we're told they have to send demos to the Colonel's office or Hill & Range. Then right away what the Colonel or Freddy (Bienstock) will try to do is get a piece of the song." I said, "These people don't want to do that anymore. There are a lot of big artists that can get their songs cut without doing that. That was a good thing in the beginning, but it's not good now. The other problem is somebody else is picking the damn music for you. You should be the one picking the music." He said, "What do you mean?" And I said, "The only songs that you hear are what they send you." He sat back behind his desk and started swinging his leg, which sometimes would mean he was getting pissed off or he's contemplating. Finally he said, "This is the way it is. From now on I wanna hear every damn new song that I can. If I like it I'm gonna cut it whether we get a piece of it or not." He looked at me, "But of course if we can get a piece of it that's good business." I said, "I understand Elvis but in the long run it's hurt you."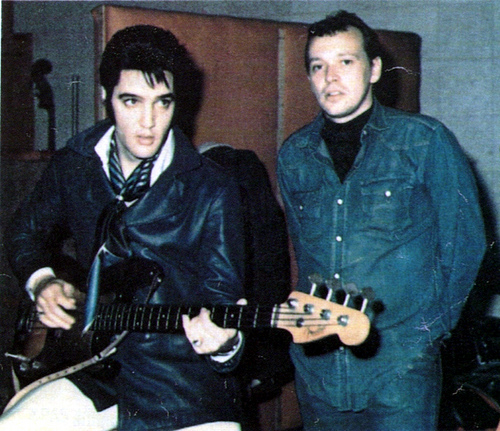 Elvis with Chips Moman
The very next day, they went back into the studio without any good songs. Elvis said to Chips, "I don't have any other songs." Chips said, "Look, I've got this song that I think would be great for you. I put it out on Mark James who wrote it and it didn't do too well but to me it's a hit song." He played Mark's version of "Suspicious Minds" and Elvis loved it.

Elvis goes into the studio with the musicians and they're working out the song. At the same time, Tom Diskin, Colonel Parker's assistant and Freddy (Bienstock) said to Chips, "Can we talk to you?" And they go into this little hallway. Well, I didn't want them screwing up the session because Elvis was loving what was going on so I stood next to Chips and they started badgering him about getting a piece of the song. Chips doesn't take any shit off of anybody. He looked at them and said, "Look, I'm not gonna give you any piece of this copyright." And they kept on. He said, "I don't ask you for anything that belongs to you, don't ask me for something that belongs to me because you're not gonna get it!" So they kept on and Chips got mad and said, "Look, I'll tell you what you can do. First of all, I thought we were here to cut hit records!" Harry Jenkins, who was vice president of RCA, was there too. He came over and said, "Gentleman, he's right and that's what we're doin'." But they kept on anyway. Chips said, "I'll tell you what you can do. You can take your damn tapes and you could take everybody that came with you and get the hell out of my studio!" He was mad! Elvis was in the studio and this was happening in the hall so he didn't hear any of this goin' on.


Whenever Colonel or (Tom) Diskin talked about Elvis to someone else they never said Elvis, they said Mr. Presley. Tom told Chips, "I'll go in there and tell Mr. Presley how you feel." Chips said, "Go on!" Once again I didn't want Diskin screwing the session up because that was damaging to Elvis. So I followed Diskin and he didn't know I was behind him. I wanted to see if Elvis would keep his word. So we went into the studio and I'm standing behind Diskin and Elvis sees me over Diskin's shoulder. He said to Elvis, "We have a problem with Chips."
Elvis said, "Well, what is it?" He said, "Well, he won't give us a piece of 'Suspicious Minds.'" Just then I looked at Elvis and he looked at me and I shook my head no. And Elvis looked at him and said, "I'll tell you what, Mr. Diskin, why don't you let me and Chips and Felton handle the session?" Diskin got a little upset. There never was a session where someone from the Colonel's office was not present. Either the Colonel was there or Diskin or both of them. So Diskin turns around and sees me standing behind him and he glares at me. We both walked out into the hallway. By that time Chips was sitting behind the board with his feet up and I could tell that he was just livid.
Diskin walked in and said, "Presley said he's gonna let you, and Felton handle this session." Chips looked at him and said, "Well Goddamn it, that's the way I thought it was supposed to be." Diskin walked up to the front where the telephone is in the little bitty lobby. He called the Colonel and said, "Colonel, we have a problem with Chips Moman. He's got this song 'Suspicious Minds' and he won't give us a piece of it. Elvis said that he, Felton and Chips want to handle the session." Diskin hangs the phone up, walks out the front door, gets into his car, goes to the hotel, packs his bag and flies back to California. That's what the Colonel told Diskin to do.


I found out later that Colonel said to Diskin, "Oh, he wants to do this without us? Let him do it and fall on his ass!" Of course (Freddy) Bienstock was still there and he was a funnel to the Colonel. Harry Jenkins did some things that the Colonel wanted but Harry was a very pragmatic man. He knew what was right and wrong. Elvis fell on his ass all right. (laughs) He cut 36 sides in 12 days. Four of the singles that he put out were Top 10, "Suspicious Minds," "In The Ghetto," "Don't Cry Daddy," and "Kentucky Rain." Then both albums went platinum. Elvis was excited by those sessions. It was also the first time I saw him interested in his chart standings. Elvis didn't read Billboard or any of that. But for those albums he was asking how the singles were doing on the charts. I've never heard him ask before. I was just overjoyed for him.

The first night of sessions we were riding home at about six o'clock in the morning. Elvis turned around and looked at me because he knew that I was responsible for bringing him to American and he said, "I can't tell you how good that felt and I just wanna see if I can do it again." When he said that I knew what came out of those sessions was gonna be great.

Elvis was hesitant to do "In The Ghetto." Parker had always drilled into his head, "Don't do message songs. If you do message song it's just like taking a political side. Whatever side you're gonna take is gonna offend the others." I was in the control room after Elvis and the musicians had been working on "In The Ghetto" a little bit. He said, "Look, I don't think I should do this song." I said, "Elvis, if you're ever gonna do a song like this, this is the one." He looked over at Chips and Chips said, "This is a hit record. But I'll tell you what, if you don't want it, can I have the song?" Elvis didn't blink. He said, "No, I'm gonna do it." If Elvis would have cut "In The Ghetto," "Suspicious Minds, "Don't Cry Daddy" and "Kentucky Rain" back in Nashville, they wouldn't have come out as well as they did; all those little nuances, all the licks that are on those records came from the creativity of those musicians and Chips.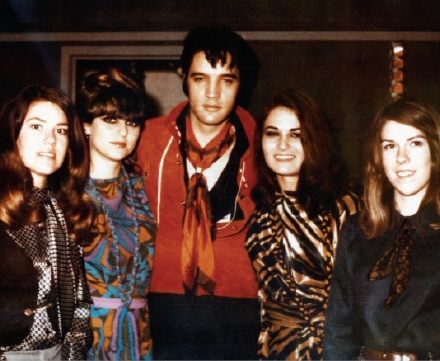 Elvis and backing vocalists Mary Holladay, Mary Greene, Donna Thatcher, and Ginger Holladay

When Chips cut "Suspicious Minds" and mixed it, the fade and bump at the end was not there. In other words, the song fades out and then it bumps up again. It's that part where Elvis is just repeating and repeating the last chorus. In my opinion, it might be good for the stage, a dramatic thing, but it's not good on a record. What happened was Felton Jarvis took the master to Nashville and started fooling with it thinking he could do better. And he couldn't. He should have left it alone. He added background voices. The voices that Chips put on in Memphis, Mary Greene and all those people, they're fantastic southern sounding R&B-ish singers. Chips used them on a lot of the hits he had.

So that year we go to the Gavin convention. Bill Gavin had a big industry newsletter. They were giving Chips an award for producer of the year. At the end of the ceremony we were talking to Bill Gavin and he said to Chips, "Why in the world did you put that fade and bump on the end of 'Suspicious Minds'?" Chips said, "I didn't." Then I chimed in and told him that Felton Jarvis had taken it to Nashville and fooled with the masters and put that on there. Bill said that a lot of program directors and disc jockeys almost didn't play that record because it messed their timing up. Most radio stations time their records, and the disc jockeys too so they know when to come in and out. They want to squeeze as much music as they can into an hour. They wanted to play the record, because it was so different from what Elvis had done before. Most records were put on cartridges at radio stations; they didn't play the actual vinyl. They would cut the fade and bump off when they put it on the cartridge. Chips didn't like that it was put on there without his knowledge. He never would have done it himself. That fade and bump is not meant for a record, it's meant for stage.

The night that Elvis told me to set up the sessions with Chips, I said, "Elvis will you do me a favor?" Sometimes with Elvis you had to parse your words so he wouldn't get pissed. He said, "What's that?" I said, "Look, you're gonna have a great studio to cut in. You're gonna have a great rhythm section. You're gonna have a great producer. Will you do me a favor and get some damn good songs?"' He said, "Let's go upstairs, I've got a tape I want you to listen to. Billy Strange introduced me to this guy, Mac Davis, who was sitting on the floor in the corner with a guitar. And he played me this one song, 'Don't Cry Daddy,' that was about his kid." So Elvis started playing these tapes. He plays "In The Ghetto" and then he plays "Don't Cry Daddy" and I said, "Man, that's got a great feel to it and it's got good words." He said, "Yeah, that song really touched me." I'm not sure if it reminded him of his mother. Elvis didn't openly talk about his mother. But I think in his innermost thoughts he probably thought about her a lot.


Ronnie Milsap sang on "Don't Cry Daddy" and "Any Day Now" and he played piano on "Any Day Now." Elvis loved "Don't Cry Daddy." He loved everything he did on those sessions. He was thrilled with finally getting to cut "Stranger In My Own Home Town" and he liked "Only The Strong Survive," too. Those were sessions where he did songs that he liked. I don't know if they got a piece of those songs but at that point Elvis didn't care. The idea to record "Stranger In My Own Hometown" and "Only The Strong Survive" was Elvis' idea. He really liked Percy Mayfield's version of "Stranger In My Own Hometown" and wanted to record it. He used to sing it around the house. We had that record at Graceland and L.A. When Elvis played records, that's the kind of stuff he'd play. He'd also play black gospel like the Golden Gate Quartet, the Clara Ward Singers, and the Harmonizing Four with Jimmy Jones. For some reason Elvis liked bass singers. He had a fascination with singers who had deep voices. Elvis was crazy about Jimmy Jones. He was a bass singer who had a very deep voice. That was one of his attractions to J.D. Sumner.


Elvis also really liked "Only The Strong Survive," too. He used to play the Jerry Butler single at home. He and Red West also used to sing the shit out of "Chain Of Fools" by Aretha Franklin. Elvis loved the "chain chain chain" part of the chorus. Deep down inside part of Elvis' soul was black. That's what he grew up on, that and country music. That's why he busted out of the gate with what they labeled as rockabilly. When he first came, in out in '54, with "That's All Right, Mama" no one had ever heard anything like that before. He took a song by Arthur Crudup and melded blues, R&B and country to it and made it his own. In my opinion the real Elvis Presley was the music he recorded in '54 to about '61 or '62. He really sang what was in his soul then. Then he started to try to elevate himself by going with these ballads. Of course in the '60s most of it was movie crap. You take the Sun album and the singles; you take the album "Elvis Is Back!" and "Pot Of Gold," and then you've got a gap of about six years before he came close to what the real Elvis was and that's when he did the American Studio sessions.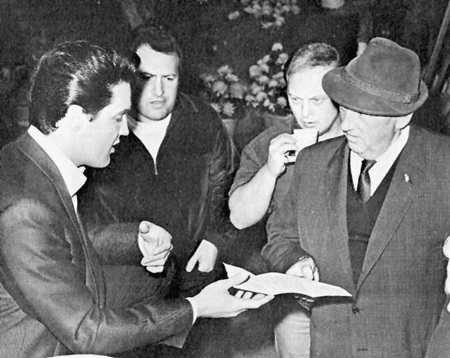 Elvis, Joe Esposito, Marty Lacker & Col Parker discuss options.

(Colonel) Parker would usually pick the singles. I'm sure he had some input from RCA. Parker had an ear like a lamp post. All Parker was was a con. That's how he got the big deals. Elvis didn't have any say in it. He was non-confrontational about a whole lot of things especially when it came to the Colonel. The only time they went against each other was in 1974 when they got into a violent argument in Vegas. The Colonel said, "I quit" and Elvis said, "You can't quit, you're fired." This argument went on for two or three days. Elvis is up in the suite saying he was gonna get a new manager. They were talking about Jerry Weintraub. Then all of a sudden here comes Elvis' father in the room and he's got a bill from the Colonel for two million dollars. He said, "Pay me the two million dollars you owe me and then I'm gone but I want my two million dollars." But that was a con because if anything it should have been the other way around. In a lot of deals Parker made more money than Elvis did including when they sold that damn catalog of his. All the hit songs from 1973 back, RCA paid a little over five million dollars for it and Parker got more than Elvis out of that deal.
| | |
| --- | --- |
| | |
Why didn't Elvis work again with Chips Moman? I can sum it up in two words… Colonel Parker. Colonel was a control freak from the very beginning. He always controlled Elvis by saying, "If you don't do what the movie executives tell you to do they'll kill your career." He drummed that into him from the very beginning in 1955 when Elvis was a not so hip young innocent guy. Here are the first sessions where the Colonel or no one from his office was there. The control was gone.

A lie was told to Felton by someone who used to work for Chips and he in turn told Colonel Parker. They said that Chips tried to steal "In The Ghetto" and use the song by someone else before Elvis' record had come out. Colonel saw his opportunity and he told Elvis and that pissed him off. Chips and I were in the control room and he was mixing "In The Ghetto." Fred Foster, the owner of Monument Records in Nashville, was a good friend of Chips. He had Dolly Parton and Willie Nelson on his label. So Fred had this young girl singer and he comes walking into the front room with this girl and they were supposed to cut that night. Chips was mixing "In The Ghetto." Fred's standing on the side with the girl listening and then he said, "Man, what is that song?" Chips told him it was a song he did on Elvis. Fred asked, "Can I have it?" Chips said, "No, you can't have that song. I'm not gonna give anybody that song, it's Elvis'."

In my opinion, after the American sessions in '69, from 1970 onward he lost it again. Here's a good example. When Elvis finally started to do songs onstage, what does he do? He picked songs that were cut at American. He did "I Just Can't Help Believing" by B.J. Thomas and "Sweet Caroline" by Neil Diamond. He heard those songs on the radio and did them because he liked them. However, when he did them with the TCB band, "Sweet Caroline" and "I Just Can't Help Believin'" came nowhere near the originals because they lost the feel. I can't emphasize enough how creative the American Studio musicians were. All those six guys, but in particular Reggie Young on lead guitar. He did most of the feel things, most of what we called sweetening. Also Bobby Emmons on keyboards added a lot. When Chips had Reggie put the electric sitar on B.J.'s record of "Hooked On A Feeling," that was something that hadn't been done before. That was a genius stroke. Those guys did the same thing on every record they cut at American and they did the same thing for Elvis.


Later in the '70s, I set up Elvis' Stax sessions. Stax is named after Jim Stewart and his sister. The 'st' for Stewart and his sister's last name was Axton so they took the 'ax' from Axton. I brought songs in that had the right feel like "Loving Arms," and "Raised On Rock." I came up to the house one day in '72 and everybody was out by the pool. As soon as I walked out by the pool, Elvis saw me and said, "I want to cut here in Memphis again. I need you to get me a studio but not American." I figured I'd book Stax Studios because their security was real good.
We're in Jim's office and nobody was around except one night when Isaac Hayes came in to say hello to Elvis. Elvis is listening to songs. First he's listening to the stuff that Freddy Bienstock brought in. Colonel wasn't there, just (Tom) Diskin and Bienstock and Elvis' father Vernon. Elvis said, "Well, who's got songs." Freddy said, "Well I have these." I said, "I've got a few Elvis" and Red West had a couple. So he listens to Freddy's songs first just out of courtesy. He's going in the studio and he turns back to me and said, "Look, let me take care of these songs and get them out of the way."
When he told me to set up the studio he said, "This session don't mean shit to me." This is what got me. This is the frame of mind that the Colonel got him in. He got tired of it. He said, "The only reason I'm doing the session is because RCA and the Colonel are nagging the shit out of me." So I said, "That's all right Elvis, do what you have to do." So we come back in after cutting one or two of Freddy's song. He looked over at me and said, "Let me listen to what you've got." I had the Dobie Gray album and I had the demo on "Raised On Rock" that I got from Screen-Gems in L.A. Elvis hears "Loving Arms" and he loves it.
He said, "I'm gonna go in here and cut this and I'll listen to "Raised On Rock" again." So Elvis leaves and Freddy (Bienstock) looks at me and said, "I notice Mr. Lacker you keep playing him songs from a certain publishing company, Screen-Gems. Are you making money off of this?" I looked over at him and said, "Yeah." See, that was part of my company. He said, "How do you think Mr. Presley would feel if he knew that?" I said. "I'll tell you what you can do, Freddy. Go in there and tell him and see how he reacts. But I can save you a trip. He already knows 'cause I told him." That pissed (Freddy) Bienstock and (Tom) Diskin off.
Elvis comes back in and said, "Man, that was a great song. I really liked that." Then I played him "Raised On Rock" and he liked that and cut it. In retrospect I think if he cut it at American it would have come out better." Then on that same Dobie Gray album there was a song called "We Had It All." This was right after he and Priscilla separated. He just went nuts over that song. He takes it into the studio and if he listened to it 30 times.
Most of the musicians there were Nashville musicians except for "Duck" Dunn who played bass and Al Jackson Jr. who was on drums. I got out of the studio for a minute and go back in and then he said, "Marty, I can't record this song." I looked at him and said, "Why not?" he said, "Because if I do everybody is gonna think I'm singing about Priscilla." I said, "Elvis, this is a fantastic song." He said, "I know, Marty, I just don't want to give people that impression because it isn't true." So he never cut it. Rita Coolidge cut it and had a hit on it. By this time I had my own company, Mempro. I represented publishers and had artist management. I managed the Gentrys. The first hit record that Chips cut at American was "Keep On Dancin'."


Elvis very rarely played one of his own records at home. What he would listen to were the dubs made after a session. Maybe he would sing impromptu around the house with a guitar or he'd sing some other people's songs. Basically what Elvis heard as far as music was when he was in the car and listened to the radio. He did like the "Elvis Is Back!" album. A lot of it had to do with the fact that he was in the Army for those two years and he hated it. He finally got to come back and cut some good stuff. That was a bit of a milestone for him. But I very seldom heard him listen to his own songs. It's the same thing with his movies. He didn't watch his movies. He hated the movie songs.


Everything always goes back to (Colonel) Parker. They'd get a script and Parker and (Freddy) Bienstock would say, "We need a song here" and "We need a song here" and "We need a song here." Freddy would get some of his writers like Ben Weisman to write songs to fit the script. It was trivial bullshi because his movies were trivial bullshit. He knew it. They'd give him the demos and there were no choices. They'd said, "These are the songs we need you to record for the movie." Once again Elvis had it in his mind what Parker said to him in the early years, "If you don't do what these movie executives want you to do, they'll kill your career. They're that powerful." Elvis just cut the songs.
I remember when we were doing "Tickle Me." That movie was absolutely terrible. The reason Elvis did that movie was because Allied Artists was about to go under. Edward Small, who was one of the owners and producers, came to the Colonel and said, "We'd like Elvis to make a movie so we can have enough money to continue." So Parker sees an opportunity and of course he got a lot of points in the movie plus Elvis got a big fee up front. What Parker was interested in more than anything was the soundtrack so he said to Edward, "I'm gonna save you money. We have a number of songs already recorded that we can use in this movie. That could be your soundtrack." That's what he did. There was no recording session for that movie. That got to Elvis, plus the movie was terrible. We were in the dressing room and Elvis had a gushing nose bleed. That came from the tension and the stress. His nose was gushing so much blood that I had to put towels on his nose — not little swabs, towels. It bothered him so much.

In the very early years Elvis would say, "If this doesn't last, I'll go back to being a truck driver." When he worked at Crown Electric he wasn't a truck driver. He was learning how to be an electrician. When he'd say that he'd go back to being a truck driver I believed it. But as the years went by he wanted to continue being Elvis Presley. Since all that crap was drummed into his head, he thought if I don't do what they say, I won't be Elvis Presley anymore and he didn't want to lose it.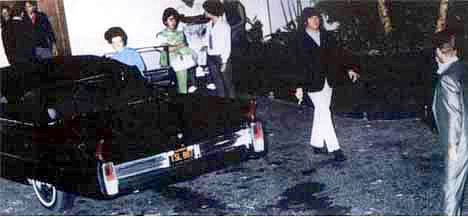 In August of 1965, The Beatles came to the house at Perugia Way. Elvis and I and a couple of other guys were sitting on the couch in front of the TV. The way it was set up was there was a couch against a wall, a TV almost in the middle of the room and two comfortable chairs on each side of the couch. The Beatles came in and everybody said hello and sat down. And The Beatles didn't say anything. John, Paul, George and Ringo just sat there and stared at Elvis. The TV was on but the sound was off. We'd used to do that sometimes when we'd talk. Elvis said, "if all you guys are gonna do is sit and stare at me, I'm gonna go to bed." He said, "I thought maybe we'd talk a while and then jam a little."


When he said that it broke the ice. There was a baby grand piano in the room and they got around a piano. First, Paul played the piano and Elvis and them were singing. John had a guitar. They started singing Chuck Berry songs. Then Paul got up from the piano and Elvis sat down and of course we had some guitars up there and a bass. Ringo didn't have any drums to play so he started banging on a chair. He loved it. Elvis liked the guys.

After they finished jamming, George Harrison went out by the pool to smoke a joint. Ringo played pool with Red (West) and Sonny (West). We had this little table that converted into a roulette table and Brian Epstein and the Colonel played roulette. He took Epstein for some money. Everybody had a great time that night. And as The Beatles were leaving, John said to Elvis and us, "I'd like to invite you all to come to the house where we're staying on Mulholland Drive tomorrow." Elvis said, "I'll see if I can but I might have to go into the studio." He didn't have to go into the studio. I asked Elvis if he was goin'. He said, "Hell no." See, Elvis did his duty. Celebrities didn't mean that much to Elvis. He had very few celebrities that were really friends. One of them was Sammy Davis Jr. Elvis also really liked B.B. King.

Me, Jerry Schilling, Billy Smith and Alan Fortas went to see The Beatles at their house the next day and they were just thrilled to see us. They treated us as if Elvis was there. I remember distinctly John and I standing by some sliding doors in the patio by the back. John looked at me and said, "Marty, you just don't know what last night meant to me. Elvis was the only person that we wanted to meet when we came to America." They had tried to meet Elvis the first time they came to America in '64 but Elvis wasn't really in any mood to meet them. Elvis was never jealous of anybody except he knew that The Beatles had created a big stir. In a way he was scared because by that time he hadn't been cutting shit. He'd been cutting these movie songs, and here they come with the hits. That bothered him a little bit, but he liked some of their music.
They had tried to meet Elvis the first time they came to America in '64 but Elvis wasn't really in any mood to meet them. Elvis was never jealous of anybody except he knew that The Beatles had created a big stir. In a way he was scared because by that time he hadn't been cutting shit. He'd been cutting these movie songs, and here they come with the hits. That bothered him a little bit, but he liked some of their music.

In 1966 when The Beatles came out to L.A. we'd hang out with them. One night I went into this room and Paul was sitting behind the piano. He asked me, "Marty, do you think Elvis would ever cut some of my songs?" Elvis did end up cutting some of his songs like "Get Back," "Yesterday" and "Hey Jude." I did an instrumental version of "Hey Jude" for Pepper Records and played the dub for Elvis. He loved it. I don't know if that gave him the idea to record it but subsequently he recorded "Hey Jude."
Ken Sharp's Marty Lacker interview first appeared in Goldmine magazine. It is re-published here with Ken Sharp's permission.
Spotlight by Piers Beagley & Interview Ken Sharp.
-Copyright EIN March 2017
EIN Website content © Copyright the Elvis Information Network.
Click here to comment on this article
Below are EIN's two in-depth interviews with Marty Lacker about his times with Elvis.
In it we ask questions about early years with Elvis, Dr Nick, Vernon, The Colonel and the other men in Elvis' life - Priscilla, Ann Margret and the other women in Elvis life plus Elvis being an individual full of contradictions and complexity. The interview in two parts is well-worth reading
We also feature Marty's full questions and answer session from 2008.
Marty Lacker opens up to EIN: In Part 1 of our two part interview with Memphis Mafia member, Marty Lacker, Marty tells us about the famous celebrities, the pills, marriage and the Memphis Mafia, the $10m concert offer for Elvis to play in front of the Pyramids in Egypt and the real reason Elvis shot out his TV set when Robert Goulet appeared on the screen. Part 2 of our fascinating talk with Marty will be published next week.

(Interview, Source: EIN)
---
Marty Lacker talks to EIN (Part 2): In the second part of our candid interview with Memphis Mafia member, Marty Lacker, Marty talks about the Memphis Mafia, the women in Elvis' life, Lisa Presley and the idea that Elvis faked his death. As usual, Marty is very open about his views and pulls no punches.

(Interview, Source: EIN)
---
Marty Lacker answers your questions: EIN's last interview with Memphis Mafia member, Marty Lacker, was in 2005, so we thought it long overdue to catch up with him again.

This time, apart from introductory and closing questions from EIN, we asked you, our readers, to nominate questions for Marty.

EIN thanks Marty for taking the time to answer what turned out to be a diverse and interesting set of questions. We also thank you for providing questions for Marty.

The interview that follows covers a lot of ground, including how Marty and Elvis became friends at high school to Elvis' marriage to Priscilla, the role of the Colonel, a world tour, the reality of Elvis' relationship with the Memphis Mafia and Marty's campaigning to have Chips Moman and the American Studio Band inducted into the Rock & Roll Hall of Fame. (Source: EIN, Aug 2008)
---
'Elvis Meets The Beatles':

"It was fifty years ago today"

.

.. on

August 27, 1965

An EIN spotlight on this famous night in 1965 when the Fab Four finally met the King. In 1965 The Beatles manager Brian Epstein initiated contact with Colonel Parker, and the decision was made that on the night of August 27, the Beatles would come to Elvis' home for an informal get-together. Intensive security arrangements were worked out, and it was agreed that no press would be involved and no pictures would be taken or recordings made of whatever happened.


"So many things could have gone wrong,"

says Jerry Schilling,

"If Colonel and Brian hadn't gotten along, it wouldn't have gotten past the phone-call stage. But there were no ego battles, and from the start it was approached as a pair of music greats coming together out of admiration for each other." Piers Beagley and Chuck Crisafulli tell the story of this amazing night. (Spotlight, Source;ElvisInfoNet)
---
'Suspicious Minds' - Elvis' Greatest Single?: 'Suspicious Minds' was released on August 26th 1969. While the NBC '68 TV Special, along with the single 'In the Ghetto' had pushed Elvis back to the forefront of popular culture, it would be the release of Elvis' last US Number 1 single that would ultimately prove to all the critics that Elvis was a still relevant contemporary musical force.

To celebrate the 40th anniversary EIN looks back in detail at the history of this classic song, including new interviews with Marty Lacker and Bobby Wood, as well as insights from composer Mark James and producer Chips Moman.

Go here for this fascinating spotlight

(Spotlight, Source; EIN)
---
'The Dark Side Of Colonel Parker' - EIN Spotlight: June 26th 2009 is a special date that commemorates four unique events of the Elvis World.
1. The 100th Birthday of Colonel Parker.
2. The 32nd Anniversary of Elvis' final concert in Indianapolis.
3. The 30th Anniversary of the death of Elvis' father, Vernon Presley.
4. The 30th Anniversary of the revelation to Elvis' estate that Colonel Parker was still fleecing his client.
Although comedian Nipsy Russell stated that "Every entertainer should go to bed at night and pray he finds a Colonel Tom Parker under his bed when he wakes up in the morning" - is that really the truth?
It is a fact that after Elvis' death an official investigation found that "both Colonel Parker (and RCA) acted in collusion against Presley's best interests. Colonel Parker was guilty of self-dealing and overreaching and had violated his duty to both Elvis and to the estate."
While there is no doubt that Elvis and The Colonel's story is extremely complex, in this in-depth Spotlight EIN takes a look at the darker side of Colonel Tom Parker - and includes plenty of insights from Elvis' colleagues and friends.
. Go here for this fascinating investigation- and also Have Your Say.
(Spotlight, Source;EIN)
---
'From Elvis To Garth' Bobby Wood & The Memphis Boys; EIN contributor Pamela Mays Decker turns a much-needed spotlight on Bobby Wood, keyboardist and a musical inspiration behind Elvis' important 1969 Memphis sessions. Extraordinarily the 40th anniversary of Elvis' pivotal recordings at American Studios has essentially passed without so much as a whimper and with no respectful fanfare from EPE. As part of The Memphis Boys Bobby Wood recorded some astounding material which totalled over 100 chart hits in four years – a feat yet unmatched. He is writing his memoirs subtitled "From Elvis to Garth" which is slated for later this year.

Go here for a fascinating look into Bobby Wood and this amazing musical scene.

(Spotlight, Source;Pam Decker/EIN)
---
'American Studios - A Turning Point In History': Elvis' pivotal recordings at American Studios in January and February 1969 were a key turning point, not just in Elvis' amazing legacy but also in music history. Extraordinarily the 40th anniversary of Elvis' American Studios sessions has essentially passed without so much as a whimper. There is no sign marking the site where these landmark sessions took place. There has also been no media focus commemorating the string of hits generated from Elvis' all too brief Memphis convergence with legendary producer Lincoln Wayne "Chips" Moman and the talented musicians assembled in his studio. EPE has not even acknowledged the recording or release dates of these chart topping songs. EIN recently noted the 40th Anniversary of the first chart topping song from these sessions 'In The Ghetto' and now EIN contributor Pamela Mays Decker turns a much-needed spotlight onto these unique Memphis sessions. Click here for this fascinating spotlight.

(Spotlight, Source;EIN/PamDecker)
---
---
EIN Website content © Copyright the Elvis Information Network.
Elvis Presley, Elvis and Graceland are trademarks of Elvis Presley Enterprises.
The Elvis Information Network has been running since 1986 and is an EPE officially recognised Elvis fan club.