'ELVIS PRESLEY: Taking Care Of Business - In A Flash'
FTD Book / CD
- Review by Piers Beagley -
Focusing on Elvis in late 1970 and early 1971, this book presents a detailed chronicle of Elvis' personal life and public career between the autumn of 1970 and the early weeks of 1971.

The 450 pages tells Elvis story through exclusive interviews, newspaper articles, primary documents and hundreds of photographs. It is also accompanied by a bonus CD that contains unreleased versions of studio-tracks from June 1970 and an upgraded audio-recording of a show from later that year.

As a complete package, this book / CD-combo takes fans back to an eventful period in Elvis' later life and career when he - and the people around him - really did take care of business in a flash.

EIN's Piers Beagley investigates this brand new FTD book / CD combo and provides a indepth review with plenty of images and extracts ...
---
Focusing on Elvis in late 1970 and early 1971, "Elvis Presley Taking Care Of Business - In A Flash" was produced by David English, Pål Granlund and Paul Richardson.
The book presents a detailed chronicle of Elvis' personal life and public career between the autumn of 1970 and the early weeks of 1971. The story is told across 450 pages through exclusive interviews, newspaper articles, primary documents and hundreds of photographs. It is also accompanied by a bonus CD that contains unreleased versions of studio-tracks from June 1970 and an upgraded audio-recording of a show from later that year. As a complete package, this book / CD-combo takes fans back to an eventful period in Elvis' later life and career when he - and the people around him - really did take care of business in a flash.
- Hardcover, large-format book with 450 pages that offer detailed coverage of Elvis' life and career between the autumn of 1970 and the first weeks of 1971
- Features several hundred photographs, many of them candid and previously unpublished
- Contains rare documents, reports from the time, and new and exclusive interviews
- Comes with a bonus CD that offers three unreleased versions of studio-tracks from June 1970, two unreleased MONO singles, a remastered recording of Elvis' concert in Portland, Oregon on November 11th 1970 - plus two other bonus tracks.
---
When Eric Lorentzen started publishing his superb series of books The Elvis Files I truly believed that once completed there would be little reason for me to buy any further photo books on Elvis' amazing life. After all, The Elvis Files were such an astounding improvement on the flimsy, textless photo-books of the past.

Nowadays what one needs to make any positive impression from an Elvis photo-book is..
A) Plenty of good quality photographs - hopefully including lots of unpublished images.
B) Plenty of new text / interviews to read and explore so as to discover even more about Elvis' extensive legacy.
C) Hopefully as a real bonus, some unreleased Elvis music to go along with the book.

This new FTD book "Elvis Presley Taking Care Of Business - In A Flash" achieves all these goals and more.
The book is hard-back, 450 pages and printed on high-quality thick-paper stock. The large size coffee-table format is similar to the FTD book 'Something For The Girls' or the Elvis Files series.

The large size format certainly suits the stunning full-page photographs of Elvis in concert compared to the usual smaller-formatted FTD books.

It was in September 1970, soon after completing his first tour in more than 13 years, that Elvis adopted the slogan Taking Care of Business as his guiding motto. It was on September 22 that Elvis arrived at RCA's Nashville studio to record the last two cuts needed for his Elvis Country album. But he was irritated and angry that day telling Felton Jarvis that the needed to fly back to Los Angeles that night. Elvis' next recording session would be in March 1971.
This fascinating book begins on September 28 with Elvis back in Los Angeles taking time out for the preview screening of the movie Elvis That's The Way It Is. Over the next four months Elvis would have a massively busy social and work life including his November tour, the release of the movie, two new albums and two singles.

The two other very important events were his meeting up with Richard Nixon and also the honor of being given his Jaycees awards for being one of the US' 'Ten Outstanding Young Men' awarded by the US Jr Chamber of commerce.

The text to go along with stunning images is written by David English and Paul Richardson with additional articles from newspapers, interviews etc, as well as plenty of documents discovered in US libraries and archives. One of the key research tools for the book, to check timelines and photos, is also the use of super-fan Donna Lewis' extensive diaries (see below for one of her great stories). The authors also carried out 18 extensive interviews to provide brand-new material and insights for the book.

There are comments and interviews from everyone you might imagine who had been with Elvis at the time. From fans such as Judy Palmer, Sandi Miller and Judy Cherry to members of the Memphis Mafia such as Jerry Schilling, Ed Bonja and Dick Grob, Elvis' girlfriends Barbara Leigh and Joyce Bova, his police buddies, musicians, as well as several of the friends Elvis met through that Jaycees Awards ceremony- the list seems endless.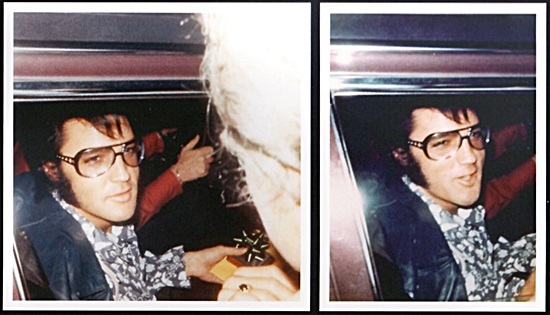 JUDY PALMER: October 7 - Elvis arrived home from the studio and said that he could only stop for a moment because he was leaving for a show. The strap to a shoulder-holster could be seen under Elvis' blue leather jacket. He was also wearing original Polaroid 8004 sunglasses which were reportedly purchased in a gas station by Lamar Fike.

There is so much to read here and some absolutely stunning photographs a large number of which I have never seen before.
The introduction explains how the book was put together and it is obvious that David English has put in plenty of time and research into carefully dating each photograph. There are several familiar photographs here that we now find out have always been dated incorrectly in the past!
Elvis at the MGM studios, September 1970. One of the first images in the book, previously thought to be from July 1970.


Elvis' November 1970 tour would be one of his most important having tested the waters with the earlier short September tour. There would be nine concerts and for the first time since the 1950s Elvis played the US West Coast, including the two sell-out shows of 18,000 each at the Los Angeles Inglewood Forum.

At last Elvis was unshackled from the restraints of the loss of Vegas Casino crowd still looking as skinny taught and terrific as he had done for the filming of That's The Way It Is and playing to huge sell-out crowds.


In general the book features around 20 pages for each concert with reviews, photographs diary entries and fan comments. Elvis' two concerts at the LA Forum however are featured over an incredible 80 pages including so many photographs I have never seen before.

A lot of the concert photographs were taken by tour photographer Ed Bonja however there are plenty of candid concert photographs that I have never seen before or never in such good quality. Photo restorer Leif Korreborg obviously also deserves a mention for his hard work.
Please note that the low-res personal scans used in this review do not show the true quality of the images.
ED BONJA: We were nearing the end of our second concert tour with a show in Oklahoma City when I shot this absolutely great (if I may say so) shot of Elvis. He had just finished singing 'Polk Salad Annie' when he hit floor. He had jumped up in the air and came down low to the ground as the song ended, and he simply rolled onto his back. He went on to perform an additional fifteen [sic] great songs to the delight of the 11,000 fans who were present at the Fairgrounds Arena that cool Monday evening.

While some of the fan photographs shot from the auditorium can be a little blurred or indistinct, some of the other candid photographs are truly impressive considering the circumstances.
Each concert is introduced with its set-list and other relevant details...

A large proportion of the photographs are full-page images with around half of the photographs in colour.

One of the most famous jumpsuits of the period was Elvis' 'I Got Lucky' jump-suit and there are plenty of fantastic photographs featuring it here - including a stunning 48 pages from the Los Angeles afternoon show.
A double page spread of Elvis at his LA Forum afternoon concert - with the comparison CD cover you can appreciate the impact of this coffee-table sized book.

At the Los Angeles Evening Show Elvis obviously wanted to up-the-game so tried out wearing his 'Long-Fringe' jumpsuit which of course turned out to be a disaster as it kept getting tangled in his mic cord while he was jumping around on stage. This important show is presented here over 32 pages.
On Elvis' live show at the Los Angeles Forum, November 14, 1970, Hollywood columnist May Mann's lengthy recollections in the book include ..
... Elvis was wearing a white jumpsuit with gold nail-head trim, and a hand-crocheted tangy orange belt with tassels that swung around his slim hips. It was not skin-tight and his body move freely and always with the beat of music coursing through his veins, his whole aliveness pulsating sexily with the rhythm and the beat. It was as though he was tuned-in to some frenetic perpetual power of fluid sex, grace and vitality that would not turn off. No one on stage has ever given this excitement of pure male masculinity.

Elvis really got personal with all of us that night, when he bared his heart with his uttermost personal feeling, about all that has been happening to him in his private life. Elvis dropped to his knees are some numbers. At one time he fell flat on his back. Sweat pours from his brow as he works with all of his strength to give his fans his all, with the widely imitated karate-like gestures, the sweeping turns, and the hip wiggles.

He gave the huge crowd a great show and was in great spirits. "That's all. Thank you. You're magnificent. Goodbye," and he walked off. People were reluctant to leave. Outside, everyone who hadn't made it inside begged for details. What happened? What was Elvis really like? Everyone wants to know. Even now people keep asking.


It is of course likely that Elvis collectors have already bought other photo books from this period however 'TCB In A Flash' is the most thorough in-depth presentation of this four month period that has ever been published.

The Elvis Files 1969-1970 featured 12 pages dedicated to Elvis' two Los Angeles concerts while Kieran Davis' 'Elvis on Tour Vol.2' book featured around 12 large size photographs of Elvis at both concerts compared to the astounding 60 full-page photographs printed here.

Apart from the concerts there were plenty of other major events in Elvis' life over this four-month period and it is often the candid photographs of Elvis between these events and stories that go with them that really open up the story of his hectic life at the time.
Some candid photo examples from November 4th 1970


The following shows how much detail some of these events are presented with in the book.
Elvis' Stutz Blackhawk - 8 pages
The Denver Police Dept - Elvis gets honorary badge - 12 pages
The Priscilla - Lisa Marie family portraits - 9 pages
George Klein's Wedding in Las Vegas - 14 pages
The Richard Nixon meeting - 36 pages.
Sonny West's wedding - 13 pages
The all –important Jaycees Award - 60 pages
While some of the numerous newspaper reviews featured in the book are surprisingly negative, others capture the excitement of seeing Elvis in 1970.
Gyrating Elvis Magnetizes 11,800 - The Oregon Journal review includes..

The magnetism of Elvis Presley hit Portland's Memorial Coliseum like a bolt of lightning Wednesday night. But chances are many of those who 'experienced' the event will be ~ feeling the vibrations for some time to come.

Indeed it was an electrifying experience. For 51 electrifying minutes, a capacity crowd of 11,800 admirers cheerfully laughed, clapped and even screamed at the gyrating antics which have made the 34-year-old [sic] Tupelo, Miss. crooner a legend in his time.

Most of those who turned out at the Coliseum on Wednesday night came to see Elvis, to watch their idol perform, to hear these memorable tunes – both old and new – which have made Presley their idol. They did not go away disappointed. Reaching back in his own 'oldies but goodies' bag, Elvis came up with such million-sellers as 'Hound Dog' 'Heartbreak Hotel' and 'I Got A Woman'. Judging from the screams which echoed through the cavernous Coliseum arena, a few of the 14,000 refugees from Presley's Multnomah Stadium concert of 1957 must still be around.

But no-one can really question the Presley stamina. You won't find many performers today who can twitch and gyrate their way through 15 fast-beat tunes such as 'Polk Salad Annie' and 'Blue Suede Shoes' in a short span of 51 minutes and still be able to walk off stage. Most would have to be carried off on a stretcher. Not Elvis.
| | |
| --- | --- |
| | |
Elvis in full-action mode - while the second full-page shot captures an exhausted Elvis leaving the stage after his November 16 Oklahoma concert. "Most would have to be carried off on a stretcher. Not Elvis"
Other delights to be dsicovered in the book are the more unknown stories, such as his Memphis cinema outings, his New Year's party, the Ellis auditorium Gospel Convention and his visit back to Tupelo on December 29th where he met up with school friend Guy Harris and others.
GUY HARRIS: I grew up with him. We saw a lot of each other back in the fifties — visiting him up there and him visiting us down here pretty often — so it was a great friendship. The last time I saw him was here in Tupelo, on December 29, 1970. He and Priscilla, and a couple of guys who worked with him, were in town. The guy I worked with on the police department named Bill Mitchell, who got elected sheriff, made Elvis an honorary deputy sheriff of Lee County. After we got all that done, he and I and Priscilla came out and visited right in here later on that night, you know, just as it was getting dark. And then we walked across over to the ballfields.

... Elvis wanted to know if my brother and I ever came to the swimming pool, and I told him, "Yeah. And we used to play ball in that field." He said that his intentions of putting it here was so that kids would have somewhere to swim and play ball and stuff, and they wouldn't have to play on the pasture or down in the creek and stuff like that. He said, "You know, things have changed since you and me played ball." I said, "Yeah, I don't know if change is good always, but we still have change."
.
Two shots of Elvis with Police buddies Bob Cantwell and Chuck Wilson. Elvis' interest in Police badges as well as firearms was becoming more prominent at the time and the books features plenty of stories and interviews about Elvis' twin fascinations.
.
A photo previously believed to be Elvis on New Year's Eve 1970 but now believed to be either Christmas Eve or December 27th 1970.
About Elvis' New Year's Eve party at Memphis' TJs... Donna Lewis' lengthy account includes...
Donna Lewis: We got to the club - TJs- about 9.30 that we were at the table with James Caughley and his date. A little before midnight Elvis arrived with Priscilla and some of the guys. ... Elvis was smiling and milling about all through the room...
At midnight, everyone started hugging and kissing each other while 'Auld Lang Syne' was being played... As Mother, Daddy and I headed towards Elvis's table with the rest of the guests, I saw him kissing the women so I knew I was going to get one tonight. He kissed Mother shook Daddy's hand and then he kissed me. He was wishing everyone a "Happy Nude Year!"
Elvis drank something clear all night and munched on potato chips. Entertainment tonight was by Ronnie Milsap, The Wildcats, Steve Farrell, Les Porter and a house-band. Elvis and Priscilla danced to the Roy Orbison song 'Crying'. Then Priscilla danced with Bill Morris some more.
During the night, Elvis would look over and smile and check to see that everyone was having a good time. You bet! He turned on his flashlight and stuck it up under his chin and was making faces. He smoked a lot tonight - still smoking Villager-Kiel cigars. ..... Everything seemed to be going fine. Then, all of a sudden, he put on his jacket, picked up his shades and flashlight, and walked out. Even Priscilla was taken aback, but hurried out after him as did some of the guys. Most of the people stayed a little longer before leaving. I know we stayed a bit longer.
I got home at 3.30 a.m. and I had such a wonderful night.
The Music
The CD is obviously included as a delightful bonus to go with the book and includes a few unreleased studio cuts plus Elvis' Portland concert of November 11, 1970 recorded from the audience.
The studio tracks, including the four single sides released during the 4 months featured in the book, are a real bonus for keen Elvis collectors.
Both 'I Really Don't Want To Know' and 'There Goes My Everything' are the Original RCA mono single versions previously unreleased on CD. And while 'You Don't Have To Say You Love Me' and 'Patch It Up' mono single versions were featured on the TTWII deluxe box-set they are rightly included here.
Other previously unreleased treats are the Undubbed Masters of 'Twenty Days And Twenty Nights' and 'How The Web Was Woven' plus 'Bridge Over Troubled Water' without Elvis' harmony-vocal.
'Twenty Days And Twenty Nights' has been sourced from an acetate (yes, you can hear the background crackles!) but sounds all the more special for sounding so clear and un-muffled. What a treat.
Undubbed Masters, without the added brass and strings, are always a pleasure capturing the power and elegance of only Elvis and his band and 'How The Web Was Woven' is a good example.
Elvis rarely needed to add a second harmony vocal but there is no doubt that the studio version of 'Bridge Over Troubled Water' sounds a little bare without it.
Personally I am not a lover of Elvis' mono versions over the stereo alternatives* even, if it is said, that Elvis might have stated a preference for mono. However having the original mono singles collected on this CD is a neat idea.
Of course back in the sixties having a powerful 'mono single sound' that could blast out of your Automobile Radio was all important in getting record sales but unless the mono versions were mixed differently (i.e. Chips Moman's mono masters) then, personally, I prefer Stereo.
*Unless they are mono singles playing on Vinyl at 45rpm!
The real treat here is Elvis' complete Portland Concert from November 11, 1970.
This concert has been previously released on bootleg but sounded very inferior to the re-mastered version here.
The concert was recorded by Rick Rennie from the audience but is in very basic stereo which helps add a real feeling and ambience of being in the auditorium. After the clean studio singles, the sudden change to an audience recording takes a little while to get used to but soon you find yourself wrapped up in the experience. Rick Rennie is well known for recording some of the best quality audience tapes of Elvis in concert.

Having escaped the Las Vegas casino crowds Elvis was full of energy, excitement, adrenaline and probably some amphetamines as well. He sure takes these concerts at a shockingly fast pace!

From the beginning to Elvis' farewell - having played 17 songs and chatted a lot to his audience - the concert only runs 51 minutes - and that includes over 6 minutes on 'Bridge'!

The band kick in, "Right over there, watch!" shouts an audience member and the crowd explodes as Elvis comes on stage and rocks out with a powerhouse 'That's All Right'. When Elvis gets to "da, da, dee, dee, dee, dee" he is so full of energy it is like 1955 all over again and he's just 20 years old.

'I Got A Woman / Amen' is taken at a similar pace and the whole song is over in 2 ½ minutes.
Elvis is in great humour noting, "Good evening Ladies and Gentlemen, my name is Johnny Cash" and joking about his Gatorade. At this point it seems that he's going to perform 'Tiger Man' but sadly cuts off the band after only 10 seconds. (He did perform it at other shows in this tour).
With an audience recording you can appreciate how his faithful fans really enjoy Elvis' fun on stage and his joking, which sometimes falls flat when taken from a soundboard. You can also hear the vast size of the venue as Elvis plays to his loving audience of 11,800.
'Love Me Tender' follows before "I have a new record out that goes like this" and a very fine version of 'You Don't Have To Say You Love Me' – it had been released on single 4 weeks before.
'Sweet Caroline' is obviously a crowd favourite but is taken at such a pace that Elvis finishes the song in ninety seconds! It's that sort of show.
'You've Lost That Loving Feeling' allows Elvis to get serious with some powerful vocals that fill the arena. Being so loud there is a bit of inevitable peak distortion off the audience recording. Interestingly the album 'That's The Way It Is' featuring Elvis' version of 'You've Lost That Loving Feeling' was released that very day but he doesn't mention it.

'Polk Salad Annie' gets a great work-out with the cool 1970 introduction "That's just about all they had to eat – but they did all right". In the middle Elvis does a quick imitation of Tom Jones, Humperdinck's and Glen Campbell's on-stage moves but you can really feel the energy and sweat of Elvis' karate ending. The audience, rightly, goes wild!


Band intros follow before a cracking 'Johnny B. Goode' with some extremely fine guitar picking – the sound is excellent on James Burton's guitar.
During the intros Glen Hardin almost leads Elvis into Fats Domino's 'Blueberry Hill' but again Elvis stops after two lines.

'How Great Thou Art' is introduced as "the song I won a Grammy for" and it is Elvis' only second live version ever. It would become a regular show-stopper after this tour.
Elvis performs a tremendous version, obviously enjoying singing with The Imperials. This early version is far less bombastic than later versions and all the better for it. It is only a shame that some audience members close by talk during the performance.


Elvis continues with a powerful 'The Wonder Of You' before "Going back about twelve years" with the crowd-pleaser 'Heartbreak Hotel' taken fairly seriously. 'Blue Suede Shoes' however is powered through in just 40 seconds "I outran you Ronnie" Elvis jokes. 'Hound Dog' is similarly rushed.
Throughout the concert Elvis has been joking about the crowd looking at him through binoculars and now he asks to borrow a pair from the audience so he can look at them in the same way!
Elvis had also been playing with throwing water at his band members which soon disintegrates into hilarity at the start of 'Bridge Over Troubled Water'. "Wait a minute it's the wrong mood. There's not supposed to be laughter at the start of this song!" he jokingly comments.
Glen Hardin then has to re-commence several times as Elvis deliberately mucks up the intro. However once Elvis actually gets going – it takes over 3 minutes to get there – it is a very fine version.
'Suspicious Minds' is the final highlight of the night – the usual 4 ½ minute 1970 version with Ronnie Tutt thrashing the drums and the horns blasting out. It gets a massive applause.
A cool 'Funny How Time Slips Away' follows giving Elvis a chance to kiss-the-girls before he bids farewell.
"Thank You - You are a fantastic audience, I love you" - then 'Can't Help Falling In Love' and he was gone.
It is a sin that none of these November shows were recorded by RCA or at least on Soundboard. Elvis was so full of energy and excitement and enjoying playing to his loving audience. It is a very different performance to his Las Vegas "casino" shows.
There is no doubt that Elvis was having a ball and loving being on stage and while he joked a lot with his fans he singing was as dedicated and as powerful as it could be.
This is only FTD's second audience recorded release but it is a gem capturing Elvis' enthusiastic spirit of the time. A perfect accompaniment to the book.
The CD rightly ends with Elvis' Jaycess acceptance speech.



Overall Verdict: It has been a fair while since I have been so impressed with the thoroughness of the research that has gone in to publishing a book on Elvis. What is astounding is the amount of details that have been discovered about these four key months of Elvis' life forty-five years ago. The incredible images, along with plenty of previously unpublished photographs, capture Elvis at his 70's prime. He would never be as trim and energetic again.
I would be "lying like a rug" to say that I have read every word of the book over the one week that I have owned it – but that is another bonus, there is so much here to read and absorb.
The three authors David English, Pål Granlund and Paul Richardson have raised the bar with their careful research, as well as all the numerous interviews and articles included to match the stunning photos.
While I have been impressed with David English's previous publications for FTD, this book looking at the seventies is his best so far.

If you need any further encouragement CHECK OUT the YouTube promo – you will be impressed.

The book costs GB£60 = US$90 check your local Elvis Dealers now

Review by Piers Beagley.
-Copyright EIN July 2016
EIN Website content © Copyright the Elvis Information Network.
Click here to comment on this review
---
CD Tracklisting:
1. Twenty Days And Twenty Nights (Undubbed Stereo master ex acetate)
2. How The Web Was Woven (Undubbed Stereo master)
3. Bridge Over Troubled Water (Unreleased stereo master, no harmony vocal & no overdubbed applause)
4. You Don't Have To Say You Love Me (Original RCA mono single)
5. Patch It Up (Original RCA mono single)
6. 'Elvis: That's the Way It Is' original theatrical trailer
7. I Really Don't Want To Know (Unreleased original RCA mono single)
8. There Goes My Everything (Unreleased original RCA mono single)
Elvis: Live In Portland, Oregon - November 11, 1970
9. That's All Right
10. I Got A Woman / Amen
11. Tiger Man (one-liner)
12. Love Me Tender
13. You Don't Have To Say You Love Me
14. Sweet Caroline
15. You've Lost That Loving Feeling
16. Polk Salad Annie
17. Band Introductions
18. Johnny B. Goode
19. Blueberry Hill (one-liner)
20. How Great Thou Art
21.The Wonder Of You
22. Heartbreak Hotel
23. Blue Suede Shoes
24. Hound Dog
25. Bridge Over Troubled Water
26. Suspicious Minds
27. Funny How Time Slips Away
28. Can't Help Falling In Love
29. Closing Theme
30. Elvis' Jaycees Award Acceptance Speech

---
---
---
---
EIN Website content © Copyright the Elvis Information Network.
Elvis Presley, Elvis and Graceland are trademarks of Elvis Presley Enterprises.
The Elvis Information Network has been running since 1986 and is an EPE officially recognised Elvis fan club.