'ELVIS: TTWII 50th Anniversary Collectors Edition'
FTD Book / CD
- Review by Piers Beagley -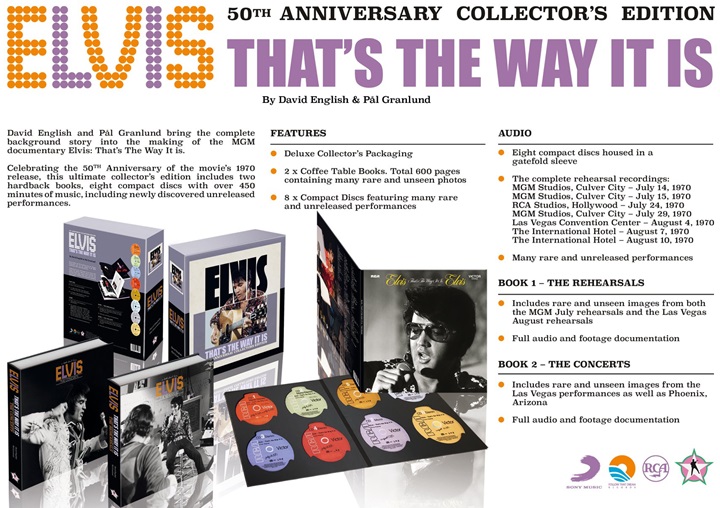 David English and Pal Granlund bring the complete background story into the making of the MGM documentary 'Elvis: That's The Way It Is'. Celebrating the 50th Anniversary of the movie's 1970 release, this ultimate collector's edition includes two hardback books, eight compact discs - housed in a gatefold sleeve - with over 450 minutes of music, including newly discovered unreleased performances.
With access to 2000 original negatives and 35mm slides, these images have been restored and repaired, many of which have never been seen before. The book also contains items from the MGM and RCA archives including paperwork, documents, memos and recording information.

Book 1- 'The Rehearsals' includes rare and unseen images from both the MGM July rehearsals and the Las Vegas August rehearsals and full audio and footage documentation.
Book 2 - 'The Concerts' includes rare and unseen images from the Las Vegas performances as well as Phoenix Arizona and full audio and footage documentation.
EIN's Piers Beagley investigates this brand new FTD book / CD combo and provides an in-depth review with plenty of images and extracts ...
---
The hard question is, do Elvis collectors really need another large deluxe format book about Elvis 'That's The Way It Is'?
Erik Lorentzen recently published 'Summer Festival 1970' trilogy of books and previous to that we had Sony's Deluxe 2014 'That's The Way It Is' eight CD/ DVD box set, Lorentzen's 'Elvis Files' (120 pages and over 320 photos dedicated to TTWII) as well as the bootleg 'Elvis 'That's The Way It Is' The Complete Works' (130 page book, six CDs, 3 DVDs).
So the stakes are high and nowadays what one needs to make any positive impression from any Elvis photo-book is..
A) Plenty of good quality photographs - hopefully including lots of unpublished images.
B) Plenty of new text / interviews to read and explore so as to discover even more about Elvis' extensive legacy.
C) Hopefully as a real bonus, some unreleased Elvis music to go along with the book.

Back in 2016 I commented that the 450-page FTD publication "Elvis Presley Taking Care Of Business - In A Flash" achieved all these goals and more, well the bar has been truly raised here.
Most fans will recall that 'The Way It Was' "An audio-visual documentary by Sherif Hanna and Ernst Jorgensen" was the first book published by the FTD label and which documented Elvis' TTWI performances over 100 pages. It also included one CD of unreleased music with over half of the tracks taken from the rehearsal tapes. At the time I thought the cost of AU$150 was pretty outrageous.
So the prospect of a Deluxe TTWII package costing closer to AU$400 is asking a lot from Elvis collectors, especially older ones who have bought all the previous publications. EIN received plenty of comments from readers about the high cost and also questioning the need for eight CDs of rehearsals, especially as one is a direct copy of the previously released 'Stage Rehearsal' FTD. (But more of that later).
Of the 128 tracks presented here the truly important rehearsals, 58 of them, have already been officially released.

Before our detailed review there are a few simple questions you should ask yourself.
a) How much time do you spend looking at the TTWII books and photos you already own?
b) How often do you listen to Elvis' TTWII rehearsals, either the "best ofs" officially released or all those old bootlegs?
- - To be honest, while they totally impressed me at the time, I rarely re-visit them.
c) If the rehearsals were in better audio quality would you play them any more often?
- - IMHO, probably not. They are "rehearsals" after all and at times repetitive.
d) How much money do you have to spend on Elvis?
The Packaging.
The set comes in a sturdy cardboard sleeve with the front cover designed to look like an old movie poster (there are deliberate age-marks on the edges) and the back cover displays an overview of the contents.
The two books neatly divide into 288 pages on 'Elvis The Rehearsals' and 324 pages on 'Elvis The Concerts'.
The 8cds come in a 12" gate-fold sleeve, nicely mimicking the design of Elvis' original TTWII album.

The Books
In a similar style to the previous FTD deluxe books, the design by David English / Leif Korreborg is stylish and beautifully laid-out with good quality paper and easy to read text. My only minor gripe is that some pages could have had more impact had they featured more "ELVIS" with narrower surrounding white borders.
'The Rehearsals' is divided into eleven chapters plus an interesting introduction by David English and a forward by super-fan / photographer Phil Gelormine.

Chapter 1 - M-G-M MOVIE
Chapter 2 - MEMPHIS TO NASHVILLE
Chapter 3 - M-G-M SOUNDSTAGE - REHEARSALS (1) July 14 1970
Chapter 4 - M-G-M SOUNDSTAGE - REHEARSALS (2) July 15, 1970
Chapter 5 - RCA STUDIOS - REHEARSALS (1) July 23, 1970
Chapter 6 - M-G-M SOUNDSTAGE - REHEARSALS (3) July 29, 1970
Chapter 7 - RCA STUDIOS - REHEARSALS (2) July 30, 1970
Chapter 8 - LAS VEGAS - REHEARSALS (1) August 4, 1970
Chapter 9 - LAS VEGAS - REHEARSALS (2) August 7, 1970 (On stage rehearsal red shirt)
Chapter 10 - LAS VEGAS - REHEARSALS (3) August 8, 9, 10 1970 (On stage rehearsal blue shirt)
Chapter 11 - M-G-M MOVIE
In the introduction author David English explains how and why the whole set was put together. He notes that he and Pal Granlund have been working on the idea since 2014 and also how they were sold the 2,000 negatives (as also purchased by Erik Lorentzen) but found too many were out-of-focus or blurred so pursued the EPE archives for other exclusive content.
Comparing deluxe size of the book with a regular TTWII CD cover.
The book is presented as a day by day diary with the text featuring Elvis' agenda, newspaper articles, relevant interviews, RCA documentation as well as some impressive stories taken from the diaries of Elvis fans.

These fans such as Judy Cherry, Sandy Miller and Donna Lewis provide some marvellous contemporary viewpoints.
Judy Cherry... Elvis was already in rehearsal when we got there (to MGM). He came out around 7.15pm, but snuck out behind us! Just as one of the girls saw him, he grabbed me by the ribs and said "Hi!" Scared me to death. That night he was really in a devilish mood. He spent 15 minutes with us and really teased us a lot. One of the girls was about eight months pregnant and Elvis looked at her stomach and said, "What's that?" When one of the girls wanted to get, "Just one more picture" I said, "Boy! You guys - we're sure lucky that Elvis is so patient," and you should have seen the beautiful smile that he gave me - like he was glad to be appreciated. After all, he doesn't have to do all that. When he first said that it was alright for us to take pictures, I asked him to smile, he said, "Sure" but stood there completely straight faced and stared at me. Finally I said "Well, today please!" and broke up! I got two kisses there."
Interviews with people such as Marty Lacker, director Dennis Sanders, Joe Esposito, as well as Elvis' musicians, all help fill in the details. Ann Moses' magazine articles from the time also tell some great stories.
Elvis working hard at the July 15th MGM rehearsals
Where the official photographers were not present, film grabs are used to complete the story. The first rehearsal July 14 for instance is a short eight pages, whereas the following day, July 15, were the cameras were snapping and the tapes were running is presented over a glorious 80 pages. The true delight is being able to thumb through all these gorgeous photos - and there are plenty of them new to my eyes - while listening to the tapes.
July 15th having fun singing 'Twenty Days and Twenty Nights'
The book even notes what photos match which song Elvis was singing at the time. This makes looking at the photographs even more enjoyable while playing the relevant rehearsal or concert.

For Elvis fanatics, such as myself, there is a real joy in investigating all the minutiae of detail about each session. At the start of each chapter there is an explanation of every scene that was filmed by MGM, along with the audio recordings that took place at the same time.
Every track released by RCA over the years is noted and every filmed segment also states whether it has been released on such things like the original movie, the 2000 Special Edition, The Lost Performances, This Is Elvis or other DVD releases.
The information is so detailed that Elvis geeks will truly love it! So much to read, so much to enjoy, so many lists!

While the majority of photographs are in b&w the book still includes more colour photographs than I expected. It also features some relevant fan candid photographs taken outside the recording studios or in the International Hotel.
The book features over 60 pages of Elvis' red-shirt August 7 stage rehearsal. The full-page shots of Elvis in colour are totally stunning and while the majority of photographs are in b&w there are loads of them that are new to my eyes. They all help capture the energy, excitement and enthusiasm of the rehearsals as they build up to Elvis' first performance. August 7th 1970 was also the first night that the TCB band ever worked with Joe Guercio and the orchestra. Halfway through you can also observe that Elvis put on a wrist-weights plus weight belt with his workout sweat in the later photos very obvious. "I just want to look slim, and I can work a lot quicker when I am underweight." While 38 minutes of audio was recorded obviously the session would have gone on for much longer.
In fact what makes this FTD publication so damn impressive is that where other books have celebrated or focused on the movie 'That's The Way It Is', this massive tome is more about everything that went into the making of the documentary. With the film cameras limited in run time (we learn about how the five cameras were positioned in the showroom) only around six numbers were filmed in full at each show with certain key numbers chosen at each concert.

Seven days of rehearsals were filmed, 90% of which would be fascinating viewing for Elvis fans, yet remarkably little made the actual film.
'Elvis: The Concerts' book cover features one of the best-ever photos of Elvis, actually taken at his later Phoenix , Arizona, September 9th on-tour performance. The photo was first used on the back cover of the original TTWII album, but only as a mini-pic.
The same format continues for the second book on Elvis' concerts with each performance featured over approximately 35 pages.

Chapter 1. Filming Elvis
Chapter 2. International Hotel, August 10
Chapter 3. International Hotel, August 11
Chapter 4. International Hotel. August 12
Chapter 5. International Hotel. August 13
Chapter 6. International Hotel. August 14
Chapter 7. International Hotel, August 15
Chapter 8. Phoenix, Arizona. September 9
Chapter 9. That's The Way It Was

How lucky we all are that Elvis' third Las Vegas season was the perfect time to capture him in so much detail. Healthy, happy, wearing some stunning jumpsuits plus singing a great selection of new material helps make the second section 'Elvis: The Concert' so totally glorious.
The contemporary reviews from various that provide a fascinating insight, and while we know the Las Vegas crowds were a little bit sedate in their responses it is a revelation to discover how poorly Elvis' Opening Show was received.

Elvis fan Rose Knox-Peebles described it as…
"Occasionally Elvis mumbled something, but the words got lost somewhere in the immense room. The audience began to wake up when it heard the familiar intro to 'Polk Salad,' but it was a short version and never left the ground... The last song of the evening, the climax, was 'Patch It Up.' This was a rocker and his movements improved becoming more natural. Like 'Suspicious Minds,' it kept stopping, the audience would start to clap and it would start again (this must have happened about four times) till at the end he was on his knees facing us. Then he slowly bent over backwards till he was lying flat on the stage with his legs doubled under him. He kept this pose for about ten seconds while the lights dimmed and I think the audience appreciated his suppleness - but it could not save the evening. His dashing about the stage had been, one felt, born of desperation rather than feeling and the audience had remained as it had been since the beginning, uninvolved, politely watching, passively waiting fore the spark that would connect them with the man who had meant so much more than merely a pleasant way of passing an evening. But it hadn't happened. He sang, 'Can't Help Falling,' the curtains dropped, he peeped out beneath them for a split second, then disappeared. He left no trace, no vibration, but the sense of being let down."

Yet by the midnight show the following day August 11th things have certainly changed and everything was falling into place…Rose Knox-Peebles again…
"Polk salad Annie. … Lord have mercy, this is different from yesterday's version. It goes on and on and on, and the audience are clapping and stamping and yelling, driven half out of our seats and the expression on Elvis's face gets wilder and wilder. Still he goes on, no one can resist it, the band were transformed .."
The vast majority of photographs of black-and-white that some screen grabs provide some additional colour.
Elvis' August 12 Midnight Show is often described as his best ever, and in the book we get 40 glorious pages of Elvis action, nine of them in colour.
Here Rose Knox-Peebles captures the genuine excitement that we all feel blasting off the well-known RCA recording …
"Elvis is walking forward and begins kissing again - there is something in the air, heat from the extra lights MGM have rigged up, awareness that it's not a dream, that the figure in the white suit is as real as we are, the sense of being enclosed, shut away privately with him ... This time the girls are more reckless, they come running down the aisles and stand between the tables calling to him and pulling him over to them, he has to step onto the tables to reach some, and he is kissing them harder. The atmosphere has built up so it's like being inside a pressure cooker - heaven knows why we don't burst, and Elvis too.
Backed away again, he is so different from last night. You can see his eyes flickering about like lizards as he grins as us. Where last night he had seemed hardly to raise his eyes, now he does, and sudden movements he makes are like challenges, flicking his head to get hair out of his eyes, letting his left leg tremble and his hips move convulsively even when he's standing still between songs…
At one point, he lay flat on the stage, then rolled over and jumped up in one movement. And if this description makes the performance sound like a gym display, it wasn't at all, it was more like watching someone whose guts are directly connected with the source of energy, sex, the lot."
And it is these kinds of stories matched with the photos and also with the RCA release (as well as the movie) that makes this Deluxe edition feel so complete.
Most fans know that Elvis' August 13th Dinner Show, was the last full concert recorded and filmed, but now we learn that MGM were also at the August 13th Midnight Show and at the August 14 Dinner and Midnight performances also filming for some pick-up footage.
The book features 14 pages of stunning photographs of Elvis' August 15 dinner show, which are some of the best in the book.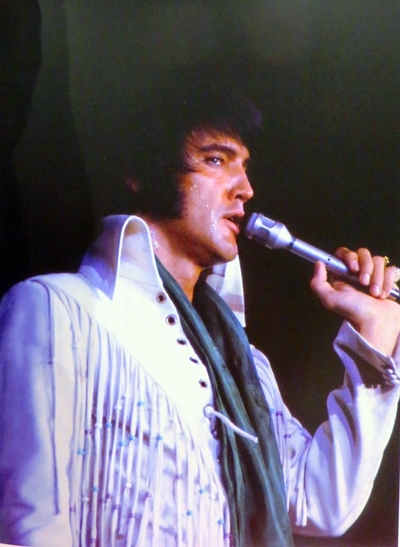 The MGM crew also went to Elvis' 9th September Phoenix Arizona concert to film some more audience reactions – due to the Las Vegas crowd being a little too laid-back- and again many of the photographs from this concert are some of the very best and in fact several of them were used on the back of the original album cover.

Jump-suit fanatics will be delighted by the two pages that describe exactly what suit and what belt Elvis wore at every performance, as well as a detailed explanation of how to spot the edits within the movie.

The end of the book includes a lengthy article featuring "TTWII Special Edition" producer Rick Schmidlin who explains what he found in the vaults and how he assembled the new version. And also why my favourite 'I Just Can't Help Believin'' was left out, and for that matter 'Bridge Over Troubled Water'! (Sorry, no excuse!)

Throughout the two books there are some neat interviews with some surprising characters such as RCA worker Lionel Hudson who happened to appear as part of the Las Vegas audience in the movie. He tells a lovely story..
…"I started off as a helper for RCA, … I went to Las Vegas, and this is where I really got to meet Elvis... At the time I was the only person there working for RCA as a foreman and so this is how I became friends with Elvis and Colonel Parker.
Parker always took care of me, but I was always moving around carrying boxes and stuff. You saw the movie where all the Elvis banners are. I used to go up there all the time. By this time, I had become a foreman and so next time I was in the presence of Elvis was in the studio but he was so busy all the time. Once in a while I'd talk with him and he was a very nice person.
Elvis told me that he felt like he was in prison sometimes and although he had everything to be happy about, he was really an unhappy man. I said to him, "Why? You've got everything" and he replied, "You can have all the money in the world but you don't have peace of mind." He gave some money to me one time and told me to just go and enjoy myself. I thanked him, took the money downstairs in the hotel and I played. I won $22,000 because I just didn't care, I just put all the odds on the table and won it all within two hours.
I started to get to know him and he talked to me about so many interesting things, especially about the black way of life. He said that things have been written in books about what he'd said about black people and their music. He said that they only printed what they wanted to, and not the full story. Elvis said he doesn't talk about things anymore because the more you do, the more they stir it up and use it as a selling point."

The stories are all very compelling and all of them provide yet more insights into not only the making of the movie but also Elvis as a friend, a hard-working musician as well as a superstar.
I have to note that there are a few obvious typos in the book that I spotted. Most glaringly Alan Laikley (composer of 'I've Lost You') should be Alan Blaikley (pg 30, the correct spelling is on the opposite page) and how did Joe Guercio become Joe Geurcio (pg 218) and composer Cynthia Weil change to Cynthia Well at times. There are other typos and while they don't detract from excitement of the story one wonders that with so many people involved in this mammoth project, how the obvious ones slipped through?

The Audio.
The extensive recordings included are 8 cds featuring seven days of rehearsals starting off on July 14 at MGM Recording Stage One, Culver City and ending nearly 1 month later at the afternoon dress rehearsal on stage at The International Hotel showroom.
The true delight of listening to all these seven rehearsals in a row is the fascination in hearing the rough kick-around early rehearsals eventually transform into their Las Vegas on-stage magnificence.

When Fort Baxter's bootleg 'The Brightest Star On Sunset Boulevard' was released back in 1998 it was an absolute revelation as it captured the excitement of Elvis working alone with his rhythm section on brand-new material radiating an excitement rarely heard on the final RCA releases.
Similarly Bilko's bootleg 'Hang Loose' released a few years later showcased Elvis' August 10th dress rehearsal complete with Orchestra.

It is extremely unlikely that anybody who bought this expensive new FTD deluxe set won't also own a few of the previous bootleg releases but there still is a real excitement in revisiting them once again. And even better, with improved audio quality.

Ernst Jorgensen has always understood the excitement of these rehearsals and has released a good selection of the best tracks on various official collections over the years, such as the Elvis box-sets 'Platinum,' 'Walk A Mile: 70s', 'That's The Way It Is' BMG set, 'That's The Way It Is' 2014 Deluxe Edition, plus various releases from FTD including 'The Way It Was', 'One Night In Vegas' as well as 'Stage Rehearsal'. In fact fans got the first taste of them on RCA's 1980 'Elvis Aron Presley' box-set!
Audio Quality: The audio quality of the actual recordings goes from some very basic setups at the first MGM session through to fabulous multitrack recordings of Elvis' on stage rehearsals. So fans have to realise that there still is some audio distortion at times that no one could remove. However comparing the older official and bootleg versions of the same tracks, these new remasters are definitely improved, some tracks vastly improved. (ie compare 'Mary In The Morning' BMG 2000 version – almost mono and loaded with extra echo - to the beautiful new version here).
Having said that there are times when audio engineer Jan Elliason does push the audio level s too high resulting in some audio clipping. Sometimes more volume does not necessarily mean more excitement! (See an example below. 'What'd I Say' new remaster vs 1997 official version).
However, the overall quality - tape hiss, dropouts, distortion etc is usually limited by the original recordings.
'What'd I Say' new remaster vs 'Platinum' version. You can also see the original tape-dropout at the start
One real delight is that on some rehearsals Elvis' vocal is very prominent giving several songs an almost a-capella feel.

Highlights for me are being able to eavesdrop on the sessions where Elvis rehearses the rarer songs, songs that he might perform only once on stage (ie The Next Step Is Love, Twenty Days and Twenty Nights, Stranger In The Crowd, Make The World Go Away etc) or tracks that he rehearsed but then never performed live (Mary In The Morning, How The Web Was Woven, Tomorrow Never Comes, Heart Of Rome etc). And what was Elvis doing rehearsing the very mundane 'Sylvia' and was he really considering putting 'Runaway' back in the set list having not sung it since August the previous year? And what a real tragedy that RCA missed out on the possibility of a live recording of 'Oh, Happy Day'? (By only one day since Elvis would eventually sing it live on August 14th)

It's quite amazing to discover the vast numbers of songs that the band rehearsed. There are also plenty of other unique treats such as the blues jams of 'Got My Mojo Working', 'I Washed My Hands In Muddy Water' and 'Stranger In My Own Hometown' all of which would have been sensational to hear in concert.

These tapes are all unedited – apart from silences and gaps between songs being removed - so at last we get the rude "cocksucker" official version of the classic 'Stranger In My Own Hometown' that was edited on previous releases.
Elvis with Joe Esposito and director Dennis Sanders August 4th
Elvis' July 24th rehearsal at RCA studios is one my favourites and also one of the best quality recordings. Sadly MGM was not there to film or take photos. Elvis rehearsed everything from The Wonder Of You, Stranger In The Crowd, Something, I Can't Stop Loving You, Just Pretend, to Heart Of Rome, Tomorrow Never Comes, Mary In The Morning even Suspicious Minds. I was always surprised that FTD never released this tape as one of their earlier releases and before this package still less than half of the tracks had been officially released. So having this officially released in full with great audio is a true delight.

'I Just Can't Help Believing' is one of my all-time favourites so to have three new rehearsals from July 24th as well as the sublime 8 minute July 29th version is a delight. Similarly to hear Elvis start with the basic 'Bridge Over Troubled Water' on July 14th via versions on July 24 and August 4 to the final dress rehearsal on August 10 is mind-blowing.

It is also fascinating that having rehearsed The Beatles 'Something' several times as well as performing it for the MGM cameras three times, the first Elvis fans knew about Elvis' love of the song was when he added it back to his set-list for Aloha three years later.

And let's not forget the missed potential of Elvis ignoring his classic oldies that he rehearsed but never bothered to use in concert, 'Money Honey', 'Baby, Let's Play House', 'Such A Night' etc, and here Elvis rehearses a fabulous 'My Baby Left Me' that he then wouldn't perform on stage until 1974. A song like that would have fitted so perfectly into his 1969 or 1970 set-lists when Elvis also had more energy to do it justice.

Similarly the work Elvis put in to his new single 'I've Lost You' (being from a UK & Australia Top Ten in both countries) with six rehearsals recorded is quite revealing.

And that is what makes this huge collection of rehearsals so damn interesting as a whole, the chance to examine the lost opportunities while also appreciating the beauty of the final TTWII Live recordings that were eventually released.
Good News for collectors.
Two brand new versions of I've Lost You' from August 6th. Yet again Elvis explains to the band more subtle changes he wants on the ending - however the audio quality is only fair and on the second version his vocal is missing.
Having the August 7th International Stage rehearsal complete (Red Shirt with Elvis in great teasing humour) where previously it has been spread across various bootlegs, the movie itself and official releases while only being complete on the Bootleg "TTWII - The Complete Works" Rehearsals DVD. Although mono, not in great quality and with too many interruptions by the Memphis Mafia, the fabulous 'Oh, Happy Day', 'Polk Salad Annie' "where's your fanny at?", You've Lost That Lovin' Feelin' and 'Mary In The Morning' certainly help compensate.

Notable Oddities.
'Ghost Riders' here is mono and with bad distortion, whereas the previous TTWII 2014 'rehearsals CD' version was stereo and without distortion on the rhythm track.
'What I'd Say' – a great July 29 rehearsal which here features the original tape-drop out near the start (see above scan) which on previous releases ('Platinum' etc) had been edited out. Sadly Elvis would never feature 'What I'd Say' again on stage until 1975 when it became a throwaway within The Introductions
'I Washed My Hand In Muddy Water' runs 7 minutes and strangely features two mixes of the same rehearsal. Obviously this could not be on the original rehearsal tape so how the first more-compressed / louder mix got there is anyone's guess. This suddenly cuts off at 03.45 and then the same rehearsal repeats but this time running the full 5 minute length. This second audio mix is what has been released on previous outings.
While this is somewhat annoying at least the song is a classic and worth hearing twice. Had the same repetition perhaps happened on 'Sylvia' then fans would not be so accommodating

Bad News.
The final rehearsal of August 10th supplied here is an exact copy of FTD's previous 'Stage Rehearsal' cd. Anyone who paid over $300 for this set surely owns a copy of the previous FTD so this is a true rip-off. Not only does this present us with a disappointingly edited/fake Elvis "dress-rehearsal" but as shown by the tape-log in the book, the songs are presented also out of their original sequence. Here was FTD's real chance to give hard-core collectors a quality copy of the original rehearsal tape, fades and all, and they stuffed it up (Note that even the bootleg 'Hang Loose' was in the wrong order). What a waste.
EIN Sidenote 1: The only obvious omission is that FTD could not legally include the matching "Rehearsals" DVD that was released in the bootleg 'TTWII: The Complete Works'. Now that would have truly made this the "ultimate collector's edition".

EIN Sidenote 2: FTD had to release the complete TTWII rehearsals at this point as otherwise they would have gone under the EU Public Domain laws, opening them up for general EU release. Luckily this means that RCA / FTD will have to release the complete 'Elvis On-Tour' recordings before 2022. I am sure David English is already working on the book.


Overall Verdict: FTD's 'TTWII 50th Anniversary Collectors Edition' truly exceeded my expectations. Having paid an extra $100 postage to get it to Australia I am still enjoying every moment and feel that I got my monies-worth. The two books provide so much to read, so many stunning photographs and, along with the 8 cds, days of pure enjoyment. Having said that, every fan has to calculate how much money they have to spare as this is a very expensive set and, as noted, we already have had plenty of TTWII material both audio and visual previously released. Personally I would say that fans have to buy this set for the books with all their intricate details about every show and rehearsal, with the CDs seen as a bonus. Congratulations to David English, Pal Granlund and Ernst Jorgensen for such a comprehensive, stylish and stunning publication. 'TTWII 50th Anniversary Collectors Edition' is FTD's best release so far, albeit the most expensive.
Priced around £200 / €223 / US$270 plus postage. There was a reprint in September 2020 so order your last-chance copy now. Check with your local Elvis dealer
Please note that the low-res personal scans used in this review do not show the true quality of the images

Review by Piers Beagley.
-Copyright EIN October 2020
EIN Website content © Copyright the Elvis Information Network.
Click here to comment on this review
---
CD 1 - JULY 14, 1970
01. Words **
02. You Don't Have To Say You Love Me *
03. Polk Salad Annie *
04. Bridge Over Troubled Water *
05. You Don't Have To Say You Love Me *
06. The Next Step Is Love *
07. I've Lost You *
08. The Next Step Is Love
... JULY 15, 1970
09. Stagger Lee *
10. Got My Mojo Working *
11. I've Lost You *
12. Stranger In The Crowd *
13. The Next Step Is Love *
14. You Don't Have To Say You Love Me *
15. Sweet Caroline *
16. Yesterday
17. Hey Jude *
18. I Can't Stop Loving You
19. It's Your Baby, You Rock It *
20. Cryin' Time *

CD 2 - JULY 15, 1970
01. Ghost Riders In The Sky
02. Runaway *
03. It's Now Or Never *
04. Peter Gunn Theme
05. Love Me
06. One Night *
07. Alla En El Rancho Grande
08. That's All Right *
09. Twenty Days And Twenty Nights *
10. That's All Right
11. Twenty Days And Twenty Nights *
12. Instrumental *
13. Patch It Up *
14. Cotton Fields
15. Sylvia *
16. Stranger In The Crowd *
17. How The Web Was Woven *
18. I'll Take You Home Again Kathleen *

CD 3 - JULY 24, 1970
01. That's All Right
02. I Got A Woman
03. The Wonder Of You
04. I've Lost You
05. The Next Step Is Love *
06. Stranger In The Crowd *
07. You've Lost That Lovin' Feelin' *
08. Something *
09. Don't Cry Daddy *
10. Don't Cry Daddy (faster version) *
11. You Don't Have To Say You Love Me *
12. Polk Salad Annie *
13. Bridge Over Troubled Water *
14. I Can't Stop Loving You
15. Just Pretend
16. Sweet Caroline *
17. Words *
18. Suspicious Minds *

CD 4 - JULY 24, 1970
01. I Just Can't Help Believin' *
02. Tomorrow Never Comes *
03. Mary In The Morning
04. Twenty Days And Twenty Nights *
05. You've Lost That Lovin' Feelin' *
06. I Just Can't Help Believin' *
07. Heart of Rome *
08. Memories *
09. Johnny B. Goode
10. Make The World Go Away *
11. Stranger In My Own Hometown
12. I Washed My Hands In Muddy Water


CD 5 - JULY 29, 1970
01. Elvis Talking
02. Something *
03. Words
04. I Just Can't Help Believin'
05. Little Sister/Get Back **
06. Get Back (ending) *
07. I Washed My Hands In Muddy Water
08. I Was The One
09. Cattle Call
10. Baby Let's Play House
11. Don't
12. Money Honey
13. A Fool Such As I
14. Froggy Went A-Courtin'
15. Such A Night
16. It's Now Or Never
17. What'd I Say
18. The Lords Prayer *
19. My Country 'Tis Of Thee *
20. Hava Nagila *
21. My Baby Left Me *
22. You Don't Have To Say You Love Me *
23. Stranger In The Crowd *
24. Ending talk *



CD 6 - AUGUST 4, 1970
01. Talk *
02. I've Lost You *
03. The Next Is Love *
04. Words
05. Cattle Call / Yodel
06. Twenty Days and Twenty Nights
07. Farther Along
08. Something
09. Santa Claus Is Back In Town
10. Don't Cry Daddy *
11. In The Ghetto *
12. You Don't Have To Say You Love Me
13. Bridge Over Troubled Water **



CD 7 - AUGUST 7, 1970
01. You've Lost That Lovin' Feelin' *
02. You Don't Have To Say You Love Me *
03. The Next Step Is Love *
04. Twenty Days And Twenty Nights *
05. Polk Salad Annie
06. Oh Happy Day
07. I've Lost You *
08. Mary In The Morning **
09. Sweet Caroline *
10. Words *
11. Patch It Up *



CD 8 - AUGUST 10, 1970
01.You Don't Have To Say You Love Me (version 1)
02. I Just Can't Help Believin'
03. Something
04. Sweet Caroline
05. Polk Salad Annie
06. You've Lost That Lovin' Feelin' (version 1)
07. I've Lost You
08. Bridge Over Troubled Water
09. Patch It Up
10. Can't Help Falling In Love
11. You Don't Have To Say You Love Me (version 2)
12. You've Lost That Lovin' Feelin' (version 2)

* Officially Previously Unreleased
** Officially Previously Released But Not Complete
---
'Elvis Taking Care Of Business - In A Flash FTD Book Review: Focusing on Elvis in late 1970 and early 1971, "Elvis Presley Taking Care Of Business - In A Flash" is the new FTD Book/CD combo by Flaming Star/FTD.
Produced by David English, Pål Granlund and Paul Richardson, this book presents a detailed chronicle of Elvis' personal life and public career between the autumn of 1970 and the early weeks of 1971.
It is a hardcover, large-format book with 450 pages that offer detailed coverage of Elvis' life and career over the important four months from October 1970 to January 1971.
The publicity promised hundreds of photographs, many of them candid and previously unpublished and new and exclusive interviews.
It also comes with a bonus CD with unreleased versions of studio-tracks plus Elvis' concert in Portland, Oregon on Nov 11th 1970.

Can it really be as good as promised? EIN's Piers Beagley investigates and discovers plenty .. Go here to our indepth review featuring plenty of extracts and wonderful photographs.
(FTD Reviews, Source;ElvisInformationNetwork)
---
'Stage Rehearsal' FTD Review:

Elvis' triumphant return to live performances was filmed by MGM in August 1970. The live footage in

'That's The Way It Is'

was compiled from six concerts, filmed over four nights from the Opening Show on August 10th to the August 13th Dinner Show.

The new FTD focuses on the August 10th Dress Rehearsal for these all-important concerts - it also includes 6 Bonus Songs from 1972 & 1973.

EIN had high expectations of this great rehearsal, after all as a Fan Club Collectors' release we pay good money to hear the real Elvis warts and all. However much of original spontaneity of Elvis' great performance has somehow been lost in the FTD production. On the other hand, there is no doubting that the remastered sound quality is fantastic and there are some real treats along the way especially with the Bonus Songs.

(FTD Reviews; Source;ElvisInfoNetwork)
---
---
---
---
EIN Website content © Copyright the Elvis Information Network.
Elvis Presley, Elvis and Graceland are trademarks of Elvis Presley Enterprises.
The Elvis Information Network has been running since 1986 and is an EPE officially recognised Elvis fan club.