You can buy direct from the Elvis Files - send €125 By Paypal To: Sales @Elvisfiles.No .- this includes Shipping - Or CLICK HERE to www.Elvisfiles.No
For US fans you can buy the book directly from Keith Alverson - see details below -
---
I have known Keith Alverson for many years and I'm very proud to call him my good friend. Keith is a great photographer and has travelled on many tours and to Las Vegas to photograph Elvis. He captured some of the most incredible shots that I have ever see of Elvis on stage. Keith let me use many of his photographs in my magazine that I had published in Memphis after Elvis died, back in the late seventies and early eighties.

Keith's photos of Elvis bring back so many cherished memories to my family and me. It's been said that the picture is a moment frozen in time. This picture book of moments reflects the life the Elvis so loved. Let it take you back in time and listen to the music.

Believe me, this photo book will be a treasure for every Elvis fan! What a wonderful tribute to Elvis Presley! What a great gift to all of us who loved him so much!
Thank you Keith.

Billy Smith, June 2017
---
EIN: Keith as I am sure you are aware there are lots of fans very excited about your new 'Strictly Elvis' book. While nearly every fan would recognise your most famous photos of Elvis, not too many know how you happen to be there to capture such great images in the first place, so thanks for agreeing to an interview with us.

EIN: Firstly, where were you born and what made you first become an Elvis fan?

Keith A: I was born in Atlanta, Georgia ..... in 1952. I watched the TV show "American Bandstand" every Saturday with my mother. Dick Clark was the host and that's where I first heard of Elvis Presley .... when I heard "Hound Dog" ...I was hooked on Elvis and Rock n Roll music forever! My parents bought the 45 single for me and that started my record collection at that point in my life!

EIN: What made you decide to photograph Elvis? Were you always in to photography?

Keith A: I was just a fan of Elvis when I first attended my first Elvis concert. I didn't have a very good camera until 1973, so the first 3 shows that I went to see .. my photos were very far away and not good at all. I always liked to take pictures of family and different events during my teenage period but never considered to follow Elvis around and photograph him on a regular basis!

EIN: What was your first Elvis concert, what are your memories and did you take any quality photos at your very first concert?

Keith A: My first Elvis concert was the Tuscaloosa, AL show - November 14, 1971, I didn't have a very good camera so I only included 2 shots in the book for historical purposes!

EIN: Wow, that would have been a great show to have been at. What are your memories of your first Elvis performance, was there something that made you realise that you had to start capturing Elvis' concert performances on film?

Keith A: It was basically the excitement just being in the same building with Elvis Presley! We had seen him in countless movies and on television, but to be in his presence and be around thousands of other fans was a feeling I had never felt before! Seconds after ELvis walked out on stage, the entire coliseum was lighted up with flash bulbs! It was like lightning with electricity centered on this one man!
After driving home I would never be the same again, I had to be aware of his next concert tour in my area for sure!
Like I comment in the book, I didn't really have a very good seat for photos until July 3, 1973 in Atlanta, and after that I was hooked on the photography of Elvis Presley!

EIN: What about 1972, that was an interesting Elvis year. Did you go to any concerts or take any good photos that year?

Keith A: I attended 2 shows in Macon, Georgia April 15, 1972! I again did not have very good seats at either show so my photos were not acceptable in my opinion for public viewing. In the book I include one for the readers to see just for historical purposes and to see a comparison to the later photographs I would obtain.
As I explain in the introduction in the book, I wanted this book to include every shot that I took during the shows, - soft focus photos, dark photos, unflattering photos, and of course all the beautiful photos as well.
There are photos of his band mates, back-up singers, and some without Elvis being included. There has never been a photo book like this and I wanted these outstanding talents to be recognized and noticed after all these years!

EIN: What were you doing as full-time job while trying to fit in seeing Elvis as much as possible?

Keith A: I worked at an animal hospital as an assistant to the veterinarian back in the 70's during the Elvis tour years!

EIN: The majority of Elvis candid concert photos taken by fans are usually from way too far away, how did you manage to get so close to the stage?

Keith A: I wasn't up close all the time, I had some pretty bad seats at some shows. The book will show all of the photos I took from various areas in many venues. That is what will be unique about this book. I have included every shot that I took of Elvis during these shows from 1973-1975. There are 30 concerts revealed in the book.... some with dark or soft-focused photos, unflattering ones, and full stage photos, everything I took - including of course all the super shots as well!

EIN: How many photographs did you take at each concert and do you have any idea how many photographs you took overall?

Keith A: If I had a good seat for photos ..... I would take 2-3 rolls of film (70-100 shots)! If my seat location wasn't very close or if Elvis wore the same outfit many times and I already had plenty of photos of that suit, I would only take 30-40 maybe. There will be almost 1500 photos included in this book and maybe a little less in Vol #2 ... that's a total of probably 2,800 photographs!

EIN: In this age of high-quality digital cameras it is hard to imagine you shooting off so much film not knowing whether the images were blurred or underexposed. What camera did you use and what did you do to try and ensure you got such good images?

Keith A: Certainly the digital age now would have changed my way of taking the photos ... I would have taken a lot more and erased the bad ones after viewing them. With the price of the film and then the developing cost of printing the photos, I had to pick my moments with the lighting and movement of the subjects on stage. And without the option of erasing the bad shots with the today digital cameras, it made for a more planning on each exposure for sure! I used Kodak daytime film and shot at a low 1/60 or 1/125 of a second aperture! You had to have a steady hand to shoot as low as 1/60 of a second, if not you would expect a blurred image with any movement at all from the subject! I used two cameras when I was on tour shooting the Elvis shows. They both were Minolta single reflex cameras... (Minolta 101 and a Minolta XE-7).
EIN says, please note that the book's example pages have to presented here fairly low-res due to issues with other Elvis websites and indiscriminate un-credited re-posting on other Elvis social media. As you can see above the true quality of some photographs - with the new digital re-scanning of the Keith's original negatives - is unbelievably sharp.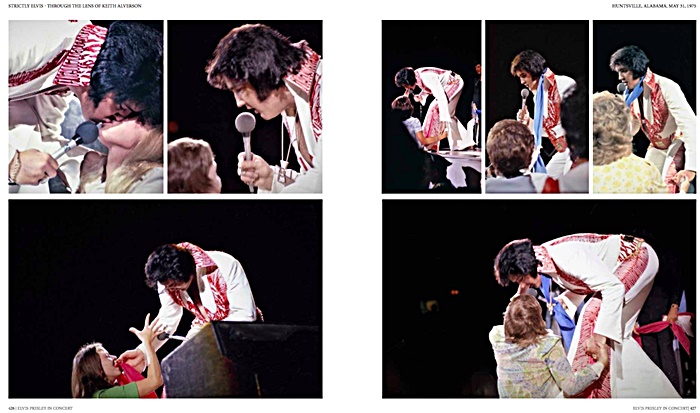 EIN: Did you photograph any other stars in concert, or was your interest really "Strictly Elvis"?!

Keith A: Oh no ... I took photos of many other entertainers, mostly back in the 70's and 80's, such as Neil Diamond, Bruce Springsteen, Waylon Jennings, Ronnie Milsap, Elton John, Olivia Newton-John, Ricky Nelson, Stevie Nicks, Tom Jones, Marty Stuart, Johnny Rivers,and many other country artists.


EIN: That's a large number of entertainers from the time - How often did you have problems with security getting your camera into the shows?

Keith A: I never had any problems getting my camera in the arenas... just the super 8 video camera and audio recorders were tough to get away with. I was never told to stop taking still photography of ELvis on tour... only Las Vegas! I only went to Vegas once in 1974... I had my film ripped out and was told to stop taking photos there in the showroom. There is only a handful of photos from the Vegas shows presented in the book. I was at the summer engagement that year, and was at the infamous "Desert Storm" shows when Elvis was totally bent out of shape regarding the hotel gossip of his drug abuse!

EIN: Did you often get your equipment confiscated or film taken from you?

Keith A: Just that time in Las Vegas when my film was removed from my camera at the one show.

EIN: Your early photos are from Elvis tours, so at what point did you decide to see Elvis in Las Vegas?

Keith A: Some fan club members and I decided to travel to Las Vegas for his summer engagement August 30 - September 2. I saw seven shows out of 8 while I was there. The shows in Vegas were longer and more intimate I thought. The show room there seated only 2,000 opposed to 7-20 thousand on tour!

EIN: Some of your images would have made great album covers. Did you meet Col Parker and did ever try to become an official photographer?

Keith A: I met Parker on a couple of occasions on tour. We never got along at all, and Ed Bonja was already established as his own photographer. I was never given any privileges or special treatment during the concerts. I never really got out of my seat except when my location was far from the stage, then I would move down on the floor and take a few shots before I was escorted back to my seat!

EIN: Did any of Elvis' team become friends with you?

Keith A: I got to know a few of the group while on tour and met some at the hotels where we both would stay. James Burton and I got to be good friends, John Wilkinson, Ed Hill of the Stamps Quartet, and security guards Dick Grob and Sam Thompson.

EIN: Did you become friends with Ed Bonja at the time? Did you feel that any other photographers were in competition with you or were you all friends?

Keith A: I never actually met Ed Bonja until 1997 in Memphis at a convention. I never really felt any competition from any of the other photographers ..... I knew Shaver and George Hill, Ron Wolfe, Bob Heis, and Len Leech. We didn't really hang out together or anything. It seemed we all got to be good friends after the death of Elvis!

EIN: Did you try to get to the hotels Elvis was staying in, or get other candid photos when Elvis was not on stage performing?

Keith A: I took a few candid shots of Elvis at the hotels and some arriving or leaving the arenas. I was more into the shows I guess. Now after the fact, I wish I had taken more off stage photos!

EIN: Did you realise that you were getting better and better quality photographs at the same rate as Elvis' performances declined?

Keith A: Exactly, I was really getting to obtain better tickets and was getting to know the band members and security guys when ELvis died it seemed.

EIN: At which point did you realise that Elvis' health was beginning to decline? Did you realise it might be a drugs issue (due to the slurring) or did you think it was the toll of his lifestyle and continuous touring?

Keith A: It was in March of 1976 that I could really see a difference in his speaking and slower movements. I feel Elvis' decline was due to all of the reasons you just mentioned.

EIN: Were there any visual tell-tale signs that you would notice at each performance? Could you tell if it was going to be a poor show as soon as Elvis walked out on stage?

Keith A: Most of the matinee shows would seem to demonstrate a notable, sometimes worrying, difference I thought. In that you felt that ELvis had just awoke from his sleep ... sometimes he would appear droggy more so in the afternoon compared to the evening shows!
At the shows where I had a very good visual look from my seat and with my telephoto lens I could pick up physical things - such as his hands when he would grab the microphone at the beginning of the show. If his knuckles would appear normal I could always expect an energetic and alert performance compared to when his hands would be puffy or swollen and his knuckles were not visible in their natural state.
Later in 1976 and 1977 I could tell by the end of the first song if the show was going to be great or bad. I could pick up on certain mannerisms after so long in studying his movements and listening to his speech deliveries.

EIN: Did Elvis notice you were there at his concerts? Did he ever pose for you or deliberately throw you a look?

Keith A: After or maybe during 1975 I could notice he would give me a look or a wink when I was sitting up close within a few rows from the stage. I always kept the camera on him at all times.

EIN: Your book, Keith Alverson's 'Elvis on Stage' came out almost 20 years ago. Did Erik Lorentzen suggest this new book for you or did you approach him?
Keith A: I approached Erik about doing the book. I had worked with him on many previous books and I liked his format of displaying the photos. My only stipulation was that I wanted every single photo I had taken of ELvis to be included in these two books, good and bad for historical purposes! As soon as this was promised, everything else fell into place for us! We had a blast working together for sure!

EIN: How many photographs are featured in this new book? Are any of them previously unpublished?
Keith A: As advertised... there will be about 1500 photos included in the first volume, all digitally scanned from my original negatives. To my knowledge this has never be done before especially with this amount of photos. I would say only about 25 per cent of my photos have been seen or published at this time.
After these two books have been released, 100 per cent of my photos will be out there for all the fans to see at their best possible state.
EIN: Of all the concerts you saw which one was your favourite and why did it stand out in an extra special way?

Keith A: My favorite two shows were the Huntsville - May 31, 1975 matinee and evening shows. ELvis wore two new jumpsuits that he had never worn on tour before, the stage was very low, I was sitting on the first row center, and I shook hands with my all time hero at both of these shows!
What more could I have asked for ..right? Plus I took the best photographs at these two shows that I had ever taken of ELvis I my opinion!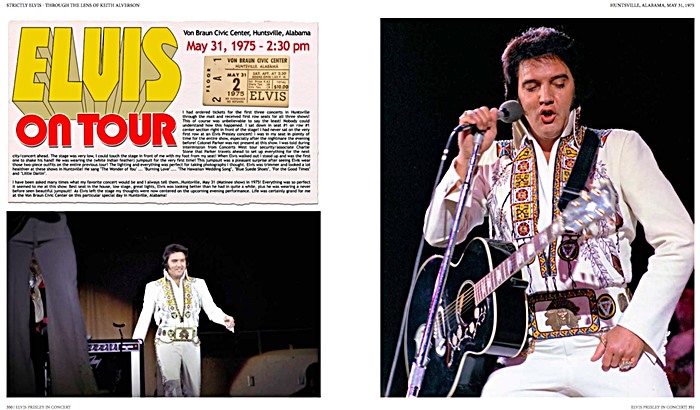 EIN: I believe you also photographed the last concert Elvis performed using one of his capes - is that right?

Keith A: Well... for years I and many other fans believed that Atlanta - July 3, 1973 was the last time he wore the cape, but after many years now, it was found that Elvis did wear the cape again in the first couple of shows on the March tour in 1974! I was told by Charlie Hodge that the main reason ELvis stopped using the cape was due to some fans had pulled on it and almost pulled him off the stage at one point. I really looked forward to that point of the show. I always felt ELvis was the only performer that could get away with such a super hero appearance that it presented!

EIN: I personally love your 1975 "Phoenix" jumpsuit images, they seem to capture Elvis in a great mood and looking so stunning between the emotional year of 1974 and the low sadness of 1976. Which jumpsuits impressed you most in your photographs?

Keith A: I always liked the less flamboyant outfits, but I did love the "Chinese Dragon" and the "Peacock" jumpsuits, along with the "Indian Feather" and "Red Eagle" outfits! I like the "Mad Tiger" jumpsuit as well.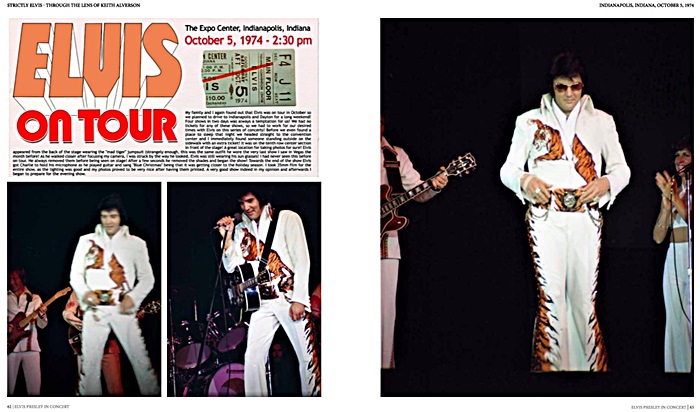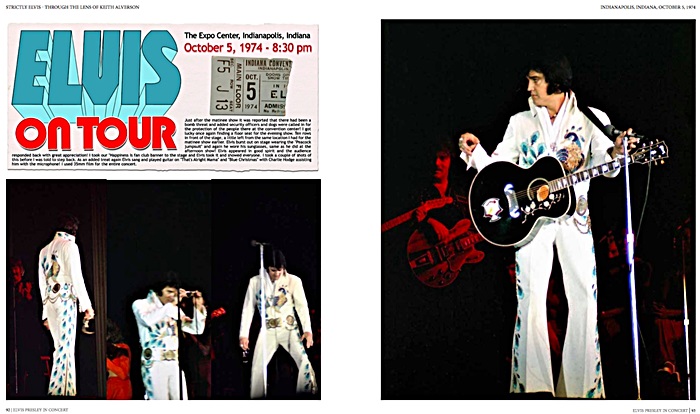 EIN: Those later "Gypsy" and 'Bi-Centennial" jumpsuits did Elvis no favours? Do you think Elvis should have gone back to the earlier less over-the-top suits?

Keith A: Yes ... the "Gypsy jumpsuit" was from what I have heard over the years not one of the favorites .... but I thought it was better than some of the others! I would have preferred the lesser colorful ones he wore back in the early 70's.

EIN: I notice that this book is sub-titled 'Volume 1', is there are 'Volume 2 1976-1977' being planned? Any idea when that might come out?

Keith A: Yes.. there will be a Vol #2 - 1976-1977... it will be released next year around this same time.

EIN: Elvis' later concerts became very similar with basically the same set-list. Did you feel that Elvis was just cruising at times, did you feel disappointed with the later concerts?

Keith A: Yes .. I always thought he should have restructured his shows in the later years. Plus, I never agreed or cared for all of the cover songs he would sing when he had so many songs of his own that the fans would have preferred to have heard. But like most entertainers, they seem to grow bored with singing their own songs all the time!

EIN: By now we have the vast majority of Elvis shows released on soundboard or audience recordings. Did you ever record the concerts on cassette or even try and film some performances? Do you still have unpublished material?

Keith A: Yes ... I taped a lot of the shows I attended and all of them have been bootlegged or used on different projects now. I and my brother filmed some of the shows and some of that footage has been put on you tube as well. I sold all of the original footage I had to a collector about twenty years ago!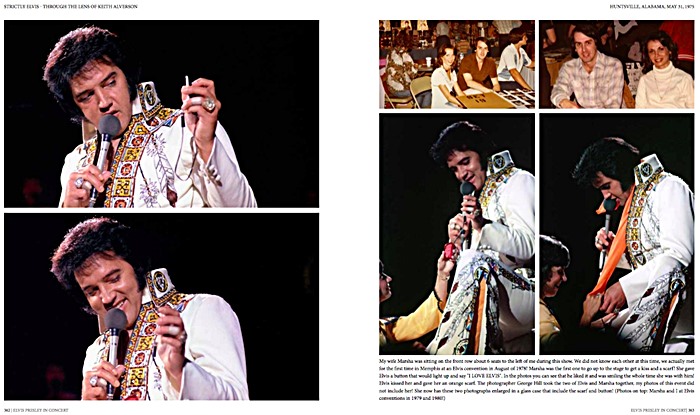 EIN: How many of the December 1976 concerts did you attend, were you at the sensational New Year's Eve concert?

Keith A: I did not attend the Pittsburgh show New Years Eve show. I went to the Birmingham and Atlanta shows on that short 5 concert tour. All of those shows were exceptional and I thought maybe Elvis was headed in the right direction for the upcoming year that eventually turned out to be his last.

EIN: That December set of concerts showed that Elvis really could still rock-out like the old times if he tried, what did you think when you next saw him in 1977?

Keith A: I saw him in Montgomery, AL and Charlotte, NC in February on that next tour and Elvis seemed to be back in the same mode again, except he was still playing the piano which I thought was a plus at this point!

EIN: Of the later 1976 / 77 concerts was one particularly memorable in either a good or bad way?

Keith A: Of course like I just said about the December shows in 1976 being exceptional, I thought the last two shows in Cincinnati and Indianapolis were very good.. a lot better than the shows recorded earlier on that tour for the CBS Special!

EIN: So you did see his last ever performance, did you consider that it could all end so soon?

Keith A: Yes, I went to the very last show in Indianapolis, the last show I saw Elvis perform and the LAST concert he would perform as well. Of course I never thought that it would be the last show for Elvis! We all at that time just assumed he would carry on despite all the problems that were becoming apparent ... he was just 42 years old!

EIN: How did you hear that Elvis died?

Keith A: I was preparing to gather my photography equipment that afternoon for the concert tour slated for the middle of August when my aunt called and told me it was all over the tv stations that Elvis had died! I just naturally assumed it was his father Vernon, but soon it was verified it was ELvis!

EIN: You must have been really shocked as a new tour was about to start? How did you react?

Keith A: I was saddened that Elvis was gone, but not surprised because of what I had witnessed at the shows. He was not a healthy specimen in my opinion in the last couple of years. He was a human being just like all the rest of us. It was difficult to believe Elvis was mortal until he was gone and it was very hard to comprehend that we would never see him again on stage or anywhere for that matter!
I was glad that he died at home and not on tour. I think he would have wanted it that way.. at Graceland!

EIN: When did you realise that there could be such fan interest in your photographs?

Keith A: At the time I was in a local fan club in Atlanta and after I would have my photos printed and take them to the fan club meetings, everyone wanted copies for their own collections! I knew at that time I needed to continue taking photos of Elvis, not only for myself but for others that was a fan of ELvis Presley!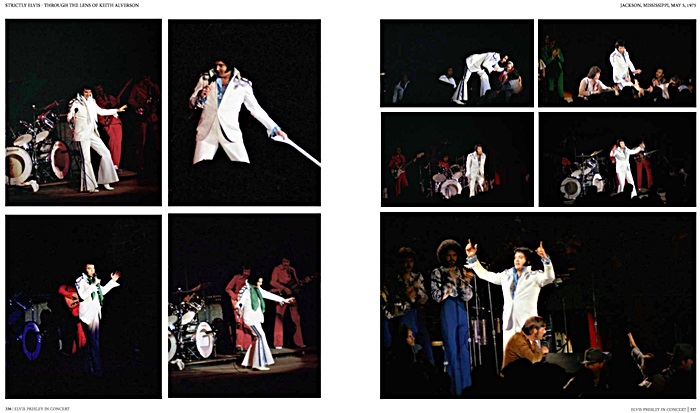 EIN: Do you have a lot to do with FTD and Roger Semon and Ernst Jorgensen?

Keith A: I work with Ernst and Roger on various projects when they need photos to relate to the subject matter. I have always complied with their wished the best that I could. I hope to maintain our relationship for many years to come!

EIN: Have you ever made any money from other books or bootleggers using your photos?

Keith A: I usually allow legitimate ventures to use my photos in return for compact discs or books that I can then sell at conventions or give to friends! I have not been so lucky with the European bootleggers that steal my photos without compensation or permission. They seem to forget what sells their products, without the photos I doubt their sells would be worth the effort. I have told them years ago ... just contact me and we will work something out ... and I would in turn send them the best quality scans for their use. A little late at this point I am afraid.

EIN: Will your new book 'Strictly Elvis' feature any text or stories of your times seeing Elvis in concert?

Keith A: I will write some brief text for each concert featured in my new photo book. It is a photo book as we have advertised, the fans tell me they are tired of reading the same old stories, they want more quality styled photos that have never been published and that is exactly what Erik Lorentzen and I have produced for them with this book!
Fans might also be interested to know that all the ticket stubs that appear at the start page of each concert, as you can see on the example pages, were my own personal stubs that I saved from each of the shows I attended!
EIN: I see that the book is already at the printers. Have you seen a final printed copy? What do you think of how it came out?

Keith A: I have just yesterday received my own personal copy of the book. I am truly impressed at the results, I really think the fans will enjoy it and then next year they can look forward to VOL # 2 !

EIN: Finally, do you know when it will be at fan's local Elvis dealers, will we really get it before August?

Keith A: Of course it will be ready to send out this week! All the fans should be able to order the book as we speak. I have already taken many pre- orders and I will be in Memphis next month for ELvis Week signing the books!

EIN: Fans are concerned that Erik (The Elvis Files) is not selling the book to the USA as he usually does. Am I right in believing that US fans can buy it direct from you?

Keith A: That was our initial agreement that Erik would be the distributor in Europe and I would take care of the United States. And this was totally because of the enormous shipping costs for the fans, nothing else!
(EIN note - US fans see ordering details below)

EIN: That's also a great idea for fans at Elvis Week to be able to get the book direct from you. It's got to be better than seeing any Elvis impersonator, so where will they be able to find you?

Keith A: You are right Piers... no better place to have your ELvis photo book available than in Memphis during ELvis Week for the 40th anniversary of his passing!
I will be at the Magnuson Grand Hotel on Brooks Road (about a mile from Graceland). I will be there from August 11-16 ( 11am-6pm) .
I will glad to sign the books for the fans and have a photo made with any that requests one! You can find more information on my book and availability in Memphis during Elvis Week on my face book page as well.

EIN: Keith, thanks for the great stories and I can't wait to check out all your great photos - the quality of the few pages you have shared with me here is stunning. Thanks again.

Keith A: Thank you Piers for this opportunity to share this Q&A session with all the ELvis fans all over the world!



*** US FANS - Order the book directly from KEITH ALVERSON for only US$113.95 includes postage - CLICK HERE to Keith Alverson's FACEBOOK PAGE and CLICK ON PAYPAL LINK or fans can also order via email contact EPONSTAGE@CHARTER.NET ***
EIN's Piers Beagley interviewed Keith Alverson this week, July 23, 2017
Interview by Piers Beagley.
-Copyright EIN July 2017
EIN Website content © Copyright the Elvis Information Network.
Click to comment on this Interview -
---
---
You can buy STRICTLY ELVIS direct from the Elvis Files - send €125 By Paypal To: Sales @Elvisfiles.No .- this includes Shipping All Over The World (excludes USA). - Or CLICK HERE to www.Elvisfiles.No
(PLEASE Note- Your local Elvis dealer MAY have it even cheaper - so do ask around. EIN cannot know exactly what all international dealers are charging.)
---
---
'The World of FTD' In-Depth Review: The new deluxe book 'The World Of FTD' has been received by some lucky fans and Elvis collector Mike Lodge has provided EIN with a very detailed review - of well over 3 thousand words!

The book was authored and designed by Keith Flynn with input from a large number of other Elvis specialists including EIN's Piers Beagley, EM&HM's Trevor Cajiao, Geoffrey McDonnell, Gordon Minto and many others.
It is 1,200 pages, hardbound three book set, chronicling every release by FTD.The book also features 100s of high-quality photos from the collection Erik Lorentzen
KJ Consulting are proud to publish this Box Set which weighs 8 kilos.

Unfortunately the book has not arrived in Australia yet so I have not seen the final product!
Go here to see his very detailed review - plus more new preview pages - EIN thanks Mike Lodge for the review
(News, Source;ElvisInfoNet)

---
- 'Ultimate Elvis' Book Review: 'Ultimate Elvis – The Complete And Definitive Recording Sessions' is a this three-volume, deluxe set that not only comprises all the session information available to date, based on Keith Flynn's incomparable website and includes comprehensive notes on each session, discographies, letters, original sheet music covers plus huge index all included in its 1,800 pages.
The book includes around 3,000 stunning high-quality photographs many of them previously unseen, relating to the time period in question.
The promotional publicity for this three-volume set was very impressive with the original publishing date of August 2014 missed as more photographs were discovered and the content expanded. Finally published in December 2014, Elvis enthusiast Brian Quinn checks out this astounding deluxe package to discover if it is as good as promised.
Go HERE to check out Brian Quinn's review - Now updated with some detailed comments from

author Shane Brown

and

Elvis expert Jordan Ritchie

- -
(Book Reviews, Source;BrianQuinn/ElvisInfoNet)