'The King Revealed' is EPE's new crammed 122 page "Elvis Official Collectors Edition" glossy magazine released in time for Elvis Week 2013.
The cover promises an exciting 'All New Photos, Interviews and Insights' with "OVER 350 RARE ARCHIVE PHOTOS".
For keen Elvis collectors the bad news has to be that the statement promising "All New Archive Photos" is - as expected - total bullshit.
EIN was really hoping that this time EPE would be truly opening up their archives so that fans could see some marvellous new Elvis photos but once again they let us down. It seems that it has to be the high-end quality books such as Erik Lorentzen's Elvis Files that deliver these kind of treats to Elvis fans.
In the whole magazine I noted perhaps three or four photos that I was not familiar with. (see below)
However having got over the initial disappointment I in fact found the magazine most enjoyable and far better than the usual run-of-the-mill Elvis magazines that we have had in the past. And this time it is up to date mentioning comparisons with new stars such as Bruno Mars, Jay-Z, Beyonce and Justin Timberlake and even features the recent Paul McCartney's visit to Graceland.
When you open the cover there are two fabulous pages of newspaper cuttings nicely reflecting all the media love (and hate!) that surrounded Elvis wherever he went.
The magazine index notes the following articles...
- From Memphis To Vegas - The compelling full story of how Elvis, an unknown boy from Memphis, became the King of Rock'n'Roll.
- The Archives - An upclose look at some of the King's most valued treasures.
- Elvis On Elvis - It's the story of Elvis' life ... in his own words!
- Inventing the Rock Star - Elvis combined his sound, style, image and moves to create an original template that rock stars still follow today.
- Music Man - What Elvis should be remembered for most, his music.
- The Leading Man - Elvis and his 31 feature films.
- At Home With Elvis - A room-by-room tour of Graceland.
- All The King's Women - A roundup of some of Elvis' key ladies.
- The Untold Story - We've debunked all the Elvis myths with 10 facts that will surprise even die-hard Elvis fans.
- Long Live The King - Elvis lives on - through his music, movies and fans - well beyond his time.

The first 20 pages are dedicated to a short overview of Elvis' life and career and for me it is a real positive is that the magazine in general steers clear of the usual 1970s jumpsuit era photos focusing instead on the creative 50s and 60s.
The quality of the photos are very good indeed, even if well known, as well as being nicely presented (see index page image above).
An interesting eleven-page article looks at the sort of artefacts that are stored within the Graceland's archives. Close to 1 million documents, 60,000 photos and 3,000 pieces of clothing - can you imagine being let loose in that!
I particularly liked Elvis' army cap found in the Graceland attic that had been packed away with his mother's possessions.
Plus items such as Elvis' Ruby Diamond gold ring as worn in the movie 'Elvis On Tour' are cool to see.
A six page feature combines various quotes from Elvis' interviews to create one long and interesting overview of "Elvis on Elvis" including him mentioning…
What about parenthood?
Becoming a father made me realize a great deal more about life. My favorite memory is when Lisa was born and I first held her, you know? She was so tiny and precious. I know all babies are beautiful to their parents, but she was special, I guess because I realized she was mine to care for. It wasn't just me or Cilla anymore. It was us. They depended on me. I liked it.

Didn't you have to charter a plane from Las Vegas just to fly Lisa Marie's presents back?
That's the damn truth, man.

Did you enjoy your residency at the International Hotel?
During the earthquake, the hotel almost fell. That son of a bitch was rockin' back and forth! I went to bed at six o'clock in the morning, and Priscilla was there. I laid in bed and thought, "God almighty, what's going on here?" The bed was moving, see. So I got up and walked out in that hallway .. had my flashlight and my gun in one hand. I looked at the big chandelier hanging over the dining room table ... that son of a bitch was shakin' back and forth. It was the weirdest feeling I ever had in my life.
And it's great to see 20 or so pages dedicated to Elvis and his music.

Good to see EPE giving Marty Lacker the credit he deserves while Col Parker rightly gets blamed for his bad management…

Since his death, Elvis Presley, musical giant, has too often been misunderstood, taken down by critics who say he didn't write his own songs, ripped off other musicians' sounds and styles and let others do the heavy lifting onstage and in the studio —that had followed him from the start. The stifling influence of his manager, Colonel Tom Parker, didn't help the perception that Elvis Presley, the music man, left this world as Elvis, one-name superstar showman.

Thirty-six years after his passing, the time has come to reconsider Elvis, the music man. Forget the misguided cartoon caricature Elvis of rhinestone excess and Vegas dazzle the media keeps feeding the general public. The musical Elvis is where it all started and the real reason he remains the superstar of superstars.
.. and talk of his final days recording...
1976 with his final studio album, Moody Blue. Even with his erratic behavior and schedule, Elvis was in charge. "Felton Jarvis was the producer and I think he had a part in coming up with material, and Charlie Hodge was influential," backing-vocalist Larry Strickland said. "But there was no coaching Elvis or suggesting an arrangement. He just sang the songs and some of the first takes of songs went on the record. He was amazing. The background vocals were collaborations between him and us Stamps and the Sweet Inspirations."

Jerry Schilling took Elvis' passing personally. "I feel strongly that I lost my friend because of creative disappointment. By the time Elvis came back from the Army and figured out how the business did, in fact, affect the creativity, it was too late."
There is a 15-page look through Elvis' movies with "Elvis as a Leading Man" including some interesting trivia, plus a 10 page "Complete room by room tour" through Graceland with some nice images. No bedroom shots or upstairs photos though, so hardly complete!

Seven pages are dedicated to Elvis' key women in his life and how refreshing to see some unusual choices such as Tura Santana, Cybill Shepherd and Peggy Lipton featured for a change.
Tura Santana - "In 1957, Elvis attended a burlesque show starring this near-six-foot part-Asian beauty, whom he had seen two years earlier at a Biloxi strip joint. Elvis asked Tura - who later became famous for her stunts in Russ Meyer's cult classic 'Faster, Pussycat! Kill! Kill!' - to teach him her dance moves; she showed him the bump'n'grind, taking his then tentative hip twitching to a whole new level. "He liked to do the bumps and grinds as I did them, and that was basically what he used in his routine from then on," Tura says. Eventually, "he proposed to me, but ... I told him if anyone knew about us ... it would cost him his career." (Her claim of a proposal remains in dispute.)

Peggy Lipton 1971 - "This actress and model had idolized Elvis growing up, calling him "the sacred monster of rock'n' roll." And Elvis was equally intrigued by her performance in The Mod Squad, so in 1971 he invited her to his show in Nevada. "He kissed like a god," Peggy recalls. He gave her a ring with jewels shaped in the letter P, and once "left me a poem scrawled on a torn-off scrap of paper on my pillow."
It is notable that Dottie Harmony (who Elvis spent Christmas with in 1956) is not featured nor Tempest Storm but then neither are Joyce Bova or even Sheila Ryan.

The Untold Story supposedly features 10 Elvis myths being debunked with "facts that will surprise even diehard Elvis fans".
"FACT #9" is that Elvis was Human!
Elvis wrote candidly.. "Course I am half crazy sometimes. You get in moods sometime where you're very happy, you get in moods when you're very sad, where everything looks dark and gloomy and it looks like there's nothing for ya in life. I guess everybody feels that way. It's human nature."
Of course none of these FACTS would possibly surprise true diehard Elvis fans but a few may be of interest to the general public.
Of course it is not easy to produce an Elvis magazine that can sit at newsstands and satisfy the General Public as well as the true hard-core Elvis fans. However with its focus on music and less on jumpsuits I found the magazine enjoyable and a satisfying read and if your expectations are relatively low the photographs are nicely presented.
It IS however a real shame that EPE did not dig out a pile of rare photographs to feature from their supposed collection of over 60,000 in their archive. Surely they can manage 10 or 20 photos I haven't yet seen?
Below are three photos that seem new to my collection...
But why in general did they choose the famous "portrait shots" over the possible alternate images that must in their EPE store of goodies. In the magazine a contact sheet of thirty Madison Square Garden negatives is shown (mostly familiar of course) but none is actually featured as a full-size photo! This is the kind of missed opportunity that any true Elvis fan would have got right.
In the end I guess that choosing truly rare Elvis photos has to be left to people such as Joe Pirzada and Erik Lorentzen who are real Elvis fans and understand the market. As I'm sure most fans are aware it is always a surprise how little the staff at Graceland really know about our hero!
One hilarious mistake in the magazine is in the Archive photograph of Elvis' own "Personal Record Collection" where the one LP they pull out as an example of an album that Elvis supposedly collected is "A Legendary Performer Vol.3" that was released after his death - how stupid is that!
However the minor mistakes don't actually make this 122-page magazine an overall disappointment as there is plenty to read, plenty to look at - and since when have we had a new magazine about Elvis at the newsstands?
I reckon it is well worth $10 of your money, track it down now at your US newstands before it disappears.
OR Go HERE to purchase from the EPE shop - $9.99 plus postage
Review by Piers Beagley.
-Copyright EIN August 2013
EIN Website content © Copyright the Elvis Information Network.
---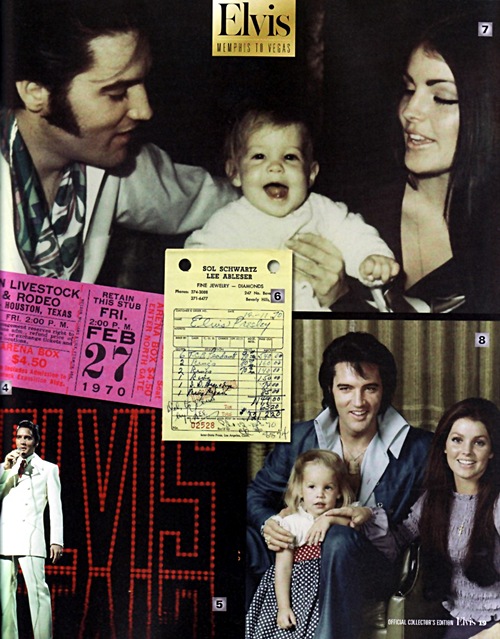 ---
'Elvis On Tour' E-book Review: 'Elvis On Tour' is EPE's first official E-book subtitled 'An exploration of Elvis' 1972 Spring Tour'. You can download the Kindle App to your home p/c and while there are plenty of other E-books out there about Elvis, this is the first "official one" and so is probably an indication of future releases.
Released in August last year EIN thought it worth waiting to review it in comparison to the other fabulous SONY/EPE release of 2012 'Prince From Another Planet'.

Utilising the resources of the Graceland Archives, EPE promised readers would get backstage access to the 15-city, 15-day tour with rare photos of Elvis on stage, press clippings and reviews of the concert tour, and an up-close look at artefacts from both the actual tour and the awarding winning "Elvis on Tour" documentary film.

Also an in-depth look at the tour schedule, song lists from each concert and the jumpsuits Elvis wore on stage.

(Book Reviews, Source;ElvisInfoNetwork)
---
.
.
.
.
.
.
.
.
.
.
.
.
.
.