Paul Sweeney is a name that you often see in the credits of quality Elvis photo-books and is the main author behind the new book 'Elvis Presley In Person 'One Night In Toronto' April 2 - 1957' soon to be published by Erik Lorentzen.

Elvis collectors have contacted EIN recently wanting to know more about the up-coming book (especially as there has been some odd negative publicity aimed at potential purchasers from JAT publishers) and Paul Sweeney kindly agreed to answers some questions and to clarify a few issues.
EIN: Hi Paul, thanks for taking time out to tell us about your new book. Fans are getting pretty excited about 'In Person - One Night in Toronto April 2, 1957' which should be out in the next few weeks, how long have you been working on this project?

Paul Sweeney: The idea for the book started in April 2016 when Jean-Marc and I met up at Library and Archives Canada to look at the photos of John Sebert that they had held in their archives since 1998 when John donated them upon his retirement.

Jean-Marc and I met 25 years ago when he was the official photographer of the Liberal Party of Canada and the Prime Minister's Office and while I was the steward at the Prime Ministers guest house. Jean-Marc loves Elvis from the 50's and so we've remained friends since our days working for the Prime Minister.
EIN: I know that you live in Ottawa, Canada, but have you always lived there and when did you first become an Elvis fan?

Paul.S: I moved to Ottawa in 1981 when I was 19. My father was in the Canadian Armed Forces and we had lived in various locations in Canada, the United States and Germany. I was first exposed to Elvis in 1969 at the age of 7 when my dad brought home the album, "From Elvis In Memphis". I truly became a fan in 1975 when I was 13 and "That's The Way It Is" aired on TV that year.

EIN: Did you ever get to see Elvis in concert?

Paul.S: No, I never did. I was 15 when Elvis died and we were living in Germany at the time. I woke up in the morning and found a note on the kitchen table that my dad had written. "Elvis died today, he was only 42."


EIN: I have often seen you thanked in the credits for various Elvis books, is this the first book that you have published?

Paul.S: I've worked with various Elvis fans over the years, helping with dates of photos, or providing photos for various books. Bud Glass was the first person I worked with. I mostly helped Erik out over the years since then. This is the first book I've been actively involved in from day one. When Jean-Marc and I "discovered" these 345 photos from April 2, 1957, I contacted Erik with the idea of getting them to publish a book.

EIN: What led you to write and research this particular book?

Paul.S: The main reason was that there were 345 photos and approximately 300 had never seen the light of day. When I first saw them, I thought that these needed to be published so that as many fans as possible could see them. Also, the timing worked out as the 60th anniversary of Elvis' Toronto show was coming up this year.

EIN: What was it like seeing Sebert's original photos for the first time? It is hard to believe there are hundreds of photos of Elvis in 1957 that remain unpublished!

Paul.S: I was blown away when I saw them a year ago. 345 photos...we spent hours looking over them. I just could not believe that almost 60 years had passed and that there were 300 photos people had never seen.
EIN: Some of the photo previews look spectacular, for instance the quality of the cover photo, and Elvis looked so damn good that night. Were there any particular photos that totally blew you away?

Paul.S: My favourite of the entire set is a group of 16 photos of Elvis not on stage and not talking to the press. He is just relaxing and goofing around with the band and the Jordanaires. My jaw literally dropped when I saw them, and to me they are a highlight of the book.
Apologies - the image quality in the book is fabulous but due to obvious on-going piracy issues, this is deliberately very low-resolution and has to be watermarked
.

EIN: Both you and Jean-Marc Carisse are credited as authors, who contributed what?

Paul.S: We both wrote portions of the book, but much of it comes from newspaper and magazine articles from April 1957. My main job was as editor of the book and Jean-Marc was our eagle eye on the finished photos that Erik worked tirelessly to restore from the prints we had from the original negatives. There is a great story from one of Jean-Marc's cousins that you'll really enjoy in relation to the following days shows in Ottawa.

EIN: It's now 60 years ago, but did you track down anybody who was actually there to interview about the night?

Paul.S: Yes, there is a story from the Toronto show from someone who was there, and as I mentioned earlier, a great story from Jean-Marc's cousins about Ottawa. There is also an interview I managed to secure with Gord Atkinson, one of the Ottawa DJ's who interviewed Elvis in Ottawa on April 3, 1957. He will be 90 this year and my full interview with him is in the book.

EIN: Is there a lot of new information and stories in the book that fans won't have seen before?

Paul.S: There are a ton of photos that they won't have seen before! I wouldn't say there is a lot of new information, but the interview with Ottawa DJ Gord Atkinson is new, and the interview he did with Elvis has been newly transcribed and is in it's entirety for the first time in 60 years. By the way, the story about this interview and the involvement of comedian Rich Little is in the book. Interesting reading!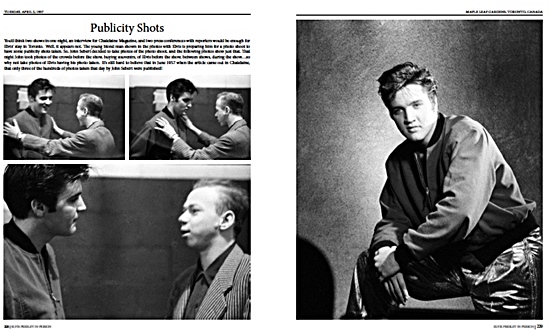 EIN: Red Robinson was a major Canadian contributor to the Elvis story. Did you talk with him?

Paul.S: Red was involved with Elvis' August 31, 1957 Vancouver shows and I did not talk to him. When I spoke to Gord, we did talk about Red and the fact that Red and Gord keep in touch, 60 years after they both interviewed Elvis.

EIN: While I know that Robinson only recorded snippets of Elvis' concerts, why do you think he didn't record more? Why on earth didn't a Canadian radio station record Elvis' concert, after all this was the first time he had toured out of the US?

Paul.S: This was something that I always wanted to know, and when I interviewed Gord Atkinson, he explained why only snippets of songs were recorded and not the entire show. You'll have to get the book to see what he says!

EIN: Erik Lorentzen (Elvis Files) is the publisher. He also put out the truly wonderful 'A Touch Of Gold Lame' back in 2015. Did you contribute to that book and what extra does 'In Person - One Night in Toronto April 2, 1957' offer to collectors?

Paul.S: I provided some photos from the April 3, 1957 Ottawa shows to Erik for the 'A Touch Of Gold Lame' book. 'In Person - One Night In Toronto April 2, 1957" offers 300 photos that were not in the 2015 book. That to me is worth it's weight in gold. Pun intended!

EIN: Did you suggest this new book to Erik Lorentzen or did he come to you?

Paul.S: After Jean-Marc contacted me, I contacted Erik, who readily agreed that we should get the rights to publish the photos and do an entire book on the April 2, 1957 Toronto photos. There were after all 345 of them, and I'm glad Erik agreed to work with Jean-Marc and I on the book.

EIN: 'A Touch Of Gold Lame' featured around twenty pages on Elvis in Toronto, what's the final page count in "One Night in Toronto"? How many photos and how many unpublished?

Paul.S: The final page count is 352 pages, with 387 photos, of which approximately 300 will be new to everyone's eyes.

EIN: While on the topic I have to ask you about that Tunzi publicity swipe where he tried to pretend he had the original negatives and you didn't. What was that all about, do you know Tunzi?

Paul.S: When the Joe Tunzi promo came out, I was shocked and surprised by the comments in it. We sought and received clarification from Library and Archives Canada that everything we had was from the original negatives that John Sebert donated to LAC when he retired in 1998. I've never met Joe, but we have communicated by email over the years, and after his ad came out we spoke on the phone to clear the air, to no avail. In fact Tunzi still has those false statements on his website!

However to be clear, the original negatives remain at Library and Archives Canada, no one has acquired them. Here is a direct quote from John Sebert from an article published in Vintage Rock Magazine, shortly before he passed away on November 9, 2015:
"When I retired I donated all my negatives to the Archives in Ottawa, which turned out to be a not too good decision. I had an arrangement that I would have access to them, but it has proved difficult over the years."

I'll also like to refer everyone back to the letter of confirmation that the Library and Archives Canada sent us:
"Please be assured that the John Sebert images you obtained from Library and Archives Canada are from the original negatives held here in the John Sebert fonds. Mr. Sebert assigned all copyright in the images to Library and Archives Canada at the time of his deposit, therefore Library and Archives Canada owns the copyright in the images and may licence them at our discretion. Your licence to use the images remains totally valid.
We have since spoken with Mr. Tunzi of JAT publishing. He did not have copies from the original negatives. He had only prints of contact sheets.
Mr. Tunzi is now well aware that the copyright on all of the images in the John Sebert fonds belongs to Library and Archives Canada.
I hope this will alleviate your concerns,
Best regards, - Nancy Fay - Manager, Copyright Services, Public Services Branch, Library and Archives Canada / Government of Canada


EIN: Having caught him out I cannot believe that Tunzi still has that on his website even after you phoned him! And on the same topic, I am sure I can guess the answer but did you find any new colour photos?
It is always a little surprising that Parker didn't organise more colour images of his boy in the Gold Lame suit...

Paul.S: No, we did not uncover any unpublished colour photos. Unfortunately.
EIN: That's a true shame and we always have hope.. but the quality of some of the other photos (such as the one of Elvis coming twards the camera all dressed in gold-lame, as above ) perhaps make up for it. Talking of great images ! ... there's a great photo of you together with Ernst Jorgensen and Roger Semon, have you ever contributed to any of their FTD projects?
Paul.S: That photo was taken on August 16, 2012 in Memphis. We all had on white dress shirts, which was not planned, but makes for a great photo.

We had a nice conversation about various FTD projects like the 'A Boy From Tupelo' release, which was one of the newest FTD's at the time. However, I've not had the honour of working on any of their FTD projects. Maybe one day.
EIN: How much did you enjoy doing this book and can we expect another Paul Sweeney Elvis project in the future?

Paul.S: Though I've had my website for over 20 years, I never thought I'd put out an Elvis book. It was a joy to work on, and each day I looked forward to what we were going to do next as the book progressed. Working with Jean-Marc and Erik was an incredible experience.

As far as projects in the future are concerned, we'll have to see. Erik has asked me if I'd like to be the editor of The Elvis Files Magazine, and I have accepted his offer. I have just completed the editing of issue # 19.

EIN: I know that the book is at the printers already, do you know when it will get to dealers?

Paul.S: The plan is to get it to dealers by the end of March or early April, say April 2, 2017, 60 years to the day after Elvis spent One Night in Toronto. I believe the book should be ready to be shipped on March 27th.

EIN: Thanks so much, it's been fun and I am really looking forward to the book.

Paul.S: Thank you Piers!
EIN's Piers Beagley interviewed Paul Sweeney this week, March 14, 2017
Interview by Piers Beagley.
-Copyright EIN March 2017
EIN Website content © Copyright the Elvis Information Network.