From Elvis in Memphis , Eric Wolfson, Bloomsbury Academic, USA, 2020, Softcover/Kindle, ISBN-13: 978-1501355387 – due out November 12, 2020
The Review
"In 1968, Elvis Presley was worse than dead – he was irrelevant. After helping to establish rock and roll as a cultural force and becoming its biggest star in the 1950s, he now found himself eclipsed by the music. New artists like the Beatles and Bob Dylan blew the mid-1960's rock landscape wide open, proving it could have both a musical sophistication and an articulated consciousness. Elvis, once the epitome of the young and exciting rock and roll star, had become old and stale.

From the moment that From Elvis in Memphis begins with a rock and roll Odysseus returning home after "a little while", the album refuses to settle. Over the course of the record, people drive eight-wheel locomotives, ride in long black limousines, and soar like beautiful birds."
Eric Wolfson's soon to be released, From Elvis in Memphis, fills a void in the Elvis story. While there have been essays about elements of his music canon, for instance, his seminal Sun Sessions, until now there has not been a serious analysis of any of his albums. With this book, we have the long overdue critical exploration of what many regard as his finest album.
The Context
Wolfson's narrative is part-music lesson, part psychological consideration, and part history lesson. And this is necessary, in order to properly understand the circumstances of From Elvis in Memphis.
As Wolfson notes, From Elvis in Memphis is very much a comeback album, looking to reposition its singer as once-again relevant.
He also effortlessly conjures the atmosphere that was present in Chip Moman's hip American Sound Studio during the first two months of 1969……warts and all:
The nearby restaurant's garbage cans attracted rats that squeaked and ran across the rafters. Some claim that just before Elvis first walked into the studio, a rat fell off the roof and landed in front of him.
His brief reflection on the relevance of the '68 Comeback Special includes this wonderfully expressive word picture:
Everything is backlit with cool red, as the floor becomes a watery mirror, dragging the background figures upside down into a fuzzy lake or fire. For a scene that implies so much movement, all is still…
Wolfson is a considered thinker and a strong writer. His prose is colourful, often arriving like a bull at a gate, while at other times rising and falling to create expectation, drama, and revelation around the "hot" music Elvis recorded inside American Sound, while outside Memphis was experiencing a bitterly cold winter. The contrast is stark.
In setting the context, the author reminds us of Elvis' walk on Sunset Boulevard with Steve Binder prior to his '68 Comeback Special, its outcome the motivation for what Elvis would achieve in the 1968-69 period. He also frames that incident in the psychology of Elvis' life:
For Elvis, poverty wasn't just a chapter in his past, but a condition that stayed with him, shaping his perspective for his entire life.

Elvis' humble beginnings haunted him, fearing it could all be taken away overnight. Instead of recognising his hard work and unique talent, Elvis grappled with what has become known as imposter syndrome, missing the obvious signifiers of his own success and feeling like he was just bluffing his way through.
At another point, Wolfson observes:
Elvis was able to succeed in part because he was a very charismatic singer and performer, which masked the battling inner-tensions and contradictions of both man and his music.
That the American Sound Studio was in Memphis is a key element to the narrative.
Memphis' position in music is explained well in this reflection by Reggie Young:
It's the dead center between Delta blues and Nashville country. Some of the things we cut could have been country. All of the club bands played that way. If you blindfolded me and took me into a club and I heard somebody play that way, I'd know I was in Memphis.
Wolfson builds on this reflection by noting:
Founded in 1819, Memphis was a unique city musically, reinforced by its location, forming a virtual straight shot with New Orleans and Jackson below it and St. Louis above it. This made it a popular route along the Great Migration as African Americans moved north in the early twentieth century, which in turn made it central in the geographical backbone of the blues.
Woven through the narrative are biographical elements of Elvis' story which help contextualise important events.
There is also an engrossing examination of the importance of the "train" to music:
If the train is not single-handedly responsible for rock and roll, then it was an essential enabler of the music from which rock grew.

Trains were a central motif in blues music. "Their engines, equipped with musical whistles, sang of escape routes to a wonderful free world somewhere else" ( wrote folklorist Alan Lomax in The Land Where the Blues Began)
The chapter titles are intriguing and symbolic. They range from The Confession, From Elvis in Paradise, and From Elvis in Purgatory, to The Beautiful Bird, The Cotton Dress, and The Vicious Circle.
The book also includes the author's research around Elvis' involvement with the Memphis Boys and among other things, reveals the Memphis Boy Elvis most connected with.
No book about Elvis can ignore the Colonel (or can it?). Wolfson ruminates that given 'Colonel Tom Parker's central role in Elvis' life and career, he is conspicuously absent from Elvis's sessions at American Sound Studio.' This is given greater gravitas and context when we learn Tom Diskin informed the Colonel that Elvis wanted to handle song selection and publishing without him. In response, the Colonel reportedly replied, "Let him do it and fall on his ass."
The theme is taken further with the author suggesting:
The fact that Elvis proved him wrong by getting some very real hits and arguably the finest and most productive studio sessions of his life was not lost on the Colonel. For him, it must have been even more daunting that the last time Elvis rejected his advice and took his own career by the reins – in making "The '68 Comeback Special" a rock and roll extravaganza instead of a tux-and-tails Christmas program – was just as spectacular of a success, and a defining moment in his career.
Other stimulating sub-themes dot the narrative. The thorny issue of songwriters (and singer-songwriters) is discussed, with Marty Lacker taking the risk of telling Elvis why his material wasn't good enough. Both Marty Lacker and George Klein were instrumental in convincing Elvis to record at American Sound Studio. Klein told Elvis:
It's a small funky studio with the kind of feeling I know you like. It's not fancy, it's not state-of-the-art, but they're cutting fantastic records there…
There is also the revealing account of the studio blow up involving Chips Moman, Freddie Bienstock and Tom Diskin, while readers will also be interested in the (initially) less than complimentary comments made by the leader of the Memphis Horns, Wayne Jackson. Other inclusions are an absorbing account of the connection between Elvis and little known American Delta blues artist, Charley Patton, and Wolfson's reflection on the tired, but still prevalent today, Elvis as "cultural thief" issue.
Wolfson's ability to separate the real from the fake is apparent in each chapter. For example:
Furthermore, Elvis wasn't a faker like Pat Boone, who sang a Little Richard song like "Tutti Frutti" with the same corny blandness that he applied to any other pop song. Elvis worked hard to learn the blues and rhythm and blues idioms, and brought together with country music in a new way through his music.
The story also has moments of poignancy. In relation to the death of one of Elvis' favorite singers, Roy Hamilton, the author notes that while in hospital:
'Hamilton all of a sudden raised up in his coma, and said "Angelica, Angelica, I'm coming." Angelica was the song Elvis gifted to Roy six months earlier, when they met at American Sound Studio. Strangely, the lyrics of Angelica imply a coma or vegetative state.'
Nothing is left out in the book. Even the album's front and back covers are subjected to the author's critical mind. In particular, the back cover attracts a rare instance of criticism (and it is justified).
The Music
Wolfson introduces the first American Sound session and the first song on the 1969 album, "Wearin' That Loved On Look", in style:
"I had to leave town for a little while –"

Reggie Young's slick guitar bubbles around, answering his words, drenched in reverb. Gene Chrisman's drums tumble in, setting the song's funky rhythm, met by Mike Leech's thumping bass. Only Bobby Wood's piano waits in the wings, pouncing on the song's breakdown in a gospel-style solo.
Wolfson's lateral interpretation of "Wearin' That Loved On Look" is quickly on display:
Ostensibly, it's about a lover being untrue, but the story takes on new meaning with Elvis's circumstances. Elvis sounds as though he is singing not to person, but to rock and roll music itself – and what a mess it's made since he's been away.
The author takes his discourse further:
For Elvis, the late 1960's America was a battleground with rock and roll caught in the crossfire. "Wearin' that Loved On Look" plays like a dispatch from the frontlines, simultaneously addressing two different layers of home
before going on to discuss the relevance of these layers of home and cleverly segueing into an enlightening consideration of the doo-wop word "shoop" in the song.
Wolfson's account of the story behind "Only the Strong Survive" is compulsive. We also learn that Moman pushed Elvis to do 30 takes before he was satisfied, and, not only that it is the song on the album where the band did not find its own groove, but also:
For "Only the Strong Survive", (Tommy) Cogbill spends much of the song playing a single note in sync with Gene Chrisman's bass drum. It amounts to little more than keeping time, sounding out like a steady heartbeat.
In further considering the song, Wolfson complex narrative conjures vivid pictures while also provoking thought on the part of the reader:
The singer finds filled ashtrays and dirty floors not to mention a man with long bushy hair – a leftover from a three-day party. He only has contempt for this man, which seemingly aligns with Elvis's own socio-political views.
From Elvis in Memphis always adds to our knowledge of the album and its recording. Regarding I'll Hold You In My Heart, a song of highs, lows and searing crescendo, we learn that it was the only song on the album 'not to be sweetened with any overdubs.'
Wolfson also observes that while Dean Martin's version of the song provides a map of where the song can go, Elvis' version charts the journey of where it actually takes you. And Wolfson records in detail how Elvis achieved this and reinvented the song.
Moreover, he skilfully dissects the song's evolutionary recording:
'As Elvis sings the word "heart", Bobby Emmons holds some wavering high notes on his organ, giving just the suggestion of church to the proceedings. By the time Elvis gets to the next line, Mike Leech's bass ascends to meet him there, and the band members are in place.'
Throughout From Elvis in Memphis, Wolfson twists, squeezes, and dissects every sweet and sour element of each recording, uncovering hidden truths and offering important morsals of colorful background information which give new life to what was a challenging and revelatory recording experience for Elvis, Chips Moman, and the Memphis Boys. Almost reductively, Wolfson reveals the soul of From Elvis in Memphis, each sinew of aesthetic experience framed in the cloistered ambience of the lone recording studio. Be it about the Dionysian-like chaos and destruction in Elvis' delivery of Power of My Love or how recording at American Sound brought out his "country roots", Wolfson always, albeit, sometimes energetically, sometimes softly, brilliantly illuminates the story, and stimulates the reader's thought processes.
He also challenges our perceptions:
The very first song Elvis recorded at American Sound was "Long Black Limousine". The fact that he started with this song is astounding; it's as if the Beatles' first single was "I Want to Hold Your Hand" or Bob Dylan's first electric recording was "Like A Rolling Stone". Elvis simply hits the ground running.
On the issue of Elvis having culturally appropriated African American music, these passages about "Long Black Limousine" are striking:
Nearly every distinctive element of O.C Smith's version – from the larger aspects like the tempo and the chord structure all the way down to some of the instrumental flourishes and the trick key change before the last verse – is present in Elvis' recording. For a song that evokes a singular performance by Elvis, its foundation is a virtual carbon copy of another man's recording.

It seems counter-intuitive that something copied can be heard as wholly original, but this is the effect of "Long Black Limousine". This then turns the tenet on its head – Elvis' performance of the song is singular not despite the fact that it copies an African American man's version but because of it.
With lateral thought, Wolfson uses a thematic element from the classic Frank Capra film, "It's A Wonderful Life" to symbolise the meaning and sense of finality present in the song. As a tale told from the lens of a nameless person (a nobody), in a little town, Wolfson discerns that this allows the song "to underscore Elvis's own humble origins."
A core strength of Wolfson's analysis comes from his deeply considered understanding of Elvis and the music he recorded. It is impressive:
With hindsight, "I'm Movin' On" blazed the trail for Elvis' own major success some six years later.

The fact that "I'm Movin' On" was chosen over other more studied productions from Elvis's American Sound sessions for From Elvis in Memphis speaks to the recording's natural spirit. It ends the first side of the album in fine form, taking the listener through the story of a man who returns home ("Wearin' That Loved On Look"), reflects on his family ("Only the Strong Survive"), finds a spiritual center in love ("I'll Hold You in My Heart Till I Can Hold You in My Arms"), loses his love ("Long Black Limousine"), mourns the loss ("It Keeps Right On A Hurtin'"), and then hits the road again ("I'm Movin' On'). Elvis would never cut a better or more conceptually unified album side, and "I'm Movin' On" is the exciting finale.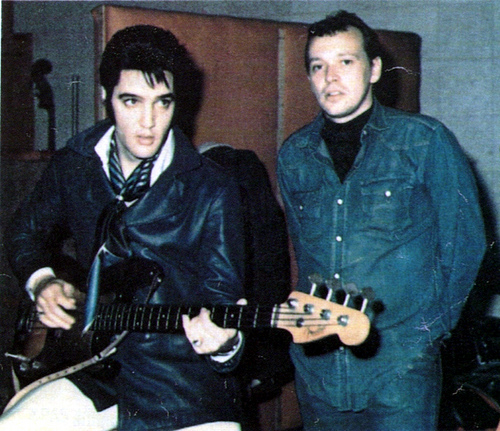 Chips Moman standing up to the Elvis' un-fun Memphis Mafia is instructive, and even more importantly, Moman's ability to give Elvis constructive criticism and at times blunt feedback, gets to the heart of Elvis being held accountable in the studio for the first time in years:
"Hey, this ain't no fuckin' movie soundtrack. You need to sing that song!"
You are in no doubt when Wolfson starts discussing side 2 of the album:
The second side of From Elvis in Memphis begins with a crash. The Memphis Boys bear down hard on the opening chord of "Power of My Love" like it's a battleground to be seized. The sound initiates a raw blues riff that forms the backbone of the song.
The author also wastes no time in informing the reader of the change in musical tone/form:
Unlike the album's first side, which can be heard as sort of a narrative, the second side of From Elvis in Memphis is more impressionistic and all about feeling, fleshing out a world that wills the first side into being.
Regarding the often underrated "B" side of In the Ghetto:
"Any Day Now" doesn't just begin – it appears, coming at you all at once, a feeling than can no longer be contained. Strings swirl around the tight descending pattern of Reggie Young's electric guitar, a spiral staircase enclosed in another spiral staircase.
In the late 1960's Elvis recorded a number of songs with a social or moral conscious, including U.S. Male, If I Can Dream, Clean Up Your Own Backyard, and the #1 hit on Cashbox, In the Ghetto. About the latter, Wolfson notes:
"In the Ghetto" is not just a great song or a great performance, it's a portrait in miniature of American Sound Studio at work.

Listening to "In the Ghetto" evolve over the twenty odd takes is a study in nuance. To the casual ear, it sounds like they get it right out of the gate with the first take, but the sound is nowhere near where Chips wants it to be. And so, subtle adjustments are made along the way.
About Elvis' other #1 hit in 1969-70, Wolfson describes the classic, "Suspicious Minds" as having:
one of the great openings in rock and roll. Reggie Young hits the opening guitar riff like water trickling through a stream, rolling back and forth with a precision that belies the naturalness of its flow
The tonal variation evident in the From Elvis in Memphis sessions is highlighted again in Wolfson's analysis of Mama Liked the Roses (featured in CD editions from 1998 on). It is a song which would later achieve immortality by its inclusion on Elvis' only RIAA Diamond awarded album, Elvis' Christmas Album, and is a recording:
'which finds Elvis at his purest level of schmaltz.'

'Whatever cheesieness might turn off listeners today, Elvis believed in it. He could hear through the cloying melody, syrupy strings, and maudlin lyrics.'
The book also features Acknowledgements, Contents, Track Listing, Chapter Notes and Works Cited.
EIN wishes to thank Bloomsbury Academic for providing an advance copy of From Elvis in Memphis for review.
Verdict: Eric Wolfson's From Elvis in Memphis is one of the most important examinations of Elvis' music ever released, and as an examination of a single Elvis album, unique. Its deeply considered perspective presents the authenticity of both the artist and the music. Importantly, it is not just about Elvis. It is a holistic treatise involving the music, the musicians, history, and the socio-cultural context of the time. Through his strong, evocative narrative, Wolfson challenges the reader to consider a fresh interpretation of Elvis' "new" music. From Elvis in Memphis is a book of insightful riches. This review only scratches its surface.
Click to comment on this review
Review by Nigel Patterson.
-Copyright EIN October 2020
EIN Website content © Copyright the Elvis Information Network.
See below for EIN's exclusive interview with Eric Wolfson.
About the author: Eric Wolfson worked as an artist and musician in Boston and New York City, before settling in Washington, D.C. He works at the Performing Arts Division of the United States Copyright Office in the Library of Congress. He is the only employee in the agency whose desk has a shrine to Elvis.
---
(Interview) Eric Wolfson, author of 'From Elvis in Memphis': In a very interesting and detailed interview, Eric Wolfson talks to EIN's Nigel Patterson about how his upcoming book, From Elvis in Memphis (part of the popular Bloomsbury 33 1/3 series), came about and what we can expect in it.

Eric also discusses why American Sound Studio was so successful and whether, by the late 60s, Elvis' recordings could have been improved through more innovative use of contemporary recording techniques.

If you are interested in Elvis' recording sessions and how they led to the stunning impact of "The Memphis Sessions" this is a fascinating read.

(Interview, Source: EIN)
---