'Ultimate Elvis' Erik Lorentzen Interview
Following the recent exciting announcement that Erik Lorentzen will soon be publishing 'Ultimate Elvis: The Complete and Definitive Recording Sessions', a strictly limited and numbered three-volume set, Paul Richardson (of Elvis: The Man and His Music) caught up with Erik to find out more about this new release.
Paul Richardson: First, Erik, how long has this project been in the making?
This is something that I've been thinking about for around ten years and have been working on since I started The Elvis Files. That's why this series hasn't contained too much information on the sessions or on the singles, EPs and albums that were released during Elvis' lifetime. I mean, I've loved putting together The Elvis Files. However, I think we agree, Paul, that the most important thing about Elvis is the music and not his private life or the jumpsuits and other such things. Ultimate Elvis is purely about the making of the music and nothing else. It'll therefore be the perfect complement to The Elvis Files. When you have all my books, you'll have everything you need…
PR: Don't forget Elvis: The Man and His Music…
Yes, of course – and The Elvis Files Magazine… [laughs]
PR: Who's been helping you with Ultimate Elvis?
I'm very, very proud to have been working closely for the last three years or so with the greatest guy of them all when it comes to the sessions. No, Paul, not you [laughs] – Keith Flynn. For me, he is the number one expert in the business on this subject. He's superb and I can't speak too highly of him.
PR: How did you first make contact with Keith?
You started it by putting me in touch with Keith when we were working together on the second volume of The Elvis Files in 2010. However, it's only been in the last three years that Keith and I have worked very closely to put this project together.
PR: Who else has been helping you?
I have a great team of helpers working with me. Besides Keith, Alan Hanson, James V. Roy, Piers Beagley, Gordon Minto, Arjan Deelen and lots of other well-known, well-informed people have provided lots of terrific material. In particular, Gordon and Piers have written some fantastic articles and reviews. Gordon's also had the responsibility of ensuring that the content is proofread to the very highest standard. And the designer, Chris Middleton of Night Rider Designs, deserves a special mention for the great job that he's done in putting all the pages together – they look fantastic. I'm very proud to be working with them all.
PR: How are the books going to be presented?
Ultimate Elvis is going to be a three-volume set – each book will separately cover the fifties, the sixties and the seventies – and will be presented in a beautifully-designed slipcase. Each volume will have between 400 and 450 pages and will be the same size as The Elvis Files books. Together, they'll contain close to 2,000 photos and all the information any fan will need about all the recording sessions, soundtracks, known home recordings and every single RCA record release with original reviews from the time. As for the design, the slipcase will feature a photo of a microphone with a background photo of Elvis in '56. The front cover of each of the three volumes will boast a photograph from the relevant period.
PR: And what can you tell us about the contents and some of the surprises you're making available?
This set is going to contain an archive of RCA letters and photos and many other wonderful things. For the first time ever, we're reproducing the complete US sheet-music – about 500 examples in total – as kindly provided by our good friend, Chris Giles. We're also offering readers fifteen or so huge and detailed new interviews with the likes of Scotty Moore, D.J. Fontana and James Burton. Furthermore, we have a lot of original and previously unpublished letters concerning the sessions and many of the record releases that have come directly from Colonel Parker's office.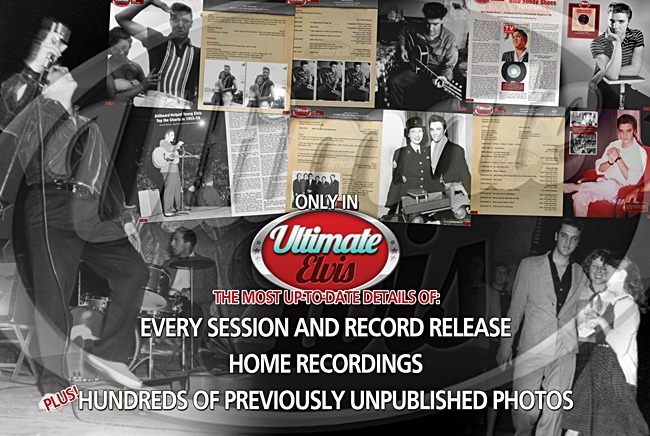 PR: You mentioned 2,000 photos. Do you have any new session-related images?
We've been able to cover most of the sessions from the fifties. And, although I've not been able to trace any photos from the likes of the Elvis Is Back! sessions, I've acquired a few new and beautiful pictures from sessions held in the mid-sixties.
PR: What about any unseen photos from the American Sound or Jungle Room sessions?
No, unfortunately. But I have a lot of new photos of Elvis going into studios in the seventies which have never been seen before. I think a lot of fans are going to be really interested in what we've uncovered while researching this project.
PR: Of all the sessions that Elvis did, which one is your personal favourite?
Today, I'll say the Elvis Is Back! sessions from 1960. But, if you were to ask me tomorrow, I'd probably give you a different answer. You know, I find something very interesting in every single song that Elvis recorded. Even in songs from the worst of the movies I hear something that I love. As I told you another time, the song 'Big Boots' from G.I. Blues gives me goose-bumps every time he sings "So sleep little soldier, don't you cry…" When he sings "So close, yet so far from paradise…" while sitting in a window in that stupid film Harum Scarum – nobody else could have done it… This is a terrible song in a dreadful movie, but Elvis made it special. To get back to your question, any of the sessions that produced great albums like Elvis Is Back!, From Elvis In Memphis, Something For Everybody and, of course, the fifties material – they're all just amazing.
PR: At which session would you have liked to have been a fly-on-the-wall?
The very first one at Sun when he recorded 'That's All Right'. It has to be that without any doubt.
PR: Good answer! If you'd mentioned Clambake I don't think I could have spoken to you again.
No, it has to be the first session in July '54 – it can't be bettered.
PR: Joseph Tunzi will soon be publishing his latest volume on the sessions. How will your set of books compare with JAT's previous works on the subject?
Of course, the basic information and facts that Ultimate Elvis contains will be identical to any other book on the recording sessions. But, in every other respect, it'll offer much more than anything that's been published before on the subject. However, I have to add that I enjoy reading Joseph Tunzi's published books on the sessions and I wish him the best of luck with his new publication.
PR: Can you clarify when Ultimate Elvis will appear?
August 16th – I'll be officially unveiling and promoting it in Bad Nauheim during Elvis Week.
PR: And when can we expect to see the final volume of The Elvis Files?
Hopefully, it's going to be out in December this year. We've already produced almost half of it and we've just bought a large amount of tour-lists and original letters from Colonel Parker to various promoters which we're going to include in this book. So, as always, it's going to be very special and we'll be working hard to get it all ready for the end of the year.
PR: That's a lot of work you've set yourself, publishing four books in the next few months.
Yes – and then I'm going to retire again on January 8th next year… [laughs]
PR: As ever, Erik, it's great talking to you and I can't wait for Ultimate Elvis to be released.
My pleasure, buddy, and we'll talk again soon.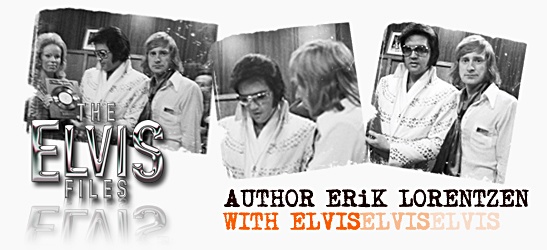 Erik Lorentzen was there when The King rocked Madison Square Garden in June 1972 and the following year, Erik met his idol backstage at Nassau Coliseum in New York.