MRS 'The Complete Recordings - Studio Sessions '56'
Elvis Studio Sessions '56 The Complete Recordings, Memphis Recording Service, 2017 (3CD + 172 page book)
Produced by Joseph Pirzada, Liner Notes by Gordon Minto, Design by Kev Reape

From the publicity: "3CDs containing the complete archival studio master and session recordings of Elvis Presley in 1956 along with bonus interviews. All tracks have been remastered and restored. The 172-page book focuses on each of Elvis' studio recording sessions and the text is complemented by many rare and previously unseen photographs"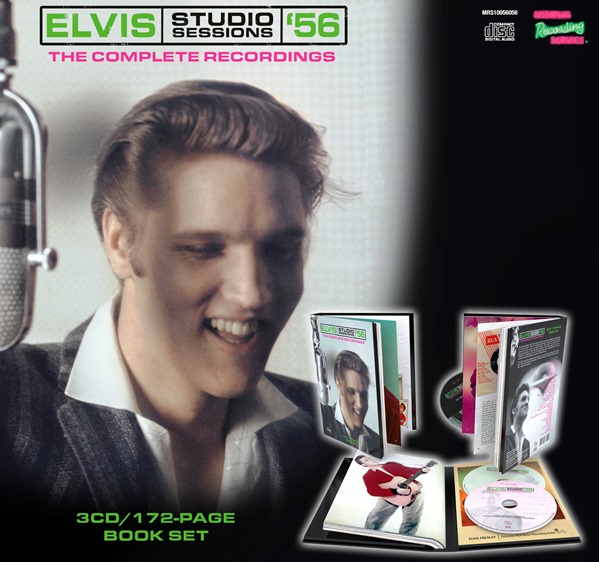 THE BOOK
The set design by Kev Reape is a beauty. Gordon Minto's informative text is nicely placed on the page where the borders provide a nice frame. The clear space allows for easy reading and the use of a background page imprint is a neat touch. The visual content, a heady mix of colour and b&w photos is mouth watering. The crystal clear images are presented on quality gloss paper stock. The hardcover book format is excellent and its compact size means it will not take up too much space on our bourgeoning Elvis filled book shelves.

The book element is split into an introduction, seven chapters (from the first sessions through to the Radio Recorders sessions), recording session log and CD track list.

Minto is telling a story we have heard many times over by various other authors. Despite this, he connects with the reader through his strong literary skills and ability to evoke potent imagery of Elvis working in the studio and of events happening in his world. On Elvis signing with RCA he records:
'Along with the formal proceedings, the day was largely devoted to promotional activity and 'elbow rubbing'. However, that day, although few could have imagined it, the two contracts Elvis and his parents signed – one with RCA and the other a publishing contract with Hill and Range – would impact on Elvis' career way beyond his lifetime.'

The account of the key role of endangered RCA executive, Steve Sholes, in Elvis' arrival at RCA is colourful, replete with serious RCA top brass concern about Heartbreak Hotel, which sounded very different to Elvis' Sun recordings, and the 'sinister murmurings about [Sholes'] future at RCA.
Elsewhere, Minto comments on the Colonel's Machiavellian skills, including luring Elvis away from Sun Records (where he was happy) and in relation to the significance of Elvis' first sessions for recording giant RCA he cogently observes:
However, though Elvis must have been fired up by being signed to such a major label, he must surely have been apprehensive, too, especially having left the warm and homely security of Sun Records and Sam Phillips' all-embracing confidence and commitment. It was akin to a youngster leaving home for the first time......

In a well-paced narrative Minto brings to life the energy and commitment of the young recording artist in his natural habitat and also offers commentary on the inner Elvis:
The session kicked off with 'Playing For Keeps'............ In fairness, it was an unremarkable song but Elvis – accompanying himself at the piano – infused this mournful ditty with some considerable passion, throughout quite a number of takes, finally selecting take 7 and splicing it with the end of the final take.
Of course, all of this activity provided an enormous jump to the big time for Elvis, who was now so much closer to fulfilling his dreams of having 'big shiny cars' and providing for his folks (especially his mother) the way he'd always wanted to.
Not surprisingly, during his 'travelogue' period in the 60s many reviewers and even some fans were critical of Elvis' celluloid recording output. Minto offers a powerful perspective on the issue, when, instructively (on a number of levels), he writes about the recording arrangements for the Love Me Tender soundtrack:
Significantly – though it was not recognised at the time – this session set the pattern of what was to follow with respect to film soundtrack recordings, especially during the 1960s. Elvis had little or no artistic input with regard to the material chosen. Indeed, prior to making the movie, Elvis had made clear that he did not expect to sing in it – in fact, he did not want to sing in it. Others though, had different ideas.....
There are many visuals we've seen before but I doubt too many of us have tired of seeing them and there are others which we've either forgotten or are new to our eyes. Standout images (of which there are many) include:
• smoulderingly stunning colour red infused publicity stills of Elvis with guitar (pp 63 and 64);
• an evocative double page (104-105) b&w still of Elvis and his crew sitting on the studio floor in between takes and listening intently to a unnamed heavy-set standing man (likely Steve Sholes) addressing them; (see below)
• New York Sessions head and shoulders image of Elvis with hands held to his face (p109); and
• a somewhat unusual but fantastic side-on shot of a well- lit Elvis (p145).

• Alfred Wertheimer's stunning studio shots are in abundance. The book features an amazing 22 Wertheimer photos, ten of which are in colour, including the stunning front cover photo that we have never seen previously published.
More importantly for serious Elvis collectors the set includes 59 photos of Elvis singing in the studio. This is a vital comprehensive collection of truly important photos capturing Elvis recording at his peak which we have not seen elsewhere. In comparison 'Young Man With The Big Beat' only included 17 similar studio photos, while Ernst Jorgensen's 'A Life In Music' included 21. Knowing how many keen fans want to see Elvis in-the-studio images, this is a collector's delight.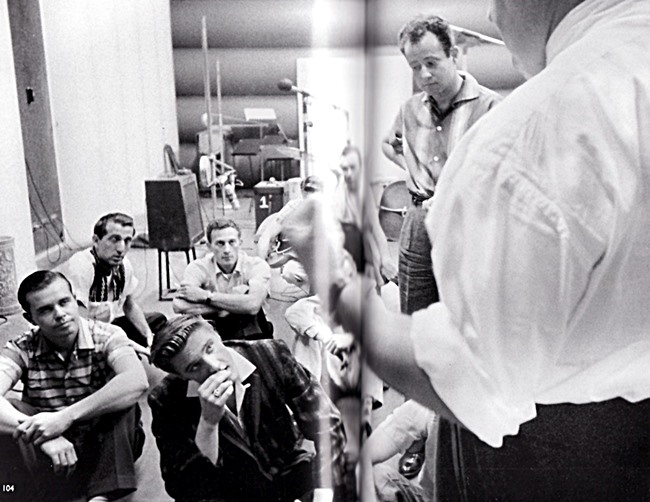 There are also publicity stills from Love Me Tender.

Minto's narrative is nicely complemented by session logs (with handwritten notations), song lyrics, contractual material and various media miscellanea from the time period such as chart listings, newspaper and magazine reviews/clippings. I particularly liked seeing again the four page agreement between Elvis and songwriters Mae Boren Axton and Tommy Durden regarding Heartbreak Hotel and Elvis' four page contract with RCA in November 1955 to '.......render such services for us for the purpose of recording and making phonograph records'.

Heartbreak Hotel - original lyrics
The ongoing animosity that some fans have for MRS releases is surprising. If MRS released inferior product I could understand, but in a world where Sony releases countless rehashes of Elvis' greatest hits and variations of other albums and there is a still flourishing Elvis bootleg market, the negativity is misplaced and somewhat disingenuous - it is interesting to note that a number of the naysayers are at the same time complimentary about various bootleg releases.

The fact is Elvis Studio Sessions '56 is a high quality product with great design, excellent liner notes, eye catching visuals and top notch sound. And it comes with a fan friendly-value for money price tag (unlike many Sony and FTD releases!)

Also, the Elvis industry is part of the capitalist system and no one is forced to buy any releases.
smoulderingly stunning colour red infused publicity stills of Elvis with guitar


THE MUSIC
On January 10th 1956 Elvis recorded his breakthrough monster hit 'Heartbreak Hotel' at RCA studios in Nashville and by the end of the year he had spent 26 weeks at #1 in the charts, sold over 12 million singles, had two chart- topping albums, appeared in his first movie and caused mayhem with his appearances on television. Not bad for a boy from Tupelo who prior to this had never recorded outside of the small SUN studios.
When RCA first released a compilation 'Elvis '56' back in 2002 it truly was an essential addition to any Elvis fan's collection with 21 stunning tracks, plus one alternate take.
1956 was the year that changed everything not only for Elvis but also for pop music worldwide, nothing would ever be the same again.
The three fully-packed CDs in this MRS release – 85 studio tracks plus five interviews - captures Elvis in all his 1956 creative studio-sessions glory.
Disc 1 features all of Elvis' 1956 studio session masters on the one CD - it is an incredible history lesson. Somewhat surprisingly RCA / BMG / SONY have never previously released all of Elvis' important 1956 masters on one disc – something they surely should have done.
Sony's deluxe box-set 'Young Man With The Big Beat' that similarly looked at Elvis in 1956 (a very fine release indeed) featured Elvis' first album and so included those SUN session leftovers that were used to fill out his first LP. While this was understandable, these SUN recordings, some dating back to 1954, were not the sound of Elvis' stunning creativity in 1956. It also included some live recordings, something that MRS covered in detail on their 'Complete Live Fifties'
On this stunning 3-CD package MRS present every studio recording that Elvis did in this pivotal year and what a great compilation it is.
DISC 1 - The 1956 RCA Studio Masters. – 79 minutes
If Elvis' SUN sessions were the sound of the birth of rock 'n' roll, then Elvis' 1956 RCA Studio recordings were sound of the rock 'n' roll explosion that would change the world!
The key here is that all of Elvis' 1956 master recordings are presented chronologically, unlike 'YMWTBB' or BMG's 'Elvis 56'.
Kicking off with the Jan 10 session warm-up of 'I Got A Woman' the haunting power of 'Heartbreak Hotel' that follows - only the second track Elvis recorded at RCA - is stunning. Elvis then continued with his fabulous interpretation of one of his favourites, Jesse Stone's 'Money Honey', and the next day started with the two beautiful ballads 'I'm Counting On You' and 'I Was The One'. Listening to these classic songs chronologically while reading Gordon Minto's informative text and looking at the abundance of photos showing Elvis working in the studio presents one with new insights into these all-too-familiar songs.
Just when you (and probably RCA's Steve Sholes!) start wondering when Elvis is going to let loose with some real rock 'n' roll, his next session is that total blast-of-creativity with 'Blue Suede Shoes', 'My Baby Left Me', 'One-Sided Love Affair' and 'So Glad You're Mine'. The music is pure joy - and so it continues through to his last 1956 RCA studio session in September. It is a stunning 79 minutes of creativity that would change pop-music forever.
The disc is divided in the middle by Don Davis' interview with Elvis in March 1956. Recorded after Elvis' initial RCA success but before the stunning impact of 'Hound Dog / Don't Be Cruel' it presents an cute, if all too short, look into Elvis' thoughts of his early success .. "I walked in just by accident and... boom!". Also notable is Elvis' modest, "(In the trio) Well, actually there's only two. I'm just singing. I play the guitar but they don't record it" when we all know how important Elvis' guitar playing was to that Sun Sound and the Birth of Rock'n'Roll.
Elvis' 'The Truth About Me' flexi-disc interview released in November 1956 ends the CD. For it to be the complete version it has been taken from the original flexi-disc and so does feature the inevitable crackle and background hiss. The complete version includes Elvis charmingly thanking his "loyal fans - who have become friends of mine" which for some reason never appeared on the official SONY release or FTD 'The Best Of British' supposed complete UK flexidisc release. More interesting perhaps are the unreleased interview outtakes included here on the third CD.
Audio Quality: In previous MRS box-sets their engineer, 'Studio D', has provided plenty of stunning sound improvements but here they don't have so much to work with as the RCA Masters were fairly pristine from the start. In general this MRS release pushes both the bass and treble ends of these recording while also applying audio compression and loudness. This means that in general the songs have more audio "punch" which certainly helps numbers like 'Money Honey' really rock. For those technically interested, below is a direct audio comparison of 'Money Honey' between this MRS version (top) and 'Young Man With The Big Beat' release.

Similarly the ballads are not as "quiet" with more power to them as one can easily see from the dynamic scans taken of 'I Was The One' below.
While I doubt that these recordings in general* will sound any better on expensive high-end high fidelity units they certainly rock-out if you play them on a car stereo. This makes sense when one considers that MRS's main market is probably the 'HMV' or 'Amazon' buying general public, along with the core Elvis collectors.
*Several tracks however are noticeably improved – ie the 'Love Me Tender' Stereo Masters and 'I Want You, I Need You, I Love You' outtakes, see more details below .
59 photos of Elvis' recording sessions including this great one of him laying down a classic in his socks!

DISC 2 – Movie Soundtrack Master Recordings and RCA Studio Session Outtakes. - 78 minutes.
The only 1956 Elvis record Masters not included on the first disc is Elvis' Love Me Tender session for 20th Century Fox. These were recorded on a movie soundstage so MRS are technically correct in not giving them "Studio Session" status.
The second disc starts with the four Love Me Tender EP tracks (as released in mono) followed by the 'End Title' version.
'Love Me Tender (End Title Movie Version)' sounds sensational here compared to previous releases and with a beautiful clarity. The 2014 version released by FTD sounds totally muffled and echo-y and terrible in comparison. MRS must have found a great new source for this release.
With limited space on the disc only two bonus outtakes of 'We're Gonna Move' (Takes 4 & 9) are included. The oddity is that they are in stereo and so sonically would have fitted better at the end of the disc with the other 'Love Me Tender' Stereo Masters.
Studio Session Outtakes.
The MRS has indeed compiled a complete set of Session Outtakes compared to the YMWTBB box-set. Rather extraordinarily YMWTBB did not include one single outtake of 'I Want You, I Need You, I Love You'. While I understand that it wasn't Elvis' most creative 1956 session, some of the attempts, as Elvis tried his hardest to pull off a worthy follow-up to 'Heartbreak Hotel', are still an interesting listen.
On Disc 2 we also get a selection of extra outtakes of 'I Got A Woman', 'Heartbreak Hotel', 'Money Honey', 'I'm Counting On You' and 'I Was The One' that were for some reason all left off YMWTBB.
The outtakes section ends with all twelve takes of 'Lawdy, Miss Clawdy' from all-important Take 1 with its classic studio build-up and Elvis laughing as he tries to tell the band what he's looking for, "You know, 'Tell my baby', gee, something like that". 'Lawdy, Miss Clawdy' is Elvis' first complete recording session that we have on tape in full (Take 2 was erased), and what fun it is to witness the studio banter and band interaction at such an important time in Elvis' career. (Just a shame it isn't the 'Hound Dog' session!)
Take 5 is a gem for the delightful messed up Scotty Moore guitar solo, there is also the pure fun of D.J Fontana slip-up on Take 7 with everyone bursting into laughter and again Elvis' humour is shown with him stating "That's the best one we've done yet!" as Take 8 completely collapses. It's also interesting that the band went past the chosen Master (Take 10)still searching for that something extra.
The CD ends with the four 'Love Me Tender' Stereo Masters which sound superb.
Audio quality: The previously noted 'Love Me Tender (End Title Movie Version)' is a stunning improvement while most of the Studio Session outtakes are similar to other RCA releases albeit with compression tweaks. The Stereo 'Love Me Tender' Masters however are greatly improved with the obvious 'tape rumble & hiss' that was on previous SONY / RCA releases cleanly removed. They sound very nice indeed.
unusual but fantastic side-on shot of a well- lit Elvis (left) - Love Me Tender session
DISC 3 – Studio Session Outtakes & 'The Truth About Me'. – 71 minutes
The third CD wraps up the remaining RCA Studio Outtakes. Kicking off with the full 'Shake, Rattle And Roll' session it's again fascinating to eavesdrop on this session since this song starts with the suggestive lyrics of Big Joe Turner's original "You wear those dresses, the sun comes shining through" which is dropped after Take 8. There are more lovely highlights such as Elvis stating at the start of a rockin' Take 7, "Hang up that tambourine and Go"! and the penultimate Take 12A which as it begins to fall apart halfway through you can hear the sound of Elvis clapping along trying to hold it all together. However D.J. Fontana's wild middle-break causes Elvis to give up saying, "I can't come in there Steve!"
MRS also include an "Edited Undubbed Master" which has the studio count-in removed as if it was for release.
'I Want You, I Need You, I Love You' outtakes follow (missed from YMWTBB) where the group struggle to create a classic follow-up to 'Heartbreak Hotel'. After Take 13 you can hear Elvis mention the problem the band had with the flight the night before, getting lost and with fuel possibly running out noting, "We catched that old whippet plane - that glider!" Take 15 is the best outtake with Elvis getting the lyrics in the wrong order but with everyone still going on to complete the take.
Also missing from YMWTBB was the outtake #5 of 'Old Shep' as well as the delightful 'Rip It Up' session.
The earlier 'Rip It Up' attempts rock with Scotty Moore's guitar solo being so rough, and it is notable that Elvis' friends Natalie Wood and Nick Adams were present at the session with Elvis intoning a marvellous deep-bass "Natalie Wood" at the start of Take 15.
It is terrific to hear Elvis jokingly ask Nick Adams after Take 18 falls-apart, "Hey Nick, you play drums? It's pretty good if you can get it." Probably reacting to Elvis' jibe D.J Fontana then thrashes the hell out of his drums on the next attempt which would be the Master and the lead track to Elvis' second album.
Audio Quality: MRS have worked a treat on the 'I Want You, I Need You, I Love You' outtakes once again removing that previously obvious tape rumble. These are the best versions yet released. The rest of the session outtakes are similar to other releases albeit with some compression tweaks.
The set finishes with takes of 'The Truth About Me' interview, all in fine quality.
Take 1 is the full 10 minute genuine interview, including the voice of the interviewer, which has been previously released. In it Elvis answer questions of facts about himself, his eyes, his height, his cars. He is very honest about his new movie, "I don't know whether I can act or not, I'm just going to give it a try" and laughs about his hobbies. The interview captures Elvis in a simpler, uncomplicated time before the success of 'Love Me Tender' and massive fame and fortune truly overtook his life.
Take 2 is standard edited 'Truth About Me' release but in good quality as ex tape.
Take 3 runs 6 minutes and is new to me and includes genuine outtakes from a test interview. It is truly fascinating listening to Elvis reading his possible answers while stumbling over his feelings. Being a rehearsal it sounds more genuine as Elvis stutters and stammers over the answers.
It includes plenty of Elvis answers such as the honest, "It's pretty hard work travelling the way I am doing. I've been to a lot of places but I haven't seen any of them really. Lots of times all I get to see of a city is a hotel room, my dressing room and a stage. I don't mind the hard work, I don't guess anybody would mind it after all the good things that's happening to me. The only part I don't like is staying away from home so much, the happiest times I've ever had have been with my family and in fact I can't wait to get home to be with my Momma and daddy."
He also talks about sitting in his fancy dressing room at 20th Century Fox and how good it makes them feels to see his name on the door of his own private dressing room.
Although from August 1956 the interview is a nice way to finish this extremely thorough look at Elvis' pivotal year realising that the following 1957 was only going to push his stardom even further.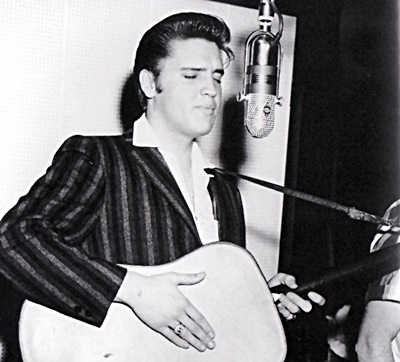 Overall Verdict: Elvis Studio Sessions '56 The Complete Recordings is another excellent release from MRS. With its value-for-money price and comprehensive audio-visual-narrative content of Elvis' recording output in his first year with RCA, it will appeal to both the hardcore fan and the general buyer. Collectors can revel in the truly chronological look at Elvis' most important RCA sessions, the unreleased 'Truth About Me' bonus and the notable sound improvements. More than that, the plethora of stunning studio photos being consolidated in the one package is extremely impressive. While there are distinct similarities with Sony's Young Man With the Big Beat there is a big enough differentiation between the two releases in their visual-narrative and audio elements to make both a great inclusion in your Elvis collection.
Please note that the low-res personal scans used in this review do not show the true quality of the images.
Review by Nigel Patterson / Piers Beagley.
-Copyright EIN August 2017
EIN Website content © Copyright the Elvis Information Network.
Stunning quality images of Elvis
---
CD1 - THE 1956 RCA STUDIO MASTERS
I Got a Woman
Heartbreak Hotel
Money Honey
I'm Counting on You
I Was the One
Blue Suede Shoes
My Baby Left Me
One-Sided Love Affair
So Glad Your Mine
I'm Gonna Sit Right Down & Cry
Tutti Frutti
Lawdy, Miss Clawdy
Shake, Rattle & Rol
Don Davis Interview March 1956
I Want You, I Need You, I Love You
Hound Dog
Don't Be Cruel
Anyway You Want Me
Playing For Keeps
Love Me
How Do You Think I Feel
How's The World Treating You
Paralyzed
When My Blue Moon Turns to Gold Again
Long Tall Sally
Old Shep
Too Much
Anyplace Is Paradise
Ready Teddy
First in Line
Rip It Up
The Truth About Me (ORIGINAL US 45RPM INTERVIEW FLEXIDISK)

CD2- MOVIE SOUNDTRACK MASTER RECORDINGS
1) Love Me Tender
2) Let Me
3) Poor Boy
4) We're Gonna Move
5) Love Me Tender (End Title Movie Version)
MOVIE SOUNDTRACK OUTTAKES (STEREO)
6) We're Gonna Move (Take 4)
7) We're Gonna Move (Take 9)
STUDIO OUTTAKES & SESSIONS
8) I Got a Woman (Unknown Take)
9) I Got a Woman (Incomplete Unknown tk)
10) Heartbreak Hotel (Incomplete Take 4)
11) Heartbreak Hotel (Take 5)
12) Heartbreak Hotel (Take 6)
13) Money Honey (Incomplete Take 10)
14) I'm Counting on You (FS Take 1a & 1b)
15) I'm Counting on You (Incomplete Take 2 Dry Version)
16) I'm Counting on You (Unknown Incomplete Take)
17) I'm Counting on You (Take 13)
18) I'm Counting on You (Incomplete Take 14)
19) I Was the One (Takes 1 & 2)
20) I Was the One (Take 3)
21) I Was the One (Take 7)
22) I Was the One (Incomplete Unknown Take)
23) Lawdy, Miss Clawdy (Take 1)
24) Lawdy, Miss Clawdy (Take 3)
25) Lawdy, Miss Clawdy (Take 4)
26) Lawdy, Miss Clawdy (Take 5)
27) Lawdy, Miss Clawdy (Take 6)
28) Lawdy, Miss Clawdy (Incomplete Take 7)
29) Lawdy, Miss Clawdy (Incomplete Take 8 & Take 9)
30) Lawdy, Miss Clawdy (Take 10)
31) Lawdy, Miss Clawdy (FS Tk 11 & Take 12)
BONUS TRACKS: (STEREO VERSIONS)
32) Love Me Tender
33) Let Me
34) Poor Boy
35) We're Gonna Move

CD3- STUDIO OUTTAKES & SESSIONS (CONTINUED)
1) Shake Rattle & Roll (FS Take 1, Take 2, FS Take 3)
2) Shake Rattle & Roll (FS Take 5, FS Take 6, Take 7)
3) Shake Rattle & Roll (Take 8)
4) Shake Rattle & Roll (FS Take 9, FS Take 10, FS Take 11)
5) Shake Rattle & Roll (Take 12)
6) Shake Rattle & Roll (Take 12 Unedited Un-dubbed Master)
7) Shake Rattle & Roll (Take 12 Edit Un-dubbed Master)
8) I Want You, I Need You, I Love You (Take 3)
9) I Want You, I Need You, I Love You (Take 4)
10) I Want You, I Need You, I Love You (Take 13)
11) I Want You, I Need You, I Love You (Incomplete Take 14)
12) I Want You, I Need You, I Love You (Take 15)
13) I Want You, I Need You, I Love You (Take 16)
14) I Want You, I Need You, I Love You (Take 17)
15) Old Shep (Take 5)
16) Rip It Up (FS on Takes 10, 11, 12, 13, Take 14)
17) Rip It Up (Take 15)
18) Rip It Up (Take 16)
19) Rip It Up (Take 17)
20) Rip It Up (LFS Take 18)
THE TRUTH ABOUT ME (INTERVIEW OUTAKES)
21) The Truth About Me (Take 3)
22) The Truth About Me (Take 2)
23) The Truth About Me (Take 1)
---