'Elvis Christmas'
Elvis with the Royal Philharmonic Orchestra
- 2017 CD review by Brittany Edwards and Piers Beagley -
It is forty years since Elvis Presley entered a recording studio and he seems very reluctant to record anything new. So in terms of releasing a "new" album of Elvis material - that might make an impact on the "general public" and get him back into the charts - the subject has always been a tricky one.

After the massive two recent chart successes of "Elvis with The Royal Philharmonic Orchestra" - along with the worldwide tour - it was inevitable that the follow-up would be 'Elvis Christmas with the RPO'.

But can the concept be applied to everything? Do the "new" Producers Nick Patrick, Don Reedman and Priscilla Presley really care about Elvis' fabulous musical legacy? Or is this just to make a quick "Christmas" buck as we have seen so many times before?

Both EIN's Piers Beagley and Brittany Edwards are this time in the Listening Booth to cause "Double-trouble" and try and discover what's good and bad...

---
SEE BELOW -
Now updated with YOUR feedback
- What did EIN readers think of the new CD?
Disclaimer; I one of the world's biggest Elvis collectors and supporters and I truly believe that it is a good thing for Elvis' legacy to get a "major re-boot" every decade or so just to get his music back in the charts, into the media and so that Elvis Presley's amazing legacy is flagged to a new generation of fans.
But no Elvis fan has the duty to love these new remixes or revamped versions. However if they do help guide a new generation into investigating Elvis' amazing body of work then that is a genuine positive - IF however they water-down or mess with Elvis' great musical legacy in any way then this concept becomes a HUGE mistake.
---
As EIN's "Double-trouble" reviews of the first two Elvis with Royal Philharmonic Orchestra albums generated so much interest, this time EIN's Piers Beagley stepped in to the EIN Listening Booth with Brittany Edwards to see what, if anything, they agreed on.
... With the massive success of the re-imagined "Elvis with The Royal Philharmonic Orchestra" both with #1 charting releases and sell-out concerts, the jugernaut rolls on with the release of "Elvis Christmas".
The marketing has ramped up and in the album sleeve notes Priscilla comments about the possibility of Elvis recording Christmas songs with the RPO, "I'm positive Elvis would be smiling if this opportunity came up in his lifetime and that this album would definitely be in the making".
Suggesting, as always, that it would have been "a dream come true for Elvis" is ridiculous. After all if Elvis had wanted to record with a major symphony Orchestra RCA would have arranged it immediately. To be honest, since RCA was always desperate for new material, if Elvis had wanted to record a selection of Polka songs while floating in space, RCA would have been on the phone to NASA and the Czechoslovakian consulate within the hour!
Brian Setzer started off as the lead singer / guitarist in The Stray Cats, a brilliant 3-piece Rock'n'Roll band. Later in his career he expanded his repertoire to the Brian Setzer Big Band Orchestra releasing some very impressive Christmas albums, including many of the songs featured here.

It was a clever musically creative idea that added a cutting Rock'N'Roll edge to some impressive orchestral arrangements. At EIN's office his albums get regular spins every Christmas.


Where Brian Setzer's concept cleverly succeeded, this new Elvis album sadly fails.
After the first two patchy Elvis-RPO albums the producers - Don Reedman and Nick Patrick - should be well-aware of the pitfalls of adding studio overdubs to Elvis' originals.
- Do NOT smother the original emotion of the song with excessive orchestral arrangements. Less can be more.
- Do NOT bury Elvis' original vocal. Fans are buying this album only because of ELVIS not due to any new orchestral gimmick.
- Be SYMPATHETIC to the original arrangement. Perhaps add a little "twist" for fun but don't make it "Too Damn Complicated". As with the previous albums the producers still feel the need to stamp their "Look at what we can do" mark, this is all-too often a mistake.
- Don't remove Elvis' interactions with his musicians, you'll turn it in to 'Karaoke'. When Elvis recorded LIVE with an orchestra (and despite what Priscilla states, Elvis did record with large orchestras) there was a marvellous two-way interaction between him and the musicians. This was a reason why his all-too frequent live albums sounded so good.
- In Christmas songs Sleigh Bells are annoying and should be used sparingly.
---
The 12-page booklet features detailed notes of the original session and who were involved in the overdubs. It also features two photos of Elvis, one of Graceland at Christmas and some original Elvis "Holiday Greetings" cards. Producers are Nick Patrick, Don Reedman and Priscilla Presley. Orchestral Arrangements are by Robin Smith or Sally Herbert. Roger Semon & Priscilla Presley are credited for 'Art Direction and Photo Research'. Album was mastered by Vic Anesini. Ernst Jorgensen is not in the album credits.
So onto some "Double-trouble" from the duo of EIN's Piers Beagley plus EIN contributor Brittany Edwards...
Piers Beagley notes…
With the first two albums being such a monetary success there was no doubt that a Christmas Elvis / RPO album would follow.
As we all know, the first albums received an amazing amount of feedback from fans both negative and positive.
Personally, while I could appreciate the audio enhancement – some of the new "revisions" had an amazing audio power and depth - in general I only enjoyed the tracks that were most sympathetic to Elvis' original arrangements.
The first two albums had a vast array of songs to choose from both live on-stage and Studio recordings. However for this new album there are only the studio songs available some of which were overdubbed with an orchestra at the time. Notably the fifties tracks are not available on multi-track recordings which makes the separation of Elvis' vocal much harder.
Of course had Elvis wanted to record a Christmas Album with a Philharmonic Orchestra, RCA would have organized it for him immediately. Elvis never requested to do this, so maybe that makes this album a sham in the first place.
Brittany notes..
I want to preface this review by saying that reviews of each track are my own personal opinions. You don't have to agree. That's fine. Also, I personally have nothing against the Royal Philharmonic Orchestra themselves. I believe that they are truly talented, very fine instrumentalists and artists. My issue truly lies with the concern that Elvis Presley is not being seen as a serious recording artist because EPE, SME, and all other parties involved are too focused on making fast cash with these disposable, "novelty gift shop" albums.
I hate to step on anybody's toes, but I take Elvis Presley's career and talents very seriously, and to see them being reduced like this doesn't sit right with me.
This detailed review does not include the tracks on the 'Deluxe Edition' and each song is rated by both of us on a scale of 1-5.
Unfortunately the album does not start well from anyone's point of view…
- Santa Claus Is Back In Town
Piers – 0/5
Elvis said this was his favourite Christmas song and only dropped it from The Comeback Special because he was unsure of the lyrics. This classic Lieber / Stoller number was sexy and bluesy - Santa was offering hot love, not silly presents "Got no sleigh with reindeer, no sack on my back"! This new version fails on so many levels. The original sexy emotion is now lost under twee orchestral twirls and the wonderful original Dudley Brooks' piano solo now replaced by some totally bland and boring James Last sounding insert. Elvis' telling interaction with the band @1.20 "Ha,Ha, Ha, Ha" has also been faded out. If Elvis had performed it live with an orchestra he would not have wanted it arranged like this. This is a dreadful start.
Brittany - 2/5
Pardon me for kicking things off with somewhat coarse language, but I feel this song has been completely neutered. No pun intended (okay, maybe a little bit), but everything that was once "ballsy" and gritty about this track has been cut off, save for Elvis' vocals. Now, the instrumentation does sound beautiful, I won't deny that, but I just don't feel like it fits here.
- White Christmas
Piers – 2.5/5
After the appalling first track this is somewhat of a relief even if the producers have to paste on a "look-what-we can do" unnecessary new intro. The rest of the song is fairly sympathetic to the original arrangement, even if they have to keep throwing in "glissando" strings. The original caused some trouble with composer Irving Berlin (see EIN article here) for being too "rock'n'roll" whereas this is now just easy-listening.
Brittany – 4/5
I'll be fair — I liked this one and score it higher. I have a feeling that this will probably be one of the only tracks I genuinely like to some degree, if not the only track. I'll obviously always prefer the original, but if I were in a shop or driving and this came on the radio, I'd be decently surprised to hear it. The opening is slightly a little too over-the-top for me, but other than that, I actually did enjoy this one.
- Here Comes Santa Claus (Right Down Santa Claus Lane)
Brittany – 3/5
This is one of my favourites from Elvis' Christmas catalogue, and so I hate to be critical, but around the 1:24 mark, the line "Santa Claus is coming to town" being sung by the background singers is a touch too prominent for my ears. I can't quite put my finger on what about it is so damn distracting, but it is. Just compare it with The Jordanaires' vocals to try and catch the difference I'm referring to. Other than that, it's just another standard RPO mix.
Piers – 2/5
This was always a happy, fun-filled happy number and the new arrangement bounces along in a similar manner. I swear they have replaced Bill Black's double-bass with an electric or even keyboard bass which was not a good idea. I agree that something goes wrong around halfway through. I think it is because the arrangement progresses to a "Glenn Miller" swing arrangement which then sounds far more like an overdub since it doesn't match Elvis' vocal. It's also buries Elvis' vocal at the end. "Less is more" this is not good.
- Merry Christmas Baby
Brittany– 2/5
Again, the strings and horns sound just fine, but they're just so out of place. The way Elvis originally recorded it, the song was gritty, bluesy, and raw. The addition of strings not only partially takes away from that sort of feeling, but it doesn't add anything viable in its place. The song originally didn't have all of these extra elements, and that's why it worked. Sometimes, there is such a thing as "too much."
Piers – 4/5
I'll get a lot of stick for stating that I actually quite like this! I have to agree that Elvis' original was bluesy and raw and that feeling has been messed with. However I think the producers have deliberately copied Elvis' live "Steamroller Blues" arrangement. If one considers "Aloha" and how Elvis might have performed 'Merry Christmas Baby' on-stage then this could be it. They have left in David Brigg's tinkling piano and even if 'Putt's' bass-line has been removed, Steve Pearce plays a powerful new funky bass. The brass & violins are very reminiscent of 'Steamroller' and for the first 3 minutes not too overpowering. They've also left in Elvis' driving comments, "Walk On", "Take it on" etc, but a big mistake however is having Elvis say "Play it James" and then burying the guitar solo under loud violins. Thinking that Elvis with Joe Guercio might have sounded like this, I forgive them this time.
'Merry Christmas Baby' was always a "one-take" classic and I am happy to have yet another version to listen to. This one is also a new edit running 5 minutes.
- Blue Christmas
Piers – 1/5
The earlier "new version" was actually "re-imagined" better for the "Christmas Duets" album with Martina McBride as well as using the original Jordanaires and Millie Kirkham on backing vocals.
This version is pretty similar to the original – remember they only have the original mono tape to play with - but then the middle eight is ruined by someone trying to out-do Millie Kirkham. The sleeve notes says there is a new "Sax Solo" by Richard Cottle – luckily there isn't.
The original has a fabulous, creative, joyous vibe that has unfortunately been lost here.
Brittany – 3/5
There's not too much I have to say about this one. Minus the excessive interlude, this one was pretty standard.
- I'll Be Home For Christmas
Brittany – 4/5
You know, I actually didn't mind this one until I heard the breakdown with the horns in the middle of it all. What the hell was that? Is this Elvis Presley's song or Kenny G's? I do think the horns give off a more "Christmas-y" vibe, but it's the sort of thing I expect to hear in a Michael Bublé tune. And, okay, I admit I like me some Michael Bublé, but I don't want to an Elvis song to remind me of him. If I wanted to hear Bublé, I'd just go listen to him. (Oh, and don't remind me of the "Fever" duet…)
Piers – 1/5
They've spliced the original here to almost double it's playing time. The new arrangement is sympathetic to the original and sounds fine at the start. The cool percussion brush-work actually suits it, making Elvis' performance sound like a pleasant, slow, jazz-café version. But then at the 1.50 mark (where the original ended) they edit in a dreadfully corny "Kenny-G" type sax solo to hide the splice. Richard Cottle, presumably wrongly credited on the last track, can take the blame for seriously screwing up a potentially interesting version. Like watching a truly bad musician's solo ruining a live performance, this track was fine until 01.50. Sorry, I never want to hear this again.
- Winter Wonderland
Piers - 0/5
Elvis always sounded totally uninterested in the original, until finally getting involved at the bluesy ending. Here the overdubbed vocals "do,do, Doo-doo-doo" immediately sound like some terribly-bland "Ray Coniff Singers" stuff from the sixties. The original surprisingly had no backing-vocals to help Elvis' lonesome vocal along. This is where someone like Brian Setzer can do big-band rock'n'roll so well and this sounds like MOR shopping centre muzak. "Re-Imagining" Elvis' songs to sound more like M-O-R MUZAK is NOT what anyone would want to happen to Elvis' great legacy.
Brittany – 2/5
I don't know what it even is, but I just can't bring myself to properly enjoy this one. The strings themselves aren't even all that bothersome. I think it's just the backing vocals. They sound nice, but it's just far too much.
- Santa Bring My Baby Back (To Me)
Brittany – 2/5
Again, pretty standard stuff with this one. I thought the backing vocals for the lyric "bring my baby back to me" around the 1:20 mark was, once again, a bit too forward and needed to be brought back a bit, nor did I like how the ending took away from Scotty Moore's guitar outro as heard in the original, but other than that, it's your average Elvis-RPO concoction.
Piers – 3/5
Unlike the previous track, the brass arrangement sounds like it has been copied from Brian Setzer's Christmas album! The original track was mono so Hugh Jarret's great bass-line (and Jordanaires vocals) have been pretty well preserved. Hugh Jarret started "duetting" with Elvis at 01.25 on the original just like he does here! I can feel that fact would have annoyed the new producers in that they couldn't eliminate his vocal! The original was fluff and fun and this hasn't been messed around with as much as the others. To hide the old arrangement Elvis' vocal however has been lowered which is a shame. Not the worst track on the album.
- Silver Bells
Piers – 2/5
Elvis' original vocal was surprisingly well-performed for such a cheese-y old classic. The original had an overdubbed orchestra so why do the same idea again? Did Elvis not approve of the original orchestral overdub? (Priscilla, please send your answer on a postcard to EIN!).
The lavishly added overdubs here only help destroy the gentle emotion of the original. Previously Elvis was singing the delicate joy of "Soon it will be Christmas Day" whereas here he seems to have a loud bell shouting the news from a street corner. The original also had some nicely subdued "Silver bells" jingling in the background whereas here they can't help but overdo them.
"Less is sometimes more" fellows.
Brittany – 3/5
Fairly nicely done. A little "square" for my tastes, but not too shabby overall.
- Oh Little Town of Bethlehem
Piers – 4/5
Elvis recorded this for his first Christmas album and recording a very sincere vocal. Luckily the new overdubs are sympathetic and suitably light. Again with the original recording being mono, the new backing vocals follow the Jordanaires' original pretty closely.
Adding a fuller string arrangement to the original, very simple organ based arrangement, works quite well this time. This is a fine update.
Brittany - 4/5
I was also pleasantly surprised with this one. I agree in that they kept it real clean and simple.
- O Come, All Ye Faithful
Brittany - 2/5
They left out the best part – those drums! Those awesome, powerful drums! I'm so used to hearing those thunderous drums about a minute and a half into the original, and taking them away almost feels like a crime.
Piers - 0/5
This was one of the better tracks from Elvis' second Christmas album with a surprisingly refreshing arrangement. Elvis blended his vocal so well with The Imperials - and at the "magic moment" the drums kicked in and a "Choir of Angels" rained down upon us.
Here the "re-imagination" starts well-enough, although Elvis' vocal is wound down. Then suddenly at the "magic moment" stupid Sleigh Bells start playing VERY LOUDLY. Did the producers even listen to, or understand, the lyrics? This church hymn is about The Faithful coming to witness Christ in Bethlehem, NOT about silly reindeers doing the Jingle-Bell rock. This track demonstrates to me that the producers have no real idea at all about the religious side of Christmas, nor of Elvis' religious beliefs. This is a crime indeed.
(Explanation on a postcard please, Priscilla).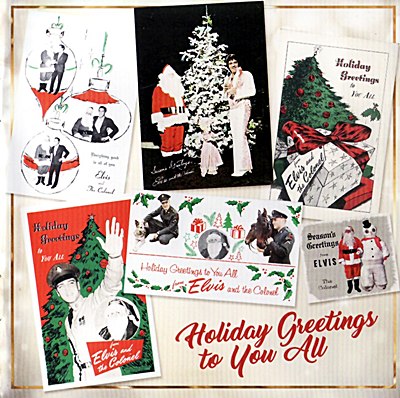 - The First Noel
Piers - 2.5/5
This was one of the worst tracks on Elvis' second Christmas album with a terrible, strained, vocal from Elvis. The very wobbly "they loo-ooked up and saw-aw a star" should have been re-recorded on another day. The original had a very simple church-organ type arrangement which disappointingly emphasised Elvis' poor vocal. So I can understand why this needed to be smothered in violins and expanded backing. With an added intro, plus extended 20-second finale, this runs much longer than the original. Not the worst make-over as it was poor to begin with.
Brittany - 3/5
It's pretty much how you would expect it to be like. I prefer the simplicity of the original because it feels more "homely" to me.
- Silent Night
Brittany - 3/5
The last track on the new album. Not too much was touched on this new version, so there is nothing really for me to dislike here. Overall, this track was done nicely and should be enjoyable to anyone who is into this sort of thing.
Piers – 2/5
The original was in mono so there is not much they could do to separate Elvis' and Millie Kirkham's vocal, so once again it sticks pretty close to the original arrangement, if only filled out with more strings. Unfortunately they have decided to add a God-Awful unnecessary acoustic guitar strumming (added guitar by John Parricelli!) to the background that sounds off-key at times. Go check it out and you too will dislike this remake!
If you listen to the "pure" Studio B original you will also notice unintentional studio noise (ie instrument clicks) during the recording and it is cute that they are still here on the new version.
A bearable ending but in no way an improvement on the original.
Brittany Final Score: 2.8/5
Piers Final Score: 1.8/5
Brittany Overall Verdict: As a whole this new Elvis Christmas album doesn't do anything for me (as is true of the previous two RPO albums). There's a nice track here and there, but nothing that makes me want to go out and purchase this release to add it to my collection. I don't even know who to recommend this album to because it feels like it's tapping such a niche market. I've heard over and over that these albums supposedly introduce younger people to Elvis, but I simply don't buy that. I'm 20 years old. I know that people around my age generally aren't interested in Elvis or his music and adding in the RPO doesn't do anything to fix that because they don't care about the RPO, either. People my age usually listen to the likes of Shawn Mendes, Charlie Puth, Taylor Swift, Panic! at the Disco, and others. I'm not saying it's not possible. It's just not very likely when you really think about it. Additionally, I don't know too many serious Elvis fans who actually want this. And even some of those people are only buying it "just because."
However, as I'm not one who likes to be sour and unpleasant, I will say that if this album is your kind of thing, more power to you, and I promise I won't judge you for liking it. Have a "merry" time with it!
Piers Overall Verdict: Elvis has always sold very well at Christmas. His first album being his highest all-time seller and every fan would be aware of the regular RCA/BMG/SONY Christmas re-packaging. Here it feels as if the producers have been given a chore (by Priscilla?) to create a follow-up Christmas Elvis-RPO album but with the stipulation, "Don't try too hard or waste any time on it as it'll sell bucket-loads whatever you do." Hopefully they will learn a lesson as the vast majority of this album sounds as if it was created by the on-line app "RPO-overdubs-made-easy"! There is so little genuine thought gone into the overdubs that anyone could have done them – and also too many simple mistakes.
ELVIS sells albums because ELVIS was such a great singer and arranger and could touch any fan's heart with simple emotion. Burying this key factor under slatherings of violins or debasing the very emotion of the original recordings is a sin. Elvis' legacy needs to be preserved not blended to MOR mush. This is without doubt the worst Elvis + RPO album so far. Let's be honest, they really should have given the job to Brian Setzer.
I am sure we all know that "Elvis Gospel: with the RPO" is the next in line. And, to be honest there is some potential in creating something new and interesting with that – but not if this overdone Christmas Turkey is an example of their on-going strategy.
Have you listened to Christmas with Elvis and the Royal Philharmonic Orchestra yet? What did you think of it? EIN wants to know YOUR THOUGHTS. - Click here
Review by Brittany Edwards and Piers Beagley.
-Copyright EIN October 2017 - DO NOT COPY -
EIN Website content © Copyright the Elvis Information Network.
Please check out Brittany Edwards own 'ELVIS' website which inspired this double-review in the first place.
Click to comment on this review - AND PLEASE send us YOUR opinion.
EIN READERS FEEDBACK - What did you think of the new album.
From T Anderson
I totally agree with your comments about the new Elvis overdubbed Christmas album.
The producers show little artistic sensitivity and integrity in combining Elvis's original recordings with the new backings. From the opening track of "Santa Claus Is Back In Town", I just thought this was horrible. And unfortunately, mixing songs from the 1971 album with the 1957 album just does not fit together well even with the overdubs, as Elvis's voice was different 14 years later.
When I heard some of the saxophone overdubs on these songs I am just disgusted.
I am reminded again of the atrocious overdubbed CDs that Larry Jordan has "produced" in the past, which always includes a bunch of saxophone overdubs. I am not against saxophones, but unless they were in the original performance, it just does not fit with Elvis's voice.
I agree with all your comments and ratings.
And how did Priscilla Presley ever get involved as a "producer" on this, too.

From Karsten
This is the worst Elvis & RPO album so far. The Christmas feeling is gone for most of the songs.
Only a few, very few songs are average at best.
The first two CD's were much much better produced. Songs like Burning Love, Bridge over troubled water, Theres always me, A big hunk o love, I've got a thing about you baby, Just pretend ... some were really really great.
And by the way, where are the three songs/classics: If every was like Christmas, The wonderful world of Christmas and If I get home on Christmas day???
I couldn't understand that. Why not an Xmas album with the hits that everyone knows?
This Christmas Project failed in my eyes.

From S Hakkarainen
I'm a Finnish fan who has listened to the previous RPO records, and attended 'Elvis: the Wonder of You with the RPO' at the O2 in London.
I thought they were an unexplored means of transporting the legacy of Elvis Presley that achieved a success any Elvis fan would demand of an official product.
But when I will listen to the 'Elvis Christmas with the RPO' I would like to say that the producers did not upset the required artistic standards this time.

From Evan Hunter
Some of it is OK whilst the last few songs sound no different (and still mushy, boring).
I give them 5/10 for trying, 7/10 for result, 1/10 for release date, 2/10 for cover
I think that it was not so much what they added to the Christmas songs, it was that they didn't stuff them up.
I love Elvis' versions of Christmas songs, but I just wanted the Elvis "milk factory" to get the release date right for a top 5 Christmas charting.
The release date was way too early - what a mistake.

From EIN contributor Geoffrey Mc Donnell
Worst Elvis RPO release so far.
I totally agree with EIN's review and the points you say.
It's a real shame if in their greed they mess up Elvis' great legacy.

From EIN contributor Tony Stuchbury
By now the format is set.
Take an Elvis recording, add opening orchestration before Elvis kicks in and away they go.
This Xmas CD is bar far the weakest of the three with less appeal, but no doubt over the years will rack up sales in the long term.
This is Elvis Christmas sanitised, that's what it sounds like to me.
There are redeeming tracks on the first two RPO albums, but this one leaves me cold.... bbrrrrr.
All too predictable for me now.....

From Terry Langford
A step too far, the first 2 albums had their moments ( in my opinion) but this should have stayed as an idea in someone's head.
Maybe the last 3 tracks have some sort of merit but mainly they should have left well alone.

From Barry Pierson
I have yet to find a real Elvis fans that likes this new Xmas album.
I am in the UK and it has already dropped down the charts. What were those RPO producers thinking.
I hope Priscilla is embarrased.
I see she is talking in australia next week SO can EIN please ask her to explain why they thought this was creatively a GOOD IDEA?
She just sees dollars now and and you say she is milking that cow for all it is worth.
From Carol Hall
This new album is an appalling waste of time and effort has gone into this album.
If available I would buy any other Elvis Christmas album.
From Melany
I didn't actually mind the first song Santa Claus is Back in Town, I felt the orchestra filled in some parts and gave it more body. I also didn't mind Merry Xmas Baby, as his voice in the later years suits the big orchestra sound. I remember reading that Elvis always loved Al Martino and the big band sound and a lot of his music in the 70's reflected this so I think this is why this sort of works. But when he was alive he was a very clever musician and did great arrangements – I don't think Elvis ever would have produced something like this if he were alive. I wouldn't rate either of these songs more than 3 out of 5.
BUT the rest of the album was not so great. I happen to love Elvis version of White Christmas but the RPO version is pretty bad, it doesn't quite gel.
I listen to other Christmas CD's from the Drifters etc., who have an orchestral sound behind what they sing but their voices suit that style – it fits - this album just sounds off. I also love the song Silver Bells usually – the intro to this was very pretty before the vocals came in – where did the choir learn to sing?? – the high singing "silver bells" sounds awful and it sounded like Santa's reindeers were mucking up through this recording.
I didn't like the RPO version of Little Town of Bethlehem. And Come all ye faithful – I have no words (it is a minus score)
I have always enjoyed Elvis Christmas songs for their simplicity but the orchestra seems to suck the life out Elvis's vocals – it just doesn't have the same 'oomph'. It was all 'too much'.
Such a shame really.
35 mins of my life I will NEVER get back.


From James Mcrae
I just listened to this cd and it didnt do much for me.
Could not see the point of the orchestral backing this time and i usually love Elvis Christmas music.
Ah well cant win them all!
---
'The Wonder Of You' Elvis with the RPO - In-depth CD Review: It is forty years since Elvis Presley entered a recording studio and he seems very reluctant to record anything new. So in terms of releasing a "new" album of Elvis material the topic has always been a tricky one. After the massive 2015 success of "Elvis with The Royal Philharmonic Orchestra" and 'If I Can Dream' the follow-up was inevitable and 'The Wonder Of You' recently achieved Number One in the UK album charts.
But can a follow-up really be as impressive - and do the true Elvis fans have to approve of these on-going fake "Revisions"?

Click here as EIN's Piers Beagley and Bryan Gruszka are back again to cause "Double-trouble" and supply a very detailed review, discovering what's good and bad...
And HAVE YOUR SAY - what do you think of the new album? Are we wrong in our opinions?
(CD Reviews, Source;ElvisInfoNet)
---
'If I Can Dream' new Elvis album - EIN Readers Respond: The publicity for the "new" Elvis album is ramping up, which is good to see. EIN asked its readers what were their opinions so far about the new album to be released at the end of this week.
Of all the sneak previews EIN suggested that the new version of "Burning Love" sounded GHASTLY!
Nor can we possibly believe that these songs with new overdubs are, "What Elvis would have loved to have had" as Priscilla tells everyone on her publicity trail.
EIN reader's comments are a very mixed bunch such as..
... I've listened to every track that's available from this CD, and I hate them all! They've ruined Elvis' songs. Why can't they leave his music alone? The original tracks are perfect, just the way they are!
....

The new arrangements are terrific and exciting as well as creative - especially Burning Love!!


...

I've really liked most of what I've heard so far but must agree that 'Burning Love' is a bit odd… it doesn't offend but it won't be the track I use to sell the concept to family and friends.

"

... They have absolutely destroyed "Burning Love". This was about as stupid as painting a mustache on the "Mona Lisa".
To be honest while EIN is not so sure of the concept of putting an orchestra over already orchestrated versions and putting violins over great rock'n'roll numbers like 'Burning Love' but we are keeping an open mind until we hear the whole album on a quality HiFi.
We also hope the album is a big success but maybe we are the wrong target-market since we know the originals so very well.
Click HERE to read our reader Feedback - and send us

YOUR Opinion


(News, Source;ElvisInfoNet)
---
---
See EIN review of 'Aloha From Hawaii' 40th Anniversary' release
See EIN review of 'Prince From Another Planet'
See EIN review of 'A Boy From Tupelo'
See EIN review of 'Young Man With The Big Beat'.
See EIN review of 'Elvis Is Back!' Legacy Edition review:

See EIN review of 'The Complete Elvis Presley Masters' in-depth Review
See EIN review of 'On Stage' 40th Anniversary LEGACY in-depth review:
See EIN review of From Elvis In Memphis (40th Anniversary Legacy Edition)
See EIN review of 'I Believe' BMG Gospel set.
See EIN review of 'The Complete '68 Comeback Special' CD Review:
---