'Way Down In The Jungle Room'
40th Anniversary Legacy release
- CD review by Piers Beagley
The original albums "From Elvis Presley Boulevard" and "Moody Blue" received very poor reviews back in 1976 / 77 so presenting these same songs to the general public 40 years later as "an essential and welcome addition for every fan's library" with comments that Elvis was "still evolving as an artist" and that he was a driving force in creating the Jungle Room studio needs to be a very clever sleight of the hand indeed.

But in the same way that Ernst Jorgensen / Roger Semon / Rob Santos / John Jackson produced the sensational 'Elvis At Stax' cleverly presenting Elvis' 1973 recordings as "inspired soul-funk", the same team have done a similar neat trick with Elvis' Jungle Room sessions.

EIN's Piers Beagley takes an in-depth look at the new 40th Anniversary Legacy release..
Review updated with EIN reader's input and extra Jungle Room articles - August 22/2016
-
-
.

In Australia - buy this great release for only $23 at JBHiFi click here . delivery only $1.70!

Please Do Not be ripped off by other Australian Elvis shops.
---
Released for Elvis Week 2016 this double SONY Legacy package celebrates the 40th anniversary of Elvis' last recording sessions which took place in Graceland's Jungle Room.
The original albums "From Elvis Presley Boulevard" and "Moody Blue" received very poor reviews back in 1976 / 77 so presenting these same songs to the general public 40 years later as "an essential and welcome addition for every fan's library" with comments that Elvis was "still evolving as an artist" and that he was a driving force in creating the Jungle Room studio needs to be a very clever sleight of the hand indeed.
Elvis historians, such as Ernst Jorgensen and Peter Guralnick, paint a very different picture of a depressed artist dissatisfied with "both recording and life in general" and disinterested in fulfilling his RCA contractual obligations.
But in the same way that Ernst Jorgensen / Roger Semon / Rob Santos / John Jackson produced the sensational 'Elvis At Stax' cleverly presenting Elvis' 1973 recordings as "inspired soul-funk", the same team have done a similar neat trick with Elvis' Jungle Room sessions.
To be honest I always considered the original albums as truly uninspired collections (bar a few fine singles) with most tracks drowned out by middle-of-the-road, excessively syrupy orchestra overdubs courtesy of arranger Bergen White. On the original releases it was nigh impossible to glimpse any sign of creative input from Elvis - and what was he doing recording such dross as Roger Whittaker's 'The Last Farewell', Neil Sedaka's 'Solitaire' or Tom Jones' 'I'll Never Fall In Love Again'?
It wasn't until the release of FTD's magnificent 'The Jungle Room Sessions' back in 2000 that I began to understand the raw emotion, close camaraderie and Elvis' personal feelings that were revealed by this intimate Graceland session.
To produce that same kind of revelation for the general public any knowledgeable Elvis collector would collate the most interesting and inspired outtake of each Jungle Room song and edit it together with as much relevant studio banter as possible to help evoke the idea that Elvis was happy and truly involved these recordings.
And that is exactly what this new legacy team has done - and to great effect.
The general media have given this release extremely positive reviews in 2016 - yet I can remember the same papers slamming Elvis' original releases. How odd that 40 years later - just like a good wine - the press re-discover the wonders of Elvis! (See Daily Mail review below)
The packaging
The triple digi-pack sleeve features recent photographs of Elvis' Jungle Room along with some session notes off the 24-track tape boxes. The 24-page booklet features others relevant photos from the time along with some memorabilia and a seven page essay from Sony's John Jackson.
In the booklet Jackson is noted as being university qualified with a bachelor of arts degree in Rock'n'Roll history. The remarkable thing about his essay is the clever positive gloss that Jackson has spun over Elvis' rather sad life at the time.
The Jungle Room sessions even get compared to the astounding creativity that was The Rolling Stones 'Exile In Main Street' recordings from their south-of-France chateau. "This was freedom and the results were spectacular" – being honest this can hardly be the description of Elvis' last recordings.
Using recent interviews with Elvis' musicians the essay however does provide a very up-beat and positive feeling.
The essay also notes, "Elvis always kept reaching and exploring further into music. He never wanted to rest on his laurels. Recording new songs and singing for audiences was the driving force in his life and he was not about to slow down" as well as, "At the turn of 1977, nothing seemed inherently wrong or out of place for Elvis" - both views that could surely only be seen through very rose-tinted glasses.
The booklet only indicates the one main take used in the "Outtakes" session implying that all the added banter and false starts beforehand were continuous.
Rather foolishly the back of the CD cover states that Elvis was 40 in 1976 (he was 41) and that it was his 20-year milestone with RCA (that was back in 1975). How did those errors slip through?

The Music. - Disc1 55 minutes
DISC ONE - features the 16 original Masters that were recorded in the Jungle Room. Just as they did with 'Elvis at Stax' the songs have been re-sequenced to provide a far more positive and exciting look at Elvis' recording sessions in 1976. The lesser songs like 'I'll Never Fall In Love Again' and 'The Last Farewell' being somewhat hidden towards the end of the disc.
Kicking off with the sensational funk of Way Down through the delightful country of She Thinks I Still Care and Bitter They Are Harder They Fall, via some of Elvis' old favourites, Pledging My Love, Hurt and Danny Boy, the collection sounds more positive and creative than the original two albums.
Elvis' original releases were in the mid-seventies era of Glen Campbell and John Denver, The Doobie Brothers, The Eagles, ABBA and before New-Wave and Punk had the chance to rattle the Rock'n'Roll doors once again. The majority of Elvis' albums tracks were therefore drowned in syrupy string overdubs which may have sounded vaguely "contemporary" at the time but soon sounded incredibly dated.
And while the overdubs might have helped hide any weaknesses in Elvis' performances, the excessive orchestration sadly drowned out most of true feeling and heartfelt emotion that Elvis and the band were actually putting down on tape.
Tracks such as 'Bitter They Are, Harder They Fall' (with its wonderful first line, "I told her to leave me alone, that's what she's done"), 'Solitaire', 'Never Again' and 'Love Coming Down' where the sincerity of Elvis' vocal needed to make an emotional impact were ruined by the addition of Bergen White's slushy string arrangements.
The audio masters on Disc 1 are by Vic Anesini and the same as on 'The Complete Masters' deluxe box-set
And while 'Elvis At Stax' presented the key session outtakes on the first disc of the collection, here it is Disc 2 with its original Jungle Room recordings that is the all-important selling-point.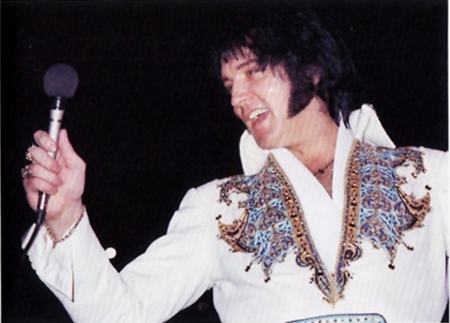 DISC TWO - THE OUTTAKES - 76 minutes
The publicity noted the sessions "have been newly mixed by Grammy Award-winning engineer Matt Ross-Spang at Sam Phillips Recording" and "includes both outtakes and in-the-studio dialog, providing a 'fly-on-the-wall experience' of what the sessions were like" and they really have created a very appealing new album.

Ernst Jorgensen has previously selected the most important outtakes for compilations such as the 1997 'Platinum' box-set and the Jungle Room Sessions FTD, so it is unsurprising that eight of the outtakes here are also from those previous releases. But what a great selection they are.

The Jungle Room session tapes have been "newly mixed". Two really notable differences to previous releases are…
a) Elvis' pure Jungle Room vocal has had a lot of reverb added to it – and sometimes the musicians as well.
b) The audio level has been greatly increased at times so that you can hear more of the studio banter. This leads to added tape hiss especially at the start of most tracks.

Presumably the producers believed that adding reverb to Elvis' vocal will make it sound stronger and help hide any weaknesses and fans have to realise that the original releases we are also drowned in reverb as well as orchestral overdubs

The Jungle Room set-up of course had none of the lovely audio dynamics of a real studio such as Nashville's Studio B so it is true that some reverb would be a good idea although in some cases, such as For The Heart, it does seem a little overdone. While some listeners may find this a little annoying on most tracks I have no issue with it.
With the added reverb the album does sound much better through a good Hi-Fi and loudspeakers than on headphones.

Of course Elvis collectors will already own the same outtakes clean and with no reverb on the relevant FTD 'Classic Albums' so I have no real complaint about creating something different here.
The audio level increase also works for the most part, although this does cause a lot of unnecessarily tape hiss at points. The beginnings of 'For The Heart', 'Bitter They Are' and 'She Thinks I Still Care' Take 2 have nothing of interest at the start to warrant the annoyingly hissy intro.

However I cannot see the "General Public" being bothered by either of these audio tweaks.

Keen Elvis collectors may also be interesed in the two additional points that...
c) In general there is more compression to the mix, with Elvis' vocal high in the mix along with the guitar and bass. This creates a more finished sound, more like a record release – than the raw studio tapes previously released on the FTD classic albums. For instance the compression and tighter mix makes 'Way Down' Take 2 sound far more like the original single than the rough run-through it really was.
b) The newly remixed tapes have also changed the actual musicians mix. Now the 2nd keyboard is apparent on 'Moody Blue' and for instance the piano & guitar now dominate on 'She Thinks I Still Care' Take 10. On 'It's Easy For You' all the guitars (including Chip Young's cool picking and even Charlie Hodges strumming) have been distinctly raised in the mix creating a far more "unplugged jam" feel that the previously released rather solo / piano mix. Plenty of the tracks now sound very different to their earlier FTD mixes.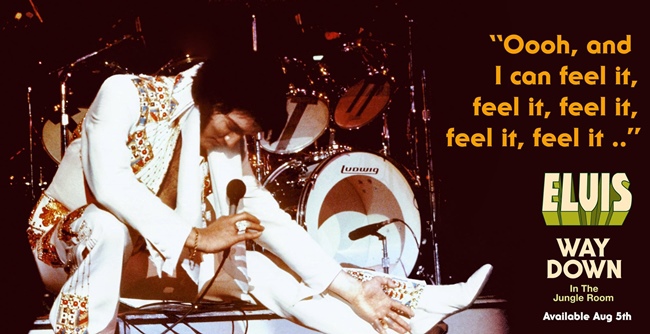 The Outtakes
In the same way I was moved by hearing the FTD Jungle Room Sessions release, similarly I think most listeners will be impressed when they hear Elvis' comments at the start of the CD - "You guys don't desert me on the very first part!" and they suddenly realise that they are being allowed to eavesdrop on a very special experience indeed.
Elvis, his friends and musicians collaborating on the very last recordings of Elvis' life – and in the comfort of his own "man-cave"!
'Bitter They Are, Harder They Fall', (3, 4, 1) It's midnight Feb 2nd 1976 and Elvis has just walked down to the Jungle Room from his bedroom upstairs. This was the very first song the group would attempt in Elvis' den. As an 'eavesdropper' you get to hear moments of the real Elvis as you've never heard him before. As Take 4 gets under way Elvis laughs and shows himself in good humour when both a dog barking and a phone ringing interrupt the recording, "Turn the damn phone off, shoot it off the wall. Shoot the yellow dog!" with the band all laughing along …… This is extraordinary "fly-on-the-wall" documentary.
Before the first take Elvis comments "You guys don't hold back, on the chord changes emphasise them so we know where we are". Thus in the first two minutes of this CD fans witness both the camaraderie of the session as well as Elvis' interest in producing quality material.
The actual first take also drips with emotional sincerity on Elvis' vocal compared to the overdubbed Master on the first disc. Listen to Elvis joining in on "she caught me lying" and the lovely ending with the quaver in his very final note. None of this featured in the original album version.
The rest of the collection continues in the same vein with extra in-studio banter tacked on to the start of the selected best outtake.
'She Thinks I Still Care' then starts just Elvis singing to an acoustic guitar backing which again captures the feeling of Elvis "jamming" with his friends. It has a lovely light feel to it. Elvis however calls it to a halt after the first verse, "No, back-up, back-up. I thought of Stevie Wonder for a minute and got carried away." Again Elvis then supplies some more ideas for the arrangement, "It seemed like every time I stopped, you stopped too". Take 10 that follows is a similar arrangement to the final release (Take 17) - if at a slightly faster tempo - but without the overdubbed violins captures a real feeling of close musicianship.
When Elvis started working on 'She Thinks I Still Care' it featured a far more honky-tonk piano rolling country feel. This arrangement would be abandoned by Take 3 and never be released at the time. Here we get the excellent Alternate Version Take 2B. The full version (on FTD Moody Blue) runs to a complete stop with everyone laughing after Elvis includes "oh son-of-a-bitch, she thinks I still care!" Here the ending has been faded out, which while sounding more "professional" loses that edge of camaraderie.
Of course the key to all these outtakes is the fabulous feel you can get of actually "being there" in the Graceland Jungle Room with the band, listening in on the music being spontaneously created. This simple rythym section vibe sadly disappeared once Felton's overdubs were added for original release.
Some of the ballads truly benefit for the clarity of being able to hear Elvis' sometimes fragile voice which then imparts more emotion into the song. For instance on 'I'll Never Fall in Love Again' the slight trembling of his voice gives it a very special edge. He sings, "Please don't make me, please don't make me fall in love again - I mean it, I mean it" - and you know he really does!
'Blue Eyes Crying in the Rain' similarly benefits. Take 4 was one before the Master and here Elvis adds some throwaway background additions "broken hearted" @2.17 and urging the band on "All right!". The ending kicks on over 4 minutes with some nice J.D. Sumner input as well as Bobby Emmons (Memphis Sessions) providing some excellent piano.
On 'Solitaire' Tk 7 - ("I'm going to kill Neil Sedaka when I see him!") all the song needed was the simple background backing-vocals as recorded in the Graceland den as opposed to the bombastic original release. Here when Elvis sings "there was a man, a lonely man" he sounds truly abandoned, yet on the album release there were a pile of violinists overdubbed to destroy the emotional effect.
'Danny Boy' Take 9 is stunning. It was the early hours of the morning and Elvis had been struggling to record the song in a higher key and so this take starts with Elvis saying… "I'd like to do it in C, that's what I'd like to do better". One take before the Master, despite Elvis' voice quavering at times this is full of emotion.
At the time Elvis' life was spinning out of control and 'It's Easy for You' captured it perfectly. The released version on Moody Blue was completely ruined by an awful mix but this version is exquisite -"I had a wife, I had children, I threw them all away" he sings - Amazing poignant stuff.
Collectors will also love the fact that this CD includes much more Jungle Room interaction beforehand that has not been previously released. There is an additional false start and Elvis comments, "Are we recording? What are you doing? Felton, don't stand there and give that sneaky look on your face, you know? Let me know what you're doing! … We need a red light in here or something, you know? So these guys'll think they're in a whorehouse. They'll play better"! It all helps present a more positive upbeat mood to the session.
(Please see Elvis DJ Jay Gordon's complete examination of the studio discussions and what is new below)
Luckily there are also some upbeat "rockers" to help balance the more sensitive songs.
'Way Down' Take 2 is sensational. Elvis comments, "Are we slowing tempo down a little bit too much?" and referring to piano player David Briggs, "When Briggs' fingers start bleeding, we know we've got it!" It is a great build up to a fabulous alternate take. The band are still laughing while they play the intro so it could only ever have been a rehearsal yet it sounds excellent. With Elvis' vocal much higher in the mix than on the original single, and without the overdubbed high-hat, this version has a much rockier overall sound.
'Moody Blue' Take 1 also features some new banter, "I swear to God I'm gonna fool around and hang myself in these goddamn wires. It's like that damn wolf that chases that roadrunner!" Taken at a slower tempo to the single the in-studio version is far more laid-back sounding much more like "pure Elvis". The final single was unfortunately buried under a pile of echo as well as those awful cascading violins. Here Elvis' vocal is so much clearer with Elvis adding some extra lyrics before James Burton's guitar solo with this take going nearly a minute longer than the single.
Two versions of 'For The Heart' are also included here – presumably the final track being added to give the end of the CD a more up-beat vibe.
'For The Heart' Take 1 "Let's just try it" says Felton - has a lovely rougher rehearsal feel. It's a real sit-down acoustic jam (listen out for Elvis' "Yeah" at 02.12) taken at a slightly slower tempo. At the ending unsurprisingly it all falls apart, with Elvis ending in a groan, all adding to the overall fun.
In comparison Take 4A has a very different electric / rocking feel which captures Elvis in a good mood, digging the song, "yeah" he notes at the start as James Burton and Bill Sanford trade guitar riffs. It makes a very nice and positive ending to this excellent compilation.
I would have loved to see an alternate take of 'He'll Have To Go' on the second disc to complete the set (perhaps the FTD "rough mix" remixed) but at a packed 76 minutes another track would have had to be cut to include it and I am sure this would have been discussed with the second take of 'For The Heart' winning out.

Overall Verdict: Creating a wonderfully enjoyable double album from Elvis' final two recording sessions, this is a very impressive release. While there is little they could do about the original record releases with their rather dated murky overdubbed sound, the second disc of outtakes truly present Elvis as still involved and enjoying recording music in 1976. The "new remixing" also adds that extra oomph that isn't there on the dry Jungle Room recordings. The clever editing of the studio chit-chat also creates a marvelous feel of eavesdropping on something very special.
This is a first class work and at a very affordable price.

Selling for less than $15 at Amazon and at your local record stores, how can this not be an essential addition to your collection.

Review by Piers Beagley.
-Copyright EIN August 2016 - DO NOT COPY -
EIN Website content © Copyright the Elvis Information Network.
Click to comment on this review
Elvis DJ Jay Gordon takes an very-detailed look at the various alternate take sources compared to previous FTD & Bootleg releases :

Bitter They Are, Harder They Fall (1) - New release includes Take 3 FS (False-Start), interrupted by phone and shooting of yellow dog, followed by Take 1. No new dialogue.

She Thinks I Still Care (10) - New release includes Take 7 FS, Take 8 FS and Take 10. No new dialogue.

The Last Farewell (2) - New release is identical to Welcome To The Jungle. Count-in followed by Take 2.

Solitaire (7) - New release is the 0:14 rehearsal (Elvis singing softly), followed by Take 5 FS and the Neil Sedaka comment, then Take 7. No new dialogue.

I'll Never Fall In Love Again (5) - As in previous releases, we get the very short FS on Take 4. We do have our first bit of previously unreleased dialogue here. It's simply the slate. "Four!"

Moody Blue (1) - Here we get 25 seconds of unreleased studio banter. Starts with a Burton lick that sounds very much like I Got A Feelin' In My Body, followed by count-in, another lick, and Elvis saying, "I swear to God I'm gonna fool around and hang myself in the God-damn wires. It's like that damn wolf that chases that roadrunner, just.." Another count, and we're into Take 1, which runs about a half second longer than the FTD track.

For The Heart (1) - We get a couple seconds of drum rolls, a clearing of the royal throat, and a remark by someone that I can't quite decipher. From there, it's Take 1.

Hurt (3) - New release starts with the Take 6 FS ("God-damn it!") Dialogue is more complete on earlier releases, but includes Kathy's teasing laugh, and the comments from Charlie and JD.

Danny Boy (9) - Starts with the familiar comment about preferring the key of C. Take 9 has the backing vocals, which were mixed out of certain earlier releases.

Never Again (9) - Way Down starts with previously unheard rehearsal. Elvis is singing to himself. There are a couple of new lines, that lead into the lyric we've heard before. Feltone instructs that the bass be turned down in the band bus (the channel running through the board). We then hear the familiar "Bring out the booze...Grandma" segment. After Elvis says "you can't get too loose for me, son," there is a somewhat jarring edit into the opening of Take 9.

Love Coming Down (3) - Starts with count-in, as we've heard before, followed by Take 3.

Blue Eyes Crying In The Rain (4) - Includes the Take 1 FS and the comment, "I jumped on rain."

She Thinks I Still Care (2B) - The two very quick false starts to which we are accustomed are included. However, the complete take 2B is faded out.

It's Easy For You (1) - This track may be the most interesting to collectors. It was only a few years ago that we learned there were more than two takes of this song. The Moody Blue FTD gave us a relatively long segment of banter and two false starts, labeled as Takes 3 & 4. To my ears, I'm hearing a third false start on the new release.

The familiar "Carried away...emotional sumbitch" line is not included here. In the new album, we start with laughter, and Kathy telling John Wilkinson she's "stealing" his part. Elvis quips, "Nothin' personal, John," and someone else chimes in, "Just business." Kathy and Myrna are heard rehearsing. Then, we're rolling.

After two beats in the third measure, Elvis says, "What are y'all doing? They're just crazy as hell. They take off by themselves. The hell with you, whether you're with 'em or not, it don't matter." This is new dialogue. Wilkinson says he can't hear his guitar. Elvis jokes, "You don't need to. Sit over there, John." Lots of laughs.

The band kicks off a new intro.This time, they get to the first beat of the fourth measure before Elvis stops them. "Are we recording? We recording? What are you doin'? Felton, don''t stand there and give that sneaky look on your face, you know? Let me know what you're doing! Lookin' at me with a suspicious look look like I done something. Waitin' on me? I'm waitin' on you! We need a red light in here or somethin'. You know? So these guys'll think they're in a whorehouse. They'll play better"! Laughs.

On the new release, there is an edit here that kicks into Take 1. On the Moody Blue FTD, though, the laughter continues, with Elvis remarking that "We work very tight here." He asks, snidely, "You ready, Felton?" His producer dutifully replies, "Four! We're rollin'!" Another intro kicks off. Elvis sings the first word, curses, and the take falls apart in laughter. I would label the new false start as 2B, with 3 and 4 following.

Way Down (2) - We've heard the dialogue before. It's cobbled together from several sources. Some of us first recall hearing the "walking disaster area" line on the recording of the Graceland mansion tour, a long time ago. Somebody finally figured a way to lift it off their system, and it appeared on boot.

Pledging My Love (3) - We get two false starts, prior to take 3. Seems as though Feltone missed a slate, because he calls out, "Five!" after the second attempt. Call it 4 and 4B. There are a couple of lines of new dialogue. Tony Brown went "stark raving ape-shit, didn't you!". Elvis subsequently asks Tutt, "What are you hearing in your phones...Ronnie? It sounds good out here. What are you hearing?"

For The Heart (4) - There's about :07 of new-to-me-sound before the take kicks off. This is one of the more electric versions of the song, with Elvis doing his Clouseau ending.
EIN thanks Jay Gordon for his great research.
---
---
DAILY MAIL REVIEW - "Verdict: The King's twilight years revisited - Rating: 4 out of 5 stars".
The review includes...
Elvis died in 1977, but the previous year had seen him grafting away in his Graceland mansion, recording new songs with his touring band in a Hawaiian-themed home studio known as the Jungle Room. Those tracks have now been gathered together for the first time to paint a complete picture of those sessions.
Elvis wasn't ancient when he made this music. At 41, he was younger than Robbie Williams, Liam Gallagher and most of the Spice Girls are now.
That unmistakable voice, too, was still in fine fettle. The hip-shaking energy of youth had gone, but the immaculate phrasing was still there. Like an ageing opera singer, he could explore the lower notes with spine-tingling power on country ballads like Love Coming Down.
He also had a superb group. Country-soul guitarist James Burton, bassist Jerry Scheff, keyboard player Glen Hardin and drummer Ronnie Tutt - the core of his TCB Band - had been with him since the Sixties.
They had developed their musical chemistry during his Las Vegas residencies, and the songs laid down in The Jungle Room were all recorded in single takes, with everyone crammed into the same room.
Presley relished the intimacy. He imbued the lively pop single Way Down with a swampy, southern feel and gave the blues ballad Pledging My Love a doo-wop makeover.
But he was still coming to terms with his divorce, finalised three years previously, and there's an authenticity to his wounded rendition of She Thinks I Still Care.

It's Easy For You, written for him by Tim Rice and Andrew Lloyd Webber, finds Elvis lamenting the wife and children that he 'threw away'.
There are some ill-advised song choices. His attempt at Neil Sedaka's Solitaire is wayward. His take on He'll Have To Go isn't a patch on the earlier Jim Reeves version. But his Danny Boy, backed by simple piano and the gospel harmonies of the Stamps, is heartfelt.
The second disc of newly-mixed out-takes offers a glimpse of Elvis and his band in the raw. The songs are less polished but more passionate, with Bitter They Are, Harder They Fall benefiting from the absence of a suffocating string section and She Thinks I Still Care revamped as a honky-tonk workout that harks back to his rock 'n' roll roots.
Some of the asides from Elvis - 'don't hold back, guys, emphasise the chord changes' - also suggest he still cared ardently about the music he was making. Less than a year later, he was gone. But, captured here in 1976, the King was alive and kicking.
---
Some EIN Reader's comments.
From Jeanne P
Just read this, and it was definitely worth waiting for! Thanks so much. I'm glad I ordered it. I should be getting it today.
I never did get "ELVIS AT STAX" because I have all 3 of the FTD Classic albums of the material, besides the original LPs.
Is "EVIS AT STAX" a worthwhile purchase? - I've always found your reviews to be "spot on."
Thanks again, Jeanne

From Barry S,
Good review thanks
However I noted that you included the good daily Mail review but did not mention others from Rollings Stone etc.
Why not?
- Barry in UK
- see added comments below - thanks Piers

From Susan S
I bought the original albums when they came out and loved them back then.
Moody blue is sad as i bought it after Elvis died.
You are a little mean about the original orchestra versions which I like.
however the second cd is another great release especially as I cannot afford the fan club ftd verions which are expensive.
thanks - susan
From Paddy O'D
Congrats to you on Sleeping in the Den (Jungle)
the success of Jungle Album in Australia goes to you and your site for sure, only reason I can see and again
congrats Paddy
Two more 2016 reviews
Elvis Presley Reissue Eavesdrops Into His Final Recording - - (Rolling Stone Review)
Rating: 3/5
With its shag carpeting, Polynesian flair and indoor waterfall, the "Jungle Room" in Elvis Presley's Graceland den epitomized the kitsch excess of the King's declining years. But once converted to a home studio in 1976, the verdant oasis became the unlikely birthplace of his final recordings. Way Down in the Jungle Room showcases 16 master takes released on the last two LPs of Presley's lifetime, a chance to eavesdrop on a troubled performer pulling himself together for a final sprint at artistry.
A second disc of outtakes – featuring muttered wisecracks, false starts, and a couple promising alternate arrangements – adds background atmosphere but is mostly of historical interest.
What separates the triumphant cuts from the merely adequate is less the quality of the material and more the star's ability to connect with it. "She Thinks I Still Care" may be the finest composition here, but Elvis's technically proficient dramatization lacks the heartrending vulnerability of George Jones' classic rendition; Neil Sedaka's "Solitaire," best known as a Carpenters hit, is pure weepy schlock, but Elvis belts it so shamelessly you can imagine how the lyric's melodramatic sense of isolation might have resonated with Graceland's tortured recluse.
Though Elvis was often faulted as a lazy performer in his later years, his final recordings actually suffer when tries too hard, when he overworks his enunciation or goes for broke when some restraint is called for. But more often he strikes the ideal balance between effortlessness and self-awareness – looping his tongue around the phrase "complicated lady" on "Moody Blue," swaggering orgasmically through "Way Down" and gliding through the Johnny Ace classic "Pledging My Love." In those moments of ineffable Elvis-ness he's as dangerously seductive as he'd ever been.

(From Rolling Stone - go here for full review)


Conclusive proof that Presley's crown hardly slipped at all - - (Record Collector Review)
Rating 4/5
By 1976, Elvis Presley was tired of squeezing in studio sessions between his rigorous touring schedule. Though his recordings had long failed to have any relevance for cutting-edge rock fans, his showing on country and adult contemporary charts meant that there was a constant thirst for new material. And, as both American Sound Studios and Stax were bothdefunct, options for recording in Memphis were fewer and further between. As a result, his beloved "jungle room" at Graceland was turned into a studio and producer Felton Jarvis and his players assembled when timetables and mood would allow. Way Down In The Jungle Room captures all of the officially recorded output from the sessions (2-8 February and 28-30 October, 1976), while adding outtakes from the era.
It is suggested that these sessions "anticipated a bridge between the bloom of Nashville's Music Row in the 60s and 70s and the low-fidelity, intimate, DIY-style recordings like Bruce Springsteen's stark Nebraska". While I'm not entirely sure of that claim, there is certainly a relaxed authenticity to these sessions, which made up Presley's final releases: From Elvis Presley Boulevard, Memphis, Tennessee and Moody Blue. The 16 original masters have been re-sequenced; they provide, at times, unbearably poignant listening: Presley's voice is like liquid sorrow. The thickening around his middle had seemed to reach his vocal chords as well. The likes of Leonard Cohen or Joy Division are often cited as the final word in exquisite misery, but just listen to Presley singing Solitaire or Danny Boy. Jerry Chestnut's Love Coming Down, too, is fathomlessly bleak. The richness of Elvis' singing in tandem with his backing vocalists is quite remarkable and constantly touching, especially on Blue Eyes Crying In The Rain.
It's not all great. The forever anaemic Way Down continually promises something it fails to deliver, and with its lachrymose spoken word interlude and overstated croon, Hurt offers late-period Presley detractors plenty of ammunition. Moody Blue, however, reveals hidden depths with repeated listening. It has a delightfully downbeat edge to it, yet Presley imbues lines such as "Her personality unwinds just like a ball of twine on a spool that never ends" with great authority, just like he had done on author Mark James' other great contributions to his catalogue, Suspicious Minds and Always On My Mind.
The outtakes on the second disc have been sequenced (with a couple of exceptions) in the order that they were recorded. As usual with Presley, the studio banter offers a fly-on-the-wall insight of what the sessions at Graceland were actually like. Hearing the completed work and then the freewheeling nature of the sessions show that play was never far away from work.
With the forensic detail one would expect from the Elvis reissue programme, Way Down In The Jungle Room is the most complete and comprehensive collection of Presley's final studio recordings ever assembled in one anthology; and very necessary it is too. This is no half-assed, ramshackle performer in some strange twilight, this is a man 20 years into his career, stretching out and capturing some heart-rending performances. One can only wonder what would have happened next…
'Way Down in the Jungle Room' at Phillips Recording Service: The Memphis Commercial Appeal notes that back in May they reported some interesting Elvis Presley happenings afoot at the Phillips Recording Service. Although details were vague, officials from Sony/Legacy and longtime Elvis band members were on hand at Phillips to work on tracks for an upcoming project. The work was reportedly for a 40th anniversary package marking the King's 1976 home recording sessions at Graceland's Jungle Room.
Last week, Sony/Legacy finally did confirm that a two-disc collection titled "Way Down in the Jungle Room" will come out Aug. 5, just in time for annual Elvis Week festivities. The double disc set rounds up the results of sessions Presley cut in the Jungle Room in winter and fall 1976, with a core of longtime TCB band members including guitarist James Burton and drummer Ronnie Tutt.
While the first disc will include all the masters, it's the previously unreleased outtakes and alternate versions that are of particular interest. Those tracks were mixed by Memphian and Grammy-winning engineer Matt Ross-Spang, the longtime Sun Studio ace, currently working out of Phillips Recording Service.
"I was recommended to Sony's Rob Santos," says Ross-Spang of his involvement with the project. "He comes to Memphis quite a bit and knows the Phillips family. I mentioned that my favorite place to work was Phillips, and he's always wanted to do something there, so it came together pretty perfectly."
"We mixed 18 tracks from the Jungle Room sessions, and the really cool thing is James Burton, Norbert Putnam, David Briggs, Ronnie Tutt - all those guys who played with Elvis came to town and hung out while I mixed," says Ross-Spang. "It's pretty interesting mixing with James Burton standing over your shoulder."
The above photo shows Engineer Matt Ross-Spang (far right) with Jerry Phillips (left) and James Burton during mixing sessions at the 'Phillips Recording Service'.
Ross-Spang's work offers a sparer-sounding version of the Jungle Room material. "Those songs were originally done on 16-track at the house, but afterwards Felton Jarvis took the tracks back to Nashville and added strings and horns and overdubs. Which was cool, but it's really great just to have the original kind of swamp-y tracks, real bare bones. I think that's where some of the material really shines."
The sessions find Presley in rare form, feeling comfortable in his home environs and chatty with his band. "It was neat to hear that side of him and to hear all those guys in a room together playing," says Ross-Spang. "It was pretty wild to solo tracks and hear Elvis laugh and joke around with the boys. Or listening and getting chills hearing him do 'Danny Boy' or something. I've worked with a lot of people who thought they were Elvis, so it was really cool to work with the real thing."
Ross-Spang says he tried kept the project pure from a technical standpoint. "Obviously, with all my time at Sun, I'm a massive Elvis fan. I think oftentimes these kinds of projects go to people who maybe aren't the biggest fans, and maybe they want to make it too modern. I'm such a fan of the old stuff that I wanted to keep it in that tradition. We mixed all analog; I used original tape slaps and the Phillips echo chambers and plate reverbs. We kept it mixed how it would've been done back then."
The sessions were particularly special for Knox and Halley, Jerry and Jud and other members of the Phillips family, who have been working diligently over the past couple of years to renovate and relaunch the family studio. "There's three echo chambers at Phillips, and two of them we just rewired right before the session," Ross-Spang says. "So the first thing to run through them was Elvis Presley. Elvis never recorded at Phillips, so it was a pretty magical thing to have him christening the chambers."
(News, Source;SM/ElvisInfoNet)
James Burton talks about The Jungle Room sessions
"Those sessions were great, really loose. Elvis was a night owl. When he was ready to work, he wanted everybody else ready to work. So we were always on call. Sometimes Elvis wouldn't come down till midnight or whatever, but we'd normally have a starting time around 6, 6:30, or 7 at night. So we'd just play and have a great time. Then he'd come down at midnight, or sometimes he'd come down even later. But I'd always remind everybody, 'When Elvis comes down, no yawning. Everybody be ready to roll.' But when you worked with Elvis, you became family. That made the hours and demands feel like nothing at all."
"We were in the same room with him. We were pretty close. He liked to have the singers close by, and the band, because he liked to have eye contact with everybody. So it was really a performance in the truest sense, and he was acting as both performer and producer. We had a producer, but the bottom line was that Elvis had the final say if it was something he liked or disliked."

(Right Elvis and James Burton 1975)

"Elvis would only do maybe three or four takes at the most. His feeling was that if it didn't happen, if it didn't come together within three or four takes, it was time to go on to something else. So he'd flip through the songs, and we'd take a crack at it, and if the song was there—if the feeling and everything was right—then that would be the song he would go for."
"When I'd play a hot lick or something, Elvis would turn around and say, 'Yeah baby, yeah! That's it!'. You can hear it on the records. That feedback was indescribable. He wanted you to feel good and be happy. He wanted everything to be just right."
Burton also insists that, contrary to popular belief, Presley didn't surround himself with "yes men"—at least not in the studio.
"Most of all, he wanted to hear the truth. Elvis would always ask if I thought we could improve on something. He'd ask the band, too. He was always concerned about finding out how we felt about it. He just wanted to make sure that everything was right. And if something wasn't right, he would make it right. That's how I remember him, and it's a great memory, I think."
James Burton talked with Esquire Magazine - go here for full article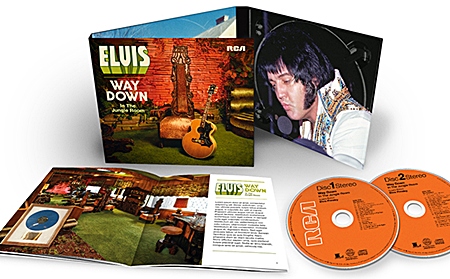 ---
Elvis Way Down In The Jungle Room - LEGACY EDITION
(RCA/Legacy 88985318102)
Disc One
The Masters
1. Way Down
2. She Thinks I Still Care
3. Bitter They Are, Harder They Fall
4. Pledging My Love
5. For The Heart
6. Love Coming Down
7. He'll Have To Go
8. Blue Eyes Crying In The Rain
9. Hurt
10. Never Again
11. Danny Boy
12. Solitaire
13. Moody Blue
14. It's Easy For You
15. I'll Never Fall In Love Again
16. The Last Farewell
Disc Two
The Outtakes
Bitter They Are, Harder They Fall (3/ 4, Take 1)
She Thinks I Still Care (7/ 8, Take 10)
The Last Farewell (Take 2)
Solitaire (5, Take 7)
I'll Never Fall In Love Again (4, Take 5)
Moody Blue (Take 1)
For The Heart (Take 1)
Hurt (6, Take 3)
Danny Boy (Take 9)
Never Again (Take 9)
Love Coming Down (Take 3)
Blue Eyes Crying In The Rain (Take 4)
She Thinks I Still Care (Take 2B)
It's Easy For You (3, Take 1)
Way Down (Take 2A)
Pledging My Love (4/ 5, Take 3)
For The Heart (Take 4)
Compilation Produced by Ernst Jorgensen & Rob Santos
Art Direction & Research by Roger Semon
Audio Mastered by Vic Anesini - DISC 2 mixed by Matt Ross-Sprang at Sam Phillips Recording Service
---
---
See EIN review of - 'Elvis Presley - The Album Collection' 60th Anniversary collection
See EIN review of - 'Elvis: Today' in-depth Legacy 40th Anniversary release
See EIN review of - 'Elvis At Stax' [Deluxe] 40th Anniversary :
See EIN review of 'Aloha From Hawaii' 40th Anniversary' release
See EIN review of 'Prince From Another Planet' Elvis at MSG 40th Anniversary
See EIN review of 'A Boy From Tupelo'
See EIN review of 'Young Man With The Big Beat'.
See EIN review of 'Elvis Is Back!' Legacy Edition review:

See EIN review of 'The Complete Elvis Presley Masters' in-depth Review
See EIN review of 'On Stage' 40th Anniversary LEGACY in-depth review:
See EIN review of From Elvis In Memphis (40th Anniversary Legacy Edition)
See EIN review of 'I Believe' BMG Gospel set.
See EIN review of 'The Complete '68 Comeback Special' CD Review:
---
Did you miss these Popular EIN Reviews
'Live A Little, Love A Little' FTD Soundtrack Review:
'If I Can Dream' Elvis with the RPO - In-depth CD Review:
'A Touch Of Gold Lamé' Book Review
'Elvis: Today' in-depth Legacy Review:
'Hard Knocks' Bootleg CD Review:
'Rock Around The Bloch' FTD Book Review
'Elvis' Christmas Album' FTD Review:
'Flaming Star' FTD Review
Is 'From Elvis In Memphis' the only Elvis album you need to own?
'Final Countdown To Midnight' NYE 1976 - in-depth Review:
'ELVIS' FTD Classic Album Review:
'Elvis-The King Of The Jungle' In-Depth Book Review:
(Book Review): Elvis' Favorite Director:Norman Taurog:
'Ultimate Elvis' Book Review
'Elvis In Florida April 1975' FTD In-Depth Review:
'Ultimate Elvis' Book Review:
The Elvis Films
(Book Review)
(Book Review): CHANNELING ELVIS How Television Saved the King of Rock 'n' Roll:
(Book Review) Elvis and Ginger:
'Final Countdown To Midnight' jewel-case Versions

Review

:
(Book Review) Memphis Mafia Princess:
'Elvis Music FAQ' - Book Review:
'Elvis Films FAQ' Book Review:
'The On Stage Season' FTD In-Depth Review:
'Love Me Tender' Blu-Ray Edition Review:
'Houston We Have A Problem' - CD review:
'SOLD OUT' FTD CD Review:
'Elvis At Stax' [Deluxe] Reviews:
'The Elvis Files Vol. 1 1953-56' In Depth Book Review:
'Aloha From Hawaii' 40th Anniv LEGACY CD Review:
'Prince From Another Planet' In-Depth Review:
'Elvis: Walk A Mile In My Shoes' - EIN Review:
'Greatest Live Hits of the 50s' MRS CD Review:
'A Boy From Tupelo' special In-depth Review:
Bootleg Elvis (Book Review)
'From Hawaii to Las Vegas' FTD CD Review:
'Blue Hawaii - The Expanded Alternate Album' Review:
'Elvis: Live at the International' Book Review:
'The Complete Louisiana Hayride Archives 1954-1956' Review:
Did You Miss these Popular Interviews?
Interview - Joseph Rene, author of Elvis, The Numbers:
"Dr. Nick" Exclusive EIN interview
:
EIN Joyce Bova exclusive Interview:
Ginger Alden Interview:
Elaine Beckett -Easy Come Easy Go costar- Interview:
Shirley Dieu, author of Memphis Mafia Princess, talks to EIN:
Interview With Elvis author - : Gillian G. Gaar
Interview with Dick Grob, Elvis' Head Of Security:
Hollywood veteran Michael Hoey talks to EIN:
Interview with 'Elvis Films FAQ' author Paul Simpson:
Elvis Music FAQ - Mike Eder Interview:
"My Fast Life" Rare Elvis Presley 1964 Interview:
John Wilkinson Tribute & 1972 Interview:
'Elvis: Walk A Mile In My Shoes' - Arjan Deelen Interview:
RIP - Bernard Lansky talks to EIN:
Allyson Adams 'The Rebel and The King' Interview:
Interview with Elvis Photographer Dagmar:
Linda and Sam Thompson in Australia:
Vernon Presley Interview:
Jerry Leiber Interview for EIN
Elvis Paradise Hawaiian Interview - with Peter Noone
Sam Thompson, Elvis' bodyguard, 2011 Interview
James Burton Interview - Rick Nelson & Elvis:
Elvis Drummer Jerome "Stump" Monroe EIN Interview:
Donnie Sumner Remembers his friend Sherrill Nielsen:
Lamar Fike EIN Exclusive Interview
Ernst Jorgensen interview about 'The Complete Masters' and more:
D.J Fontana Interview - Elvis Week 2010 special:
Red West Interview:- 2010 Elvis week special
Linda Thompson - Interview Special:
Elvis in 1969 - Ann Moses & Ray Connolly Interviews:
Ernst Jorgensen interview about 'On Stage' and Elvis' Legacy in 2010:
Dr. Nick talks to EIN
Larry Geller
Mac Davis
Roger Semon
Ernst Jorgensen
Wayne Jackson (Memphis Horns)
Ernst Jorgensen (Record Collector)
Did You Miss these Popular EIN articles
"Baby, Let's Play House" - EIN Spotlight
'If I Can Dream' new Elvis album - EIN Readers Respond:
"You Can Have Her" Elvis' One-Off Performance:
'Elvis Meets The Beatles':
Did Elvis Record 'Tiger Man' At Sun?
.ELVIS WEEK 2015.
Forever Elvis

- A 2015 commemorative Spotlight:
Elvis

"Non Stop Erotic Cabaret"

:
'Suppose - Did It Inspire Imagine':
'Trains, Jet Planes and Morning Rain' EIN Spotlight:
Wertheimer's Reaction To Finding The 'Mystery Kisser':
UPDATED -

'Elvis Madison 1977 - The Gas Station Incident' with Kathy Westmoreland:
"If You're Going To Start A Rumble" -The Importance of Fights In Elvis Movies:
'Big Boss Man: What Kind of Technical Advice Did Parker Provide for Elvis's Movies?':
JAZZWORLD - Music vs. Elvis Presley.
UPDATED -

'American Studios 1969 - A Turning Point In History':
Elvis' Personal Record Collection:
Linda and Sam Thompson in Australia:
Fourteen Key Elvis Singles:
Happy Birthday EIN EIN turns 100 – a retrospective!:
Elvis Week Through The Years - Sanja Meegin looks back:
'The Wedding' Elvis & Priscilla EIN special Spotlight:
John Lennon And Elvis:
It was "Thirty Years Ago Today"
Elvis at Madison Square Garden 40 Years Ago
'Elvis In Ottawa' Spotlight & Elvis Interview:
"Kissed By Elvis" Janet Fulton Interview:
'1956, Elvis Presley's Pivotal Year':
'Elvis In Concert' 1977 TV special; Should it be released officially?
Ernst Jorgensen interview about 'The Complete Masters' and more:
Dark Side of the Colonel
Audio-Visual
Best of Elvis on YouTube
Graceland cam
EPE's Multimedia Elvis Gallery
Sirius Elvis Satellite Radio
Elvis Radio (ETA's)
Elvis Express Radio
Ultimate Elvis Radio
Elvis Only Radio
"Images in Concert" PhotoDatabase
Radio Interview: Vernon & Gladys Presley
Sanja's Elvis Week 2007 Photo Gallery
'EIN's Best of Elvis on YouTube'
The Music of Elvis Presley - Australian Radio Show
Reference
All about Elvis
All about Elvis Tribute Artists
All about Graceland
All about Lisa Marie Presley
Ancestors of Elvis
Art Archives
Book Releases 2009
Contact List
Elvis and Racism
Elvis as Religion
Elvis CDs in 2007
Elvis DVDs in 2006
Elvis Film Guide
'2007 New Releases'
Elvis Presley In Concert "downunder" 2006
Elvis Online Virtual Library
Elvis Research Forum
Elvis Rules on Television
Graceland - The National Historic Landmark
How & where do I sell my Elvis collection?
Is Elvis the best selling artist?
Links to Elvis' family & friends
Links to other Elvis sites
Marty's Musings
Online Elvis Symposium
Parkes Elvis Festival 2009 (Australia)
Presley Law legal archives (Preslaw)
Presleys In The Press
Sale of EPE (Archives)
6th Annual Elvis Website Survey
Spotlight on The King
"Wikipedia" Elvis biography