'ELVIS - Las Vegas 1975'
- In-depth FTD review by Geoffrey McDonnell -
The album features two of Elvis' best concerts from his Las Vegas March/April 1975 season.

The March 22 concert is considered one of the best concerts of the season and was first released on the Fort Baxter bootleg 'A Profile Vol. 2'.

Elvis is in fine voice and the excellent set-list includes Big Boss Man, It's Midnight, Promised Land, My Boy as well as the one-off 'You're The Reason I'm Living'.

Elvis soundboard super-collector Geoffrey McDonnell checks out this new FTD double-pack from Las Vegas 1975.....
---
January 1975, Elvis was forty and the year had not begun well. Elvis was depressed, had avoided celebrating his birthday and he had spent two weeks in hospital trying to improve the state of his health.
Elvis' father Vernon also found himself in the same hospital after a heart attack and in a cruel moment tried to blame Elvis for his own poor health. Because of the situation Elvis' planned January Vegas season had to be cancelled & was postponed to March.
Before his return to Vegas however, Elvis mood improved and he tried to get fit & lose some weight by playing racquetball and going on a strict diet. While long-term girlfriend Linda Thompson was still with Elvis, he also had begun to spend time with Sheila Ryan.
Eight days before the start of the season Elvis returned to RCA studios in Hollywood to record his last studio LP 'Elvis Today' songs from which he would regularly perform at his 1975 concerts.
The last time RCA rolled their tapes across an Elvis concert was twelve months before and now his set-list included EIGHT new songs not performed in Memphis back in '74. Elvis' record label had released live albums almost annually so how ludicrous it was that Felton Jarvis never bothered to run a professional tape across a concert at this Las Vegas season! Even a basic four-track tape would have given RCA some new and exciting back-up live material to use in the future. Even if this 1975 material had been kept until the posthumous 'Elvis In Concert' release imagine how much better the second 'bonus' album would have been.
---
'ELVIS LAS VEGAS 1975' FTD review by Geoffrey McDonnell

It was Elvis' twelfth Las Vegas season and his song selection was very impressive and, unlike his later 1974 concerts, he kept his monologues to a minimum with his interest in Karate not even getting a mention. While FTD have previously released Elvis' March 28th show (on 2005's 'Big Boss Man') it was this March 22nd concert (A Profile Vol 2) that has been a firm fan favourite and regularly released on bootleg.
The Design
The three-sided 5" Digi-pack comes with a good photo of Elvis in his light blue 2 piece suit on the front cover by George and Linda Athans, inside photo of Elvis from the closing M/S show on April 1st featuring Elvis with his dog 'Getlo', and the first tray insert pictures of him in his light blue 2-piece suit taken by Judy Palmer.
The 2nd tray insert + back inside photos show Elvis in his 'Blue / Red shoulder suit' (both badly out of focus) while the back inside cover of Elvis in his Black 2 piece blue shoulder ornaments doing a low squat at the end of 'Amen', (which is the suit he wore at the 22nd M/S!) – five photos in total.
So the packaging is 'adequate' but not more than that – although we do get a two-for-the-price of one CD deal.
This set presents us with the earliest official look at Elvis' return to live work after 5 months off and also performing several of his newly recorded songs from early in March.
This is a double 'soundboard' FTD release from Elvis' 12th Las Vegas season - featuring the Midnight Show of March 22 plus the Dinner Show of April 1st.
The first show has been previously released on bootleg initially via Fort Baxter's "A Profile, The King On Stage Vol2' box-set back in 1996! Further re-releases followed with Audionics / Fort Baxter in 2008 and 'Las Vegas Happening' by Rock Legends again in 2013. Obviously a fan favourite it deserves an official release at last by FTD in 2016.
The 1st April Dinner Show has only been previously released as a bootleg from an audience recording, firstly as one of the earliest vinyl releases and more recently, slightly more complete, in 2009 by Audionics /Southern Comfort. It has never been released ex soundboard before.
Audio Quality: The audio here is better than on previous bootlegs with a fuller sound and less tinny, however it is not the greatest quality soundboard having a little bit of distortion at times, as well as sounding pretty heavily compressed. Both concerts have similar audio quality perhaps the March 22nd concert being a slightly better, less worn out, tape.
The general audio mix is very good with the orchestra nicely balanced together with the TCB Band and James Burton's lead guitar.
There is however no doubt that the FTD 'Big Boss Man' March 28th show is FAR better audio quality with a very clean and clear mix. However, of course, here we get two-for-one, plus the bonus of a brand new never before bootlegged soundboard.
Also worth noting is that three songs from the March 22nd 1975 show were included as Bonus Songs on FTD's earlier 'Big Boss Man' release.
The Music
DISC 1 – 74 minutes.
The first show is the March 22nd 1975 Midnight Show. Note that despite all previous bootleg releases stating that the first four tracks came from the 20th March 1975 D/S, FTD states that this is the complete 22nd March 1975 concert.

Immediately from the kick off 2001 and 'See. See. Rider' you can tell Elvis is up for a good time and full of energy , "See, See, See, See, See, See, See, See, See, See, Rider, yeaaaaaaahhhhhhhhh, you made me love you" he sings at one point. The sound is up front row type sound, clear James Burton guitar with a good band / orchestra mix and bass from J.D. Sumner.
'I Got A Woman/Amen' is a fine version "ooooooooh yeah!". Right in the middle Elvis stops "Wait a minute my lip ain't working!" – he then explains the hilarious story that about curling his lip, that he wasn't trying to be sexy, just that in his childhood he had gone on a fishing trip with his Uncle and got a fish hook caught in his lip!.
(Exactly the same as on the 1996 Baxter bootleg CD which was supposedly from a different show!).

Elvis then introduces himself "Good evening Ladies and Gentlemen, you remember me!" and explaining that on his first show of the season he had picked up the Creeping Crudd!
'Love Me' is just 'ok' and routine while on 'If You Love Me' Elvis is positively enthusiastic singing it well. The song also features the orchestral strings high in the mix creating an overall very rounded sound.

'And I Love You So' a new song from his yet-to-be-released album this was Elvis' only fifth live performance and it is a very nice and intimate version – one of the best. It is strange that Elvis never explained that the song would be included on his new LP. This is the earliest live performance released.

After this Elvis says 'quick get on the next song' and goes into a rockin' 'Big Boss Man' - where the drums sound a little tinny, where they need a real thump.

'It's Midnight' a song that Elvis had been performing since his summer '74 season, this is a very passionate version with a great vocal and good orchestra mix - Kathy Westmoreland's voice comes across very well too.. At the end Elvis impassions, "Oh I miss you, Good God, It's Midnight and I MISS YOU!" and gets a well-deserved applause from the audience.

'Promised Land' is another treat well performed, nice cutting guitar form James Burton and very clearly sung!

'Green, Green Grass Of Home' was only performed a handful of times by Elvis in concert and it's another well sung highlight tonight. This version is the only live version that has been officially released. Previously on both the 'Live In Las Vegas' 2001 box-set and 'Big Boss Man' it sounds better here and nice to have in context of this fine show.

'Fairytale' another song from his latest session "This song we've been doing a little bit" this is fifth live performance. Again it is odd that Elvis never mentions that he has recorded it!
Elvis doesn't rush the song, it's taken at cool mid-tempo, and he is obviously enjoying this new song in his set-list – "Walk On!". This is also one of the best live versions.

Then we move to The Introductions - to a background instrumental of Stax Studio's 'Green Onions'
Here Elvis talks about the The Sweets come from 'In The Ghetto' plus he jokes that he has size 12 shoes - big enough to go skiing in barefoot! "The Lord gave me built in sleds".

After jokes with J.D Sumner it's a snatch of 'What I'd Say' with James Burton plus the regular Drum Solo, brief Duke Bardwell solo and David Briggs solo on his electric piano. Elvis' personal vocal-group 'Voice' get an intro plus the usual Joe Guercio orchestra solo.

When 'My Boy' intro starts it gets an excited reaction from the audience. It's an old favourite from Elvis' summer 1973 season brought back into his set-list for 1975. Again Elvis delivers a nicely measured version. I wonder if Elvis knew it had been a Top 5 hit in the UK at the end of 1974.

'I'll Remember You' - another song from Elvis' 1973 concert again brought back for this season. It is not perfect – Elvis is 'kissin' the girls' - but still 'ok'.

Briefly telling a girl that he'll "let her be there!" Elvis gets back down to business with a very enthusiastic 'Let Me Be There' - again one of the better versions – that gets a powerful reprise.

So far the concert has thankfully been free of the regular crowd-pleasing oldies but Elvis fixes this up with 'Teddy Bear/Don't Be Cruel'-which near the end he whispers a sexy 'wait a minute baby' to a loving fan - and then the most throwaway song tonight of 'Hound Dog' after the false ending noting, "I cannot read music!"

Paying attention to a fan Elvis sings her one line of Bobby Darrin's 'I'll Be There' and then follows it with the super rarity of a good 2 minute performance of Darrin's big hit 'You're The Reason I'm Living' (which was actually rehearsed in March!).
This is a sensational inclusion with Elvis having to lead the band, telling them key changes and to go to the "bridge".
Afterwards Elvis explains that it was a unique performance as, "That was totally unrehearsed, we have never done that song before in our natural lives".

It is odd to think that to most of the audience 'You're The Reason I'm Living' would have been as fresh to them as 'Fairytale', 'Green, Green Grass Of Home' and 'And I Love You So' that night. They probably never appreciated just how unique it really was.

Afterwards Elvis talks about both his father and himself being in hospital – "Your cards made us feel a lot better" and hopes they have a HAPPY EASTER, then 'Can't Help Falling In Love' wraps up this very fine show.

BONUS TRACKS
There are four 'bonus songs' included - but sometimes "less is more".

'Sweet Caroline' and 'Funny How Time Slips Away' both come from March 30th M/S. However after the previous show the sound is particularly hissy and poor – Elvis is really in the background.
'Sweet Caroline' is presumably included due to it only being performed twice in the whole of 1975 but unfortunately it's not a particularly memorable version.
'Funny How Time Slips Away' is the only version he performed this season, the first version for 1975, although he would perform it regularly the rest of the year.

'Fairytale' and 'Burning Love'- both from March 31st M/S are also in poor hissy sound offering nothing we haven't had before and simply double up from the main show performances – both of which are better.
To be honest, this time I think the first CD would have been stronger without these bonus songs.

However the main show here is absolutely fantastic (apart from H.DOG) pretty much all songs are great versions sung with excitement, passion and his spirit seems good too - a marvellous show to be released in this way from FTD - BEST show this season!
And in a much better quality than I have ever heard before!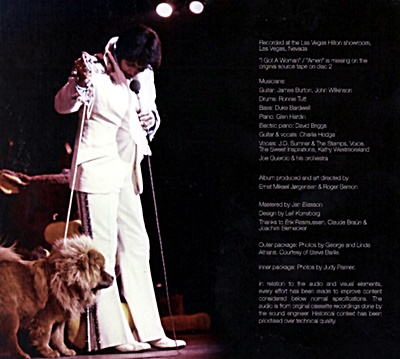 DISC 2 - April 1st Dinner Show – 50 minutes.
While both shows feature similar set-lists Elvis' April 1st dinner show is another of his "classic" bootlegged performances first release as 'Rockin' with Elvis April Fool's Day' on Vinyl back in 1980. This is its first release as a soundboard.

For a Dinner Show Elvis is surprisingly full of energy and enthusiasm as he rocks in to 'See, See, Rider'. The sound is more 'up close and intimate' with a good overall mix even though the sound of Elvis and the band is pretty compressed. ('I Got A Woman/Amen' is missing).

Elvis hello to the audience – added to the end of 'See See Rider', helps capture the fun of the evening. Elvis introduces himself as Wayne Newton and says he'll look up in the balcony a lot! (a reference to an exchange during the previous song with someone who sounded exactly like Liberace and was absolutely hilarious!)

Like the March 22nd performance 'Love Me' is routine, 'If You Love Me' is well sung with a good mix and 'And I Love You So' beautiful and intimately sung tonight – again with no mention that he had actually recorded the song.

'Big Boss Man' rocks along nicely tonight while the first surprise comes with a very short 'The Wonder Of You' -almost without an intro but a great ending to this short version!
For some reason Elvis jumps straight into the second verse "And when you smile the world is brighter", as he did the previous night. This is only the second time Elvis would sing it since October the previous year.

'Burning Love'- is another treat and rocks quite well with Elvis laying down a funky ending.
This had been dropped from Elvis' set-list for over two years but was back this season and gets good applause.

Elvis follows with some more Creeping Crudd - "a fever blister" mentions and jokes with the girls in the audience.
By 1975 Elvis was extending his introductions and giving the band a few solo spots but luckily here they include a short but fine 'What'd I Say' and don't continue on like they would in 1976.
Elvis pretends to forget where Kathy Westmoreland comes from and of Charlie Hodge he jokes, "No-one is from Decator, Alabama except you".
Elvis then introduces Roy Clark - as a "fine entertainer and nice guy" joking that "if you don't believe me just ask him!" and with a one liner of The Great Pretender.
Note: In the 1970s Roy Clark was a key Country Music performer who co-hosted TV's 'Hee Haw' and even toured the Soviet Union. Fans knew him for a very humorous yodelling version of The Platters' 'The Great Pretender' - hence Elvis' reference.

Elvis then tells how he met Conrad Hilton coming out of a Doctor's office as he was going in and he was introduced and Conrad said 'Elvis Who?', then he thanks the Hilton for opening up a new wing today and for being so very nice to him.

'My Boy' again is a very good sincere version while 'I'll Remember You' is the best version we have from this season with Elvis adding a great longing and sounding like he is really enjoying singing this classic this night, even adding a few extra hums along the way

'Let Me Be There' again is good with the 'funky' Briggs beat!.

Elvis then remembers to introduce Actor Hugh O' Brian (he quips they had been competing together for girls!) then adds he does a bit of everything television, movies and is a very fine actor.

'How Great Thou Art' was only sung twice this season and is a highlight and a nice, moving version. A cool replacement for the regular 'Teddy Bear/Don't Be Cruel' that were left out this show!

'Hound Dog' is a regular throwaway oldie but luckily the only one tonight.

Elvis then introduces 'Fairytale' by the Pointers Sisters, "Wed' like to do this song because we like this song" and it is another good early version. Again Elvis doesn't mention that he recently recorded it for release!

"It's been a pleasure working for you, 'til we see you again" takes Elvis to 'Can't Help Falling in Love' and heading back to his suite.


Overall this soundboard of course sounds much more intimate than the Bootleg (which was an audience recording and has been around for over 30 years) but now lacks the hilarious Balcony interaction heard during the one missing song. (so odd that this song is missing!?).


Overall Verdict: While both these shows have been previously out on bootleg they are still both very good performances from a fine season, with Elvis back in good health and with a renewed enthusiasm.
As a double-release and with the first CD being a pretty outstanding show, this FTD release is a very fine look into Elvis' 12th Las Vegas season.
Unfortunately being a double-pack the intros inevitably start to get annoyingly lengthy but THANKS FTD as sound is better than I ever heard before! If you like Elvis in great form / humour and up close and personal, then this release is especially for you.
Review by Geoffrey McDonnell - with additional comments by Piers Beagley.
-Copyright EIN June 2016
EIN Website content © Copyright the Elvis Information Network.
Click here to comment on this article
---
'ELVIS Las Vegas 1975' - FTD June 2016 release
DISC 1 - March 22, Midnight show
01 Also Sprach Zarathustra 1:10
02 See See Rider 3:41
03 I Got A Woman / Amen 5:39
04 Love Me 2:17
05 If You Love Me (Let Me Know) 2:56
06 And I Love You So 3:30
07 Big Boss Man 2:33
08 It's Midnight 3:02
09 Promised Land 2:52
10 Green, Green Grass Of Home 3:40
11 Fairytale 3:28
12 Introductions 8:19
13 My Boy 3:47
14 I'll Remember You 2:29
15 Let Me Be There 3:30
16 (Let Me Be Your) Teddy Bear / Don't Be Cruel 2:03
17 Hound Dog 1:56
18 You're The Reason I'm Living 2:38
19 Can't Help Falling In Love 1:40
20 Closing Vamp 0:55
BONUS SONGS
21 Sweet Caroline (March 30, Midnight show) 2:47
22 Funny How Time Slips Away (March 30, Midnight show) 2:35
23 Fairytale (March 31, Midnight show) 3:20
24 Burning Love (March 31, Midnight show) 2:58


DISC 2 -April 1, Dinner show
01 Also Sprach Zarathustra 1:06
02 See See Rider 3:39
03 Love Me 2:16
04 If You Love Me (Let Me Know) 2:55
05 And I Love You So 3:28
06 Big Boss Man 2:37
07 The Wonder Of You 1:52
08 Burning Love 3:25
09 Introductions 7:53
10 My Boy 4:01
11 I'll Remember You 2:30
12 Let Me Be There 3:15
13 How Great Thou Art 3:05
14 Hound Dog 1:32
15 Fairytale 3:30
16 Can't Help Falling In Love 1:40
17 Closing Vamp 0:34


"I Got A Woman / Amen" is missing on the original source tape
Recorded at the Las Vegas Hilton showroom, Las Vegas, Nevada
FTD CD Credits: Album and Art produced by Ernst Jorgensen & Roger Semon
Mastered by Jan Eliasson.
---
---
---
EIN Website content © Copyright the Elvis Information Network.
Elvis Presley, Elvis and Graceland are trademarks of Elvis Presley Enterprises.
The Elvis Information Network has been running since 1986 and is an EPE officially recognised Elvis fan club.