Interview with Bud Glass
'Elvis Relics' - Elvis Fakes - Elvis Museum
EIN's Piers Beagley asks all the questions - October 2018
Bud Glass is the co-owner of The King's Ransom Elvis Presley Museum and is a world authority on locating and authenticating rare Elvis Presley artifacts of all kinds. In the past he published the very popular series of 'ELVIS: Behind The Image' books and DVDs.

Not only does Bud Glass own one of the largest collections of Elvis Presley memorabilia in the world, he is also an Elvis Presley historian, documentary producer as well as a consultant to major collectors.

EIN heard that Bud Glass has recently started a new project - "Elvis Relics" - and we wanted to know more.

EIN's Piers Beagley asked the questions..
---
Bud Glass is the co-owner of The King's Ransom Elvis Presley Museum and is a world authority on locating and authenticating rare Elvis Presley artifacts of all kinds. In the past he published the very popular series of 'ELVIS: Behind The Image' books and DVDs.
Not only does Bud Glass own one of the largest collections of Elvis Presley memorabilia in the world, he is also an Elvis Presley historian, documentary producer as well as a consultant to major collectors.
Glass' artifacts have been featured on multiple TV shows and he has even loaned artifacts to Graceland.

EIN heard that Bud Glass has recently started a new project - "Elvis Relics" - and we wanted to know more.
---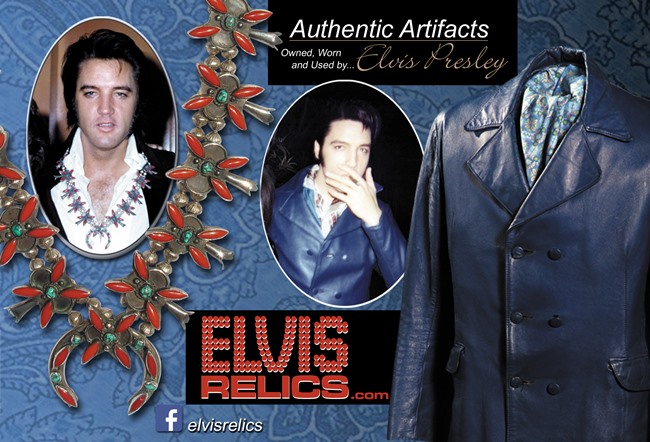 EIN: Thanks for agreeing to talk with us. It's been too long since we last chatted. Back then you were publishing your rather fine 'Behind The Image' series as well as running The King's Ransom Museum in Las Vegas. Do you feel the change in the Elvis World in recent years?

Bud Glass: Time marches on and everything changes unfortunately. We are fortunate, however, to have lived in the life and times of Elvis Presley, and with the recent 41st anniversary of his passing, comes the chilling reminder that those who lived in those great times are all growing older. The Elvis world has lost several members of its family, and I have, simultaneously, lost several good, personal friends. I am having a hard time believing that this coming November 16th will mark the 20th anniversary of the passing of my good friend, gospel bass legend, J.D. Sumner. I am close with his family, and J.D.'s precious daughter Francis just passed away last month. She had many fond memories of her father and Elvis.
I spent time with Sonny West in his Nashville hospital room shortly before he passed, and it was very hard to see him go. We have been good friends for many years. Then we lost Red West, and soon after Marty Lacker, who was a good friend as well. Many others that worked with Elvis have gone as well in the past few years. The incredible first hand accounts of Elvis, the man behind the image, are a very valuable asset to Elvis history. It is for that reason that I have always felt it important to document that important history and applaud those others who have done the same. As time rolls forward, such first hand accounts will prove invaluable in preserving the memories and perpetuating the legend.
EIN: I had almost daily contact with Marty, I cannot believe he is no longer with us.

BG: I sometimes reach for the phone to call Sonny, Marty or others and ask for details of an Elvis related story for a production or for research on an Elvis artifact... and sadly, I remember that is no longer possible. I have not only lost close friends, but a direct conduit to the most minute details of first hand accounts in Elvis' life and career that lived inside their collective minds and memories. That is why documenting the memories of such people when possible was so critical for me. It is important for Elvis fans to also consider the fact that, although Elvis was a large part of their lives, these were individual men with their own heart and soul, totally independent of what they have come to be known for with their Elvis association.
Bud Glass & Russ Howe with Sonny West and John Wilkinson in Berlin
EIN: So what has Bud Glass being doing recently?

BG: Well, the production company I was working with had put me on hold. I had several productions in the can, with all of my work complete on them. Also several others partially completed with a dozen more lined up. Months turned to years as I waited for forward progress. I am loyal to whomever I am with, so I never took others up on their offers who asked me to produce my work - thinking that things would eventually come around. In the meantime, I put more focus on my passion of tracking down historic artifacts, and the King's Ransom Museum. We toured the United States with the museum, and had a record 110,000 admissions in Dallas, Texas alone during a three-week exhibition. We had over 30,000 come out from all over Europe for our run in Berlin Germany, then we had three different venues over a three year period in Las Vegas. We appeared for a full year at the former Las Vegas Hilton, which was the first time Elvis was back in the building in almost 40 years. Geraldo Rivera filmed a special in our museum, and the History Channel filmed a segment interviewing me in the showroom where Elvis made history, performing more shows than any other place in his career. The hotel guesstimated that over three quarters of a million people walked through our exhibit. Graceland came in after us, and even used our display cases on their opening day.

EIN: So this is all involved with The King's Ransom Museum?
BG: Actually in addition to the Elvis books and documentaries that I produce along with The King's Ransom Museum (www.thekingsransom.com), which I co-own with partner and close friend, Russ Howe - I have several other interesting ventures that I am involved in. I have another exhibit called LEGENDARY SUPERSTARS, that include personal stage worn costumes and personal artifacts of people like Marilyn Monroe, Frank Sinatra, Patsy Cline, Hank Williams, Johnny Cash, Jerry Lee Lewis, Carl Perkins, Michael Jackson, Prince, Madonna, John Wayne, Humphrey Bogart, Marlon Brando, Lucille Ball, Mae West and many more. Also a collection of historical artifacts in American History. My artifacts are constantly on loan to museums and exhibits in Historical Societies, and a European company recently contacted me for artifacts for an upcoming Rock & Roll artifact tour of Europe and Asia.

I also recently signed a two-year contract to organize another U.S. tour of American History artifacts. I love history, and last year I acquired the original 1966 Cadillac Superior Coach hearse used for the first funeral service of Dr. Martin Luther King on the day of his assassination, 50 years ago - April 4,1968. As well as many other MLK artifacts, including the remains of the original 1966 Cadillac Ambulance that picked him up at the Lorraine Hotel and rushed him to the hospital before he was pronounced dead.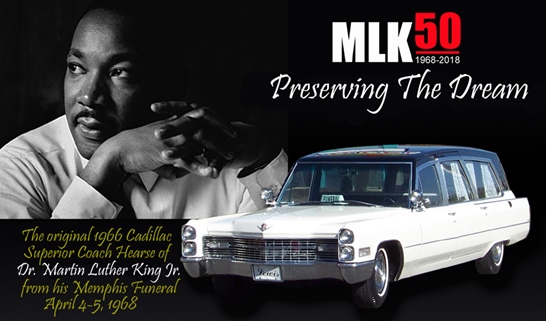 However as you know, Elvis is my passion, and my newest venture that you were interested in is actually a website called Elvis Relics (www.elvisrelics.com); It is a place for fans and collectors who are looking for authentic Elvis owned, worn and used artifacts.

EIN: Who is involved in Elvis Relics and what connection does it have to The King's Ransom Museum?

BG: "Elvis Relics" was born out of a combination of my passion for collecting authentic Elvis owned, worn and used artifacts - and the desire by other collectors to have a reliable source for obtaining such artifacts. I have been involved with literally millions of dollars in artifacts over the years, including items like the earliest known signature of Elvis in history (when he was only 11 years old in Tupelo in November of 1946- see below); Elvis' famous 1956 Lincoln Continental Mark ll, that is currently back at Graceland. Also the last car Elvis ever purchased: a 1977 Lincoln Mark V, that is currently a part our King's Ransom Museum, and last displayed in the lobby of the former Las Vegas Hilton where Elvis made music history.

I specialize in detailed research, authenticity, provenance and chain of ownership of Elvis artifacts. Elvis Relics is the place for fans and collectors to go when authenticity matters. Unfortunately, as long as there have been collectible artifacts with significant value, there have been fakers and forgers attempting to line their own pockets while defrauding unsuspecting buyers.

In general, buyers must be on their guard and shouldn't trust in the authenticity of many of the items that come up for sale on the general market. There are many fakes and forgeries out there. Although some pieces are legitimate, it can become a risky investment if you are not versed in all the phases of authentication. Fakes and forgeries have become a cottage industry in recent years and several people have been making a living by faking items and forging letters of authenticity. They shop their imposter items to private collectors as well as through a series of various auction houses - both inside and outside the United States.

These Vermin are not only fleecing unsuspecting fans, they are flooding the market with fake items that erroneously disrupt the legitimate "supply vs. demand" ratio, which in turn devalues authentic artifacts. The result is the bastardization of legitimate collections of people like myself and others who have spent a lifetime tracking down and acquiring historic Elvis Relics.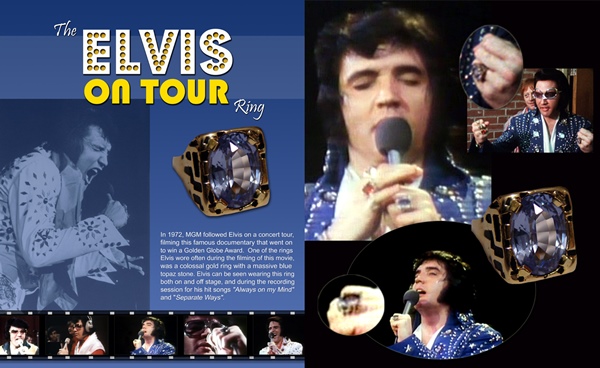 EIN: So collectors can contact you if they feel an Elvis artifact is fake?

BG: As an Elvis historian and collector, I have developed a reputation for being a stickler on authenticity, provenance and chain of ownership with my own personal collection of artifacts that are on display in the museum. For that reason, fans and collectors have been contacting me for many years when they are looking for authentic items. People that happen to come into possession of an artifact also have searched and found me on-line. Major collectors regularly consult with me, as do several successful and well-known business men and prestigious auction firms. "Elvis Relics" is the "official" place I created for what I had already been doing for many years. I am always making new acquisitions myself for my own personal collection- some of which are displayed in The King's Ransom Museum. Some of my collection was also on loan to Graceland for an event they had in Australia a year ago.

EIN: Does Elvis Relics mean you are selling your personal collection?
BG: No, I am not selling the museum items. I simply cannot personally acquire everything that comes along for my personal collection (as much as I would like to). "Elvis Relics" is the perfect vehicle the help others to obtain authentic artifacts, as well as a place for people to bring their artifacts to sell. People sell for a variety of reasons; sometimes it's an individual who personally received something directly from Elvis, or from someone who knew Elvis. Sometimes it's someone who may have inherited such an item that was left to them by a friend or relative; or sometimes it is a collector who has a financial need or is looking to sell an item to help finance another item that they have their eye on.

EIN: I do know at times that the "excitement" an auction generates often sees fans being ripped off..
BG: Many people do not like auctions; the uncertainty of authenticity, and the large premiums charged to both the seller and the buyer.

They prefer to deal with a trusted source who has the experience to properly vet items - instead of buying from a pool of 1000 other items thrown together in a bulk sale with no real clue as to its provenance or chain of ownership. That is when they come to me and "Elvis Relics". It's all about peace of mind when it comes to what can sometimes be a major investment. Even when it is a less expensive, lower-end piece in which they have just spent their hard earned-money, people deserve to feel comfortable with the authenticity of every item that they obtain.

EIN: Graceland realised a few years ago that they can not only make money from the Tours and Museums but also by being part of high-end auctions of Elvis paraphernalia? What do you think of their official EPE auctions?

BG: I have strong feeling about it. Whenever you use Elvis name and reputation to back the auction of items that are said to have belonged to Elvis himself, you have a much greater responsibility in ensuring authenticity. This means they have placed themselves in a precarious position where they are held to a higher standard than other auction houses when it comes to the sale of Elvis owned items.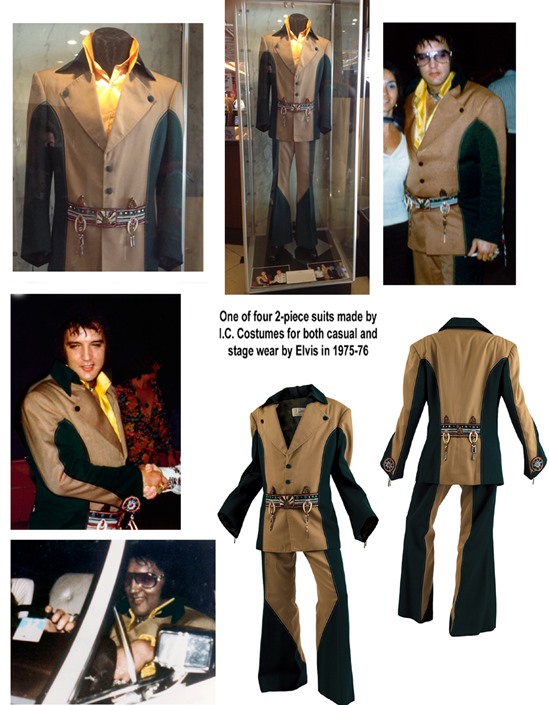 EIN: One of the fascinating things I noted was that a few items "Guaranteed genuine" at the EPE auction were in fact later to be found as fake. There was that amazing fake jumpsuit that they had to pull from the auction. Some of their items were obviously not checked very thoroughly! What can fans do to avoid fakes?
BG: The problem is that many people wrongly assume that because the auctions are AT Graceland, with their endorsement, that they therefore contain items FROM Graceland and their personal archives. The only official auction of the estate and archives of Elvis Presley since his death was the 1999 Guernseys auction. The truth of the matter is these current auctions by Graceland are filled with items from third-party consignors just as any other auction house; and just as with any other auction house - they are subject to the possibility of fakes and forgeries being consigned. Since his death, and the decision to open to the public in the 1980's, the people who work at Graceland have been entrusted with the important task of archiving, preserving and displaying Elvis' personal items and treasures. When it came to selling items from the estate and archives at the 1999 auction, there was never a question of authenticity- since everything inside of Graceland at the time of his death - down to a single fiber of lint on the carpet - is naturally Elvis Presley's property by default. What they are doing now with authenticating third-party consignments for their auctions, believe it or not, is outside of their wheelhouse- simply because it was never necessary before.

Never before have they had the task of authenticating, check provenance, or chains of ownership, until this series of auctions of consigned items; It has never been relevant before... until now - and now is vitally important. The company that has been entrusted with this job has a very big responsibility. Unfortunately, when you use his name to promote the auction, the risk of reputation damage in the event of error, lands squarely on the shoulders of Elvis himself. Thus, the great responsibility to ENSURE that the artifacts are indeed authentic. Don't misunderstand me I am not saying that whomever they are using is incapable; just that- other than the name we all know and trust- they are really no different than any other auction house, and subject to the same possibility of fakes and forgeries that need to be regularly identified and weeded out. This is why I say they are in a precarious position because they are naturally held to a higher standard because of the reputation of the name that they are entrusted to safeguard.
EIN: So what should fans do?

BG: My advice is the same no matter which auction house, private collector or individual you are buying from....

It is incumbent upon every collector to do their own due diligence. Never blindly trust anything to be authentic, no matter who's gold seal is on it - consider it ALL fake until it is proven to you otherwise. Unfortunately, as usual, the bad guys have made it more difficult for the rest of us. But don't give them the power over us to ruin something that we love. We don't stop flying in airplanes because of terrorist, and we won't stop collecting artifacts because of the fakers and forgers. Just be smart about it. Educate yourself, and talk to people who specialize in authenticating artifacts and know a few trade secrets that will help you. Collecting artifacts of our hero is very fulfilling, a good investment, and is a great way to help preserve history.
Elvis' jacket he wore at his famous Memphis American sound recordings in 1969.

EIN: Elvis signatures are the obvious dodgy area. Too many people are selling fakes and some are pretty good imitations. How can fans navigate this dangerous territory?

BG: The key is to look closely and follow the clues. As far as Elvis signatures, they can be maJorly tricky. Not only are there just forgeries of Elvis' signature, there are also fOrgeries of the signature of many of Elvis' friends on fake lettErs of authenticity for bogus items being sold as authentic. Unfortunately, as soon as someone in the Elvis world passes away, a new crop of faKe items appear with forgEd letters of authenticity from them; They are spread over several different auctions, all bearing the foRged signature of that person who was known to have worked for or with Elvis in some capacity. Their death ensurEs, it is now impossible get first hand confirmation or denial about the authenticity of the item and signature. This is a common tacTic used by those who have made a small fortune over the years from bilking good people from their hard earned cAsh. This is done through both private sales, as well as with the unknowing help of several oblivious auction houses who simultaneously benefit in the profit of the sale of bad items. I must give credit where credit is due- there are a few auction houses (very few) that actually value their integrity over their profit margin, and realize the epidemic of fakes and forgeries, and seek out the help of different experts on their Elvis artifacts; I commend their character.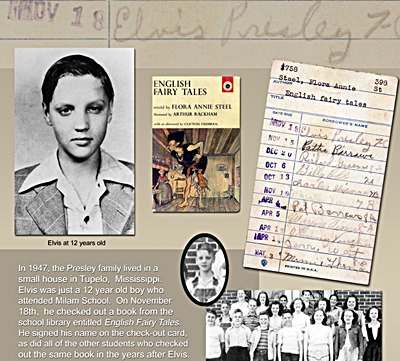 When it comes to Elvis' autograph, you must also be careful. Elvis was so generous with his fans over the years, and to this day is one of the only celebrities of his caliber that would go to the gates of his homes and chat with his fans, pose for photos and sign autographs. The result is a multitude of autographs that exist in the world. WHAT he signed is sometimes significant, as in the case of a contract. The significance of the contract itself also has a great bearing on the value. Anything that has more writing by Elvis than just the signature itself is always of interest and value. The more writing the better.
EIN: But fans don't often realise that Graceland secretaries signed so many letters in Elvis' name.
BG: A handwritten note is of great demand, and a full handwritten letter, though rare, commands premium prices. As far as Elvis' signature itself goes, there are many things to consider:

The way he signed his name changed over the years. Always check known examples from a similar time frame.

And you are right in that there are many secretarial letters signed with Elvis' name that are not authentic.
Several of Elvis' guys openly boasted and demonstrated in later years, how good they were at forging the boss' signature when necessary for on items taken back by them to be signed by EP.

Watch for autopens or signatures printed on promotional photos for record album inserts. People come to me all the time with such items, convinced that the signature is an authentic autograph.

I always love getting signatures from people who personally received them from Elvis. They are considered "in- person" signatures with people who usually have an incredible story and sometimes photos to go along with it. I have several from the daughter of the late super fan, Virginia Coons. Elaine was actually there herself when they were signed and took photos of Elvis as he was signing them in some cases. You can't ask for better provenance than that! Signed checks are always a good investment, as they are more of an official document of sorts. I have been fortunate to have owned several great signed items over the years, including the original "Hog Ears" handwritten letter from Private Elvis Presley, in Germany, to Alan Fortas of the "Memphis Mafia". (Whose Elvis affectionately nick-named "Hog Ears"). Also, the earliest known signature of Elvis in History (mentioned earlier).


EIN: In general it seems that good-quality, rare, or Elvis-owned memorabilia has been increasing in value, is this true?

BG: First, it is important to distinguish between memorabilia and artifacts, because there is a big difference; people mistakenly refer to it all collectively as memorabilia. Souvenirs, such as Elvis ash trays, spoons and hand crocheted pot holders bearing Elvis' image; collectibles such as bubble gum cards, magazines, and EPE merchandise From the 1950's to present day; commemorative items such as Franklin mint figurines, liquor decanters and ceramic plates... these all fall under the category of memorabilia. Technically, concert ticket stubs, Vegas and Tahoe menus, vintage concert tour posters and advertising banners and similar paraphernalia also fall under this category, although they deserve their own category because it is a much more specialized area of collecting than souvenirs and the items are far more valuable. Elvis Relic and artifact collecting involves owned, worn and used items. Typically the type of items you would see predominantly in a museum. (Although we pepper our museum with small amounts of concert memorabilia for added depth and relevance.) It is simply impossible to lump a movie worn costume, stage worn jewelry or jumpsuit and a signed historical contract in the same category as a Elvis bobble-head doll. See what I mean?
EIN: Ahh, those bobble-head dolls! I think I'd prefer a genuine Elvis worn jumpsuit!

BG: Right - like all vintage items Elvis owned, worn and used artifacts increase in value over time, making them a great investment. Can you imagine a George Washington worn uniform selling for less today than last year, or 50 years ago? The longer we progress away from any given moment in history, the deeper the groove it leaves on our collective soul. And as we also age, we serendipitously discover our own misplaced appreciation for our past and it's historical significance. Historic artifacts are a very rare, irreplaceable commodity. The remnants of what all exists out there today in the world- are all there will ever be. This makes them uniquely rare and of great value. Anything that is irreplaceable should never decrease in value. Sometimes a sudden surge in popularity for whatever reason will cause a spike that may not continue. So an item may be sold for less soon after, but you must look at the overall, full picture to understand the progression of increased value over time.

To put things into perspective: When Elvis first died, a few of his jumpsuits sold to private collectors for as little as $3,000.- $5,000. The average price of a brand new car In 1977 was only $4,300. So that was a good bit of change for that time frame. The average yearly income in America was $10,300. Now jump 22 years later; at the 1999 Gurneys auction, Graceland sold a jumpsuit for $65,000. Nine years later, in 2008, a record was set when Elvis' famous peacock jumpsuit sold for $300,000. (And lesser suits have sold since then for 250,000.) so here you can see the evolution. The potential buyers market for items in that dollar range is understandably low, and even when you are talking about artifacts over $20,000 today, the air gets much thinner. Having said that, hundreds of thousands of dollars are spent every year on Elvis items at auction. Any given auction house out there that regularly offers Elvis items, usually has several similar auctions every year. In recent years, there is at least one going on somewhere every 4 months or so. The prices paid for larger ticket items average between $5,000. to $40,000. and go as high as $300,000 - and there seems to be no end in sight.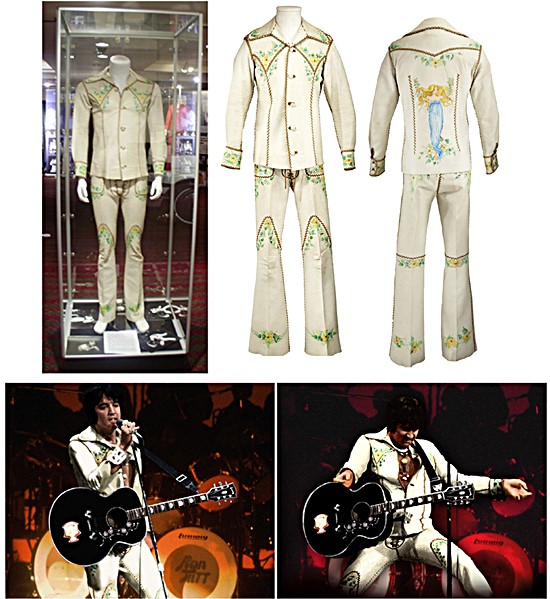 Elvis "Mermaid Suit" worn on stage in August 1974. Custom made by North Beach Leather.

EIN: Sadly we receive regular emails from older fans wanting to sell of their complete personal collections. Do you think that fact that the older Elvis fans are moving on and getting rid of their collections has reduced the value of "general" Elvis memorabilia?

BG: After the 40th anniversary of Elvis' death in August of 2017, a strange thing happened. It started a year or two before....with fans speculating that the next "big" year (the 40th) would be "it". But what was "it"? Stop being a fan? Of course not. Stop listening to his music? Never. I think several factors created a mindset that maybe Elvis week was over... at least for them. Elvis' personal friends and associates that we have tightly embraced after Elvis' death were getting older and dying off. (As discussed earlier). Many fans that grew up in the Elvis era were likewise aging and passing away. Let's face it; anyone younger than 40 was born AFTER Elvis died. The fans that grew up in his lifetime are for the most part, in their late 50s to mid-80's. Their love for Elvis could never really die, we know that. So what was the "it"? Well the 40th anniversary came, and people had geared themselves up for this "it" for the previous few years... and in those few years, we lost even more friends in the Elvis world. I think many people just evaluated where they were in life, and how they currently had more "history than future", and decided to stop "actively collecting".

Several have told me that they can't take it with them when they go, and were worried about their collections and wondering when they should stop obtaining more. Many have said their families would not appreciate their collections as much as a true fan would.
EIN: Of course the change in music formats from vinyl to CD and now streaming songs makes the music world so different nowadays..
BG: I am sure several old Elvis collectors have just downloaded their entire cd collections to their favorite electronic device and decided to sell their CDs and vinyl. It's sad to let go of a lifetime of collecting, and the space it takes to really house such an ever-growing collection could be a part of the psychology behind it. Many older folks are downsizing and moving into smaller places. I have no doubt that any fan big enough to amass such a lifelong collection will ever stop being a fan and listening to his music. That is not something that we ever really had control over in our lives...did we? We heard the music, saw the movies and IT chose US, we didn't chose it... it came as natural as anything in life. It nourished our spirit, deepened our awareness and put a pronounced bounce in our step. It brought us fans together from the four corners of the world into a single massive, unified force- where no single part is greater than the whole. Only a real fan would even slightly comprehend what I am trying to say here. You know the saying... if you are not a fan, no explanation is possible; if you are, no explanation is necessary.

So I personally feel that, as we age as a fan base, we may not want to continue to purchase every Elvis magnet, keychain or special edition commemorative collector plate that we see as in past years, but nothing will be able to keep us from our passion. This may be bad news for EPE merchandise, it may actually force them to be more selective and creative with what they do release in the future, knowing that the fans don't need the potatoes...we want the meat.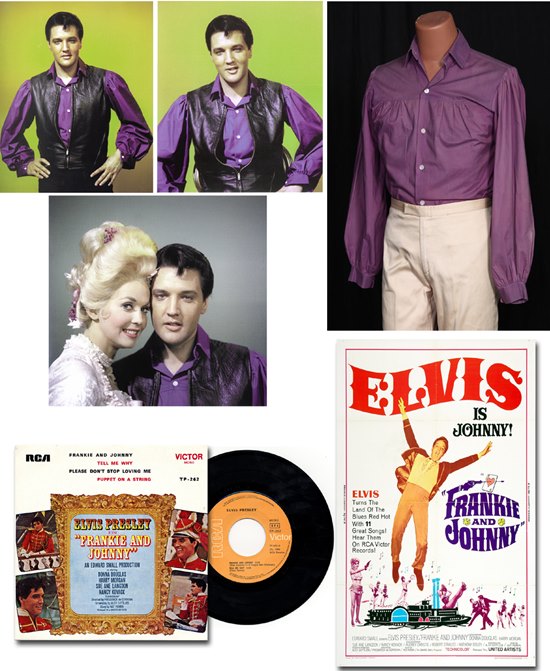 EIN: I still love my vinyl or even CDs with sleeve notes and covers – something tangible that you can actually hold and own.

BG: I heard someone on the radio make the statement that people in the old days had their music on CD. I was in shock. "The old days"??? (Boy does that make us original vinyl owners feel old). Soon after, I happen to be in a store that is the nation's largest retailer of electronic goods and music - and they no longer even have a massive CD section. It dawned on me that- in this new internet age- people collect "data" and not tangible collectibles. May fans are like me; I want the CD in my hand. It needs to have a physical place in my never ending collection. Even though I may also upload it so I have my complete library on hand wherever I am. This is definitely a new age. Many Elvis fans are generational, and are fans who grew up in the home of an Elvis fan, and have themselves become legitimate fans by proxy, but are not necessarily collectors who must have every single item that comes out. I think Graceland has done a good job over the years in attempting to tap into the potential younger fans. They have allowed Elvis' music to become soundtracks of movies like "Oceans 11", and kids movies like "Lilo & Stitch" and others; and they have remixed songs like "A Little Less Conversation" and others to fit the current times. This makes Elvis "hip" to the younger generation, who may have otherwise just considered him the "old fashion" music of their parents and grandparents generation. I personally feel Elvis will never die; but as older generations give way to the newer generations of fans that emerge, there will be many noticeable but inevitable changes. Those changes will no doubt be sad for the core generation of fans who have a more vested passion - as they have personally "lived" through the history.

EIN: Are you still increasing your own personal collection? Can one ever own enough "ELVIS rarities"?

BG: It's never enough when you are a genuine collector of any type. It's never been so much about the memorabilia with me, but the things he owned, wore and used... also rare recordings and video, which was my first passion.
I get a lot of new books and CDs that come out, and I am constantly amazed that there are still great things out there we have never heard and seen this many years later. After all, collecting is always "anticipation based", and always looking forward to whatever it is that comes next.
EIN: What's the most precious possession you own and what Elvis item do you want most of all?

BG: Things that move me are artifacts that were iconic in Elvis history, like the jacket he wore in his famous American sound recordings in 1969, during the sessions that produced his hits; Suspicious Minds, Kentucky Rain, InThe Ghetto, Don't Cry Daddy (see above): the ring he wore on his right pinky during most of the NBC-TV special, including the "If I Can Dream" grand final; The original calf length "Aloha from Hawaii" cape (see below) that was on display at Graceland when they first opened to the public, seen in the very first Elvis Presley' Graceland video with Priscilla ending the tour with the cape;
The massive topaz "On Tour" ring, seen on Elvis' left ring finger throughout the documentary. Seen best while singing "Bridge Over Troubled Water" in Greensboro, North Carolina - it was also worn in the studio when he recorded "Always On My Mind" and "Separate Ways"; His trademark EP glasses with TCB on the sides. Then there are items that are just plain cool as hell; like the "Mermaid Suit" that he wore in Vegas in 1974. (Named because of the Mermaid painted on the back). This suit contains Elvis' actual DNA- a small stain of blood on the inside seat of the pants from a B12 shot that he received before the performance.
EIN: Some of Elvis' jewellery is so collectable.
BG: I love the famous bronze "Karate Medallion" with carved ivory beads and leather necklace because, as simple as it was - with no gold or precious stones- it was one of his most frequently worn necklaces of all of his jewelry. He can be seen wearing it in literally thousands of photos in hundreds of concerts wearing dozens of different jumpsuits from 1974-1977. The history behind these items are simply fascinating to me. Collecting them is my passion. As far as what artifact I would I LIKE to own, I can honestly say that any artifact that I don't already own, is one I WANT to own!
All kidding aside, there are a few things that have slipped through my fingers over the years, as I simply cannot get it all. I am hopeful that one day I will have an opportunity to acquire them. I admire those who share my passion, and I am genuinely happy for all they have been able to acquire. We are the keepers of real history, and we share a passion for preserving what we can - To me it is nothing short of real National Treasure.

EIN: What do you think is the most desirable Elvis item you might have for sale?

BG: In addition to helping many collectors to obtain authentic artifacts over the years. I am often contacted when someone wants to sell an item. It is always a great pleasure for me when someone contacts me who happens to have something interesting.
Collectors sometime contact me wanting to sell an item to help finance another item that they have their eye on. Unless you have bottomless pockets, it is a common thing in the world of collecting. When they contact me wanting to sell an item, I am often already very familiar with the item, as many times they are items that I first helped them to obtain.
For this reason, I usually have a list of items currently available at any given time. They range from items as small as an original backstage pass or concert ticket; to shirts, jackets and other clothing; to concert worn rings, bracelets and necklaces and other jewelry items. Autographs, contracts, his bible and even one of his automobiles. One of the best items currently available is Elvis' concert worn, diamond encrusted Star of David pendants. With several photos of him wearing it on stage in 1973. Elvis wore this at the same time as the Christian Cross, and joked that he did not want to miss Heaven on a technicality.
The original calf length "Aloha from Hawaii" cape
EIN: After your 'Behind The Image' book it seems that everyone realised there was money to make with Elvis photo books. Along came the splendid Elvis Files series and FTD buddying up with Pal Granlund with their photo books. Do you collect them all and what do you think of them?

BG: I'm very proud of the Behind the Image books as well as the other books and documentaries I've done. I still get requests for future volumes, and there seems to be a large demand for the past volumes that are long sold out. I was very surprised a few years ago when I saw copy of my Behind the Image Vol. 1 that sold for over $600 on eBay. I always tried to put out the best product possible, at the lowest price. That book retailed for only $39. - as did all my books that followed. As you know Sandi Miller's incredible, first hand stories accented those books. She personally give a copy to Lisa Marie Presley when she was in Las Vegas several years ago, and put her business card inside the book. Later that evening Lisa was on her private plane getting ready to leave Vegas and was looking at the book and personally called Sandi to let her know that she thought it was an incredible book and a great tribute to her father. That obviously made me very proud.

As far as those that came afterwards with their books, I feel that there is room for everyone in the Elvis world. As long as they put out good products and they are reasonably priced, the more the merrier. I think The Elvis Files is a fantastic series and Erik Lorentzen did a fine job. Pal's work is also great and I have productions from them both on my bookshelf.

I am sure that they would agree... to have our names on a good production that will sit on the shelves of Elvis fans long after we are gone is our way of contributing back to the Elvis world for all of the joy it has brought to us over the years. To be a just a small part of the efforts to preserve the legacy of Elvis Presley is indeed an honor.
Russ Howe and I feel the same way about the productions we released together as well as what we have accomplished with The King's Ransom Museum.

EIN: How do you think EPE is going with their "new" Elvis product? It's so sad that the TCB Band are no longer touring for EPE – and I do realise they are not getting any younger – but do you really think the Orchestra Overdubs concept works?

BG: As long as a sincere effort is being made to do all they can I feel we must applaud that effort. Naturally as a fan I would like to see more and I feel that with the advances in technology they should be able to do some spectacular things for the fans. A holographic show with a mixture of live actors and music would be something that could easily command a world tour. A world tour would be the fulfilling of a long overdue dream shared by both Elvis as well as his fans.
EIN: I actually thought the Elvis / RPO event was pretty impressive when it played here in Sydney, even if I disliked most of the CDs. However I only needed to see it once whereas I could go and see the TCB Band "video-screen" show every time it toured. What did you make of the show?

BG: It is definitely not the same without the TCB band, but I guess the orchestra is the next logical solution. The only alternative would be the formation of a new TCB band for the sake of being able to continue a live show, and I don't think fans will go for that. But what should NEVER go away in my opinion, is some form of Elvis himself before the fans - presented with whatever current technology exists at that given time. The main mission of the estate should be focused on the endless possibilities to not only protect the likeness and image, but to ensure its immortality as Elvis lives on forever in the hearts and minds of his fans.
EIN: What did you think of the new Gospel Album?
BG: I am always anxiously awaiting the next release and I am grateful that we are getting new material so many years later. I hate to be one of these types who begs for new material then criticizes everything they release. In your case, the fans look to you for honest reviews and in some cases that job is not an easy one. I must say that I concur with most of your personal review of this release. As a fan who cut his teeth on the original recordings, listened to over and over through the decades, it is both satisfying and disappointing at the same time when a "remake" project comes along: satisfying, because we love anything new we can get our hands on, but disappointing because we have these songs imbedded into our psyche. Any sleight deviation is immediately recognizable and internally scrutinized in comparison to what the song "is" to us. Any change must be for the better or it is almost like the analogy of our bodies rejecting a donor organ. What is "better" is highly subjective and varies widely from person to person. I am old school. There is only one James Bond, and it's Sean Connery… (the one I grew up with). No matter who else you put in that role, as good a job as they may do, there is only one original. So when I grow up hearing an Elvis song a certain way, any variation is foreign to me. I know, I know… we are supposed to roll with the changes. Time moves on… and I totally understand the psychology behind the desire to appeal to new generations - I even applaud the effort. For this reason I feel the older generation of fans may not dig the new release as much as the newer generations.
EIN: So do you agree with our EIN review (see in-depth review here) that in general it was fine concept but ultimately poorly produced?
BG: I actually like a good bit of this new release. I agree with you, that you don't bring canned music to an Elvis Gospel music project, it only cheapens it. It should all have been actual instruments and not synthesized. All-in-all, it is actually great fun hearing new creations based on old renditions. A Little Less Conversation was a masterpiece and gave Elvis a great new re-birth a few years back. I love the new Bossa Nova Baby and King Creole from the Viva Elvis soundtrack, they are a gas. Gospel is more tricky because the backing vocals harmonizing together is its hallmark- and ironically enough -Elvis' greatest love and inspiration in music to start with. To me, some of his gospel numbers sound naked without them. Some I actually enjoyed, and I welcome any future effort.
My idea would be for an Elvis Acapella release. Just Elvis and harmonizing vocals alone. Pure and sweet. Look for a video online of GOLD CITY singing "T'is So Sweet To Trust In Jesus". Imagine them taking Elvis' powerfully tremendous lead vocals and doing something similar. It would be a stellar release and incredible testament to Elvis' amazing vocal range and capabilities.

EIN: Thanks for those great ideas and suggestions for fans - especially about the fakes - and thanks for the brilliant photos from your collection. I'd love to own that Roustabout jacket - it looks the perfect style even in 2018. We must talk again soon.
CLICK here to ELVIS RELICS website for even more ..
Interview by Piers Beagley.
-Copyright EIN October 2018
EIN Website content © Copyright the Elvis Information Network.
Click here to comment on this interview
---
Behind The Image Vol.2 - Welcome To His World (Book Review): The front cover promises "never before seen photos" and 90% of this book is just that. A beautifully presented, hard cover book, featuring 144 pages of high quality glossy colour and black & white photographs plus some fascinating stories, this is an absolute must for Elvis fans.

(Source: EIN)
---
EIN interviews Bud Glass (Part 1)- 2005: Bud Glass is one of the world's best known collectors of Elvis memorabilia. He also happens to be friends with a great number of Elvis personal acquaintances like Sonny West, Kathy Westmoreland & Sandi Miller. His 'Behind The Image' DVDs & book are essential for any true Elvis fan and now he has also created a special Elvis memorabilia exhibition, "The King's Ransom". EIN's Piers Beagley recently talked to him at his home-base in Tallahassee, Florida. (Interview, Source: EIN, April 2005)
EIN interviews Bud Glass (Part 2)- 2005: Bud Glass is one of the world's best known collectors of Elvis memorabilia who also happens to be friends with a great number of Elvis personal acquaintances like Sonny West & Sandi Miller. His 'Behind The Image' DVDs & books are essential for any true Elvis fan. In part 2 of our interview Bud Glass replies to EIN's challenge that Elvis did not look "Born to Rock" in 1975, and talks about EBay rip-offs, the Madison Square Garden footage & Marilyn Monroe's white dress! (Interview, Source: EIN, April 2005)
---
Bud Glass talks to EIN about his new project: TOP SECRET - Elvis Presley Paternity Suit is the brand new Bud Glass project which focusses on Elvis' 1970 Paternity Suit.

Promising a 100-page, full-colour, hard-cover book containing a thrilling detective tale, EIN is intrigued as anybody.

Bud Glass was kind enough to take time off from his Christmas festivities to answer a few of our questions. (Source: EIN, Jan 2007)
---
EIN Website content © Copyright the Elvis Information Network.
Elvis Presley, Elvis and Graceland are trademarks of Elvis Presley Enterprises.
The Elvis Information Network has been running since 1986 and is an EPE officially recognised Elvis fan club.