Out later this month is the first of two volumes titled "Elvis: His Songs of Praise" from author Trevor Simpson.

The two volumes will combine to over 700 pages chronicling the 100 sacred, spiritual and inspirational gospel songs sung by Elvis.
Volume 1 promises over 350 pages with lavishly illustrated high-quality images, many unseen photographs and graphics.

In early interviews, Elvis divulged that spiritual music was his first love and he publicly continued to reaffirm.



EIN's Piers Beagley had a few questions he'd like to clarify with author Trevor Simpson ...
---
Out later this month is the first of two volumes titled "Elvis: His Songs of Praise" from author Trevor Simpson.
The two volumes will combine to over 700 pages chronicling the 100 sacred, spiritual and inspirational gospel songs sung by Elvis.
Volume 1 promises over 350 pages with lavishly illustrated high-quality images, many unseen photographs and graphics. Every song has been thoroughly researched in a similar manner to Trevor Simpson's previous trilogy "Elvis: The Best of British".
In early interviews, Elvis divulged that spiritual music was his first love and he publicly continued to reaffirm. Despite being acclaimed as the 'King of Rock 'n' Roll', he was only presented with three Grammy awards and they were for his spiritual music and the stories of these iconic songs are much, much more contained within this book.


EIN noticed that the original 'His Songs Of Praise' track listing we first posted was not complete - the final listing is as shown below. Author Trevor Simpson was kind enough to answer a few questions we had about his new FTD book - as well as about the interesting CD selection.
EIN: How on earth did you decide what gospel / religious tracks to include or exclude?
Trevor Simpson: After completing the 'Best Of British' trilogy, I talked with the publishers about future projects and I mentioned that I had always loved Elvis' gospel albums. When it came up in discussions everyone thought it was something that had never been done before, so the hard work in fully researching it all began. When we got into collating the incredible number of songs Elvis recorded with spiritual, inspirational and sacred connections we realised that it totaled over 100! That means a concept of over 700 pages in book form. With the binding and sheer weight of such a book it was impossible to do and so it is split into two 350+ pages. It will be done alphabetically with the first one being A - M. In many ways the project was difficult but it also provided me with many 'Eureka' moments in discovering things that had never been documented before in terms of Elvis and his music. If I Can Dream was always a favourite of mine and was written with the inspiration from the Martin Luther King 'I Had A Dream' speech. My research has uncovered several uncanny connections with these circumstances and Elvis.
Two of his three Grammy awards were for How Great Thou Art and as that is a British composition. The Stuart Hine Trust, who manage the songwriting royalties of the composer, allowed me full access to their archives to tell the full story behind this great song and Elvis' definitive recording. There were so many coincidences along the way and when these are all collated together it really is a spine chilling discovery and an insight into why this music was Elvis' first love and closest to his heart. Many of the older songs came from around the African-American slave era before the Civil War, or were originally from the English churches before they found their way to America. On the Elvis albums, when the publishers could not trace the original songwriter, they settled for 'Arranged and Adapted by Elvis Presley' which was a way of avoiding paying any royalties to the original composer. I have, through research, traced some of these songwriters and also been able to find their stories behind the songs. A secret passion of mine is collecting the original versions of songs that Elvis sang and so my collection of 78s by the Statesmen, the Jordanaires, the Blackwood Brothers and the Golden Gate Quartet etc., all had a part to play in telling the full story of how Elvis got the songs.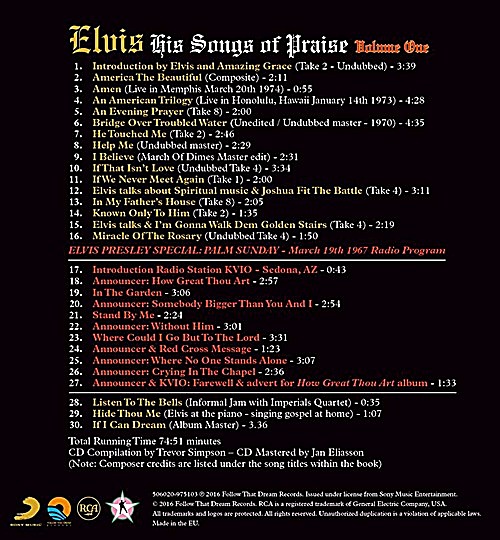 EIN: Are there any previously unreleased versions on this set? It is nice to see the Elvis Palm Sunday radio show out officially. Will this be an improved audio re-master for this release?
Trevor S: Yes it has been fully re-mastered and some additional snippets included from an actual radio broadcast from an Arizona radio station. The proposal I sent to FTD was initially for there to be 2 CDs with each book. I wanted to give everyone all the songs when buying the books. They have confirmed that this will not happen due to royalty copyright and ownership issues and it will now be one very concise 30 track CD. I think it is nice to be able to listen to the songs after reading about them and, lasting around 70 minutes, this CD will give readers the music to complement the book. As I said earlier, it has been decided to do the books alphabetically, so the first one will be A - M and the tracks with the first CD are rare, alternate and many undubbed takes of songs across that spectrum from studio sessions to 'live' versions and home recordings. There will be a few 'surprise' tracks including that Radio Broadcast from 1967. The CD also features Elvis talking about his love of this music.

EIN: This book presents Elvis' Songs of Praise in alphabetical order and the CD obviously matches. This might sound strange with songs being played in this unusual order. How did you make this work?
Trevor S: After compiling the CD I ran it by several friends for their reactions and the positive responses convinced me that it had full merit. It has been created as a statement for Elvis and I tried to make the album tell the gospel truth of his love for this music by including clips of him talking about sacred songs. Many of the tracks are out-takes to prove that he really was able to deliver 'alternate masters' of many of the songs. Where possible, I went for undubbed versions of the studio recordings and when combined with some 'live' songs, it really gets us closer to Elvis' love of the genre. All three of his sacred albums are outstanding in confirming his faith and they all cross the racial divide. Elvis has never been fully acknowledged for his part in helping Civil Rights in America and I think he did his part on his albums in combining 'black' jubilee gospel songs with favourites from his 'white' southern gospel favourites. Listen to the black, 'Milky White Way' and the white, 'His Hand In Mine', recorded back-to-back on Sunday October 30th 1960 as the perfect example of that.
EIN: This CD finishes on the letter 'M', presumably there has to be the second CD with the second book. Any surprises to whet our appetites?
Trevor S: Yes, there will be a CD included with the second volume but at this time the track listing is to be confirmed. I have some more unreleased ideas for FTD but the final decision rests with Ernst Jorgenson. He was not able to get clearance for a few of my proposals on the first CD, so until it is decided, I can't add anything more. In terms of the writing, some of the Gospel releases were covered in my previous three volumes of 'The Best of British'. I was mindful of the fact that the four 'Peace In The Valley' EP songs and the two Christmas Carols from 'Elvis' Christmas Album' had already been featured in these earlier books. All those stories have been fully refreshed and expanded to include additional information and whilst the 'meat' of those pieces includes something old, the something new is quite fascinating!
As a taster, I discovered that on TV when Ed Sullivan announced that Elvis was doing a show for Hungarian Relief, before he sang 'Peace In The Valley', funds flooded in to donate to Hungary. Those funds were later acknowledged by the city of Budapest who has built the Elvis Presley Park in the city centre close to the Danube river. I visited the city to see it for myself and it is an unusual but lasting tribute to Elvis which was one of the discoveries for this second book concept.
EIN: Will volume two of the book be out this year? It would be the perfect Christmas present!
Trevor S: As regards Volume Two, I am very much in the hands of the publishers and FTD. The book is written and it would be nice to get it our for Christmas, but that depends on factors outside my control. Either Christmas or Easter would be a good time in my opinion but it is dependent on what other products FTD have in line and all I can recommend is that we all keep our eyes open for pre-release details!
EIN: What date is the book coming out and are you having an official book launch?
Trevor S: The first Volume is being officially launched on September 11th at the UK Elvis Festival held in Great Yarmouth. This will be my 4th book launched there at a gathering that caters for around 1500 fans. I will be doing an audio / visual one hour presentation to launch the book, followed by book signing. I'm excited about the presentation because Phil 'Hotshot Elvis' Shakespeare has created some unique Elvis gospel footage for me to connect with stories of the songs.

(click here for UK Elvis Festival info)

That presentation is being repeated in my hometown of Halifax, West Yorkshire on September 18 who requested a local launch. We are holding an evening of me doing that same presentation, followed by an hour of Elvis Gospel songs by the legendary Colin Paul who performs in Memphis for a month a year.

Colin sings Elvis Gospel like the man himself! The venue is an old Methodist Chapel which was converted into a theatre in 1948 and this is the first time since then that religious music will have been performed there. It is causing quite a stir locally and tickets at just £5 each are selling really well. Elvis recorded many of his sacred songs on Sunday, so both these Sunday events are meaningful and I'm looking forward to them.
Promo video here >>>

Interview by Piers Beagley.
-Copyright EIN September 2016 -
EIN Website content © Copyright the Elvis Information Network.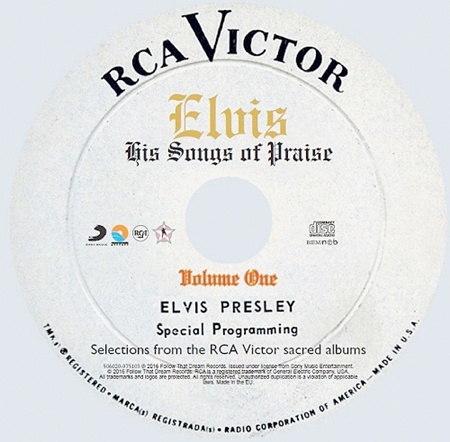 ---
'Elvis Taking Care Of Business - In A Flash FTD Book Review: Focusing on Elvis in late 1970 and early 1971, "Elvis Presley Taking Care Of Business - In A Flash" is the new FTD Book/CD combo by Flaming Star/FTD.
Produced by David English, Pål Granlund and Paul Richardson, this book presents a detailed chronicle of Elvis' personal life and public career between the autumn of 1970 and the early weeks of 1971.
It is a hardcover, large-format book with 450 pages that offer detailed coverage of Elvis' life and career over the important four months from October 1970 to January 1971.
The publicity promised hundreds of photographs, many of them candid and previously unpublished and new and exclusive interviews.
It also comes with a bonus CD with unreleased versions of studio-tracks plus Elvis' concert in Portland, Oregon on Nov 11th 1970.

Can it really be as good as promised? EIN's Piers Beagley investigates and discovers plenty .. Go here to our indepth review featuring plenty of extracts and wonderful photographs.
(FTD Reviews, Source;ElvisInformationNetwork)
---
| | |
| --- | --- |
| 'His Hand In Mine' FTD Deluxe CD review: With a stylish booklet and 53 tracks featured over 2 CDs, FTD once again spoils Elvis fans with the ultimate version of this classic gospel album. Although most of these tracks have been released before, the upgraded sound and exquisite harmonies provide a emotional look into the music that Elvis so loved. EIN's Piers Beagley spent Easter soaking in the glory of The Lord and Elvis' divine Gospel music, leading him to discover plenty of new highlights that would make any fan happy. The CD also features exciting new versions of Elvis' #1 singles 'Surrender' and 'Crying In The Chapel.' Only EIN brings you such in-depth analysis of Elvis' music. (Source: EIN, April 2007) | |
---
---
EIN Website content © Copyright the Elvis Information Network.
Elvis Presley, Elvis and Graceland are trademarks of Elvis Presley Enterprises.
The Elvis Information Network has been running since 1986 and is an EPE officially recognised Elvis fan club.