'Strictly Elvis 1973 - 1974 - 1975'
by Keith Alverson
Book Review by Piers Beagley
'Strictly Elvis: 1973-1974-1975' is the new book by Keith Alverson and Erik Lorentzen..

Keith Alverson first saw Elvis in concert in the early 70s when he secretly smuggled in his small pocket camera to sneak a few photos of Elvis - and from there he went from strength to strength. One of his first Elvis' concerts where he was able to get quality photos of Elvis in concert was in Atlanta, July 1973, after which he saw Elvis over 80 times live on stage.

Alverson's outstanding photos of Elvis in his "Phoenix" jumpsuits are known by every Elvis fan. With 1,500 photos this book concentrating on Elvis from 1973-1975 it has to be a real stunner. Even better, the photos have been newly scanned straight from the original negatives.

EIN's Piers Beagley checks out the book to see if it can really live up to the hype...
---
Now with added reader's comments below

- including superfan Jeanne P who saw Elvis in concert 19 times
It may come as a surprise to some EIN readers but let me state right away that I'm not an Elvis "jumpsuit junkie"!
While it is obviously fascinating to see photographs of Elvis in on-stage action to complement the concert you may be reading about or listening to, I have seen very little reason in the past to buy flimsy books that only contain photographs of a couple of Elvis' concerts and with too many pictures printed in black and white.
While I appreciated the concept of FTD's 'Fashion For A King', in the end it was a let-down with the text in the book appallingly written.
Then again, with no footage available, I did find the recent 'Elvis One Night in Toronto' was spectacular in help explain the story of Elvis live in Canada in the fifties. In contrast to 'Fashion For A King' the text was informative and very well-written.
So what was it about the publicity for Keith Alverson's new book 'Strictly Elvis 1973-1975' that made it so appealing to me?
Perhaps the answer lies in the fact that with so many 1970s' concert soundboards being released by FTD the one thing I find lacking from their packaging is enough photographs from the actual concerts. Combining photographs of Elvis' physical performance along with listening to the recorded performance really does add something extra.
From the photographs you can easily tell whether Elvis is excited to be on-stage, happy to be with his adoring fans or perhaps bored with the routine, feeling unhealthy and overweight or feeling ready to rock.
And this is where 'Strictly Elvis 1973-1975' truly makes its mark.
Capturing Elvis' moods close-up.
Note that all these images are my personal low-res scans, they are even sharper quality in the book.
The book includes thirty concerts represented by 1,500 photographs – all in glorious colour and all scanned from the original negatives. And what brilliant photographs they are too!
Most fans will be well aware of Alverson's stunning Elvis photographs as they are regularly used on FTD covers, in concert photo books and on website discussions. However the classic images you know are only a minor part of the thousands of photographs Keith Alverson actually took.
Everyone must know Alverson's stunning photograph of Elvis with his outstretched Cape wearing his Egyptian Pharaoh jumpsuit. Well surprisingly, we now discover that this July 3, 1973 Omni Coliseum, Atlanta show was one of the very first concerts where Alverson took photographs and that he didn't even have a ticket for the show! And the book now adds a brilliant 25 extra photographs to match that magic Caped-finale! It is a very impressive start for an "amateur" photographer.
Before its publication when I interviewed Keith about the book he made the statement that he had approached Erik Lorentzen about the book with the only stipulation being that.. "I wanted every single photo I had taken of Elvis to be included, good and bad for historical purposes!"
To be honest this sounded a little scary to me as having tried to take photographs at plenty of concerts I am well aware of how many photographs end up being too dark, blurred or just plain awful.
But incredibly almost every single photograph that Alverson took is worth printing. And although there are a few dark or blurred photos included, there truly are only a handful of bad ones in the whole book. I do not know how he managed to get so many good photographs being only a regular fan sitting in the audience.
The book is beautifully presented, with each concert starting with an explanation of how Alverson happened to be at the concert, whether he had a ticket, where his location was in the audience plus additional insightful stories.
Alverson's classic Dragon-suit images of Elvis from Dayton October 6, 1974 are some of the most stunning of Elvis in concert that year.
The amazing thing is to find out that he never even had a ticket for the concert but only picked up one from outside the auditorium just before it started! These little additional tales make the impact of the photographs even more impressive. He took over 90 photographs of that concert most of them truly stunning. And some of them so sharp it is unbelievable that they are amateur shots.
The anecdotes in themselves are all part of this fascinating journey. Alverson confirms the Elvis came out on stage wearing his sunglasses surprisingly often. He also notes that he got no help from any of Elvis' team to get any closer to the action - it was all his own hard work.

Col Parker, who he describes in one story as an "ole bastard", positively tried to stop him getting any good shots of Elvis on tour.

Of the 1974 Dayton Ohio concert, Alverson interestingly recalls…

"At one point during the show Elvis complained that his belt was too tight, so he took it off and as Charlie was adjusting it a lady in the audience yelled out to Elvis "Take off the jumpsuit too" and Elvis gave her the wildest look! I snapped his picture just as he did this. He sang a few surprises, Big Boss Man, The Wonder Of You, Blue Christmas, That's All Right Mama, and The Hawaiian Wedding Song towards the end of the show! In my opinion this was the best Elvis concert that I had witnessed on tour in 1974."

Right: "Elvis gave her the wildest look"!
While Alverson notes how much he enjoyed every concert in 74, (well you would if you were in the audience!) reviews of Elvis' October 1974 performances often described him as tired and lacklustre. Interestingly if you look closely at the photographs of Elvis' matinee show at Indianapolis on October 5, 1974 he does indeed look tired as if he has just got out of bed, but then seems to become more focused halfway through the show. At the evening concert Elvis looks so much more awake and happier.
Elvis looks as if he is struggling and tired in his fabulous Tiger jumpsuit.
This is part of the real fascination of the book in that you can match the performances and Elvis' apparent mood and energy to such an amazing array of photographs.
1973 to 1975 truly are three fabulous years to have so many stunning images of Elvis in concert. While his weight obviously does fluctuate Elvis still seems in fabulous shape especially in the Huntsville show from May 1975. Sadly Elvis' new Gypsy Suit in the final two concerts included from July 1975 did him no favour at all.
While Elvis' colourful jumpsuits personify his on-stage image it is great to see so many good photos of Elvis wearing his rather stylish two-piece outfits from spring of 1975. The look suited him rather well and surely he should have returned to a similar style in his last few months in concert in 1977 as the Aztec jump-suit was often unbecomingly tight.
Elvis looking energtic in his two-piece outfits from spring of 1975.
The real pleasure I think is the great excuse to listen to all of those Elvis soundboards once again and the chance to relive the excitement of checking out all the images of Elvis in concert while listening to the actual performance.
Luckily a large majority of the concerts photographed by Keith Alverson are available on FTD releases or if not on well-known soundboards on bootleg. I have included some obvious examples of matching performances which combined with the multiple new photos make great listening.
Compared to the size of a regular CD one can understand the impact of such large photos in such great quality.
Overall Verdict: I am truly surprised that I have got so many hours of pleasure out of looking at this book already. It has given me the excuse to listen to some Elvis concerts that I haven't played in years. Watching Elvis' face and onstage reactions via the hundreds of photographs truly enlivens the experience of listening to a concert performance. 'Strictly Elvis 1973-1975' is an absolute stunner, an amazing visual history lesson and I can recommend it to anybody who likes listening to Elvis in concert 1973-1975. I cannot believe it but I really am beginning to sound like a "jumpsuit junkie"! - When Billy Smith said "this photo book will be a treasure for every Elvis fan" he wasn't kidding! Highly Recommended.
For even more EXAMPLE PICTURES please see our EIN Interview with Keith Alverson.
Book Review by Piers Beagley.
-Copyright EIN October 2017
EIN Website content © Copyright the Elvis Information Network.
Click to comment on this Review -
EIN Readers comments
Jeanne P who saw Elvis 19 times in concert
I first saw Elvis in concert in Las Vegas in February 1971, when we stayed at the International Hotel for 3 days. We saw 2 shows a night - I got my first kiss and scarf. He was wonderful! Then I saw him again in Madison Square Garden in June 1972.
I returned to Las Vegas in February 1973, and saw another 10 shows- that's when I got another kiss and 2 more scarfs from Elvis. (Hence, my nickname, "2kisses&3scarfs"). I saw him again in July 1973, and July 1975 at the Nassau Coliseum, when he came to Uniondale, NY. I had tickets for his 1977 concert, but sadly that never happened.
Keith's book has so many photos that bring me back to Vegas and even the concerts I saw in NY as well. Many of the jumpsuits were the same ones he wore.
The photos from Atlanta in July 1973 could easily have been taken in Las Vegas- that's the jumpsuit he wore the last time I saw him there.
My favorite photos in the book are those of the Huntsville May 31,1975 concerts. Although I wasn't at that concert, the photos are close-up, and remind me so much of the way Elvis looked when I saw him. I wish Keith had been in Vegas to take photos of Elvis in 1971, but I'm so grateful he took all these pictures to share with us.
The photos from Asheville in July 1975 are exactly the way Elvis appeared when I saw him for the very last time in Uniondale. He even had the same "Gypsy" jumpsuits on- not my favorite, but it was Elvis.
Even though the photos are not from that concert, I can play the concert, view the photos and pretend I'm there all over again.
I have all the soundboards that go with the photos, so it's a very special treat to enjoy this book.
I have to thank EIN because I probably would not have known about it, much less bought the book, if you had not written such a great review.
I can't thank Keith Alverson enough for printing all of these photos in one book.
I will no doubt buy vol. 2, but like you, I feel it will be somewhat sad to see.
I'm looking forward to it because I have so many of the soundboards from those years as well, including the very last concerts.
Geoffrey McDonnell
Excellent review, this is a superb photo book showing Elvis still looking great in 73-75
Its a VERY nice book whilst there are some poorer and out of focus shots the FACT that he has just so many printed clearly show his developing photographic skills - there are some absolute beauty's from Atlanta 3rd July 73- up to Asheville july 24th in this book.
The text is also highly interesting
There are many, MANY Superb photos in this superb book..... and did Elvis look 'ok' on 31st May 75..... you bet he did!

Barry S.
I cannot afford to buy too many of these new photo books but I am certainly glad to own this one.
I like in the UK so read the review in the Elvis Man & Music magazine but without the added images it was hard to decide on parting with the money.
I think FTD should add more bigger booklet in thier live releases.
Thanks for the detailed review please keep them coming.
You can buy direct from the Elvis Files - send €125 By Paypal To: Sales @Elvisfiles.No .- this includes Shipping - Or CLICK HERE to www.Elvisfiles.No
US FANS - Order the book directly from KEITH ALVERSON for only US$113.95 includes postage - CLICK HERE to Keith Alverson's FACEBOOK PAGE and CLICK ON PAYPAL LINK or fans can also order via email contact EPONSTAGE@CHARTER.NET ***
---
I have known Keith Alverson for many years and I'm very proud to call him my good friend. Keith is a great photographer and has travelled on many tours and to Las Vegas to photograph Elvis. He captured some of the most incredible shots that I have ever see of Elvis on stage. Keith let me use many of his photographs in my magazine that I had published in Memphis after Elvis died, back in the late seventies and early eighties.

Keith's photos of Elvis bring back so many cherished memories to my family and me. It's been said that the picture is a moment frozen in time. This picture book of moments reflects the life the Elvis so loved. Let it take you back in time and listen to the music.

Believe me, this photo book will be a treasure for every Elvis fan! What a wonderful tribute to Elvis Presley! What a great gift to all of us who loved him so much!
Thank you Keith.

Billy Smith, June 2017
---
Keith Alverson Interview - 'Strictly Elvis: 1973-74-75': Photographer Keith Alverson's new book with KJ Consulting (with Erik Lorentzen as editor) is at the printers.
The publication date will be in August, 2017 during the 40th anniversary of Elvis' death!
Keith Alverson first saw Elvis in concert in the early 70s when he secretly smuggled in his small pocket camera to sneak a few photos of Elvis from there he went from strength to strength. One his first Elvis' concerts where he was able to get quality photos of Elvis in concert was Elvis in Atlanta, July 1973 after which he saw Elvis over 80 times live on stage.
Alverson's outstanding photos of Elvis in his "Phoenix" jumpsuits are known by every Elvis fan. With 1,500 photos this book concentrating on Elvis from 1973-1975 has to be a real stunner. Even better the photos have been newly scanned straight from the original negatives.
Beyond his stunning photographs of Elvis live in concert, very little is known about photographer Keith Alverson and so EIN's Piers Beagley tracked down the man to asked him more about his background, times with Elvis and his exciting new publication...
Go here to our interview and plenty of PREVIEW pages from this great book
Plus USA ordering details & how to get a signed copy at ELVIS WEEK!
(Interviews, Source;ElvisInformationNetwork)

---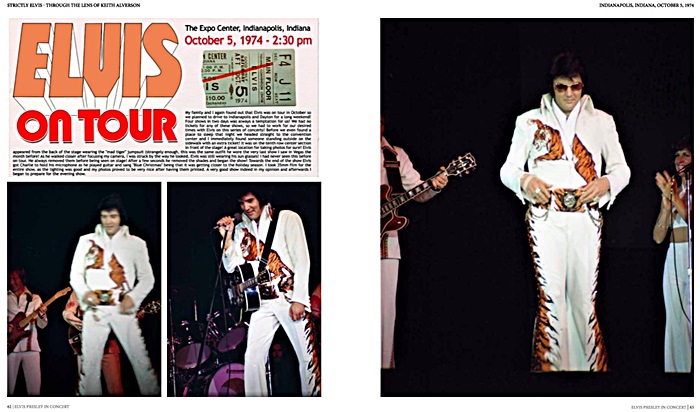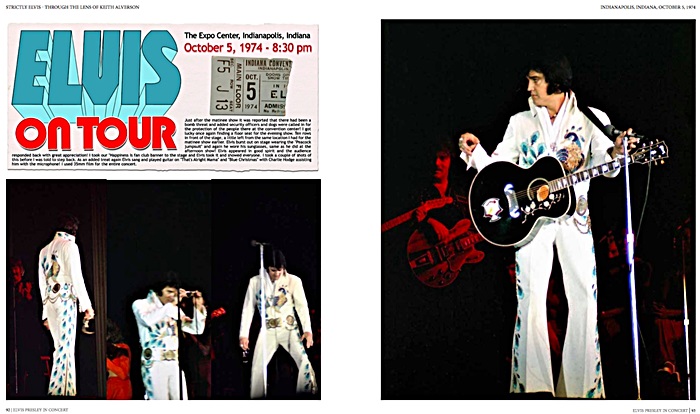 (PLEASE Note- Your local Elvis dealer MAY have it even cheaper - so do ask around. EIN cannot know exactly what all international dealers are charging.)
---
---
'The World of FTD' In-Depth Review: The new deluxe book 'The World Of FTD' has been received by some lucky fans and Elvis collector Mike Lodge has provided EIN with a very detailed review - of well over 3 thousand words!

The book was authored and designed by Keith Flynn with input from a large number of other Elvis specialists including EIN's Piers Beagley, EM&HM's Trevor Cajiao, Geoffrey McDonnell, Gordon Minto and many others.
It is 1,200 pages, hardbound three book set, chronicling every release by FTD.The book also features 100s of high-quality photos from the collection Erik Lorentzen
KJ Consulting are proud to publish this Box Set which weighs 8 kilos.

Unfortunately the book has not arrived in Australia yet so I have not seen the final product!
Go here to see his very detailed review - plus more new preview pages - EIN thanks Mike Lodge for the review
(News, Source;ElvisInfoNet)

---
- 'Ultimate Elvis' Book Review: 'Ultimate Elvis – The Complete And Definitive Recording Sessions' is a this three-volume, deluxe set that not only comprises all the session information available to date, based on Keith Flynn's incomparable website and includes comprehensive notes on each session, discographies, letters, original sheet music covers plus huge index all included in its 1,800 pages.
The book includes around 3,000 stunning high-quality photographs many of them previously unseen, relating to the time period in question.
The promotional publicity for this three-volume set was very impressive with the original publishing date of August 2014 missed as more photographs were discovered and the content expanded. Finally published in December 2014, Elvis enthusiast Brian Quinn checks out this astounding deluxe package to discover if it is as good as promised.
Go HERE to check out Brian Quinn's review - Now updated with some detailed comments from

author Shane Brown

and

Elvis expert Jordan Ritchie

- -
(Book Reviews, Source;BrianQuinn/ElvisInfoNet)
---
EIN Website content © Copyright the Elvis Information Network.
Elvis Presley, Elvis and Graceland are trademarks of Elvis Presley Enterprises.
The Elvis Information Network has been running since 1986 and is an EPE officially recognised Elvis fan club.