'ELVIS The Complete '50s Movie Masters And Session Recordings'
ELVIS; 'The Complete '50s Movie Masters And Session Recordings', Memphis Recording Service, 2018 (5CD + 200 page book)
Produced by Joseph Pirzada, Liner Notes by Gordon Minto, Design by Kev Reape.
The Package
The book component of MRS's latest release is written by well regarded Elvis author/researcher, Gordon Minto. Many readers will be familiar with Minto's detailed book and CD reviews in Elvis The Man and His Music.
Each of Elvis' four films in the 1950's has its own chapter (between 40 and 50 pages each). While the stream of great quality photos tends to dominate in a visual sense, Minto's text has strengths of its own shedding light on important contextual influences and bringing to life Elvis' sessions involving, arguably, his most important film recordings. The author also includes enlightening pieces of information such as the first time proper location shots were used for an Elvis film.
The narrative element: In his Introduction, Minto neatly puts the musical element of Elvis' film career into perspective:
.....although the quality of the musical input into his fims did deteriorate as the 1960s wore on - there was just too much of it - happily that was never a criticism of his second, third and fourth movies.
The author also perceptively gives insight to why Elvis' film career would progress the way it did:
The decision was also taken to film Elvis miming to his own version of Blue Suede Shoes (holding a scaled down gitar) in order to assess his physical appearance on the big screen. That clip is widely available and evidences clearly why the studio was much more interested in Elvis' on screen appearance and personal dynamism - as expressed through song and novement - rather than whatever skill or potential he may have possessed as a dramatic actor.
The structure of each chapter, all of which hold the readers interest, involves Minto briefly outlining the background to the film and then focusing in detail on the the recording sessions:
In many ways, Loving You ought to have been Elvis' first movie, as its overall theme, tone, and general storyline (and remarkably, unlike many of his later musicals, it did have a discernible plot, albeit clunky and contrived in parts) had resonated with Elvis' own career in several ways....
Rare Paramount Showmanship Manual for Loving You
While the narrative is principally about the music for each film, the author explores relevant structural film elements:
Visually, the film boasted two major musical set pieces - the iconic 'Jailhouse Rock' title track dance sequence, and the ultra cool performance of 'Baby I Don't Care' by the swimming pool - both destined to become all time rock music favourites, as well as the ultra cool 'studio' session when Elvis sang 'Treat Me Nice'.
Minto's ability to share with the reader a sense of, and what transpired during the recording sessions is nicely exemplified by the following passages:
The rest of the day was taken up recording innumerable versions of 'I Want To Be Free' which also needed to be performed in several ways to meet the demands of the script. It was a vocally challenging song but after many try-outs Elvis and the band finally did it justice, (the master was a splice of takes 11 and 5). Less succesful that day was the run-through of Leiber and Stoller's fourth song accepted for the movie: 'Baby I Don't Care'.

Of special interest is the fact that Elvis, having nailed the last two film soundtrack songs, wanted to try out two other songs - completely unrelated to the movie - 'My Wish Came True' and 'Doncha' Think It's Time'. Perhaps this move was with a view to stockpiling songs before he joined the US army. Unfortunately, nothing else was completed, though both songs were tried out again on
1 February.
Regarding the King Creole sessions and the involvement of legendary songwriters, Jerry Leiber and Mike Stoller, the author incisively observes:
More than just providing some great songs though, they were also on hand for part of the time helping to inspire, motivate and guide elvis during the recording process.

Colonel Parker perceived the pair as a threat to his authority over Elvis and told them, in effect, to butt out of trying to influence the young star. Thereafter, they became persons non-grata and, regrettably, never worked with Elvis again.
The narrative element closes with The End of An Era, as one-page reflection and The Complete 1950s Movie Recordings Session Logs (sans matrix and record release information).
One of the problems for reviewers when continually reading and reviewing a lot of Elvis books is that most authors cannot really add much to the already well known and published Elvis story. So, in this context, how does Gordon Minto's narrative stand up? The answer is...... impressively well. Minto has a strong writing style which engages the reader and this is enhanced by his thorough research and careful consideration of his subject matter.
At times the valuable narrative is swamped by the in-your-face onslaught of the book's glorious visuals - I strongly recommend readers should resist the temptation to simply enjoy the visual feast and ignore the accompanying story.
The visual element: The photos, of which there are hundreds, are a heady, mouth watering mix of b&w and full color images which vary in size from double page spreads to mosaic offerings. The visual quality is fantastic making with most photos being crystal clear. This makes viewing pleasure a joy (even though we have seen most of the photos numerous times before)!
Importantly, the book also features a number of rare and previously unpublished images and a range of fascinating archival material.
There are many visual highlights including:
(p13): glorious publicity photo of Elvis with slightly curled lip and guitar dressed in a white jacket with dark specks and black shirt (above right)

(pp28-29): intriguing double page spread of Elvis and co-star, Richard Egan, with Scotty Moore, Bill Black, DJ Fontana and the Jordanaires on the set of Love Me Tender

(p30): a beautiful color portrait of Elvis and Debra Paget

(pp68-73): the series of photos of a very smartly dressed Elvis at Radio Recorders for the Loving You recording session are always a joy to see

(pp82-83): a clever juxtaposition of two images of Elvis in full flight on stage oozes the excitement of the moment

(pp102-103): another double page spread of Elvis gyrating on stage (side on with mouth in a funny pose) with Vernon and Gladys Presley (both circled) in the audience (Loving You)

(pp124-125): two b&w images of Elvis playing around with Scotty Moore's Gibson Super 400 guitar during the Jailhouse Rock recording session

(p170): small off-screen candid of Elvis embracing and kissing Carolyn Jones on the cheek

(pp186-187): great image from King Creole of Elvis surrounded by four attractive women, two of whom, Dolores Hart and Carolyn Jones, are kissing him on the cheek
Many of the visuals are identified to help the reader give full context to their origin. Other visuals speak for themselves.
I have always found historic Archival Material to be very interesting and in this respect the book does not disappoint. The material includes a range of session notes, record covers, sheet music covers, lobby cards, film posters and record charts. Among the intriguing assortment of archival items is:
(pp8-9): Elvis' contract with Hal Wallis makes for fascinating reading (shown above)

(p16): very rare cover image of The Reno Brothers (with Love Me Tender handwritten above the title) First Draft Continuity (script) - the script is dated "Nov. 15, 1952"!

(p50: Love Me Tender Exhibitors Campaign Book

(107): very rare Paramount Showmanship Manual for Loving You (press book) (see above)
The book and page design element: The book measures 7.5"/19.5cms x 5.5"/12cms (digest size) and the pages are bound into a thick and durable hardboard cover. The paper stock is high quality gloss which really (and I mean REALLY) allows the images to shine! The text font size is smallish but with excellent line spacing and good use of white space this should not be a problem for most readers.
CD housing: There is one negative with the latest MRS set - the housing for the CDs. CDs 1 and 2 slide/clip into a plastic casing in the inside front cover with CDs 3 to 5 fitting into a plastic holder in the inside back cover. Unfortunately the discs are wedged in firmly making it difficult to safely extricate them from their housing. And there are a number of reports that when the discs are returned to the housing they fit back in loosely. One reviewer on Amazon commented: But the tray at the bottom is even worse. One reviewer on Amazon commented that he could not get them to clip back in at all, so I cannot give the packaging any stars at all. To be honest there should be an instruction "Press CDs gently downwards against plastic clips to release. Do not try and prise out" and then life would be easier.
Glorious Jailhouse Rock double-page spread.


THE MUSIC
There is no doubt that nearly every Elvis fan will already own Elvis' 50's movies Masters.
From 'Love Me Tender', through 'Loving You', 'Jailhouse Rock' to 'King Creole' Elvis fifties soundtracks were as often as exciting as his studio material. (Wow, how things would change in the following decade!). Every fifties Elvis movie would spawn a Number One Hit single.

Once again MRS have cleverly created a compilation that RCA/SONY have never released and put all of Elvis' fifties movie masters - a massive 39 tracks - onto a single 79 minute packed CD! It's a neat trick and makes for fabulous listening.
The other 4 CDs contain the rest of Elvis' 50s Movies Studio sessions – or to be honest the session tapes that still exist and were not destroyed by the 1959 RCA vault clear out. How the "general public" will react to unendingly similar outtakes of a few tracks I am not so certain - but for Elvis collectors who could not afford the individual FTD Soundtrack Classic album releases this is surely a must-buy.

Personally I think there should have been an explanation in the book as to why the set features thirty-two outtakes of 'Loving You' and yet only the single master versions of 'Teddy Bear', 'Party', 'Trouble' or 'Hard Headed Woman'. Surely the "general public" or someone's father opening his present at Christmas time will find this a little strange.
A real positive for me once again (see MRS 'ELVIS: Studio Sessions 1956' Review:) is the number of photographs included of Elvis working in the studio as I love listening to an Elvis session while observing the studio set-up.
This MRS book includes an extra five shots of Elvis at the Jailhouse Rock sessions not featured in either of the FTD Classic Soundtrack booklets, as well as a sensational seven shots of Elvis at the Loving You sessions (two of them double-page spread) none of which were included in the FTD 'Loving You' booklet.


DISC 1: Master Soundtracks and Movie Versions – 79 minutes
This compilation is an absolute cracker and (nearly) every track is a gem. While these obviously do not represent the creative explosion of Elvis' 1956 RCA Studio recordings, at the time Elvis wanted to become a "Film Star" and, even if he hoped that he wasn't going to sing in his movies, these were the recordings that made his films the successes that they were and helped keep Elvis on the top of the charts.
In fact growing up in London I knew "Party" as an Elvis oldie radio hit (it made the UK #2 slot) before I ever knew 'Stuck On You'!

Naturally starting with 'Love Me Tender' (the mono versions are used here) the CD really kicks into action with 'Mean Woman Blues' and it's a brilliant ride from then on.
After all the album tracks – how good to hear the King Creole LP again – the last nine tracks are "Movie Versions" and a delightfully mixed ending. To be honest though I see no reason for the frustrating 14 seconds of 'Don't Leave Me Now' 'movie-set version' even if it does need to be here for completeness sake.
However 'Mean Woman Blues', 'Got A Lot 'O Livin' To Do!' etc are all wonderful alternates and the charming 'Steadfast, Loyal and True' makes the perfect movie finale.

As always MRS include a few new delights for the hard-core collectors. The King Creole 'Crawfish' movie-duet version is the most complete recording yet released and sounds just great. Listen to Kitty White's delicious "See I got 'em, see the size, stripped and clean" fade right to the end. Very nice.

Other bonuses are the fabulous sound improvement on 'Baby, I Don't Care' the best versions yet released and intriguingly the faulty end of 'Loving You' has been repaired for this release. Always thought of as a unknown audible splice (thanks Keith Flynn) the audio spread no longer alters on this version.
This album has been on continuous spin for me this week on my drive to work, and what a joy.

Audio Quality: There is no doubt that a lot of Elvis fans are truly impressed by the MRS audio remastering. In fact EIN has received queries as to why these versions sound so good. The answer is that MRS audio engineer, 'Studio D', tends to push both the bass and treble ends of these recording while also applying audio compression and loudness. This means that the songs have more audio "punch". In today's "smaller speaker" generation this certainly makes Elvis' classic tracks sound more contemporary compared to the dry studio master tapes. (This method was what producer David Bendeth used on 'Elvis 30 #1's back in 2002 to create Elvis' biggest selling hits album of all time)

For those technically interested, below is a direct audio comparison of 'Baby, I Don't Care' between this MRS version (top) and SONY's 'The Complete Masters' release. You can easily see why the MRS master will rock your hifi compared to the RCA release and it does sound fabulous.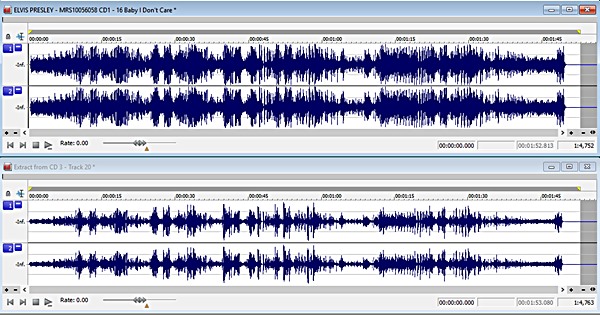 Similarly the ballads are not as "quiet" with more power to them as one can easily see from the dynamic scans taken of the classic 'Loving You' below. (MRS version on top)

As in the previous MRS package, fans who respect the dry studio original tapes may prefer the FTD releases but there is no doubt that these remasters will certainly rock-out if you play them on a new BOSE system or car stereo. This makes sense when one considers that MRS's main market is probably the 'HMV' or 'Amazon' buying general public, along with the core Elvis collectors.

DISC 2 – Alternate Soundtracks And Sessions - 80 minutes.
Now it suddenly makes sense why the "Love Me Tender" STEREO versions were included on the MRS '1956 Studio sessions' release as there is no room at all for them here on the first two CDs.

The first 19 tracks feature a collection of alternate studio takes from 'Love Me Tender', 'Loving You' and 'King Creole' and they capture Elvis in great form in the studio. I think the "general public" will actually find these great fun.
Starting with 'Let Me' (Take 3) by the end Elvis is already laughing "Boom, damn I missed it" and the vibe is infectious. 'Let Me', 'Poor Boy' and 'We're Gonna' Move' are hardly crucial material and Elvis knows it. Even if, as we now know, he didn't enjoy working on the 20th Century Fox soundstage and without his regular band he certainly wasn't letting it show. "I know the musicians are getting a dollar an hour and all that" he laughs on 'We're Gonna' Move'.

A real highlight is 'Loving You' Tk 16 (coincidentally recently included on The Searcher) is one of the sweetest versions of this song that you will ever hear. There's a lovely smoky atmosphere to this one. Imagine only Scotty, Bill Black & Elvis in a small jazz bar just singing it to you. A lovely sparse arrangement (with no harmonica) Elvis slides across the vocal with a lazy late-night coolness. It's magnificent.

Later on Elvis is still joking, "Thorne never looks up unless I goof" he notes on the 'As Long As I Have You' short version.

The last section of the disc contains the thirty-two takes of 'Loving You'.
Luckily the very first few takes of 'Loving You' KX slower-tempo version are the most enjoyable and keep up the happy vibe of this disc. On Take 2 Elvis notes, "Just pick up the tempo just a little bit men" before my favourite Take 3. Here Elvis adds a very 'Bing Crosby' take on "Boh, Boh, Boh, Boh, Always true, true to you" to the lovely jazzy piano work from Dudley Brooks plus Scotty Moore trading some great guitar. Elvis adds a nice, "No, No, No" at the end.

By 'Loving You' Take KX11 however the humour is beginning wearing out, "Funny but we've never had so this much trouble with a song before. I can't figure this shit out. You know what I mean?"
On 'Loving You' KX16 Elvis adds a cool back-slap on his guitar to the mix. Elvis laughs beforehand & the vibe seems to continue through the track. There's a really rough feel to this version, Scotty's guitar goes astray, and Elvis adds a, "What, oh, What I do" to the lyric. The ending is sloppy and it's a fine treat.
The final few tracks are the 'Loving You' HZ sparse 'Farm versions' with just guitar & harmonica. They are quite delightful if little repetitive by this point in the CD. One wonders how many fans will make the final track and discover Elvis naughtily singing, "I will spend my whole life through eating you".

(Note that on the final three CDS all tracks are Binaural)
DISC 3 – Jailhouse Rock Soundtrack Sessions. – 68 minutes.
Once again MRS manages a first with the all the important 'Jailhouse Rock' recordings in a row - and what a treat they are too. These were disappointingly split in the FTD soundtrack series.
What a great session this was as Elvis starts off sounding a little insecure, but by the end of the seventh take everyone knew they had a number one classic in the can. The first few takes consist of the band trying to get the pounding intro perfected before Elvis notes, "Too slow. A little bit too slow."
Take 4 is sensational for the raw rasp in his voice and Scotty Moore's very different guitar solo. The band for some reason stop too early with Elvis commenting in the background, "Oh bullshit man" and then explaining, "just keep it up, he's gonna' fade out in there!"
Take 5 is in fact the only recorded attempt completed right the way through to the end but although it is another dynamite version it doesn't have the power of the final release and before Take 6 a vocally worn-out Elvis questions, "Just keep going?" before adding, "We'll keep saying it until you're ready to fade. My tongue will be out!"
Four more takes of the fabulous sounding 'Baby, I Don't Care' follow before once again we plough into 19 takes of 'Treat Me Nice' (movie version). Luckily this is one of my most favourite Elvis song and the first few takes are extremely enjoyable as Elvis and the band try and work towards recording this all-important number.

However even if 'Treat Me Nice' is one of your favourites with a total of 32 takes in a row one wonders what the general public will think of this session - although keen Elvis collectors I am sure will become super excited.
Luckily the most enjoyable part of the session is at the start when there is plenty of discussion between Elvis and The Jordanaires about the backing-vocal intro. Elvis says to the studio, "Hold it a minute Thorny and let's get this straight"!
On Take 3, the first complete run-through, Dudley Brooks plays a totally different, more jazzy, rhythm on the piano and Elvis nonchalantly slaps his guitar for the back-beat. Elvis' vocal work here is deliciously cool and at the end he breaks up laughing with enjoyment. Elvis says, "That's a Hit!" This take is absolutely sensational listening.

Elvis is obviously having great fun at this session before Take 8 jokingly announcing, "American Airlines flight 454 loading at Gate 5, Minneapolis, Saint Paul. All aboard please, don't forget your babies and your luggage!" This suitably demonstrates the jovial atmosphere. Elvis also adds the marvellous, "That was a good tempo. That was swinging like a fat lady!"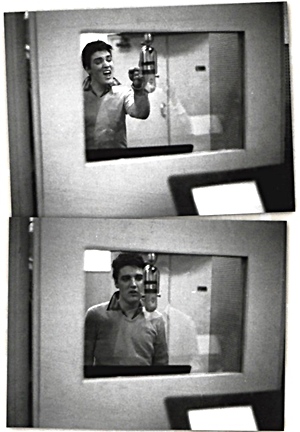 More great shots of Elvis working in the studio

DISCS 4 & 5 - Jailhouse Rock Soundtrack Sessions - Part 2, 58 minutes. Part 3, 46 minutes.
As an Elvis fan one has to be disappointed that the session tapes of 'Hound Dog' and 'All Shook Up' and other classics were lost in the RCA vault clear out. So, to be honest, we have to feel positive that any recording sessions exist in full.
On the final two discs we get 32 takes of the three different arrangements of 'Young and Beautiful' plus the complete 24 takes of 'I Want To Be Free' plus 25 takes of the three alternate versions of 'Don't Leave Me Now'.

On the 'Young And Beautiful' Prison version fans will hear some deliberately poor versions where Elvis was required to sound more like an amateur. At the start Elvis even asks, "Do you want it awful?"
These versions are delightful as Elvis sings with minimal acoustic guitar, sounding delicate and insecure to match the movie's plot. "Go to hell Hollywood" Elvis jokes after Take 1.
Elvis' performance is almost too insecure at times with Elvis joking to everyone, "If I get any worse the Johnston Office won't pass it."
Here Elvis is referring to Eric Johnston's Hollywood Production Code, which made sure that films in the fifties were released "within the limits of good taste".
Later on with the 'Record Version' instead we find Elvis having fun in the studio joking about "Old Fuddly-Duddly" Dudley Brook on piano and singing the alternate, "Your lips so rare, your curly hair!" as the take 7 fails.
Plus the fabulous tease of Elvis joking about the smooth ballad, "Shit man, no! Get Pat Boone in here quick!"

On the 'I Want To Be Free' (Record Version) composer Mike Stoller took over at the piano and you can hear his input as a producer on the session tapes. The arrangement was now piano-driven and played at a faster tempo. Stoller would also appear playing piano in the movie itself.
Take 1 is fascinating as Elvis gets Stoller to change the style of the piano intro explaining, "No, no, I don't mean like that. The same intro as Ray Charles does." None of the early takes get anywhere with everyone messing up the timing of the start, along with some studio hilarity over a misunderstanding about someone beating-off!

With 'Don't Leave Me Now' Elvis had wanted to improve on this Aaron Schroeder/Ben Wiseman song that he had recorded some months earlier. This is all the more interesting as RCA eventually released the "Movie Version" rather than the expectedbversion. This version has a softer arrangement with a rolling piano line and a bluesy guitar backing. The first few takes lead nowhere with Elvis noting, "Seems like everybody's holding down, can't get no feeling out of this."
Once again Elvis pushes for more and more takes and by Take 21 Elvis was obviously trying too hard, over-emphasising his vocal mannerisms at times and wavering off key at one point. In fact Elvis must have decided that he couldn't improve on this since this was the last attempt and it was noted as the 'RCA Alternate Master #2' even though earlier Take 18 was definitely the better version.
Neither of these selected Masters would in fact be released, instead Elvis would return to the song on more time on the MGM soundstage six days later Take 12 - the final track on DISC 5 being the to Elvis' satisfaction.

Thankfully these session are available for us to be able to explore the fascination of Elvis at the peak of his powers having fun in the studio while at the same time laying down some of the best soundtrack music he ever recorded.
Elvis collectors are truly lucky that these tapes exist and there is always something new to discover if one listens closely.

Overall Verdict: MRS has released yet another affordable and fan pleasing book and CD set. With a stunning visual element, strong narrative, 200 pages packed with Elvis looking at his fifties prime plus five CDs packed with the best soundtrack material Elvis ever recorded this set will appeal to both the casual and hardcore fan. The remastered audio will once again please most fans while there is plenty to learn about how Elvis and the band worked in the studio - with polenty of Elvis humour along the way. Unfortunately, it is let down by inadequate housing for the five CDs.
Please note that the low-res personal scans used in this review do not show the true quality of the images.
Review by Nigel Patterson / Piers Beagley.


-Copyright EIN May 2018
EIN Website content © Copyright the Elvis Information Network.
---
Tracklist
CD1 – MASTER SOUNDTRACKS AND MOVIE VERSIONS
01. Love Me Tender
02. Let Me
03. Poor Boy
04. We're Gonna Move
05. Mean Woman Blues
06. (Let Me Be Your) Teddy Bear
07. Loving You
08. Got A Lot O' Livin' To Do
09. Lonesome Cowboy
10. Hot Dog
11. Party
12. Jailhouse Rock
13. Young And Beautiful
14. I Want To Be Free
15. Don't Leave Me Now
16. (You're So Square) Baby I Don't Care
17. Treat Me Nice
18. King Creole
19. As Long As I Have You
20. Hard Headed Woman
21. Trouble
22. Dixieland Rock
23. Don't Ask Me Why
24. Lover Doll
25. Crawfish (Unedited Master)
26. Young Dreams
27. Steadfast, Loyal and True
28. New Orleans
29. Danny
30. Love Me Tender (Movie End Title)
31. Mean Woman Blues (Movie Take 7 Second Version)
32. Got A Lot O' Livin' To Do (Movie Finale)
33. Jailhouse Rock (Movie Version)
34. Treat Me Nice (Movie No Overdub Version)
35. Young And Beautiful (Movie End Title)
36. (You're So Square) Baby I Don't Care (Movie Edit)
37. Don't Leave Me Now (Movie Set Version]
38. Crawfish (Movie Version)
39. Steadfast, Loyal & True (Movie version)
CD2 – ALTERNATE SOUNDTRACKS AND SESSIONS
01. Let Me (Take 3)
02. Let Me (Take 4)
03. Poor Boy (Take 3 - 2 Verse Master)
04. Poor Boy (Take 1 Remake)
05. Poor Boy (3 Verse Overdub - Take 6)
06. We're Gonna Move (Take 4)
07. We're Gonna Move (Take 9)
08. Got A Lot O' Livin' To Do (Alternate Movie Master)
09. Party (Alternate Master)
10. Loving You (Main Version Take 3)
11. Loving You (End Version Take 16)
12. King Creole (Original Alternate Version Take 3)
13. King Creole (Original Alternate Version Take 18)
14. Lover Doll (Unedited Undubbed Master)
15. As Long As I Have You (Short Version Take 4)
16. As Long As I Have You (Short Version Take 18)
17. Steadfast, Loyal And True (Original Alternate Version Take 6)
18. Steadfast, Loyal And True (Undubbed Record Master)
19. Loving You (Second Farm Version Take 14)
LOVING YOU (Second Main Fast Movie Version) SESSION
20. Loving You (Take 1)
21. Loving You (Take 2-3)
22. Loving You (Take 4-5)
23. Loving You (Take 6)
24. Loving You (Take 7)
25. Loving You (Take 8)
26. Loving You (Take 9-10)
27. Loving You (Take 11)
28. Loving You (Take 12)
29. Loving You (Take 13)
30. Loving You (Take 14)
31. Loving You (Take 15)
32. Loving You (Take 16)
33. Loving You (Take 17-18)
34. Loving You (Take 19)
35. Loving You (Take 20-21)
36. Loving You (Take 22 Binaural)
LOVING YOU (Third Farm Version) SESSION
37. Loving You (Take 1)
38. Loving You (Take 2-3)
39. Loving You (Take 4-5)
40. Loving You (Take 6)
41. Loving You (Take 7-9)
42. Loving You (Take 10-12)

CD3 - (All Tracks Binaural)
JAILHOUSE ROCK SESSION
1. Jailhouse Rock (Takes 1-4)
2. Jailhouse Rock (Take 5)
3. Jailhouse Rock (Take 6)
4. Jailhouse Rock (Take 7)
5. Jailhouse Rock (Instr Pick Up C Up Chorus On) Takes 1-2
(You're So Square) BABY I DON'T CARE SESSION
6. (You're So Square) Baby I Don't Care (Take 1)
7. (You're So Square) Baby I Don't Care (Takes 2-4)
TREAT ME NICE (First Movie Version) SESSION
8. Treat Me Nice (Takes 1-2)
9. Treat Me Nice (Take 3)
10. Treat Me Nice (Takes 4-5)
11. Treat Me Nice (Takes 6-7)
12. Treat Me Nice (Takes 8-9)
13. Treat Me Nice (Takes 10-12)
14. Treat Me Nice (Take 13)
15. Treat Me Nice (Takes 14-15)
16. Treat Me Nice (Take 16)
17. Treat Me Nice (Take 17)
18. Treat Me Nice (Take 18)
19. Treat Me Nice (Take 19)
TREAT ME NICE (Second Movie Version) SESSION
20. Treat Me Nice (Takes 1-2)
21. Treat Me Nice (Takes 3-5)
22. Treat Me Nice (Take 6)
23. Treat Me Nice (Take 7)
24. Treat Me Nice (Take 8)
25. Treat Me Nice (Takes 9-10)
26. Treat Me Nice (Take 11)
27. Treat Me Nice (Takes 12-13)
CD4 - (All Tracks Binaural)
YOUNG AND BEAUTIFUL (Solo Prison TV Version) SESSION
1. Young And Beautiful (Take 1)
2. Young And Beautiful (Take 2)
3. Young And Beautiful (Take 3)
YOUNG AND BEAUTIFUL (Florita Version) SESSION
4. Young And Beautiful (Take 1)
5. Young And Beautiful (Take 2)
6. Young And Beautiful (Takes 3-4)
7. Young And Beautiful (Takes 5-6)
8. Young And Beautiful (Take 7)
YOUNG AND BEAUTIFUL (Record Version) SESSION
9. Young And Beautiful (Take 1)
10. Young And Beautiful (Takes 4-5)
11. Young And Beautiful (Take 6)
12. Young And Beautiful (Takes 7-8)
13. Young And Beautiful (Take 9-11)
14. Young And Beautiful (Take 12)
15. Young And Beautiful (Take 13-18)
16. Young And Beautiful (Take 19)
17. Young And Beautiful (Takes 20-22)
I WANT TO BE FREE (Record Version) SESSION
18. I Want To Be Free (Takes 1-4)
19. I Want To Be Free (Takes 5-8)
20. I Want To Be Free (Take 9)
21. I Want To Be Free (Takes 10-11)
22. I Want To Be Free (Pick up First ending Takes 1-2)
23. I Want To Be Free (Pick up second ending Takes 1-5)

CD5 - (All Tracks Binaural)
I WANT TO BE FREE (Jail Version) SESSION
1. I Want To Be Free (Takes 1-4)
2. I Want To Be Free (Takes 5-6)
3. I Want To Be Free (Takes 7-10)
4. I Want To Be Free (Take 11)
5. I Want To Be Free (Take 12)
6. I Want To Be Free (Take 13)
DON'T LEAVE ME NOW (First Version Piano) SESSION
7. Don't Leave Me Now (Take 1)
8. Don't Leave Me Now (Take 2)
DON'T LEAVE ME NOW (Second Version) SESSION
9. Don't Leave Me Now (Takes 1-6)
10. Don't Leave Me Now (Takes 7-8)
11. Don't Leave Me Now (Takes 9-10)
12. Don't Leave Me Now (Takes 11-12)
13. Don't Leave Me Now (Takes 14-15)
14. Don't Leave Me Now (Takes 16-18)
15. Don't Leave Me Now (Take 19)
16. Don't Leave Me Now (Takes 20-21)
DON'T LEAVE ME NOW (Recording Studio Version) SESSION
17. Don't Leave Me Now (Take 2)
18. Don't Leave Me Now (Take 12)
---
---
'ELVIS: Studio Sessions 1956' In-Depth Review: MRS newest release, a massive 3CD/172 page book compilation "Elvis Studio Sessions '56 The Complete Recordings". The 172-page book, with text by Gordon Minto, focuses on each of Elvis' studio recording sessions during his first year of national stardom - from the first one in January, held in Nashville, then later in New York, before finishing his final session of the year in Hollywood in September. The full and comprehensive text is complemented by rare and previously unseen photographs and pieces of documentation.
The 3CDs contain the complete archival master and session studio recordings of Elvis Presley from 1956, along with bonus interviews. All 90 tracks have been remastered and restored. Also for the first time on CD is the complete 'The Truth About Me' from an original US 45rpm flexi-disc. Also included are all the out-takes from this interview.

Once again MRS release a first putting all of Elvis' key 1956 Studio Session masters onto one disc, with the addition of two other fully-packed cds of 1956 material and a stunning 172 page book. But what does this set offer over other previous releases
Go here as EIN's Nigel Patterson and Piers Beagley check out this new volume from MRS to find what is on offer. Includes stunning example photos & a detailed audio investigation.
(Book Review: Source;ElvisInformationNetwork)
---
---