Millie Kirkham was one of Elvis' favourite back-up singers. Upon hearing her vocal on Ferlin Husky's million selling 1957 hit record 'Gone' Elvis asked her to join in with The Jordanaires at his 1957 recording session. Millie Kirkham would work on Elvis' studio sessions through to 1967 and join him on-stage in Las Vegas for live performances including 1970's 'That's The Way It Is' filming.

As well as working with Elvis, Millie Kirkham worked closely with the Jordanaires on some of the most famous Nashville sessions including records by George Jones, Patsy Cline, Bobby Vinton, Jim Reeves, Charley Pride and Loretta Lynn.

Over 15 years ago Bob Hayden interviewed Millie Kirkham and has kindly supplied the full interview to EIN....
---
Elvis Australia have unfortunately recently published a lesser version of Bob Hayden's fascinating interview with Millie Kirkham without permission. Even though also located in Australia they never asked Bob Hayden for his permission. They have been asked to remove their version of the interview.
Australia's Bob Hayden interviewed Millie Kirkham over 15 years ago. She was a little reluctant at first to do an interview as she had been mis-quoted in the past and had that fear of it happening again. She agreed to the Q & A after she was advised she would not be coming to Australia for the first "Elvis in Concert" tour.
Bob Hayden corresponded with her – via old-fashioned snail-mail - between 1999 and 2004.
Millie answered every question and seemed to be most happy and full of life for her age at that time. She still liked Elvis, and looked forward to doing the Elvis Tribute show with the Jordanaires and Ronnie McDowell.
There are a few video clips available on the internet these days when she talks about her time with Elvis from that early period.
Millie Kirkham born on the 24th June 1923 at Hermitage Tennessee and she passed away on the 14th of December 2014 in Nashville. She was buried on the 17th of December 2014 at Woodlawn Memorial Park Nashville, Davidson County Tennessee.
---
The Bob Hayden Interview with Millie Kirkham.

In brief, the late Millie Kirkham was well known for her backing soprano vocals on many of America's finest recordings for well over five decades. The names, songs and recording sessions she contributed to were endless (Pasty Cline, Roy Orbison, George Jones, Jim Reeves, Bob Dylan, Johnny Cash etc) so in my interview I wanted to concentrate on her vocal contributions to the music recorded with Elvis Presley.

Going over all the Presley recordings it is most noticeable that Millie and the Jordanaires contributed enormously with their vocal talents to every Elvis recording session they were involved with.
Millie's first studio session with Elvis was for the 1957 Christmas album and the very first song recorded was 'Blue Christmas'.
After Elvis returned from the Army, all the same musical friends got back together again and a number of big hits followed for Elvis. There are too many classic songs to list here but Millie will remember a few during the interview.
Millie worked at studio sessions with Elvis - including both Gospel sessions His Hand in Mine and How Great Thou Art - until September 1967 where her distinctive soprano added a real beauty to Elvis' recording of 'We Call On Him'. While she was involved in various overdub sessions in 1969 / 70 she returned to work with Elvis at the 'That's The Way It Is' Las Vegas August 1970 on-stage performances.

Introduction: Millie, firstly a very big and warm welcome from all here in Australia.
Millie K: "Thank You" Bob. It has been very nice of you to go to all the trouble. It has taken a little while to get us together, so I will let you get down to the questions you have been waiting years to ask me.
Q. Millie your musical career started in what type of music? ( i.e. home singing along with the family and radio?).
Millie K: Of course I listened to music on the radio. I took piano lessons as a kid – played clarinet in the High School Band – and sang in the church choir.
Q. May I ask you when and where you performed your first professional engagement?
Millie K: My first "Paying" job was with a vocal group on Radio Station WSM around 1950.
Q. Which artists and bands did you like when you were growing up?
Millie K: Well, I grew up with the Big Band era. So I listened to bands like Tommy Dorsey, Glenn Miller, Benny Goodman etc, and the singers who worked with them.
Q. Did you enjoy the Black Gospel type of music, or weren't you allowed to listen to that type of music?
Millie K: We were allowed to listen to Black Gospel, but there was only one radio station in Nashville that occasionally played it, so I was never really exposed to it.

FAMILY
Q. May I ask about your husband? Did you meet through music? Please tell me the story of your life together including family?
Millie K: My Husband, Doug and I met in the music business. He was a drummer and singer. We both sang with the Anita Kerr Singers. We had two children – a boy and a girl, and have one grandson. Our son was killed in automobile accident in 1971, and my husband Doug died in 1986. We were married for 35 years. Our daughter lives in Nashville, and our grandson is in college in California.
Q. How did you become involved in the rock and roll and pop music scene?

Millie K: I was singing with the Anita Kerr Singers when recording started in Nashville, so we were in "the right place at the right time" so to speak. Through the years I also sang with the Jordanaires and other vocal groups. So, we worked with Pop, Gospel, Country and Rock and Roll artists who came to Nashville to record.

Q. Who were some of your favourite recording artists of that era?

Millie K: That's hard to answer. We enjoyed recording with so many of them, it would be a long list.

Right: Millie Kirkham and The Jordananaires in the studio recording with Jim Reeves.
Q. Can I ask you to describe the following artists from the rock and roll era, Bob Luman, Connie Francis, Brenda Lee, George Jones, Little Richard, Jerry Lee Lewis and Crash Craddock?
Millie K: It's almost impossible to "Describe" and artist. In that era, they were all different, with their own individual style. When you heard a record you knew immediately who it was. Connie did not sound like Brenda, and George did not sound like Jerry Lee. But all the artists you mentioned were good singers,
Q. Please tell me about the Original Bradley Barn?
Millie K: It really was a barn out in the country, several miles outside Nashville. Owen Bradley bought it, and remodelled it into a great recording studio, but kept the outside like the original barn. I have pleasant memories of a lot of great sessions done there.
EIN Note; The "Bradley Barn" was a Nashville house with army surplus "Quonset Hut" attached, that was converted into a recording studio by brothers Owen Bradley and Harold Bradley in the mid-fifties. It was also used as a TV studio. Classic tracks such as Patsy Cline's "Crazy", Brenda Lee's "I'm Sorry" and Bobby Vinton's "Blue Velvet" were recorded there. Millie Kirkham and The Jordanaires featured on backing-vocals with all these artists.
Q. What about the late Grady Martin? I have a collection of his recordings released here in Australia? Was he as good a guitarist as I was told by Bob Moore?
Millie K: Bob Moore was right. Grady was a great guitar player. Most of the time we had no written arrangements for a recording session! They just played a demo and we all did what we felt, and Grady was very inventive.
Q. Was Grady and all the musicians' friends with each other as I have read about over the years?
Millie K: YES, we all worked together day after day, so we were good friends. However, we did not have time to socialize outside the studios because of our work schedules.
Q. How did you meet the Jordanaires?

Millie K: I met them in the music business. In the early days of recording in Nashville there were only a few musicians and singers, so we all knew each other. I worked on sessions with the Jordanaires almost every day for 25 years. We are real close friends and I still work with them occasionally.

Q. Was it Gordon that asked you to sing Soprano for Elvis in 1957?

Millie K: In 1957 The Jordanaires had gone to California to do some recording sessions with Elvis. They told him they had been working with me on sessions in Nashville, and I was the girl who sang the high part on Ferlin Husky's record "GONE". Elvis said "See if she will come out here and work with me"? So Gordon (Stoker) called me and I hopped on a plane and went immediately.
Q. Did you go on the road with the younger Elvis and the band in the early days?
Millie K: No, I did not start working with him until 1957 and his early travelling days were just about over by then, because he went into the army shortly thereafter.
Q. Tell us about working with Elvis in the studio? i.e. the Christmas album and others.
Millie K: The Christmas album, the one with "Blue Christmas" on it, was done on the session in California. After he came back from the army, he started doing sessions in Nashville at RCA Studio B. He liked to record at night until 5am or 6 am. We usually had the same musicians and singers on each session, and we treated Elvis like one of us – which as the way he wanted it. So it was like a bunch of friends getting together.
Q. Did you like most of the songs you sang with Elvis? Was there any you would like to forget about?
Millie K: Yes, we liked a lot of songs we did with him. But we did so many over the years, there were naturally some we'd like to forget.
Q. Can I ask about the return live performances in Vegas in August - September 1969?
Millie K: I did not work with Elvis in Vegas until 1970, Bob!
Q. Can I ask your professional thoughts on the members of the TCB Band and The Sweet Inspirations?
Millie K: All those guys are great musicians, and of course "The Sweets" are fantastic. We're all friends, and had a great time touring together on "Elvis – The Concert" recently. It was like a re-union.
Q. Millie did you know that the 1968 Comeback TV Special, the opening in Vegas in 1969 and 1970 had fantastic reviews here in Australia?
Millie K: No I did not know that, but I not have been surprised!
Q. Moving on to the movie "ELVIS THAT'S THE WAY IT IS". Can I ask for your views and thoughts on the making of this movie?
Millie K: It was a thrilling experience. The International was a new luxury Hotel with a gorgeous showroom. We had sold out shows every night. People from all over the world, and stars like Gary Grant and Sammy Davis came to see the show. Opening night we were all a little nervous because we had had to learn about 45 or 50 songs for the 5 or 6 shows they filmed. But once on the stage it was relaxed and spontaneous.
Q. Was Elvis that good looking? Bob Luman that Elvis was so stunning in looks and dress in the 1950's, so what was so different this time about Elvis that made him look so fantastic for you ladies?
Millie K: People are always asking me if I thought Elvis was a handsome man and my answer is "I am not blind you know"! When I started working with him in 1957 he was in his early 20's, and his style of clothes was different to the later years. By the 1970's he had evolved into the elegant white jump suits – and "YES" he was stunning!
Q. Have you seen any other performer come close to matching Elvis? If so please mention?
Millie K: No, cannot think of one!
Q. Could Elvis take a joke? Or was he the joker all the time?
Millie K: As I have said we were all friends. So we kidded him as much as he kidded us. He loved to do silly things and try to break us up while we were singing.
Q. Did he respect other performers, and mention them during his shows that you were on?
Millie K: Yes, he definitely respected other performers, but I do not remember him mentioning them on stage.
Millie Kirkham on-stage during the filming of 1970's 'That's The Way It Is'
Q. For those who never saw him perform live on stage please tell them what they all missed?
Millie K: Well, you missed a lot! Elvis was not only a good singer, but he was a great performer. He had that unique ability of reaching to an audience no matter how big it was. When he sang, each person felt he was singing directly to them.
Q. About "Elvis the Concert". Did you enjoy coming back and doing a show with Elvis on the big screen behind you all?
Millie K: Oh yes, it was great. It was like a reunion working with the band and the "Sweets", the Stamps and the Imperials again. At first it was a little eerie, we almost felt like Elvis was there, especially when we did a week in Vegas on the same stage we had done "That's The Way It Is".
Q. How come you never made it to Australia with "Elvis the Concert"? Joan Tillitzki and I were looking forward to meeting you and taking you up on top of the Sydney Harbour Bridge?
Millie K: After we did the European tour, Graceland turned the show over to the producer, and he cut expenses and decided he did not need me on the show. Guess he thought nobody would miss me. I'm glad to know somebody did! Actually, I was sort of glad to stay home and rest for awhile. Touring is exciting, but 3 weeks of one nighters was exhausting for this old girl!
Millie Kirkham still performing on stage in 2004 with The Jordanaires - and note in the background far left the late, great Scotty Moore.
Q. Will we ever see you in Australia?
Millie K: I doubt it Bob. I would like to see Australia, but don't guess I will have the opportunity
Q. What was it like for the recent 25th Anniversary show in Memphis?
Millie K: A once in a lifetime experience, because most of the people who ever worked with Elvis through the years were there. Of course Memphis was packed with Elvis fans from all over the world who still come to celebrate.
Q. Could I ask to name the songs you remember the most that you have sang with Elvis?
Millie K: Well I remember "Blue Christmas", because it was the first song I recorded with him, and I remember all of the big hits. But there were a few that you don't hear a lot that I personally like, such as "Just Pretend", "Stranger in the Crowd", "Love Letters" and in the religious field "Stand By Me".
Q. Before closing can I ask you, have you enjoyed your musical career?
Millie K: I certainly have Bob. Most people can't wait to retire, so they can what they enjoy. I was very fortunate that I spent my career doing what I enjoy, so I'm not looking forward to retirement.
Q. Would you do anything different if you had to do it all over again?
Millie K: Absolutely not. The following is my biography that was used in the program for "Elvis the Concert". It will give you an idea of why I wouldn't do anything different.
Conclusion: - Millie thank you for all the time you have allowed for this interview, and I am ever so happy that I have finally got the interview with you completed.
Millie K: Bob it was a delight and I hope that this was the type of interview you had in mind. I tried to keep the answers short and to the point, so I wouldn't be rambling. That was a big interview and I realise you might want to shorten it. However, I assume the portion you use will be printed without being edited. I hope so, because in the past I've been burnt by some interviews where I was misquoted or things were taken out of context.
That is why I don't usually do interviews, but I am "trusting" you!
Bob: I assured Millie the interview would be published in full with no editing.
Interview by Bob Hayden.
-Copyright EIN October 2017 -
EIN Website content © Copyright the Elvis Information Network.

Updated for EIN - 21 September 2017
Millie Kirkham talked more about her time with Elvis at Elvis Week 2009.
Millie Kirkham - When I got a call to work in Las Vegas with Elvis I was really thrilled because I got a chance to see "Elvis the performer" - because I knew Elvis the singer from recording sessions but now saw him as terrific performer.
It took several days of rehearsals for the show, we rehearsed in a big room originally more intimate and then we did a rehearsal on this main stage in the showroom of the International.
It was sold out and I think he was very excited about it. Afterwards Elvis had a party in his penthouse for the whole cast of people. He was very happy and it was exciting.
Elvis loved to perform on stage - that was the thing he really enjoyed - so I think that's why it was exciting for him when you looked out there and saw all the crowd, you know…
The shows were all sold out, it was a huge crowd of people.
It was exciting because there were people from the music business, from show business, there were big stars and movie stars throughout. I was excited as I got to meet Cary Grant! It was just amazing to look out and see the reaction of the crowd from when he just walked on - you know he hadn't even sung a note of a song yet!
It was amazing to see the reaction of the crowd. Every single person of that huge audience thought that Elvis was singing directly to them! You either have the talent and ability or you don't - and Elvis sure had it!
When we were doing the Elvis Christmas album I was six months pregnant the time with my daughter at the time. So still I kid her and tell her she was at the very first recording session I did with Elvis but that she just doesn't remember it!
Elvis looked a little surprised when I came in and said, "Please someone get this woman a chair!" when he saw me.
Several months later when I was doing another recording session with Elvis and I came in - and at that time I thought I was looking pretty slim and trim - I came strolling in and Elvis asked, "Did you ever have that baby?!" He had a great sense of humour, he was a funny guy.
Those sessions were done in RCA's Studio B in Nashville. We didn't take pictures of the sessions as it was regular "studio work" - much like you don't usually take photos of people you work with when you go to the office for work as such. That day however I had a camera with me and one film exposure left on it and I was going to take a photo of me with the Jordanaires – and then Elvis comes across and says "let me be in it".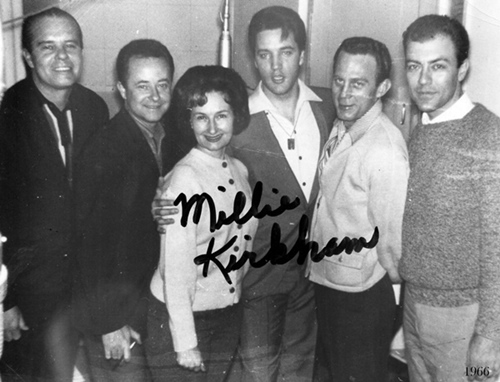 | | |
| --- | --- |
| Millie Kirkham and The Jordanaires sang with Elvis on his original 1957 Christmas album and then in 2008 Millie Kirkham, along with Jordanaires Gordon Stoker and Ray Walker, once again provided new backing-vocals to Elvis' original Christmas songs for the 'Christmas Duets' release. | |
Interview by Bob Hayden.
-Copyright EIN October 2017 -
EIN Website content © Copyright the Elvis Information Network.
Click here to comment on this interview
---
| | |
| --- | --- |
| The Jordanaires' Ray Walker, the EIN interview: The Jordanaires formed in 1948 and are still going strong. Their style was recognised by a young Elvis who realised that they were the perfect backing group to match his own vocal style. They ended up working with Elvis until 1970 and performed on over half of his recorded material. During Christmas 2002 EIN spent a while talking with bass-singer Ray Walker. Ray told us some delightful stories about his life and time spent with Elvis. We are very happy to have the chance to republish this exclusive interview during this festive season. (Interviews, Source: EIN) | |
---
| | |
| --- | --- |
| Spotlight on Gordon Stoker of The Jordanaires: Recently we featured our EIN in-depth interview with Ray Walker of The Jordanaires. Now we turn our EIN spotlight on Gordon Stoker who has been singing first tenor with The Jordanaires since 1953. EIN contributor Pam Harris is from Gordon Stoker's home county and met up with the great man. As Pam notes, "Mr Stoker is a super nice gentleman who refuses to say anything negative about Elvis. He truly loved Elvis." (Source: EIN) | |
---
---
EIN Website content © Copyright the Elvis Information Network.
Elvis Presley, Elvis and Graceland are trademarks of Elvis Presley Enterprises.
The Elvis Information Network has been running since 1986 and is an EPE officially recognised Elvis fan club.