Elvis, Ann-Margret,
The filming of Viva Las Vegas
the slap heard across Hollywood... and more...
Spotlight by Nigel Patterson, June 2023
---
Elvis, Ann-Margret,
the filming of Viva Las Vegas (aka 'Love in Las Vegas'),
the slap heard across Hollywood
(and more)
Spotlight by Nigel Patterson , June 2023
---
The story of the filming of Elvis' best films, Viva Las Vegas (released in 1964), is colorful, and one that had repercussions for Elvis' subsequent films.
About Viva Las Vegas: Viva Las Vegas was released in 1964 and is regarded by fans and film critics as one of Elvis's best films, the on-screen chemistry between Elvis and Ann-Margret regularly commented on. It also presented a strong set of ten musical song-and-dance scenes choreographed by David Winters and featuring his dancers.
Viva Las Vegas was a major hit at film theaters, ranking #14 on the Variety year end box office list of the top-grossing films of 1964. The film grossed $9,442,967 at the box office, earning $5 million in U.S. theatrical rentals.
Reviews of the film were generally positive although some critics in 1964 were lukewarm about it, such as one for The New York Times, whose reviewer wrote:
"Viva Las Vegas, the new Elvis Presley vehicle, is about as pleasant and unimportant as a banana split."
However, many others deduced the reasons why many members of the North American public liked the movie so much.
Variety stated in its review:
"Beyond several flashy musical numbers, a glamorous locale, and one electrifying auto race sequence, the production is a pretty trite and 'heavy handed' affair". Critical reaction notwithstanding, Viva Las Vegas has become one of Elvis Presley's most popular and iconic films.
In Britain, the film was titled Love in Las Vegas (see discussion later in this article).
Viva Las Vegas - Japanese and German movie posters
The making of Viva Las Vegas
Behind the scenes, the making of the film was far from smooth.
At the core of the drama was that director, George Sidney, was more than infatuated with Ann-Margret and favored her over Elvis during filming.
The origin of Sidney's feelings for Ann-Margret are noted in The Battle For Ann-Margret: Elvis Presley vs. 'Viva Las Vegas' Director, George Sidney' (www.Do You Remember):
Sidney's romance with Ann was noticed on the set of 1963's Bye Bye Birdie, a film that was coincidentally based on a 1960 Broadway musical that, in turn, was inspired by Presley's time in the army. The film brought Ann to the limelight, and Sidney's affection for her was easily noticeable. He concentrated heavily on Ann-Margret's character, so much so that Bye Bye Birdie co-star Janet Leigh - the major star of 1960 Hitchcock thriller Psycho - had to actually slap Sidney.
As a major star, Ms Leigh's physical displeasure with George Sidney did not take long to reverberate around Hollywood!
Elvis looks inquisitorially towards director George Sidney as he talks with Ann-Margret
Regarding dissension behind the scenes of Viva Las Vegas, Callum Crumlish in a story for Express.co.uk, wrote:
According to Red West, one of Elvis' close friends in the Memphis Mafia, the star ranted furiously about George and Ann-Margret teaming up against him. Red said Elvis "complained bitterly that the 'son of a b***h was trying to cut him out of the picture'".

Eventually, Elvis went to his boss, Colonel Tom Parker, to smooth everything out. He, naturally, was not happy at all with what was going on. So he went over the director's head and pulled rank on him.

The Elvis biographer, Peter Guralnick, claimed Parker went to the film's producers to remind them who the real star of the movie was: Elvis Presley.

On top of reminding them that this "was an Elvis Presley picture" and that the focus should always be on him, he pointed out Ann-Margret shouldn't be in as many songs as Elvis was.

The producers disagreed. They felt that focusing on Ann-Margret would bring in another kind of audience, expanding the box office potential.

But, according to Peter, Colonel Tom wasn't going to hear it. And, as a result, he "pulled two of the three duets" from Viva Las Vegas that included both Elvis and Ann-Margret.

By the time Viva Las Vegas came out, Elvis had been placated. The King had six songs in the film, while Ann-Margret had just two solo performances, and one duet .
Reports during the filming of Viva Las Vegas, indicated there were unusually heated exchanges between director Sidney and Colonel Tom Parker…. who was not credited as a "Technical Advisor" in the film's credits!!
Parker was incensed that the amount of time and effort allotted by the cinematographer, Joseph Biroc, to the song and dance numbers that featured Ann-Margret, ostensibly on the orders of Sidney. These scenes included views of Ann-Margret's dancing taken from many different camera angles, the use of multiple cameras for each scene, and several retakes of each of her song-and-dance scenes. Consistent with the filming of Bye, Bye Birdie, Sidney was giving Ann-Margret favorable camera angles and close-ups at Elvis' expense.
In the article Viva Love Affair (medium.com), Edward Anderson wrote:
Colonel Tom accused George of trying to replace Elvis as the film's star. He noted that Ann-Margret was cutting more shots in the dancing sequences. Further, he argued that agreed upon camera shots were being nixed in favor of focusing on the starlet.

The counterargument from George was the audience would want to see the girl who stole Elvis' heart. He pointed out that the women would show up to see The King , but the men also needed some eye candy to entice them to bring their girlfriends to a musical.

As the feud heated up between Tom and George, there was a bit of a rift between the lovers. Elvis felt strongly that he was being disrespected by the director, and his status as a superstar was not being respected.

Ann-Margret felt her beau was letting his ego get the best of him. She argued that none of the changes impacted the story or changed the perception of who the movie's lead was but did offer her an opportunity to shine.
In researching the excellent book set, The Making of Las Vegas (co-written with David English), Pál Granlund gained access to director, George Sidney's archives. Granlund commented:
I can report that whilst looking through the Sidney archives, it would seem Parker had a point, as the George Sidney 'Viva Las Vegas' files contained around eighty percent Ann-Margret, and twenty percent Elvis Presley!
Elvis and Ann-Marget
As has been well recorded, Elvis and Ann-Margret had an incredible attraction and bond, one which lasted until Elvis' death:
The relationship between Elvis and Ann-Margret was more than just a trivial attraction for each other. They both developed a bond that stood the test of time and lasted until Elvis' death in 1977. Ann was invited to his funeral, signifying how significant their relationship was.
In her memoir, Ann-Margret refers to Elvis Presley as her "soulmate" and stated: "We felt there was a need in 'The Industry' for a female Elvis Presley." She also said in an interview with the Las Vegas Review Journal:
Ann-Margret admitted: "Music ignited a fiery pent-up passion inside Elvis and inside me. It was an odd, embarrassing, funny, inspiring, and wonderful sensation. We looked at each other move and saw virtual mirror images."
For the record, Sidney directed Ann-Margret in a third film, The Swinger, released in 1966.
Did you know?
In France, the film's title was L'amour en Quatrieme Vitesse (Love in Fourth Gear).

(Poster above)
Because the film went over budget, Colonel Parker reportedly slashed budgets for all remaining films in Elvis' career.
Ann-Margret got on so well with his Memphis Mafia that they started to nickname her by her character's name, "Rusty". Marty Lacker also stated that, "Ann-Margret used to write Elvis letters and sign them "Bunny" or 'Thumper' . When she called Graceland she used the same code-name".
Why was Viva Las Vegas retitled for British screenings?
Over the years, several reasons have been given as to why Viva Las Vegas was retitled Love in Las Vegas for British and European screenings.

The most likely reason for the retitle is that in 1964, the 1956 film, Meet Me in Las Vegas, was re-screening in Britain, with the revised title…… Viva Las Vegas.

An interesting piece of trivia - in Meet Me in Las Vegas, Sammy Davis Jr. sings Frankie and Johnny.

Video, DVD and Blu-ray editions of the film released in Britain use the Viva Las Vegas title.

Right: 1956's 'Meet Me in Las Vegas' MGM musical produced by Joe Pasternak (who also produced Elvis' 'Girl Happy' in 1965) directed by Roy Rowland and stared Dan Dailey and Cyd Charisse.
Las Vegas cameos in the movie included Frank Sinatra, Debbie Reynolds, Vic Damone, Peter Lorre and Tony Martin who was married to Cyd Charisse.
The movie was re-titled 'Viva Las Vegas' in Europe
EIN Credits Sources: Ann-Margret: My Story; Do You Remember.com; IMDB; The Making of Viva Las Vegas; Vital Vegas; Viva Love Affair - medium.com; Wikipedia.
Click to comment on this Article
Spotlight by Nigel Patterson.


-Copyright EIN June 2023
EIN Website content © Copyright the Elvis Information Network.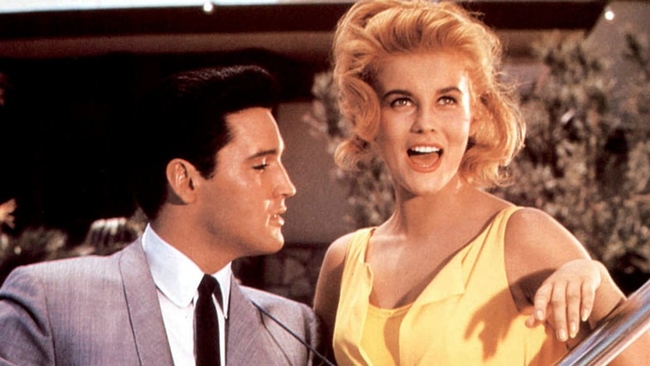 ---
Book Review: 8mm Elvis - The Story of Elvis on 8mm': Long before the days of Bluray, DVD and VHS people watched home movies on 8mm film.
'8mm Elvis The Forgotten Format' is a glossy, colour, hardback book cataloguing the history of Elvis on 8mm film.
Author Vince Wright has been collecting all the Elvis 8mm he could find since the 80s.
He explained.. "I was cataloguing all these films hoping someone would write a book about it – I waited, they didn't, so I did."

So in 2023, and after many years of searching and researching, the author has released his comprehensive narrative and visual record of Elvis on 8mm.

This book is unique in its narrative and visual content and is an important inclusion in the complex jigsaw puzzle that forms a complete record of the multi-varied story of Elvis Presley.
Go here to read Nigel Patterson's review
(Book Reviews, Source;ElvisInformationNetwork)
---
'The Airplanes & The King' In-depth review: The original spanish book 'Los Aviones Y El Rey' by Carlos Varrenti was republished as an expanded English version 'The Airplanes & The King' towards the end of 2022.
Not only that but it was expanded from its original 197 pages to an amazing 400 pages with a lot of unreleased material and stunning photos from the 'Elvis Files' vaults!
The English version was unfortunately delayed by supply issues due to the worldwide Covid pandemic - but has now been published as a High quality Hardback book.
As an Aeronautical engineer and Elvis fan, Varrenti is well qualified to write a book which details Elvis' history with his aircraft and his link to aeronautics in general. With photos and stories from 1955 through to 1977 - and beyond - the book is also an interesting historical look at Elvis' life "on tour" but this time with an delightfully original theme.

EIN's Nigel Patterson takes a very detailed look at this impressive publication and discovers a trove of delights...

(Book Reviews, Source:ElvisInformationNetwork)
---
---
(Book Review) Elvis Live At The International 50th Anniversary Edition (Kieran Davis): In 2011, Kieran Davis released the highly praised book, Elvis Live At The International. In 2022, he has published an expanded 50th Anniversary edition…and what an expansion it is!
The latest edition dwarfs the original with 432 pages compared to 172 in the original release.
And the added 250+ pages of additional material is stunning, making the 50th Anniversary release one of the best Elvis books published in 2022.

As its title reflects, the book covers Elvis' appearances at the International Hotel in Las Vegas between 1969 and 1971 (it was renamed the Las Vegas Hilton in July 1971). The narrative element is significantly based around fan, Peggy Elzea's copious diaries, and a bumper array of archival material. Peggy's experience seeing Elvis in Las Vegas is one every fan will envy.
There is so much fascinating information and so many striking images in the book that it is hard to know where to start in describing it...

Read Nigel Patterson's detailed 2,700 words review

(Book Review, Source:ElvisInformationNetwork)
---
(Book Review) 'The Sonic Swagger of Elvis Presley: A Critical History of the Early Recordings' (Gary Parker):. 'For Elvis Presley, stardom was the promise, and he made the trip, but at an extraordinarily high cost'. This is one of the thought provoking themes in Gary Parker's latest book which critically examines in thoroughly researched detail, Elvis' seminal recordings in the 1950s (as well as more briefly discussing Elvis' post Army recordings).
Noting that... "Elvis' clever manipulation of his numerous interests remains one of the music world's great marvels. Presley, with one foot in delta mud and the other in a country hoedown, teamed with Scotty Moore and Bill Black to fuse two distinctly American musical forms -- country and blues -- to form what would come to be known as 'rockabilly'". This is a book with plenty to discuss.
In their 2,100 words collaboration, EIN's Nigel Patterson and Piers Beagley, review what they have found to be one of the best, and most important, Elvis book releases of 2022.
Read the full review here
(Book Review, Source: ElvisInformationNetwork)
---
Book Review - Elvis: The Quest For An Oscar (James Turiello): Many will find it surprising that someone could write more than 500 pages detailing the case why Elvis deserves to receive an Honorary Academy Award, but author James Turiello has achieved this with his latest book.
EIN's Nigel Patterson spent a weekend exploring the author's argument.
Can someone who appeared in Kissin' Cousins, Harum Scarum and Clambake really be Oscar worthy?
In a detailed review, Nigel discusses what the book has to offer and provides his assessment of whether or not the author successfully makes his case that Elvis is deserving of an Honorary Oscar.

Go here to read Nigel's insightful review
(Book Review, Source:ElvisInformationNetwork)

.
---
---
---
EIN Website content © Copyright the Elvis Information Network.
Elvis Presley, Elvis and Graceland are trademarks of Elvis Presley Enterprises.
The Elvis Information Network has been running since 1986 and is an EPE officially recognised Elvis fan club.
.