'Roustabout'
FTD Soundtrack Album
- Review by Ian Garfield -
53 years after its original release FTD is pleased to announce the long awaited "Classic Album" version of "Roustabout".

Reaching #1 on Billboard in February 1965, it would Elvis' last chart topping album until "Aloha From Elvis Via Satellite" in 1973.

Packaged in 7" format with a full colour 16-page memorabilia booklet, it contains previously unreleased material.

EIN's contributor Ian Garfield checks out this new FTD Classic soundtrack album release....
---
After the lacklustre result of MGM's super low-budget Kissin' Cousins, Hal Wallis had assembled a far better team for Elvis' new film back at Paramount. Roustabout was Elvis' 16th movie, Hollywood great

Barbara Stanwyck

was the lead actress while

Leif Erickson

(On the Waterfront, The High Chaparral) made his presence felt. There was chemistry between Elvis and co-star Sue Ann Langdon and Col Parker even supplied some genuine Technical Advice to help create a believable carnival based storyline. Wallis had also demanded Elvis lose some weight for his role as tough loner Charlie Rodgers. The director was John Rich, who unlike regular Norman Taurog, once again challenged Elvis to work harder. To this end Elvis even performed his own stunts, famously cutting his eye in a fight which would then require a Band-Aid to be genuinely needed in the following scenes.

It had been five months since Elvis' last album session and this time his publishers had a chance to secure soundtrack material from a variety of composers. Eleven songs were needed and while the carnival theme stopped most of them having any inspired lyrics, at least the composers Leiber / Stoller and Otis Blackwell were included in the selection. Leiber / Stoller's

'Little Egypt'

was without doubt the best song on the album. Originally written for The Coasters it had made #23 in the US charts in 1961. Disappointingly the original 'Roustabout' title song, composed by Otis Blackwell / Winfield Scott, was dropped after some executives thought its lyrics too confronting. Given that Elvis was back playing a leather-clad tough guy, and in the fifties his own sensuality and danger had been one of the key marketing points, this seems ludicrous. Sadly a rather bland title song by Giant / Baum / Kaye was then chosen as its replacement.

Original chart releases
Surprisingly there was no lead single selected from the album, not even as a B-side.
Instead the

'Ask Me / Ain't That Loving You Baby'

double-sider had been released with

'Coming Soon "Roustabout" Album'

printed on the sleeve.


Roustabout LP -

The album was released in September 1964 and made number one on the Billboard charts.
This would be Elvis' last number one album apart from the massively marketed and expected chart-topper of

Aloha From Hawaii.



The soundtrack session would take place over two days at Hollywood's Radio Recorders. The band would be Elvis' regular L.A. team including Bob Moore on bass, Floyd Cramer on piano plus Boots Randolph and The Jordanaires. Tiny Timbrell again would play lead guitar also helped out by Billy Strange and Barney Kessell. Buddy Harman and Hal Blaine would augment DJ Fontana on drums. The studio engineer was Dave Weichman working with Paramount musical director Joseph Lilley.
---
Album Sales Tips From RCA Victor: (Special album release for November 1964)
We've had original soundtrack recordings by Elvis in the past and we needn't dwell on their great success, but the new "ROUSTABOUT" album is undoubtedly on of the finest we've had! "It's A Wonderful World" and "Big Love Big Heartache" are delivered smoothly to a smooth Latin-flavored accompaniment. Most of the tunes however, are the hard-rocker variety, especially "Hard Knocks and "There's A Brand New Day On The Horizon." For a special gas, check out the lyrics on "Little Egypt" and "Poison Ivy League." We've got great music, a great cover, the movie tie-in, advertising and promotion support.

So why has it taken FTD so long to release? It was once noted that only the masters had been located in the vaults, so there was not much to include for a "Classic Album". I previously did make notion to the possibilities of what could be released in the EIN article – "What now, what next, what if?"


Lets see what we have been waiting for!
The Cover: A good reproduction of the original 1964 LP cover. I always thought it odd to mix artwork with a photo-shopped Elvis entertaining the crowd. The back cover is an excellent photo of Elvis onstage with silhouette musicians with all the track-listings in the top section. On the inside cover we have an original US movie poster with a cast and crew list from the movie to its right. The CD cover backing has a Side 2 label of the LP and then there is a nice publicity shot of Elvis in a red jacket. On the final page of the fold out is the original back cover of the LP.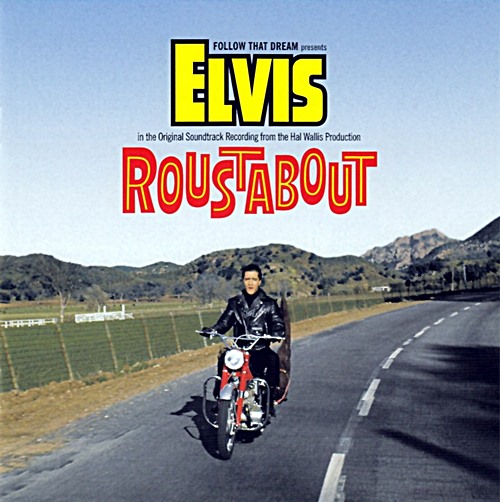 The Booklet. The 16-page booklet features a great cover of Elvis on the red Honda with his black leather jacket, guitar strapped to the bike on the road in the country side. The book is jam packed with publicity shots, track listings, lobby cards, "making of" pictures, background to the movie, behind the scenes, artefacts, promo packs, session data, letters, advertising, movie trivia, overseas movie posters and Billboard charts.
Included are some interesting letters between RCA and Jordanaires' Gordon Stoker over the last-minute necessity of using The Mellomen as the backing group on the replacement title song and who should be credited on the album cover. In the end The Mellomen were never credited!
Alan Hanson supplies an interesting overview of the release, "Roustabout can be placed somewhere in the middle between Elvis' best and worst feature films". Interestingly a unknown song 'I Never Had It So Good' is mentioned in Variety's review of the movie!
The only negative, is that some of the pieces are small and you may need a magnifying glass to read them. The book would have been great if it was LP size. With very few unreleased outakes it would have been a bonus had the booklet been 20 pages with more photos of Elvis looking cool in his black jacket. The back cover has the original close-up publicity shot of Elvis for the Album cover in fabulous quality (see below).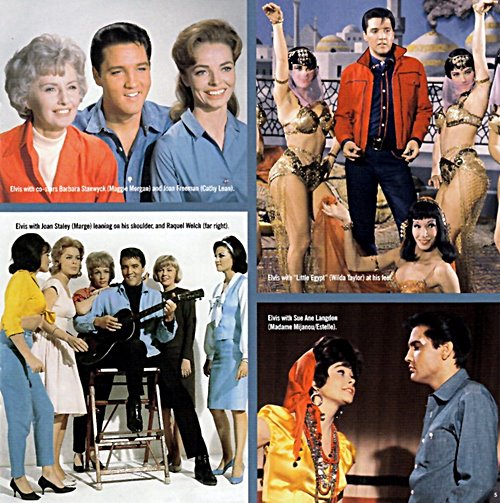 The Music
Now to the CD. It has 33 tracks and runs for just over 76 minutes, so we are getting a lot of music for a single CD. The original album only ran 21 minutes, Side B of the album running less than 9 minutes! All original songs from the LP have been restored and mastered by Sebastian Jeansson, mixes by Vic Anesini and Sebastian Jeansson. They have more oomph and less echo from the original LP.

Tracks 1 – 11 are the original LP songs. I always thought the song "Wheels on my heels" was poorly placed on this LP, as "There's a Brand New Day on the Horizon" was the finale song in the movie.
I read somewhere a long time ago - possibly in an interview with composer Sid Tepper - that "It's a Wonderful World" was long-listed for selection as a nominee for best soundtrack song in the Academy Awards however that is not mentioned here.
I think the "stereo" has better clarity and much more distinct voice and music.
Track 12 – Bonus Track - 'I'm a Roustabout' – this is a far, far better quality version than the original acetate version released on "2nd To None" back in 2003. The track sounds so much better now and this improved version has a more kick-butt feel - a real highlight. It really follows "Wheels on my Heels" well, but the only shortfall is a lowering of volume to it. I found I had to immediately turn it up – the best way to hear it, I suppose! But turn it down for the next track, as the volume goes up again.

Tracks 13 – 33 – Outtakes and remixed masters.
With the remixed masters, similar to the FTD Speedway CD, they have included the intro and outros adding a little extra to each track. The audio has been remastered from the original tapes and sound vastly improved. The original album versions had echo added to them and in the process sound muffled. These new 'Remastered' versions sound so much better with a real clarity - the best versions we have ever had released.
The original album version of 'Roustabout' sounds as if Elvis has been recorded in the bathroom with The Jordanaires in the shower-stall next door there is so much unnecessary echo and muffled audio.
"Little Egypt" has 2 versions, the record version master and the excellent Take 21 (part used for the movie version) which is taken at a more relaxed tempo and features Elvis fooling around on the ending.
Track 15 is "Poison Ivy League" with a little twinkle of piano prior to the take and it feels like quite a sudden end.
Tracks 16/17 is "Hard Knocks" with master record and movie version (officilaly previously unreleased) which features a slightly smoother intonation on the lyrics but one wonders why another version was requested.
Tracks 18/19 is "It's a Wonderful World" with the master take and an instrumental of the song (backing track?) with a nice "thank you" at the end.
Track 20 is "Big Love, Big Heartache". I always thought this song was under-rated and has not been featured on many Elvis compilations of Love Songs. It is so nice to have this track un-muffled and without the messy echo of the album release.
Track 21 "One Track Heart" is a great little rocker - again only the remaster.
Tracks 22/23 – "It's Carnival Time" – a rollicking carnival song. First with the master and then the movie version (unreleased) which sounds a little light on the power and volume of the master take.
Track 24 – "Carny Town" the remaster with the extended bluesy outro that was initially introduced on the 1998 series of Double Features soundtrack CDs.
Track 24 – "There's a Brand New Day on the Horizon" the master take.
Track 26 – "Wheels on my Heels"- a great toe tapping travelling song – the fab clip of Elvis on his motorbike with black leather jacket!

The Vocal-Overdub recording of "Roustabout" takes up the final 7 tracks. While vocal-Overdubs were usually a quick way of finishing off needed material, here the outtakes interestingly demonstrate that it was always not as easy as RCA might have hoped.
Track 27 – takes 1-5 (unreleased) take 6 is complete with the delightful "raving maniac" ending. There a few long false starts on this track. Elvis doesn't really fluff the lyrics; he just seems to stop.
Track 28 – takes 7 (unreleased) and 8 – with another "raving maniac".
Track 29 – take 9 movie version (unreleased). I often thought the main title version was a little different. I would have liked the movie version with the overdubbed orchestra. This was also part of the promo product played in the theatre lobby.
Track 30 – takes 10-12 (unreleased) two long false starts and a complete version on take 12.
Track 31 – take 13 is a complete unreleased version.
Track 32 – takes 14-16 (unreleased), two short false starts and a complete take 16 with another "raving maniac" outro.
Track 33 – the remastered record master version - again sounding FAR BETTER than the original release.
It would have been a good idea for FTD to have included a few Movie Trailer promos to conclude the CD similar to "Tickle Me".


Overall Verdict: A lot of soundtrack fans have been waiting for this FTD release and it is nicely packaged with some great new re-mastering and added unreleased material. Collectors are sure to love the newly remastered versions as well as the greatly improved 'I'm A Roustabout'. However with only four tracks having any alternate session outakes included there is a lot of the session still missing. One day we may hope for a Roustabout Volume 2.
So "roll up, roll up – the new FTD Roustabout is a hit"
Review by Ian Garfield - extra notes supplied by Piers Beagley.
-Copyright EIN August 2017
EIN Website content © Copyright the Elvis Information Network.
Click here to comment on this review
---
1 Roustabout 2:01
2 Little Egypt 2:21
3 Poison Ivy League 2:05
4 Hard Knocks 1:45
5 it's A Wonderful World 1:51
6 Big Love Big Heartache 2:03
7 One Track Heart 2:18
8 It's Carnival Time 1:36
9 Carny Town 1:13
10 There's A Brand New Day On The Horizon 2:03
11 Wheels On My Heels 1:25


Bonus Track


12 I'm A Roustabout (take 10/M)


Outtakes And Remixed Masters


13 Little Egypt (AO take 15/M, record version)
14 Little Egypt (AO take 21, part used for movie vs)
15 Poison Ivy League (BO take 7/M)
16 Hard Knocks (CO take 11/M, record version)
17 Hard Knocks (COV take 4, movie version)*
18 Its A Wonderful World (DO take 13/M)
19 Its A Wonderful World (DO take 17, instrumental)*
20 Big Love Big Heartache (EO take 17/M)
21 One Track Heart (FO take 5/M)
22 It's Carnival Time (HO take 2/HOV tk 9/M, record vs)
23 It's Carnival Time (/HOV take 12, movie version)*
24 Carny Town (JO take 9/M)
25 There's A Brand New Day On The Horizon (KO tk 5/M)
26 Wheels On My Heels (LO take 7/M)
27 Roustabout (NOV takes 1-5*, 6)
28 Roustabout (NOV takes 7*, 8)
29 Roustabout (NOV take 9, movie version)*
30 Roustabout (NOV takes 10-12)*
31 Roustabout (NOV take 13)*
32 Roustabout (NOV takes 14-16)*
33 Roustabout (NOV take 17/M, record version)
* previously unreleased
'Roustabout'

FTD July 2017 release #506020-975108


Compilation produced and art directed by Ernst Mikael Jørgensen & Roger Semon.

Mastered by Sebastian Jeansson and Vic Anesini.
---
---
---
---
EIN Website content © Copyright the Elvis Information Network.
Elvis Presley, Elvis and Graceland are trademarks of Elvis Presley Enterprises.
The Elvis Information Network has been running since 1986 and is an EPE officially recognised Elvis fan club.